This Roasted Curry Cauliflower is a healthy and delicious side. Cauliflower florets are tossed with fresh lemon zest and spices before roasting. Serves 6 to 8 in under 30 minutes.
I'm going to let you in on a secret… I've hated curry for years.
Absolutely, most definitely and without a doubt, loathed it for almost all of my days on earth.
It was one faithful night while dining at my favorite restaurant with my sisters; I braved a bite of their roasted curry cauliflower and instantly was hooked. How could this be? Me liking curry-anything? I'm glad I gave it a try because now I have yet another yummy side dish to add to my repertoire.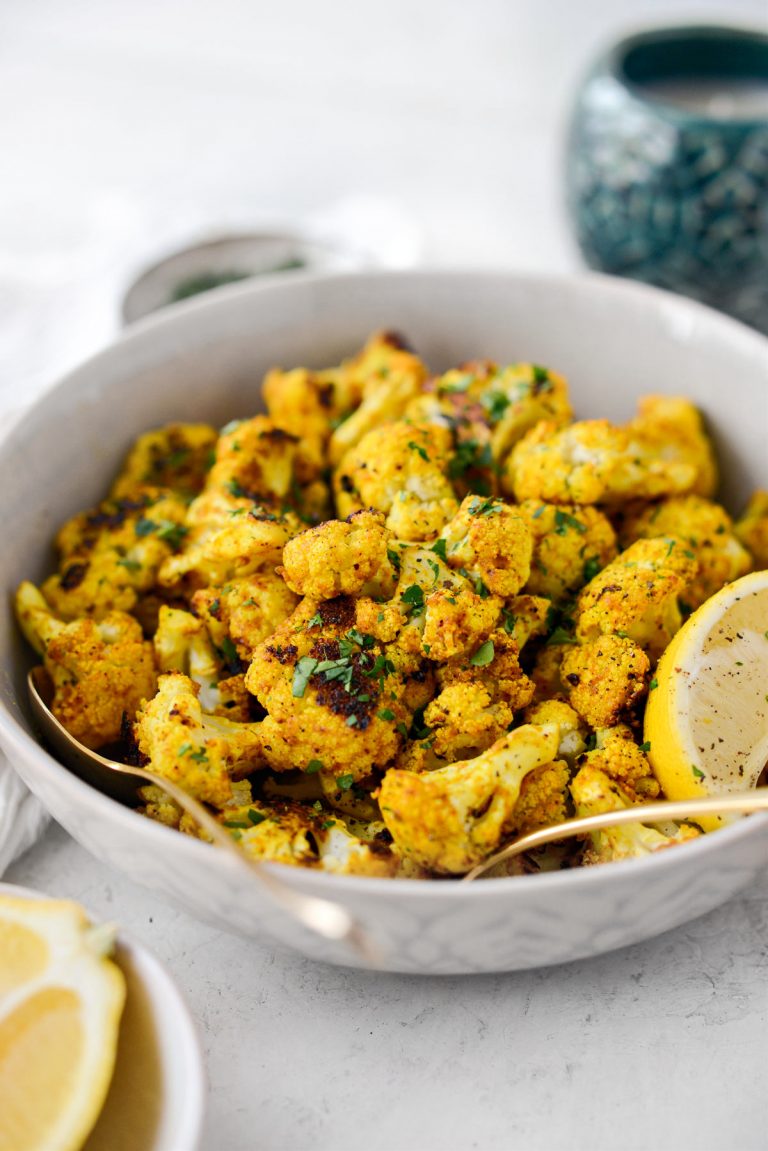 And this is a side dish that I could eat as a main dish. SO good!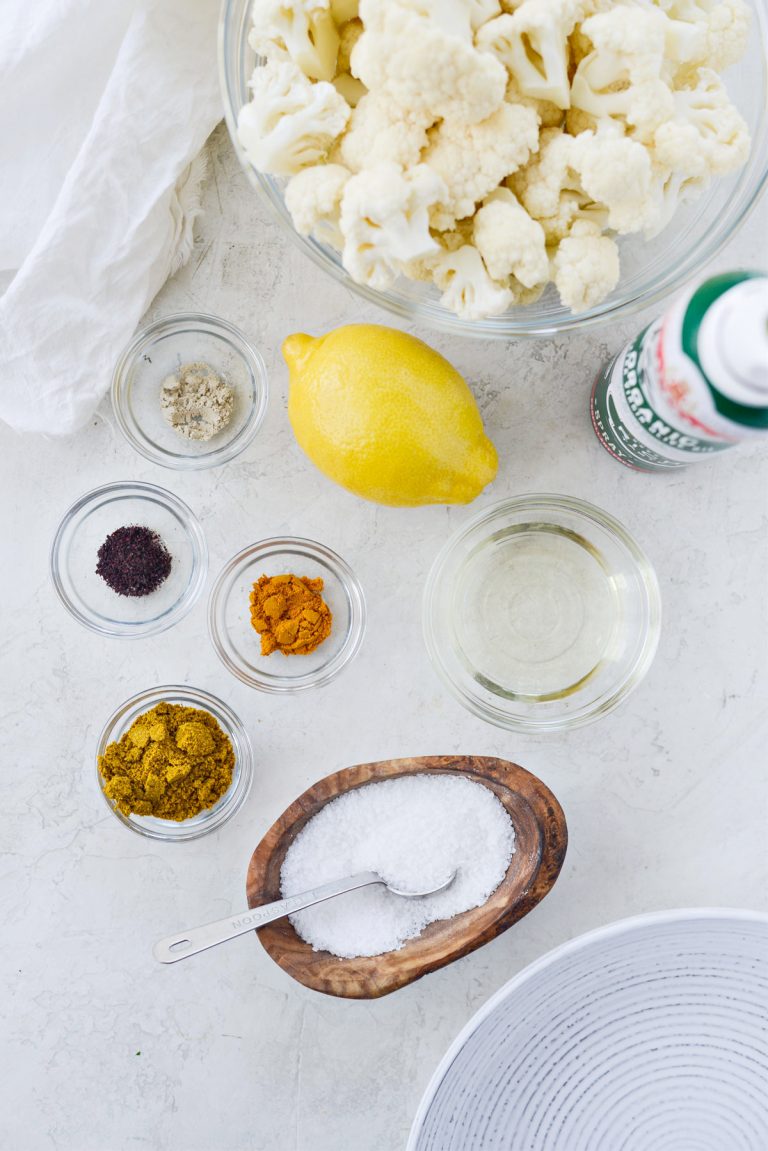 To make This Curry Roasted Cauliflower You Will Need:
olive oil
lemon juice and zest
curry powder
garlic powder (not pictured 🤦🏻‍♀️)
kosher salt
ground turmeric
sumac
white pepper
cauliflower florets
In a large mixing bowl, measure and add; 3 tablespoons olive oil, juice of 1 medium lemon, 1 teaspoon lemon zest, 1 tablespoon curry powder, 3/4 teaspoon garlic powder, 1/2 teaspoon both kosher salt and ground turmeric, 1/4 teaspoon both sumac and white pepper.
Finally, whisk to combine.
How is it that I go from one minute hating curry, to the next where I dip my finger in the bowl of curry saucy goodness?!
Add the cauliflower florets into the bowl with the curry sauce.
Then until they are coated well.
Keep tossing until completely coated and there is no sauce in the bottom of the bowl.
Spray a rimmed baking sheet with olive oil or lay down some parchment and then spray with oil. Toss the curry coated cauliflower onto the pan, making sure you grab a spatula to scrape every last drop of the curry-oil onto the pan.
Slip the pan onto the middle rack of you preheated 400° oven for 18 to minutes – this all depends on the size of the florets.
Once roasted, allow the roasted curry cauliflower to cool slightly before serving.
Serve these hot from the oven!
Sprinkle a little chopped parsley for a little freshness and color. This curried cauliflower is super healthy, flavorful and a pretty darn colorful side dish that will jazz up your dinner plate.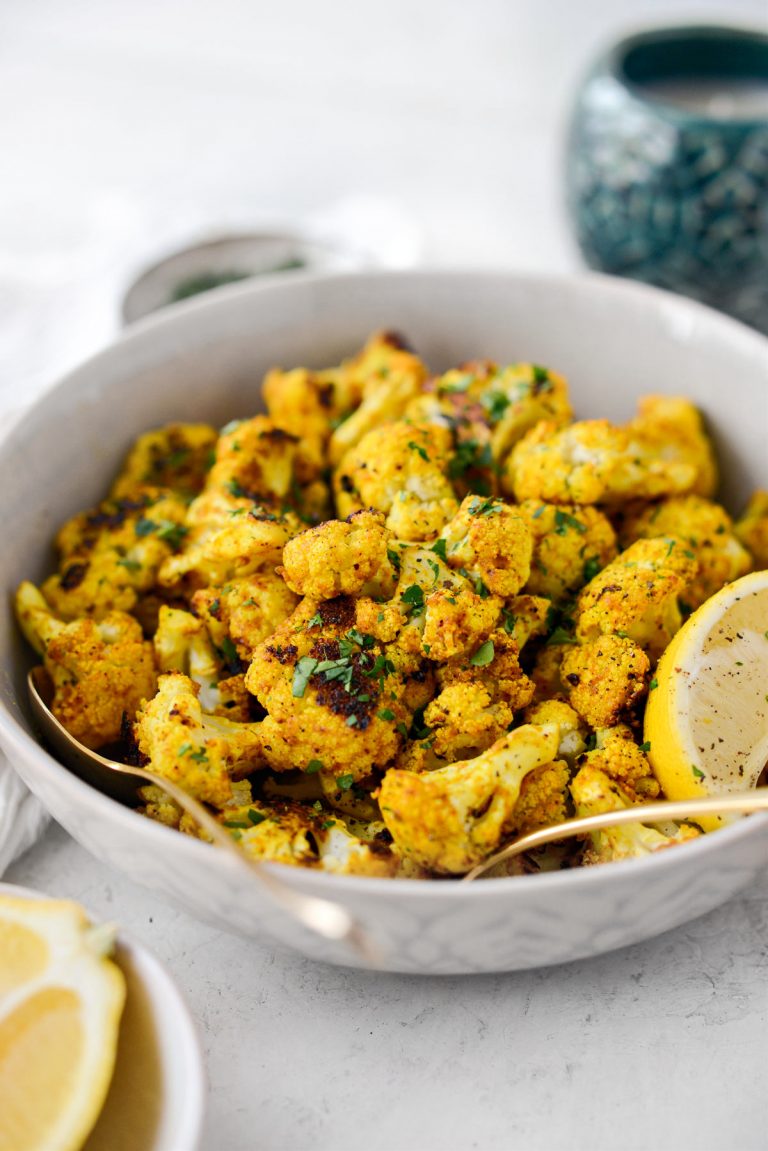 Enjoy! And if you give this Roasted Curry Cauliflower recipe a try, let me know! Snap a photo and tag me on twitter or instagram!
This post may contain affiliate links.
Buy the Cookbook: Simply Scratch : 120 Wholesome Homemade Recipes Made Easy Now available on Amazon »
THANK YOU in advance for your support!