Roasted Rhubarb Jam starts by roasting rhubarb in vanilla sugar, ginger and fresh lemon juice. Spread it on biscuits, toast or try my rhubarb almond breakfast bars.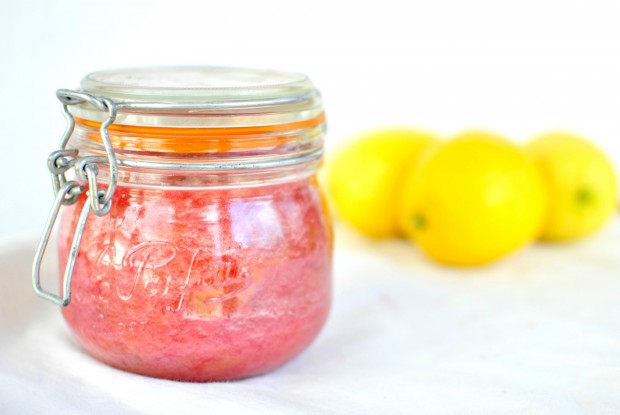 Even though it's been raining, snowing, hailing and more days than not windy and Fuh-reezing. I have to say I'm still feeling quite spring-y.
This morning I was looking around at my grocery store's produce section and there they were, these GIGANTIC rhubarb stalks. I just had to have them. The bright ruby red color was just pulling me in. Ever since I roasted strawberries to make these milkshakes and then there was that whole glorious accident of roasting nectarines that it was only a matter of time before I roasted some rhubarb.
This is a quick jam. I'm not sure if that's a legit term in the canning world, but it just seems right to call it that. Its texture reminds me of apple butter meets a chunky jam. Maybe we could call it butter-jam? Pronounced like butter-jay-yum, heavy on the yum.
If you couldn't tell from the ingredients above… this jam is pretty simple. If you don't have the vanilla sugar, then try using regular sugar with the caviar of 1/2 of a vanilla bean or a half teaspoon of vanilla bean paste.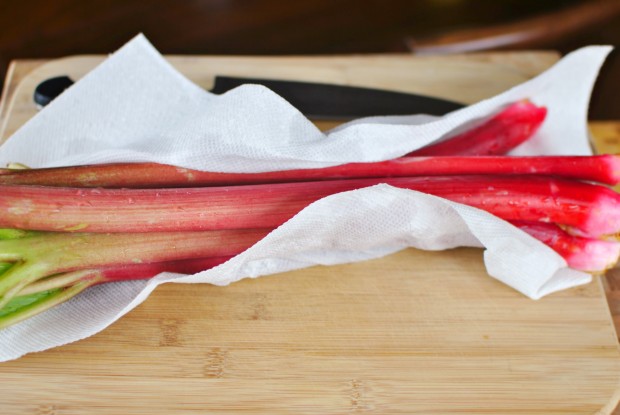 Rinse and dry the rhubarb.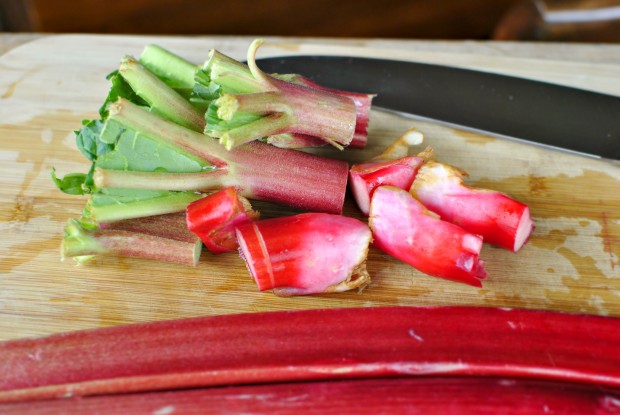 Trim off the leafy tops and the ends and discard.
Next slice into half inch pieces. Don't get your ruler out… it doesn't have to be precise.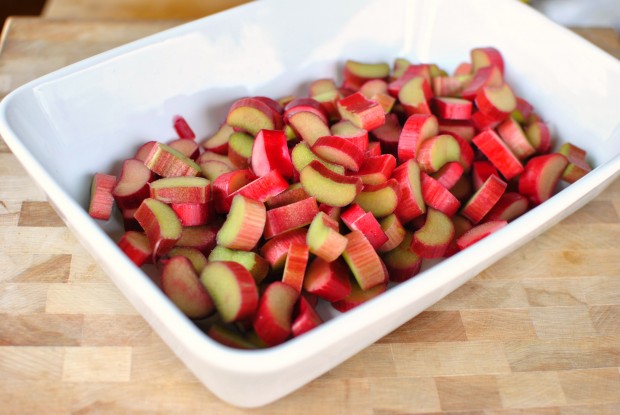 Then throw the rhubarb chunks into an oven safe baking dish.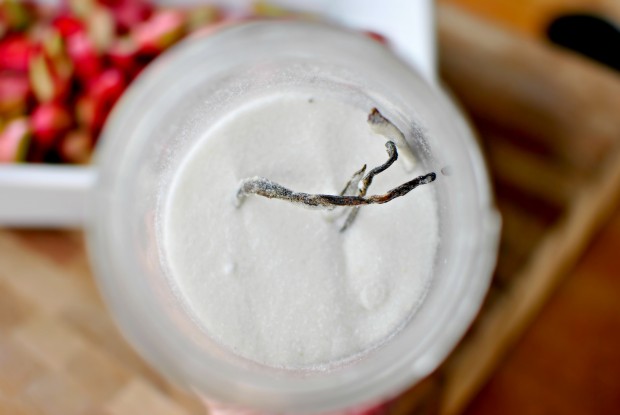 Why hello there vanilla sugar.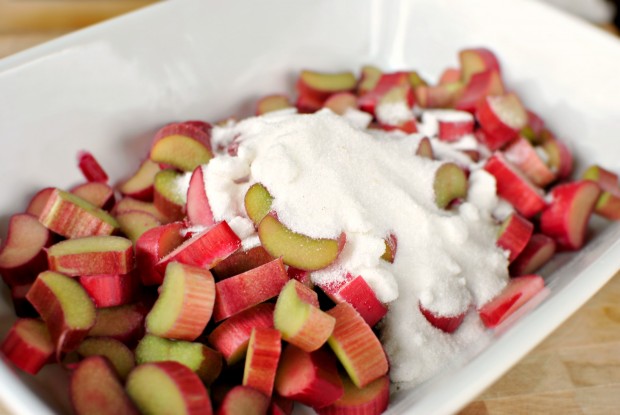 Next add 3/4 cup of the vanilla sugar goes into dish.
Lastly add couple pinches of kosher salt…
…and stir to coat.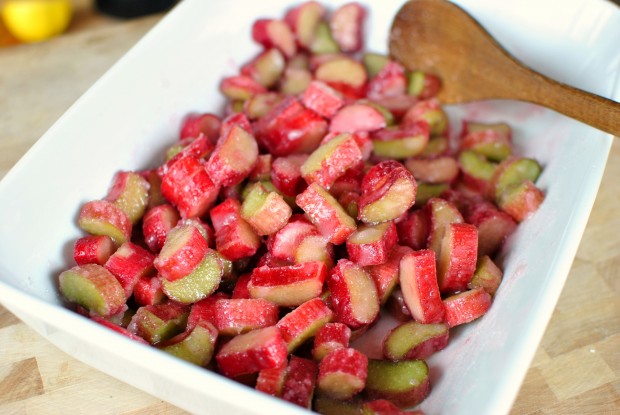 As you can see the rhubarb starts to release its juices once the sugar comes in contact with it. I learned that from when I made this rhubarb recipe a couple of years ago.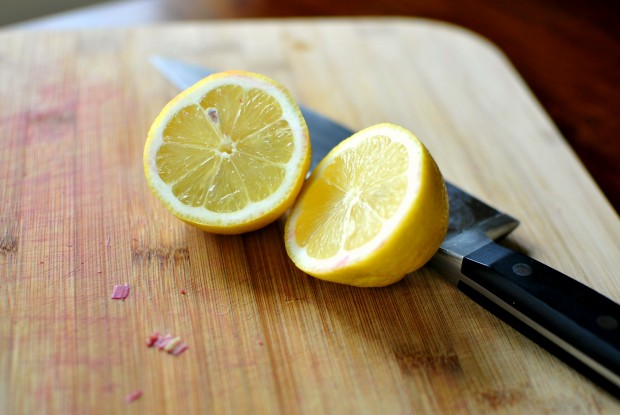 Next, slice a lemon in half and pick out the seeds.
Then squeeze both halves over the rhubarb.
Next, toss it all around and pop the baking dish into a 350° oven for 25-30 minutes.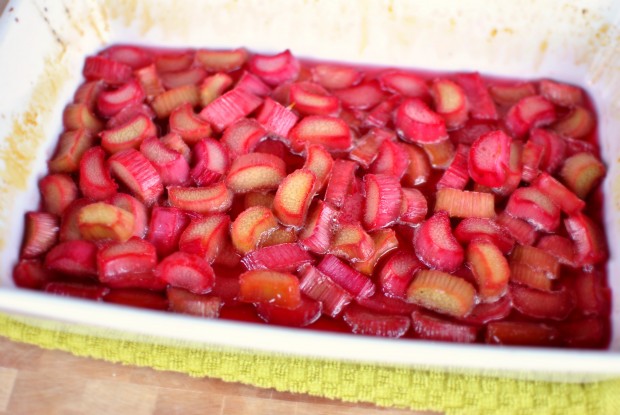 Gorgeous.
Meanwhile, peel the skin from an inch of fresh ginger with a spoon. Place it, cutting it in half if it's too big, in a garlic press and slowly squeeze to release the ginger juice, do this over a small bowl so it can catch the juice easily.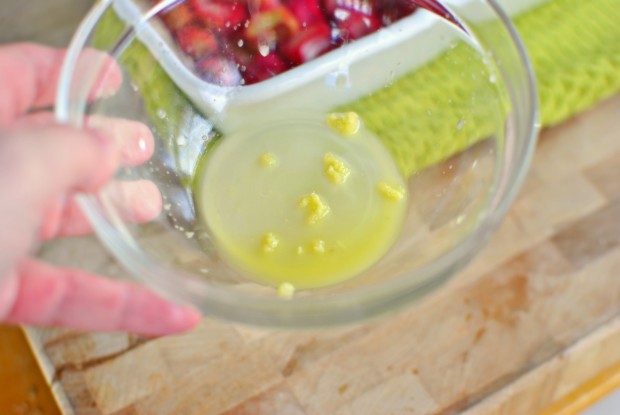 You really don't want those chunks of ginger going in the rhubarb.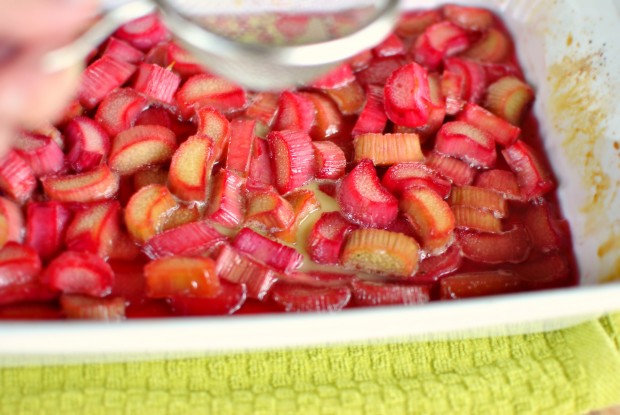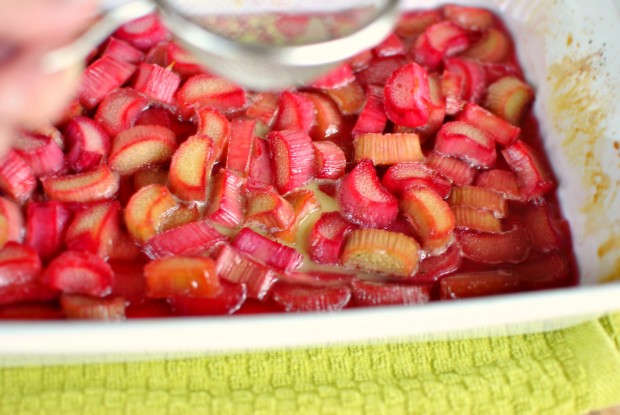 With that said, pour it through a mesh strainer to catch the ginger pulp.
Here's where it could go two different ways. You could smash this with a spoon then pile it and a little of the juices onto a piece of cheesecake or shortcake or angel food cake because it's fantastic. You see where this is going. Or you could blend it until the Roasted Rhubarb Jam is thick and smooth.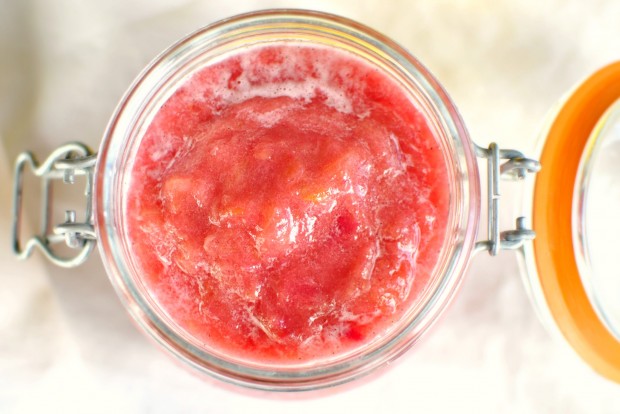 This quick and SUPER easy Roasted Rhubarb Jam is tart, sweet and full of flavor. I literally was eating spoonfuls from a bowl. I just could help myself. But I finally forced myself to stop because I have plans for this rhubarb butter… jam… filling… stuff.
So stay tuned.
Enjoy! And if you give this Roasted Rhubarb Jam recipe a try, let me know! Snap a photo and tag me on twitter or instagram!
My cookbook Simply Scratch : 120 Wholesome Homemade Recipes Made Easy is now available! CLICK HERE for details and THANK YOU in advance!
[this post contains affiliate links.]
This post may contain affiliate links.
Buy the Cookbook: Simply Scratch : 120 Wholesome Homemade Recipes Made Easy Now available on Amazon »
THANK YOU in advance for your support!