Potato Chip Crusted Chicken Tenders. Who knew crushed chips make a delicious breading option?! Chicken tenders are coated in ground potato chips and baked for the ultimate crispy chicken tender!
Can we pretend for a second that potato chips don't have calories?
Let's pretend they aren't deep fried, that they're loaded with vitamins and nutrients and that we can eat an entire bag and still be a size 8 errr I mean 6. yeah. It'll make us all feel better if we do.
So today I'm obviously sharing with you a fool-proof chicken tender recipe… two ways. Or should I say two kinds? Homemade chicken tenders that are coated with crispy-crunchy kettle cooked potato chips are perfection all on their own… but I decided to get a little creative, and make you TWO kinds of chicken tenders. For the kiddos I took original kettle chips and seasoned them with garlic and onion powder and paprika, yum! For the adults… jalapeno kettle chips seasoned with some black pepper bay-bee! These really should be illegal they're so good.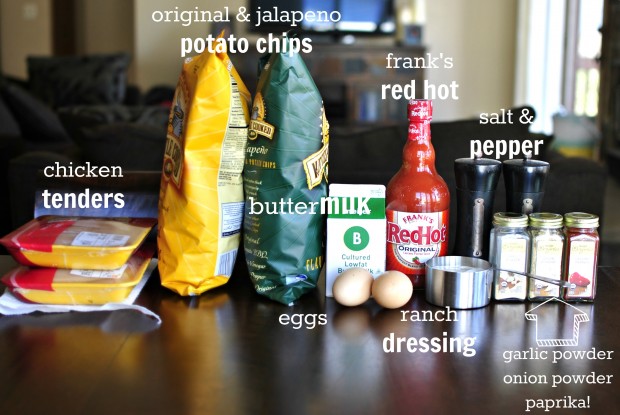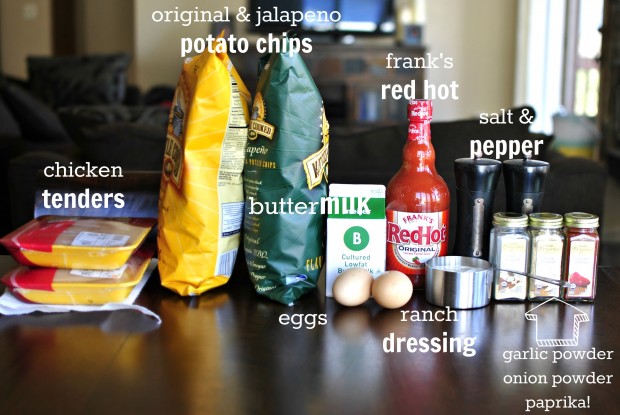 Chicken tenders usually are pretty cheap and a single package goes along way. I bought 2 packages totally 3 pounds of chicken tenders to make a TON so I could freeze them for the future when I'm at work and Pat wants to make an easy lunch or dinner for him and the girls. So this means if you're making this for a crowd… you're golden.
I'm also sharing a recipe for a spicy ranch. Long story short, in the hospital cafeteria they make these pretty good chicken wraps. My friends and I love them because you can customize them however you want. I always get mine with a squirt of ranch and a squirt of buffalo sauce. It's crazy simple and extremely delicious… and the inspiration for this dipping sauce.
Let's do this.
First, start my measuring and adding 3/4 cup of ranch into a small bowl. I highly recommend using this ranch recipe!
Next, pour in a heaping quarter cup of Frank's Red Hot. Feel free to add more if you want more heat.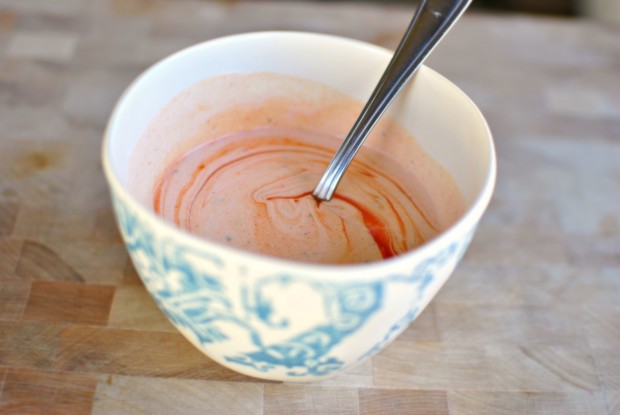 Then give it a stir. Cover and refrigerate it until your tenders are ready for dunking.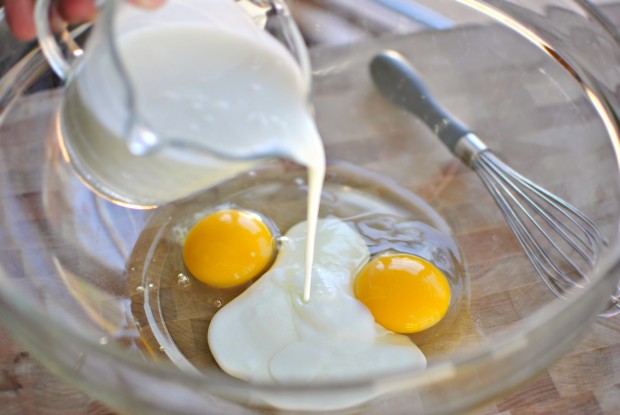 Next, in a large bowl, crack two eggs and pour in a cup of buttermilk.
Then whisk the eggs and buttermilk together. Don't be weirded out if it starts to thicken a bit.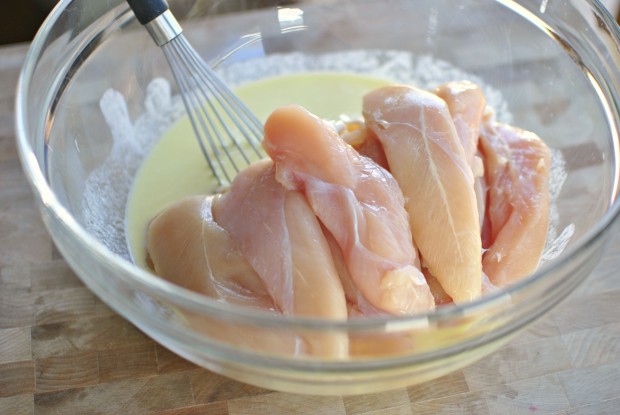 Next, drop in the chicken tenders…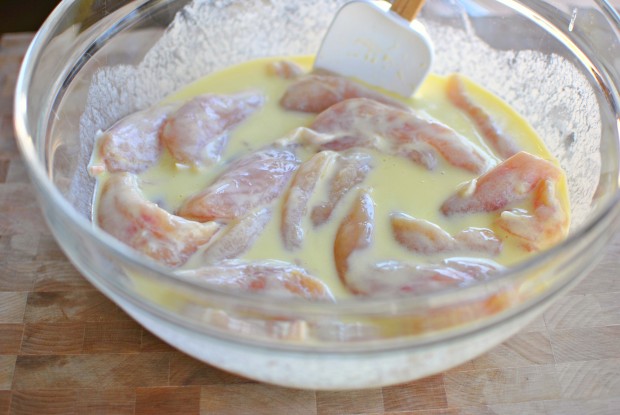 And then toss them to coat and set those off to the side while you make the potato chip coating.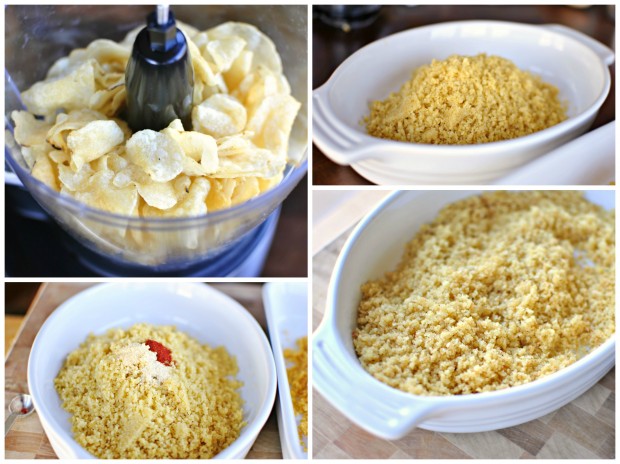 For the plain chips: Throw about 6 ounces of plain chips into the bowl of your food processor. Then secure the lid, turn it on and let the blade do all the work until fine crumbs form.
Lastly, season the chip crumbs with a quarter teaspoon of onion powder, garlic powder and paprika. Stir all of those together.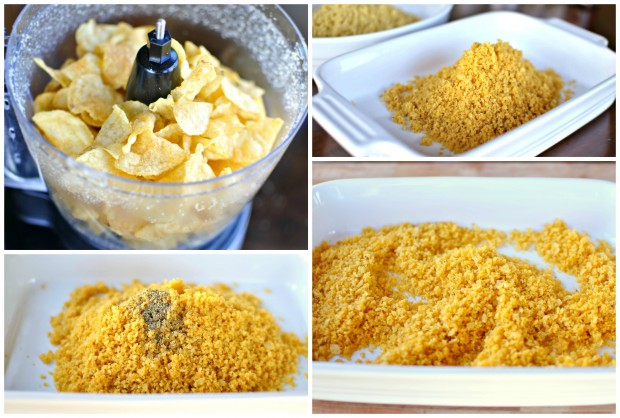 For the jalapeño crumbs:; start by placing 6 ounces of jalapeño kettle chips into the bowl of your food processor. There's no need to wash it out from the first batch. Secure the lid and pulse until small crumbs form. Pour into another shallow dish and season with a quarter teaspoon of black pepper and stir.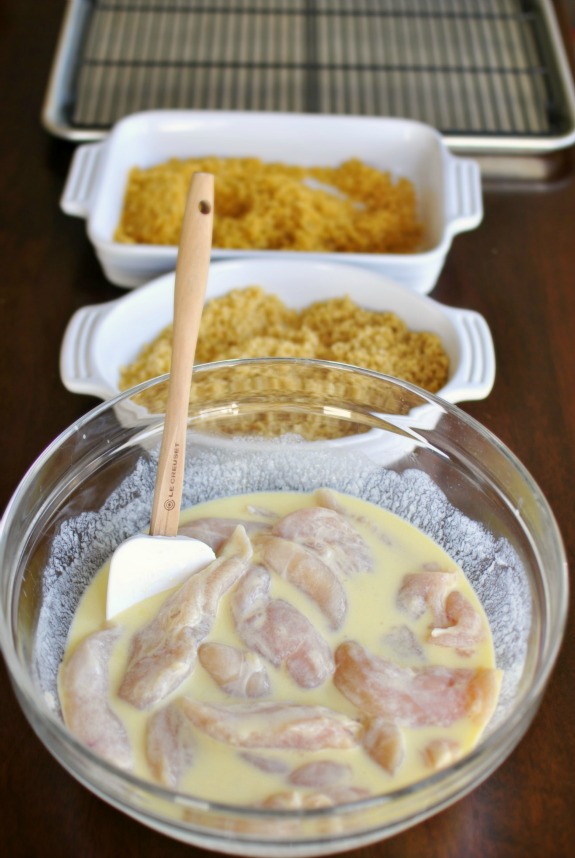 Next, clear a spot and set up your breading (chipping?) station. It should go from left to right: chicken tenders, seasoned chip crumbs, and baking sheet.
You don't need a baking rack to make these. You could simply line a rimmed baking sheet with parchment or a silpat.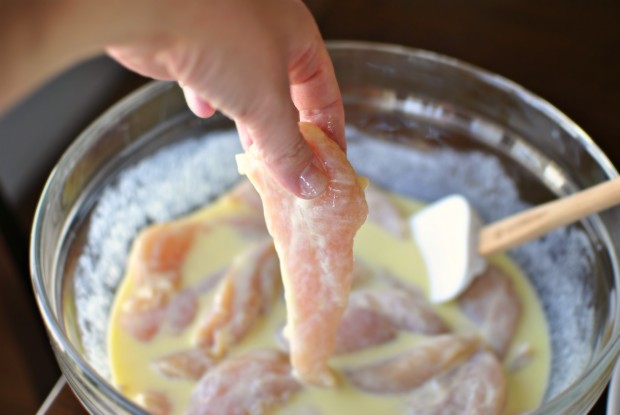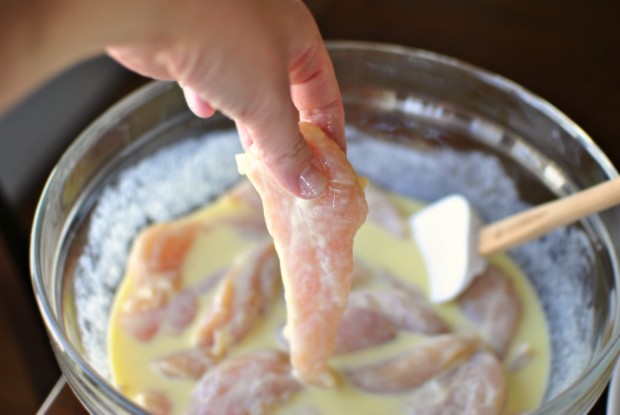 Next, grab a buttermilk-soaked tender and let the excess drip back into the bowl.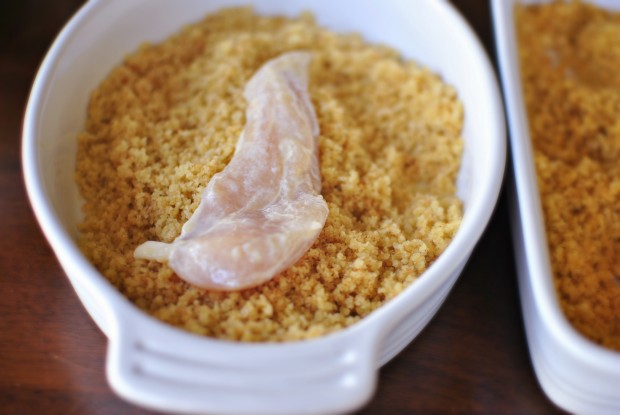 Then press the tender into the chip crumbs, turn and coat all sides making sure you're pressing the chip crumbs INTO the tender.
Voilà!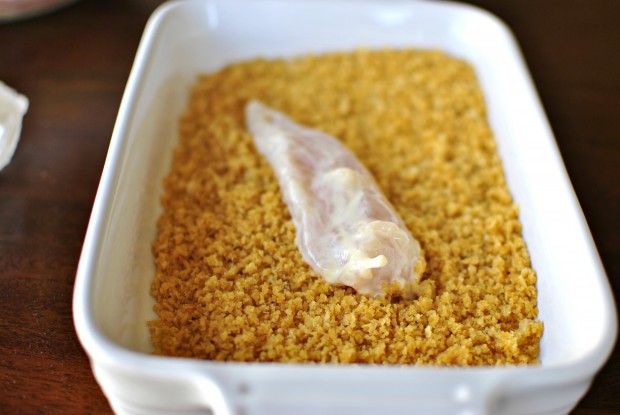 Same thing goes for the jalapeno chip crumbs.
Arrange the coated tenders on a sheet pan or a wire rack set into a sheet pan, whichever you have. Bake the tenders in a preheated 400° oven for 20-25 minutes or until fully cooked and crispy!
Finally, let them cool a tad before handling.
Serve the tenders saddled right up with that spicy ranch.
Just look at that crust! Man, writing this post and staring at those tenders are making me hungry again.
The Potato Chip Crusted Chicken Tenders are crispy on the outside, tender and muh-muh moist and juicy on the inside. Real chicken tenders that weren't previously frozen… fresh from the oven, there's nothing like it.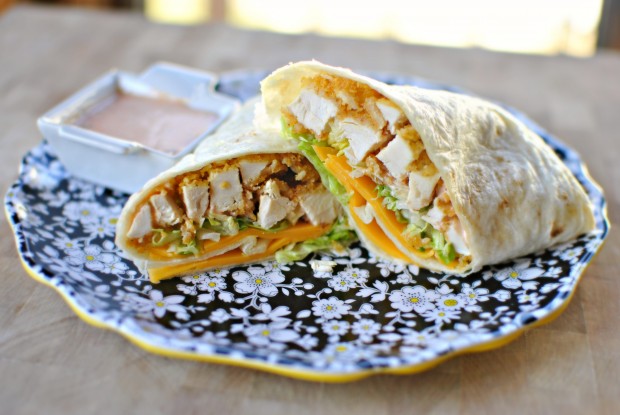 The girls ate them like above. Pat and I made wraps by slicing the Potato Chip Crusted Chicken Tenders into strips, piling them onto a warm tortilla with fresh lettuce and cheddar cheese and drizzled them with the spicy ranch. So. Darn. Good.
Enjoy! And if you give this Potato Chip Crusted Chicken Tenders recipe a try, let me know! Snap a photo and tag me on twitter or instagram!
My cookbook Simply Scratch : 120 Wholesome Homemade Recipes Made Easy is now available! CLICK HERE for details and THANK YOU in advance!
[this post contains affiliate links.]
This post may contain affiliate links.
Buy the Cookbook: Simply Scratch : 120 Wholesome Homemade Recipes Made Easy Now available on Amazon »
THANK YOU in advance for your support!