In these Greek Turkey Burgers; ground turkey is mixed with olives, roasted red peppers and feta for a delicious Greek-ed up turkey burger!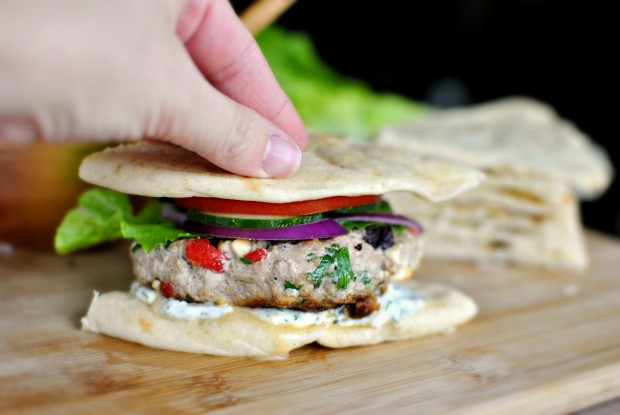 It was a little difficult making this crazy delicious Greek turkey burger actually look delicious.
Know what I mean? I really did try to do my best dressing this beast up… but on the reals, this burger isn't going to win any beauty pageants anytime soon. However, if there was a taste pageant then sign me up because this Greek burger would win the whole shebang.
To Make These Greek Turkey Burgers You Will Need:
FOR THE GARLIC DILL MAYO:
1/3 cup mayonnaise
2 tablespoons minced fresh dill
1 splash white wine vinegar
1 clove fresh garlic, squeezed through a garlic press
2 pinches kosher salt
ground black pepper, to taste
FOR THE BURGERS:
1-1/4 pounds ground turkey
2 tablespoons minced fresh parsley
1 teaspoon italian seasoning
1 teaspoon dried oregano
1/4 cup minced kalamata olives
1/4 cup minced roasted red pepper
1/4 cup minced onion
3/4 cup crumbled feta cheese
1 clove garlic, squeezed through a garlic press
olive oil
2 to 3 greek pita breads (pocket-less), quartered
lettuce
cucumber slices
tomato slices
red onion slices
garlic dill mayo
Turkey can be pretty bland all by itself I knew I had to throw everything Greek into this burger. We've got olives, herbs, roasted red pepper, onions, garlic all mixed into the turkey… and then after it's griddled… it's smothered in an amazing garlic dill mayo and topped with crisp lettuce and fresh cucumbers, onions and to-mah-to.
Funny thing is I'm the only one who likes olives. But guess what? Nobody noticed they were in there! All the flavors blend so perfectly and harmoniously that all you get is one delicious burger.
Grab some dill. Fresh dill rules, totally.
Give a good mincing to the dill until you get about two tablespoons.
Throw it into a small bowl with a third cup of mayo…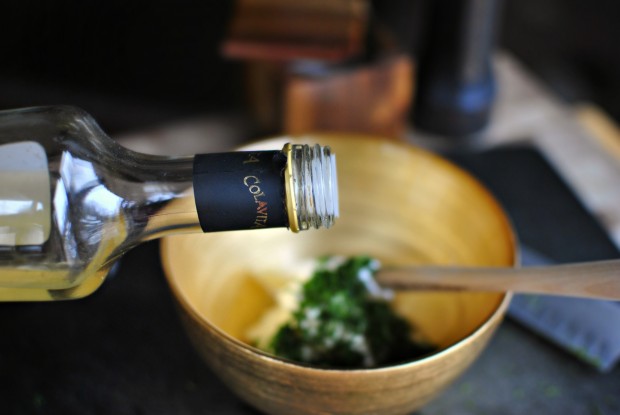 Add a splash of white wine vinegar…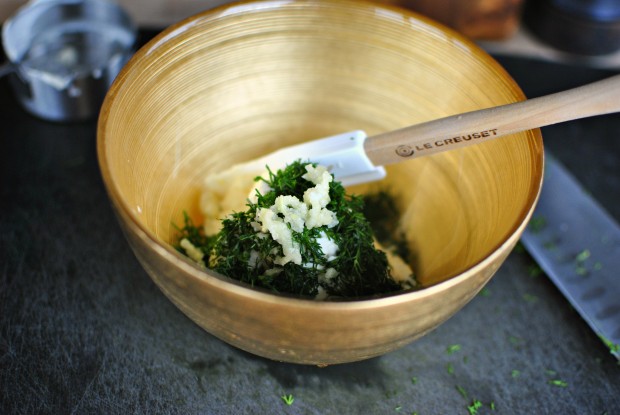 Then press in a clove of garlic and season with a couple pinches of salt and a couple grinds of black pepper.
Give it a good stir, cover with plastic wrap and pop it into the fridge for at least one hour. The longer in the fridge the better 🙂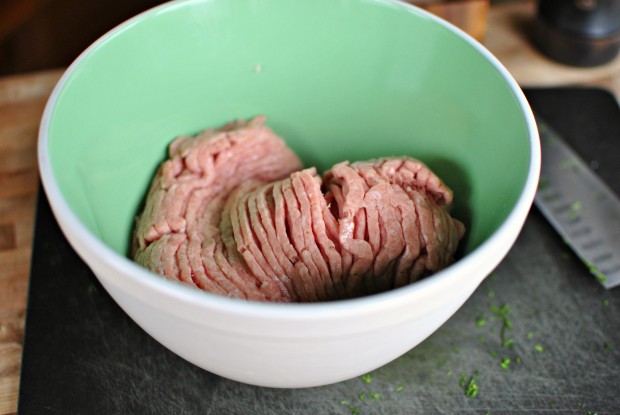 In a good sized bowl throw in the ground turkey.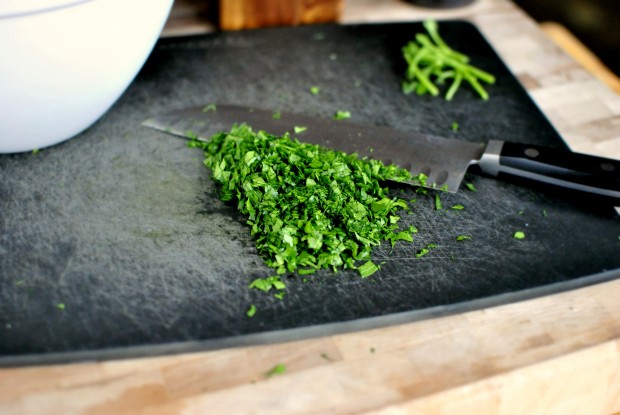 Mince up fresh parsley until you get about two tablespoons.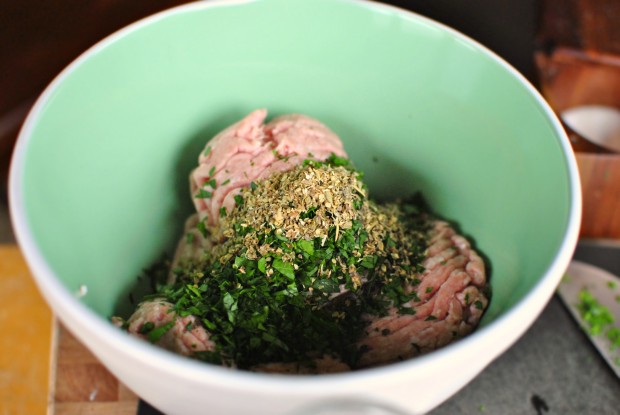 Add that plus a teaspoon each of oregano and Italian seasoning. I know Greek and Italian seasoning… hmmm. Trust me it works.
Mince up a quarter cup of each Kalamata olives, roasted red pepper and onion.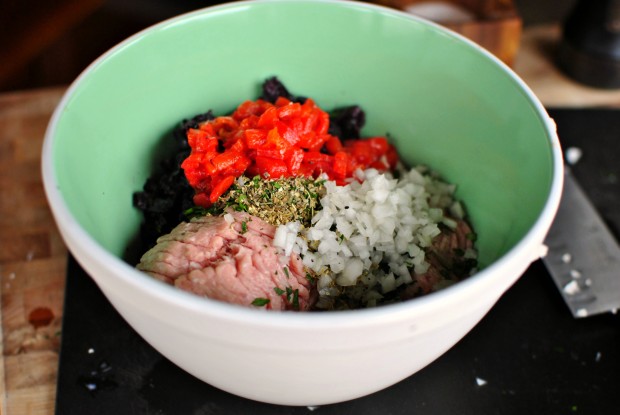 Add everything into the bowl with the turkey and herbs.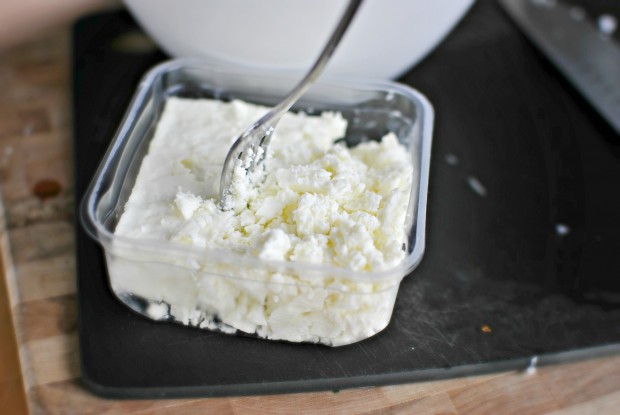 I busted up some feta, you'll need 3/4 cup or so, just eyeball it… you'll be good.
Throw that into the same bowl… and squeeze a clove of garlic through a garlic press.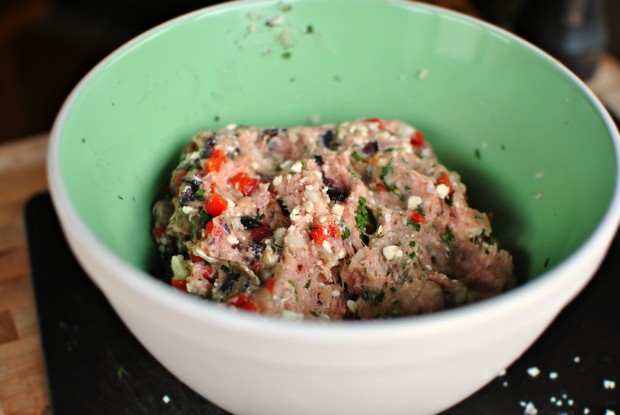 Mix by hand, because that's how we do, until it is well mixed and all the goodies are evenly throughout.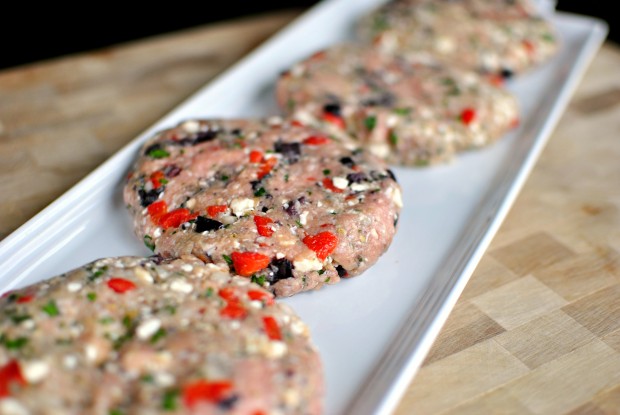 Form into to 4 to 6 patties, depending on how big you want them and then preheat a griddle to 375.
Add a little oil to the griddle (or skillet or if you're grilling; be sure to oil the grates) and cook for 6 to 8 minutes on the first side. Make sure the griddle, pan or grill is really hot so the burger will sear and not stick.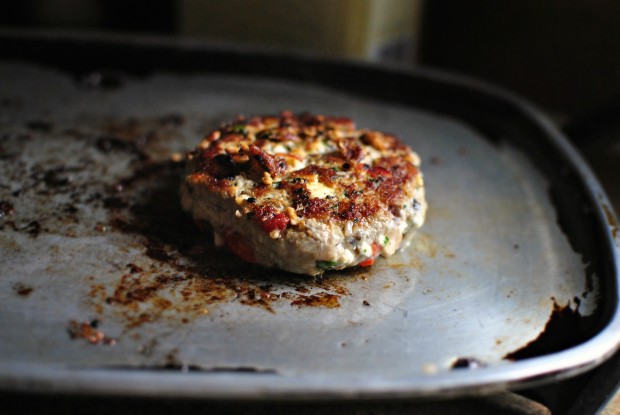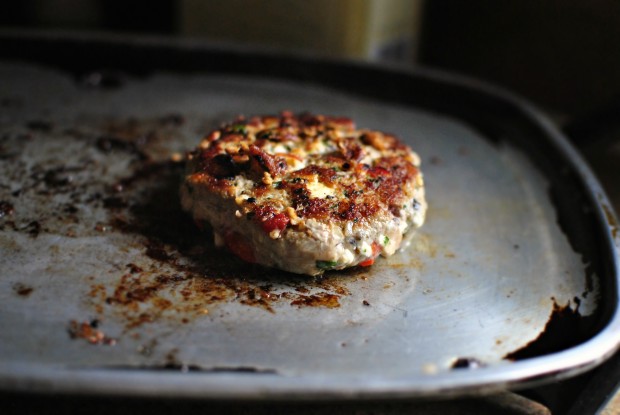 Use a spatula to carefully flip the burgers.
Then cook for an additional 4 to 6 minutes or until the burger is fully cooked. See what I mean… these can stick a bit, but by the second one my griddle was just the right temp so there was less sticking goin' on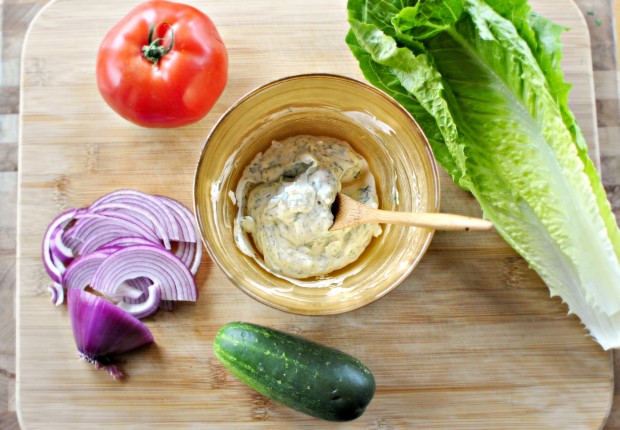 Toppings are essential. I like red onion, cucumber, lettuce, tomato and the most amazing garlic dill mayo… really you need to make this.
Quarter two pitas.
These Greek turkey burgers are delicious!
We all inhaled ours and everyone especially loved the mayo. I hope you give these burgers a whirl. Not only are they pretty darn healthy but also loaded with a ton of flavor!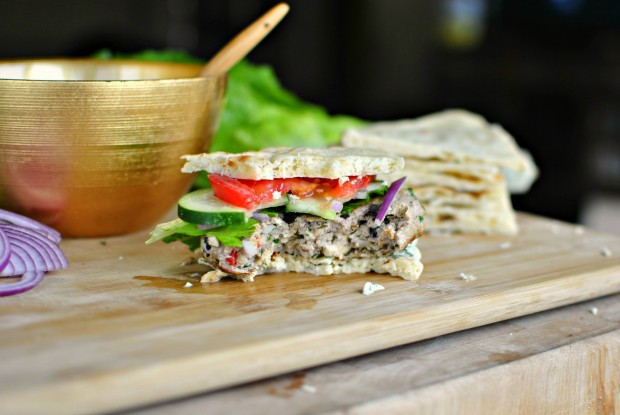 Enjoy! And if you give this Greek turkey Burgers recipe a try, let me know! Snap a photo and tag me on twitter or instagram!
This post may contain affiliate links.
Buy the Cookbook: Simply Scratch : 120 Wholesome Homemade Recipes Made Easy Now available on Amazon »
THANK YOU in advance for your support!