A French Onion Soup Grilled Cheese Sandwich is essentially French onion soup in grilled cheese form. It's totally legit and majorly delicious!
Friday was cold and rainy. The kind of day that calls for a cozy fire in the fireplace, a hot bowl of soup, grilled cheese sammies and a few or six beers. So Pat and I did all of the above. I've never felt so grown up.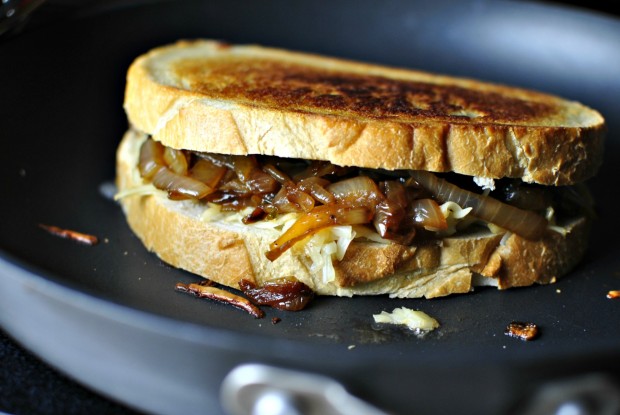 I'm pretty sure after the first bite of this sandwich I died and got a sneak peak at what heaven is like. And since that first glorious bite I've now decided that in my heaven, grilled cheese is served all the time. Like we're talking breakfast, lunch and dinner here. With salt and vinegar chips. And pickles. And cake.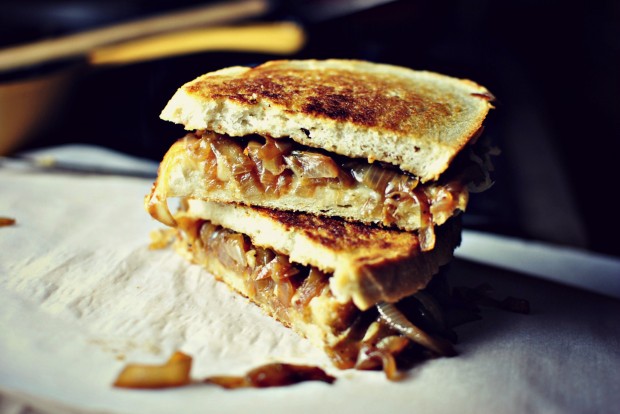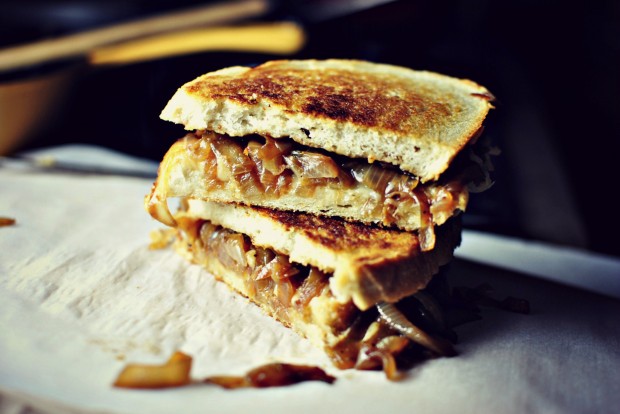 My eye has been on this recipe ever since Joy posted her version of it back in May. I was like 'oh heck yes I'm gonna make these one day'. And so here I am. I know I've said this quite a bit on my blog and I'm sure it's getting old… but this might be my favorite grilled cheese of all time. Onions… caramelized in butter with fresh thyme and beer, top it with Gruyere, then grill it in between slices of buttered bread and call it a French Onion Soup Grilled Cheese. Oh my god somebody kill me now so I can go straight to heaven and eat these all the time. Please.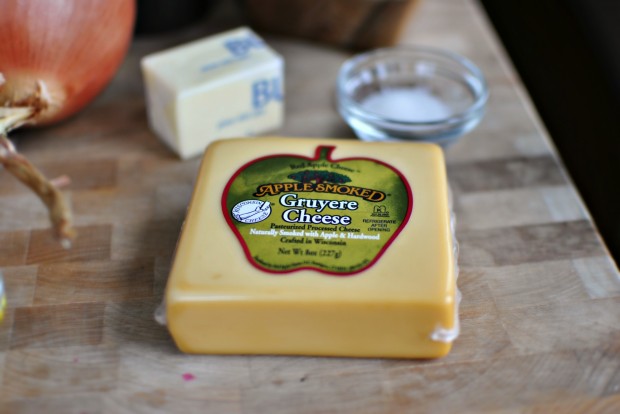 Now if we could rewind it back a bit to where I was standing there in the grocery store looking at the small selection of Gruyeres, I made a split second decision to try apple-smoked Gruyere instead of the regular. Rebel I know. And I'm so glad I did. The smokiness of the cheese with the creamy-thyme-and-beer infused onions. Holy lord. I am speechless.
I started this recipe late in the day so I should probably apologize for the photos later on that are on the dark side. But I think you'll forgive me once you make and taste this sandwich. It's all kinds of deliciousness and your house will smell pretty fabulous too. Bonus.
Grab two yellow onions; trim off the ends, halve, peel and slice them into 1/4 inch slices.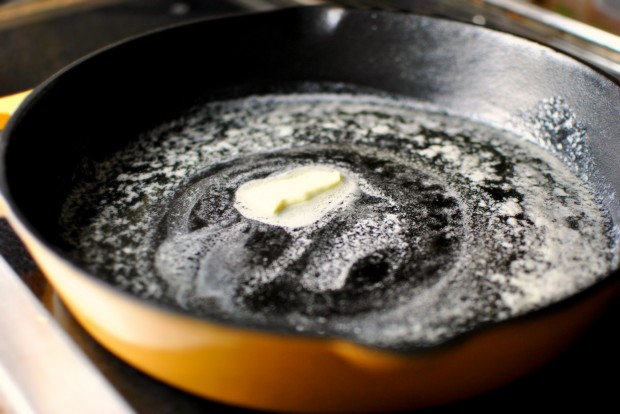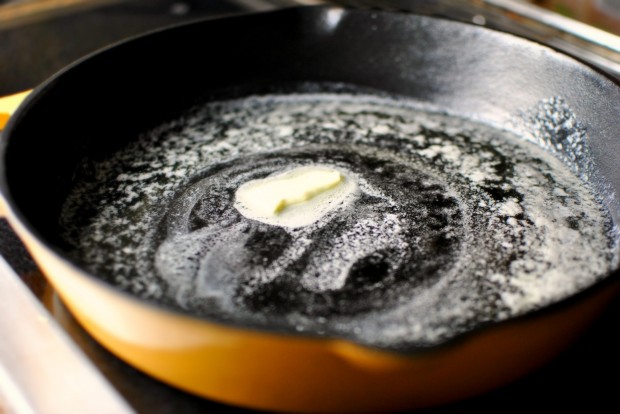 Meanwhile melt three tablespoons of butter and a tablespoon of olive oil in a skillet over medium heat.
When it's good and hot drop in all of the sliced onions. Give them a good toss so they are covered in the butter and oil. Let these cook for 5 good minutes without disturbing them.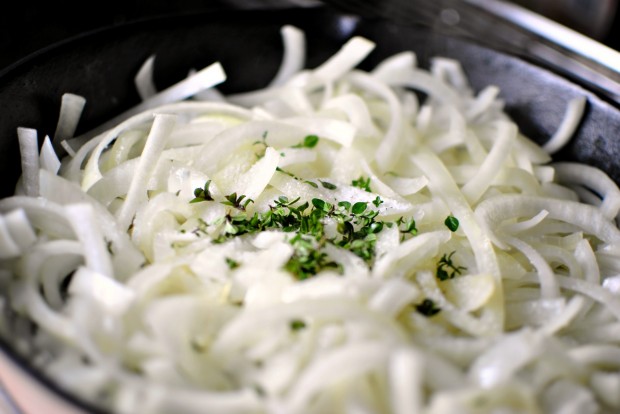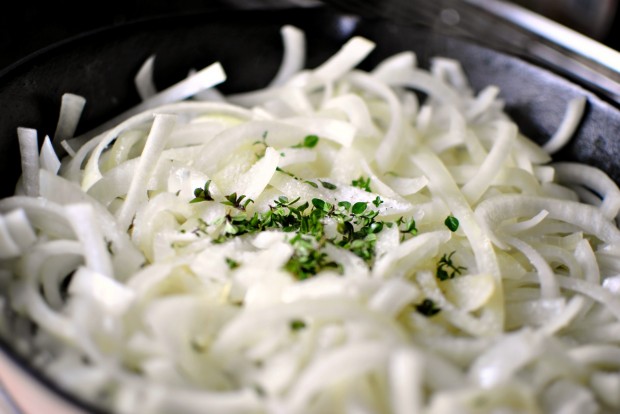 Add in the salt, sugar and thyme.
And don't forget the black pepper too.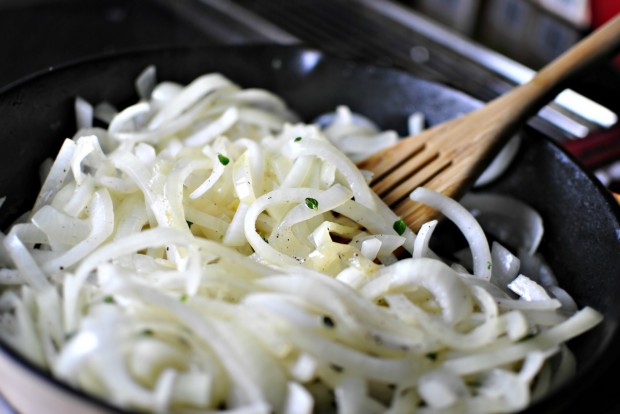 Give that a good stir and cook for 5 minutes more undisturbed. I go on to cover the pan with a lid and stir every 5-10 minutes or so until a deep golden. You may have to reduce the heat if the onions are browning too fast. Now, since the onions take a while to caramelize, it's a good idea to get everything else ready to go. So the time it takes to get this sandwich made and into your mouth won't feel like an eternity.
Grate the smoked Gruyere. I love this stuff.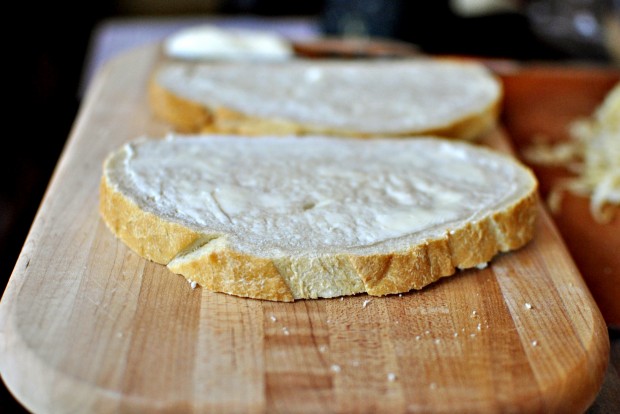 And butter the sour dough bread.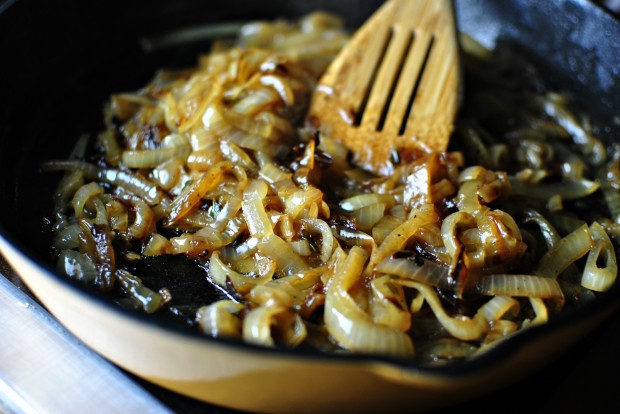 Once the onions are soft and reach a deep golden color it's time to add the beer.
You could also use beef stock or white wine. But I like the beer… plus it gave me an excuse to drink during the afternoon. HA! I couldn't have the rest of the bottle go to waste now could I? There are laws about that, right?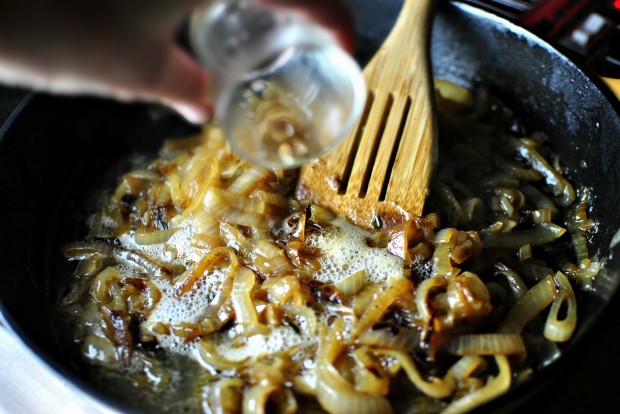 The beer is going to bubble up, so scrape up any bits that are stuck to the bottom of the pan.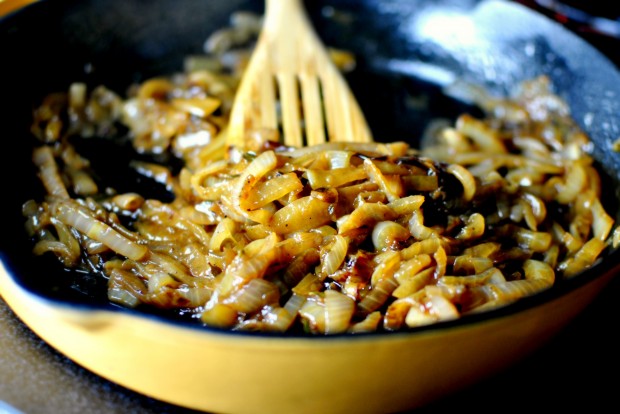 The onions will be all creamy like so just pull the pan off of the burner so they don't burn.
Heat up a non-stick pan or a griddle over medium/medium-high heat. Place butter-side down and top with a little Gruyere cheese and half of the onion mixture.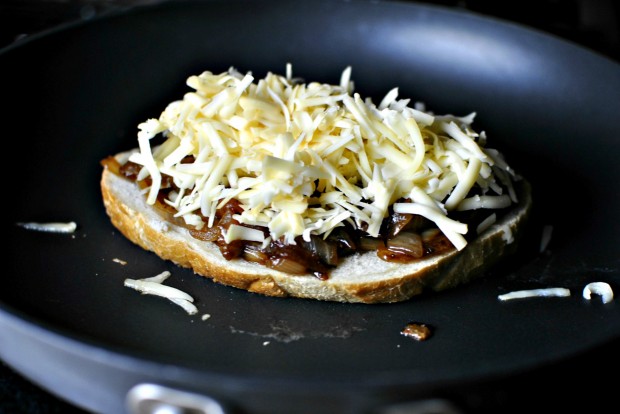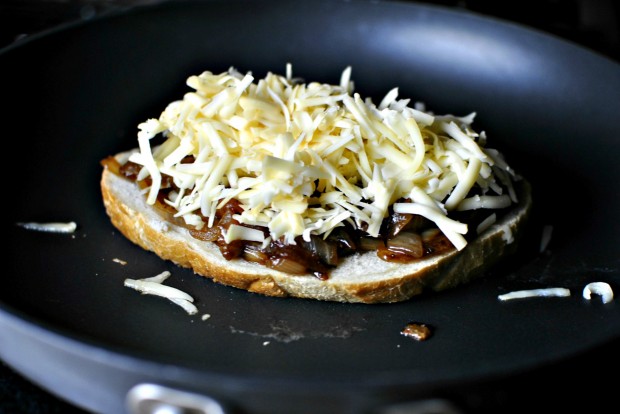 Top with more of the smoked Gruyere… ohhhh baby.
Place the top slice on the cheese, butter side up, and replace the lid that you used earlier so the cheese can steam… and melt.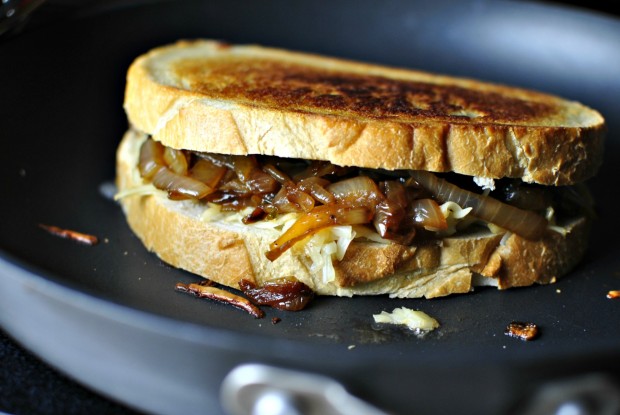 And ever so carefully, flip the French Onion Soup Grilled Cheese Sandwich when the bottom of the grilled cheese is a deep golden and crispy.
Cut your French Onion Soup Grilled Cheese Sandwich in half and serve pronto.
This is a pretty decadent grilled cheese. It's fancy… it's cheesy… it was exactly what I pictured the ultimate French onion soup grilled cheese to be.
Enjoy! And if you give this French Onion Soup Grilled Cheese Sandwich recipe a try, let me know! Snap a photo and tag me on twitter or instagram!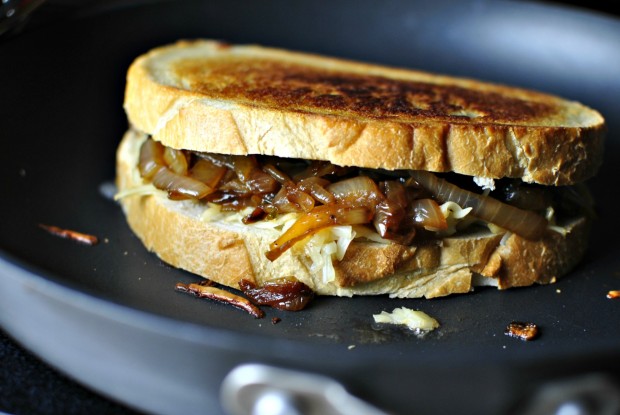 My cookbook Simply Scratch : 120 Wholesome Homemade Recipes Made Easy is now available! CLICK HERE for details and THANK YOU in advance!
[this post contains affiliate links.]
This post may contain affiliate links.
Buy the Cookbook: Simply Scratch : 120 Wholesome Homemade Recipes Made Easy Now available on Amazon »
THANK YOU in advance for your support!