In this Green Bean Almondine, green beans are cooked in bacon fat and garlic, and then are tossed with slivers of toasted almonds. Simple and delicious!
Garlicky Green Bean Almondine. Say that seven times fast.
This is a favorite side dish of mine. I love the flavor of toasted almonds with the freshness of the green beans together. As a kid this sort of recipe I would've probably turned my nose up at, I mean the thought of nuts on my vegetables wouldn't fly. But this totally works… and both my husband and girls love them too! Boy how times have changed.
My friend Nichole (Hiiiieeee Nichole) was telling me how she was hosting Thanksgiving this year and she was doing alllll the cooking. She went on to talk about how she was going to make the traditionally heavy meal a little bit healthier. Like, sautéed green beans with crispy shallots instead of the green-bean-cream-of -mushroom-soup-casserole that has been served in the past.
And all our talk about beans got me thinking… about these beans.
To Make This Green Bean Almondine You Will Need:
green beans
bacon fat
fresh garlic
almonds
kosher salt
black pepper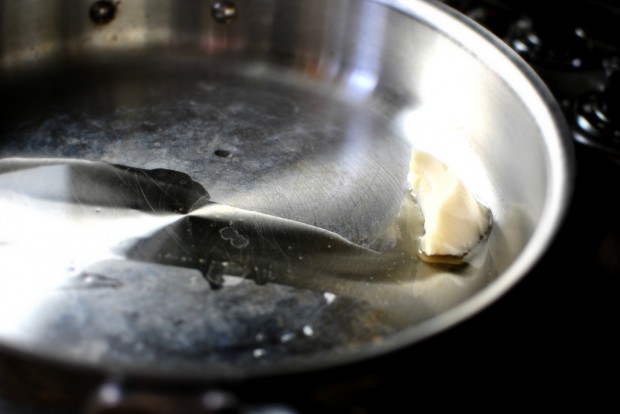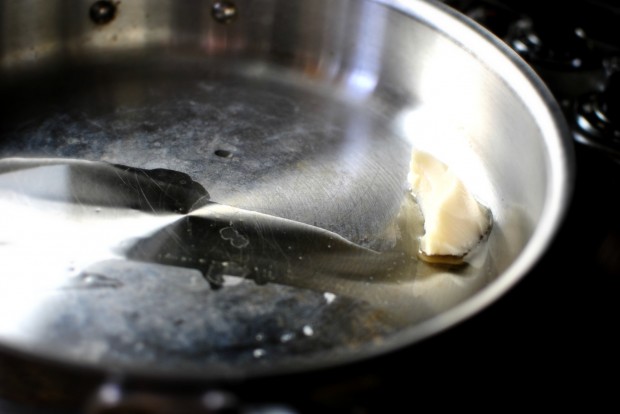 Next, bring a pot of water to boil and season with a generous pinch of sea salt. Then melt a tablespoon of bacon fat into a deep skillet over medium heat.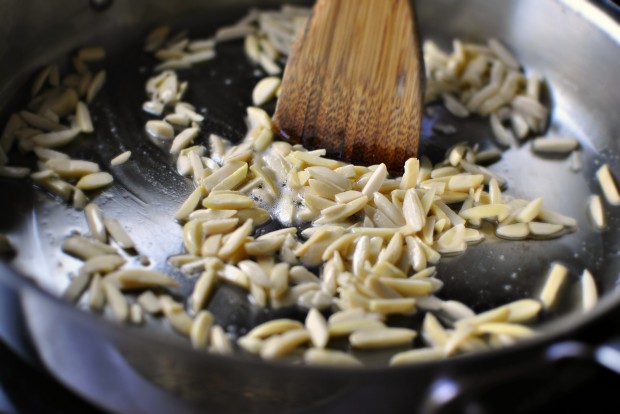 Then once the pan is hot, throw in the slivered almonds. Stir them occasionally until fragrant and lightly golden.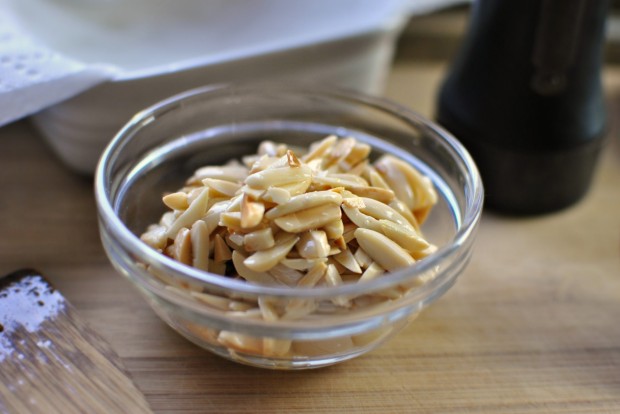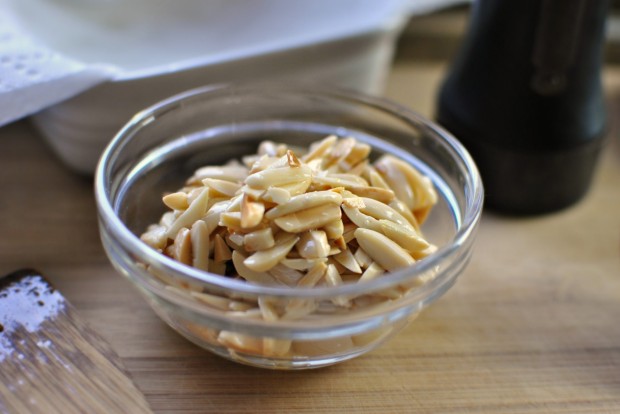 Next, remove the almonds to a bowl and go to work on the green beans.
Then drop in a pound of green beans. I'm using fancy French green beans or haircot verts, which if you say phonetically sounds a little dirty.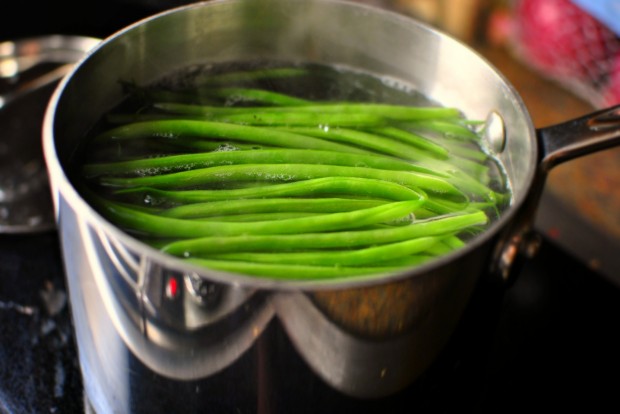 Next, after a few minutes they should be a bright green.
You'll want to immediately remove them from the boiling water and plunge them into an awaiting bowl full of ice and water. This whole process is called blanching. Which basically just means a quick dip in hot salted water to bring out the insane color and then cooling them off so it stops the cooking process, leaving you with pretty and bright green beans and not that dark and dismal green you've probably have seen more times than not.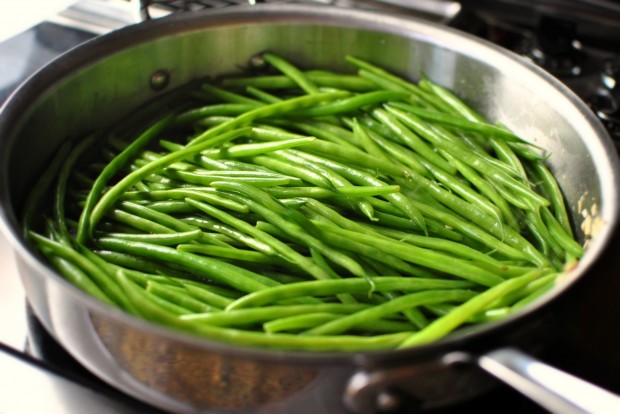 Then shake off any excess water off of the beans and throw them into the pan with the remaining bacon fat is and cook for a few minutes. It should sizzle-sizzle.
Next, using a garlic press, squeeze in a clove of garlic and season with a lot of black pepper. Here's where you can add a teaspoon of lemon juice if you want, I didn't because I didn't have any lemons. However either way this is delicious.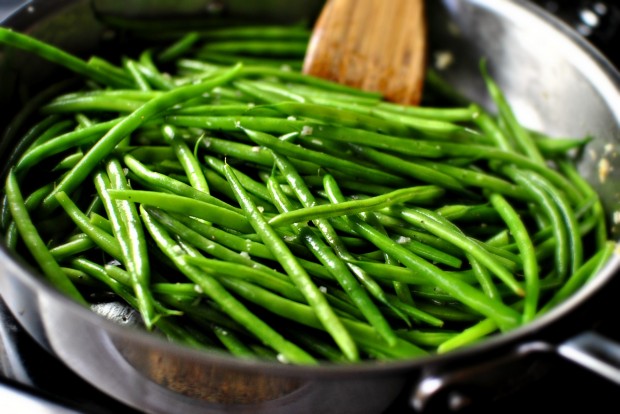 Then give it a toss and continue to cook until the beans are al dente… or to your liking.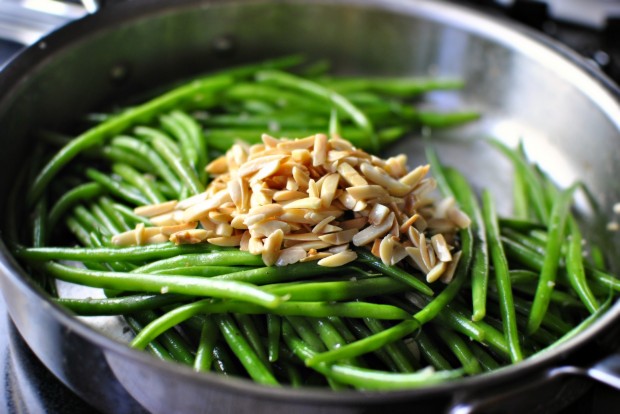 Lastly add in the toasted almonds, toss together and then serve.
This green bean almondine recipe is so much better for you but with a little naughty from the bacon fat. Yum, yum and YUM!
Enjoy! And if you give this Green Bean Almondine recipe a try, let me know! Snap a photo and tag me on twitter or instagram!
This post may contain affiliate links.
Buy the Cookbook: Simply Scratch : 120 Wholesome Homemade Recipes Made Easy Now available on Amazon »
THANK YOU in advance for your support!