In this pan-roasted chicken breasts recipe, the chicken skin gets super crispy before the chicken is sent to finish cooking in the oven. Plus the GRAVY!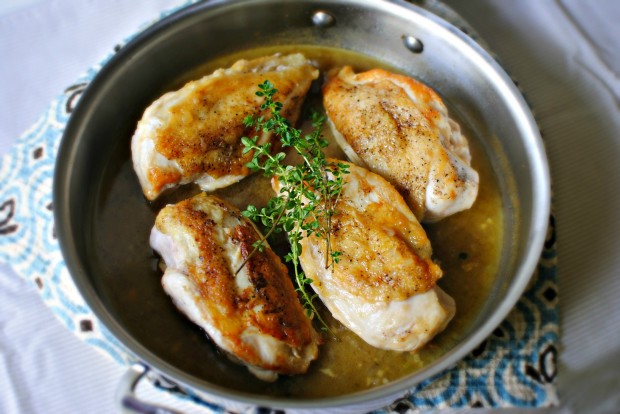 There's just something about the smell of roasted chicken.
The smell of it wafting throughout the house that makes even the coldest, dampest day all warm and cozy. So ever since the weather dropped a smidgen, I've been itching to make pan-roasted chicken breasts and drink wine while I cook (let's be real).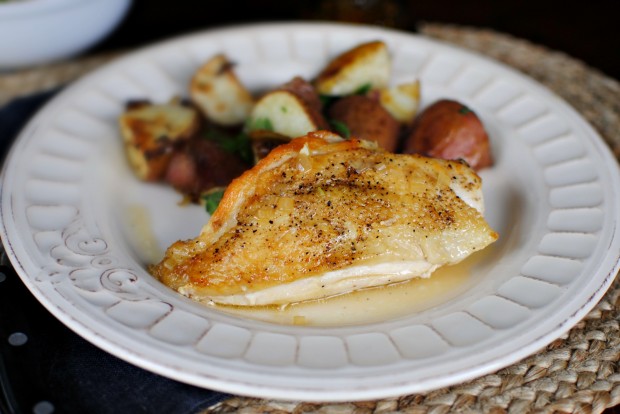 Of course I still love my favorite childhood recipe but I really wanted something that called for fresh herbs. And served with a pan sauce, because I'm fancy like that.
So as far as the chicken goes, you'll need to remove ALL of the rib bones. I'm pretty sure there is a more technical term for those "rib bones", but you know what I mean. 🙂 You're going to need a cutting board and a thin, sharp boning or fillet knife so you can easily separate the breast meat from the bones.
Carefully and slowly (until you get the hang of it) separate the meat away from the bone making small incisions. The meat will/should pull easily away from majority of the bone.
So now you see how easy it is! Now keep going! Don't stop until you have completely removed the entire rib section of each the four chicken breasts. But if you're like me and need a better visual, here's a great video reference for you to check out too!
Here you have four boneless but with skin-ON chicken breasts. Pat yourself of the back :)… well done!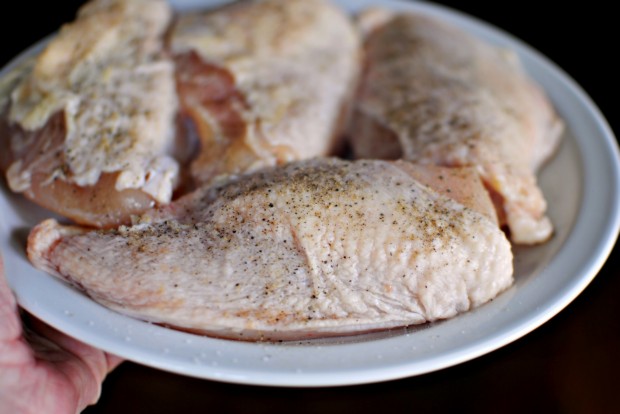 Season the chicken with a generous amount of kosher salt and fresh cracked black pepper.
Let those come up to room temperature while you preheat a pan over medium-medium high heat.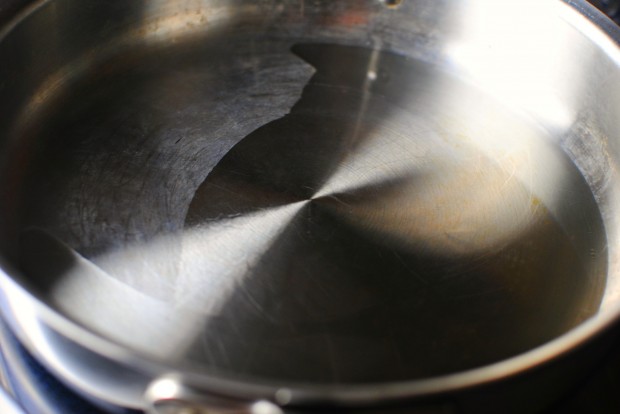 Check to make sure the pan is good and hot by adding a few drops of water, and they should instantly evaporate. Now add in about a tablespoon of olive oil. It should glisten and shimmer.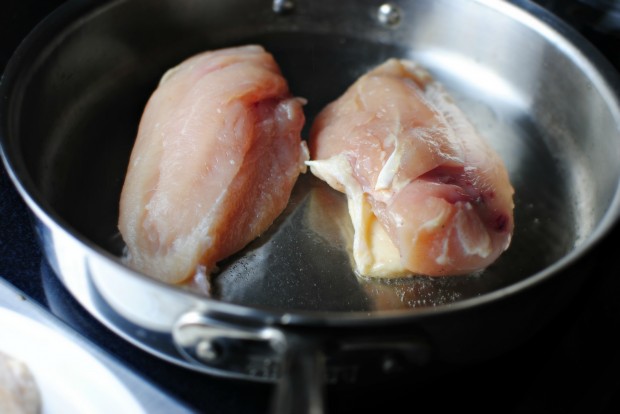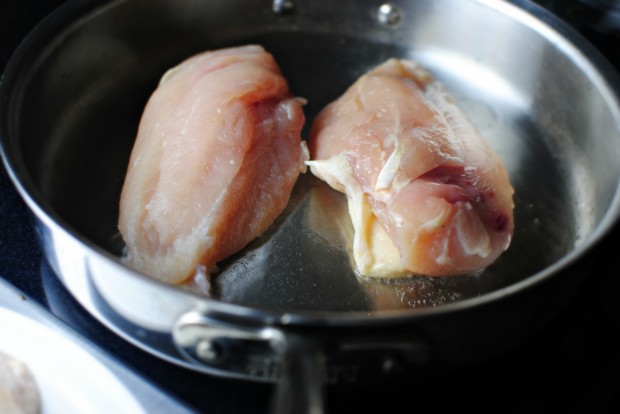 I worked in two batches (of two) and added the chicken breasts skin-side-down into a prepared pan. Let those cook for 6-8 minutes or so. Don't try to scoot them around the pan or lift up and check on them every 5 seconds or you'll do one of two things: a) You'll tear the very skin you are trying to crisp –I'm always guilty of that, even tonight when I made these! Hey it's real life and it happens. Or b) You'll never get a good sear on the chicken. Period. So, listen up, because when the chicken is ready to flip, it will let you know because the skin will easily pull away from the pan. It's as easy as that!
Flip and cook for 4 minutes. Remove them to a clean plate and repeat with the remaining chicken breasts.
Once all four chicken breasts had a chance to get all seared and crispy, place them all into the pan and slide into a preheated 350 degree oven to roast for a quick 15-20 minutes to finish cooking.
See that one on the left, yup I tried to flip to early. Ugh. But it still tasted good!
Remove them to a different plate and cover with foil to rest.
Now get started on the pan sauce.
While the chicken was in the oven I minced up a good sized shallot and a clove of garlic.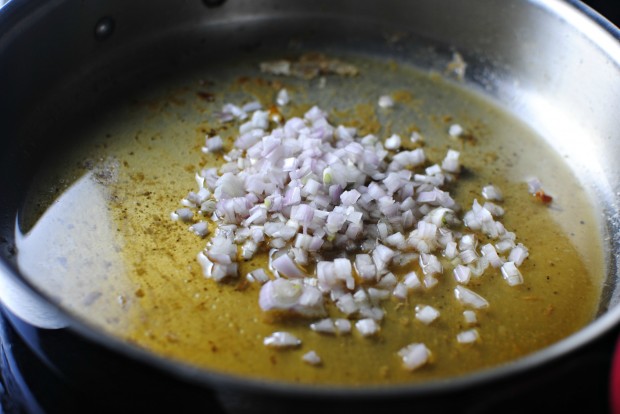 Put the pan-o-juices on the stove and heated it up over medium-medium high heat and threw in the minced shallot.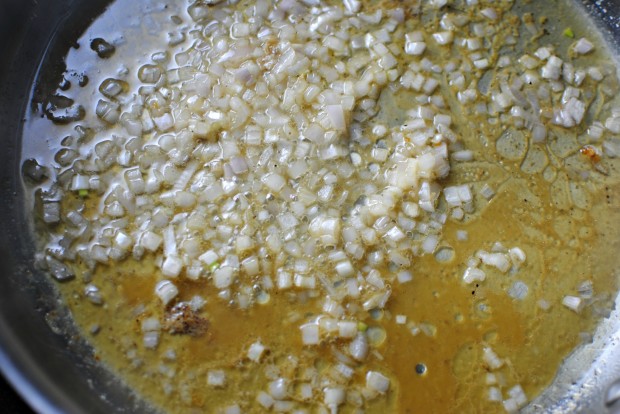 I let those cook about 2-3 minutes until soft and translucent.
Then in goes the minced garlic, and that should only take about a minute to cook.
Add in the cup of chicken stock and bring to a simmer.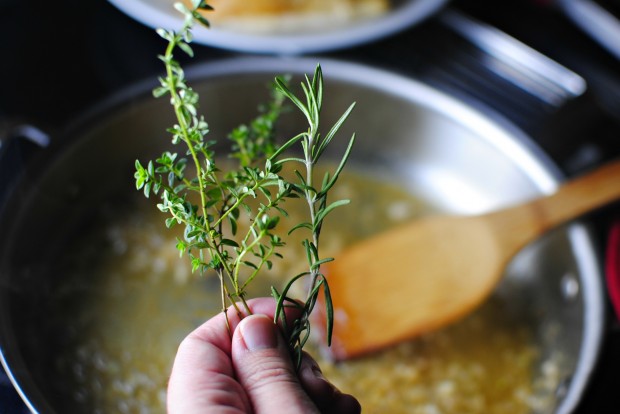 Grab a couple springs of thyme and one of rosemary.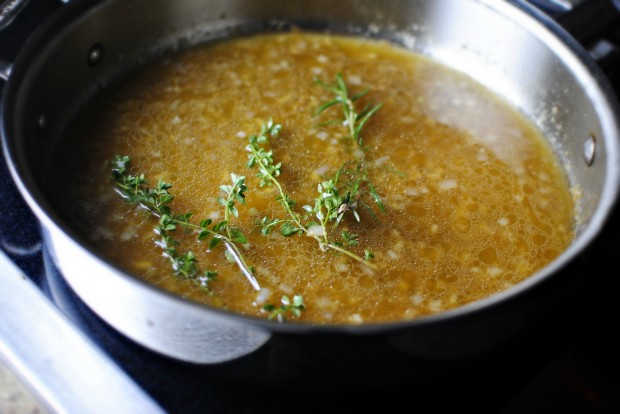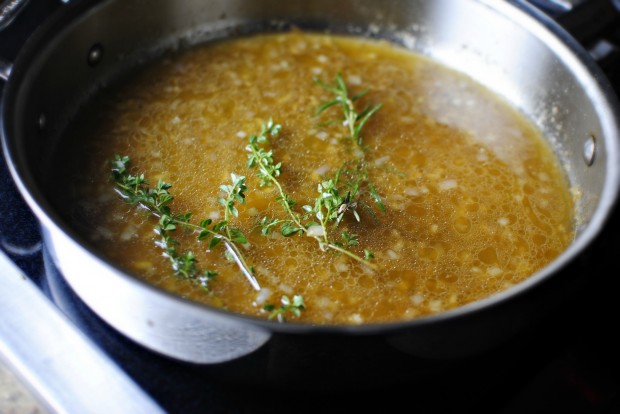 And toss them in the simmering broth-y pan sauce and cook for 5-8 minutes.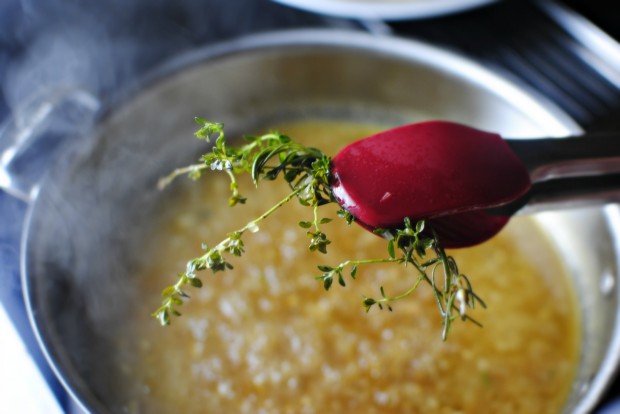 Remove the wilted herbs and discard.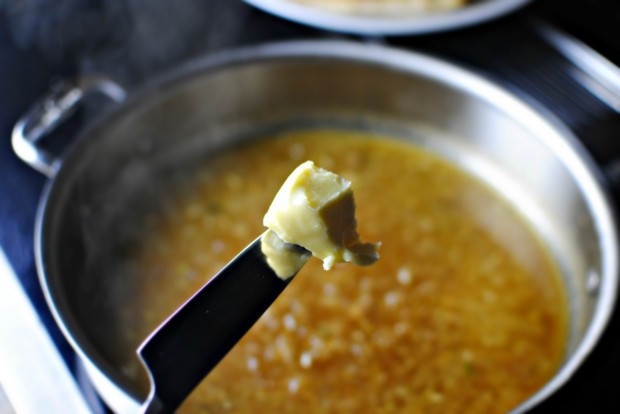 Lastly take a tablespoon-ish of butter and add it in the pan sauce.
Whisk it in! The butter adds a velvety touch to the sauce. I know, I know… you were totally sold on the velvety touch part weren't you… or was it at the mention of butter? There is no wrong answer.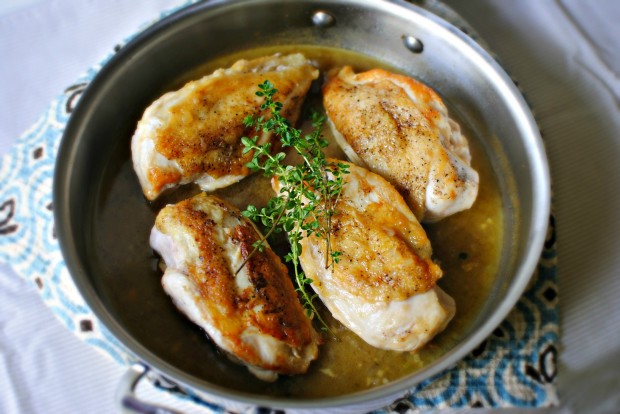 The skin blankets the chicken keeping it moist and tender throughout the whole pan-roasting shin-dig. The pan-roasted chicken breasts literally taste like it's been cooking for hours. And that crispy skin is what it's all about.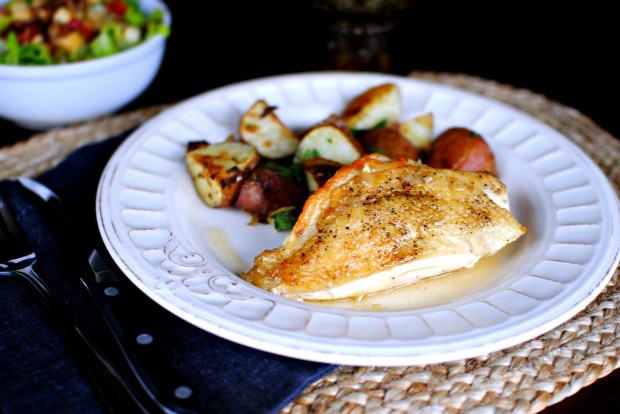 Oh and the deets on the pan sauce; it's a light flavorful sauce, not at all overpowering with the herbs.
Because the herbs are simmered and removed and not chopped and added into the sauce. There's just enough herbaceousness to taste all homemade and scrumptious! Now just spoon a little of it over top of the chicken and serve the rest on the side for those who'd like more.
Enjoy! And if you give this Pan-Roasted Chicken Breasts recipe a try, let me know! Snap a photo and tag me on twitter or instagram!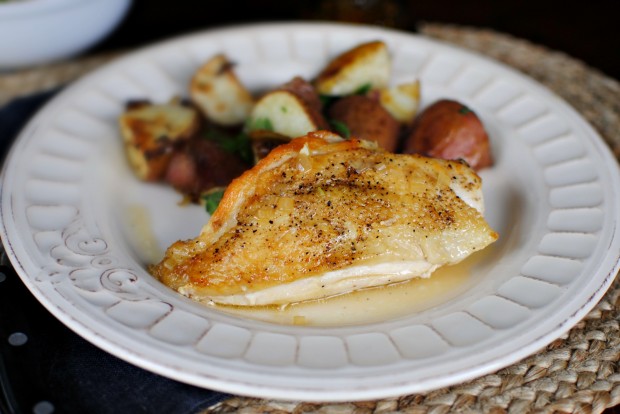 This post may contain affiliate links.
Buy the Cookbook: Simply Scratch : 120 Wholesome Homemade Recipes Made Easy Now available on Amazon »
THANK YOU in advance for your support!