In this upside-down apple cinnamon cake, apples are spread on the bottom becoming the top of the cinnamon cake. Once flipped, the cake is then drizzled in a honey butter!
With school now in effect, I've got 8 or so solid hours to myself and I'm all geared up and ready to run full-speed ahead into fall. Like so excited that I'm secretly wishing for cooler weather so I can wear jeans with sweaters and scarves.
So in order for me to make this cake I needed to get into character. Since the sunny 80° day wasn't really working for me, I cranked up the central air, put on some Alex Clare (have you heard this song?) and slipped on my favorite fuzzy socks and got my baking on.
Anddddd look! I made you a cake! Well okay, technically it's a cake that's for me that's for you. A gift that keeps giving.
It's really no secret that I'm a big fan of all things dessert. I'm an even bigger fan of all desserts that are upside-down cakes. This cake is my fall version that has apples tossed in cinnamon baked under a brown sugar-cinnamon cake, turned up-side down and then drizzled with melted honey-butter. So if this cake doesn't get you in the mood for fall, I don't know what will.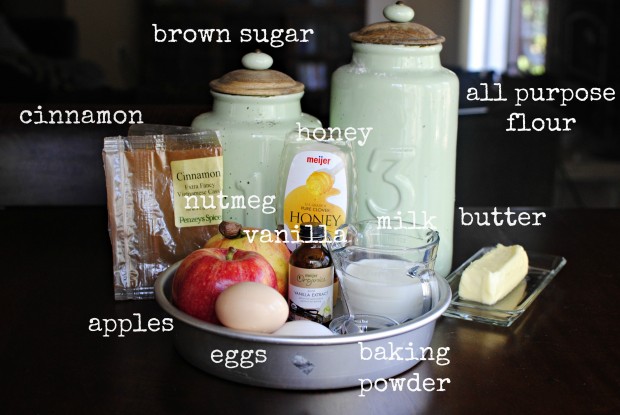 Grab all your stuff (don't forget the fuzzy socks) and let's make a cake.
First start by lining and spraying a 9-inch cake pan. If you wanna see how it easy it is click here for a tutorial.
Grab two apples. I'm using Gala but Granny Smith would work too.
Quarter each apple and remove the core parts, I like to leave the skin on, I think it's prettier that way.
Next, dice the apple wedges into chunks.
Then throw them into a bowl with a 1/2 teaspoon of cinnamon and mix them so they're coated. I snagged a few… couldn't resist AT ALL! Cinnamon covered apples remind me of my childhood. *sigh*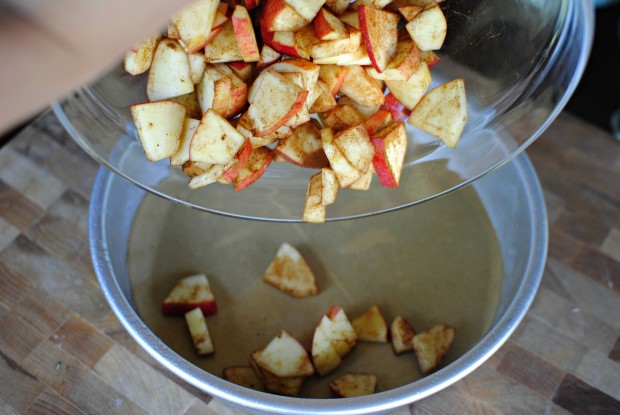 Next dump the apples into the prepared pan.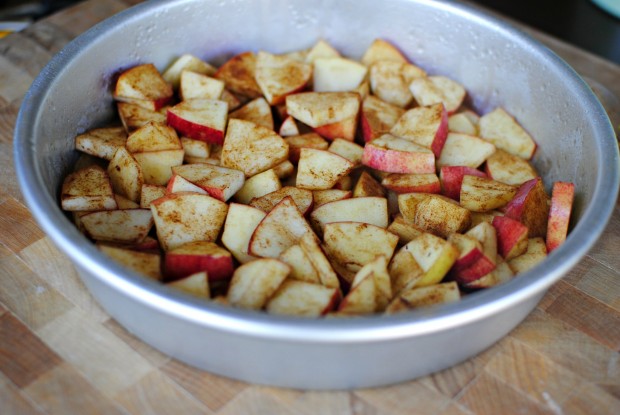 Then spread the apples out to form an even single layer.
Then, using the same bowl that the apples were in, add in the cup of brown sugar and 3/4 stick of softened butter. Blend the sugar and butter until crumbly.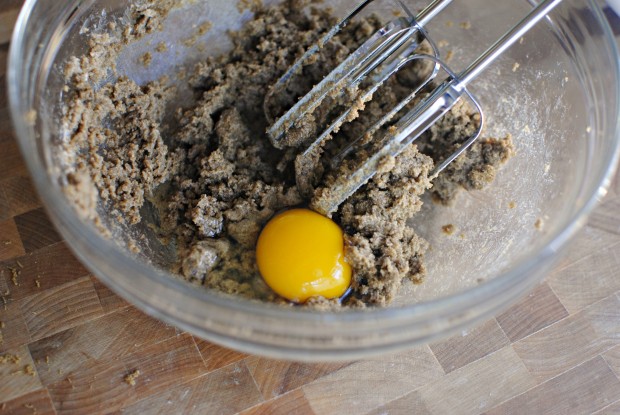 Crack and add 1 egg at a time, mixing after each one.
Then measure and add in a 1/2 teaspoon of vanilla extract.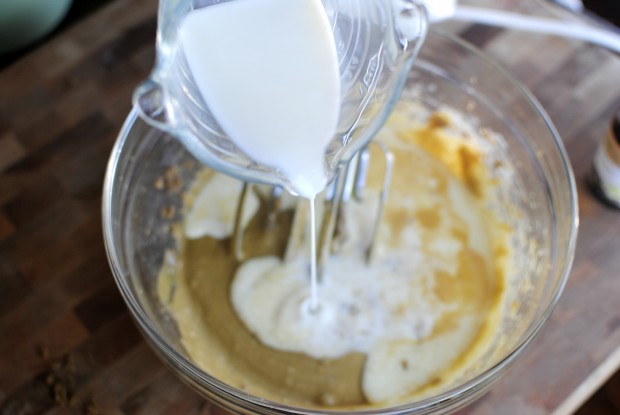 Next pour in the 2/3 cup of whole milk and mix until combined. Then set it off to the side for a moment.
In a smaller bowl combine the flour, baking powder and cinnamon.
Next, freshly grate a little nutmeg (like 1/8 teaspoon). Give all that a stir and pour it right-on-into the bowl with the wet ingredients.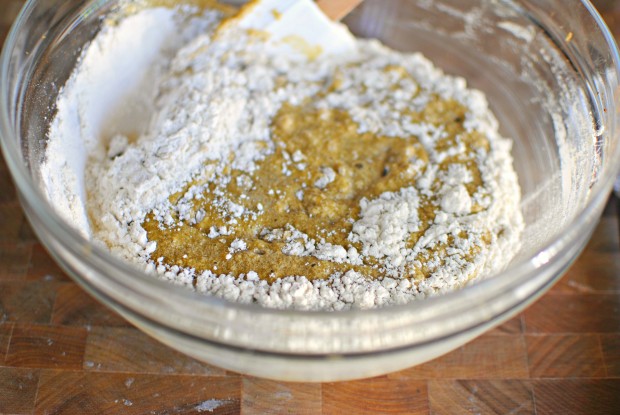 Give everything a mix, by hand, just until the dry ingredients are incorporated into the wet.
Pour the brown sugar cake batter over the cinnamon apples.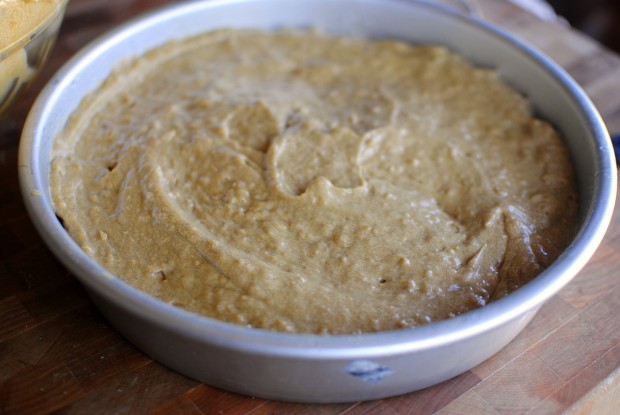 Using an offset spatula, spread the batter out evenly and bake the cake on the middle rack of your preheated 350° oven for 25-30 minutes or until a cake tester comes out clean. Let the cake cool for 10 minutes before running a knife along the sides of the pan.
To invert, place a cake stand, plate or platter over top of the apple cinnamon cake and flip. phew!
Perfection!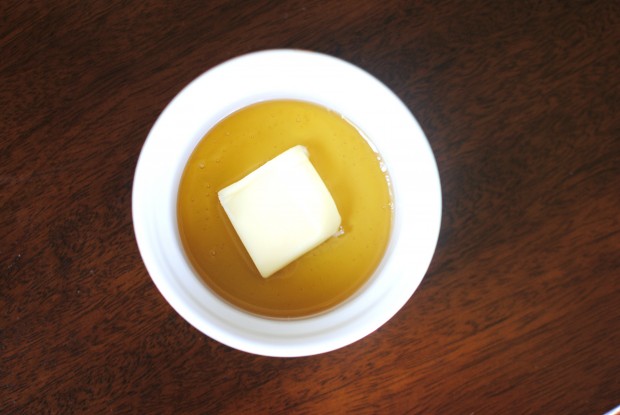 To make the honey butter, grab a small bowl and measure out 2 tablespoons of honey and the remaining tablespoon of unsalted butter. Zap it in the microwave for 20 seconds or so, until melted.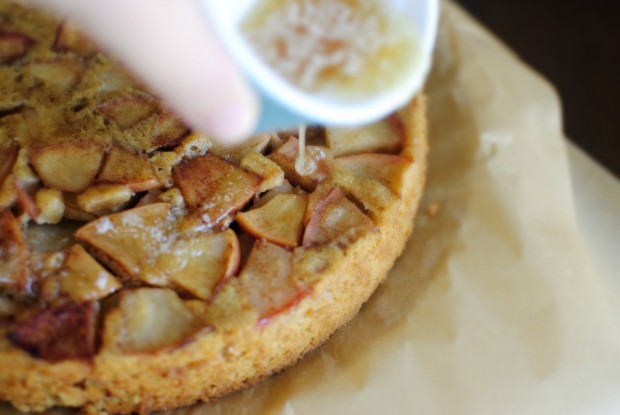 Next just pour the honey butter over the warmapple cinnamon cake.
Serve warm!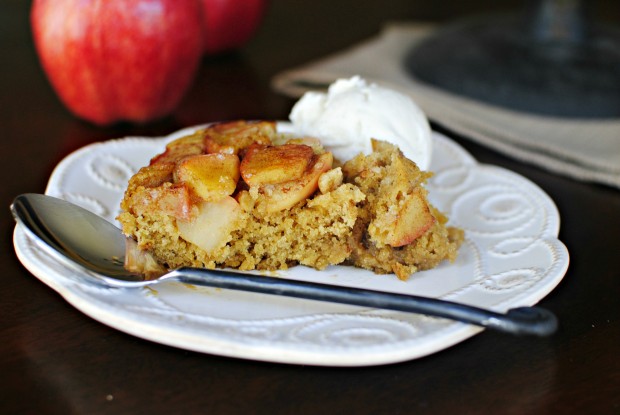 Maybe even with a scoop of vanilla ice cream?
This apple cinnamon cake is so moist you can eat it with a spoon. I know, I know I hate that m-word too, but how else can you better describe a cake?
Enjoy! And if you give this Cinnamon Apple Honey Cake recipe a try, let me know by snapping a photo and tagging me on twitter or instagram!
My cookbook Simply Scratch : 120 Wholesome Homemade Recipes Made Easy is now available! CLICK HERE for details and THANK YOU in advance! 
[this post contains affiliate links.]
This post may contain affiliate links.
Buy the Cookbook: Simply Scratch : 120 Wholesome Homemade Recipes Made Easy Now available on Amazon »
THANK YOU in advance for your support!