These grilled turkey burgers are simple and delicious!
Ground turkey mixed with green onions, Dijon mustard and Monterrey jack cheese and grilled to perfection!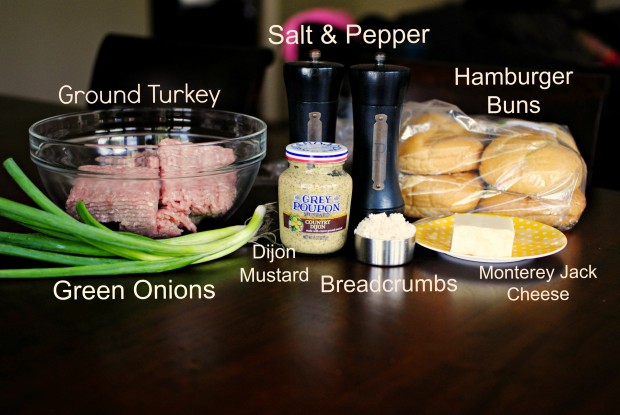 So later that night I hopped on the internet in search of the perfect grilled turkey burger recipe. I found several different ones, but the one by Martha Stewart caught my eye and looked promising, so I just put my spin on it and they were a hit!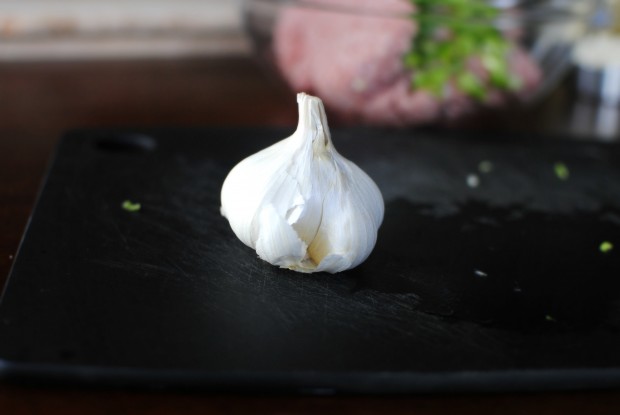 Ummm-yeah, just try not to forget the garlic like I almost did. I always seem to forget to put it in my ingredient shot. Doh.
First, start by slicing up 4 green onions. You will only need the dark and light green parts. Next, give them a good chop so they are in smaller pieces and add them into the bowl with the ground turkey.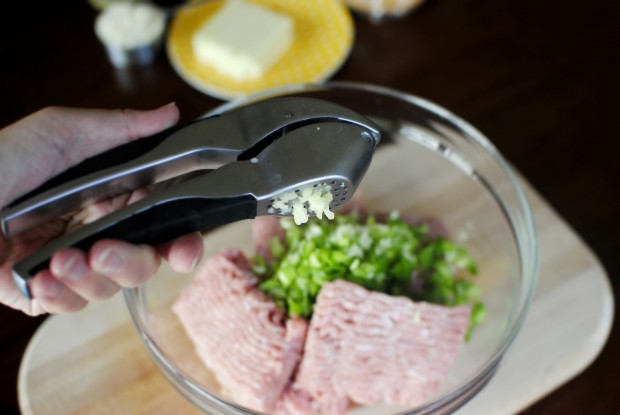 Then squeeze in a clove of garlic into the bowl. If you don't have a press… just mince it finely.
Next, measure and add in a heaping quarter cup of fresh bread crumbs. I just found a couple hot dog buns that weren't going to be consumed anytime soon because they were a little on the hard side and put them in my mini food processor and ground them up. Insta-breadcrumbs.
Then measure out a quarter cup of coarse grained Dijon mustard…
Next grate up half a block (or 4 oz) of Monterrey Jack cheese.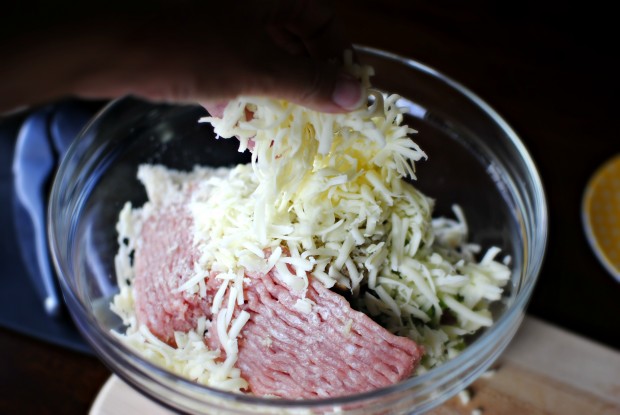 Then add both the cheese and mustard into the mix of ground turkey, green onions and garlic. You see where this is going right?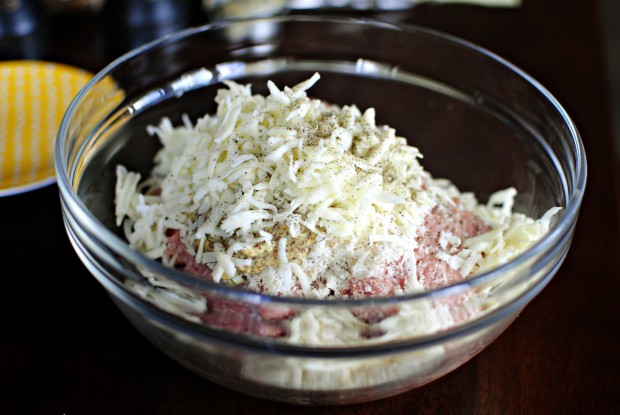 Lastly, season with a few turns or pinches of salt and lots of black pepper.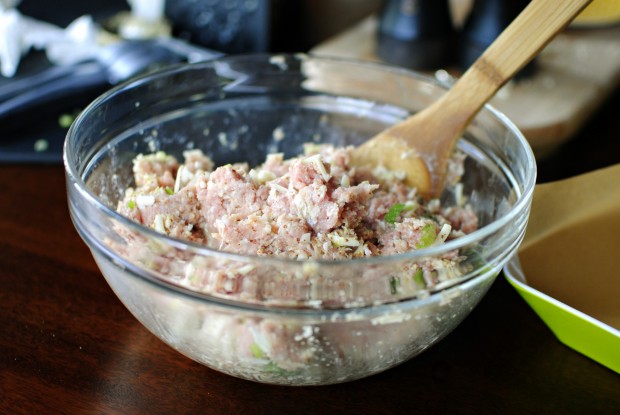 Next give it a stir, by spoon or by hand, until all the ingredients are mixed throughout.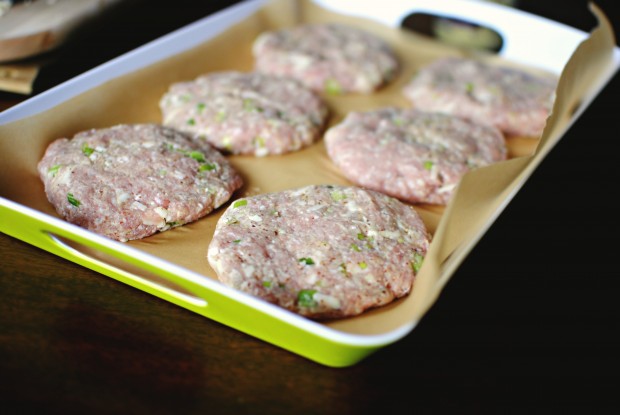 Now just form into patties. Depending on the size of burgers you're making… this recipe will yield 6-8.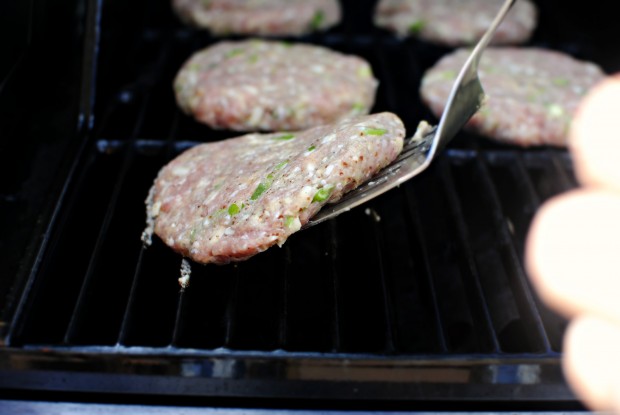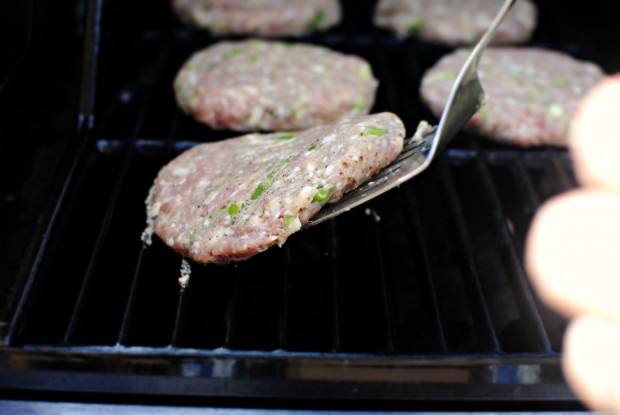 Then preheat your grill to medium-high. Place the burger onto the grates and grill for 6-8 minutes. I love that I can actually SEE the mustard (and my husband's knuckles0 in this shot!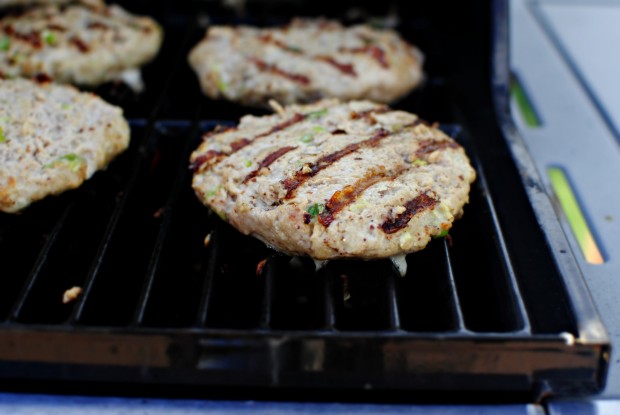 Next, turn the burgers and grill on the second side for an additional 6 to 8 minutes or until they are fully cooked. The whole cooking time is roughly 14-18 minutes. Rubbing the grates with oil before preheating is important.
Lastly top with slices of fresh tomatoes, torn lettuce and thinly sliced red onion on a toasted bun. The garlic and mustard combo really sets these juicy grilled turkey burgers apart from the turkey burgers. A deliciously light burger that everyone will love.
Winner-Winner turkey burger dinner!
Enjoy! And if you give this Grilled Turkey Burgers recipe a try, let me know by snapping a photo and tagging me on twitter or instagram!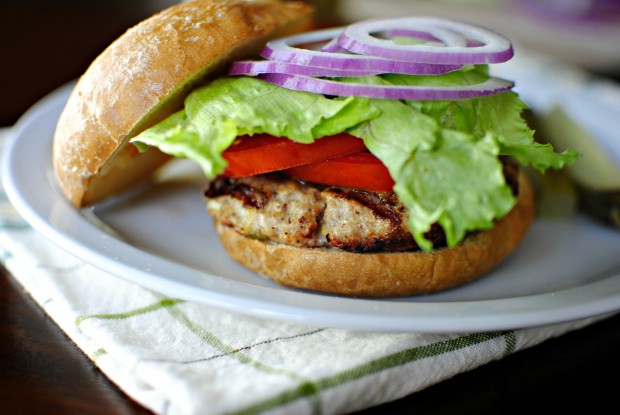 My cookbook Simply Scratch : 120 Wholesome Homemade Recipes Made Easy is now available! CLICK HERE for details and THANK YOU in advance!
[this post contains affiliate links.]
This post may contain affiliate links.
Buy the Cookbook: Simply Scratch : 120 Wholesome Homemade Recipes Made Easy Now available on Amazon »
THANK YOU in advance for your support!