White Chocolate Confetti Cookie Pie Recipe is simple and delicious! White chocolate chips and sprinkles studded in a delicious cookie pie.
Yay it's Wednesday! Which means Cassie from Bake Your Day is here! I love stopping by Cassie's blog and seeing what she's cooking up. From Salted Turtle Cookies or The Perfect Black Bean Burgers, you're guaranteed to find a goldmine of yummy recipes on her site! And today's recipe has sprinkles… lots of 'em too!
Thank you for sharing this gem with us Cassie! 🙂
Hey there, friends! I just moved back in January so I know the anxiety that comes along with it. And I am more than happy to help out a friend. I adore cookies, I adore sprinkles and I adore Laurie and her site so I can't even begin to tell you how excited I am to be here sharing some sprinkles with you guys today.
I have a crippling sweet tooth on most days. Unfortunately, my sweet tooth often manifests itself in cookie cravings. And my cookie cravings don't always know when or if the temperature has climbed to 106 degrees, which is exactly where I found myself last weekend. One of the hottest July days on record for Kansas City and I turn on my oven for a cookie.
But not just any cookie, my friends, a vanilla-y, almond-y confetti cookie with white chocolate chips. I also have a crippling affinity for sprinkles. This could be a new favorite cookie! Instead of baking batch after batch, I decided to press all of the dough into a pie dish and call it a cookie pie, just for fun. And it was just that: F.U.N.!
Start by mixing all of the flour, cornstarch, baking soda and salt in a medium bowl.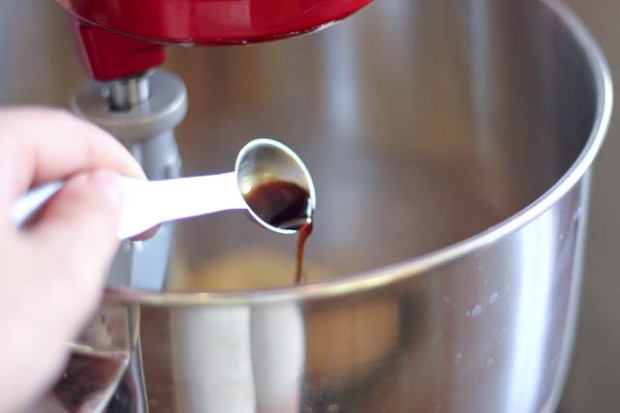 Next, using a stand mixer with a paddle attachment, cream the butter and sugar until smooth. Add the egg and vanilla and mix on medium-high speed for 7-8 minutes. The mixture should be fluffy and smooth, almost doubled in size and you shouldn't be able to see any streaks of fat. Stop the mixer and scrape down the sides of the bowl.
With the mixer on low speed, add the dry ingredients and mix until just incorporated. Scrape down the sides of the bowl, and then fold in the white chocolate chips and sprinkles. Turn the dough out into the prepared pie plate and bake at 375 degrees for about 25 minutes, or until the edges are just brown. Remove from the oven and allow it to cool completely before cutting.
Enjoy! And if you give this recipe a try, let me know by snapping a photo and tagging me on twitter or instagram!
My cookbook Simply Scratch : 120 Wholesome Homemade Recipes Made Easy is now available! CLICK HERE for details and THANK YOU in advance!
[this post contains affiliate links.]
This post may contain affiliate links.
Buy the Cookbook: Simply Scratch : 120 Wholesome Homemade Recipes Made Easy Now available on Amazon »
THANK YOU in advance for your support!