My Mom's Baked Beans are one of my favorite recipes of hers. These beans may semi-homemade, but they are a fool proof, crazy-easy recipe that taste divine! My family loves these beans! You can find a more from scratch version of these beans in my cookbook.
My Mom has always been an amazing cook. My earliest memories of her cooking included my nosy little butt pulling up a stool to watch her in the kitchen. I'm sure it was annoying but she never let on that I was in the way.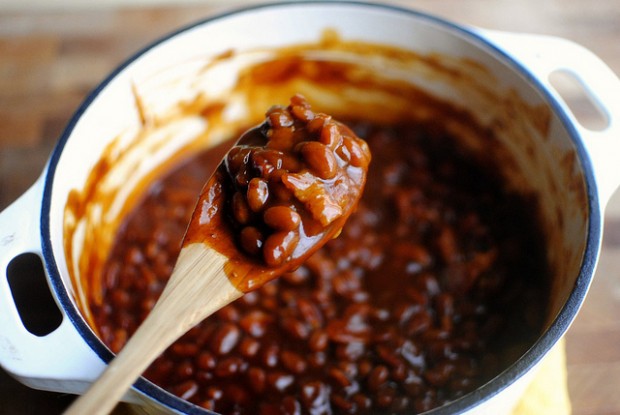 One of her many infamous recipes is her baked beans. They're rich and tangy and perfect in every way. And although I would usually be more "scratchy" than opening a few cans of pork & beans, I wouldn't dare change my Mom's recipe. It's positively the best beans I've ever tasted and if it isn't broken, why would you dare try to fix it?
To Make My Mom's Baked Beans Recipe You Will Need:
bacon
onion
beans
dried mustard
ketchup
brown sugar
ground clove
molasses
And besides being phenomenal, they're easy too. You can whip these up in 10 minutes and they're ready in one hour. If there was an "end-all-be-all" of beans, these would be it!
They start off with onions. Only a half cup of onions diced small so that they kind of melt into the beans while they're baking. I bet you actually wouldn't even know they were in there if I didn't tell you so.
Next, cut 4 strips cut into bitesize pieces.
Then in a 3-quart dutch oven or oven-safe pot warmed up over medium heat. Throw in both the onions and bacon at the same time.
Next, while stirring occasionally, cook them until the onions are soft and translucent and the bacon is cooked. Once that has happened remove them of the heat.
Then, in a bowl add the pork and beans. In the original recipe it says two 16 oz. cans… but I can't ever find those, so roughly 33-34 ounces of beans total is fine.
Next add in a half cup of ketchup.
Then a quarter cup of un-sulphured molasses.
Next measure and add a quarter cup of dark brown sugar.
And then a half teaspoon of both ground mustard and ground clove.
Next give it a quick stir.
And then add them into pot with the bacon and onion.
Put a heavy lid on it.
Next, place the beans into a preheated 350° oven for one hour. Not a minute more.
Then stir it up every twenty minutes.
They'll be too hot to serve right away so make sure you give them time to sit and cool (about 10-15 minutes) so they'll have a chance to thicken up a tad. These are very versatile beans; burger, hot dogs or a holiday ham.
NOTE: I realized some may feel these are less than scratchy because of the cans of beans used. "From Scratch" means different things depending on the person and I have no problem opening cans for this recipe because my grocery store sells organic cans of pork & beans and also, it's my mom's recipe and I love it. This recipe has been in my family for quite some time and it's perfection and I will not change it 🙂
However, I made a more from scratch version of My Mom's Baked Beans that you can find in my cookbook!
Enjoy! And if you give My Mom's Baked Beans a try, let me know! Snap a photo and tag me on twitter or instagram!
This post may contain affiliate links.
Buy the Cookbook: Simply Scratch : 120 Wholesome Homemade Recipes Made Easy Now available on Amazon »
THANK YOU in advance for your support!