These ginger cashew lettuce wraps call for ground turkey, water chestnuts, ginger, carrot and cashews all wrapped up into romaine lettuce leaves.
If I had to put my finger on what is it about these lettuce wraps that I love, I'd have to say it's a tie between the crunch of the lettuce, the gingery-crunchy-sauciness, but mostly because I get to eat with my fingers.
Oh yeah, and they're sorta healthy which is always a bonus.
So as I walked around the grocery store the other morning, I picked up things that I recalled having in my wraps in the past. Three words: Ginger. Cashews. Water Chestnuts. But on a serious note, can we rename those already? Chestnuts, really?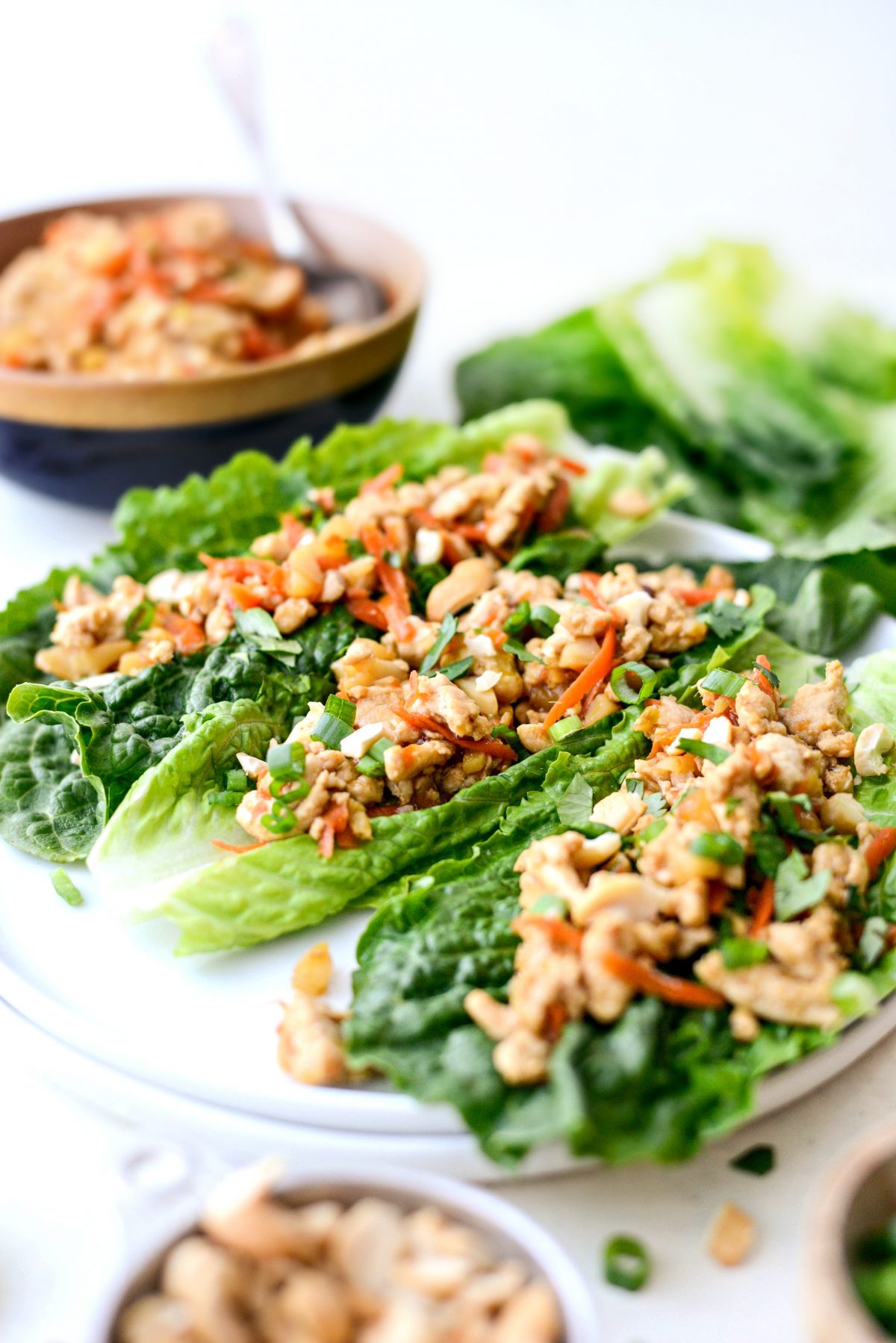 So I really hope you don't mind another Asian inspired meal. I'm like a pregnant woman craving pickles and ice cream over these things. And no I'm not pregnant in real life, unless it gives me permission to eat 6 of these. Then yes, yes I'm pregnant.
No, really I'm not. (Pat, you can calm yourself right on down.)
To Make These Ginger Cashew Lettuce Wraps You will need:
for the filling:
cornstarch
honey
toasted sesame oil
low-sodium chicken broth
low-sodium tamari (or low-sodium soy sauce)
rice vinegar
a pinch or 2 of red pepper flakes
olive oil spray
green onions (sliced and divided)
tablespoons minced fresh ginger root
garlic cloves
lean ground turkey
water chestnuts
grated carrot
romaine lettuce
for serving:
cashews
lime wedges
fresh cilantro
green onions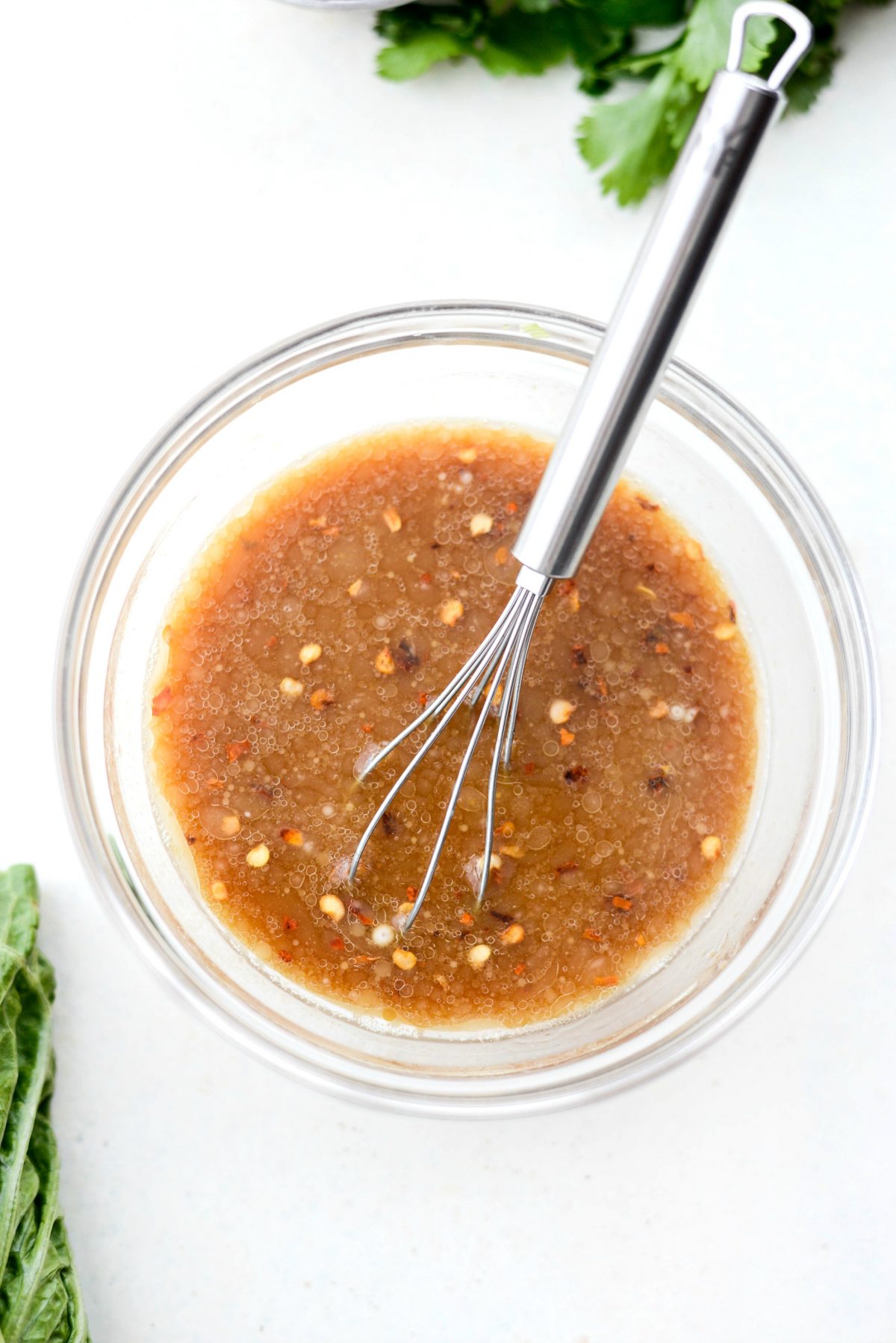 First, in a small mixing bowl, measure and add 2 teaspoons cornstarch with, 2 teaspoons honey, 1-1/2 teaspoon toasted sesame oil, 1 tablespoons rice vinegar, 1/4 cup low-sodium tamari, 1/2 cup low-sodium chicken broth add a generous pinch of red pepper flakes. Whisk to combine.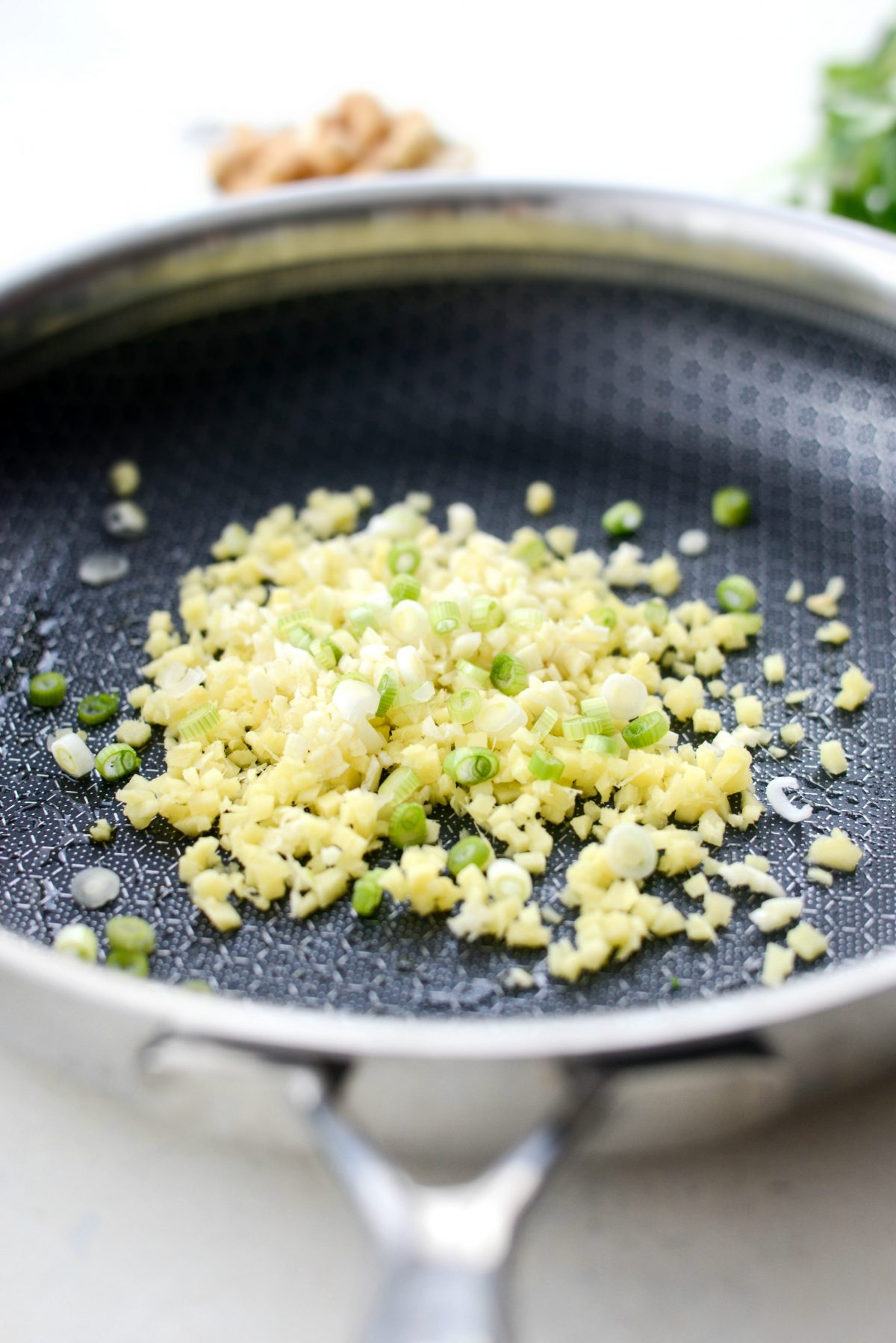 Next, heat a 10-inch nonstick skillet over medium heat. Spray the pan with olive oil and add in 3 tablespoons minced fresh ginger, 2 large cloves of garlic (also minced) and the light part of 3 green onions, sliced. Saving the remaining dark green parts for serving.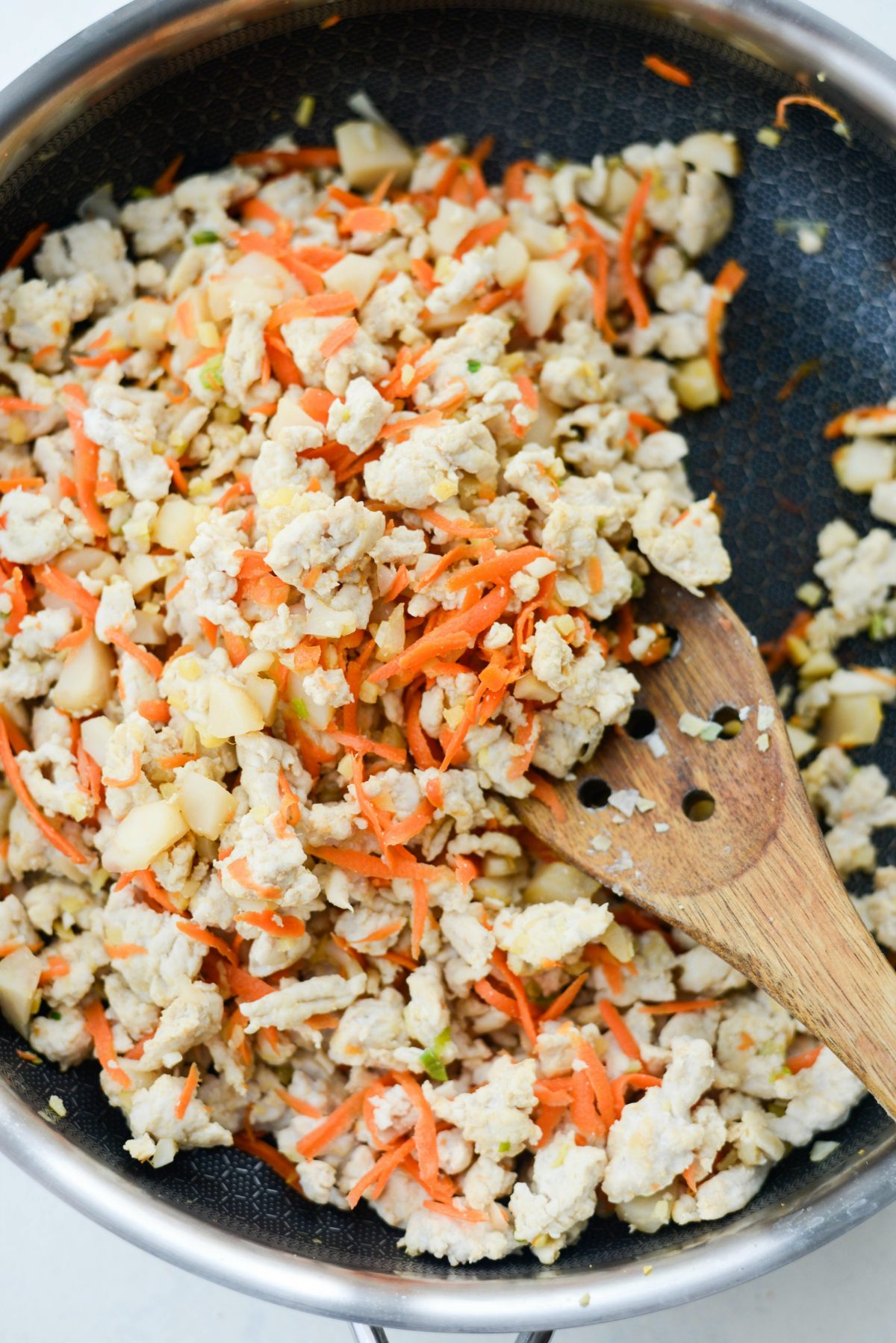 Then add in the ground turkey. Using a wooden spatula, break the turkey into small crumbles and cook until no longer pink – about 10 to 12 minutes. Once the turkey is fully cooked, drain off the liquids (if any) and add in the 3/4 cup of chopped water chestnuts and 1/2 cup grated carrots. Give that a toss and let cook at medium to medium-low heat for 5 to 8 minutes.
Next, whisk the sauce one more time before pouring it into the skillet and then continue to stir until the sauce has thickened.
This picture doesn't really do this justice.
First off, because ground turkey is beige and ugly. But I promise you this is so flavorful! Give it a quick taste and add a couple more tablespoons of tamari or salt to taste.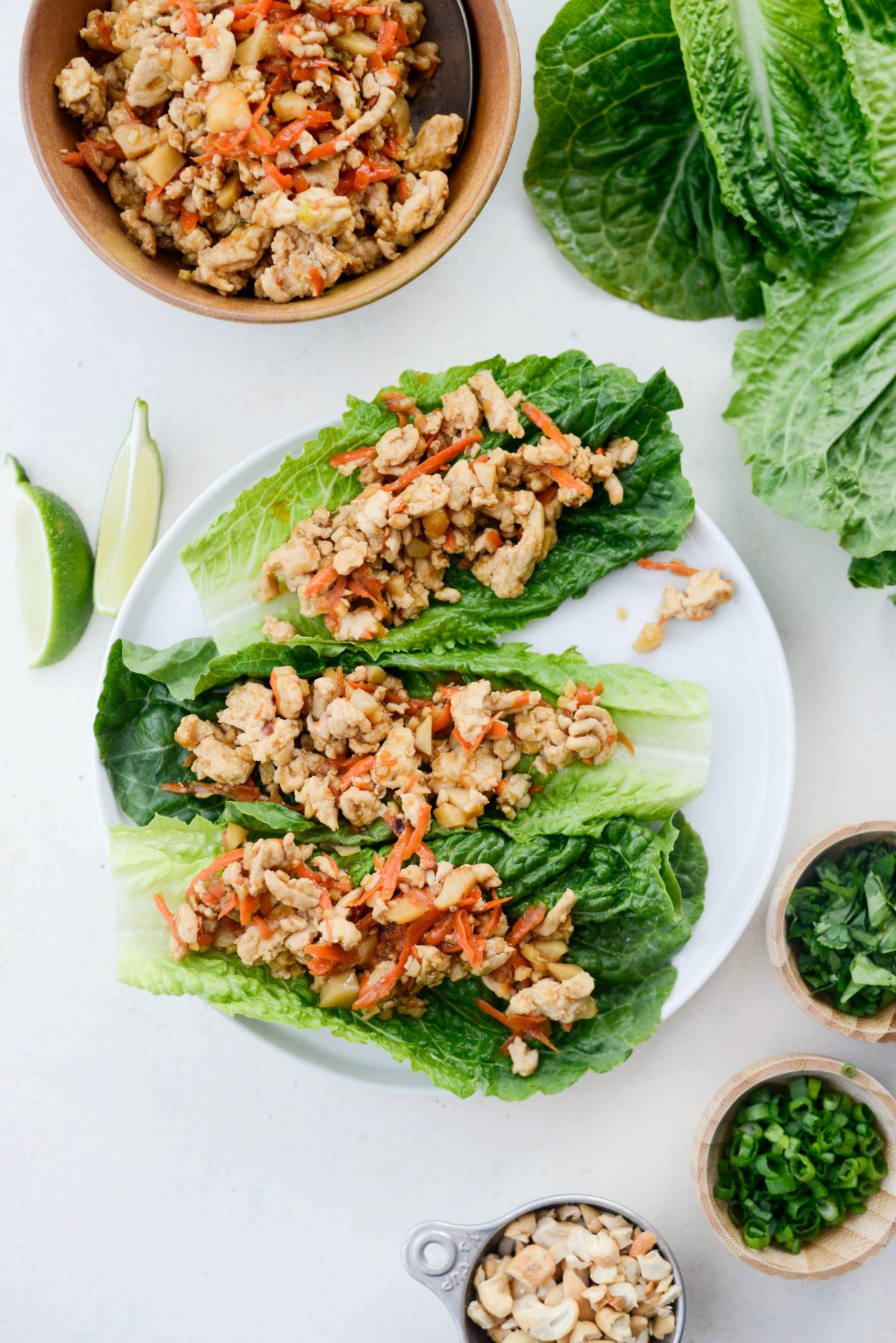 Rinse and pat dry a bunch of romaine lettuce leaves and fill with about 1/4 cup of the turkey mixture.
Serve topped with sliced green onion, minced fresh cilantro and a teaspoon or so of chopped cashews.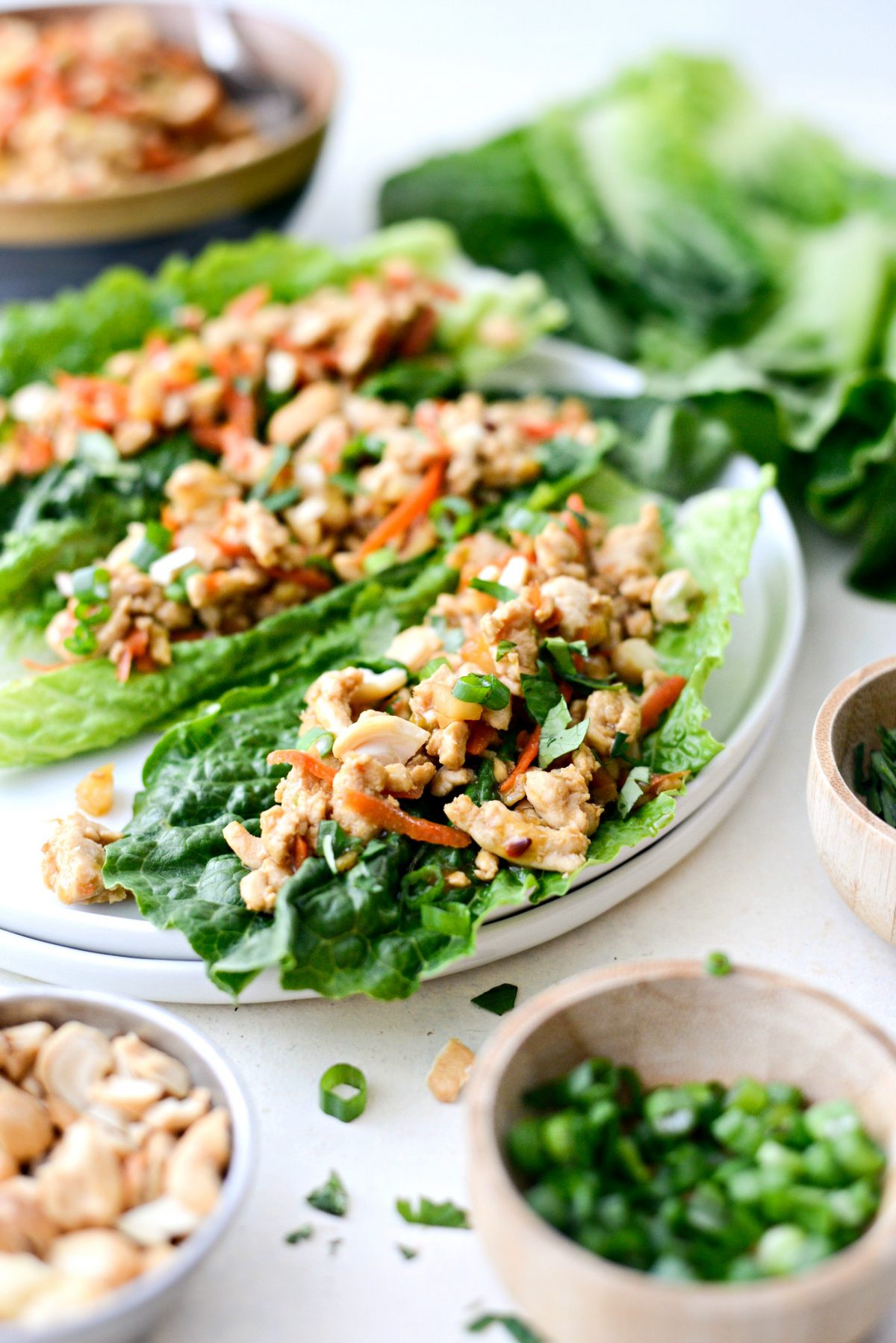 Traditionally iceberg or bibb lettuce is the wrap of choice. However I like romaine because you can hold it like a taco. However, you could absolutely serve the mixture on cauliflower rice or with brown rice or even noodles.
The flavors in these ginger cashew lettuce wraps are amazing. The whole recipe is so easy to prepare and delicious. They totally put the kibosh on my lettuce wrap craving AND it's perfect for meal prep too!
For more lettuce wraps recipes Click HERE!
Enjoy! And if you give this recipe a try, let me know! Snap a photo and tag me on twitter or instagram!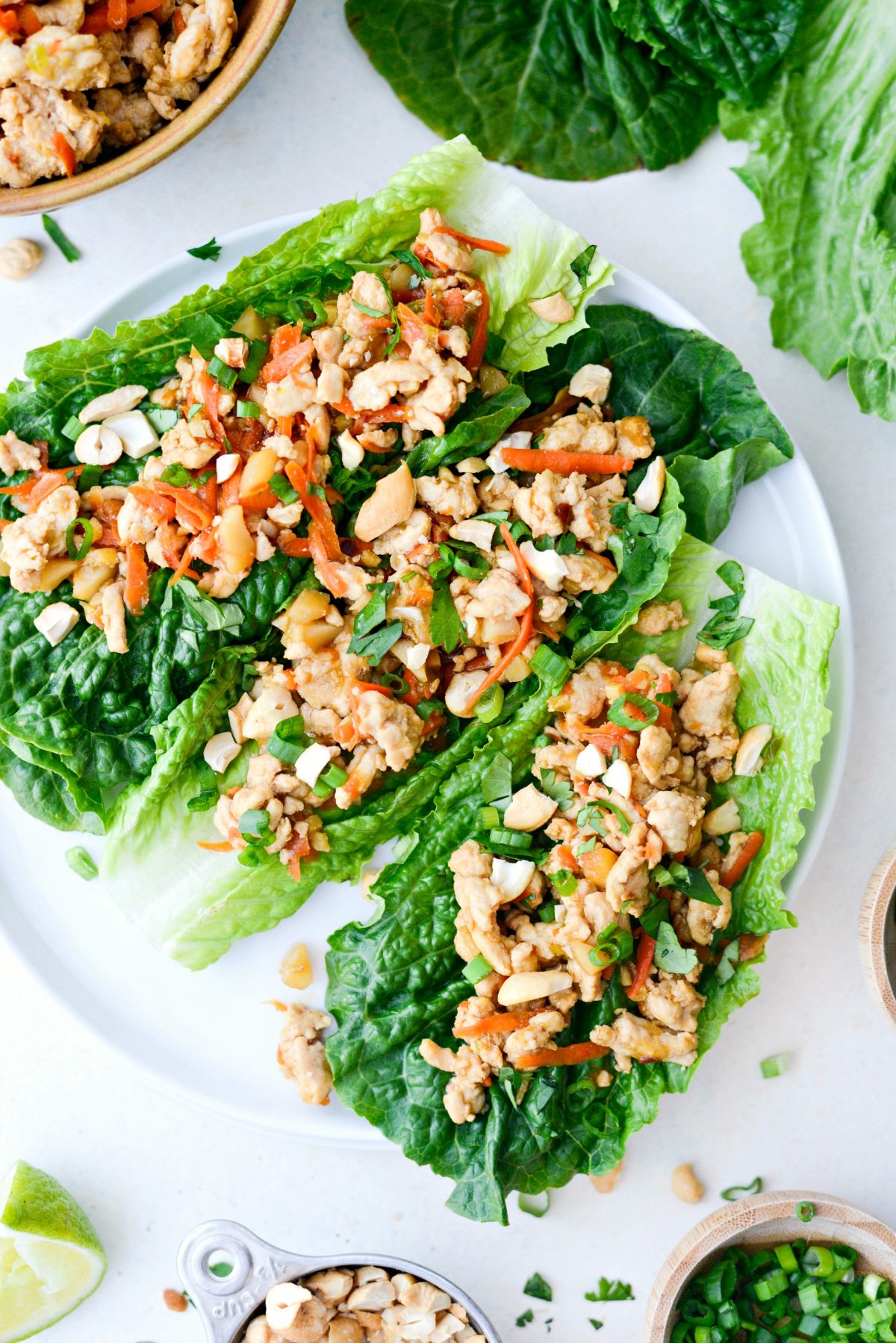 This post may contain affiliate links.
Buy the Cookbook: Simply Scratch : 120 Wholesome Homemade Recipes Made Easy Now available on Amazon »
THANK YOU in advance for your support!