This Southwest Chicken Chili is FABULOUS! I love the switch up of chicken instead of ground beef. It's flavorful and pretty darn healthy too!
Papa Joe's is this posh gourmet market here in Southeast Michigan. They only have two locations and they just opened a third mini-market sort-of-thing inside the concourse of our hospital last year. So far I'm loving their soups, salads and I've been especially in love with this chicken chili of theirs for the past month. I can't get enough of it, I swear to you, I eat it every single day I'm working and dream about it at night. I even cry a little if they're not serving it on a day I'm there. No joke.
Since I only work three days a week, and I was off for a long weekend, it got me thinking. I want that chili. I wasn't about to drive 30 minutes to the nearest Papa Joe's and I was definitely not driving up to the hospital for a bowl… so instead I made my own. Southwest style.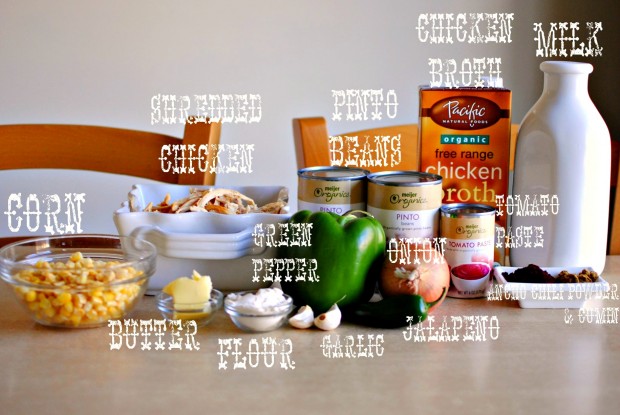 To Make this Southwest Chicken Chili You Will Need:
butter
green pepper
yellow onion
jalapeño
garlic cloves
all-purpose flour
ancho chili powder
cumin
kosher salt (more or less to taste)
tomato paste
sweet corn
cooked shredded chicken
pinto beans, drained and rinsed
low-sodium chicken broth
milk, half and half or plain nonfat greek yogurt.
Papa Joe's chicken chili doesn't have corn or jalapeños in it, so I suppose it isn't really a total recreation. But heck, I rather like the corn addition; it adds a little extra texture and sweetness that I like. Oh and for those that fear the jalapeño, please don't omit it, just remove the seeds and ribs so it won't be spicy, just really good flavor. And please remember to wash your hands after handling the jalapeño because when you forget to, is the time you're talking to the neighbor lady and itch your eye, then you're eye starts to burn like H-E-double-hockey-sticks and you wanna curl into a fetal position and cry like a big baby, but you can't because you talking to the NEIGHBOR LADY!! True story! And I really don't want a repeat. Ever.
Start by dicing up a medium green pepper, 1 medium yellow onion, 1 jalapeño (seeds and ribs removed for less heat) and 2 cloves of garlic.
Drain and rinse 2 cans of pinto beans and set aside.
In a large pot or dutch oven over medium-low heat, melt the three tablespoons of butter.
Throw in the peppers, onions, jalapeno and garlic. Cook until the peppers and onions are just beginning to soften.
Measure and add 2 teaspoons cumin and 4 teaspoons ancho chili pepper.
Oh! and 3 tablespoons flour too!
Mix until the flour has completely absorbed the butter and cook for only a minute.
Add 2 cups chicken broth.
Then some whole milk or heavy cream.
For a low fat version, try plain non-fat greek yogurt.
I add in a 2 heaping tablespoons of tomato paste and stir to get that all dissolved.
Next add the beans and 3 cups shredded chicken.
Stir and thin it out with the remaining 1 to 2 cups of chicken broth or as desired.
Then add in 1 cup sweet corn.
Season with 2 to 2-1/2 teaspoons of kosher salt, or to taste. I know it seems like a lot. But go ahead and taste it after adding 1 teaspoon and then adjust to your taste buds.
Give it a good stir
Cover and cook for 45 minutes, then uncover for the last 15 minutes.
I love the switch up of chicken instead of ground beef. It's flavorful and pretty darn healthy too!
I highly, HIGHLY recommend a large dollop of sour cream or Greek yogurt on your bowl of Southwest Chicken Chili. I ended up crushing corn tortilla chips and sprinkled them in while I ate! Ohmylord. My daughters sprinkled pepper jack cheese in there bowls, and my husband put Cholula in his.
so.darn.goooood!
Luckily for me this Southwest Chicken Chili makes a lot and is excellent the next day. And the day after that…
Enjoy! And if you give this recipe a try, let me know! Snap a photo and tag me on twitter or instagram!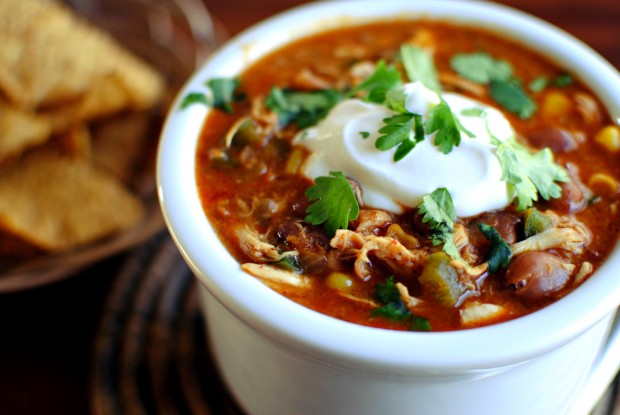 This post may contain affiliate links.
Buy the Cookbook: Simply Scratch : 120 Wholesome Homemade Recipes Made Easy Now available on Amazon »
THANK YOU in advance for your support!