I'm not sure which I like better: a.) That these No Bake PB Chocolate Oatmeal Cookies have peanut butter, chocolate, coconut and oatmeal in them. Or, is it b.) for the fact that they didn't require me turning on my oven. Or c.) (This would be the the one I'd probably pick) because they take all of a 5 minutes to prepare and all of 1 minute to consume!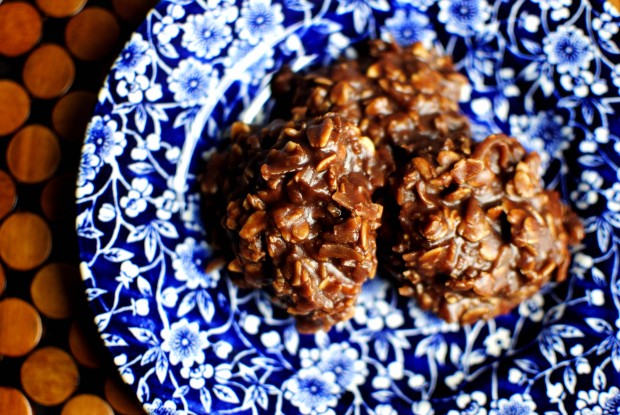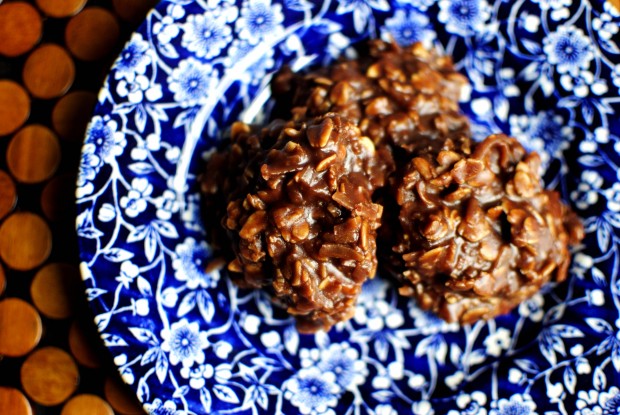 These No Bakes are ooey and gooey, chocked full of yummy ingredients!
They will leave you stunned and amazed that it only took eight, yes eight pantry-ready ingredients to get you there! I personally like my no bakes with a hot cup of coffee. My kids dunked them in milk. Either way you can't go wrong.
The only hard part, is finding it in you to share them! But then again nobody says you have to.
To Make These No Bake PB Chocolate Oatmeal Cookies You Will Need:
white sugar
salted butter
whole milk
all-natural high fat cocoa powder
pure vanilla extract
old fashioned rolled oats
sweetened coconut flakes
1/2 cup [heaping] crunchy peanut butter
Measure and set up all your ingredients so they are ready to go. This recipe moves fast, so best to be prepared!
Into a medium sauce pan, add the 1-1/2 cups sugar and 1/2 cup salted butter.
Pour in 1/2 cup whole milk.
Then add in 4 tablespoons all-natural high fat cocoa powder. I highly, highly, highly recommend a good cocoa powder. My fav is from Penzy's it's the all natural high fat kind. I think it tastes the best!
Next, stir and bring the mixture to a rolling boil. Once it's there start the timer for a minute and thirty seconds. Not a minute under or over.
Because I had to mix and pour at the same time I couldn't accurately photograph a few of the steps. So add in 1-1/4 teaspoon pure vanilla extract.
Next, add in 2 cups old fashioned rolled oats and 1 cup sweetened coconut flakes.
Then add the 1/2 cup of crunchy peanut butter. I add this last only because I don't want to splash the hot chocolate mixture onto myself. Because knowing me, I totally would… and it would hurt.
Next, stir until the peanut butter is melted and all the ingredients are mixed throughout. If this wasn't scorching hot, I'd so stick a spoon and eat this as is. True story.
Next use a teaspoon and measure out 2 teaspoons per cookie onto a silpat lined sheet pan. Wax paper or parchment would work too.
Then you just let them sit and cool. Done.
However, you do have permission to taste the batter. I licked the spatula. It's my right.
Store these No Bake PB Chocolate Oatmeal Cookies in a container lined with wax paper so they wouldn't stick. But they didn't stick at all, because they didn't even make it 24 hours before they were all gone.

Love <3!
Enjoy! And if you give this No Bake PB Chocolate Oatmeal Cookies recipe a try, let me know! Snap a photo and tag me on twitter or instagram!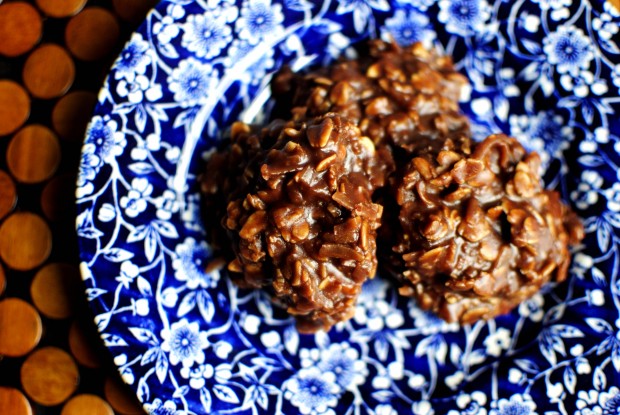 This post may contain affiliate links.
Buy the Cookbook: Simply Scratch : 120 Wholesome Homemade Recipes Made Easy Now available on Amazon »
THANK YOU in advance for your support!