BLT's are delicious, but this BLT Club Sandwich is pretty darn amazing. Crispy bacon, thinly sliced oven-roasted turkey breast topped with all the fixings, gets griddled until the bread is crisp and golden.
Bacon + Tomato + Lettuce = BLT
BLT + Turkey + Mayo + Red Onion + Cheese = A BLT Club Sandwich.
It's pretty simple and delicious math.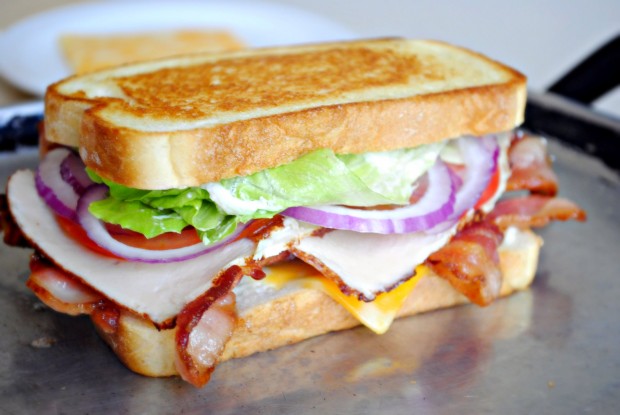 When I was a kid it was more of a BL sandwich, as I didn't care so much for tomatoes. Now I load it up with whatever fresh veggies I can lay my hands on, the thicker the sandwich the better!
For this sammie I like to use some kind of bakery bread or sourdough. Oh and sure you could toast it like those do at delis and diners, but why not griddle it? Griddling the bread gives it that golden, crispy edge, yet it won't tear up the inside of your mouth and leave your gums raw! I totally hate that!
So whether it's lunch or dinner this this sandwich isn't complete without a crisp, juicy dill pickle and some salty potato chips and washed down with an iced cold lemonade.
This is my kind of meal. Quick… Easy… Classic.
To Make These BLT Club Sandwich You Will Need:
bread
bacon
lettuce
tomato
cheese
onion
turkey
The goods. You're also gonna need some butter and mayo. And a griddle. 🙂
Grab two slices of bread and open them like a book so they will match back up when you make your sandwich.
Schmear both sides with some mayo, if mayo is your thing. Go as heavy or as light with it as you like. I'm a light schmear-er… Pat likes a heavy schmear.
Put the slices back together and butter both of the outer sides with a thin layer of butter.
Open them back up and lay the outer, buttered sides, down on the hot griddle.
Now comes the fun part…
Top one of the slices with cheese and as much bacon as your heart desires.
Top with a couple slices of turkey. If you have fresh turkey left over, use that… oh my heavens!
Tomato…
Red onion…
Lettuce…
Then place the other griddled half on top of all the half with all the fixins.
Ever wonder what it looks like in my kitchen while I blog? Organized chaos. That's the best way to explain it – all laid out on my kitchen table! Where did we eat our sandwiches?
Not at the kitchen table, that's for sure!
Mmmmm hmmmmm.
It's good. It's real good.
Such a classic sandwich… and such a delicious bite… without the painful gums.
Enjoy! And if you give this BLT Club Sandwich recipe a try, let me know! Snap a photo and tag me on twitter or instagram!
This post may contain affiliate links.
Buy the Cookbook: Simply Scratch : 120 Wholesome Homemade Recipes Made Easy Now available on Amazon »
THANK YOU in advance for your support!