This simple corn salsa is my copycat version of Chipotle's Sweet Corn Salsa. Sweet corn is tossed with charred poblano, diced red onion and jalapeño. It's a cinch to put together and perfect served with tortilla chips or on top of your favorite tacos, nachos or rice bowls.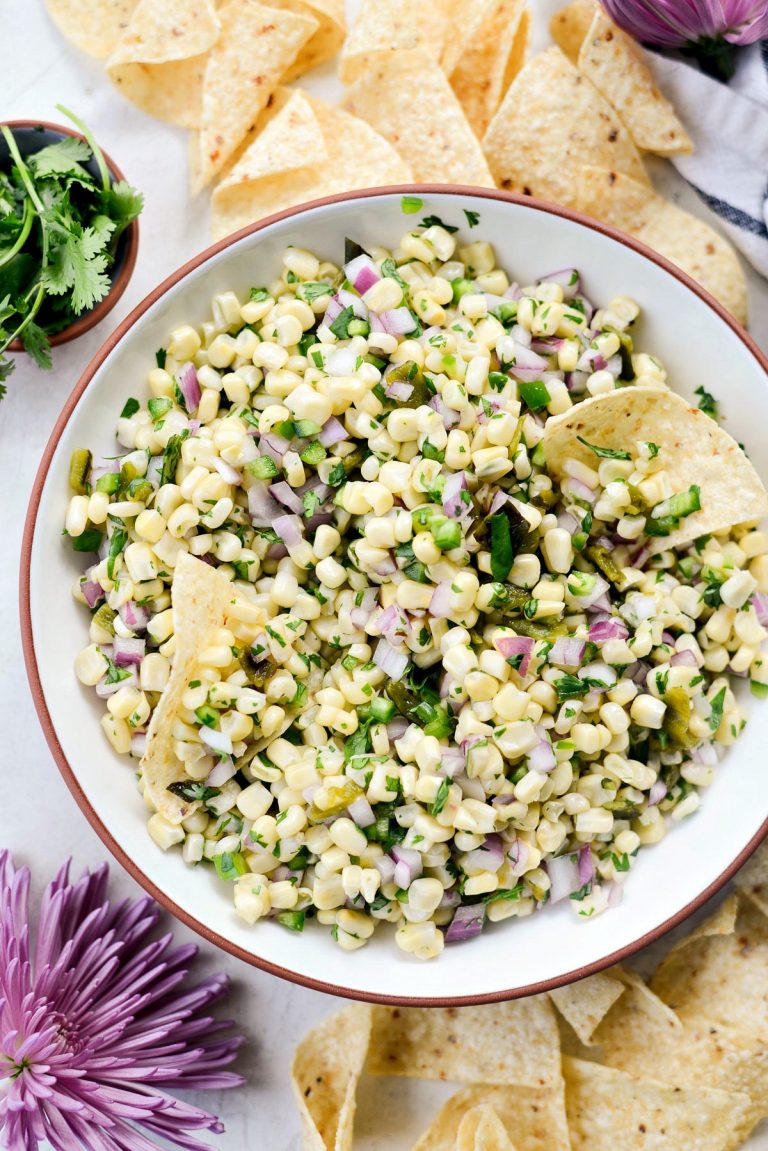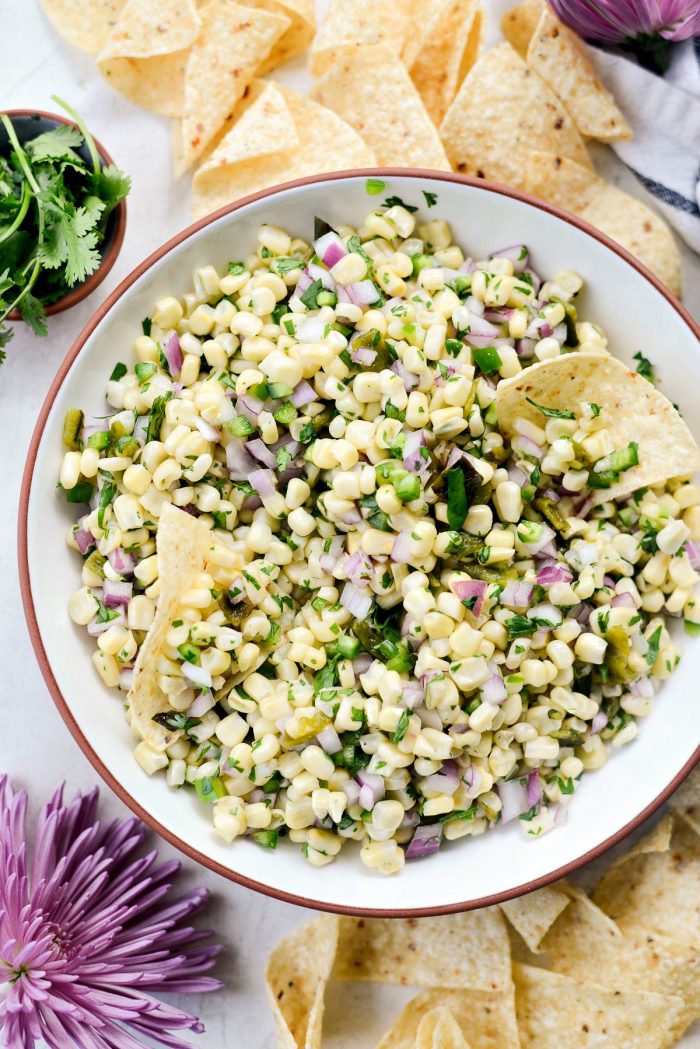 Favorite topping at Chipotle? Roasted chile corn salsa.
Like most Chipotle fans, I have a standard go-to order: fajita chicken bowl with cilantro lime rice, fajita veggies, black beans, pico de gallo, sweet corn salsa and chopped romaine. Sometimes cheese and a little sour cream.
And by sometimes, I mean always.
I've been ordering the same thing since I realized how many calories a burrito. Spoiler Alert: it's a lot. Anyhoo there's something magical about Chipotle's Sweet Corn Salsa. It's a delicious combo of sweet corn and smoky charred poblanos, zesty lime juice and fresh cilantro. And if you happened to get a jalapeño seed, you'd feel the burn.
There was a time when the only chance I could get my hands on sweet corn salsa was when I was on my lunch break and I was dining at Chipotle. Until one day I decided to make it at home for myself and I haven't looked back since. There's just something about this salsa that is completely addicting. I blame tortilla chips however it could also be the delicious salsa. Perhaps both?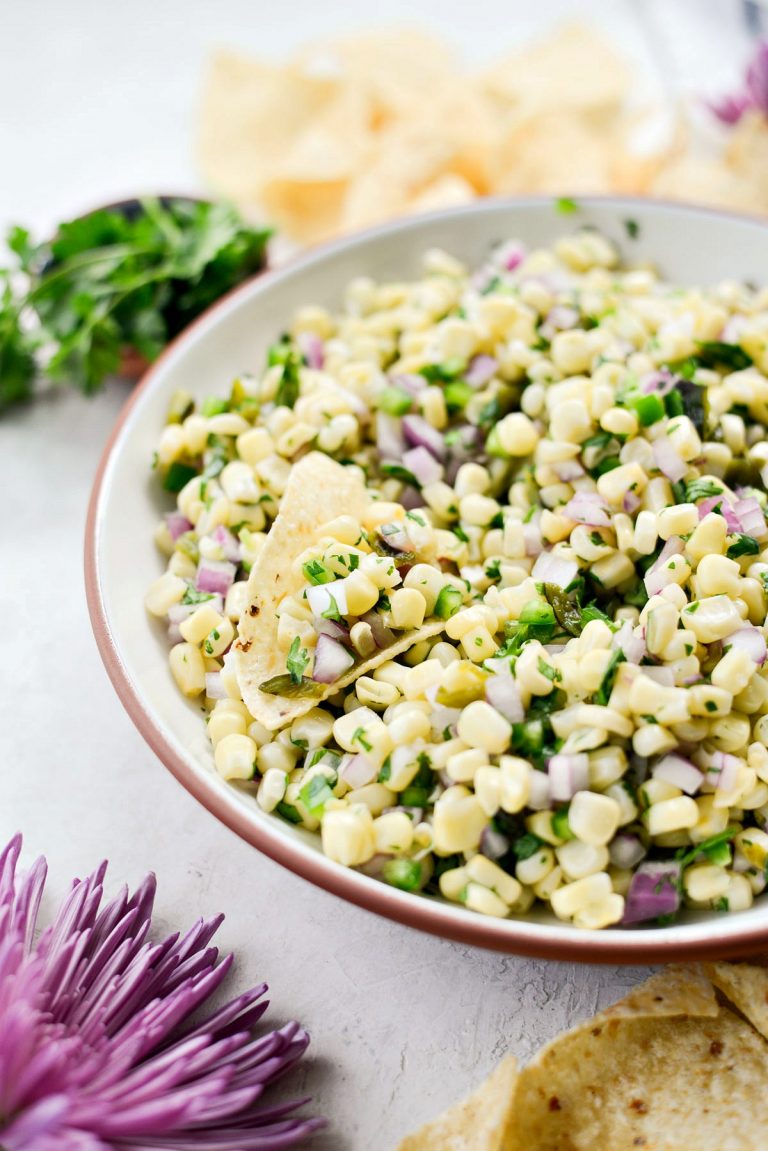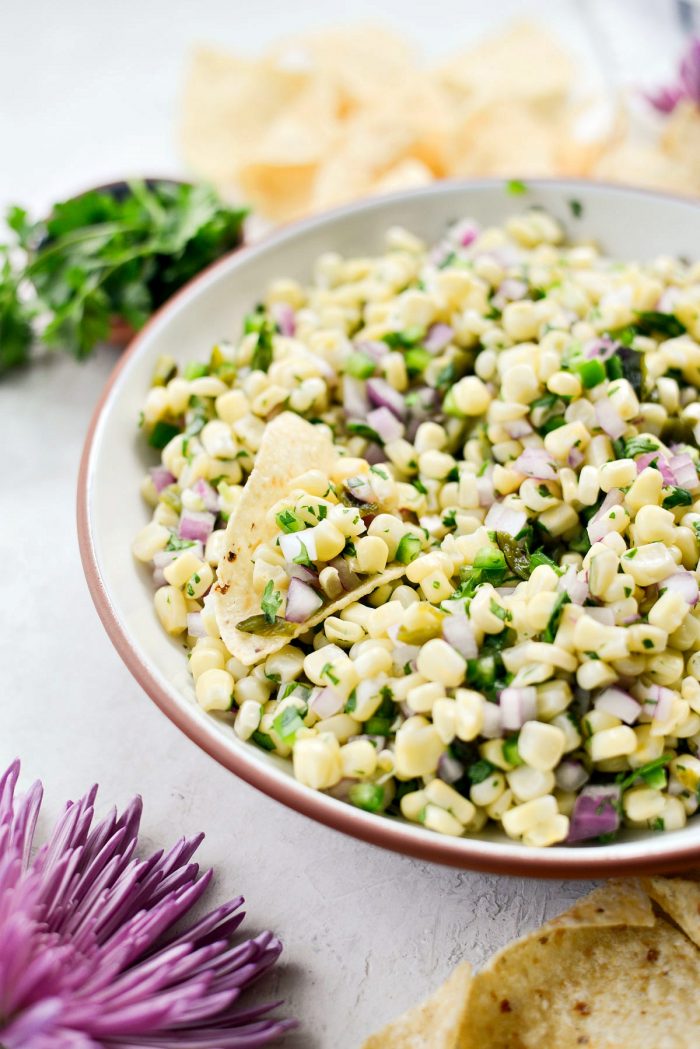 But one thing I know is that I don't feel a bit guilty sitting down in front of the TV with a bowl of this corn salsa and an even bigger bowl of these chips. Nope. Not a tad bit guilty. Unless I'm drinking a beer, then maybe. Wait. Nope, not then either.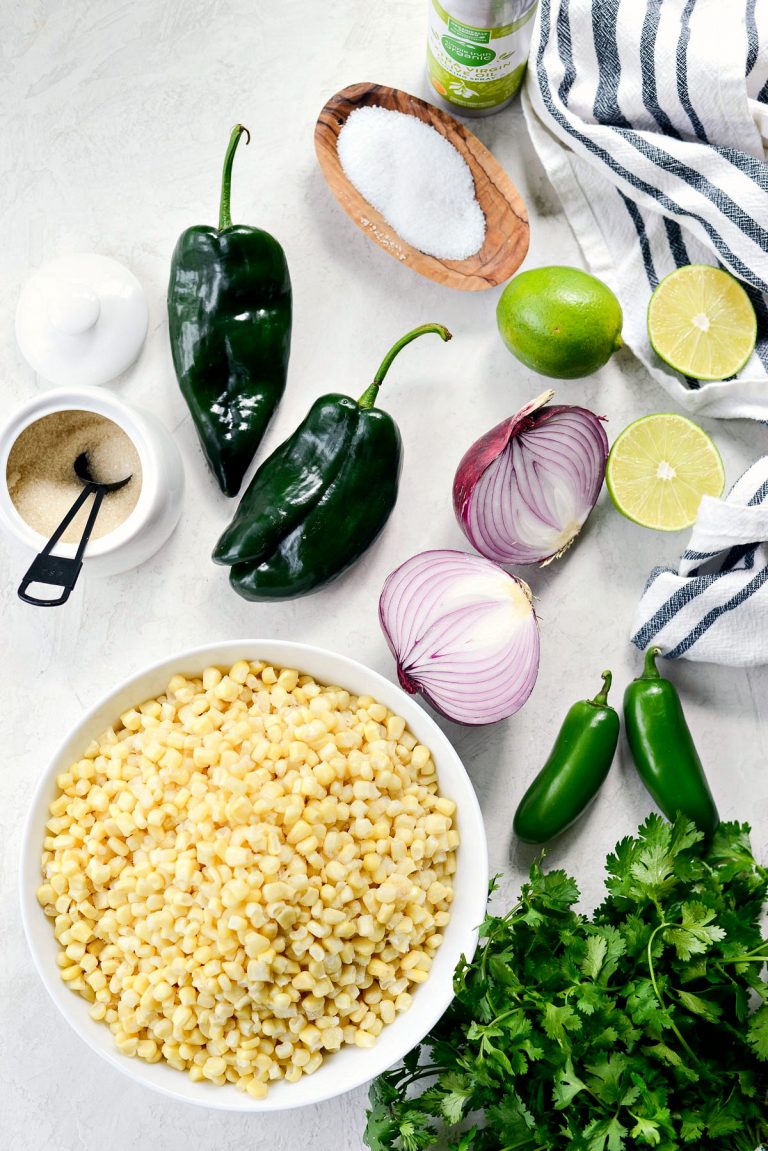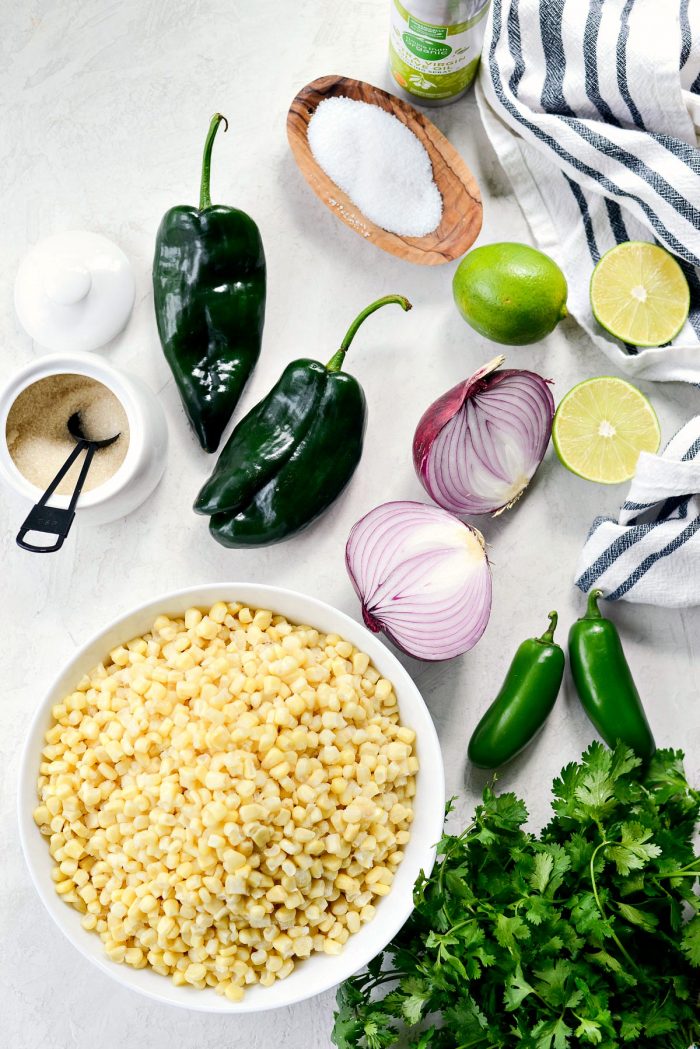 Here is what you'll need to make Chipotle's Sweet Corn Salsa:
poblano peppers
olive oil spray
frozen sweet corn (thawed)
red onion
jalapeño peppers
cilantro
limes
sugar
kosher salt
corn tortilla chips – for serving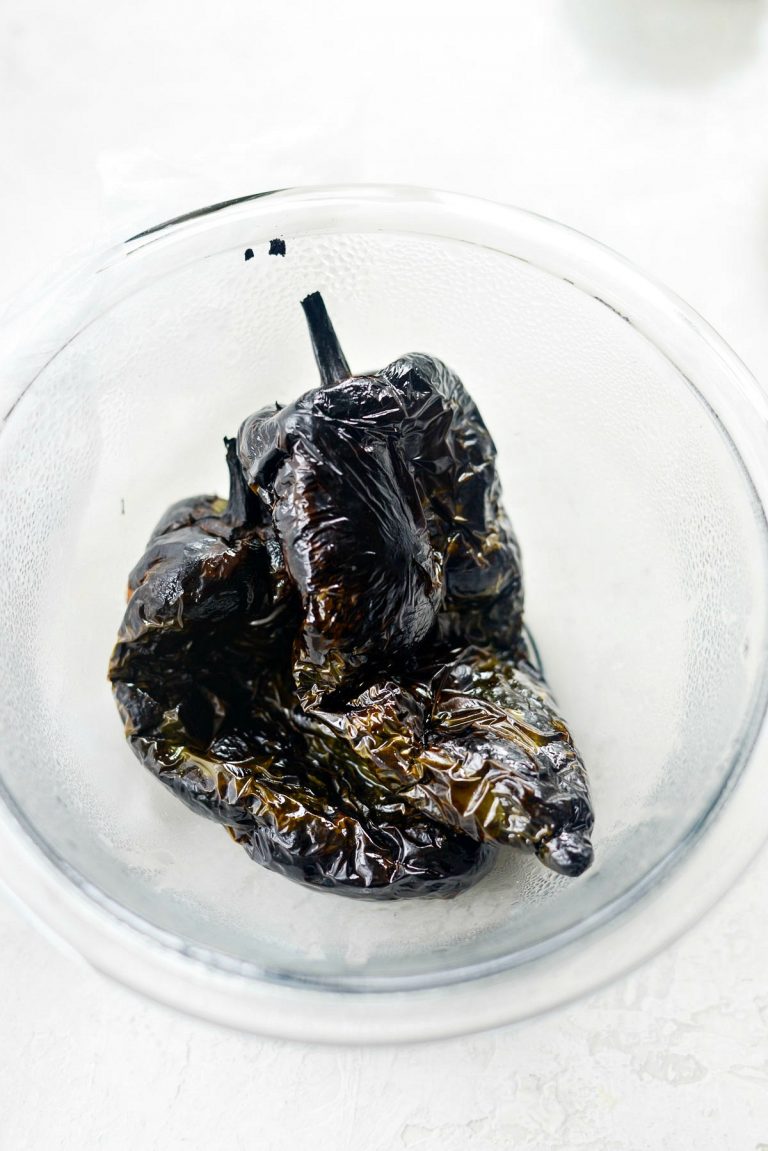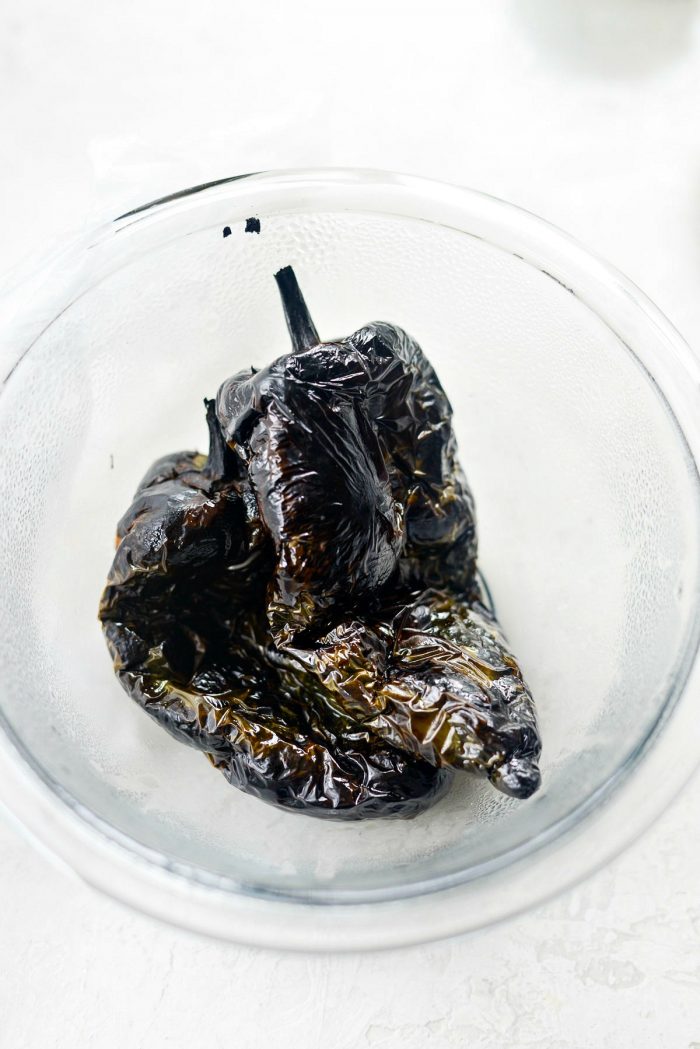 First, preheat your broiler on high. Next, place 2 poblanos on a foiled lined sheet pan. Spray both sides lightly with olive oil and broil for 6 to 8 minutes, or until the skin is charred. Turning halfway through. Then use tongs to transfer the peppers to a small bowl and cover with plastic wrap. Allow these to sit for a few minutes while you prep the remaining ingredients.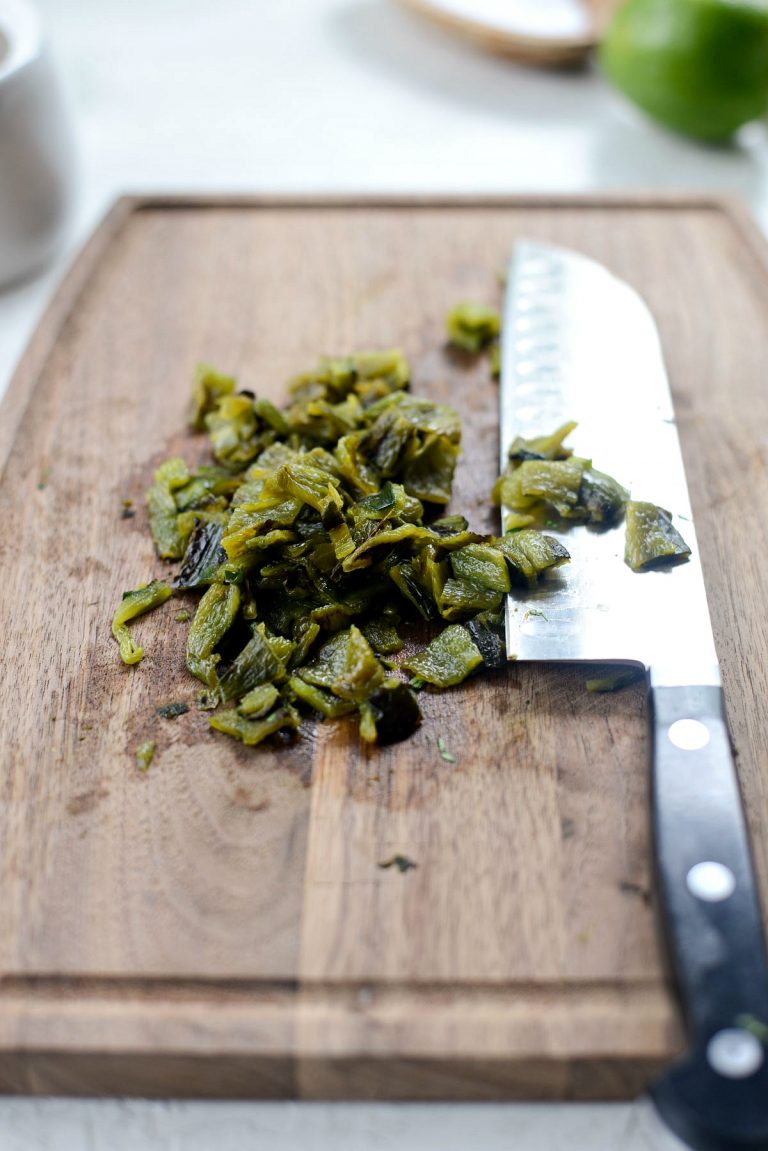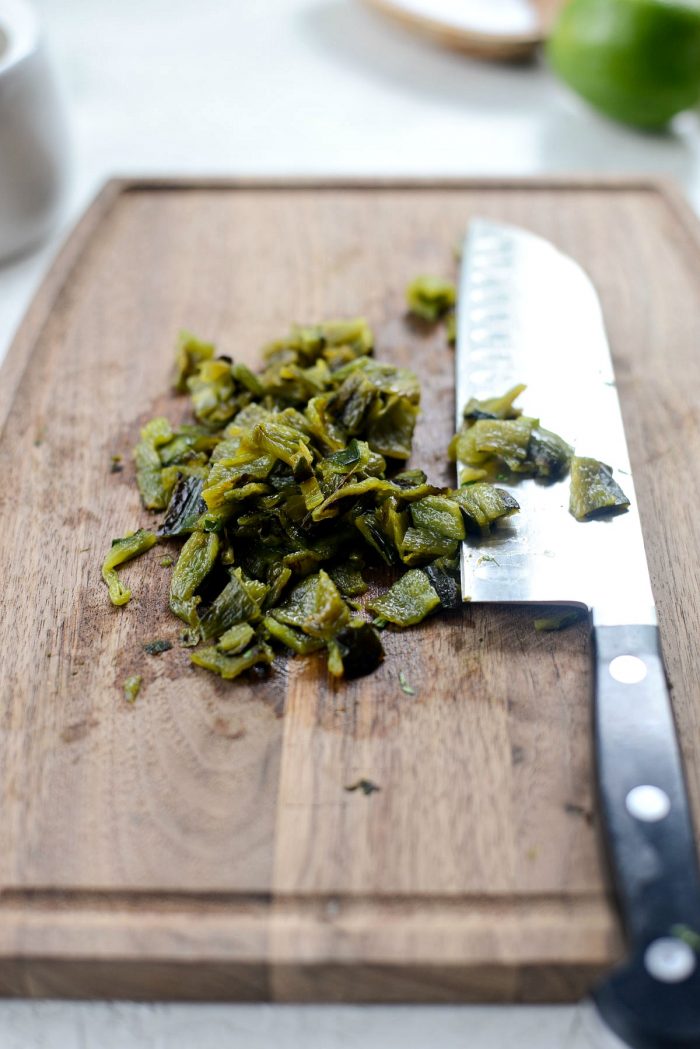 Next, once the peppers are safe to handle, remove the charred skin, seeds and stems. Slice them into strips and then dice.
In a large bowl, add 2 (16 ounce) bags thawed (frozen) sweet corn, the chopped poblanos, 1 medium diced red onion, 2 medium jalapeño (seeded and diced small – keep seeds and ribs for more heat) and 1 bunch cilantro (about 1/2 to 2/3 cup chopped).
Side Note: You can use whatever corn you want, steamed, thawed or grilled! Really, whatever works – maybe just not canned corn.
Give it a quick toss before adding 1 teaspoon sugar and 3/4 teaspoon kosher salt.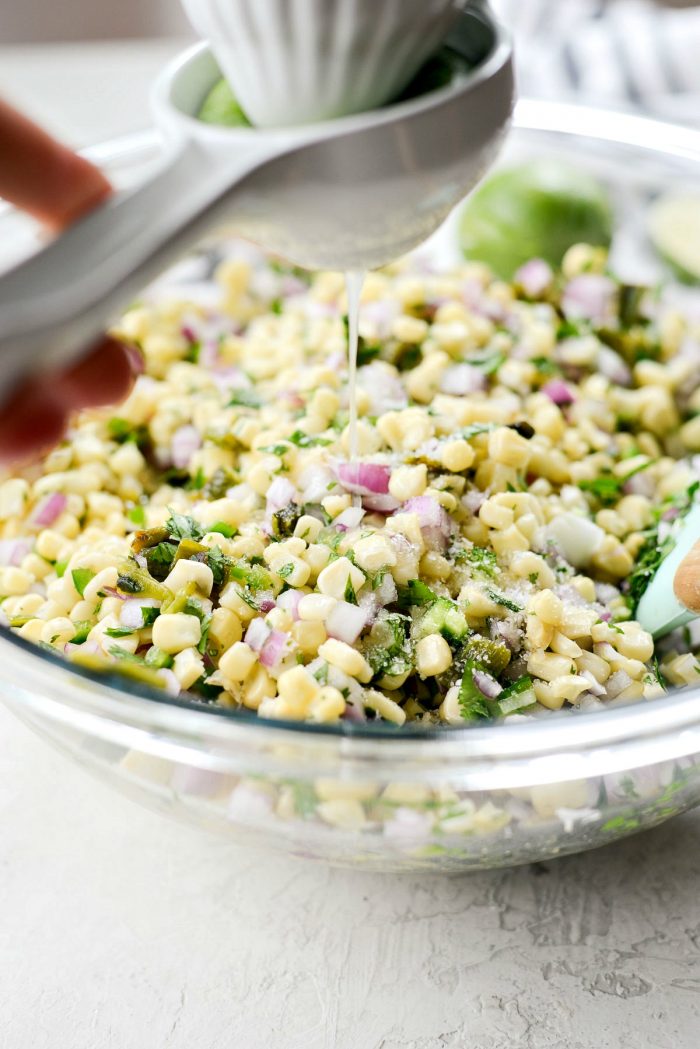 Lastly, squeeze the juice from 2 limes. The sugar ups the sweetness, but it's nothing crazy. And use juicy limes.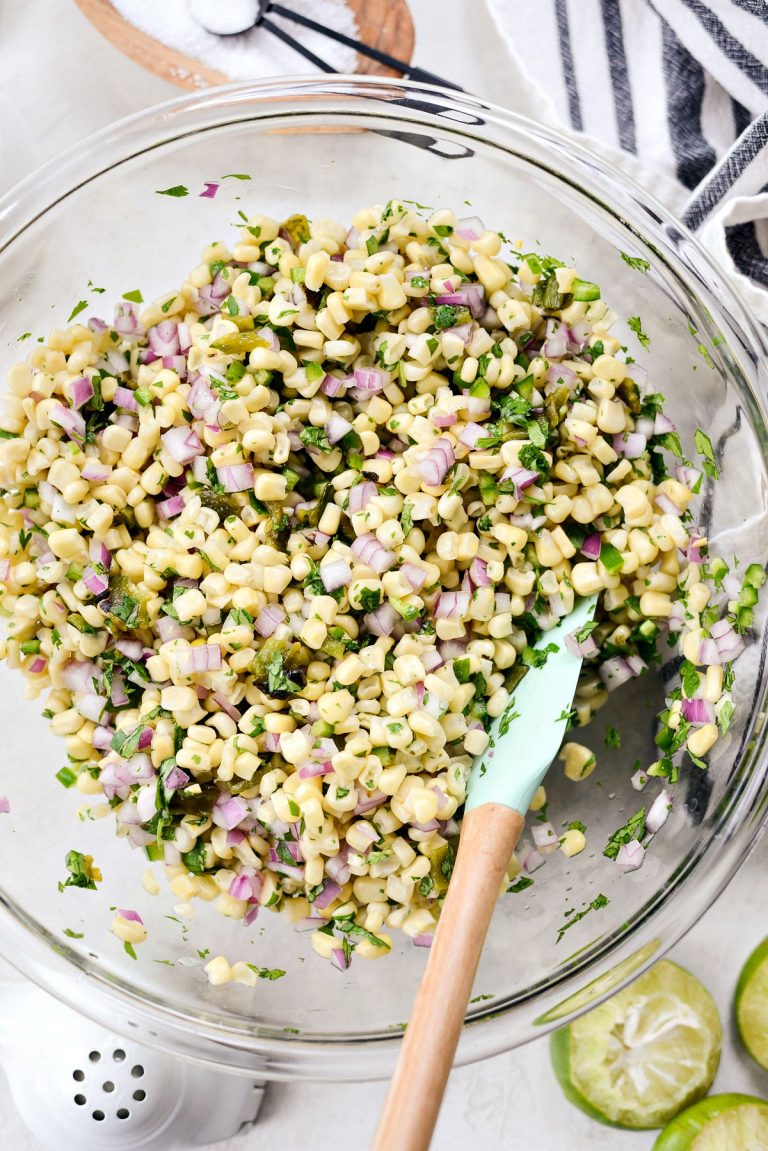 Then give it one last stir before serving. Or refrigerate until you're ready.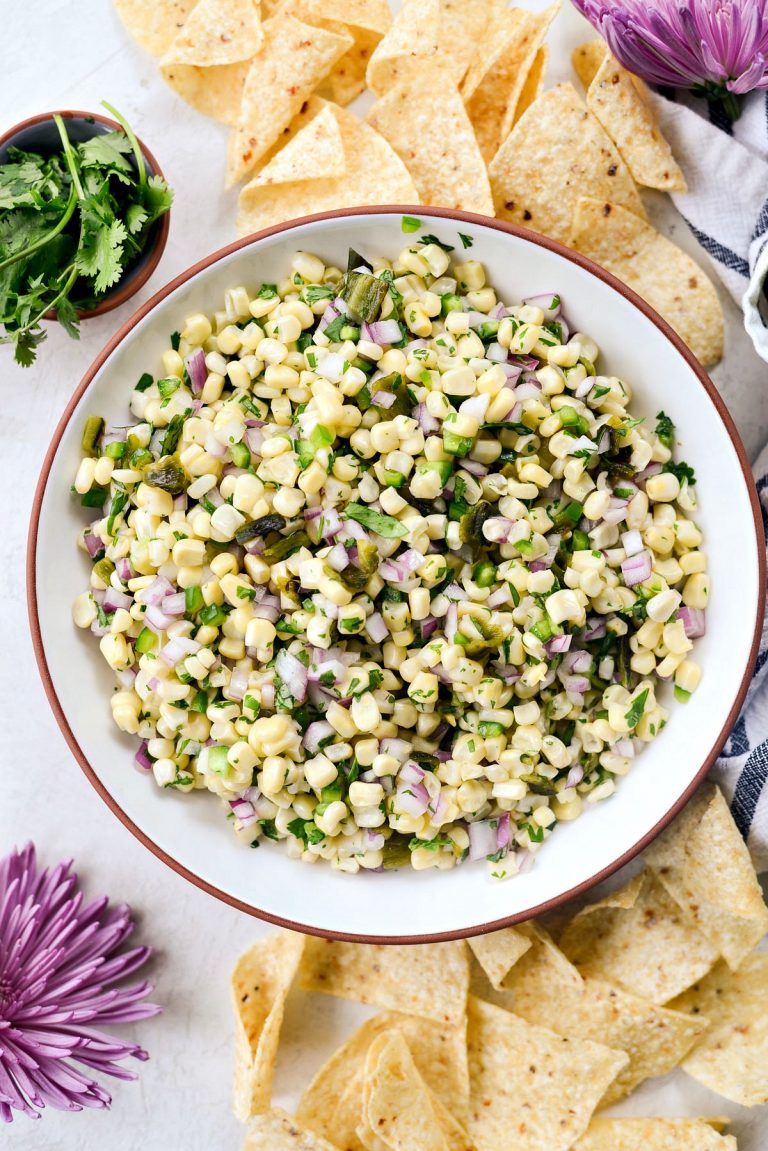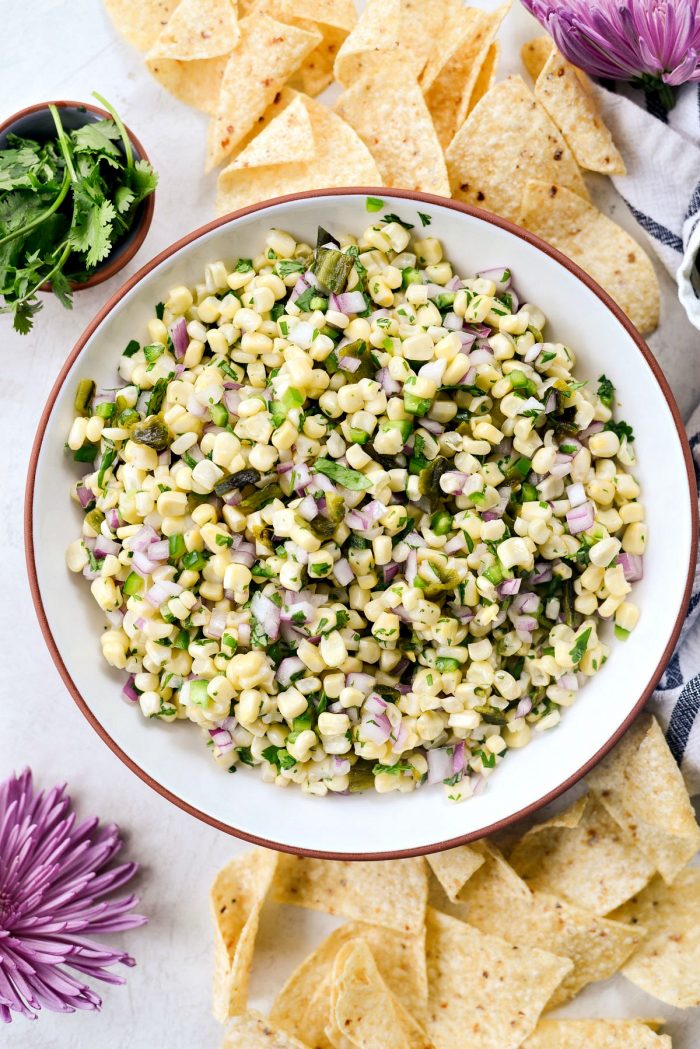 Scoop it out with tortilla chips or have it with nachos, in tacos or in these chipotle chicken fajita rice bowls! Either way it's going to be a hit. Promise.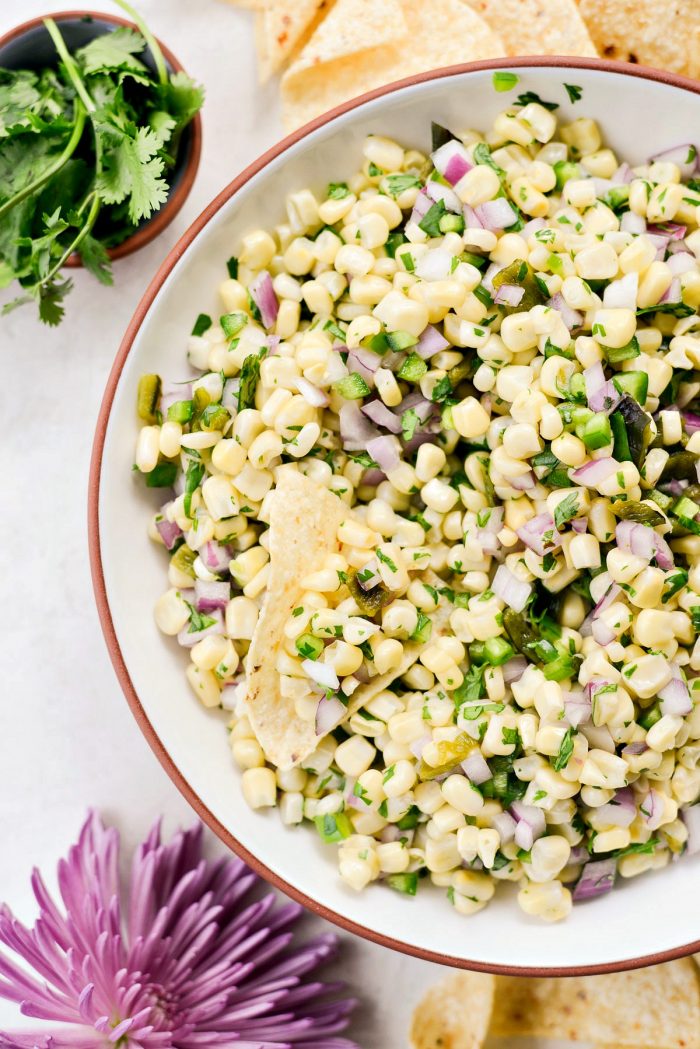 Enjoy! And if you give this Chipotle's Sweet Corn Salsa recipe a try, let me know! Snap a photo and tag me on twitter or instagram!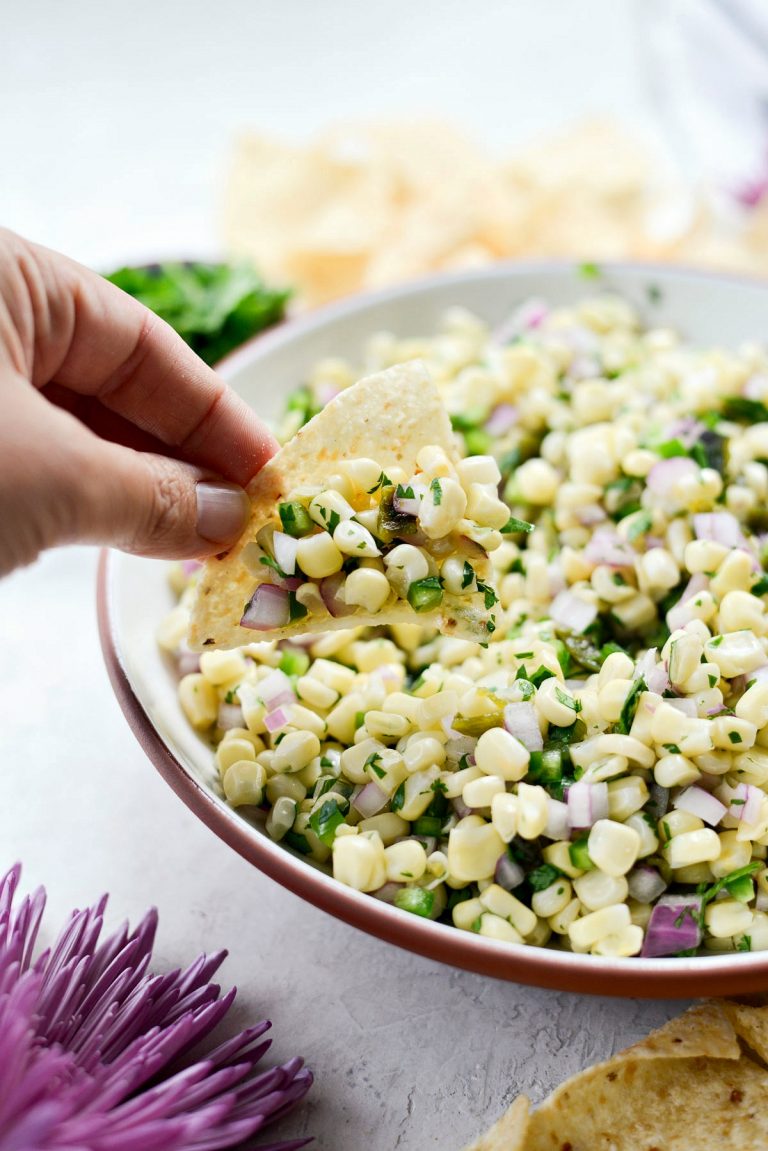 This post may contain affiliate links.
Buy the Cookbook: Simply Scratch : 120 Wholesome Homemade Recipes Made Easy Now available on Amazon »
THANK YOU in advance for your support!