Martha's Rhubarb Upside Down Cake is a sweet and springy rhubarb cake where the strusel topping becomes the bottom. Served with whipped cream or ice cream.
Martha Stewart… maybe one day I'll meet her? Maybe she will have me on her show? Does she still have a show? And if not what happened? But if she still does why can't I find it?? Well Martha definitely knew what she was doing when she came up with the recipe for this Rhubarb Upside Down Cake. The only tweak I made was that I added a little vanilla and more orange zest into the cake batter. Vanilla always adds a little something special.
First, here's the skinny on this upside-down cake:
Rhubarb: Tart and delicious.
Sour Cream Cake: Soft, spongy with a subtle tang.
Crumble Topping: Adds a delicious texture.
To Make Martha's Rhubarb Upside Down Cake You Will Need:
FOR THE CRUMBLE TOPPING:
unbleached all-purpose flour
granulated sugar
a pinch of kosher salt
4 tablespoons unsalted butter, melted
FOR THE RHUBARB:
1 pound rhubarb, trimmed and cut on a very sharp diagonal about 1/2 inch thick
granulated sugar
FOR THE CAKE:
unbleached all-purpose flour
baking powder
kosher salt
unsalted butter, divided, at room temperature, plus more for buttering pan
granulated sugar
finely grated orange zest, plus 1 tablespoon fresh orange juice
real vanilla extract
2 large eggs
1 cup sour cream
For the Crumb Topping:
In a medium mixing bowl, measure and add 1/2 cup flour, 1/4 cup sugar and a pinch of salt into a bowl.
Pour in 1/4 cup (4 tablespoons) melted butter.
Stir together until large clumps form, and set aside.
For The Rhubarb:
Take a pound of fresh rhubarb and give it a good scrub and pat dry, then trim off the rough or dried ends and discard.
Holding your knife at a sharp angle, make slices about a half an inch thick working your way down the stalk. It doesn't have to be precise, but definitely keep those little end bits too because they're good for filling in the small empty spaces.
Throw the sliced rhubarb in a large mixing bowl.
Toss them with the 3/4 cup of sugar and let them sit. The sugar will pull the juice out of the rhubarb.
Generously grease a 9-inch pie pan with butter, every nook and cranny! Cut a 1/2 stick of butter in to pieces and then drop it into the pan.
Lay the sliced rhubarb on its side making a mosaic like pattern, using the dots of butter to hold them in place. I think Martha just dumps her rhubarb in, and you could do that too if you wish, however I think this looks way prettier!
Keep going and use the smaller pieces to fill in the small gaps.
Stop when all of the rhubarb is used up… it's so Purrrrty!
Don't discard that rhubarb sugar!
Pour that rhubarb infused goodness over top and set the pan aside to work on the cake batter.
For The Cake Batter:
In a large mixing bowl, whisk together 1 cups flour, 1-1/2 both teaspoons baking soda and kosher salt until combined.
Add 1 softened stick of butter (I know more butter) and 1 cup sugar into a large mixing bowl. Cream the butter and sugar on medium speed until light in color and fluffy.
Meanwhile quickly grate 1 teaspoon orange zest and add it to the butter/sugar mixture.
Juice 1 tablespoon of fresh orange juice and add that in as well.
Add in a teaspoon of vanilla extract and mix on low speed until combined.
Next add in 2 eggs, one at a time until mixed thoroughly, scraping down the sides in between.
Then alternately add a spoonful of the dry ingredients…
Alternate adding spoonful of the cup of sour cream, until all ingredients are incorporated.
Yum and YUM.
Reserve the beater, leaving a little extra on it for a snacking on while the cake is baking. I'll let you in on a secret; if the batter is amazing than the cake will taste amazing.
Pour the batter over top of the rhubarb and spread evenly with an offset spatula.
Sprinkle the crumb topping over top, breaking any extremely large clumps into smaller ones.
This crumb topping will eventually become the bottom. swoon.
Place on a rimmed metal baking sheet and slide onto the middle rack in your preheated 350° oven and bake for 50-60 minutes. Or until a toothpick inserted into the center comes out clean and the cake top sort of springs back when touched.
The rhubarb will bubble and may spill over, luckily the sheet pan will catch it and not dirty the bottom of your stove. Remove and let cool for ten minutes.
Once it has cooled for the ten minutes; run a knife around the edge of the caketo loosen.
Invert on to your favorite platter or cake stand and let cool completely.
I wasn't getting the pictures I wanted indoors, the lighting in my kitchen was weird that day and it wasn't doing this cake any justice what-so-ever.
So I sliced me a sliver and took it outside and then… the color popped!
This cake is deliciously dessert-y and yet the leftovers are perfect for a late breakfast or brunch alongside a steaming cup of tea or coffee. The crumble bottom adds a surprising texture to this delicious spongy cake. And of course the rhubarb is everything.
It literally is heaven on a plate.
The end.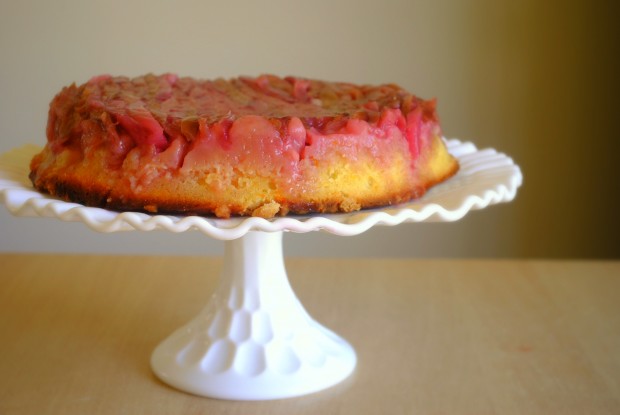 This post may contain affiliate links.
Buy the Cookbook: Simply Scratch : 120 Wholesome Homemade Recipes Made Easy Now available on Amazon »
THANK YOU in advance for your support!