This Couscous Summer Salad with Lime Vinaigrette is light, fresh, and flavorful. Made with fresh vegetables, light couscous and a great lime vinaigrette, this dish does not lack in flavor.
Hello Simply Scratch readers!
I want to start out by thanking Laurie for asking me to guest post this week while she's away. I've been a big fan of hers for a while, it's hard not to be! Her beautiful photography and unique recipes keep me intrigued and constantly checking to see what she's going to come up with next.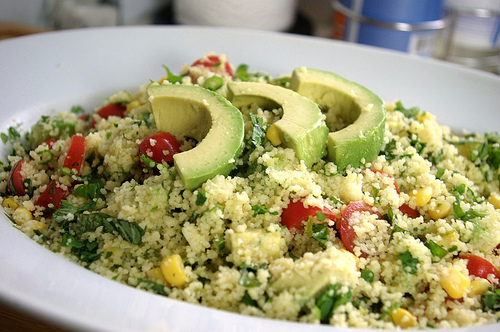 Her "simply scratch" mentality is one that I try and live by as well. That wasn't always true, like Laurie, I started with a box of brownies too! Everyone has to start somewhere and although I grew up with a mom who is an excellent cook and relatives who know how to whip up delicious meals with a few simple fresh ingredients, I had no idea how to replicate what I had always seen growing up. Just as Laurie did, I devoted my time to learning how to cook from scratch.
Through my "quest to conquer home cooked deliciousness" on my food blog Sprinkles of Parsley, I've learned that cooking is far easier than I ever thought it could be. With a few simple steps, and basic fresh ingredients, you can create a far healthier and delicious meal than anything you can buy already prepared for you. Similar to Laurie's blogging style, our step-by-step pictures takes the guess work right out for you- what you see, is what you get, making learning how to cook from scratch that much easier!
Today's post was inspired by the warm spring weather we're starting to get here in Connecticut.
BBQ-ing is officially on my mind! You can never have enough summer salad recipes to serve at a BBQ or bring as a potluck dish. I felt it was time to experiment with a new recipe- and I'm so happy I did! This Couscous Summer Salad with Lime Vinaigrette is light, fresh, and flavorful. Made with fresh vegetables, light couscous and a great lime vinaigrette, this dish does not lack in flavor.
Not only is the combination of flavors just right, but it only requires a few minutes to prepare. Just cook your couscous, prepare your fresh vegetables, whisk together the vinaigrette and you have a delicious, healthy dish made from scratch in no time. This quick and easy BBQ side is a great recipe to add to your rotation of summer salad favorites. Hope you enjoy it!
To Make This Couscous Summer Salad You Will Need:
1 cup couscous
2 teaspoons grated lime zest
1 1/2 tablespoons fresh lime juice
1 1/2 cups cherry tomatoes, halved
1 cup corn, canned and drained or fresh when in season
3 tablespoons scallions, thinly sliced
3 tablespoons fresh basil, roughly chopped
1 bunch fresh cilantro, roughly chopped
2 avocados, cut into 1 inch cubes
2 tablespoons butter, melted
1 tablespoon olive oil
1 teaspoon sugar
1/2 teaspoon salt
1/4 teaspoon fresh ground pepper
Start with zesting your lime.
Then juice your lime.
Slice your cherry tomatoes in half.
Roughly chop your basil.
Roughly chop your cilantro.
Thinly slice your scallions diagonally.
Once your ingredients have been prepped, cook your couscous according to the package directions.
Once cooked, immediately transfer to your serving bowl and fluff your couscous with a fork.
Then add your tomatoes, corn, scallions, cillantro, and basil to your serving bowl.
Mix until combined.
Once mixed, cut two avocados into 1 inch squares.
Add to your serving dish.
Then immediately prepare your lime dressing by combining your lime zest and juice in a large mixing bowl with your melted butter, olive oil, sugar, salt, and pepper.
Whisk until smooth. Drizzle the dressing over your salad, mix until combined, and garnish with a few slices of avocado.
Enjoy! And if you give this recipe a try, let me know! Snap a photo and tag me on twitter or instagram!
This post may contain affiliate links.
Buy the Cookbook: Simply Scratch : 120 Wholesome Homemade Recipes Made Easy Now available on Amazon »
THANK YOU in advance for your support!