In this spicy breakfast quesadilla, eggs are scrambled and mixed with cheese, jalapeños and red peppers. Then stuffed in a tortilla and crisped.
Today I almost burnt my house down. It was as simple as roasting a jalapeño.
I bet you can't believe roasting a jalapeno can be so traumatic…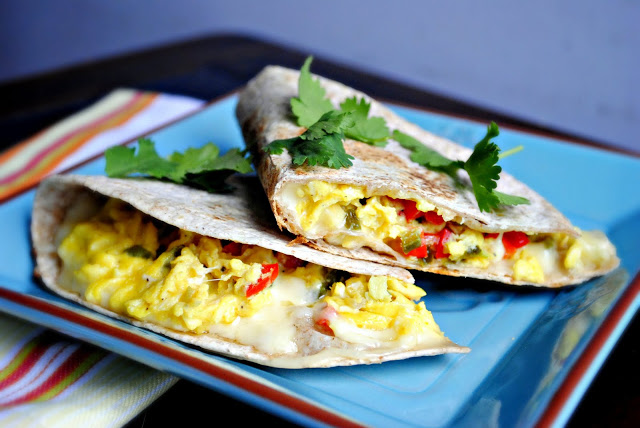 Well it was. You see I never roasted a jalapeno before. Not ever. And today was going to be the day I tried it out. So there I was in my kitchen, I placed my jalapeño on some parchment paper, drizzled it with some olive oil and placed it under the broiler. I thought to myself that I should probably move the jalapeño up closer to the heat source so it could get a good blistered char on the skin.
So I did just that.
Luckily I stuck around, because I started hearing a "pop" and "crackle" sound coming from the oven. I immediately opened the oven door and there was my parchment paper on FIRE! I muttered a word that luckily my kids didn't hear, slipped on my oven mitts and reached in for the blazing pan. One quick blow and the flames went out, now it was now just smoldering. I breathed a sigh of relief. Choked on the jalapeno smoke, and quickly set the pan down and then totally freaked out.
So I removed the ashes of what was parchment paper and replaced it with tinfoil (genius). I continued to char the heck out of that pepper but I have to admit I was a little shaken and a lot sweaty.
I swore to myself that I wasn't gonna tell anyone about this… except, well, you.
TO Make This Breakfast Quesadilla You Will Need:
1 jalapeño, roasted
1 tablespoon butter or olive oil spray
1/4 cup red bell pepper, diced small
1 tablespoon shallots, diced small
2 eggs
1 tablespoon whole milk
kosher salt
freshly ground black pepper
1 whole wheat tortilla
1/4 cup chihuahua cheese or monterey jack
cilantro
All the fixins to a yummy, wholesome and filling breakfast!

I started with a good size jalapeno, drizzled it with a little extra light olive oil, and placed it under the broiler on high. Now DO NOT put parchment paper under a broiler!! Use tinfoil! GOT it TINFOIL!

After 5 to 7 minutes under the broiler it should be nicely charred. Stick it into a zip lock baggie and let it steam for 5 minutes or so. Peel off the skin, remove seeds and ribs and dice small.
I reeeeeally wish I took pictures of the charred parchment paper… but I guess I was too busy freaking the heck out!
Heat a small sauté pan over medium heat and add 1 tablespoon of butter or olive oil spray.
Once the butter is bubbly, throw in the diced red pepper and shallots. Cook those till they are soft.
While those are softening; combine the 2 eggs, 1 tablespoon whole milk, a pinch of kosher salt and some freshly ground black pepper.
Whisk the eggs into submission and set aside.
Before adding the eggs, I reduced the heat and then tossed in the roasted jalapeño – you know the one that almost burnt down my home.
Pour the eggs over top.
Cook the eggs until they were done, and still moist. Be careful not to overcook these eggs or they will be dry and not good eats. Immediately pull them off the heat and set aside.
Quickly tossed a whole grain tortilla into a shallow pan over medium heat. I like to use whole grain tortillas because it seems more breakfast-y.
Sprinkle one half of the tortilla with the Chihuahua cheese.
What is Chihuahua Cheese?
It is a Mexican cheese primarily used in fondues, quesadillas and chili con queso. Its flavor is similar to Monterey jack, but I think it melts better! And you should be able to find it in your specialty cheese case at you grocery store.
Once the cheese starts to soften and the bottom of the tortilla starts to crisp, add the hot jalapeno eggs, and fold over. Leave for just a moment before plating. Top with fresh cilantro leaves and devour!
Enjoy! And if you give this Breakfast Quesadilla recipe a try, let me know! Snap a photo and tag me on twitter or instagram!
Yield: 1 quesadilla
Spicy Breakfast Quesadilla
In this spicy breakfast quesadilla, eggs are scrambled and mixed with cheese, jalapeños and red peppers. Then stuffed in a tortilla and crisped.
Ingredients
1 tablespoon butter
1/4 cup red pepper flakes, diced small
1 tablespoon minced shallots, diced small
1 jalapeno, roasted
2 large eggs
1 tablespoon whole milk
kosher salt, to taste
freshly ground black pepper
1 whole wheat tortilla
1/4 cup monterey jack
cilantro, minced for garnish
Instructions
Start by preheating your broiler to high and place the jalapeno on a tinfoil lined baking sheet, drizzle with olive oil and roast, rotating throughout cooking, until the skin is blistered and black.

Stick in a plastic baggy or bowl and cover with plastic wrap to steam, which will help when removing the skin. After 5 minutes or so, remove jalapeno. Discard the skin, seeds and ribs, and then finely dice the jalapeno flesh.

In a small sauté pan, melt the tablespoon of butter. Then add the diced shallot and red pepper and cook until soft. Mean while in a bowl; whisk the two eggs, whole milk, salt and pepper until thick and fluffy.

To the red pepper and shallots add the diced jalapeno.

Reduce the heat and then pour the eggs over the veggies and cook over medium low heat until eggs begin to set, pushing them around with a spatula to cook evenly.

Remove from heat and set the scrambled eggs aside.

In a clean skillet place whole a whole wheat tortilla.

On one side of the tortilla add the Chihuahua cheese, when it begins to melt then add the scrambled jalapeno eggs.

Once the cheese is melted and the tortilla is crispy, fold over the other side of the tortilla, remove from pan and cut in half.

Serve sprinkled with minced cilantro.
Serving: 1g, Calories: 669kcal, Carbohydrates: 56g, Protein: 32g, Fat: 41g, Saturated Fat: 18g, Polyunsaturated Fat: 7g, Monounsaturated Fat: 11g, Trans Fat: 1g, Cholesterol: 429mg, Sodium: 1658mg, Potassium: 1406mg, Fiber: 24g, Sugar: 9g, Vitamin A: 18820IU, Vitamin C: 18mg, Calcium: 569mg, Iron: 13mg
This post may contain affiliate links.
Buy the Cookbook: Simply Scratch : 120 Wholesome Homemade Recipes Made Easy Now available on Amazon »
THANK YOU in advance for your support!