Honey Almond Granola is sweet, crunchy and delicious with milk or as a topping to yogurt or ice cream. Simple ingredients, delicious flavor.
It's here! It's finally here!! Yay it's SPRING! The Michigan sky is a crisp blue, the sun is shining and the air smells fresh and promising. It's not even close to being warm yet but who the heck cares it's not winter anymore!!
Ahhh spring… how I love you… let me count the ways:
Ahem…
1. Spring… Because this means summer is just around the corner.
2. Spring… I can now wear ballet flats!
3. Spring… The windows are slightly cracked and it smells delicious!
4. Spring… Means Easter… so lots of jelly beans are in my future!
5. Spring… Kids have a school break… and I get out of having to pack school lunches… Hooo-RAH!
With all this excitement over spring; the last few days I have been baking, cooking and cleaning up a storm! The sun has been shining and I took every ounce of that sunshine and put it to good use… cleaning out cupboards and my pantry and making yummy food. 🙂
Like granola.
I love granola.
You love granola.
So let's get it on! … umm I mean making granola?!
I would love to introduce to you… the Ingredients. Lame intro I know.
Grease a small baking pan with coconut oil or butter.
Add the melted butter, honey and vanilla into a bowl
Stir to combine.
In another bowl; combine the sliced almonds, whole wheat flour, oats and salt. Make sure you are NOT using quick oats!
Pour over the honey mixture.
Stir until the granola forms clumps and the honey mixture is evenly distributed.
Spread out onto the greased pan and bake in a pre-heated 350 degree oven for 10 minutes. Remove, toss and place back in the oven for 5-8 more minutes.
Let cool.
See! Super easy and this makes a quick, delicious and healthy snack!
This versatile granola would be super yummy on your favorite yogurt or on top of vanilla ice cream… or… mix it with your favorite dried fruit and/or add in some dark chocolate chunks! I love this stuff!
But I reeeally LOVE mine on top of sliced bananas with milk poured over it all! MMM mmmm! A most delicious breakfast! Enjoy!
Enjoy! And if you give this recipe a try, let me know by snapping a photo and tagging me on twitter or instagram!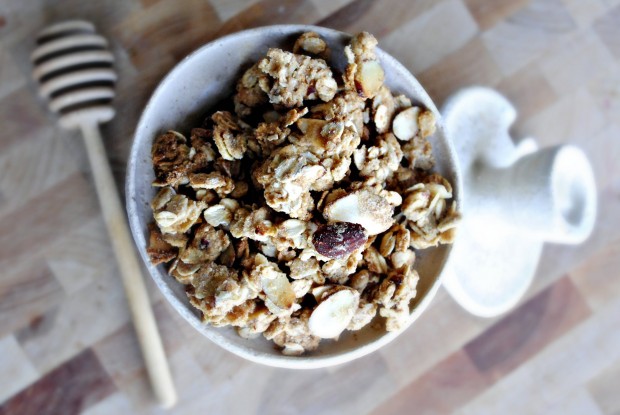 My cookbook Simply Scratch : 120 Wholesome Homemade Recipes Made Easy is now available! CLICK HERE for details and THANK YOU in advance! 
[this post contains affiliate links.]
This post may contain affiliate links.
Buy the Cookbook: Simply Scratch : 120 Wholesome Homemade Recipes Made Easy Now available on Amazon »
THANK YOU in advance for your support!