Chocolaty Chocolate Cake with Chocolate Buttercream Frosting is a rich (you guessed it) chocolaty cake covered in a smooth chocolate buttercream frosting.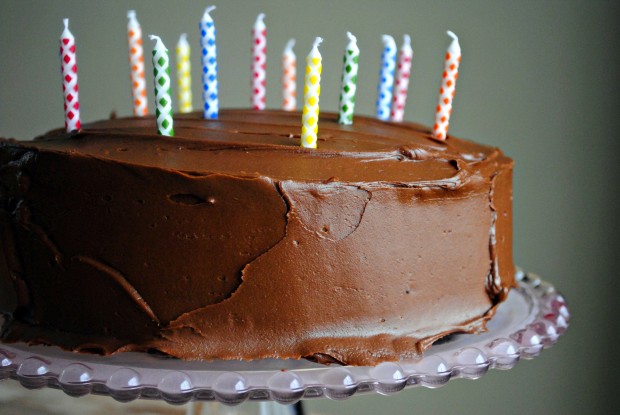 Chocolate cake is probably my favorite cake of all cakes. I think I've divulged to you before, that as a kid I didn't really like cake or even frosting for that matter. Which ultimately was why I was a size 4 until I had children, and as we all know with children comes birthdays and with birthdays comes CAKES and with cakes comes the bigger waistline.
Speaking of birthdays…
Earlier this month was my Dad's 63rd birthday! I can't flippin believe it! I swear it was yesterday that he was pushing me and my sisters in the wheelbarrow lined with that egg carton-foam down our backyard hill! OMG so much fun! *sigh*
But my Dad is great! He is as laid back and chill as they come. Nothing makes him happier than a home cooked meal and seeing his grand kids. So making him happy isn't hard at all… it's actually quite easy. 🙂
He came over… we grilled up some steaks… and I made him (at his request) a chocolate cake with chocolate buttercream frosting. Pure heaven!
I modeled this cake recipe from Ina Gartins' recipe because frankly it's the best dang chocolate cake I've ever had! I omitted the vegetable oil and substituted it for applesauce as you'll find in most (if not all) of my cake recipes. This cake is always a hit!
So here is my spin on a classic chocolate cake.
To make This Chocolaty Chocolate Cake You will Need:
butter or nonstick spray, for greasing the pans
unbleached all-purpose flour, plus more for dusting pans
granulated sugar
natural high-fat cocoa powder
baking soda
baking powder
kosher salt
buttermilk, shaken
unsweetened applesauce
eggs, at room temperature
pure vanilla extract
freshly brewed coffee, cooled
Next line two (9-inch) round cake pans with parchment paper butter and flour them, make sure to tap out the excess flour.
Into the bowl of your mixer; sift 1-3/4 cups flour, 2 cups sugar, 3/4 cups cocoa, 2 teaspoons baking soda and 1 teaspoon both kosher salt and baking powder.
Then on low speed, mix the sifted ingredients until completely combined.
In a bowl combine the wet ingredients; 1 cup buttermilk, 1/2 cup applesauce and 2 large eggs.
If you don't have buttermilk, just use one cup whole milk and add a tablespoon of white vinegar… *POOF* buttermilk substitute!
Add in 1 teaspoon vanilla extract.
Whisk thoroughly until combined.
With your mixer on low, slowly add the wet ingredients to the dry.
Grab 1 cup of cooled brewed coffee, pour it into the batter and mix until combined.
Don't forget to scrape the sides and the bottom of the bowl.
Next divide equally among the two cake pans and place into a preheated 350 degree oven for 35-40 minutes. The way I tell that the cakes are done is that they sort of pull away from the sides of the pan, and when a tester is inserted… it comes out clean.
Then allow the cake rest in the pans for 25 minutes then carefully turn them out on a wire rack to cool, completely.
Oh! And don't forget to peel off the parchment paper!
Now on to the butter cream!!!!
FOR THE BUTTERCREAM:
semi-sweet chocolate, roughly chopped
unsalted butter, at room temperature
egg yolk, at room temperature and beaten
pure vanilla extract
powdered sugar, sifted
Next, roughly chop up the 6 ounces of semi-sweet chocolate.
Bring a saucepan with some water up to a simmer (just enough water that it doesn't touch the bottom of the bowl). Set the bowl of chopped chocolate on top so it can be warmed gently by the steam.
Keep stirring until melted and smooth.
When it's finished remove from the pot and set aside to cool slightly.
Toss in 2 sticks of softened (room temp) butter in to your mixing bowl; on medium-high speed mix until light and fluffy about 2-3 minutes.
Add in the 1 yolk of one egg that was slightly beaten and 1 teaspoon vanilla extract, and beat for another 2-3 minutes.
Turn the mixer on low speed and gradually add in 1-1/4 cups of powdered sugar working in batches so you don't end up wearing the stuff.
The butter/vanilla and egg should be a light yellow and fluffy.
Now this is where I wish I had an assistant… or remembered to set up the tripod. Ugh. What you don't see is me pouring in the room temperature melted chocolate and mixing it on low.
DO NOT WHIP!
Scrape down the sides and the bottom of the mixer and give it one final mix.
Ta DAH! This totally smells AMAZING!
But this is for my Dad's birthday and not to dip pretzels in… so let's get on with making the cake!
Next, place one of the cake layers upside down on to your cake stand or plate.
Then top with about a third of the frosting.
Spread out evenly and leave a little of an overhang.
Place the second cake layer, right-side up, and place the remaining two thirds of the frosting on top.
Evenly spread over the top and down the sides until the cake is covered with the buttercream.
Here is the final look at my Dad's birthday cake.
And here is the final slice!
This is an amazingly chocolatey moist cake. The kind of cake that cures my craving for chocolate, the kind of cake that makes me glad I like cake and lets me forget about my waistline! 😉
Enjoy! And if you give this Chocolaty Chocolate Cake recipe a try, let me know! Snap a photo and tag me on twitter or instagram!
This post may contain affiliate links.
Buy the Cookbook: Simply Scratch : 120 Wholesome Homemade Recipes Made Easy Now available on Amazon »
THANK YOU in advance for your support!