In these vanilla bean yogurt nectarine parfaits have yogurt layered with nectarines and topped with candied nuts. A light and delicious treat!
It was a hit… my girls loved the yogurt and said it tasted like ice cream. You could actually see the specks of vanilla bean throughout the yogurt! I was impressed… and so were my girls!

Start off with fresh nectarines. They should be ripe, but not overly soft. They should smell like a nectarine when you put your nose up to it.

Then slice large pieces of the fruit from around the pit.

Next, slice, dice and add the nectarines to a bowl.
Then squeeze a wedge or two of fresh lemon over the diced nectarines.
Next, sprinkle a tablespoon of white granulated sugar on top and toss.
Then cover with plastic wrap and set in the fridge until ready to use.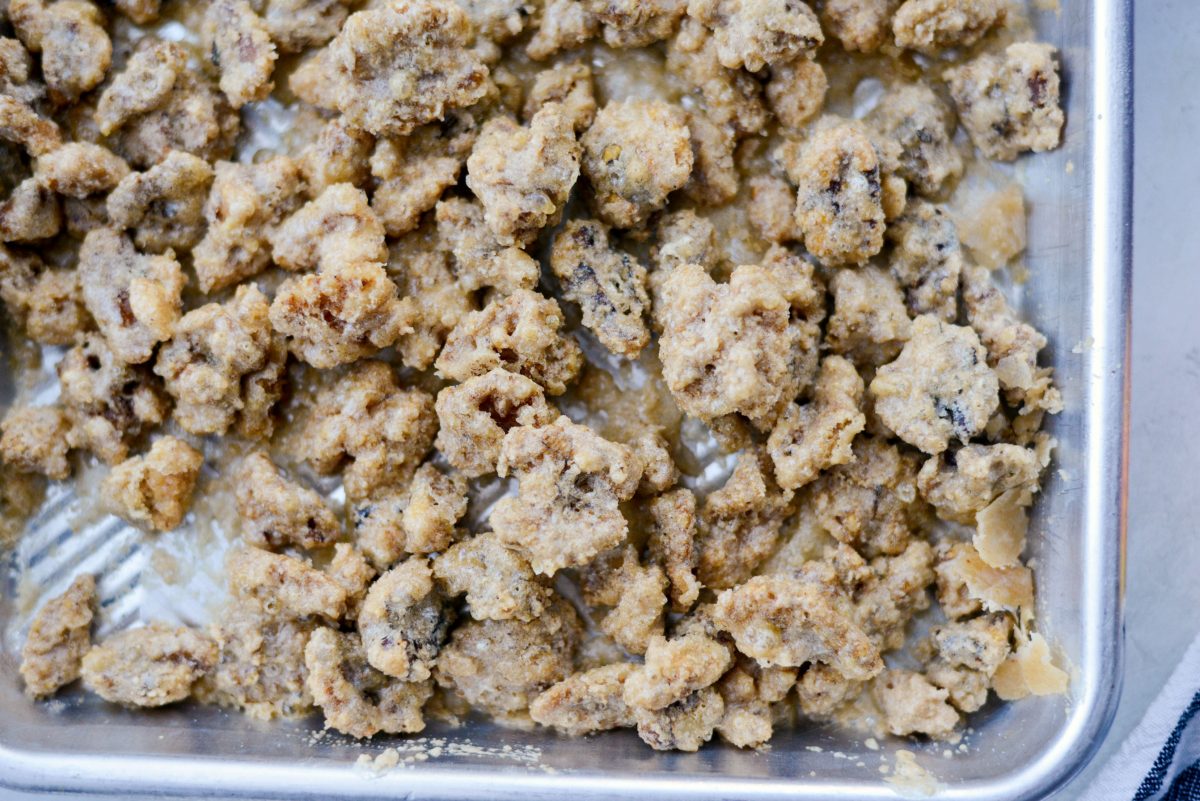 Meanwhile, make the candied nuts following this recipe.!
Start by placing some nectarines in the bottom of a glass.
Next top the fruit with the Activia Vanilla Bean yogurt.
Then repeat with a second layer of fruit and yogurt…
And then the third and final layer of fruit… oh boy…

Add more yogurt.
See those vanilla bean specks! What I also liked, was that one container of yogurt was used in each glass! It was perfect!

Finally, top the Vanilla Bean Yogurt Nectarine Parfaits with those candied nuts! Seriously, these were fantastic! I loved the vanilla bean yogurt with the nectarines. You could definitely do peaches, raspberries or strawberries, really the options are endless! I have to admit as I ate mine I did add more candied nuts, the crunchy texture was perfect with the creamy yogurt and sweet nectarines! I can't wait to try the other Activia Dessert flavors!
Enjoy! And if you give this Vanilla Bean Yogurt Nectarine Parfaits recipe a try, let me know by snapping a photo and tagging me on twitter or instagram!
My cookbook Simply Scratch : 120 Wholesome Homemade Recipes Made Easy is now available! CLICK HERE for details and THANK YOU in advance!
[this post contains affiliate links.]
This post may contain affiliate links.
Buy the Cookbook: Simply Scratch : 120 Wholesome Homemade Recipes Made Easy Now available on Amazon »
THANK YOU in advance for your support!