Honey Roasted Cashews are sweet and a little salty. These nuts are perfect for a quick snack and super easy to make! Also they are WAY better tasting than store bought and not to mention better for you.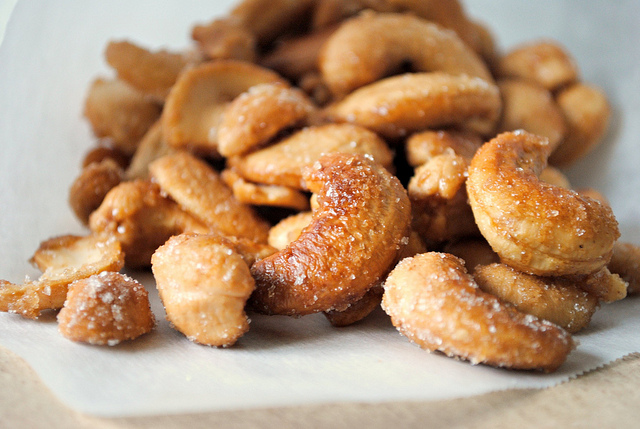 I haven't met a nut I didn't like, but what is it about cashews? You sit down with a bag of them and before you know you can't stop stuffing your face with them. Honestly I could easily eat this whole batch without thinking twice about it. I love them that much!
You may want to make a double batch and hide some for yourself because these will go fast. Don't say I didn't warn you. 🙂
Here are the goods: cashews, honey, real maple syrup, vanilla, butter, cinnamon, kosher salt and sugar.
Preheat your oven to 350° and line a baking sheet with aluminum foil or parchment. Combine the honey, maple syrup and butter in a small microwave safe bowl. Microwave for about 25-30 seconds until butter is melted.
Next add the salt, cinnamon and vanilla and stir.
Then pour the honey/maple syrup mixture over the cashews and stir until completely coated.
Finally, dump the coated nuts on to the lined baking sheet and spread out evenly. Bake for 6 minutes, remove and stir. Spread the cashews into another single layer and bake again for 6 minutes. The honey/maple glaze gets thick and sticky in the oven and coats the nuts as you toss them.
I give your full permission to lick the drips on the bowl… don't feel silly… I do it… it's a total must!
After being in the oven they should smell toasty and they should be a light golden brown.
Use the tin foil to pour the cashews into a clean medium-size bowl. Then toss with the 2 tablespoon sugar.
You know you want one!
If you can resist the urge to unhinge your jaw and inhale them all, then I highly suggest letting them cool completely and store them in a glass jar with an airtight lid.
Enjoy! And if you give this Honey Roasted Cashew recipe a try, let me know by snapping a photo and tagging me on twitter or instagram!
My cookbook Simply Scratch : 120 Wholesome Homemade Recipes Made Easy is now available! CLICK HERE for details and THANK YOU in advance!
This post may contain affiliate links.
Buy the Cookbook: Simply Scratch : 120 Wholesome Homemade Recipes Made Easy Now available on Amazon »
THANK YOU in advance for your support!