These homemade chocolate chip cookies have a crispy edge, a soft chewy center and are perfect for dunking in milk or crumbling over vanilla bean ice cream.
A food blog isn't a proper food blog without a recipe for homemade chocolate chip cookies.
I have been making these cookies since I was 13-ish and it was this recipe when I realized I love to bake. I remember standing in front of my Mom's 1970-ish brown stand mixer making these like it was yesterday. My Mom still has that brown mix master, but she also has a brand new KitchenAid mixer too. Still in the box. In her basement!!! I know CRAZINESS! I tried to convince her to give it to me but nope. No such luck.
It's probably safe to say that I've made this very recipe a million times. I make them on rainy days for comfort, to feed to my daughter's softball team and on certain days, just for the cookie dough.
I used to be a next day (once the chocolate chips became solid again) chocolate chip cookie kind of girl. But now, I'm strictly a straight-out-of-the-oven fan. My husband prefers just eating his share of cookies in cookie dough form and he thinks he's hilarious, stealing the cookie dough off the baking sheet when I'm not looking. So I do what any other loving wife would do, I make them when he isn't around. Which ticks him off but, oh well! If him stealing cookie dough ticks me off then all is fair in love and war, amiright?!
To Make These Chocolate Chip Cookies You will Need:
unsalted butter
dark brown sugar
granulated sugar
1 teaspoon pure vanilla extract
1 teaspoon kosher salt
1 teaspoon baking soda
2 large eggs
2-1/4 cups unbleached all-purpose flour
1 heaping cup to 1 (11.5 ounce) bag of milk chocolate chips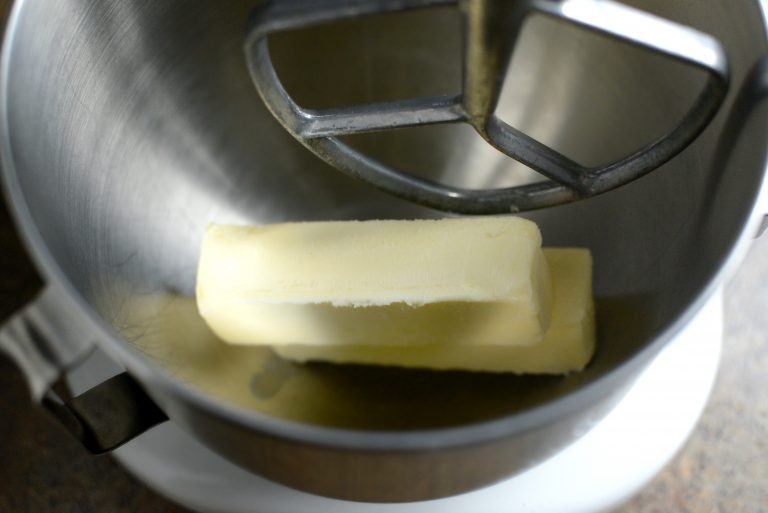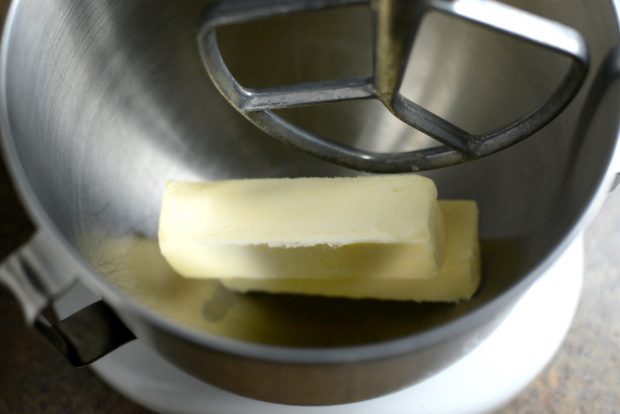 Start by adding 2 sticks of room temperature unsalted butter to your mixer that is fitted with the paddle attachment.
…mix on low for 1 to 2 minutes until the butter is creamy and fluffy.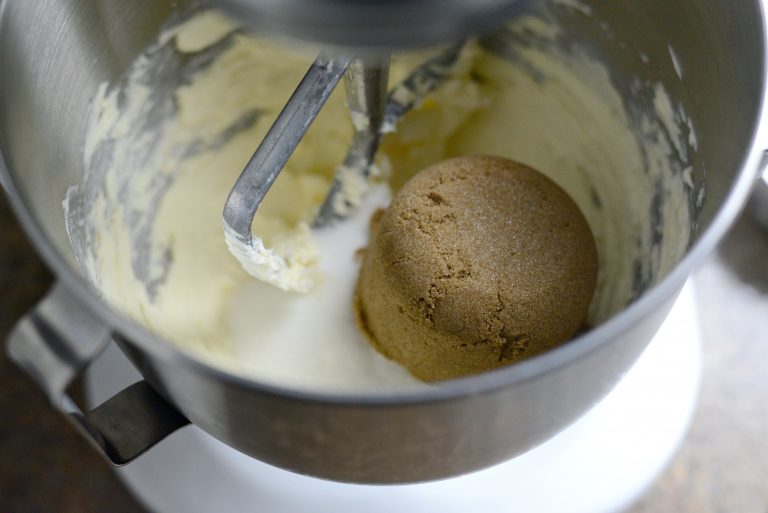 Then add in the 3/4 cup of both dark brown and granulated sugar.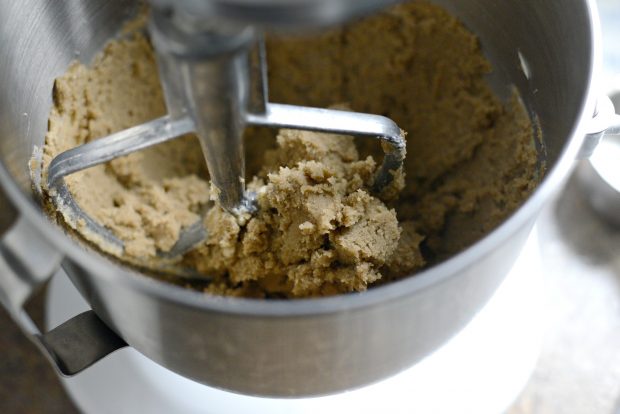 Mix until just combined. The mixture should resemble wet sand.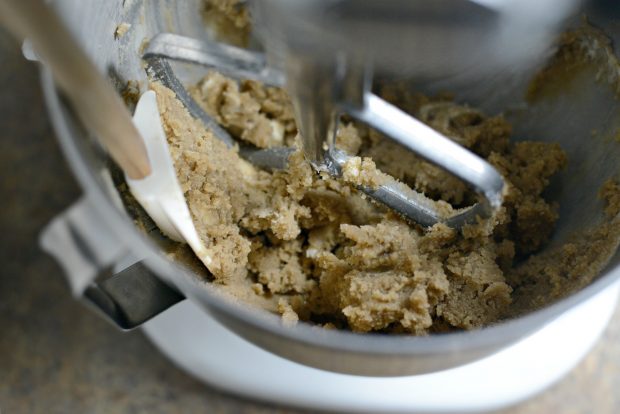 Use a rubber spatula to scrape down the sides and bottom of your mixing bowl.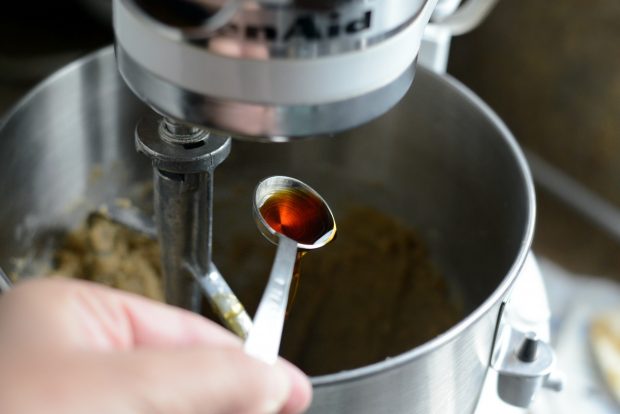 Next add in 1 teaspoon of vanilla…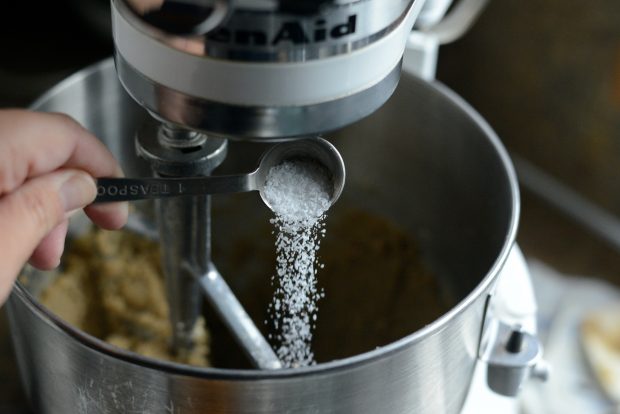 1 teaspoon kosher salt.
And 1 teaspoon baking soda.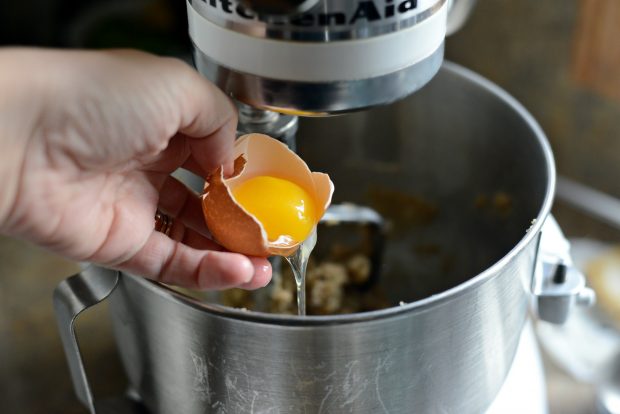 Crack in one egg and mix completely before adding in the second egg. (mix well after each egg)
Next add 1 cup of flour, mix until just combined before adding in the remaining 1-1/4 cup. Mix until the flour is incorporated into the sugar/egg mixture.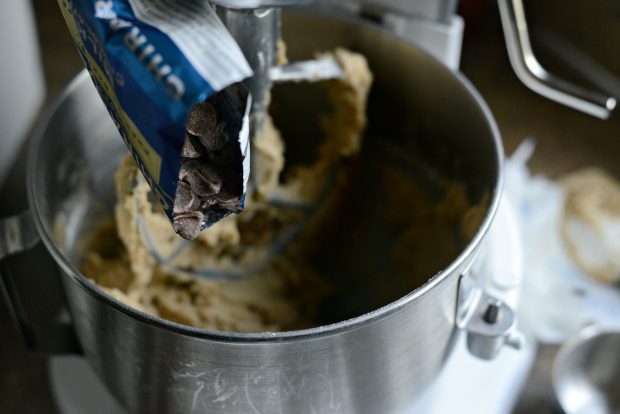 Add an entire 11.5 ounce bag of chocolate chips. I always use Ghirardelli milk chocolate chips. But semi-sweet or dark could be substituted.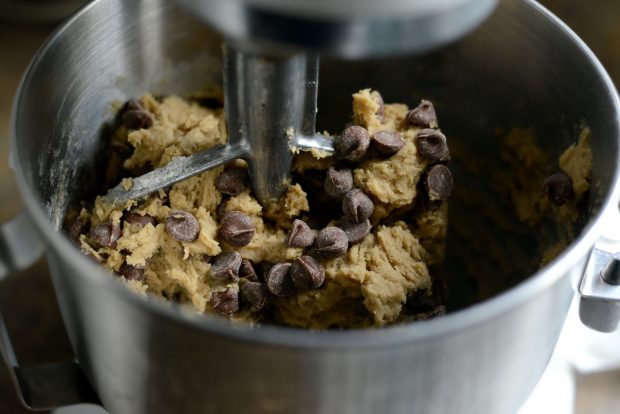 Mix on low until the chocolate chips are dispersed throughout the dough.
This is where opinion varies in my home.
If it was up to my husband and I, we would have it with less chocolate chips and more dough. However, my girls prefer more chocolate chips (surprise surprise) they will flip over each cookie and count the chocolate chips to find the one with the most per cookie!
If you're in the less chocolate chip club, then add a heaping cup.
Use a 2 tablespoon scoop to measure out the cookie dough.
Place the cookie dough onto a rimmed sheet pan that is lined with parchment or a silicone baking mat.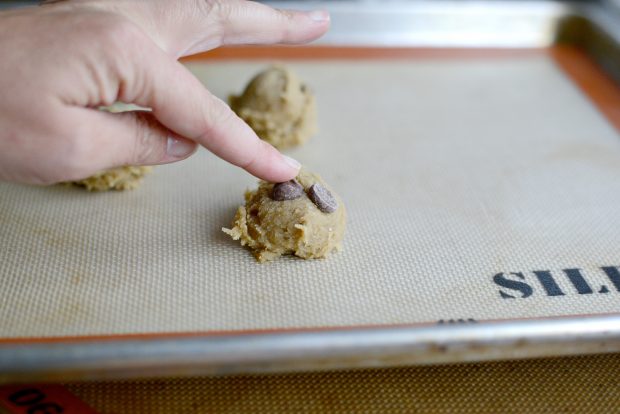 TIP: For more of a profeshy look to your cookies. Use extra chocolate chips and press them onto the top of the raw cookie dough.
Bake in your preheated 375° oven for 8 to 9 minutes (depending on your oven).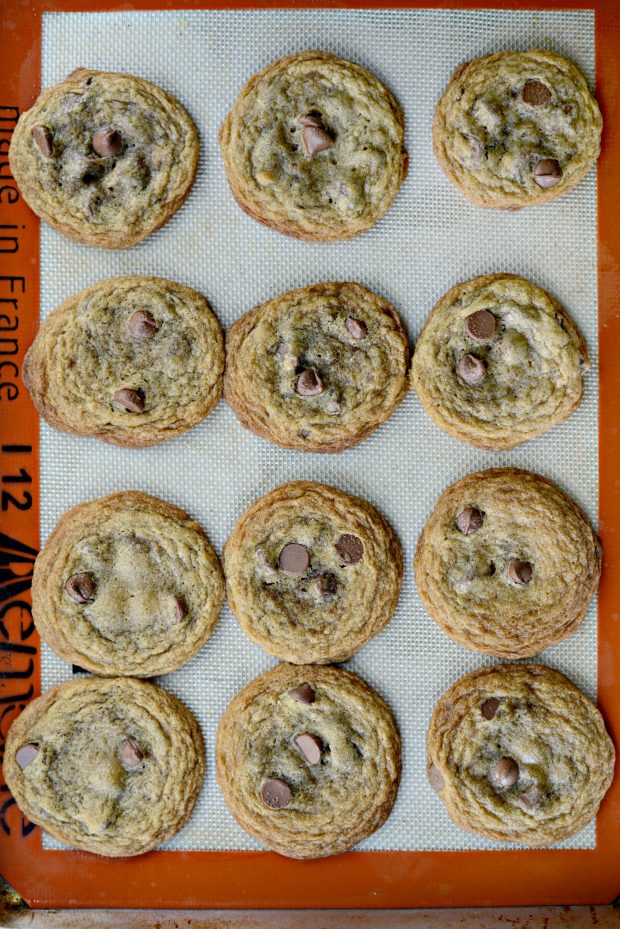 Allow the cookies to cool for about 4-5 minutes before transferring them to a wire rack to cool.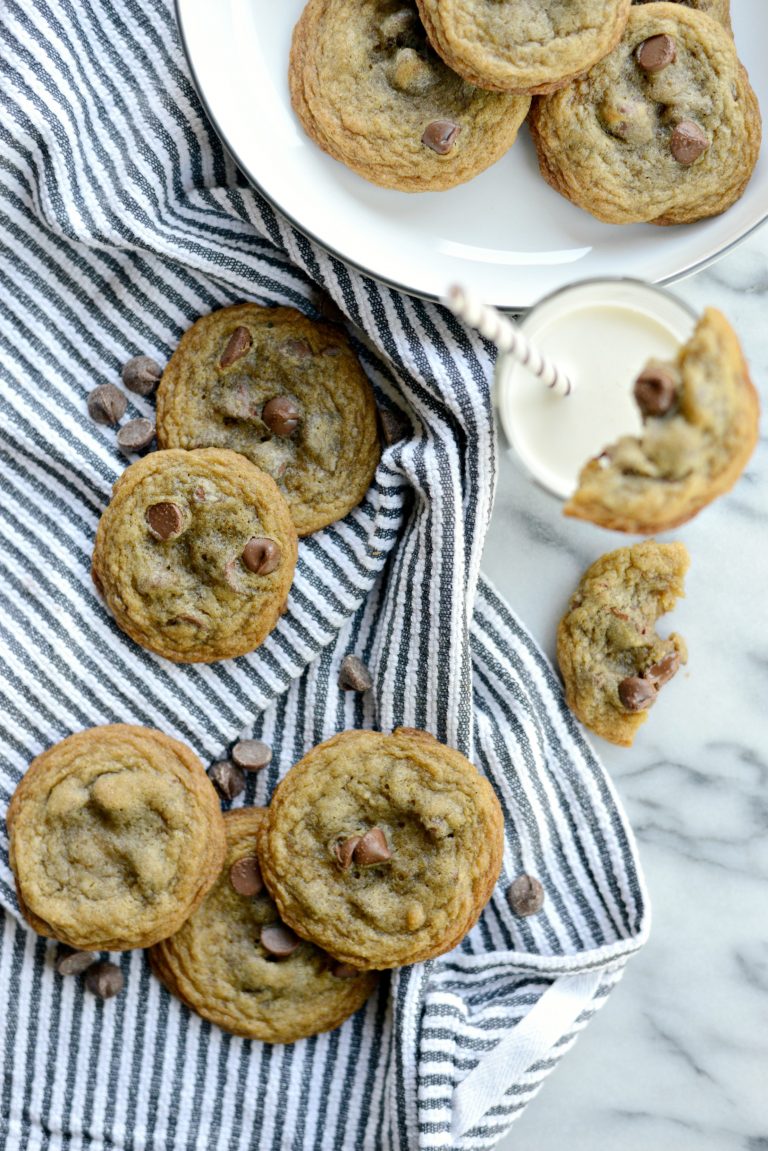 Serve warm for the ultimate experience.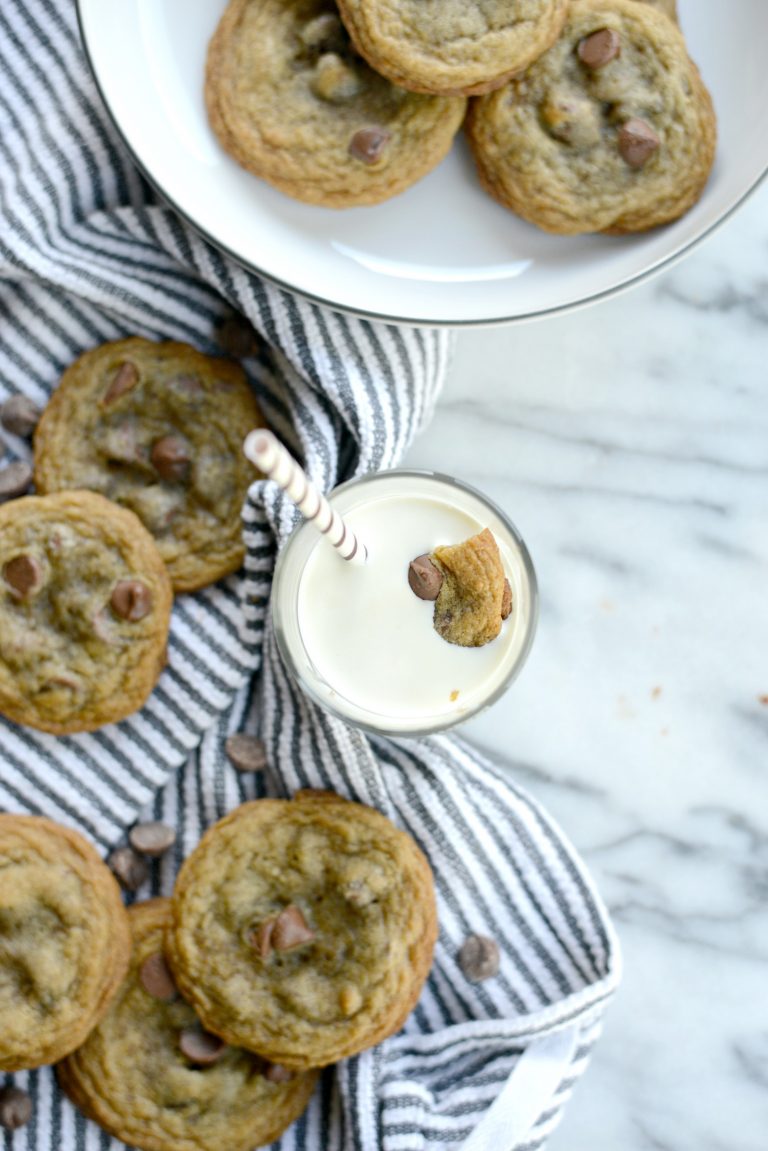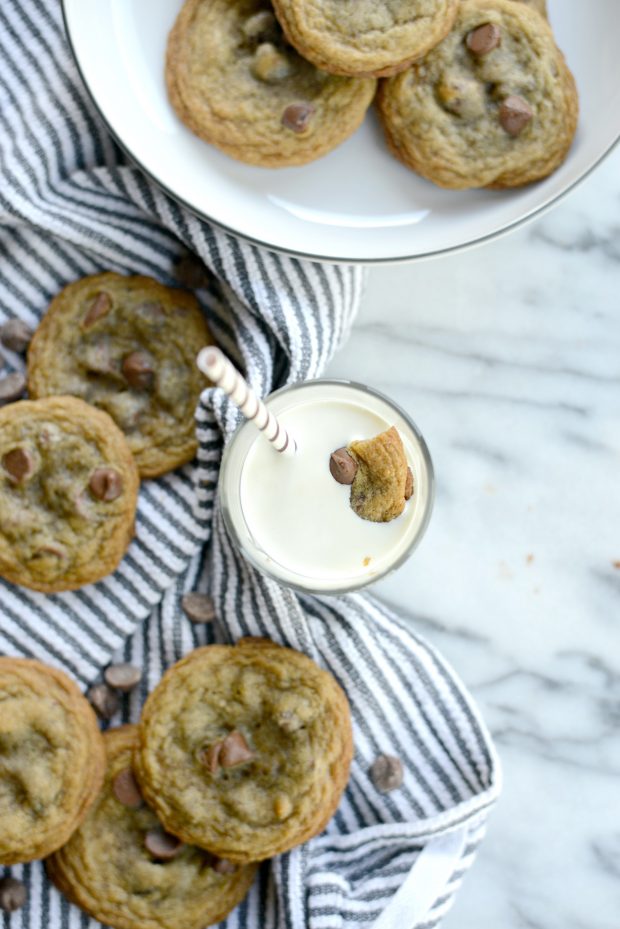 These homemade chocolate chip cookies have a crispy edge, a soft chewy center and are perfect for dunking in milk or crumbling over vanilla bean ice cream.
Check out all my cookie recipes here!
Enjoy! And if you give this Homemade Chocolate Chip Cookies recipe a try, let me know! Snap a photo and tag me on twitter or instagram!
This post may contain affiliate links.
Buy the Cookbook: Simply Scratch : 120 Wholesome Homemade Recipes Made Easy Now available on Amazon »
THANK YOU in advance for your support!