In these fun-size Mini Mac Sliders, an all beef ground patty is topped with a homemade "special sauce", pickles and lettuce!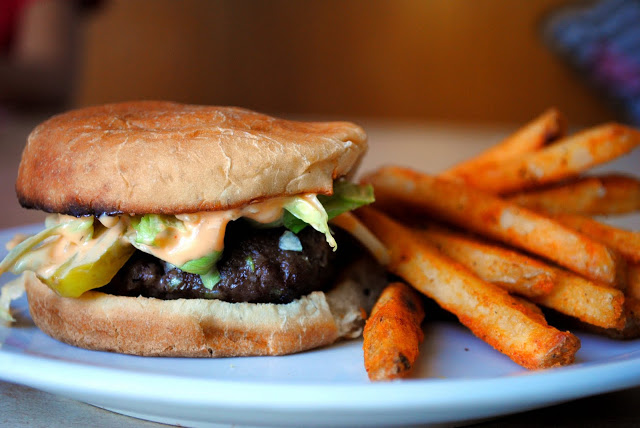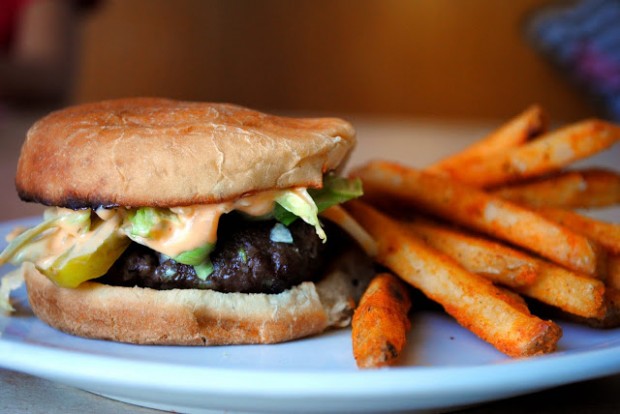 I know I told you guys that I gave up fast food – it has been almost 7 months!! If you've seen Food Inc. you would too! However that doesn't mean I deprive myself, instead of falling off the wagon and finding myself in the drive-through line, I think of a way I can make it at home.
I have been in the mood for a McDonald's Big Mac. I haven't been able to get them out of my head ever since I saw my husband eating one right in front of my face. Luckily I was not feeling well, or else I would have thrown him an elbow and snatched it out of his hand before he knew what hit him!
So here is my version of a not-as-big Big Mac but in slider form. Haileigh named it herself, the Mini Mac Slider.

For the "special sauce": Mayo, French Dressing, Sweet Pickle
Relish, White Vinegar, finely minced Onion, Kosher Salt and Sugar.
Peel and finely mince an onion. Measure out 1 1/2 tablespoons. The excess can be saved for coneys… or pico… mmm pico.
Mix all the ingredients in a small bowl… Then cover and refrigerate until your burgers are done!
For the burgers; Ground chuck, Green Onion, Kosher Salt, Black Pepper and Olive Oil.
Finely slice the green onion and then give them a good mincing.
Add them to the ground chuck along with the salt, pepper and olive oil.
Mix the ingredients by hand until combined, don't over mix it or they will be this weird texture.
Form 12 small patties…
Then add a few patties at a time to a grill pan preheated to medium/ medium high heat… adjust the heat during cooking. Cook the patties 3-5 minutes per side.
Flip and repeat. You can then place done burgers on a plate and cover with foil to keep them warm.
Now for my favorite part… the toppings. You will need; 12 slider buns, the special sauce, finely shredded Lettuce, Pickle slices, and Colby Jack cheese.
Start with the Colby jack. 3 slices to be exact.
Cut in half on a diagonal.
Then half again to form 12 triangles!!
You can also toast your buns, I like mine toasted and so does my girls! I place the slider buns on a baking sheet under my broiler for about 2 minutes.

Schmear some of the special sauce on the inside of the top bun…
Top the bottom toasty bun with a burger patty and a slice of Colby.

Then top with pickle slices and sliced iceberg lettuce.
And they look like this… a little messy… yet tasty! Let me just tell you, my youngest won't touch pickles or onions and she had no idea they were there!! She gobbled them up!
My cookbook Simply Scratch : 120 Wholesome Homemade Recipes Made Easy is now available! CLICK HERE for details and THANK YOU in advance!
This post may contain affiliate links.
Buy the Cookbook: Simply Scratch : 120 Wholesome Homemade Recipes Made Easy Now available on Amazon »
THANK YOU in advance for your support!