You guys, slow cooker steak fajitas! As in the fajitas are made in the slow cooker!!!!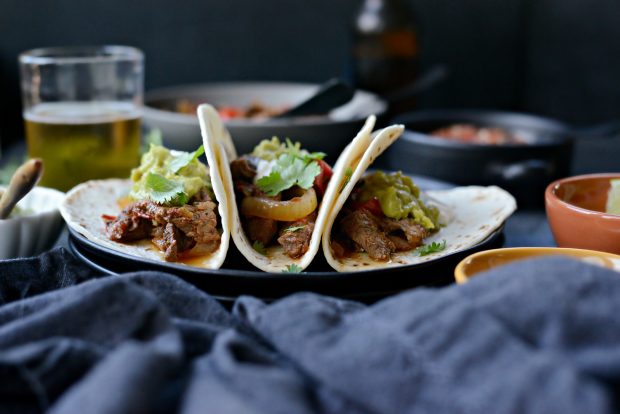 Yes, it's a thing and to be honest, I was a little skeptical at first. I wasn't sure how it would turn out but I had to try it out because as the weather starts to dip into the 5o's and even in lower when w-w-winter rolls around… the thought of fajitas via not leaving the comfort and coziness of my kitchen, and let's be real, pajamas is so very appealing.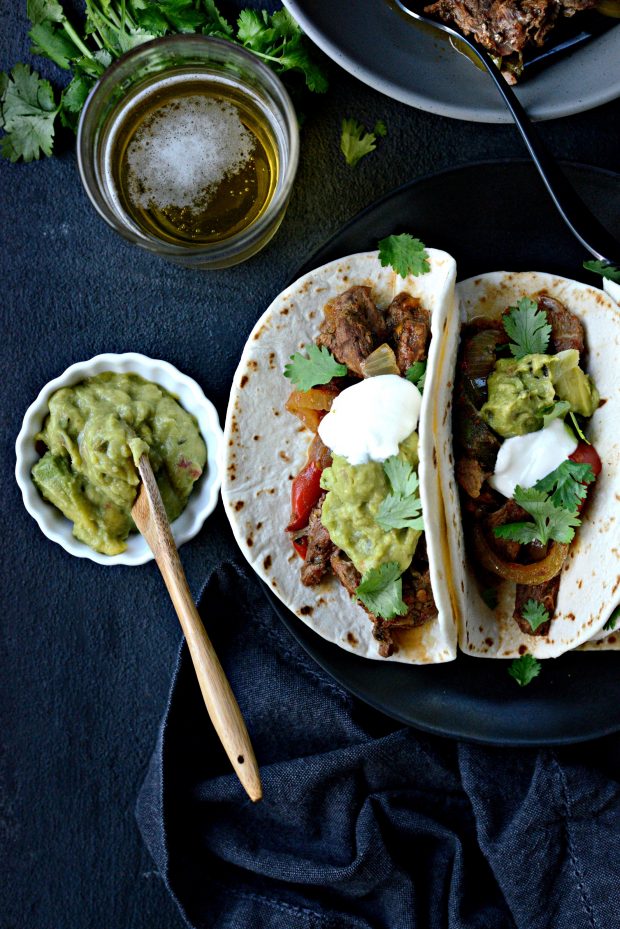 So I did it. I loaded up my slow cooker with 5 EASY ingredients and set the heat to low and tried real hard to forget it. It was difficult because as the day went on and the aroma started circulating throughout my home, I was anxious to wrap those beef, onions and peppers in warm, soft tortillas and shovel them into my face.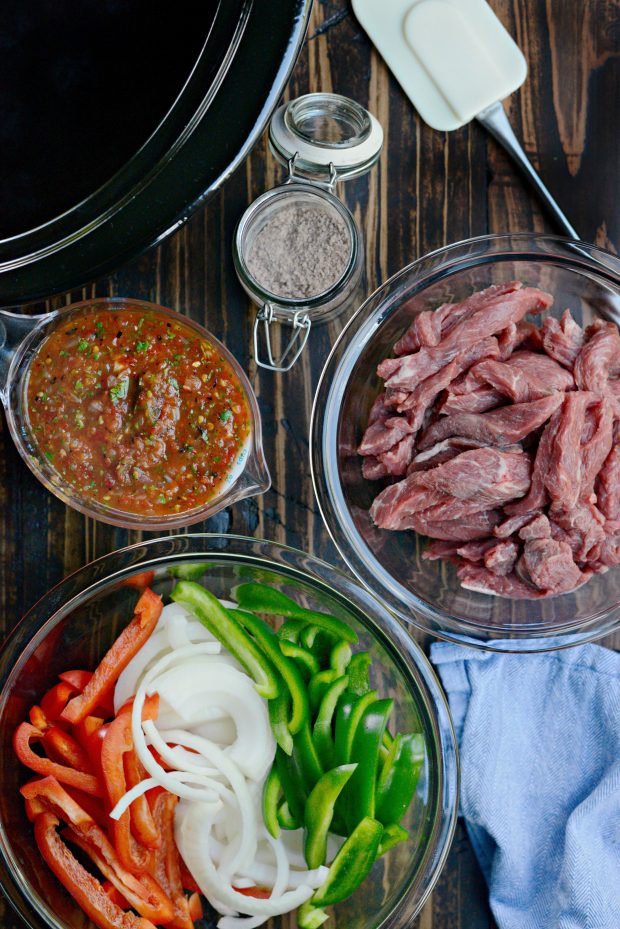 I purchased a 2-1/2 pound london broil, sliced it into 1-1/2 inch strips. Next I sliced up a large white onion and a large red and green bell pepper. For the salsa, I used this salsa recipe, but this one would work just as well and I always, always have homemade fajita seasoning on hand.
First I poured 2 cups of salsa into my slow cooker.
Then I added in the beef and vegetables.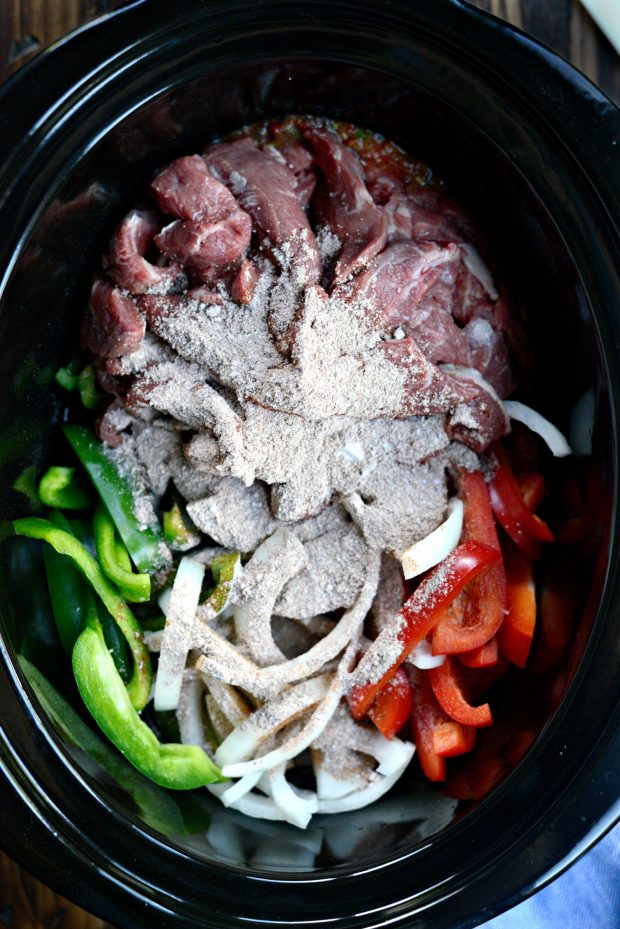 Sprinkled in the fajita seasoning…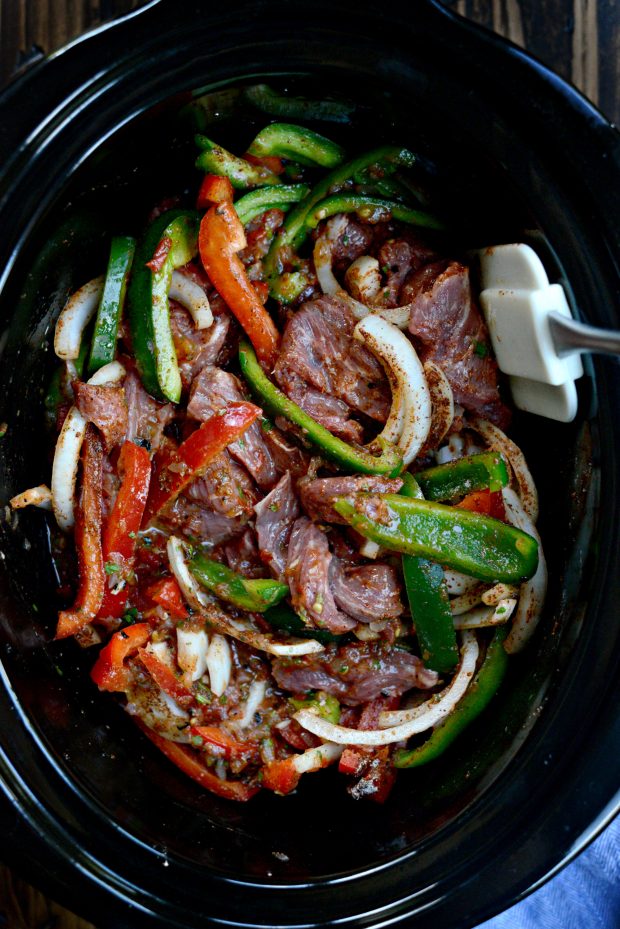 …and tossed to combine.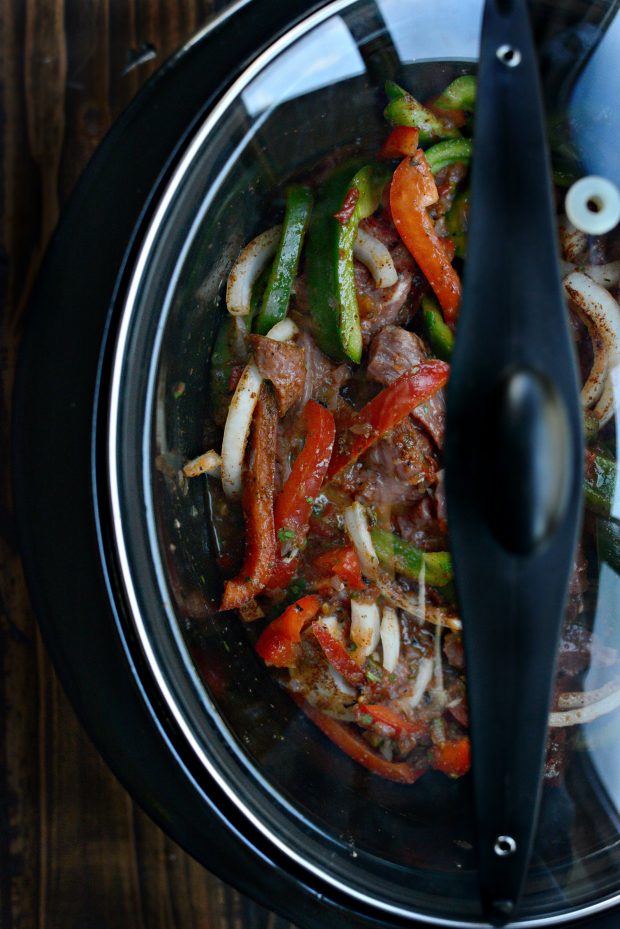 Cover, set on low and let the slow cooker do its thing.
5 to 6 hours later, dinner was done.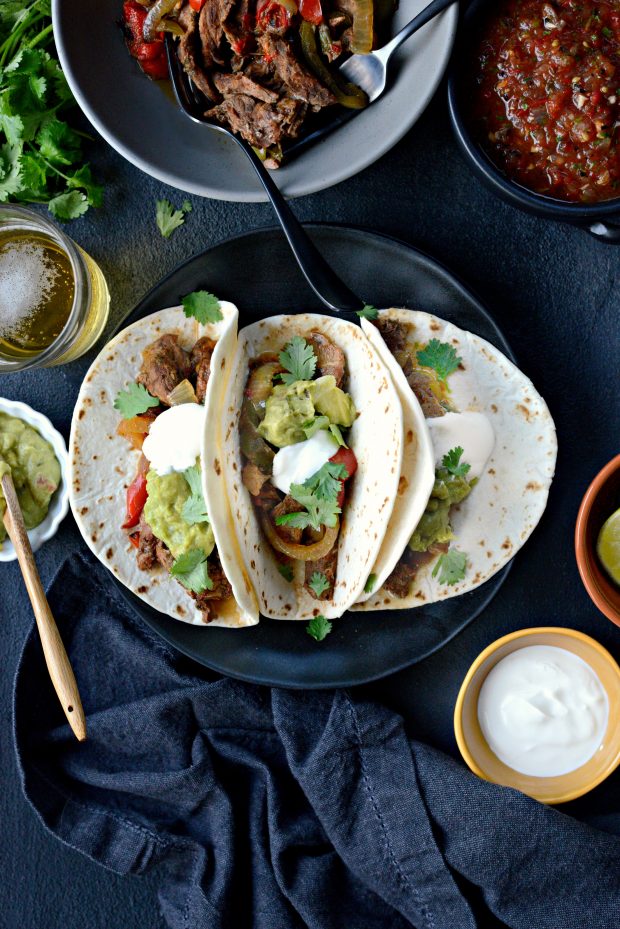 So I warmed up tortillas and stuffed them full of steak, onions and peppers THEN I topped them with guacamole, sour cream and some cilantro.
Boom slow cooker steak fajitas.
Serve with a side of beer. 😉
Top Fajitas With:
guacamole
sour cream
jalapenos
cheese
shredded lettuce
salsa
My cookbook Simply Scratch : 120 Wholesome Homemade Recipes Made Easy is now available! CLICK HERE for details and THANK YOU in advance!
Yield: 4 to 6 depending
5-ingredient Slow Cooker Steak Fajitas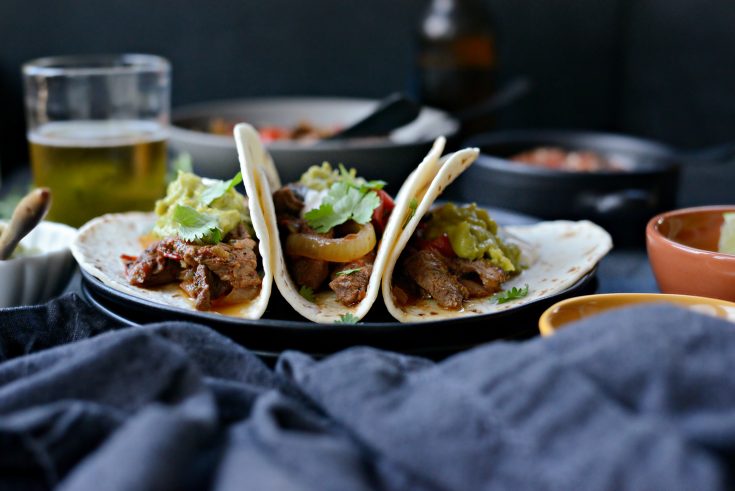 You guys, slow cooker steak fajitas! 5 simple ingredients, tossed into a slow cooker and cooked low and slow until perfection.

Prep Time 10 minutes

Cook Time 6 hours

Total Time 6 hours 10 minutes
Ingredients
2 to 3 pounds London broil, sliced and cut into thick strips
1 red and 1 green bell peeper, sliced into strips
1 large yellow or white onion, sliced
SUGGESTED TOPPINGS:
finely shredded lettuce
salsa
guacamole
jalapenos
sour cream
cheese
Instructions
Place salsa in the bottom of your slow cooker, then add in the steak, peppers, onions and fajita seasoning.

Stir to combine, set heat to low and cook for 6 to 8 hours.

For firmer vegetables, add them in the last 30 to 60 minutes of cooking.

Serve steak and peppers on warm, soft tortillas with your favorite toppings.
Recommended Products
As an Amazon Associate and member of other affiliate programs, I earn from qualifying purchases.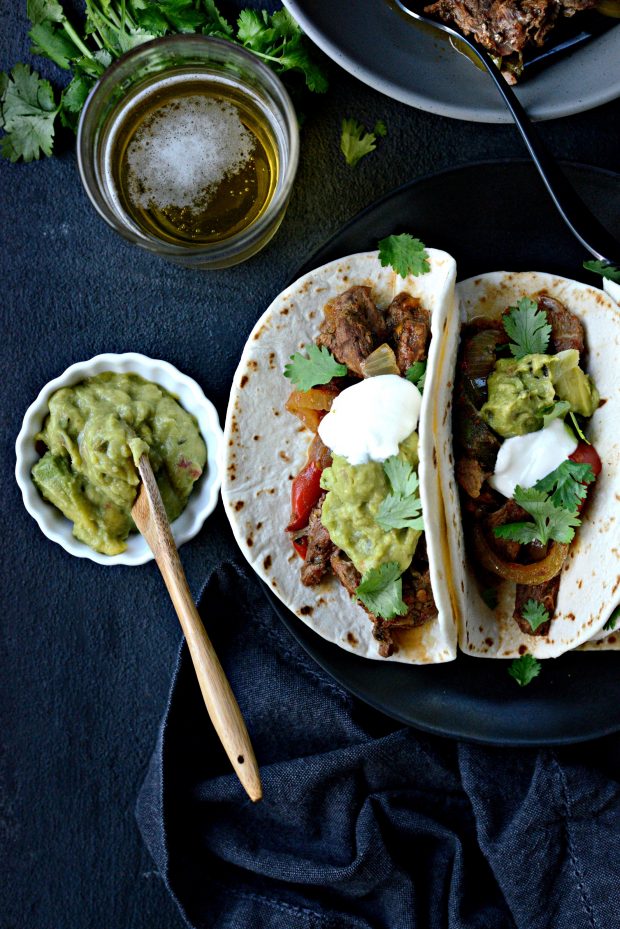 [this post contains affiliate links.]