In this vegetable fried brown rice you'll find (perfectly cubed) cooked carrots, bright green peas, onions, garlic tossed with brown rice, tamari and egg.
Since I was a little girl, I've been obsessed with rice.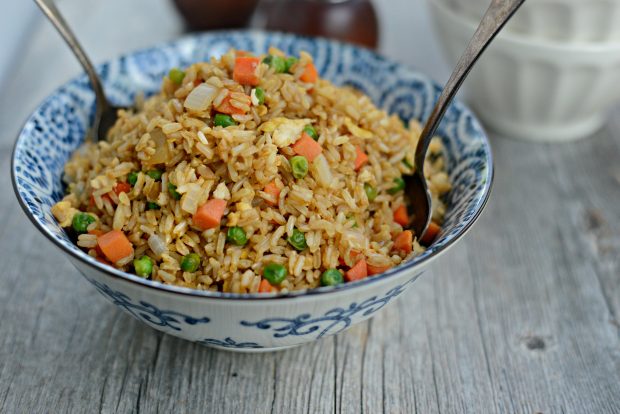 We lived in the sticks, and I mean THE STICKS. More "in the sticks" than where I live now, but then again we're talking about the 80's verse 2016 and the number of Chinese restaurants have increased a tad. Back then the closest Chinese restaurant was a good half an hour away, so it was a special occasion when my parents would order carry out and even more of a special treat if we dined in.
Pre-China Jade (or my knowledge of China Jade) there was Oceana Inn (may be spelled wrong?) it's no longer around that I know of, but I recall those white paper cartons filled with fried rice, steak kow, almond chicken and, my personal favorite, sweet and sour chicken. I remember the carton of white rice would always go untouched for some reason. A filled-to-the-tippy-top carton of white rice! WTH? As a picky kid, I LOVED the plain taste and lack of vegetables and so my mom would always let me have the carton. My stomach's full-meter has never had an off switch when it comes to rice.
I simply love it.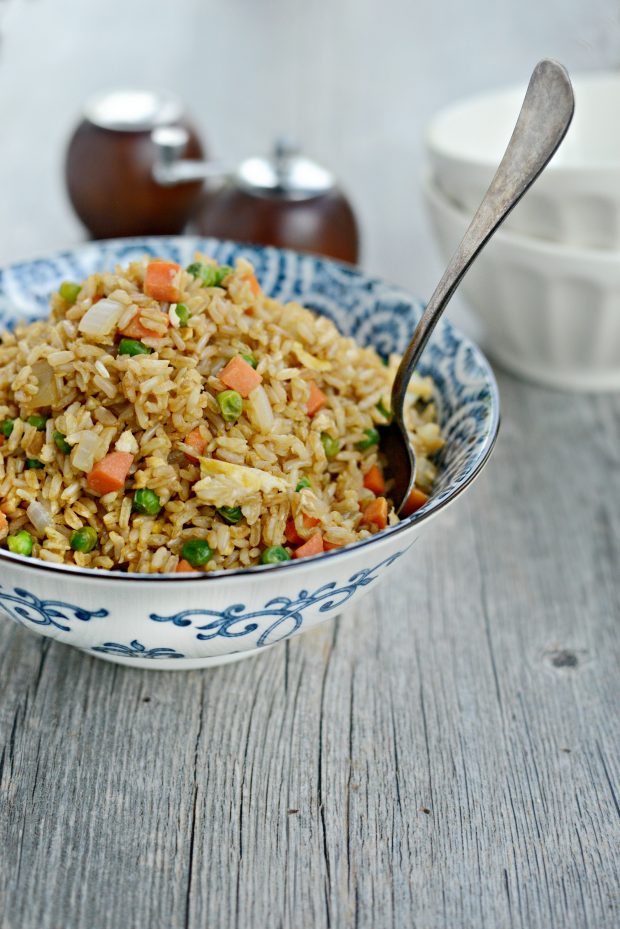 But nowadays I love fried brown rice WITH vegetables much more. I know, who would've thought?
This is more of a traditional vegetable fried rice you sometimes find served at restaurant chains.  I have always loved the scrambled egg in fried rice, oh and those little shrimps! LOVE those cute little guys!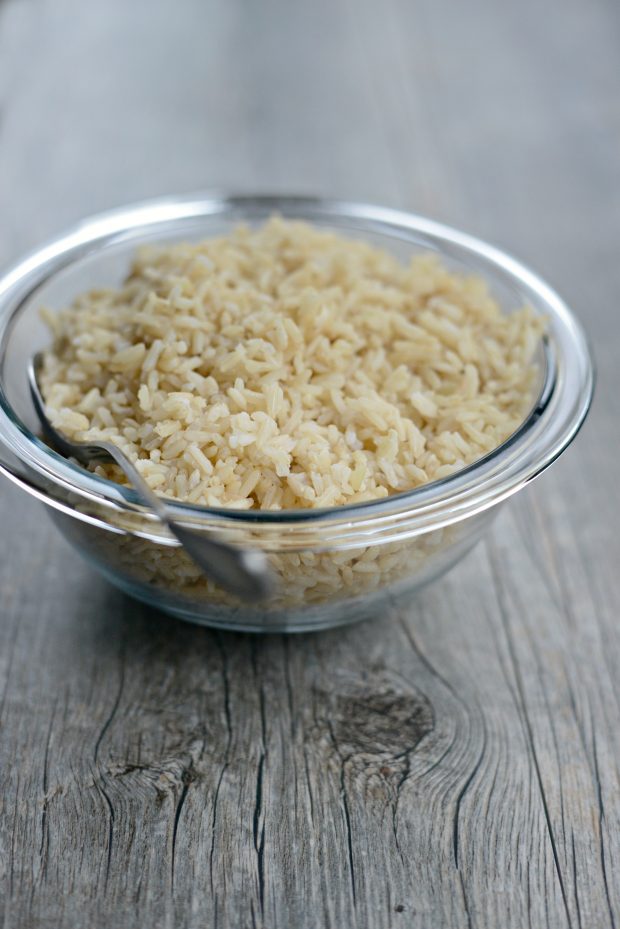 Why precooked rice? Well I think if you were to use fresh rice, it's just too soft and the fried rice risks being mushy. Day or two old cooked rice, is firmer and BEST for making fried rice. Trust me.
To start, I just heated a wok (or large chefs pan) on medium high heat. Once hot, I added a tablespoons of safflower oil and swirled it to coat the bottom of the pan. Then I added the onion, carrots and peas.
I use a frozen pea and carrot mixture. It's saves me SO much time! I don't even need to thaw it first. Bingo! Once the onions are soft, I push the vegetables to the parameter of the pan and crack an egg in the center.
It will heat very quickly and start cooking so, I scramble it with my wooden spoon right away.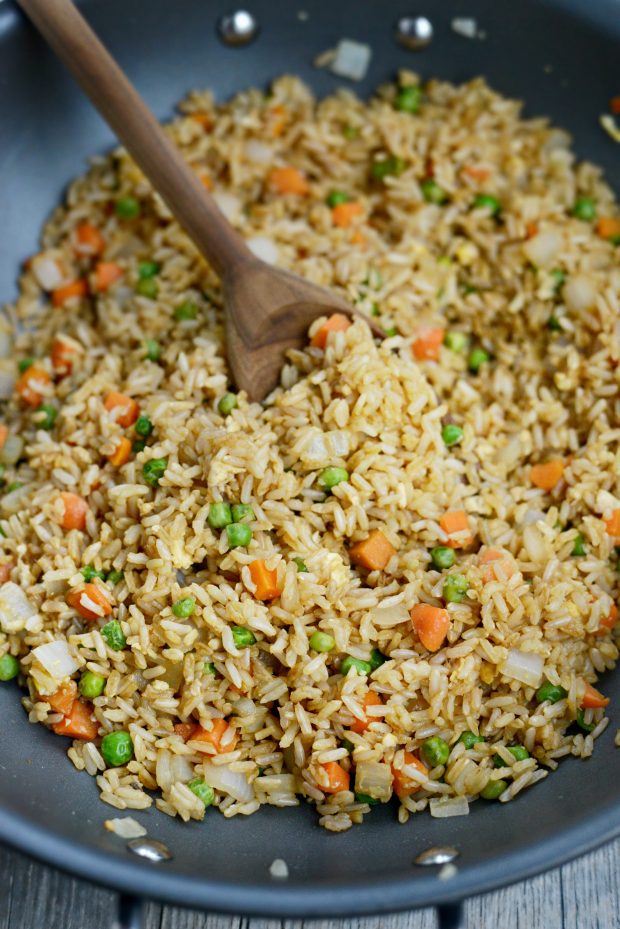 Now I just add in the precooked brown rice, 3 tablespoons of low-sodium tamari and stir to heat through. I always taste and a little kosher salt here. But feel free season with more tamari (or low-sodium soy sauce) to your preference.
To make this a spicy vegetable fried brown rice, you could add a teaspoon up to a tablespoon of Sriracha, sambal oelek or even Frank's Red Hot sauce.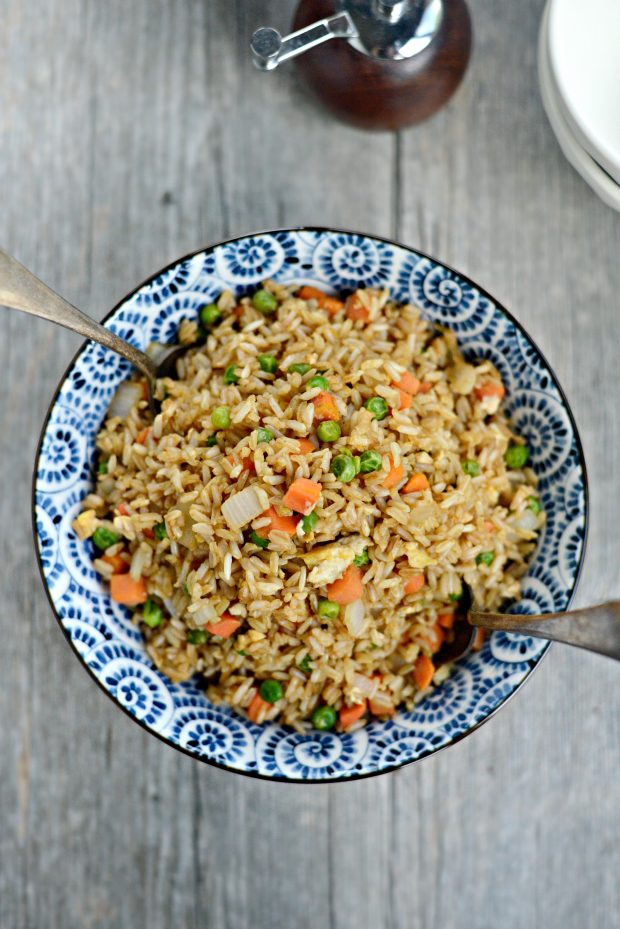 Truth: As a little girl, I would have turned my nose up at this or wasted time picking out the carrots. Peas and I were always cool. Nowadays, I could (and have!) make a meal out of this vegetable fried brown rice.
Simple and easy. The name of my game.
Enjoy!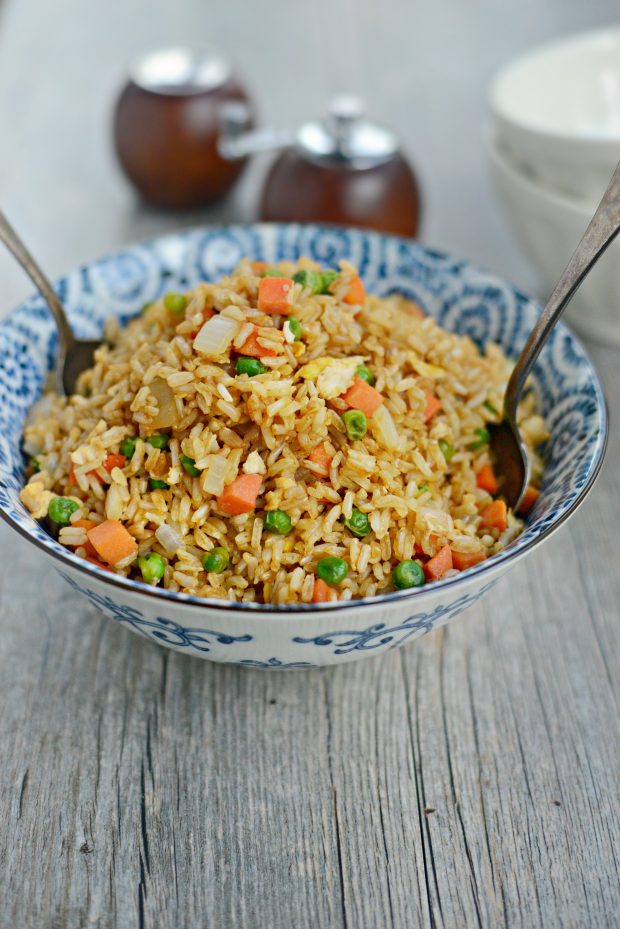 My cookbook Simply Scratch : 120 Wholesome Homemade Recipes Made Easy is now available! CLICK HERE for details and THANK YOU in advance! 
Easy Vegetable Fried Brown Rice with Egg
Leftover cooked brown rice and frozen peas and carrots make this the easiest vegetable fried rice recipe! Add in cooked shredded chicken for a complete meal that's great for busy week nights!
Yield: about 4 cups
Prep Time: 5 minutes
Cook Time: 10 minutes
Total Time: 15 minutes
Ingredients:
1 tablespoon safflower oil (or light, flavorless oil)
1 cup frozen carrot and pea medley (frozen or thawed)
1/2 cup chopped onion
1 clove garlic, minced
1 large egg
3 cups cooked long grain brown rice
3 tablespoons low sodium tamari (or low sodium soy sauce)
kosher salt, to taste
Directions:
Heat a large skillet or wok over medium-high heat. Once pan is hot, add oil and swirl to coat.
Add in the carrots and peas along with with the onion. Stir and cook for 3 to 4 minutes before adding in the garlic and cooking for an additional minute or so.
Scoot the veggies to the parameter of the pan, crack in the egg and use your spatula to quickly scramble the egg and mix it into the vegetables.
Add in the pre-cooked brown rice and tamari and heat through.
Taste and check to see if you want more tamari or a small pinch or two of salt.
Serve immediately.
Simply Scratch Tip: For a spicy vegetable fried rice toss in 1 teaspoon to 1 tablespoon of either Sriracha, Sambal Oelek or Frank's Red Hot Sauce for a delicious kick!