Sweet and salty, this sea salt saltine toffee is simple and incredibly easy. Who knew such deliciousness could come from just a few simple ingredients.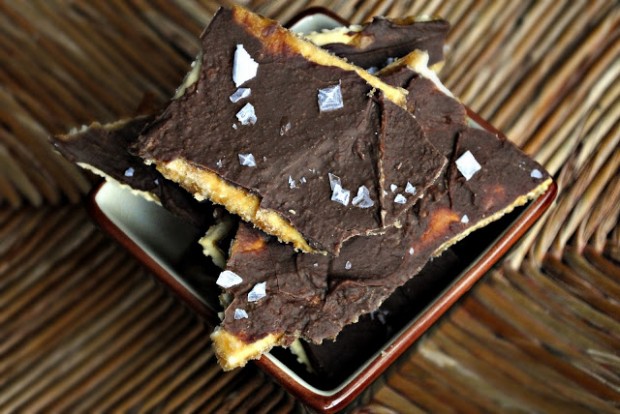 Last, week I stumbled upon the title of a recipe for Saltine Toffee. My first thought was what the…? I vaguely remember someone telling me about this sort of thing before but they lost me at the saltine cracker part. But seeing this recipe also came with a few photos, really put it all into perspective for me. Crispy, salty and sweet. Helloooo… how could I have been so dense? This was a perfect combo!
Since the invention of chocolate covered pretzels I've been a HUGE fan of… well, chocolate covered anything. But this takes it to a whole-nother level with the toffee. I really dig the simplicity of the ingredients, something about it only having 4 ingredients really jived with me so I placed this in my forever growing stack of "recipes to make"… and it's time was up. I needed some salty-sweet goodness and fast. In a last minute decision I decided that I wanted to sprinkle it with some sea salt, and Oh-Em-Gee, it's a treat so delicious that you won't believe you taste buds!
TO Make This Sea Salt Saltine Toffee You Will Need:
butter
saltine crackers
dark brown sugar
milk chocolate chips
sea salt
Heavily foil and heavily butter/grease a half sheet pan.
Use enough saltines to fill up the space (about a sleeve and a half).
Preheat your oven to 350° and in a heavy 2 quart sauce pan add in the butter and dark brown sugar.
Stir and melt over medium heat until it's all hot and bubbly.
Pour evenly over the saltines. Try not be tempted to put your finger in that hot stream of toffee… it will hurt. Wait for it to cool on the spatula then attempt.
Spread so every inch of every saltine is covered.
Evenly sprinkle 2 cups chocolate chips over top and place in a preheated oven for 5 minutes.
Immediately when the pan is out of the oven spread the chocolate with an off-set spatula.
Before placing it in the fridge to set…
I grabbed about a teaspoon maybe more of the sea salt I used in (and on) those Salted Fudge Brownies.
And sprinkle it over top. Now you'll want to let the pan cool before you put it into the fridge to set, that should take about 10 minutes or so.
Pop this into the fridge, it should only take about 30 minutes to set. It's the slowest 30 minutes just waiting to get the caramel and chocolate to cool and harden.
When that happens you can break it all up into whatever size chunks you want.
Who'd ever thought 4 ingredients could taste so good?
I'd never believe you could eat saltine crackers as a dessert. When I was a kid we would eat them with butter or crushed in our soup. That's it. Who knew its possibilities?
Now whose going to help me eat the rest of the sheet pan?
Enjoy! And if you give this Sea Salt Saltine Toffee recipe a try, let me know! Snap a photo and tag me on twitter or instagram!
This post may contain affiliate links.
Buy the Cookbook: Simply Scratch : 120 Wholesome Homemade Recipes Made Easy Now available on Amazon »
THANK YOU in advance for your support!