This zucchini carrot bread is ultra moist, flavorful and super sneaky with TWO kinds of veggies, zucchini and carrots.
Well, we survived the first week back to school.
Getting up at 6 am after a summer of sleeping in until 8 or 9 am for me and 11 or 12 for my girls can be particularly rough. This year I have a high-schooler and a middle-schooler (whah!) and being that we live in a more rural area they ride the bus together. Before I was making four trips to the bus stop and this year it's only two. It's the little things.
So since I have all this time on my hands and the air has taken a sudden turn to the more chilly temps, I've been doing quite a bit of baking. This time a year I can assume most gardens, like mine, is bursting at the seams. So if you grew zucchinis or carrots this year, how about putting them in a wholesome bread?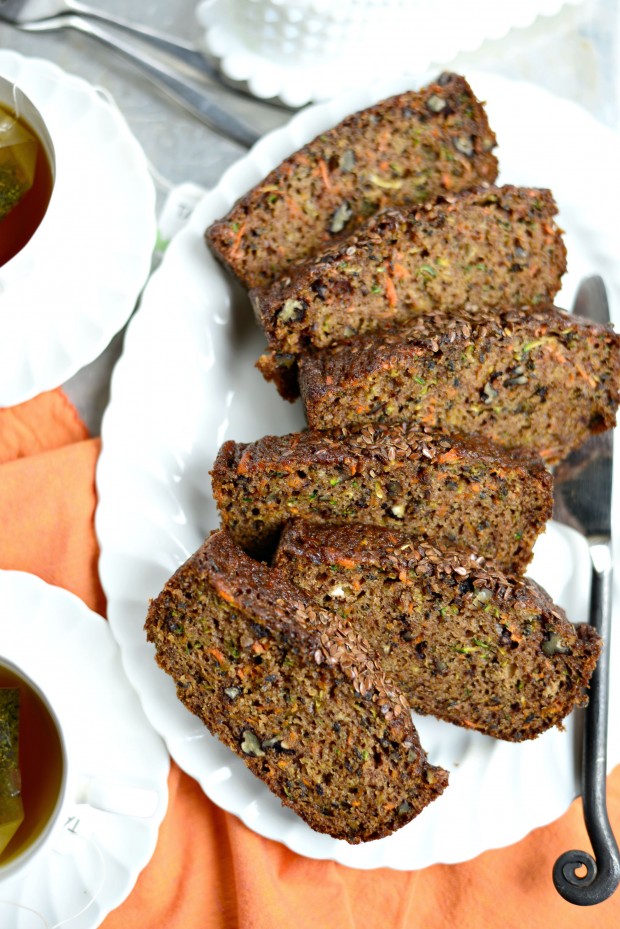 I took my go-to zucchini bread recipe, swapped out some flour and replaced it with coarsely ground flaxseed and added a little grated carrot along with the zucchini. Then I upped the flavor even more by adding in some chopped pecans and a mix of fall spices like cinnamon, ginger and nutmeg.
You guys, the smell of this baking in the oven is beyond amazing.
My youngest, Malloree, even said that her favorite thing about back to school is walking in to our house after her long day to see if I've made something yummy. Last Friday it was this bread.
To Make This Zucchini Carrot Bread You Will Need:
unbleached all-purpose flour
coarsely ground flax seed
cinnamon
ginger (ground)
nutmeg
baking soda
kosher salt
baking powder
sugar
eggs
unsweetened applesauce
grapeseed oil
vanilla extract
zucchini
carrot
pecans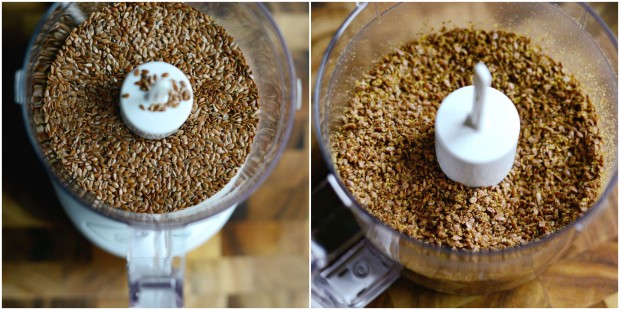 Dump some flax into a mini food processor and pulsed and pulsed and pulsed until coarsely ground. Then measure out 1/4 cup.
Preheat your oven to 350° and butter and flour two standard loaf pans.
Set a mesh strainer over top of a large bowl. Measure and add in 1-3/4 cups all-purpose flour.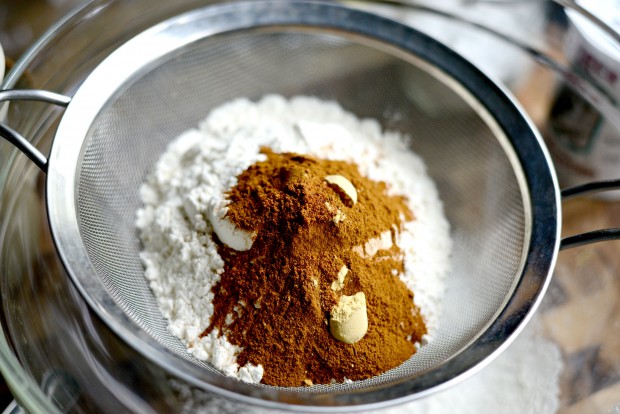 2 tablespoons ground cinnamon, 1/2 teaspoon ground ginger, 1/4 teaspoon ground nutmeg…
Then add 2 teaspoons baking soda, 1 teaspoon kosher salt and lastly, 1/4 teaspoon baking powder.
Then just sift away.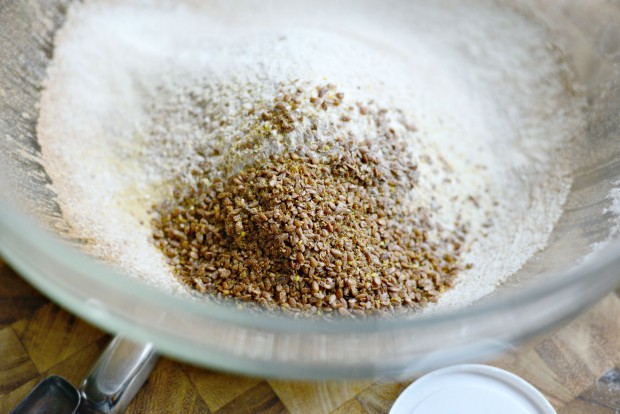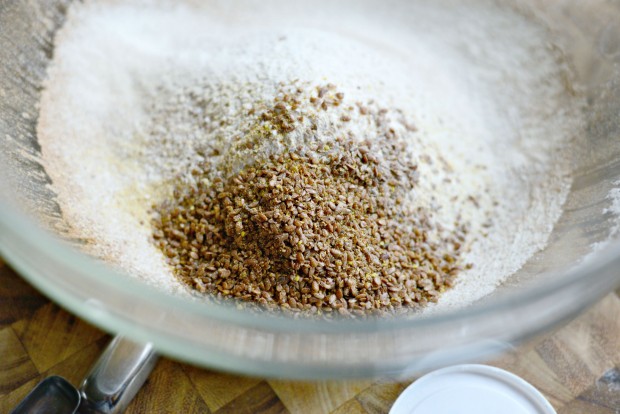 And don't forget to add in the 1/4 cup of coarsley ground flax seed.
Give that a quick stir and set it off to the side for a moment.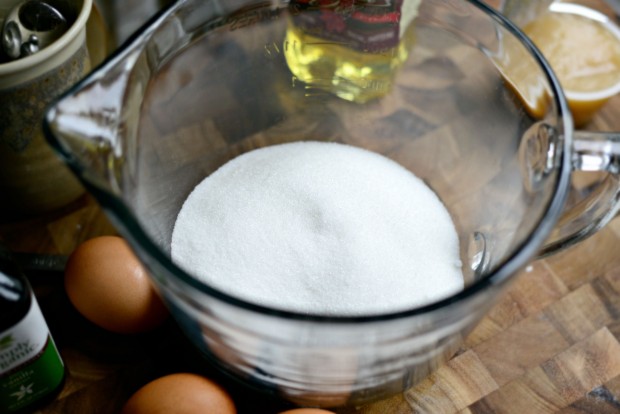 In a large liquid measuring cup add in 2 cups of sugar.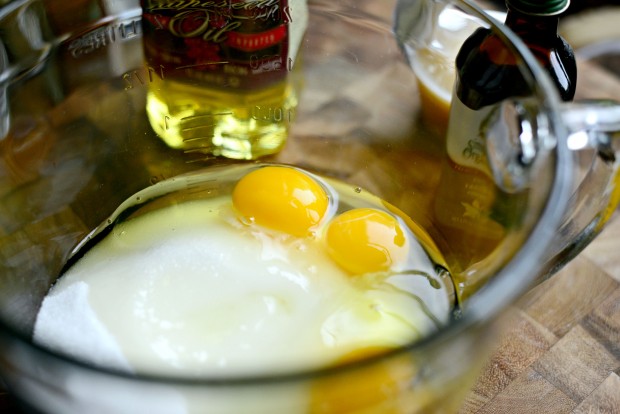 3 large eggs.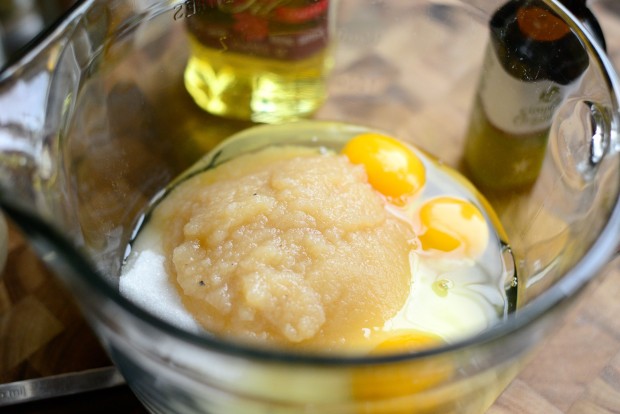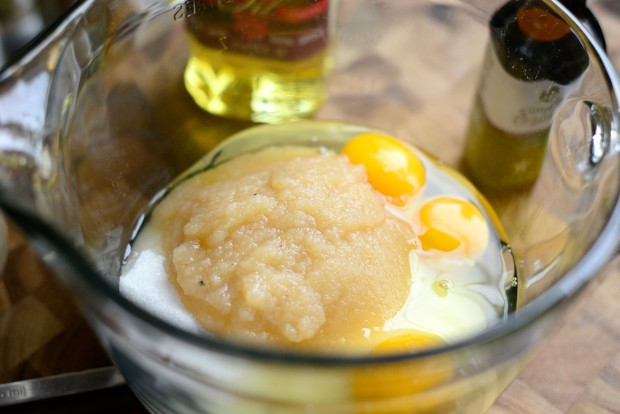 1/2 cup unsweetened applesauce.
Next add 1/2 cup of grapeseed oil.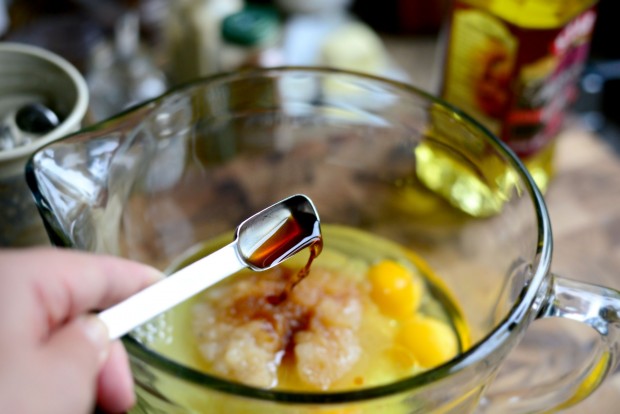 And 2 teaspoons pure vanilla extract.
Lightly whisk until all the ingredients are combined.
Veggie time!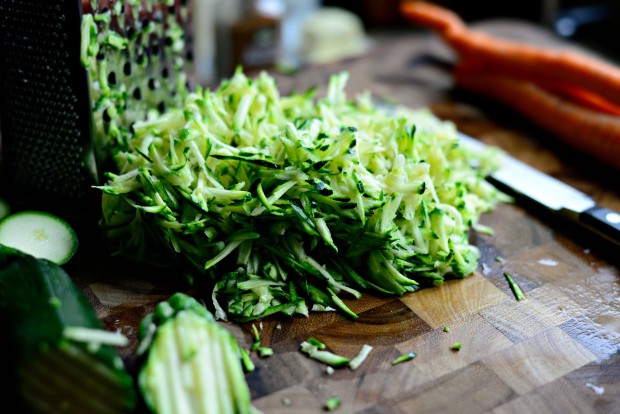 You'll need 1-1/2 cups grated zucchini. With zucchinis this small I don't remove the seeds.
I also don't peel the carrots. I just give them a good scrub before grating. You'll need 1-1/2 cups of carrots as well.
Add those into the bowl with egg and sugar mixture…
Stir those in.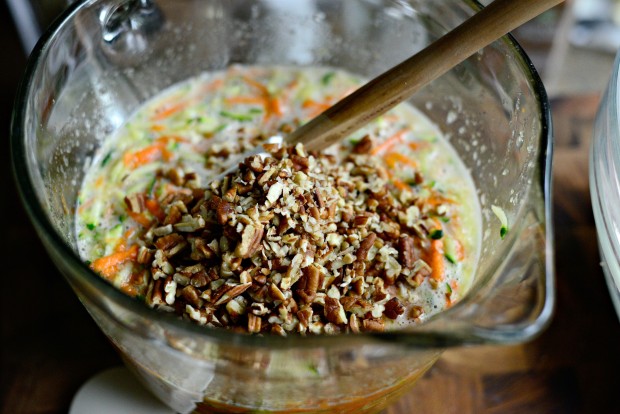 Ooops! Don't for get to add the 1/2 cup of chopped pecans! The 10-year-old me would not like the pecans, but the almost 35-year-old me really really does.
Pour the liquids into the bowl with the dry ingredients…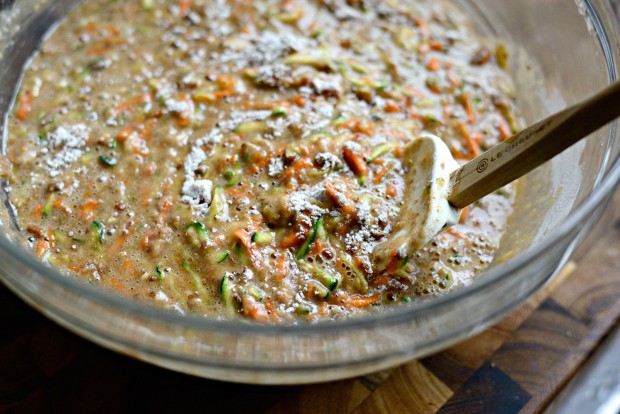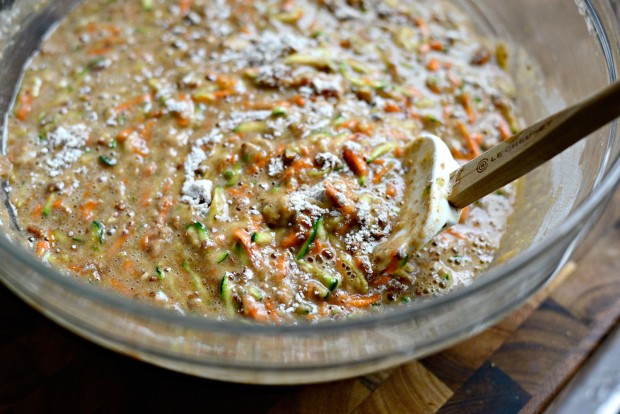 And mix until the dry ingredients get incorporated into the wet or the wet ingredients get incorporated into the dry.
Divide the batter among the two prepped pans. It's about 3 cups per loaf pan.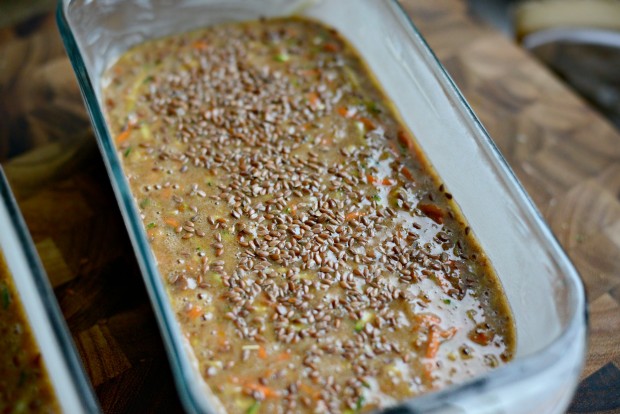 And because my dear friend Heidi asked me to make a zucchini bread with flax seeds sprinkled over top… I did. I do aim to please.
Slide the pans into your preheated oven and baked for 50 to 55 minutes or until a toothpick inserted comes out clean.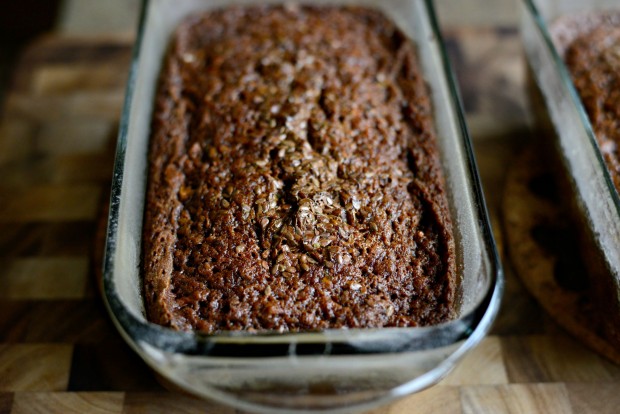 Once baked and smelling hellamazing, sit and suffer while waiting for them to cool.
Yum.
Once the bread has cooled completely, run a butter knife along the edge of the bread and tap until the bread releases itself.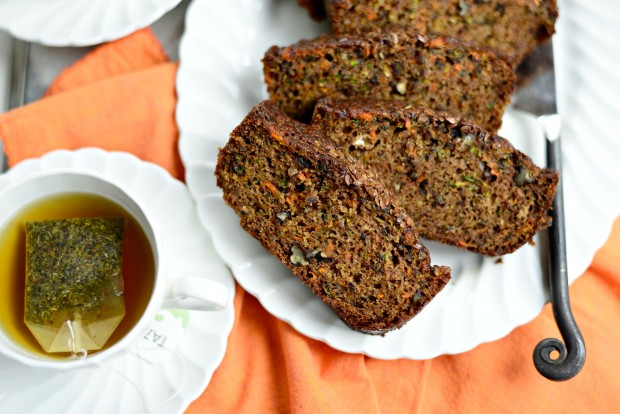 Slice (extra thick) and serve!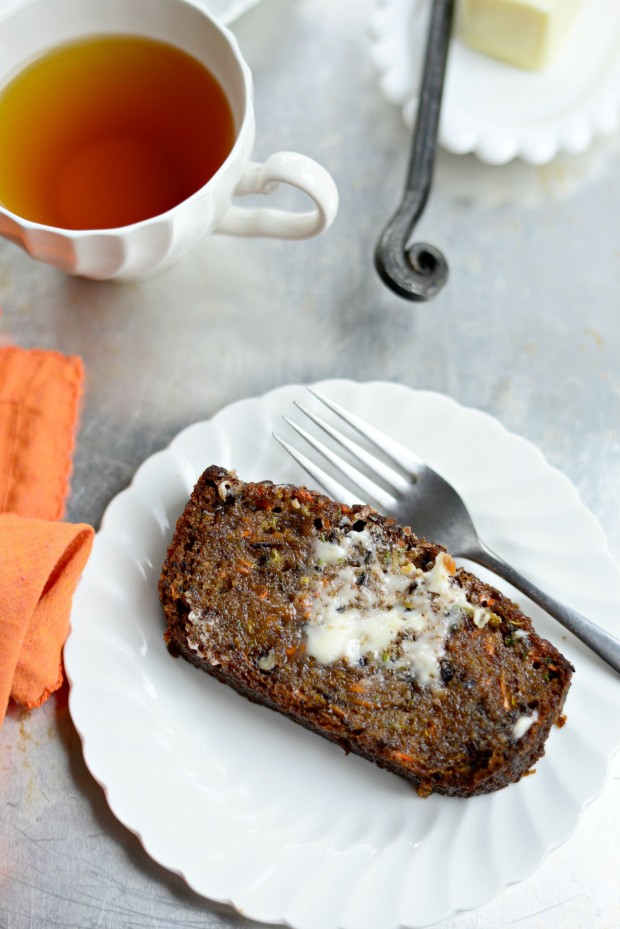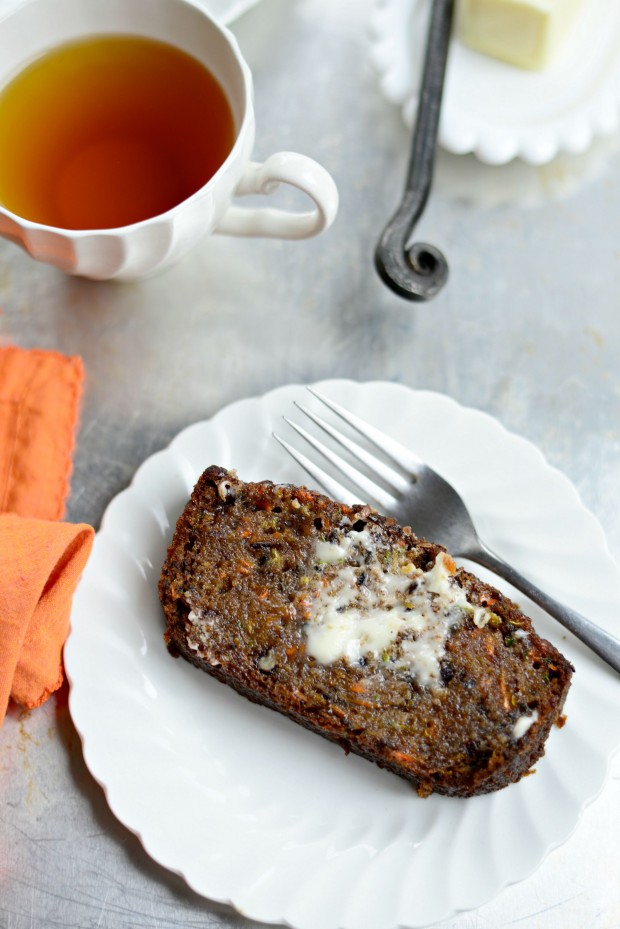 It's ultra-moist and flavorful. My girls and I like ours with a thin schmear of butter and a cup of tea.
Forks are optional.
This bread is amazing. After school… for breakfast… all the time.
Enjoy! And if you give this Zucchini Carrot Bread recipe a try, let me know! Snap a photo and tag me on twitter or instagram!
Yield: 16 servings
Zucchini Carrot Bread
The bread is ultra moist, flavorful and super sneaky with TWO kinds of veggies. This recipe will yield 2 loaves or 16 slices total.
Ingredients
1¾ cup unbleached all-purpose flour
1/4 cup ground flax seed
2 tablespoons ground cinnamon
1/2 teaspoon ground ginger
1/4 teaspoon ground nutmeg
2 teaspoons baking soda
1 teaspoon kosher salt
1/4 teaspoon baking powder
2 cups granulated sugar
3 large eggs
1/2 cup unsweetened applesauce
1/2 cup grapeseed oil, or other flavorless oil
2 teaspoons vanilla extract
1½ cups grated zucchini
1½ cups grated carrot
1/2 cup chopped pecans
Instructions
Butter and flour two 8x5 loaf pans and preheat your oven to 350 degrees.

Into a large bowl, sift the flour, cinnamon, ginger, nutmeg, baking soda, baking powder and salt. Set this bowl aside for a moment.

In a medium bowl combine the sugar, eggs, applesauce, oil and vanilla extract. Whisk these ingredients together until combined. Add in the zucchini, carrot and chopped pecans and use a spatula to mix these in.

Pour the wet ingredients into the dry, and use the spatula to mix until just combined.

Divide the batter among the two prepared pans and sprinkle both with half a tablespoon of whole flax seed.

Slide the pans into your preheated oven and bake for 50 to 55 minutes or until a toothpick that has been inserted comes out clean.

Allow the bread to cool completely before running a knife along the side and inverting.

Slice and serve!
Notes
I like to serve this warm with a thin smear of salted butter.
Serving: 1slice, Calories: 271kcal, Carbohydrates: 40g, Protein: 4g, Fat: 11g, Saturated Fat: 1g, Polyunsaturated Fat: 6g, Monounsaturated Fat: 3g, Trans Fat: 1g, Cholesterol: 35mg, Sodium: 313mg, Potassium: 143mg, Fiber: 2g, Sugar: 27g, Vitamin A: 2086IU, Vitamin C: 3mg, Calcium: 36mg, Iron: 1mg
This post may contain affiliate links.
Buy the Cookbook: Simply Scratch : 120 Wholesome Homemade Recipes Made Easy Now available on Amazon »
THANK YOU in advance for your support!