This winter kale pancetta salad is an update on the classic spinach salad. Where spinach is replaced with kale, bacon is swapped out for pancetta and the dressing is made from the pancetta fat.
I try to incorporate bleu cheese into about 98% of my salads.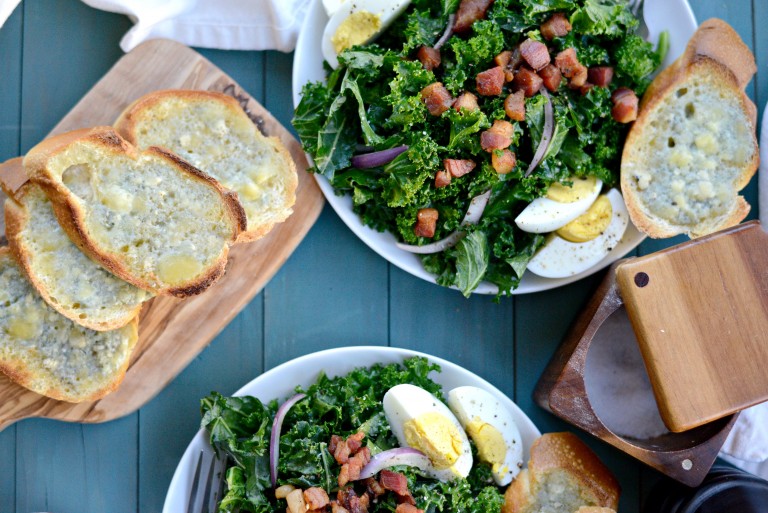 Most of the time I go the obvious route and sprinkle it directly onto my salad, but this time I made a killer bleu cheese butter, smeared it on slices of baguette and then toasted them in the oven. And THEN served alongside the most perfect kale salad.
Think of this salad as an update on the classic spinach salad. Where spinach is replaced with kale, bacon is swapped out for pancetta and the dressing is made from the pancetta fat, yes pancetta fat. You like?
Let's make.
I picked up a small baguette from the bakery and sliced it on an angle yielding 12 slices.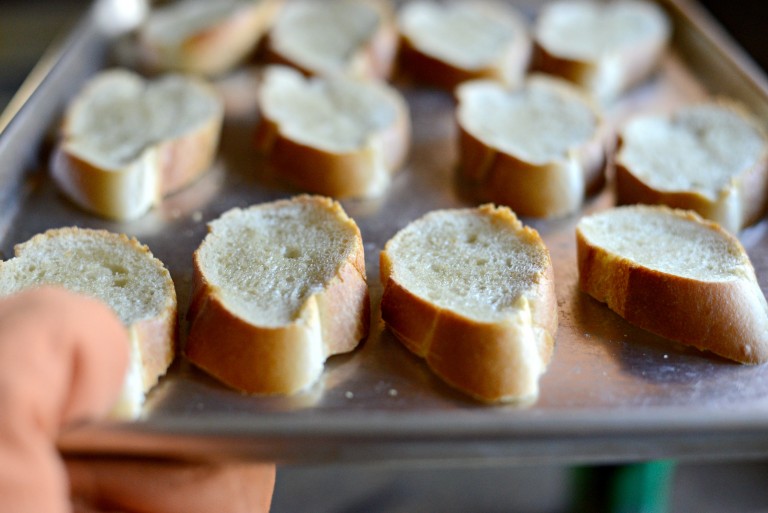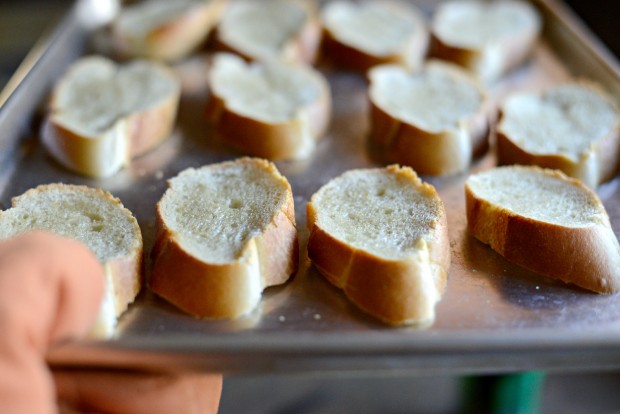 Arrange them onto a rimmed sheet pan, brush on side with olive oil and lightly toasted them in a 400 degree oven for 5 minutes. You don't want to brown them too much as they're going back in the oven a little later.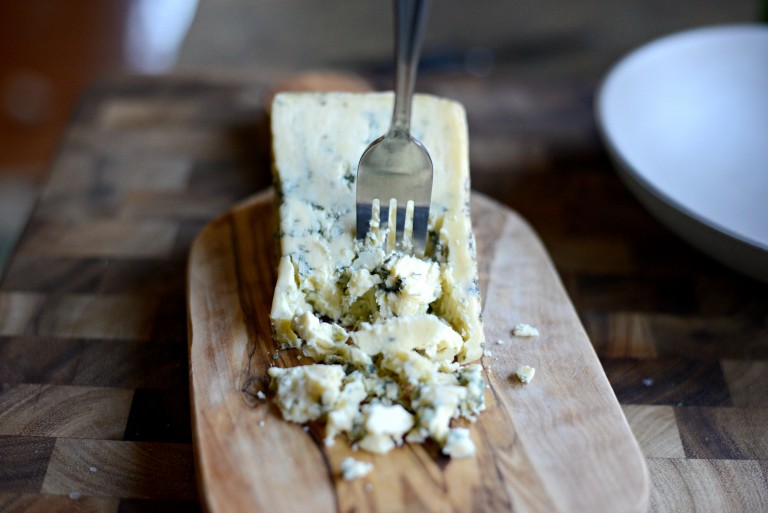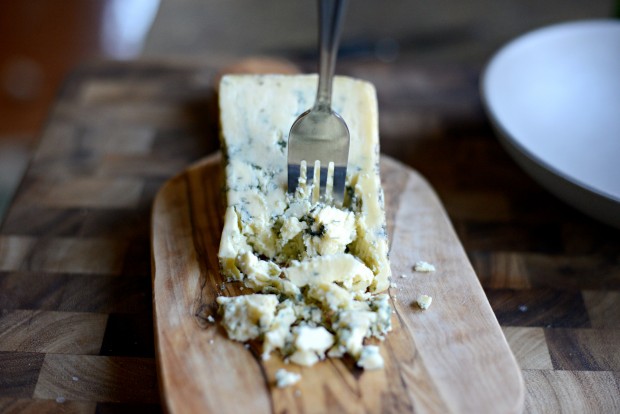 While the bread toasts, crumble up 2 to 3 ounces of bleu cheese. This is roquefort, you can totally eyeball the measurement here.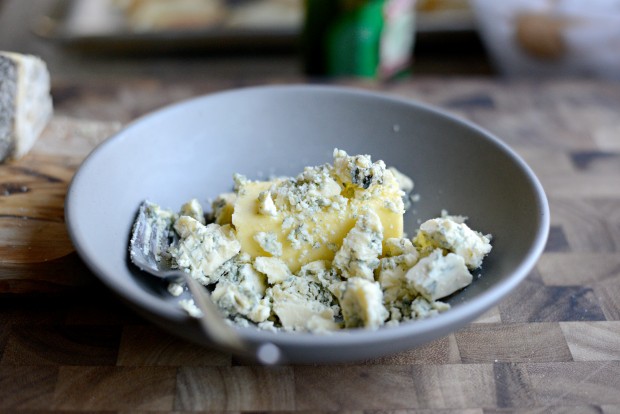 Add the cheese to a 4 tablespoons of butter, and mash with a fork until mixed throughout.
Spread the bleu cheese butter onto the lightly toasted baguette slices.
Wash and pat dry 2 bunches of kale. Then remove the leaves from the tough stems (discard the stems) and chop. Then throw the chopped kale (about 8 cups) into a large salad bowl.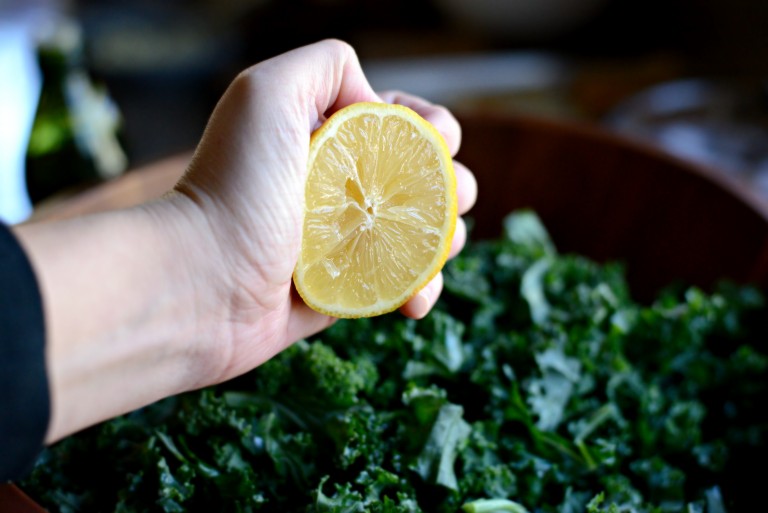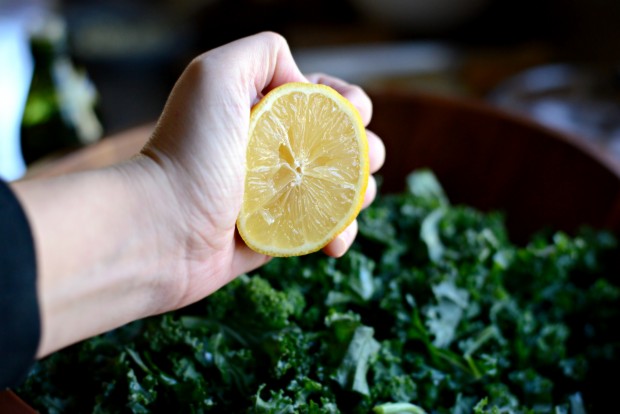 Squeeze about a teaspoon of lemon juice over the kale leaves (NOT the whole lemon half)…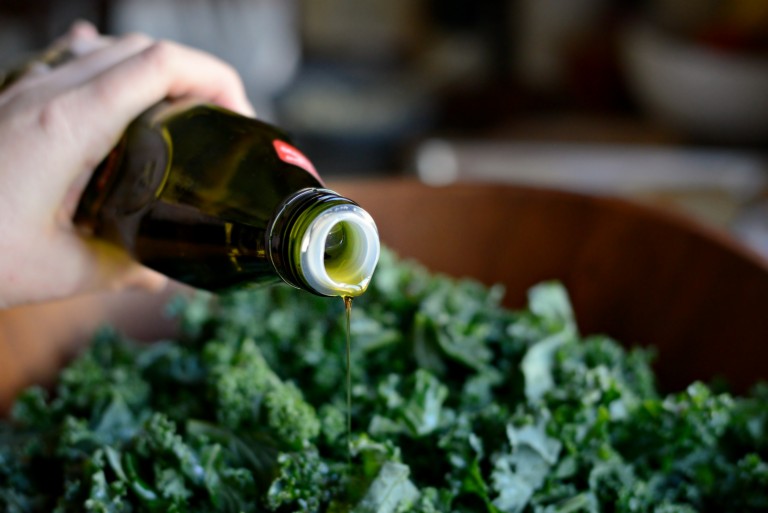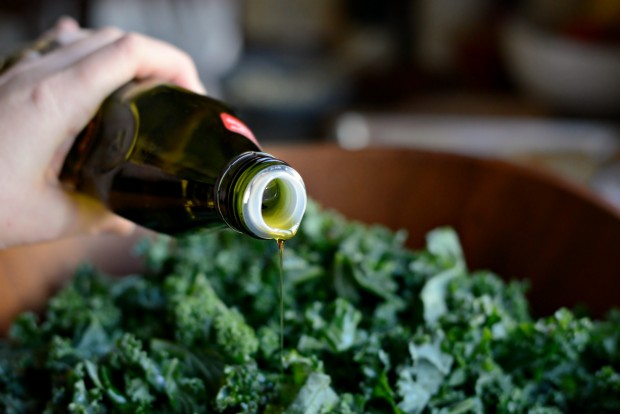 Then drizzle with olive oil, about a teaspoon or two. Use your impeccably clean hands and massage the lemon juice and olive oil into the kale leaves.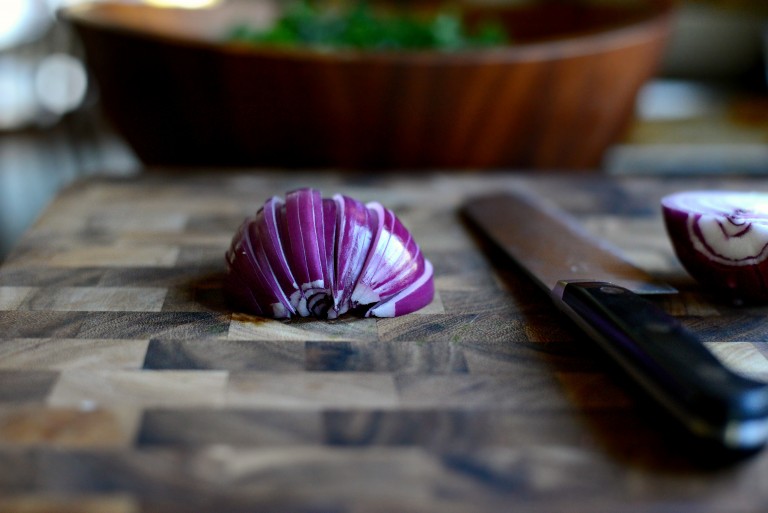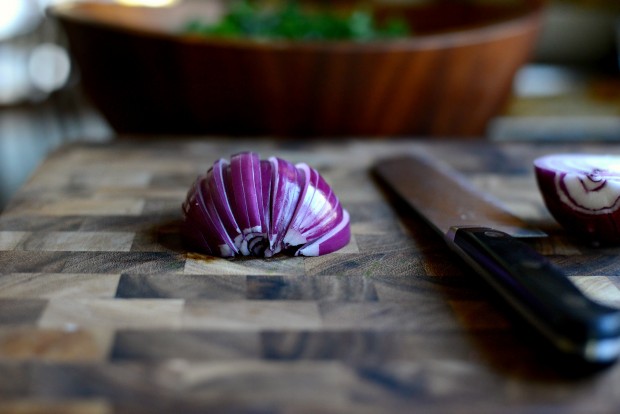 Vertically slice half of a medium red onion…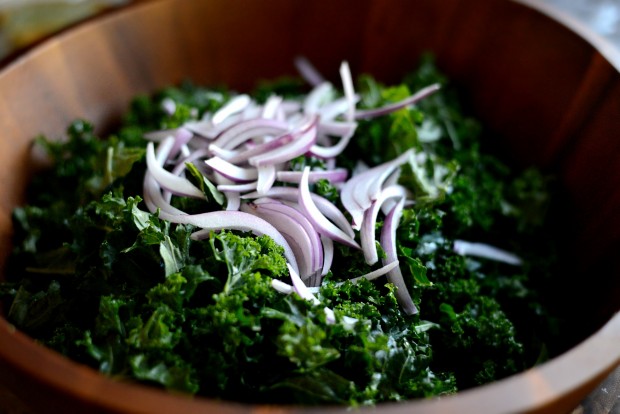 …and add them to the bowl with the kale.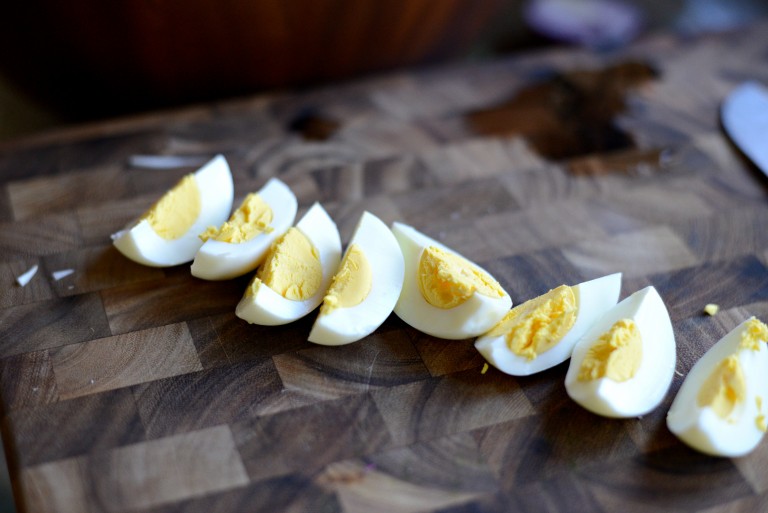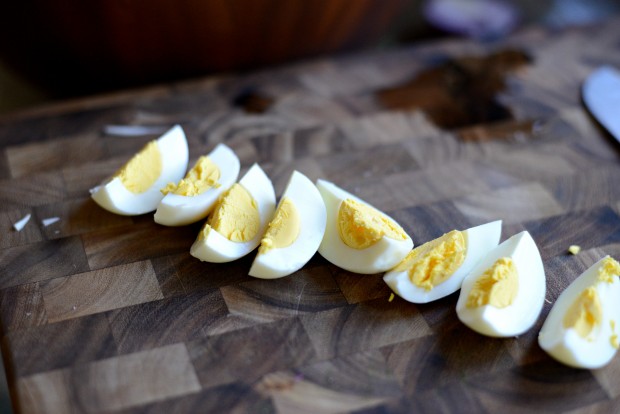 Earlier in the morning, I hard-boiled 6 eggs so when it came to salad making they were ready to go. Peel and quarter them into wedges. (Here's my post on how to make perfectly hard boiled eggs)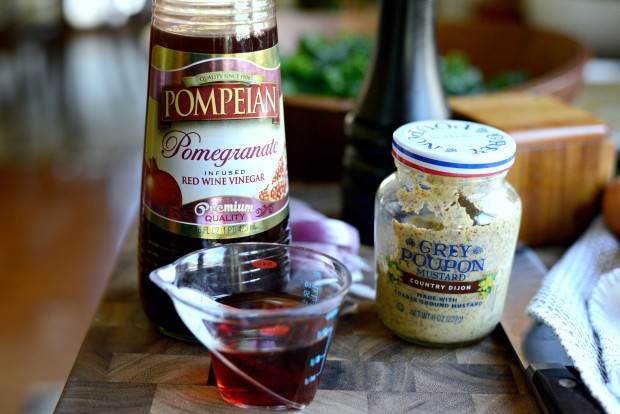 Now it's time to make the dressing! Pull out the Dijon, I'm using a country dijon- it's my favorite- you'll need a teaspoon. Then measure out 3 tablespoons of red wine vinegar. As you can see I'm using a pomegranate infused vinegar but really any red wine vinegar will do just fine. This is a fast moving dressing so having everything ready and pre-measured is a good idea.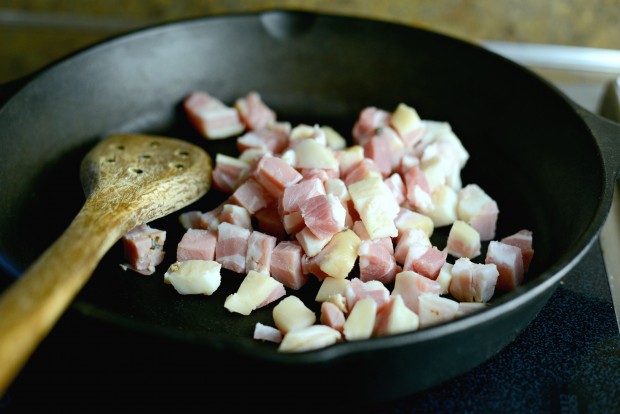 Dice the pancetta into small cubes and place it into a cool skillet.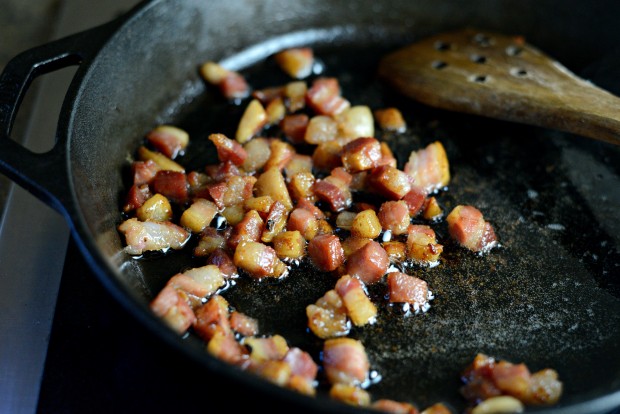 Cook over medium low, rendering out the fat and cooking until crispy and golden. Transfer the crispy pancetta to a paper towel lined plate and set off to the side.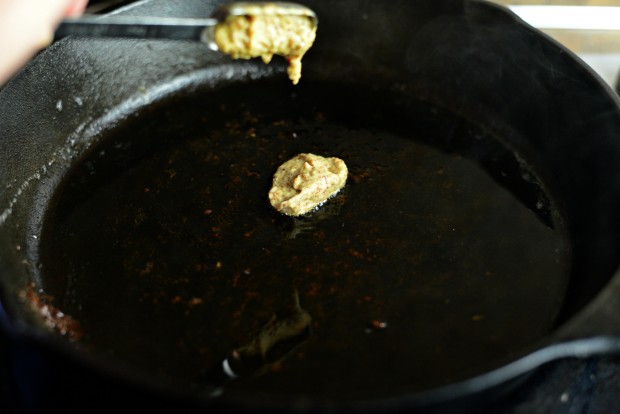 Drain off all but 3 tablespoons of the pancetta fat from the skillet. Drop in a teaspoon of Dijon and a teaspoon of sugar (not pictured)…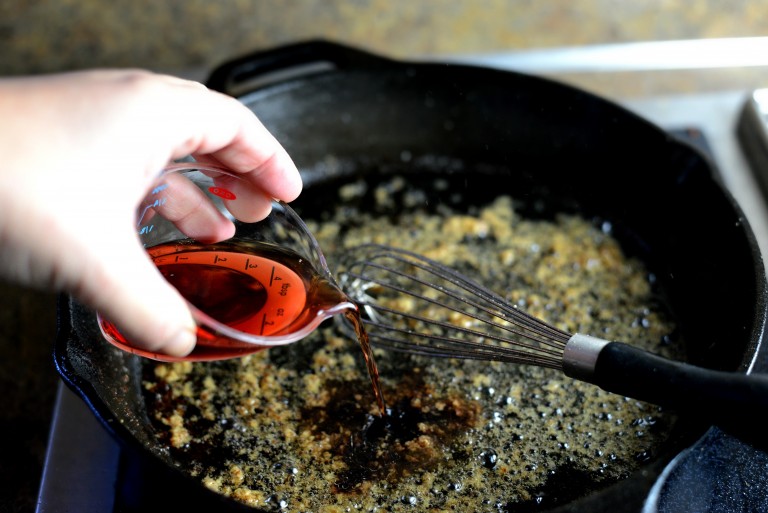 …whisk while you pour in the vinegar. Do not hover over the pan as the fumes may just knock you flat.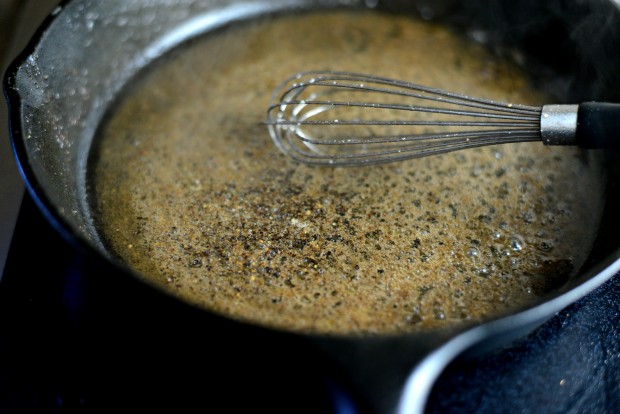 Whisk in a pinch of salt and a 1/4 teaspoon of black pepper.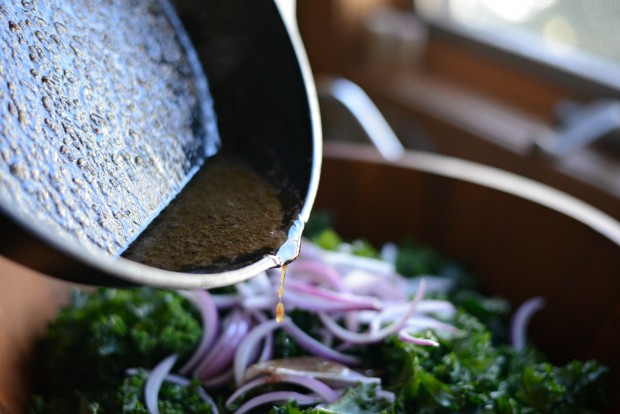 Now comes the fun part. Pour the hot dressing over the kale and onions.
Toss, toss and toss until the kale leaves are coated in the dressing.
In the meantime, flick the broiler on and slide the bleu cheese toasts underneath for a minute or so until the butter and cheese is bubbly and the bread is golden. Watch closely so they do not burn.
Pile the dressed kale salad onto plates, sprinkle with pancetta…
Saddle-up those quartered hard boiled eggs sprinkled with a little black pepper…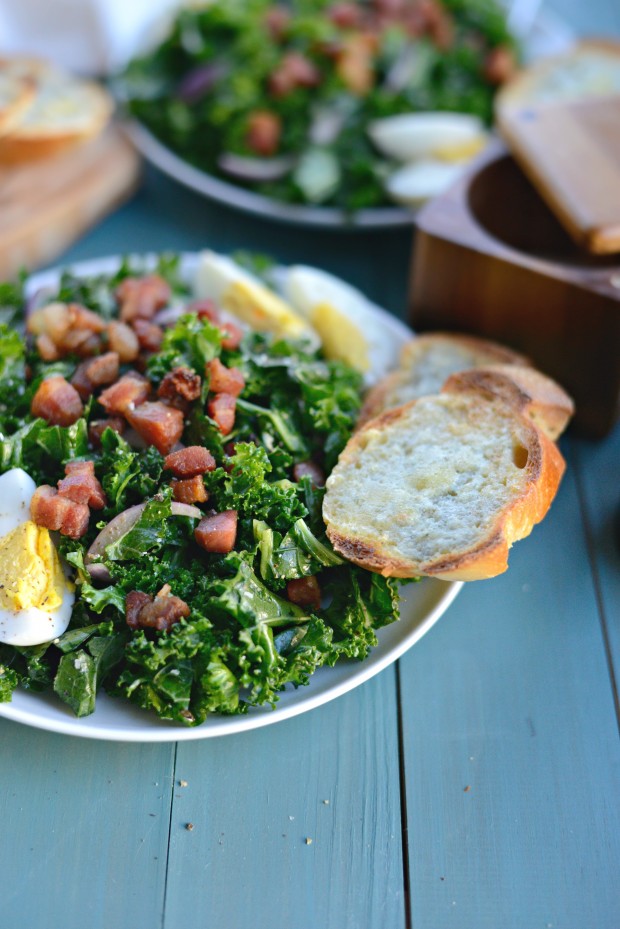 …and a few slices of the roquefort toasts.
And poof! lunch is served.
The kale is lightly dressed, and the pancetta is crisp adding good texture and that saltiness but my favorite part is all that with the creamIf you follow me on snapchat, then you witnessed me pile my salad onto my toasts and eat it that way. I highly recommend it!
So good.
It has all my favorite things. (i.e bleu cheese)
Enjoy!
My cookbook Simply Scratch : 120 Wholesome Homemade Recipes Made Easy is now available! CLICK HERE for details and THANK YOU in advance!
Yield: 6 servings
Winter Kale + Crispy Pancetta Salad with Bleu Cheese Toasts
Think of this salad as an update on the classic spinach salad. Where spinach is replaced with kale, bacon is swapped out for pancetta and the dressing is made from the pancetta fat.
Ingredients
12 ounces baguette, sliced on an angle or 12 slices
olive oil, for brushing
2 ounces bleu cheese, I used Roquefort
4 tablespoons salted butter, softened
2 bunches kale, washed and patted dry and chopped (about 8 cups)
1 teaspoon lemon juice
1 to 2 teaspoons olive oil
1/2 a medium red onion, sliced vertically
8 ounces pancetta, diced
1 teaspoon Dijon mustard, I use country Dijon
3 tablespoons red wine vinegar
salt and pepper
6 hard boiled eggs, qartered
Instructions
Preheat oven to 400°.

In a bowl combine the butter and bleu cheese with a fork. Slice the baguette on a slight angle into 12 slices, brush with olive oil and slide into the oven for 5 minutes. Remove and allow to cool a bit before spreading each slice with the bleu cheese butter. Set off to the side for a moment to prep the salad.

Thoroughly wash the kale leaves before stripping the leaves off the stem and giving them a good chop. Discard the stems.

Toss the kale leaves with 2 teaspoons olive oil and a teaspoon of fresh lemon juice, massage the leaves to get them coated well, set aside.

Toss the kale with the red onions.

Use oven mitts to move the oven rack to its highest position and switch on the broiler.

Dice pancetta into 1/4 to 1/2 inch cubes. Place into a skillet and heat on medium-low, cook until crispy and transfer to a paper towel lined plate.

Drain off the pancetta fat into a heat safe bowl, transferring 3 tablespoons back into skillet. Whisk in the mustard and sugar into the hot grease, pour in the vinegar and season with a pinch of salt and pepper. Immediately pour over kale and toss to coat.

Slide toasts underneath the broiler for 30 seconds to a minute or until the cheese is melted and bubbly and the toast edges are golden. Remove from oven.

Serve salad on plates, top with crispy pancetta and serve alongside quartered hard boiled eggs and bleu cheese toasts. Season salad with more black pepper if desired.
Serving: 1g, Calories: 522kcal, Carbohydrates: 34g, Protein: 20g, Fat: 34g, Saturated Fat: 14g, Polyunsaturated Fat: 5g, Monounsaturated Fat: 12g, Trans Fat: 1g, Cholesterol: 239mg, Sodium: 885mg, Potassium: 458mg, Fiber: 2g, Sugar: 1g, Vitamin A: 4909IU, Vitamin C: 53mg, Calcium: 191mg, Iron: 3mg
This post may contain affiliate links.
Buy the Cookbook: Simply Scratch : 120 Wholesome Homemade Recipes Made Easy Now available on Amazon »
THANK YOU in advance for your support!