This Winter Clementine Fennel and Kale Salad is bright and deliciously festive. Kale tossed with thinly sliced fennel, radishes and clementines. Drizzled with a light poppy seed yogurt dressing, pomegranate seeds and fennel fronds.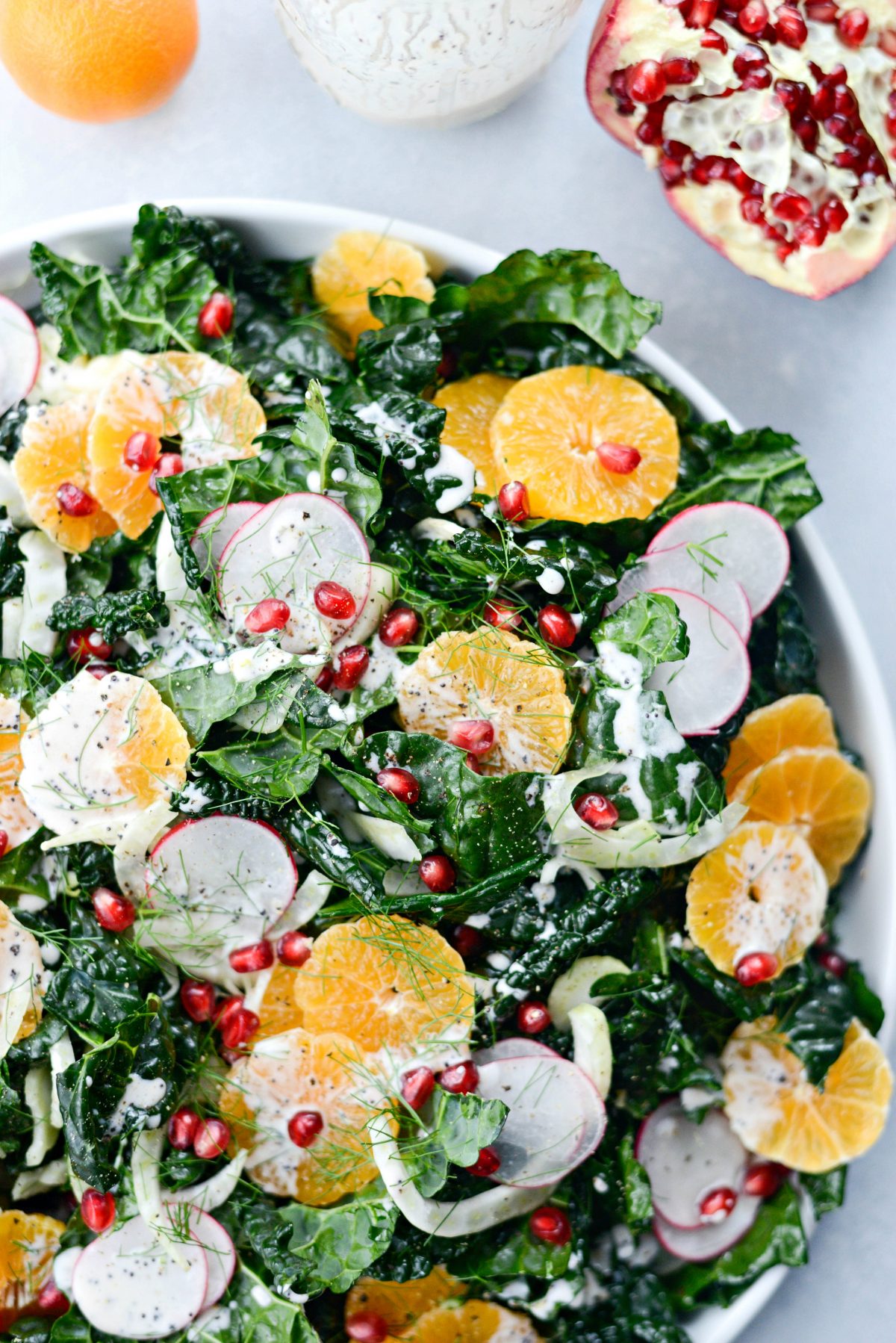 Confession: I made this salad a few weeks ago while listening to the world champion chess match. No I don't play chess and yes you heard that right, I listened to a chess match. Might I add that the only reason I was listening was a) because it wasn't televised. And b) a year or so ago, Pat and I watched a documentary on the reigning champion and he was challenging a guy from the US so I was curious.
Although, I quickly found out that listening to chess commentators is the absolute worst. Because of all the chess lingo being thrown about and the speculative move strategizing, I could only stand to listen for about a half an hour before I had to shut if off.
However, this salad was the least bit annoying. Fresh produce in a light citrusy dressing, how could you go wrong?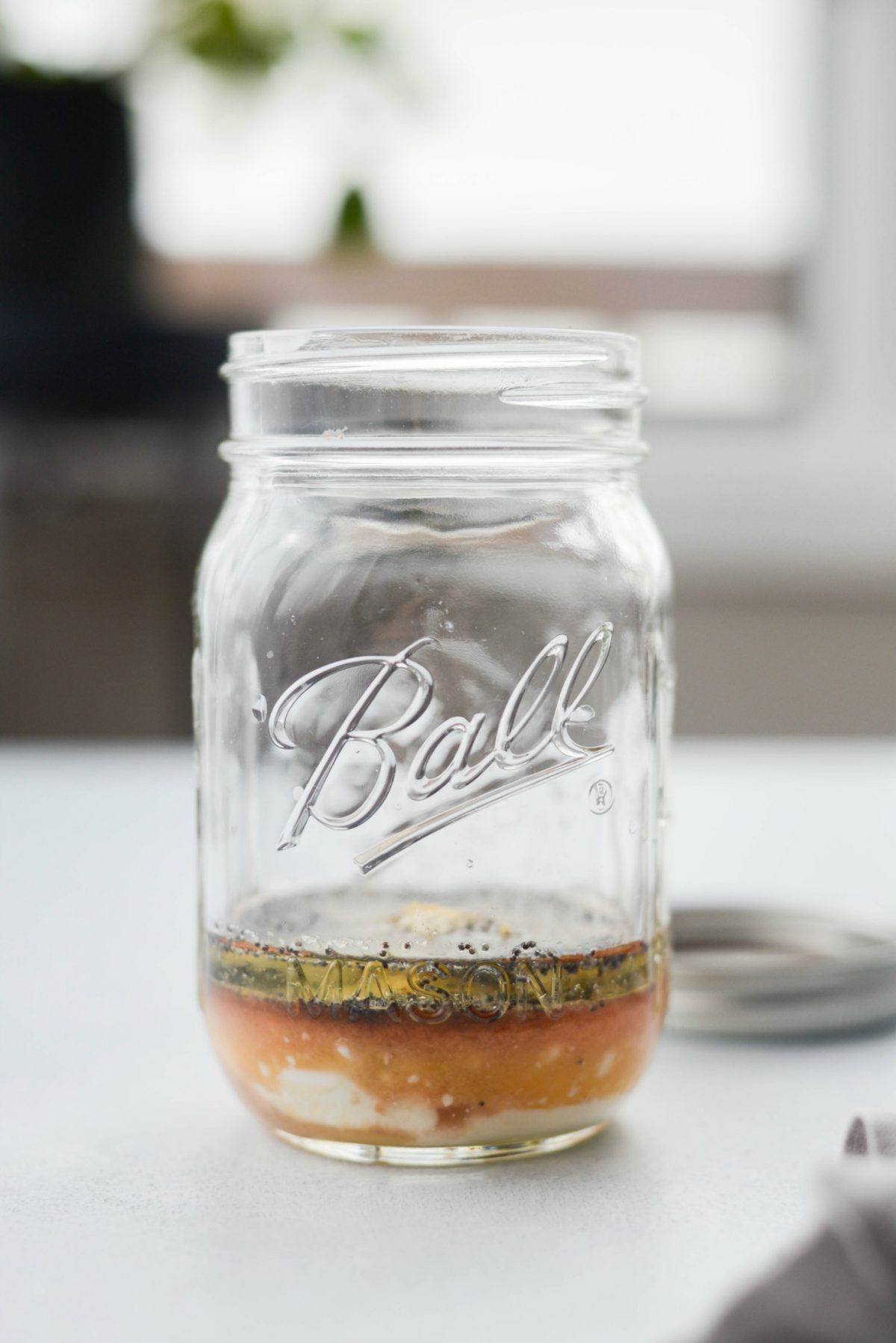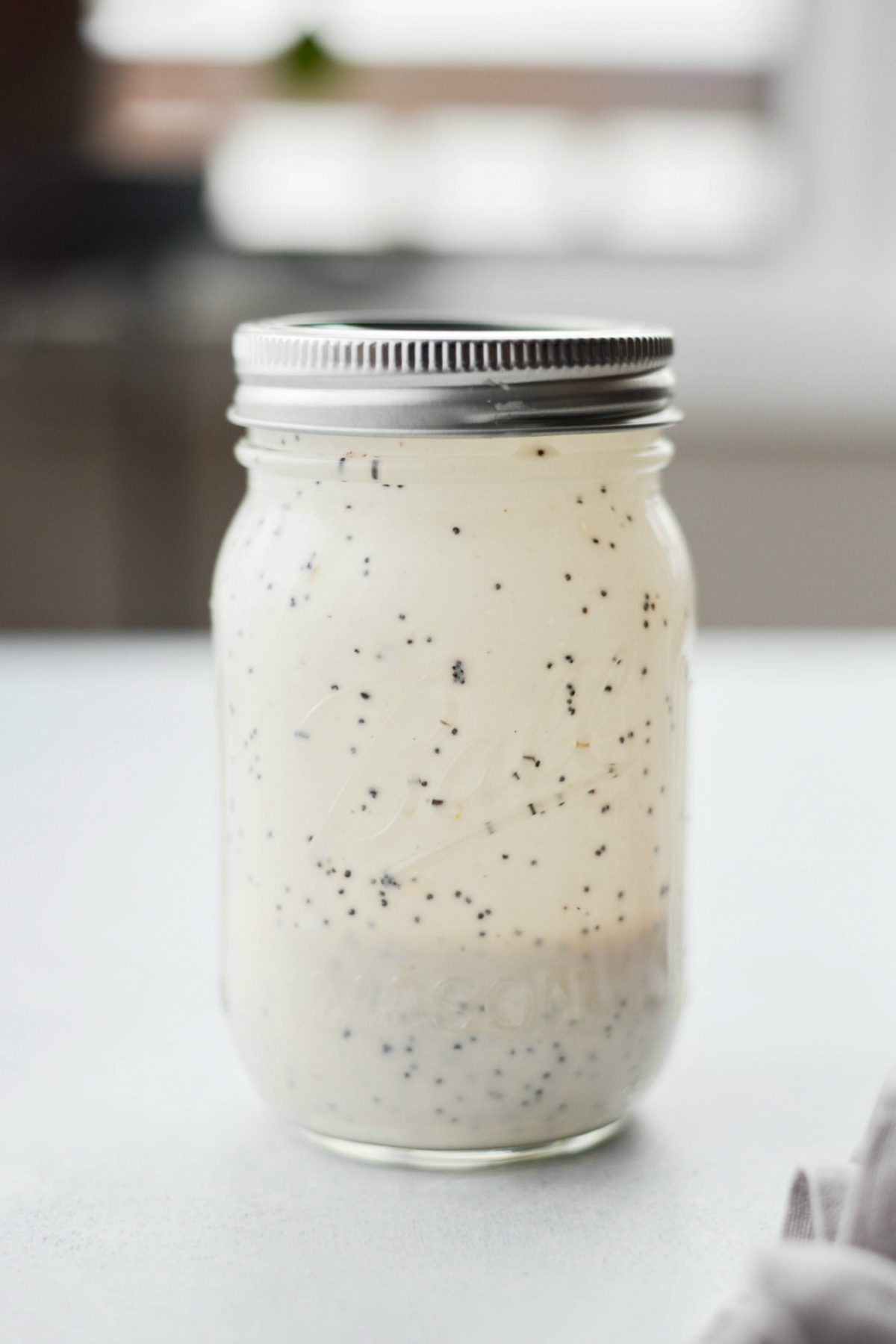 To Make the dressing Your will need:
plain nonfat greek yogurt
light olive oil
juice from a clementine
red wine vinegar
honey
poppy seeds
kosher salt
freshly ground black pepper
onion powder
dry mustard
In a glass jar measure and add 1/4 cup unsweetened nonfat Greek yogurt, 2 tablespoons light olive oil and 2 tablespoon fresh clementine juice, 1 tablespoon red wine vinegar, 2 teaspoons honey, 1 teaspoon poppy seeds, 1/2 teaspoon kosher salt, 1/4 teaspoon each freshly ground black pepper, onion powder, garlic powder and mustard powder.
Secure a lid and shake well to combine, therefore making sure the honey is mixed throughout.
To Make This Winter Clementine fennel and kale Salad you will need:
lacinato kale
olive oil
kosher sal
fennel bulb (plus fronds)
radishes
clementines
pomegranate seeds
yogurt poppy seed dressing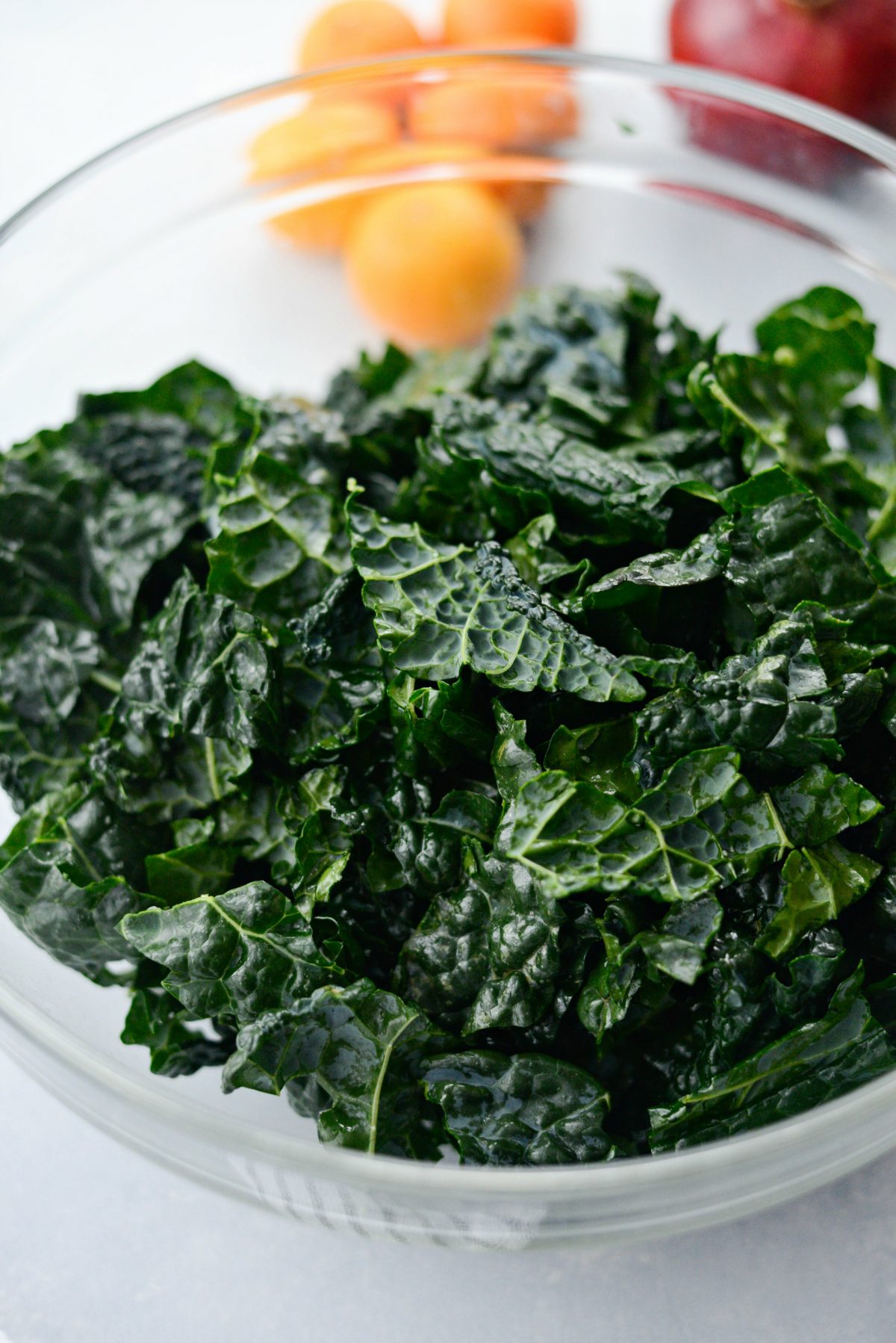 First, strip the kale leaves off 1 bunch of kale, discarding the stems and roughly chopping the leaves. Wash and spin-dry (or pat dry with a kitchen towel) the kale leaves before adding them to a bowl and drizzling them with a teaspoon of olive oil and a pinch of kosher salt. Use your impeccably clean hands to massage the oil and salt into the kale leaves. Doing this will make the leaves more tender.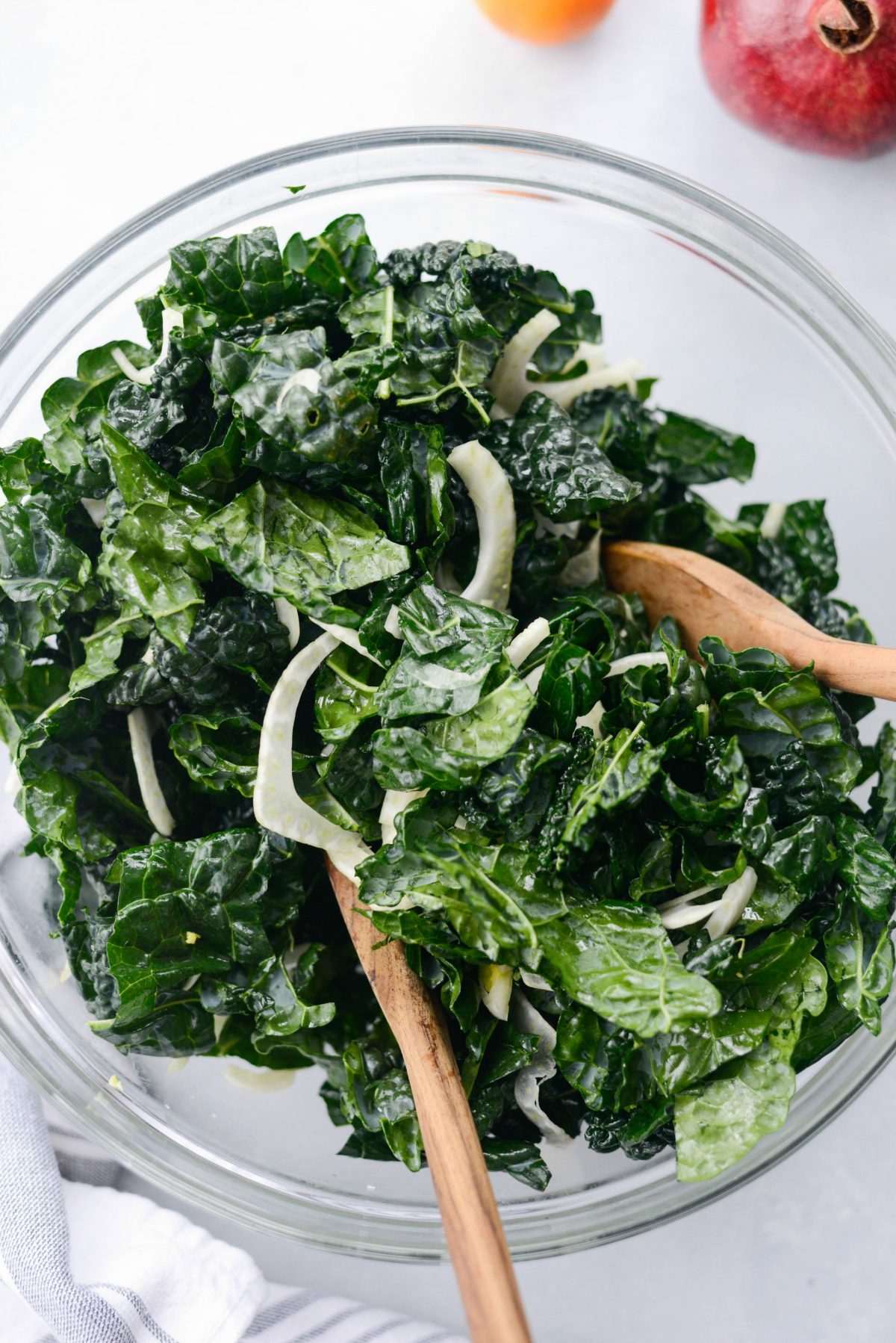 To it add the thinly sliced fennel into the bowl with the kale and toss to combine.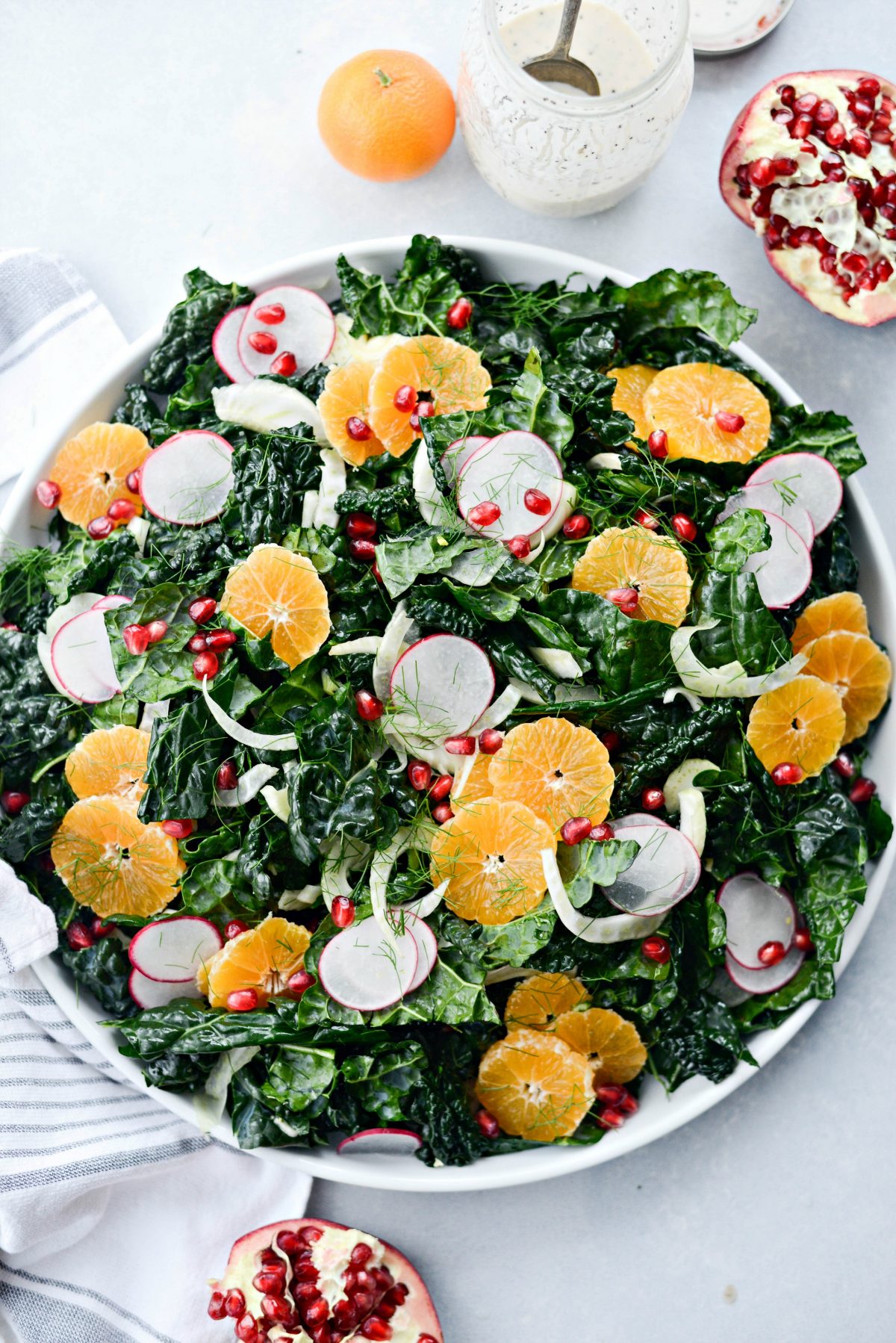 Finally transfer the kale and fennel to a serving platter or bowl before topping with thinly sliced radishes, oranges, and then the chopped fennel fronds.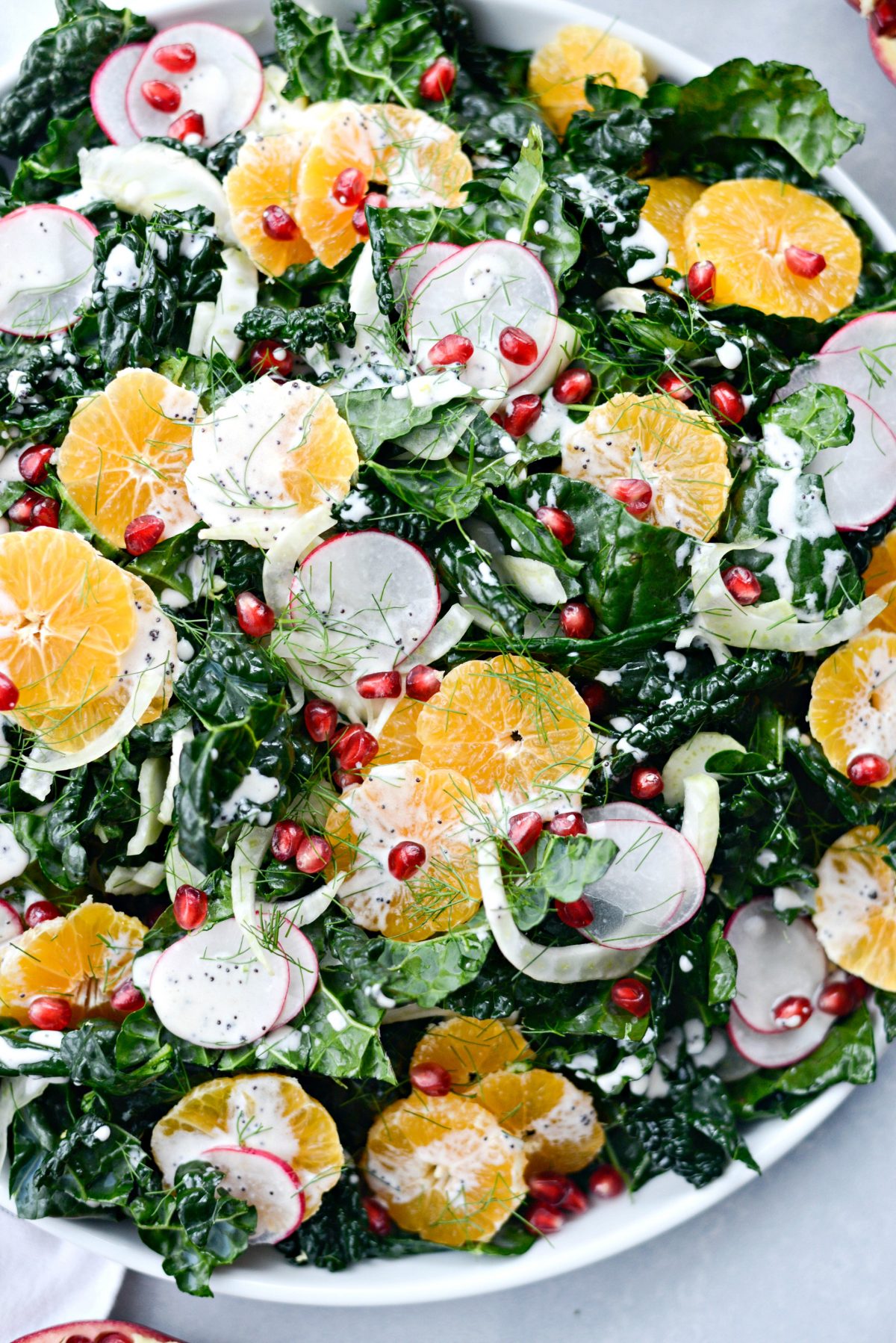 Drizzle with the clementine yogurt poppy seed dressing and then scatter the pomegranate seeds over top.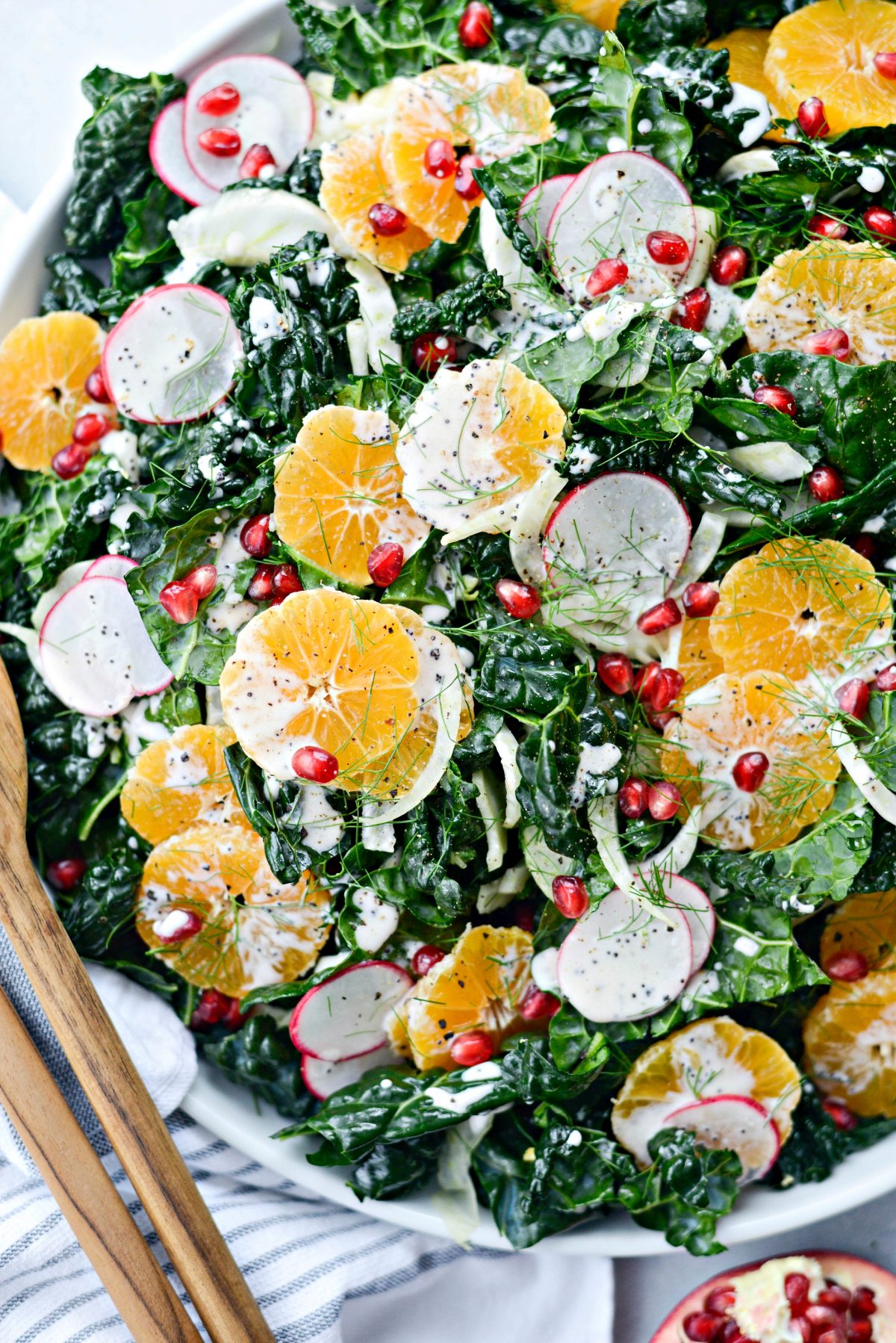 Season the salad with more freshly ground black pepper and then serve immediately. As you can see, this salad is pretty simple to pull together. With that said, you can definitely prep most of everything (except the clementines) the day before. But because of the citrus juice in the dressing, I would not recommend making that too far in advance.
Like Christmas on a plate, this salad is colorful and light, bursting with flavor and perfect for the holidays! The citrus is a nice contrast with the earthy kale, licorice flavor of the fennel and tart pomegranate arils.
For more kale salads Click Here!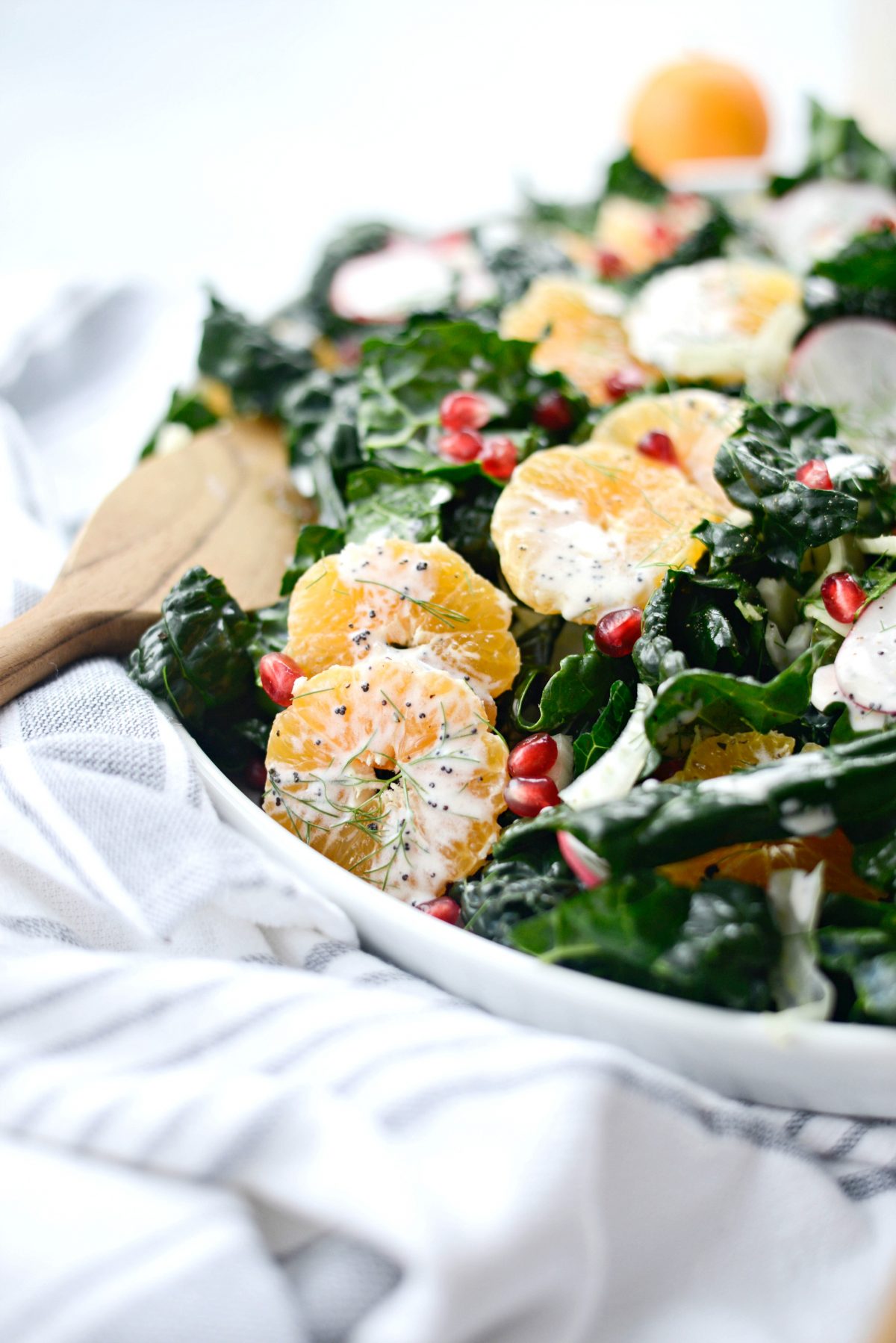 Enjoy! And if you give this Clementine Fennel and Kale Salad recipe a try, let me know! Snap a photo and tag me on twitter or instagram!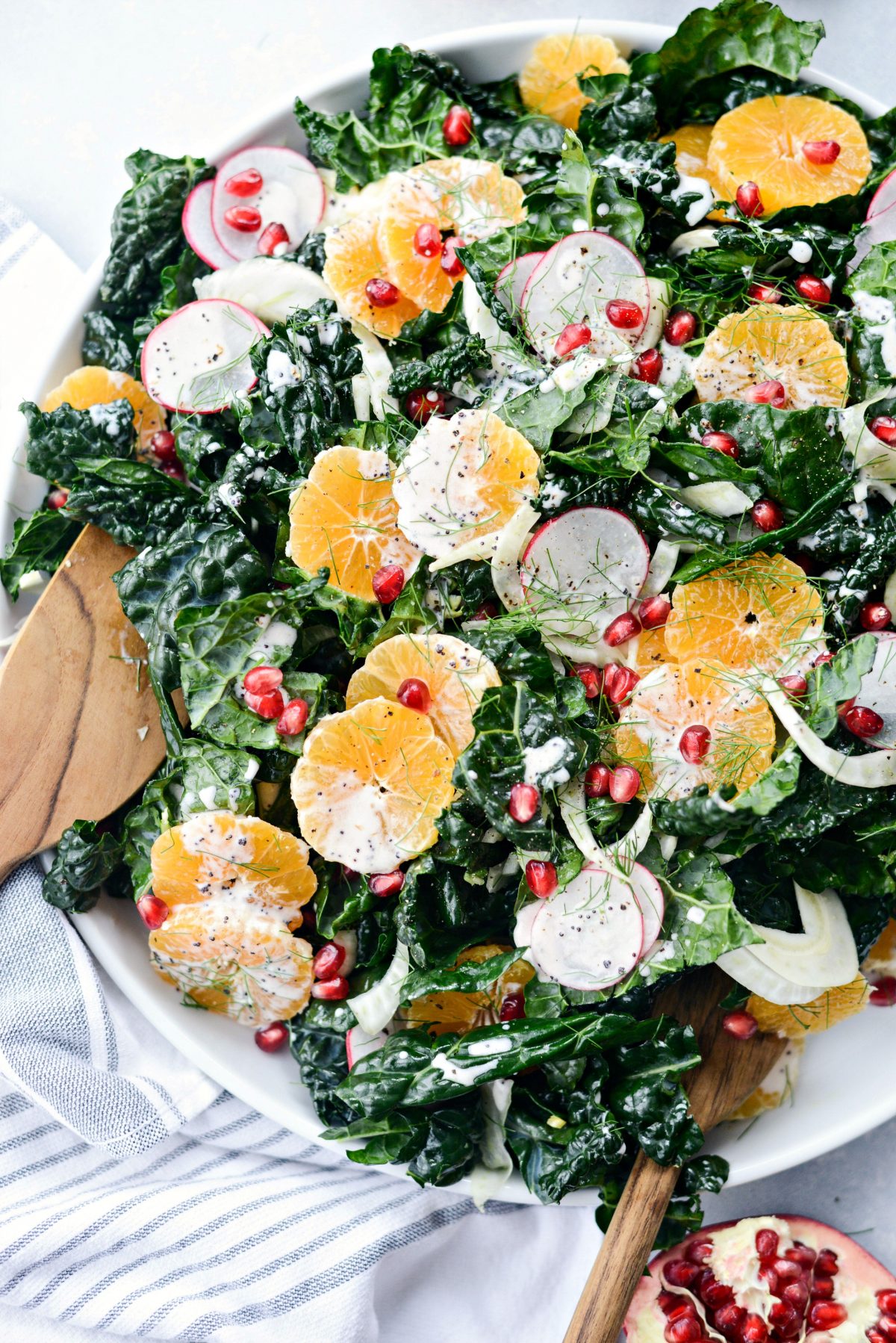 This post may contain affiliate links.
Buy the Cookbook: Simply Scratch : 120 Wholesome Homemade Recipes Made Easy Now available on Amazon »
THANK YOU in advance for your support!