Filled with fresh vegetables and goat cheese, this vegetable goat cheese frittata is fresh and delicious!
The need to clean out my fridge is an every other day occurrence around these parts.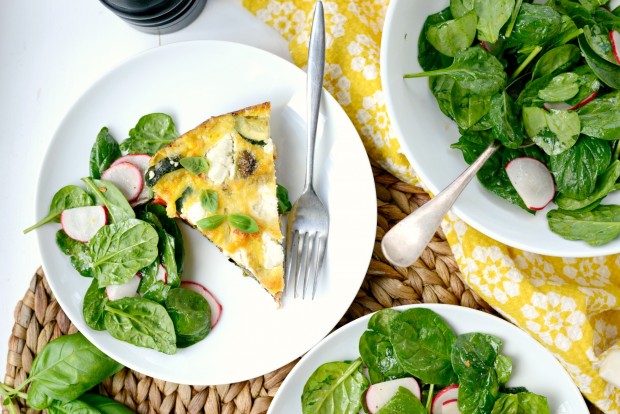 Having a job that's centered around making food will do that. Not that I'm complaining… I love to cook, it's just the whole cleaning out the fridge part. Every job has it's perks and fridge cleaning is not one of them. Do you remember what my fridge looked like when I was recipe testing for my book? #istillhavenightmares
Sometimes it's hard to get creative with leftovers, but when most of my leftovers are a hodgepodge of miscellaneous veggies, I like to make a frittata.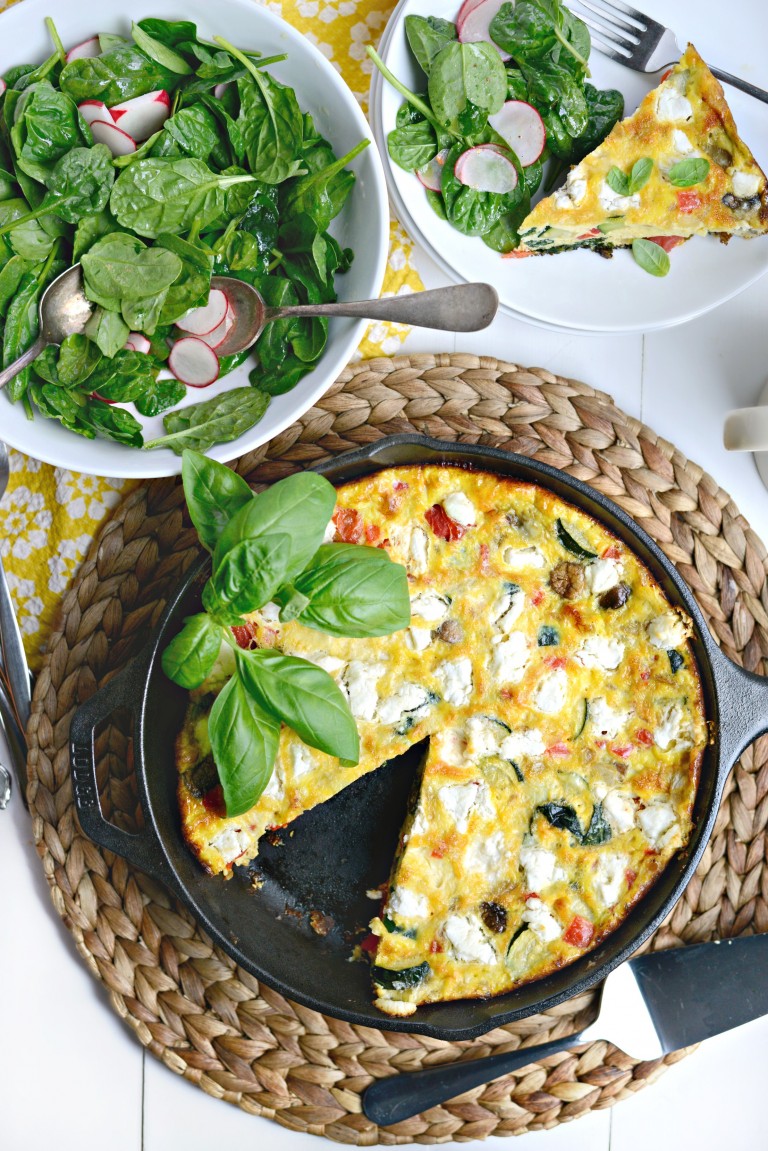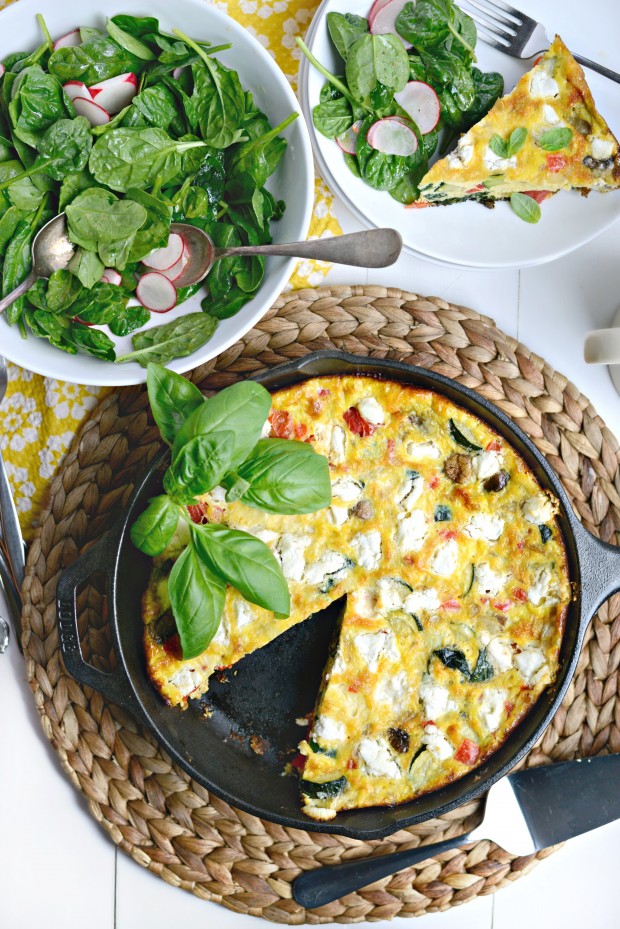 Frittatas are pretty forgiving; a handful of this and little of that, add some cheese and poof breakfast (or dinner). It's the perfect 1-pan band. Or something like that.
In the case of "what should I make with these leftover mushrooms, almost over-ripened cherry tomatoes and clamshell of 2-for-6-dollar-special baby spinach"… a frittata seemed to be the obvious and natural choice.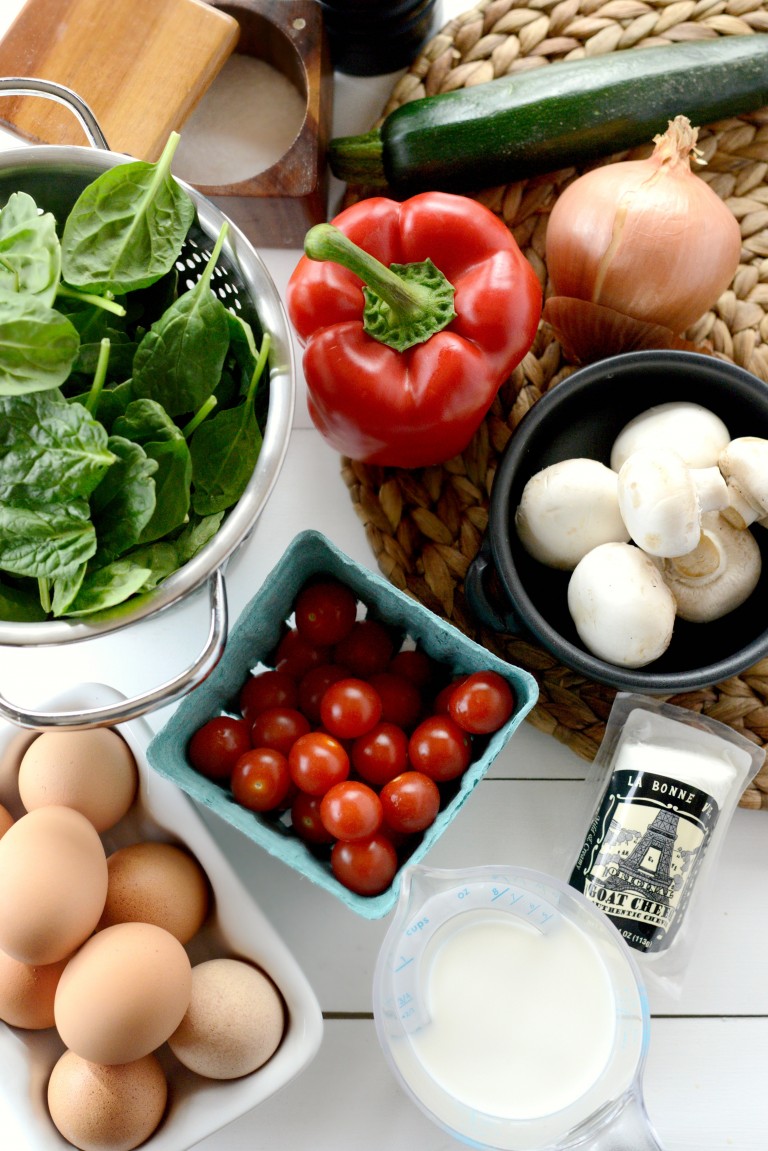 For funsies I sprinkled a little crumbled, soft goat cheese on top and it was magical. Ever since I put goat cheese in my deviled eggs I can think of nothing else. Who is this girl who vowed never ever ever to like goat cheese?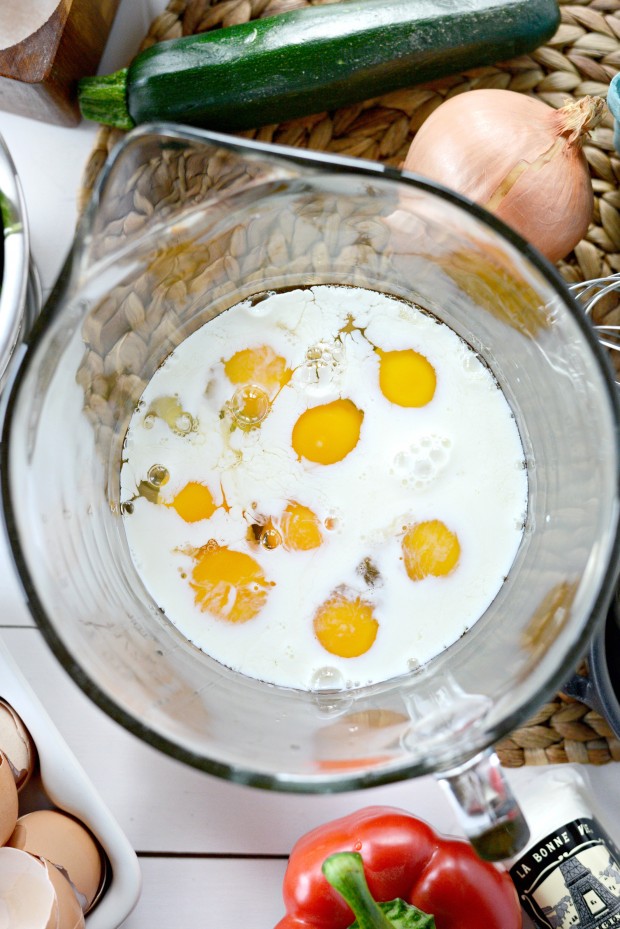 In a large mixing bowl, add the 8 eggs, 1/2 cup of whole milk and a generous pinch of salt and a smidgen of freshly ground black pepper.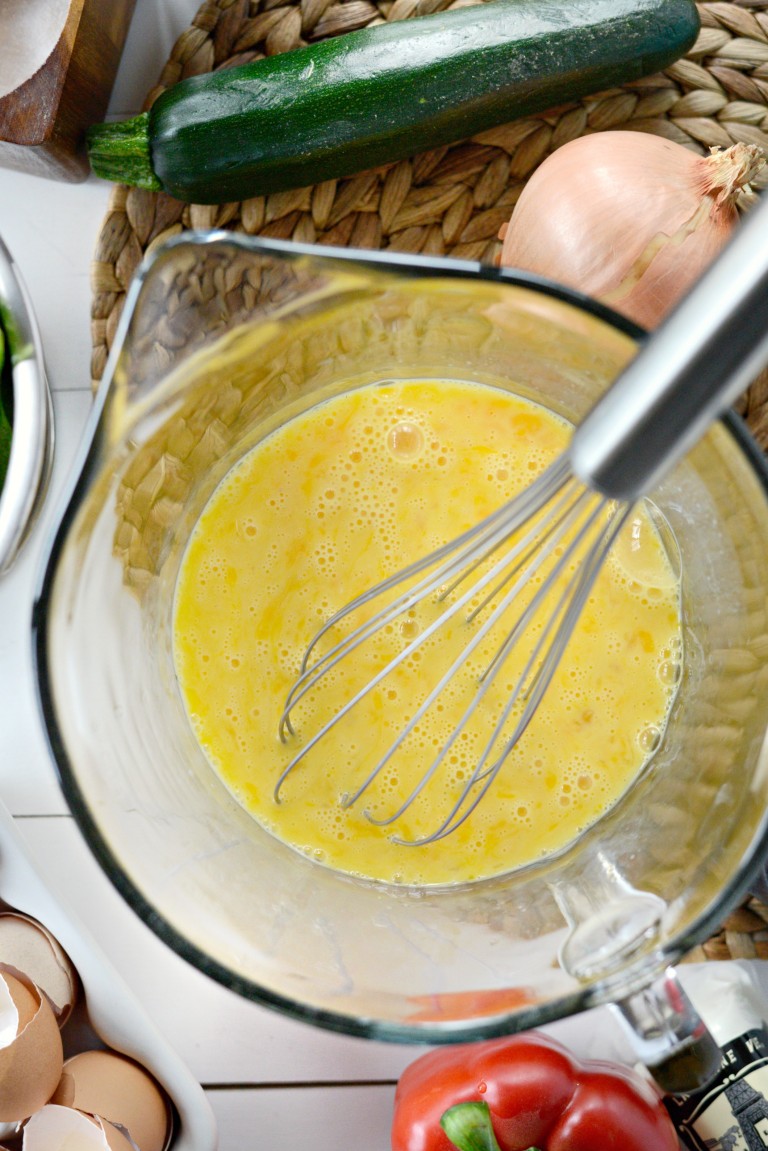 Whisk, not too aggressively, but until the eggs and milk are one. No need to beat any extra air into the eggs as it will only cause the frittata to deflate later on. And we do not want a deflated frittata. No way.
Prepping all the add-in ingredients is a good idea too. In this frittata I'm using up the rest of a yellow onion (about 1/2 cup diced), a zucchini (on it's last leg) about 3/4 cup of that- and then one 1/2 cup of diced red bell pepper. I quartered up the remaining mushrooms I had on hand (about 6 or 8- I really can't remember) and rinsed off roughly 2 cups of cherry tomatoes. Since the baby spinach was "triple washed" by Earthbound, I just had to open the container and poof- donezos.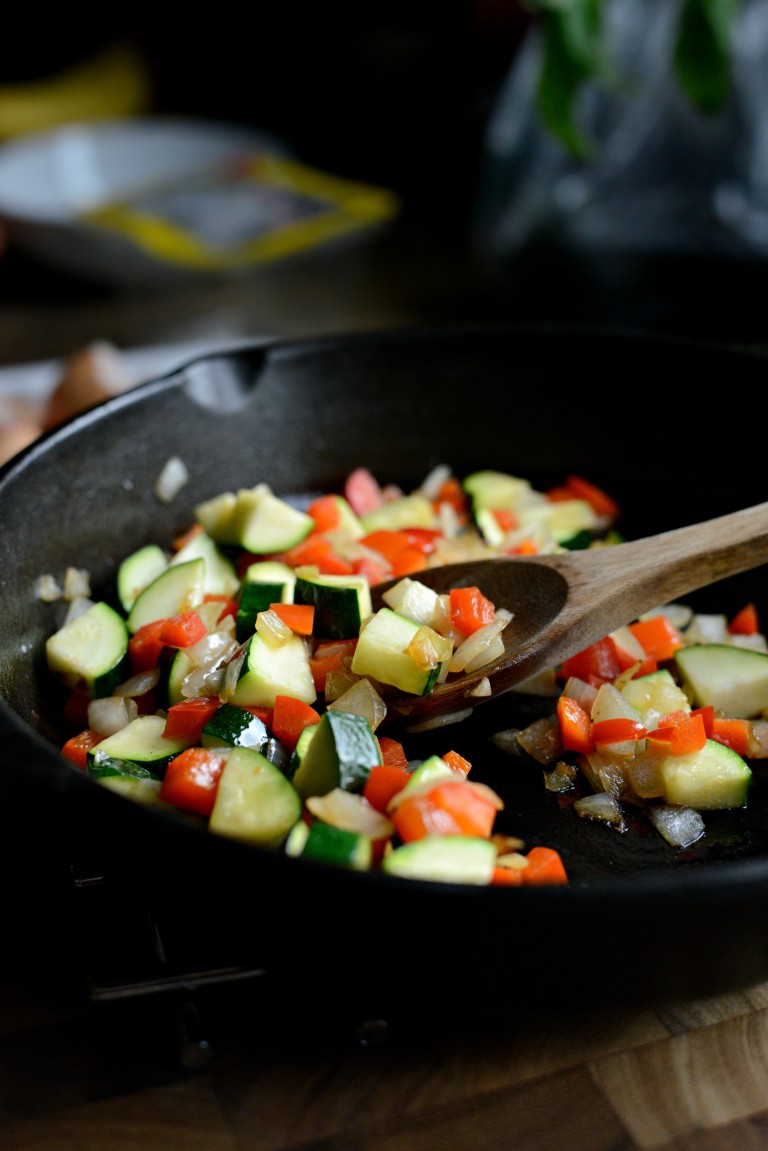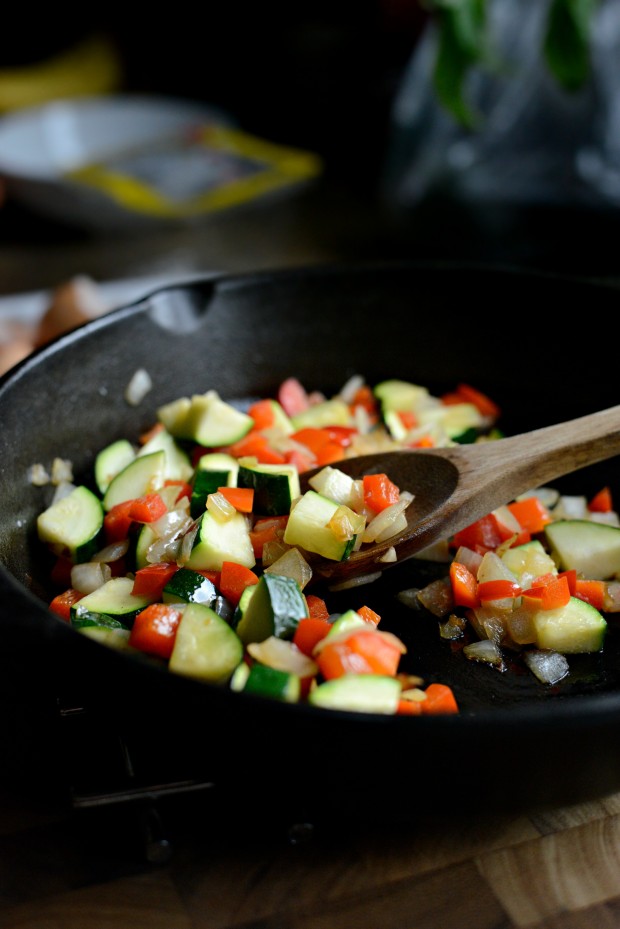 I added a tablespoon of light olive oil to my 10-inch cast iron skillet and heated it on medium to medium-high heat.(If you don't have well seasoned cast iron pan, do not fret- a non-stick pan works too! Just as long as it is oven safe.) Once the pan was hot, I add in the onions and cooked them for about 4 minutes or until they started to soften. Then I add in the zucchini, red bell pepper and a small pinch of salt. I cooked those for about 4 more minutes. These don't need to be as soft as the onions because they will cook in the frittata, in the oven a little later.
Just scoop them out of the pan and into a clean bowl and set them off to the side.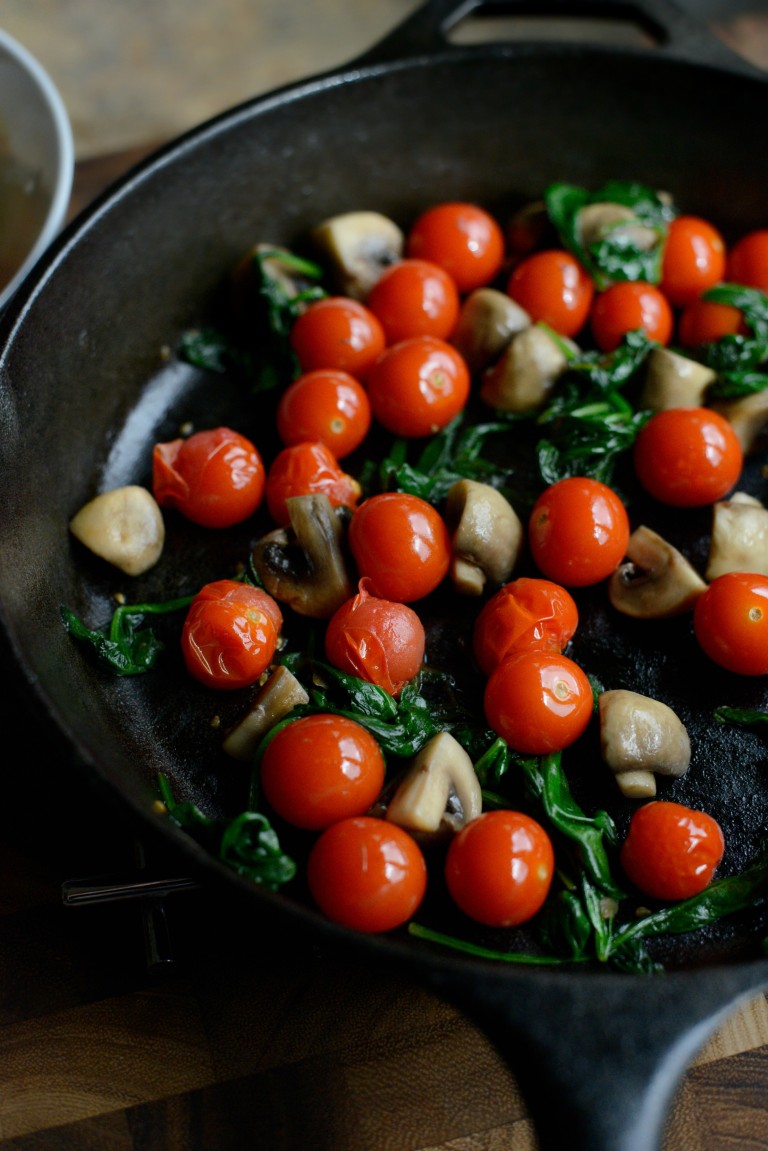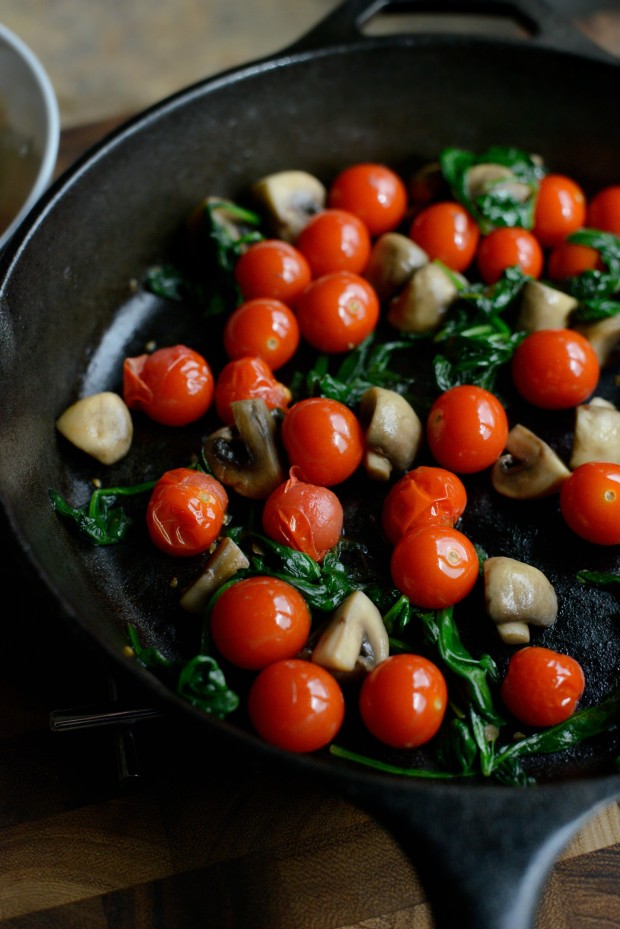 Add the remaining tablespoon of oil to the pan. Add in the cherry tomatoes and cook for about 3 minutes or until the skin starts to split. Then add in the mushrooms and spinach, tossing until the spinach wilts and shrinks down a bit.
Add in the onion-zucchini-pepper trio and stir to combine, then level the veggies into an even layer.
Next, pour in the egg mixture. I remove the pan from the burner to do this and allow the pan to cool for a minute or two. Then I turn the burner down to medium-low and then pour them in. I then return the pan to the burner and continue to cook the eggs (do not stir) until they start to firm up a bit around the edges, about 5 minutes.
Oh and I also sprinkled the entire frittata with goat cheese and then slide the whole pan into my awaiting, preheated 350 degree oven and bake for 15 to 18 minutes or until the eggs were set.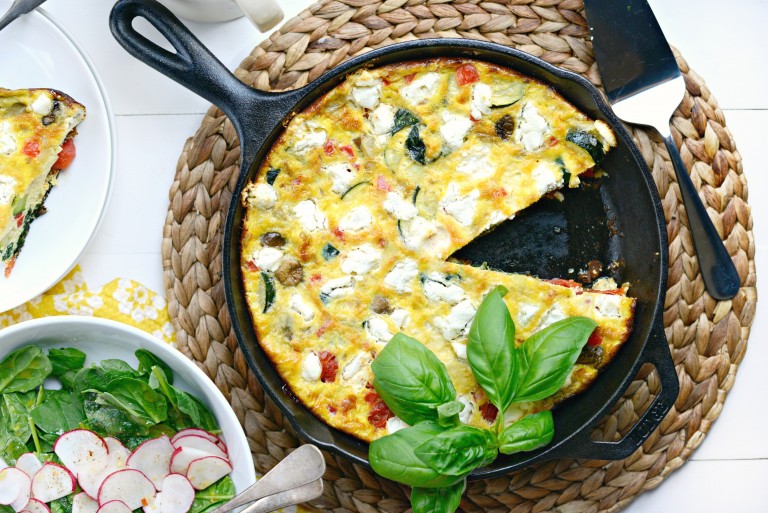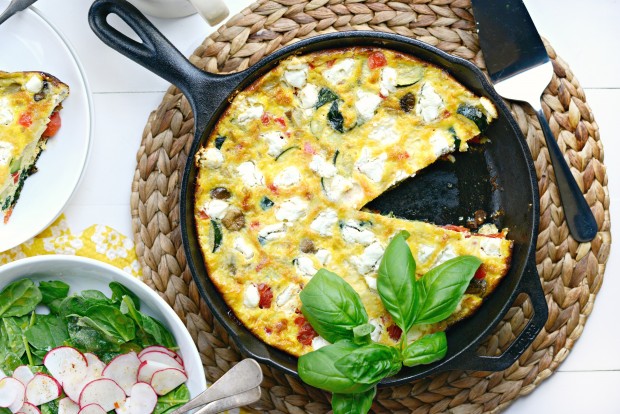 Gorgeous and tasty!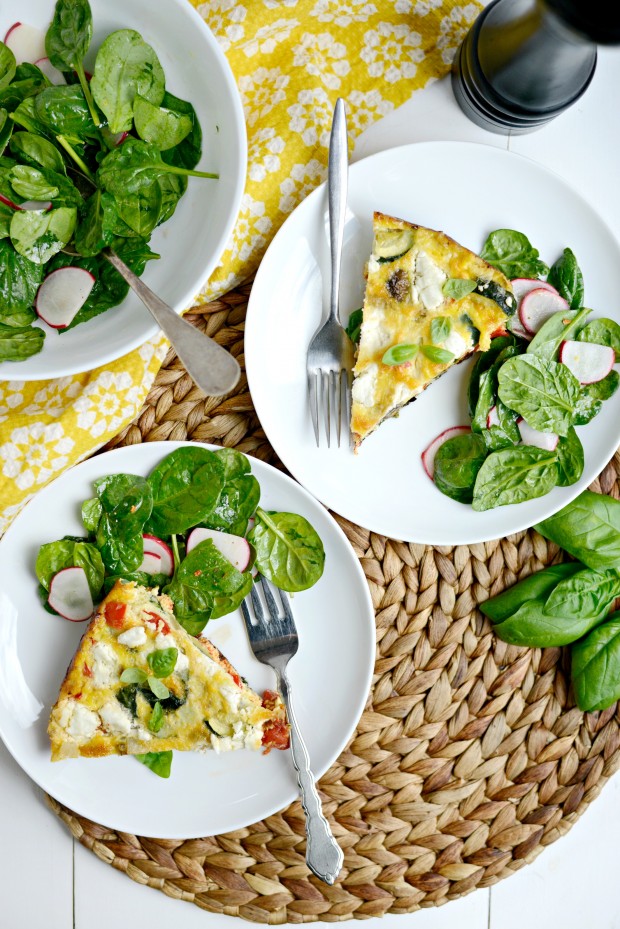 I serve slices of this vegetable goat cheese frittata with teeny-tiny basil leaves on top (or chiffonade larger leaves into thin strips) and alongside a lightly (or not so lightly) dressed salad.
Enjoy!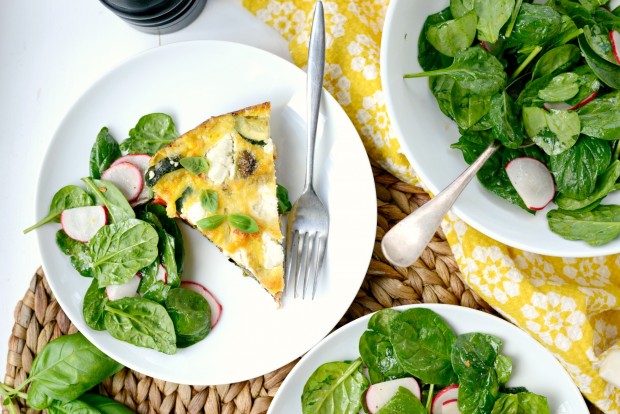 This vegetable goat cheese frittata perfect for lunch, brunch or breakfast and perhaps for Mother's or Father's Day?!
Filled with fresh veggies, topped with goat cheese… it's perfection!
My cookbook Simply Scratch : 120 Wholesome Homemade Recipes Made Easy is now available! CLICK HERE for details and THANK YOU in advance!
Yield: 6 servings
Vegetable + Goat Cheese Frittata
This frittata is loaded with lots of fresh vegetables and then topped with soft and creamy goat cheese. It's a flavor explosion for your taste-buds and the perfect one skillet breakfast or brunch or dinner.
Ingredients
8 large eggs
1/2 cup whole milk
1 pinch kosher salt
1/8 teaspoon freshly ground black pepper
2 tablespoons light olive oil
1/2 cup diced yellow onion
1/2 cup diced red bell pepper
3/4 cup diced zucchini
2 cups cherry tomatoes
6 mushrooms, quartered
5 ounces baby spinach
2 to 3 ounces goat cheese, from log, crumbled
basil leaves
Instructions
Preheat your oven to 350 degrees.

In a large mixing bowl, crack in the eggs and add in the milk, salt and pepper. Whisk until everything is combined. Try not to beat too much air into the eggs and then set aside.

In a 10-inch oven safe skillet add 1 tablespoon of oil and heat on medium to medium-high. Add in the onions and cook until translucent and soft, about 4 to 5 minutes. Add in the bell pepper, zucchini and a small pinch of salt, stir and cook for an additional 3 to 4 minutes before transferring to a clean bowl.

Add the remaining tablespoon of oil to the pan. Drop in the tomatoes and a small pinch of salt. Cook the tomatoes until the skin starts to split. Add in the tomatoes and spinach and cook until the spinach has wilted and the mushrooms are tender, about 2 to 3 minutes.

Reduce the heat under the skillet to medium-low and temporarily remove the skillet off of the heat. Add the bell pepper mixture to the tomatoes and spinach, stir and then spread the veggies into an even layer. Give the pan a chance to cool a little bit, before pouring in the egg mixture.

Return the pan to the burner and cook until the eggs start to thicken around the edges. Crumble the soft goat cheese and drop it over top of the frittata before sliding the pan on to the middle rack of your oven and bake for 10 to 12 minutes or until the eggs have set, keep in mind that the goat cheese may be bubbling.

Cool the frittata for a moment before slicing into wedges and serving with a few small (or thinly sliced) basil leaves and perhaps next to a light salad.
Serving: 1g, Calories: 205kcal, Carbohydrates: 7g, Protein: 13g, Fat: 14g, Saturated Fat: 5g, Polyunsaturated Fat: 2g, Monounsaturated Fat: 6g, Trans Fat: 1g, Cholesterol: 254mg, Sodium: 172mg, Potassium: 512mg, Fiber: 2g, Sugar: 5g, Vitamin A: 3369IU, Vitamin C: 38mg, Calcium: 110mg, Iron: 3mg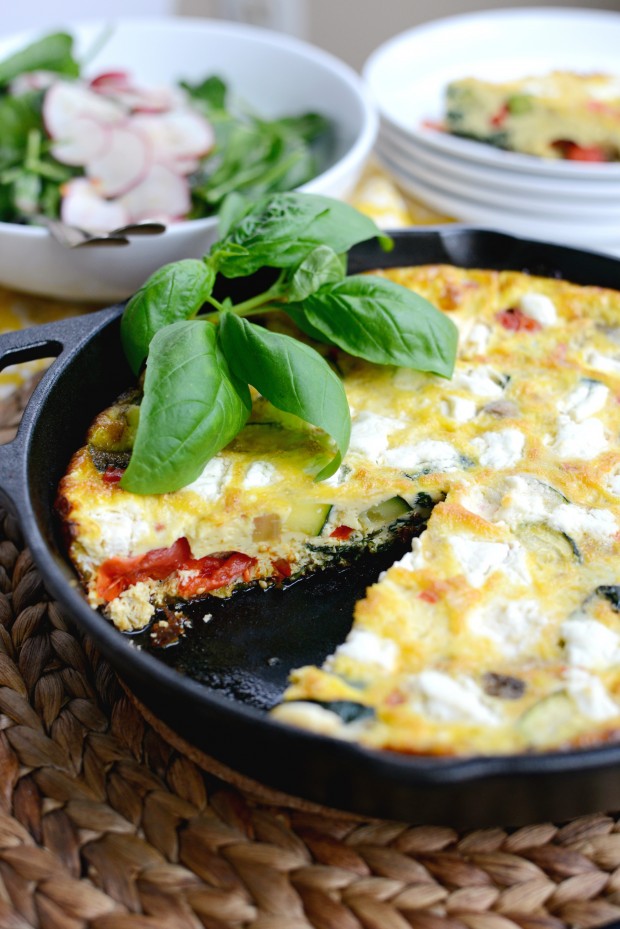 This post may contain affiliate links.
Buy the Cookbook: Simply Scratch : 120 Wholesome Homemade Recipes Made Easy Now available on Amazon »
THANK YOU in advance for your support!