In this vanilla lemonade, the vanilla rounds out the tartness of the lemon and is an amazing classy twist to regular old lemonade.
Thirsty? Good thing because I made you lemonade.
It's been real real hot these past few days and nothing quenches my thirst like an ice cold glass of lemonade.
I was emailed this recipe from a SS reader named Kristin. She sent me her recipe for vanilla lemonade last week and I was pumped. It was my first time ever hearing of vanilla lemonade and I was beyond excited to make her recipe.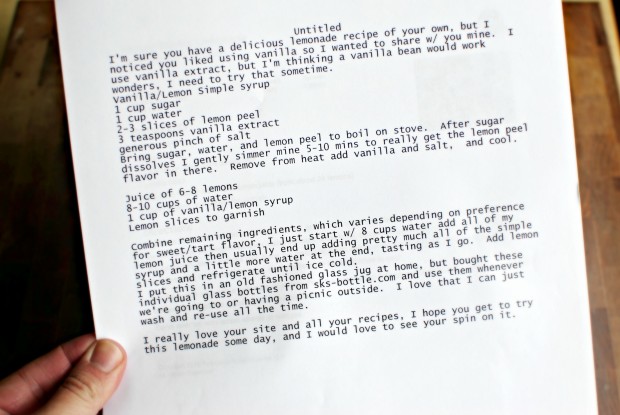 In her email she said she thought using real vanilla beans could be amazing and would love to see my spin on it… and that's just what I did.
Out with the vanilla extract and in with the bean.
To Make This Vanilla Lemonade You Will Need:
for the simple syrup:
1 cup granulated sugar
1 cup water
3 slices of lemon peel
1 vanilla bean
1 generous pinch of kosher salt
cheesecloth, to strain syrup
for the simple syrup:
juice of 6-8 lemons, strained
8-10 cups of water
1 cup of vanilla/lemon syrup
Lemon slices to garnish
This recipe actually is pretty darn easy. Sure you dirty a few dishes… but it will leave your house smelling amazingly like fresh lemon and a cozy vanilla so you won't even mind the sink-full of dishes. These definitely are two flavors I've never thought of pairing together for a beverage… but in my gut I knew it would work and my gut never lies.
Next on my list is to steep a little lavender in there.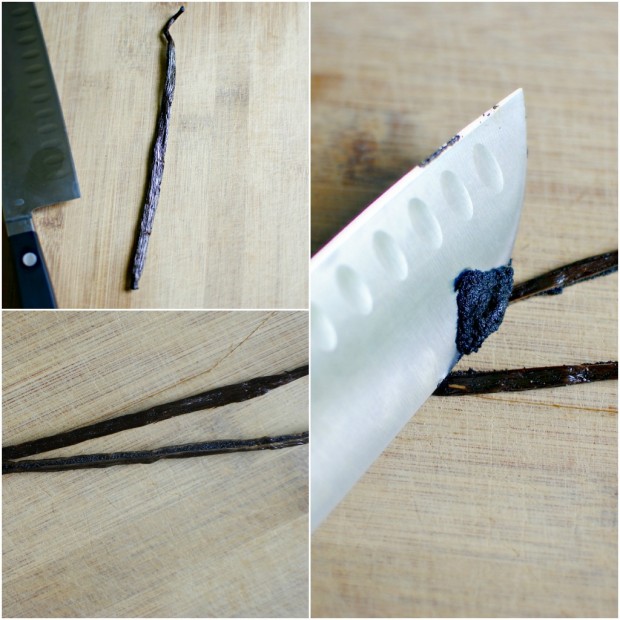 Start by splitting your vanilla bean entirely in half and scraping out the seeds with the back of your knife.
Into a small sauce pan add 1 cup of sugar and the 3 strips of lemon rind. There is no pith attached to the peel, I just simply used a vegetable peeler to peel off the strips.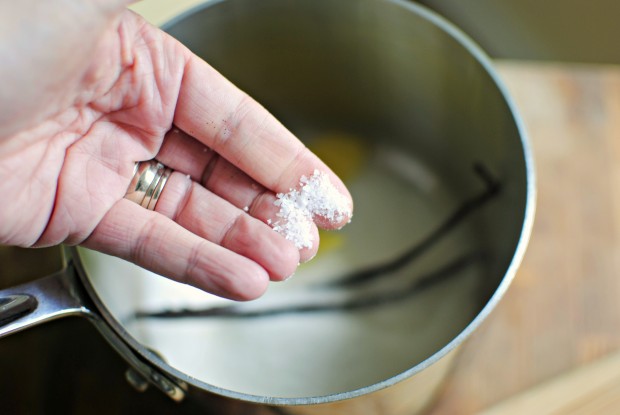 Add in a pinch of salt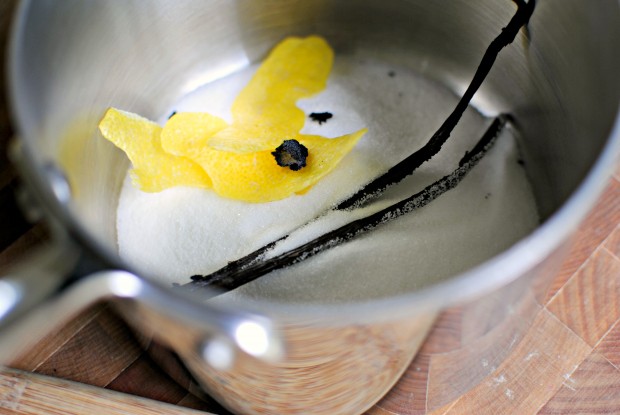 Next, add in the scraped vanilla beans and the whole pod into the pot with the sugar and lemon peel.
Lastly to make the simple syrup you'll need to pour in 1 cup of water.
Bring the everything up to a boil.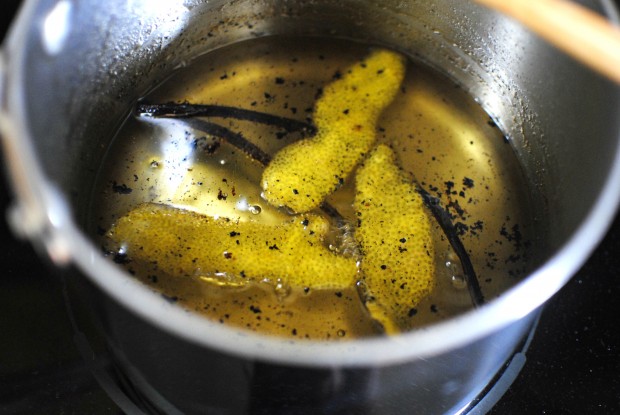 Once the sugar has dissolved reduce the heat and let it gently simmer for 5-10 minutes to bring out as much of that lemony-vanilla-ness as possible. Stir occasionally and remove the simply syrup from the heat.
I then lined a large measuring cup with some cheesecloth secured by a rubber-band and poured the simple syrup through to catch the lemon peel, vanilla pod and the majority of the seeds.
Some will pass through but it's okay.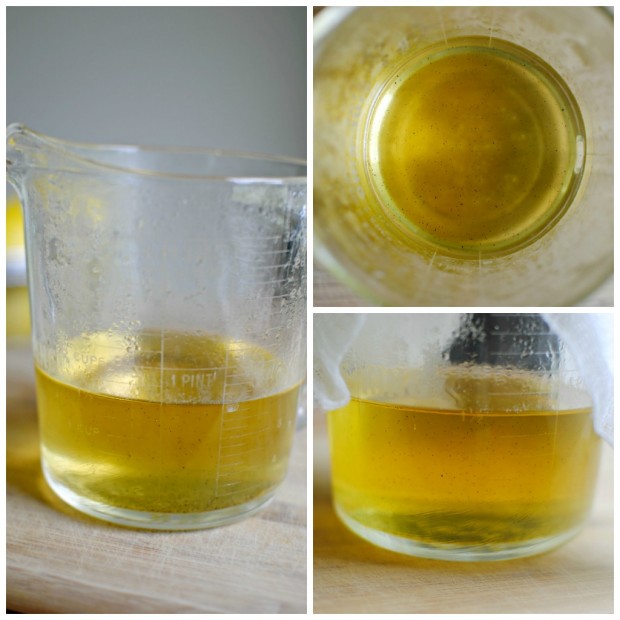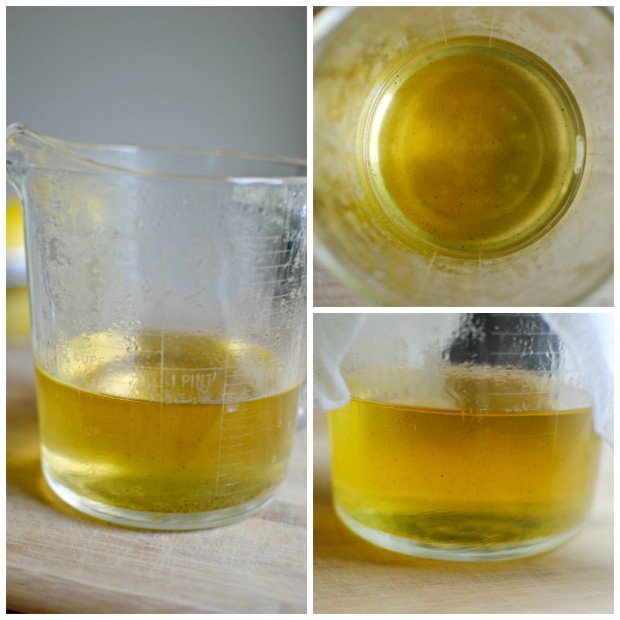 Let the syrup cool, I sped up the whole process by sticking the measuring cup in a large bowl and packed ice around it.
In the meantime I juiced about 8 lemons or about 1 cup to 1-1/2 cups of juice and strained the juice in a mesh strainer to catch the pulp and seeds.

Because I didn't have a bowl or pitcher large enough to do it all in one big batch. So I split the 8-10 cups of water, the lemon juice and the syrup evenly among two large pitchers and gave them a good stir.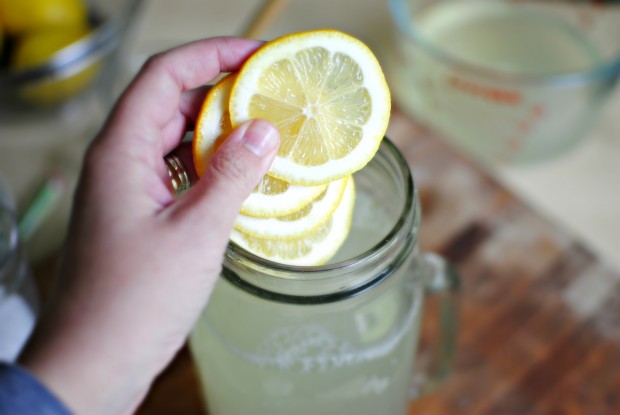 Into a serving pitcher add a few slices of lemon. It might be a good idea to pick out any seeds you find in the slices.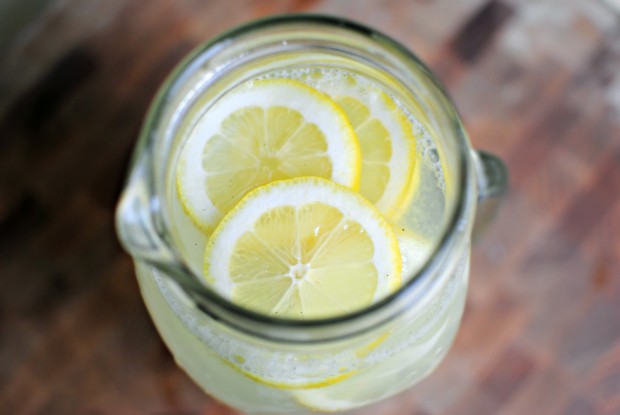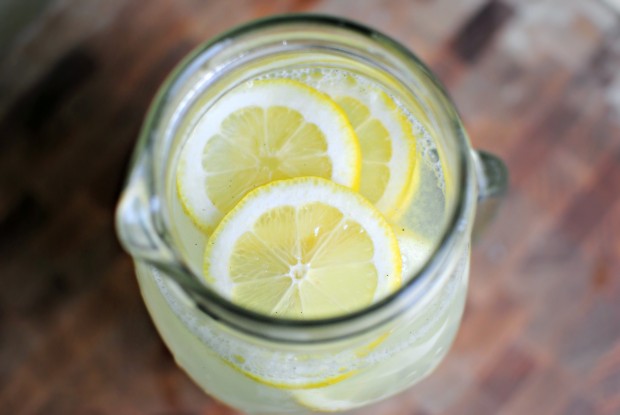 It really smells heavenly!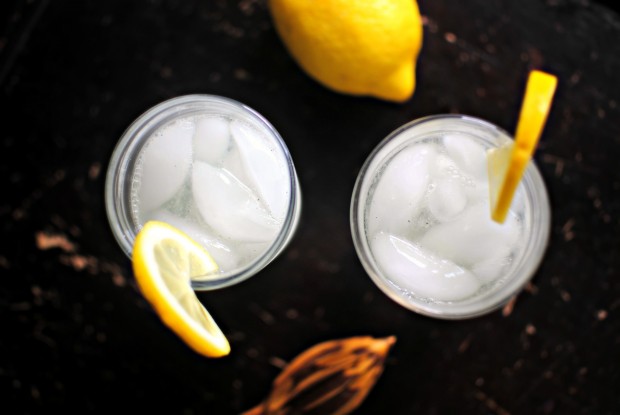 Finally, pour the vanilla lemonade over ice and serve with a twist of lemon.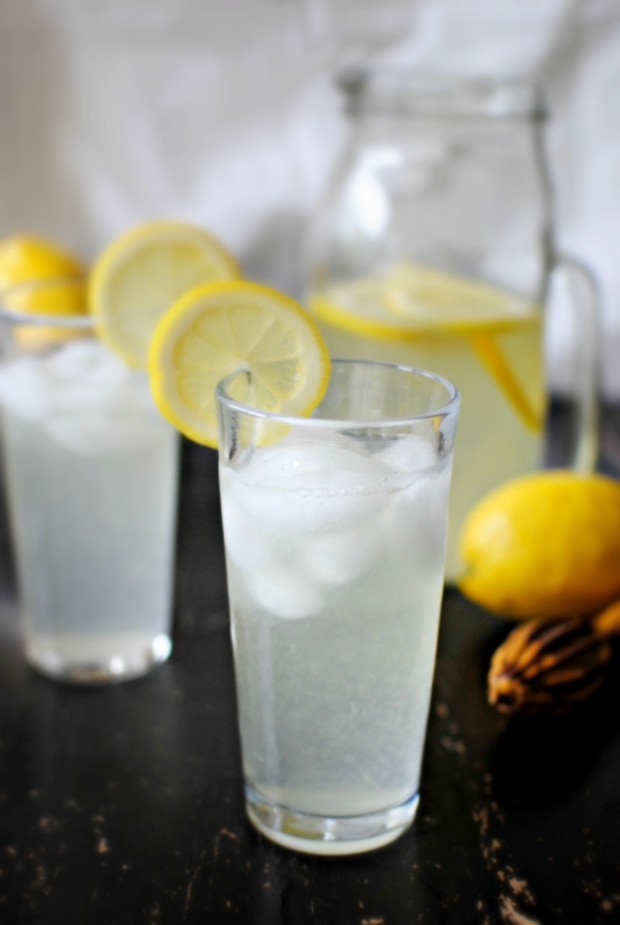 The vanilla rounds out the tartness of the lemon which is an amazing classy twist to regular old lemonade. Now all I need is the entire Shades of Grey series. And maybe some bon bons and then my summer is ready to begin. Like ASAP.
Thank you Kristen for sending me you're recipe! I enjoyed it until the last drop!
Enjoy! And if you give this recipe a try, let me know! Snap a photo and tag me on twitter or instagram!
Yield: 10 servings
Vanilla Lemonade
In this vanilla lemonade, the vanilla rounds out the tartness of the lemon and is an amazing classy twist to regular old lemonade.
Ingredients
FOR THE SIMPLE SYRUP:
1 cup granulated sugar
1 cup water
3 slices lemon peel
1 vanilla bean
1 pinch kosher salt
cheesecloth, to strain syrup
FOR THE LEMONADE:
8 lemons, juiced, strained of pulp and seeds
10 cups water
1 cup vanilla lemon syrup, (the above recipe)
lemon slices, for garnish
Instructions
Slice the vanilla bean in half and with the back of your knife scrape out all the seeds.

Bring sugar, water, vanilla bean and pod, lemon peel and salt to boil on your stove.

After sugar dissolves I gently simmer mine 5-10 minutes to really get the lemon peel flavor in there.

Remove from heat, strain through a few layers of cheesecloth set over a large measuring cup and cool. You can speed up the process by placing the measuring cup in a large bowl surrounded by ice.

Once the syrup has cooled; add it to a large pitcher along with the 8-10 cups of water and strained lemon juice. Garnish with a few lemon slices.

Pour in a tall glass over ice and sip.
Serving: 1g, Calories: 103kcal, Carbohydrates: 28g, Protein: 1g, Fat: 1g, Saturated Fat: 1g, Polyunsaturated Fat: 1g, Monounsaturated Fat: 1g, Sodium: 19mg, Potassium: 120mg, Fiber: 2g, Sugar: 22g, Vitamin A: 19IU, Vitamin C: 46mg, Calcium: 31mg, Iron: 1mg
This post may contain affiliate links.
Buy the Cookbook: Simply Scratch : 120 Wholesome Homemade Recipes Made Easy Now available on Amazon »
THANK YOU in advance for your support!