Truffle Parmesan Fries are an explosion of both texture and flavor. Crispy roasted parmesan fries are finished off with a drizzle of truffle oil and lots of chopped fresh herbs. Serves 4 to 6 depending.
Truffle anything is my love language.
The earthy, intoxicating flavor is absolutely incredible. In the fridge, we have truffle hot sauce, in our pantry truffle potato chips and I've had a bottle of truffle oil in my cupboard for months with out any real plans to use it (I just had to have it), until last week.
I was planning on making patty melts, and patty melts needs fries, so I decided to whip up some truffle fries. I tossed russet potato fries in garlic and onion powder, black pepper and parmesan cheese before roasting. Right before serving, once they golden and crispy, drizzle them with white truffle oil and topped with a plethora of chopped herbs from my garden.
The end result? Fabulous.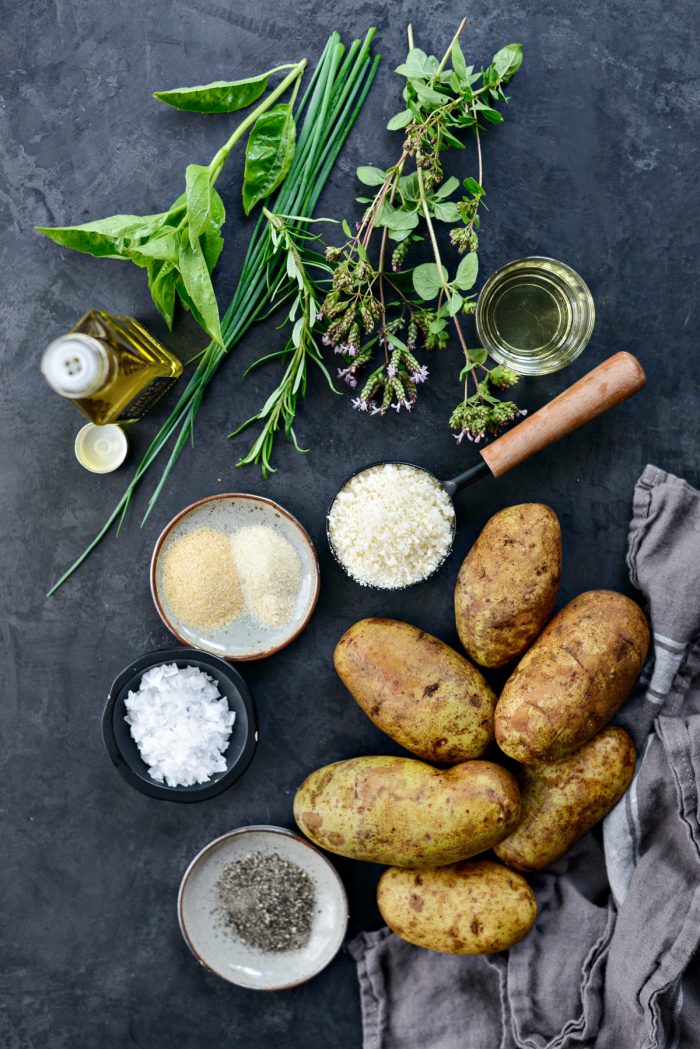 To Make These Truffle Parmesan Fries You Will Need:
small russet potatoes
olive oil
freshly grated parmesan cheese
garlic powder
onion powder
freshly ground black pepper
flakey salt
white truffle oil
herbs (fresh basil, rosemary, oregano and chives)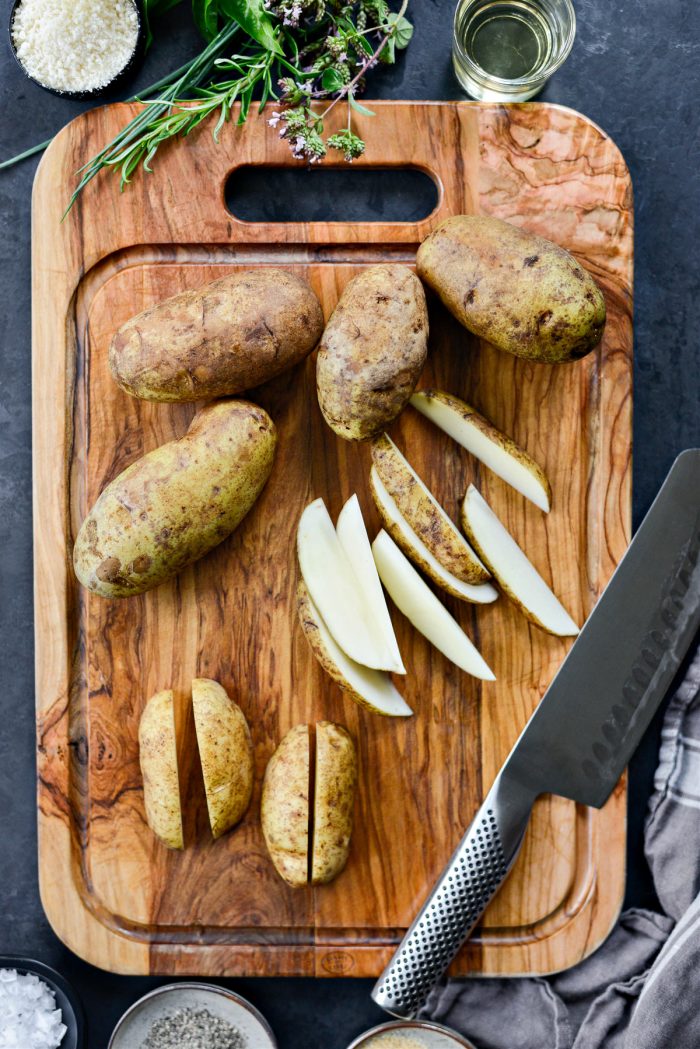 Preheat your oven to 425° and line a rimmed, metal baking sheet with parchment paper.
Scrub your potatoes well and pat dry before cutting into eighths.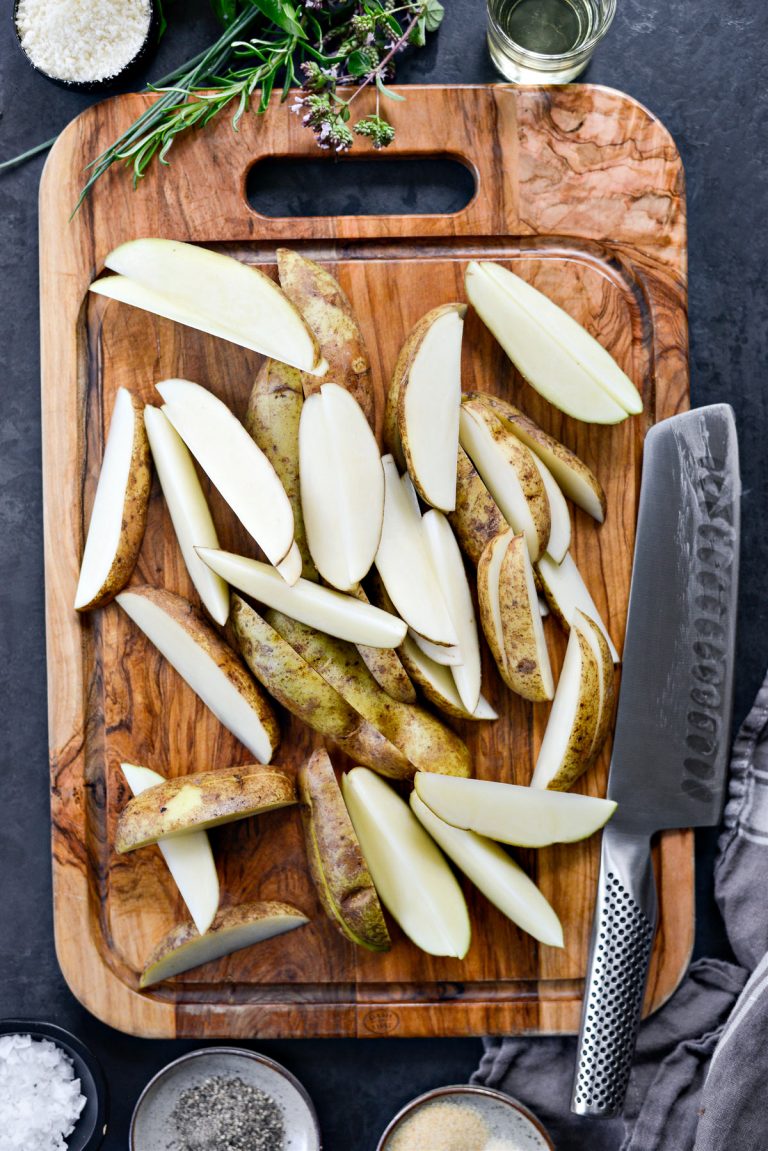 I like to use smaller russets because I find them more manageable and, in my opinion, crisp up well and evenly.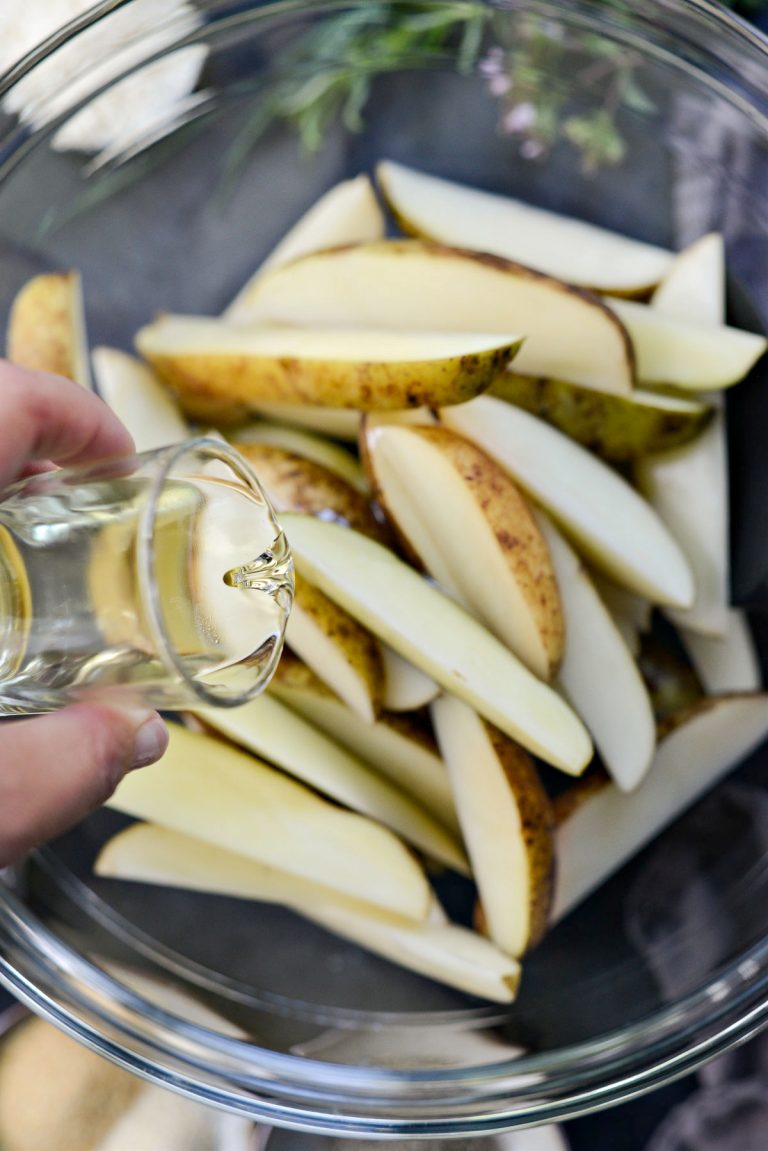 Add the potato fries into a large bowl and drizzle with 3 tablespoons extra light olive oil.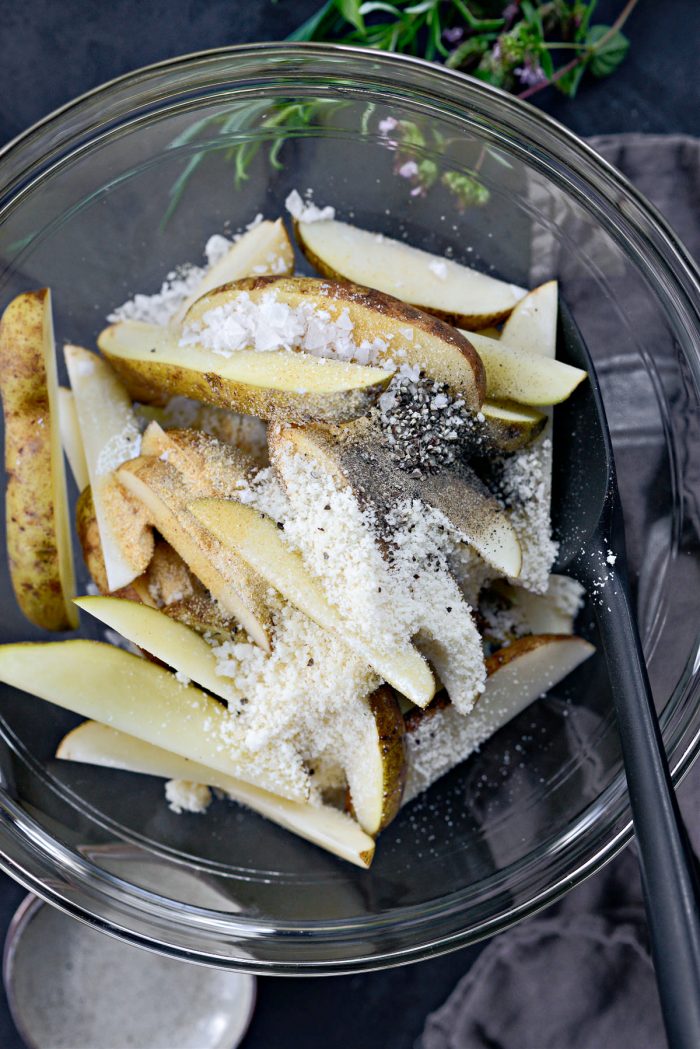 Season with 1/4 cup freshly grated parmesan cheese, 1-1/2 teaspoons each onion and garlic powder, 1 teaspoon black pepper and coarse flakey salt.
Toss to evenly coat. Make sure you separate the potatoes (if they are stuck together obviously) and get them all coated.
Spread out the seasoned potatoes evenly in one single layer on the prepared pan.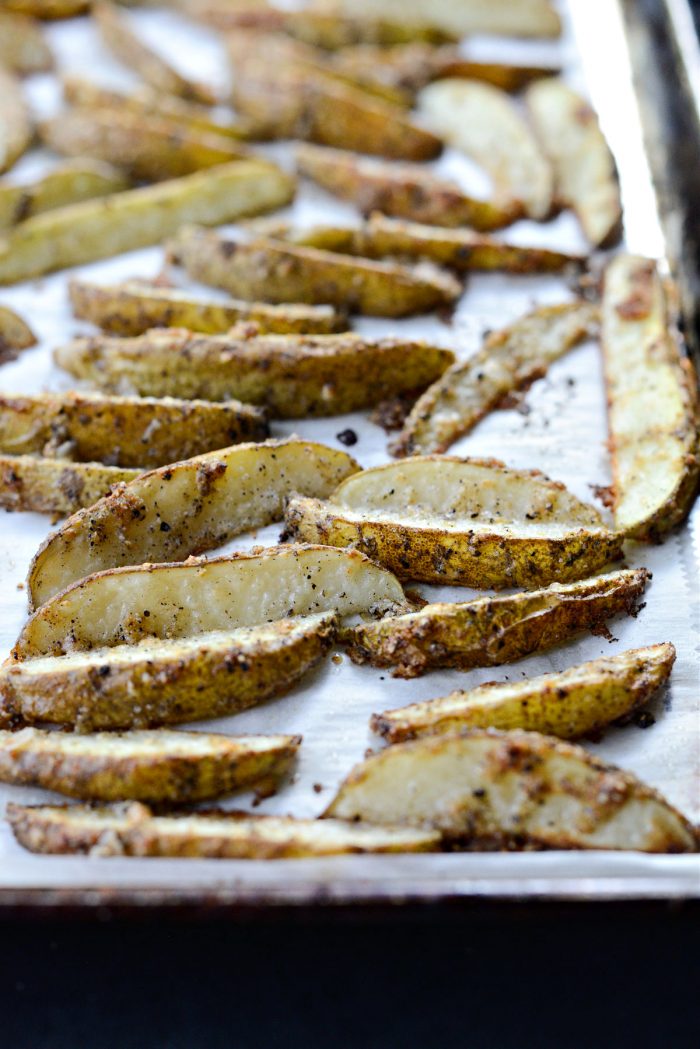 Bake for 20 minutes, rotating the pan half way through.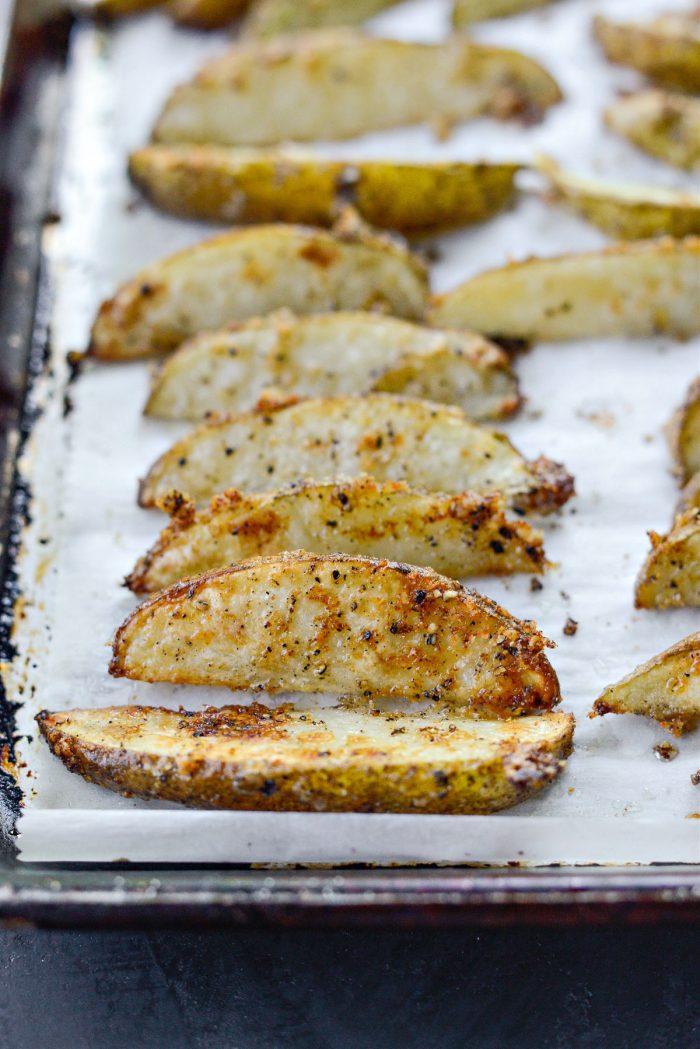 After 20, carefully flip the potatoes and finish baking 10 to 12 minutes.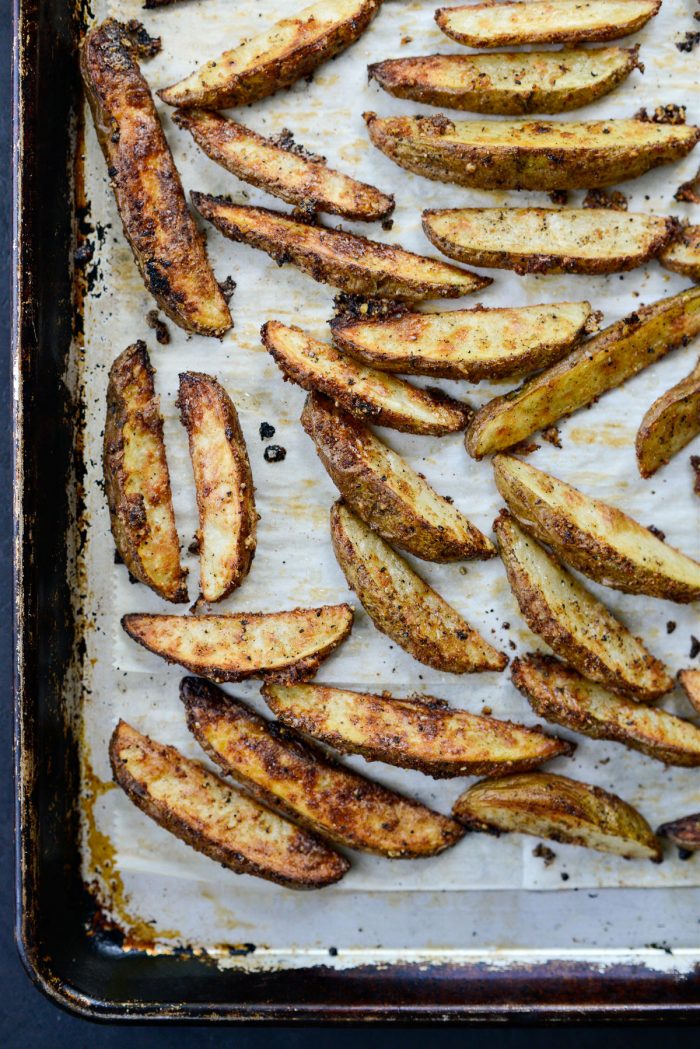 Or until cooked through and golden brown. yum.
I picked some fresh herbs from my garden to sprinkle overtop. Using fresh rosemary, basil, oregano and chives. However, use whatever you like! And you know I didn't measure any of this, go ahead and measure that with your heart.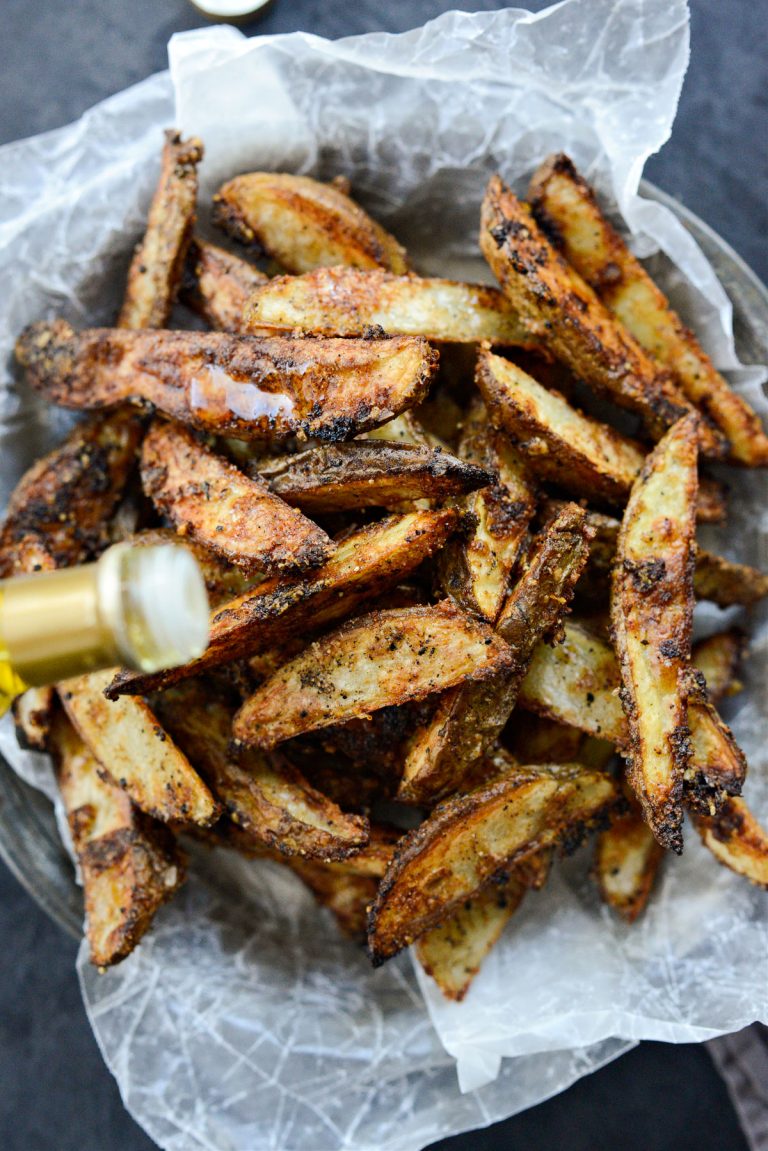 Transfer the crispy parmesan fries to a serving dish and drizzle with white truffle oil. I could literally drink this stuff.
Lastly, sprinkle with the minced fresh herbs.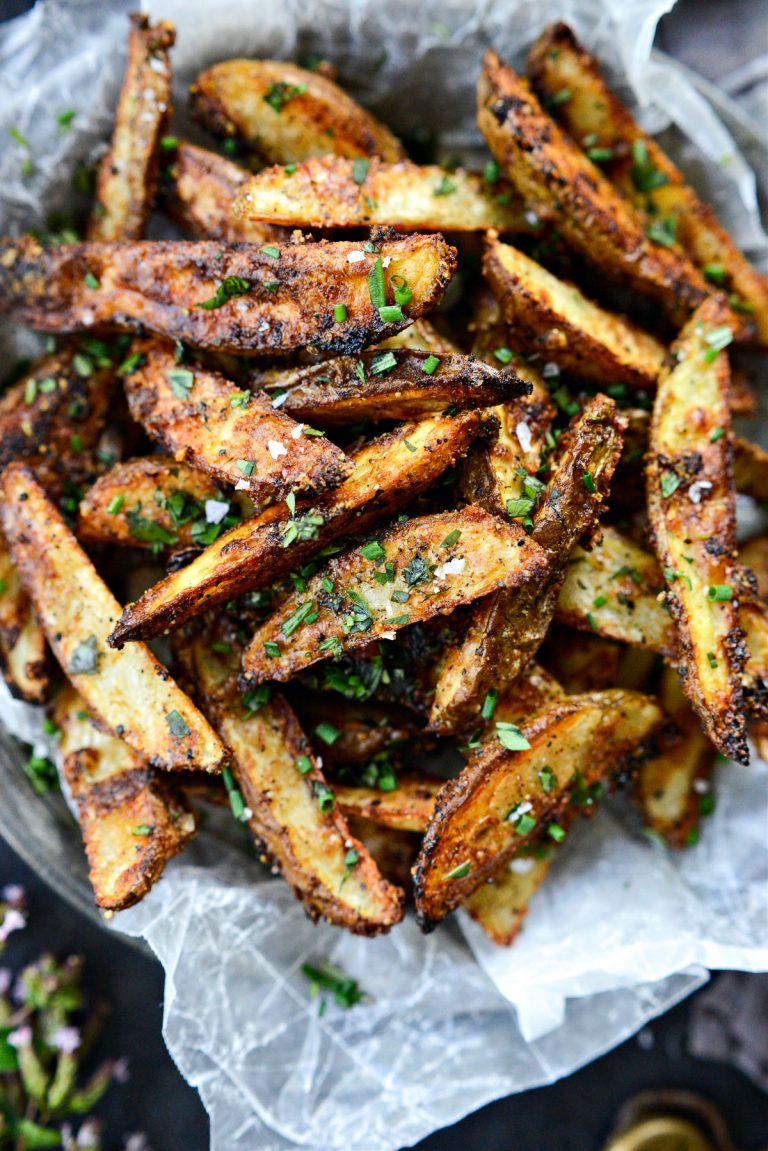 One word: phenomenal.
Enjoy! And if you give this Truffle Parmesan Fries recipe a try, let me know! Snap a photo and tag me on twitter or instagram!
This post may contain affiliate links.
Buy the Cookbook: Simply Scratch : 120 Wholesome Homemade Recipes Made Easy Now available on Amazon »
THANK YOU in advance for your support!