These deliciously addicting and toasty rosemary mixed nuts are the perfect snack for your holiday party. Salty, rosemary deliciousness!
Ummm how does one start a post about salty, rosemary and cayenne nuts, really?
It's harder than you might think.
How about with a warning? Okay… so FYI these nuts are only a little spicy and highly addicting. Be careful because once you start you'll find it very hard to stop. You might want to consider making a friend or spouse the cut off person otherwise you will find yourself licking the bowl once these are all gone.
It could get awkward.
So on the real, I love these mixed nuts. They are so simple and take all of 15 minutes to make. Simply toss, toast and serve warm or cold… really it doesn't matter. I could sit down and eat a bowl of these for dinner. And I did, sort of. I made the same recipe for my families Christmas gathering. Instead of another day of ham, my mom and sisters all contribute an app or two and these are just the thing to round out an appetizer table.
Start by measuring and adding 3/4 tablespoon of dried rosemary, 1-1/2 teaspoon of Kosher Salt and a heaping 1/4 teaspoon of cayenne pepper into a large bowl and give it a quick stir.
Measure and add in 2-1/2 tablespoons of extra light olive oil…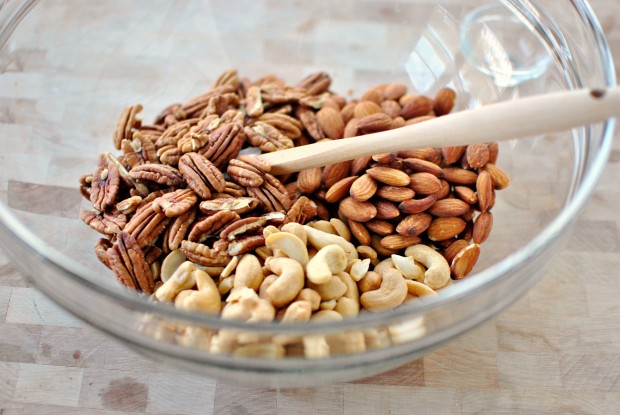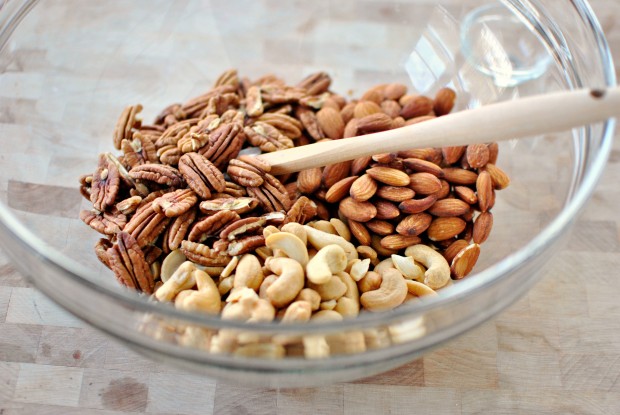 And add in 1-1/2 cups of unsalted cashews, 1-1/4 cup of unsalted almonds and a cup of pecan halves.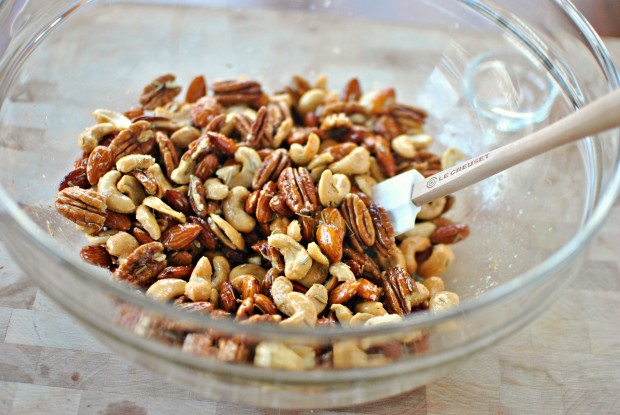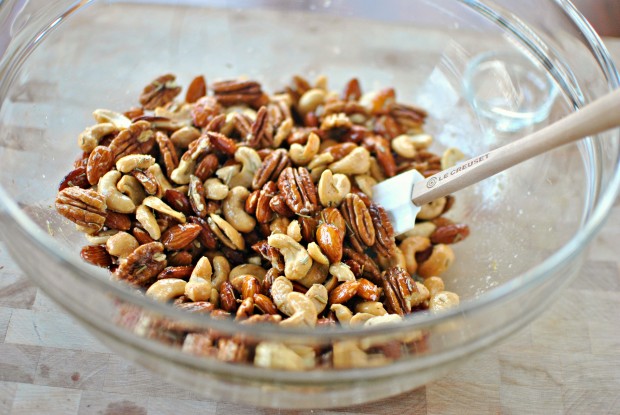 Toss the nuts into the olive oil and spices.
Dump the mixed nuts onto an un-greased, rimmed sheet pan.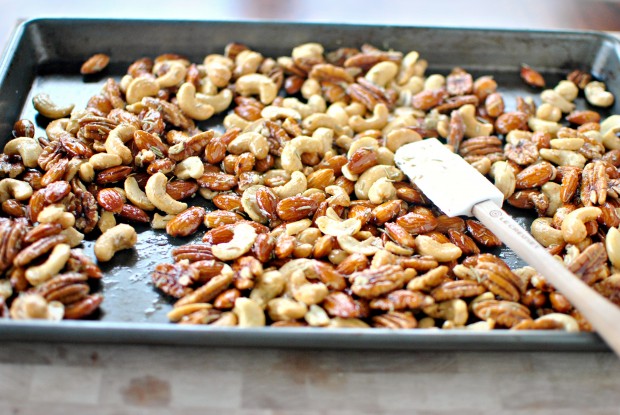 Spread it around evenly and bake for 10 minutes.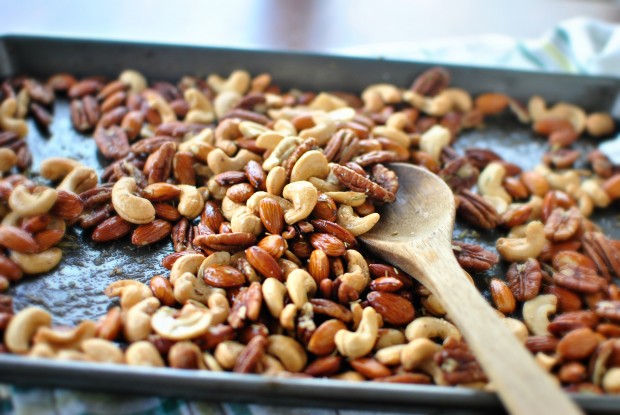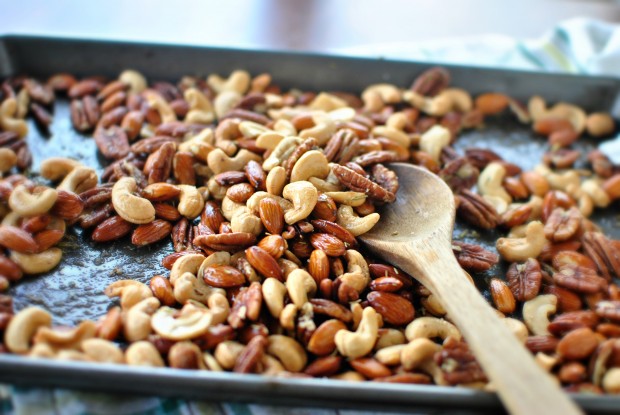 I give the nuts a toss every couple of minutes.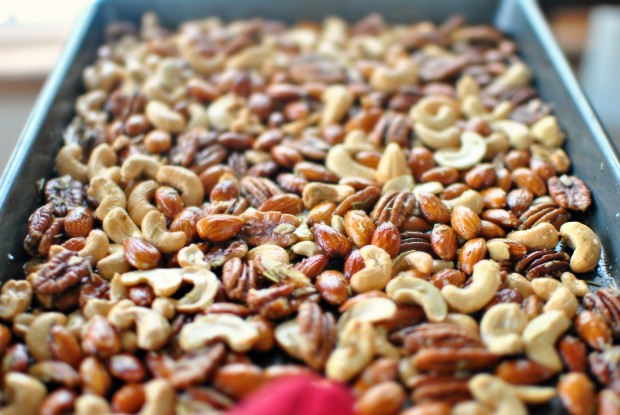 You guys these smell HEAVENLY!
Let these rosemary mixed nuts cool slightly before serving. Or once cool, store in an airtight container for a week or longer!
Enjoy! And if you give this Rosemary mixed nuts recipe a try, let me know! Snap a photo and tag me on twitter or instagram!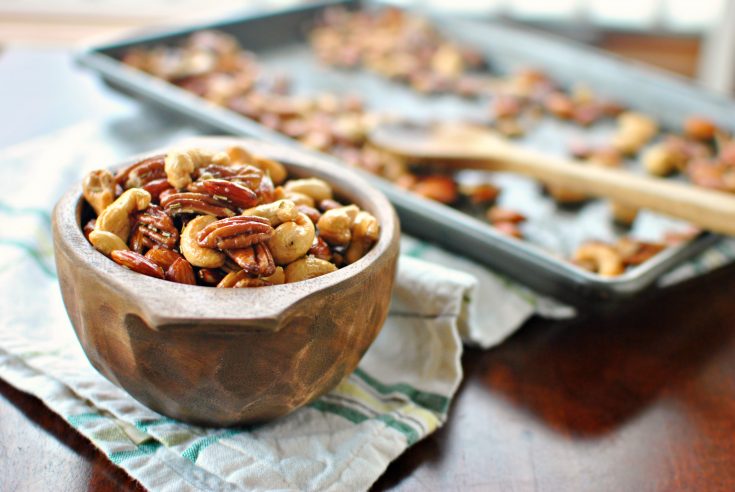 Yield: 16 servings
Rosemary Mixed Nuts
These deliciously addicting and toasty rosemary mixed nuts are the perfect snack for your holiday party. Salty, rosemary deliciousness! Yields about 4 cups or 16 (2 ounce) servings.
Ingredients
2½ tablespoons extra light olive oil, or grapeseed or coconut oil
3/4 tablespoon dried rosemary, crumbled a bit in your palm
1½ teaspoon kosher salt
1/4 cayenne pepper
1½ cups roasted unsalted cashews
1¼ cup roasted unsalted almonds
1 cup pecan halves
Instructions
Preheat your oven to 350°.

In a large bowl; combine the oil, rosemary, salt and cayenne pepper.

Measure the nuts and add them into the bowl and toss to coat.

Pour the nuts onto a rimmed sheet pan, spread them out evenly and bake for 10 minutes, tossing them every two minutes.

Let the nuts cool for a few minutes before transferring them to a bowl and serving.
Notes
If you can't find unsalted nuts, simply decrease the salt in the recipe a tad.
Serving: 2ounces, Calories: 200kcal, Carbohydrates: 8g, Protein: 5g, Fat: 18g, Saturated Fat: 2g, Polyunsaturated Fat: 4g, Monounsaturated Fat: 11g, Trans Fat: 1g, Sodium: 220mg, Potassium: 178mg, Fiber: 2g, Sugar: 1g, Vitamin A: 13IU, Vitamin C: 1mg, Calcium: 41mg, Iron: 1mg
[this post contains affiliate links.]
This post may contain affiliate links.
Buy the Cookbook: Simply Scratch : 120 Wholesome Homemade Recipes Made Easy Now available on Amazon »
THANK YOU in advance for your support!