Sweet and sour chicken is one of my all-time favorite Chinese dishes. The perfect balance of sweet and sour and loaded with veggies! In this recipe, I cut out a lot of sugar from my original recipe without sacrificing flavor. Better than takeout and definitely better for you!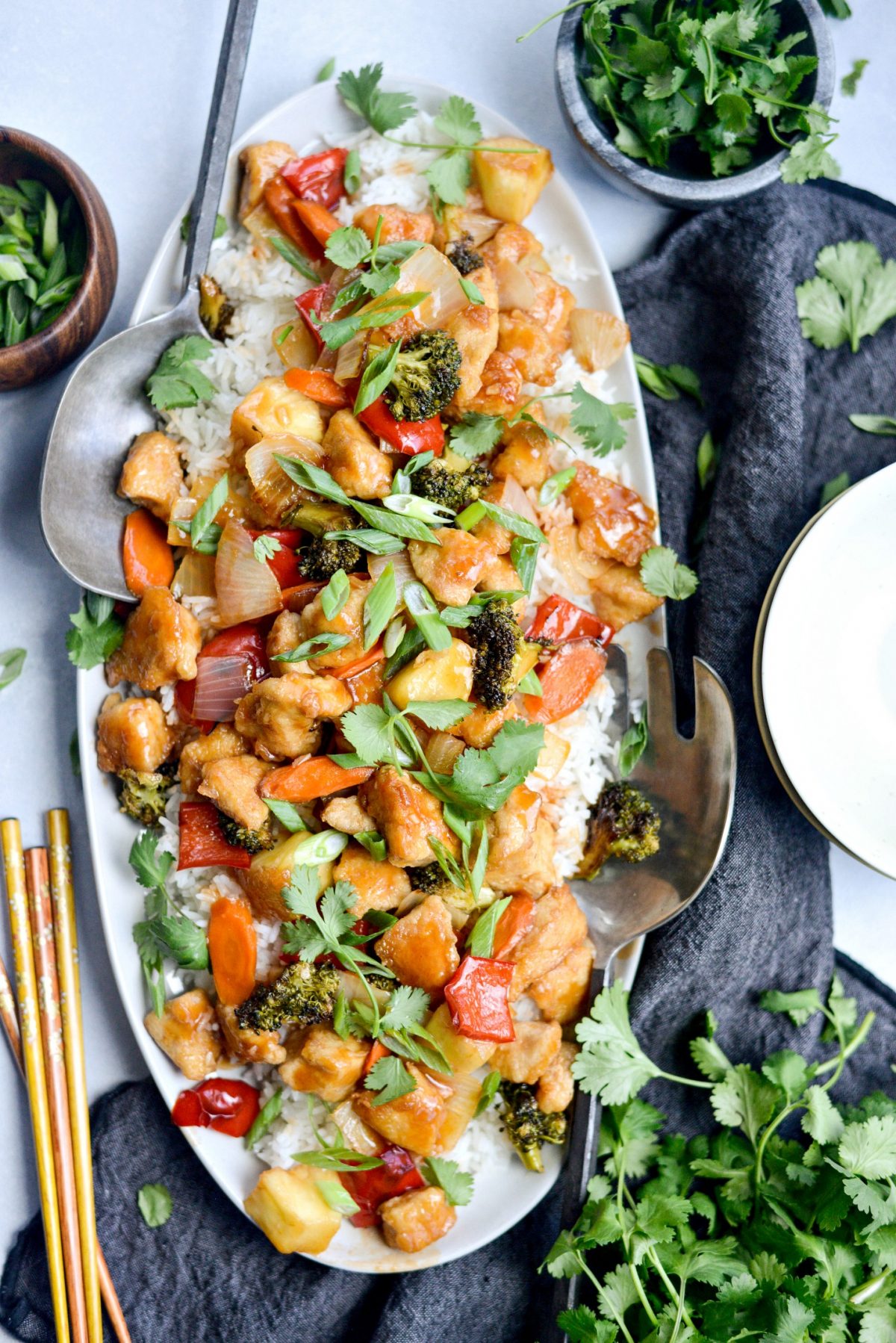 I love Chinese food.
And I may be a little obsessed with making my favorite Chinese dishes at home. Since we moved out here, we have yet to find a quality Chinese restaurant. We've tried a few different places, but neither compare to the restaurant that was around the corner from where we used to live. Which means I now have to make my favorite dishes at home. It all started with this healthy sesame chicken recipe which manifested into many, many more recipes over the years.
I first shared my recipe for homemade sweet and sour chicken back in 2013. Since then, I've made quite a few changes, one being that I cut back on a lot of the sugar in my original recipe and even replaced some of it with fresh pineapple juice. This new and improved [and healthier!!] sweet and sour chicken recipe is easy and a million times better than take out.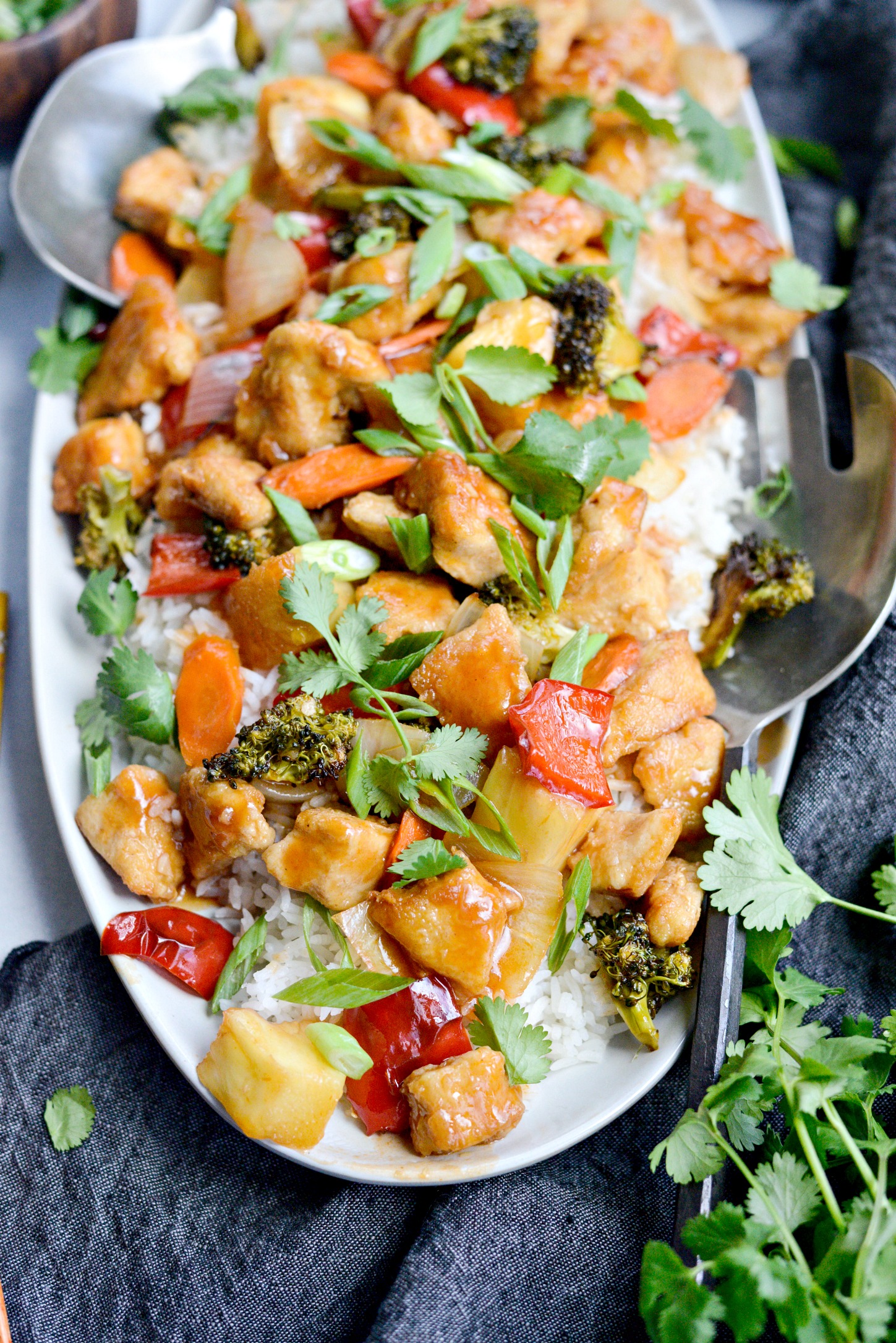 Since I can remember sweet and sour chicken has been my favorite thing to order.
I would pick around the stray veggies and only eat the saucy chicken and rice. However now that I'm adult, I like lots of veggies in mine (I bet my mom never saw this coming) like carrots, bell pepper, onions, broccoli and if I was making this for myself I would've added mushrooms and maybe water chestnuts or bamboo shoots. Pretty much anything else I can get my mitts on because I obviously like a lot of color in my stir-fry.
This homemade sweet and sour chicken is always a hit at our house and I hope it is loved just as much in your home.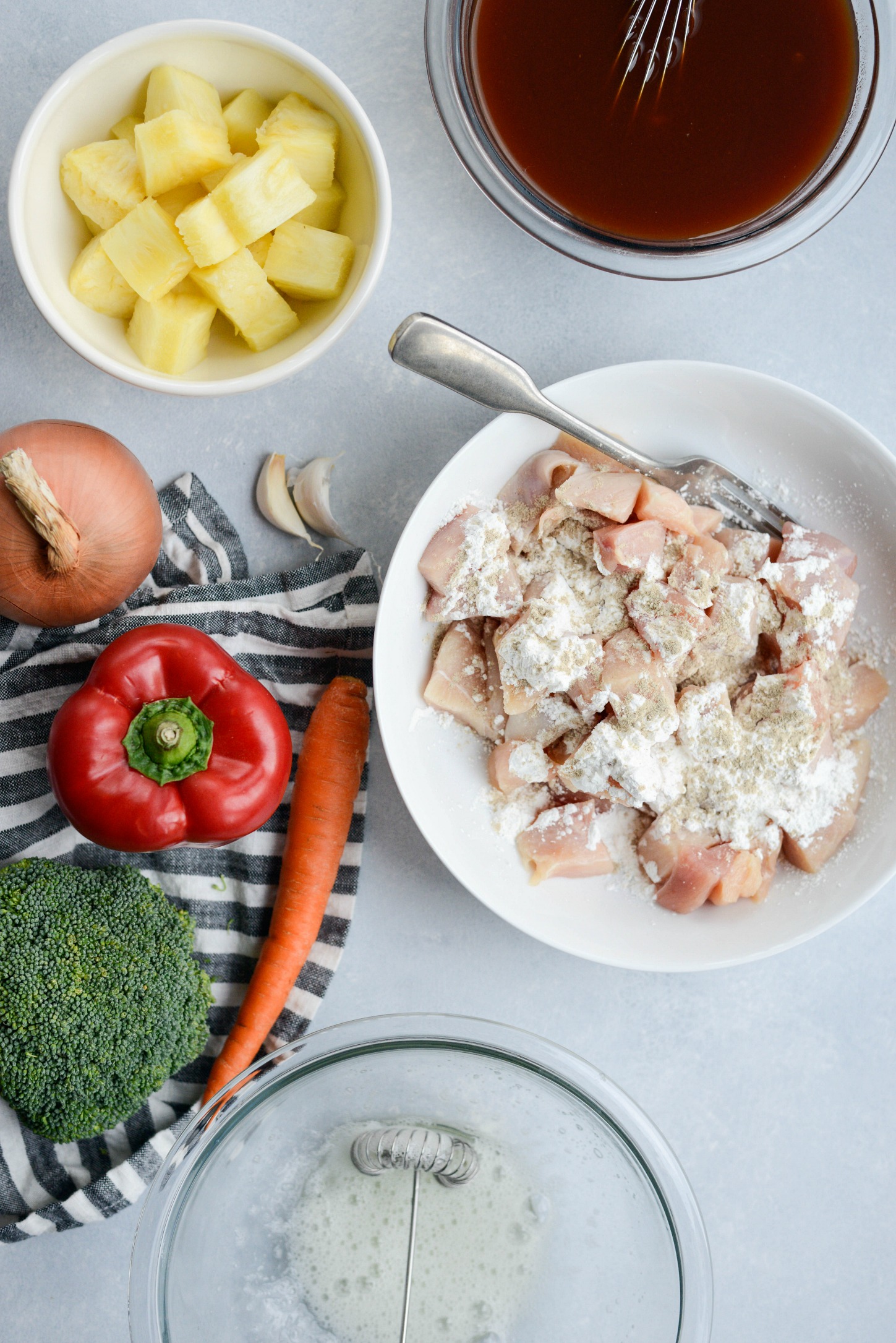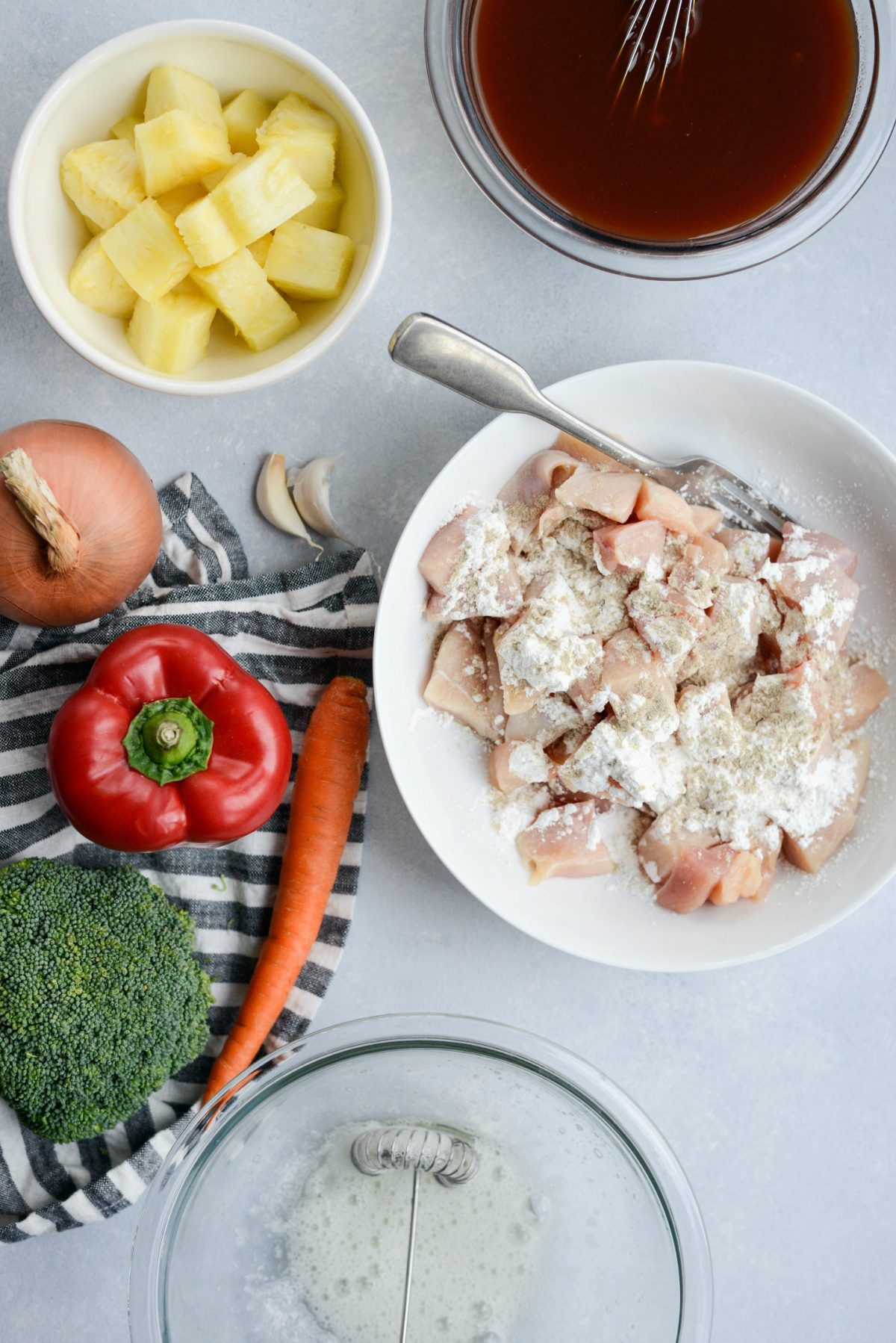 To make this sweet and sour chicken recipe you will need:
thin-cut chicken breast halves [cut into bite-size pieces]
cornstarch
white pepper
an egg white
carrots
broccoli
red bell pepper
fresh pineapple
sweet and sour sauce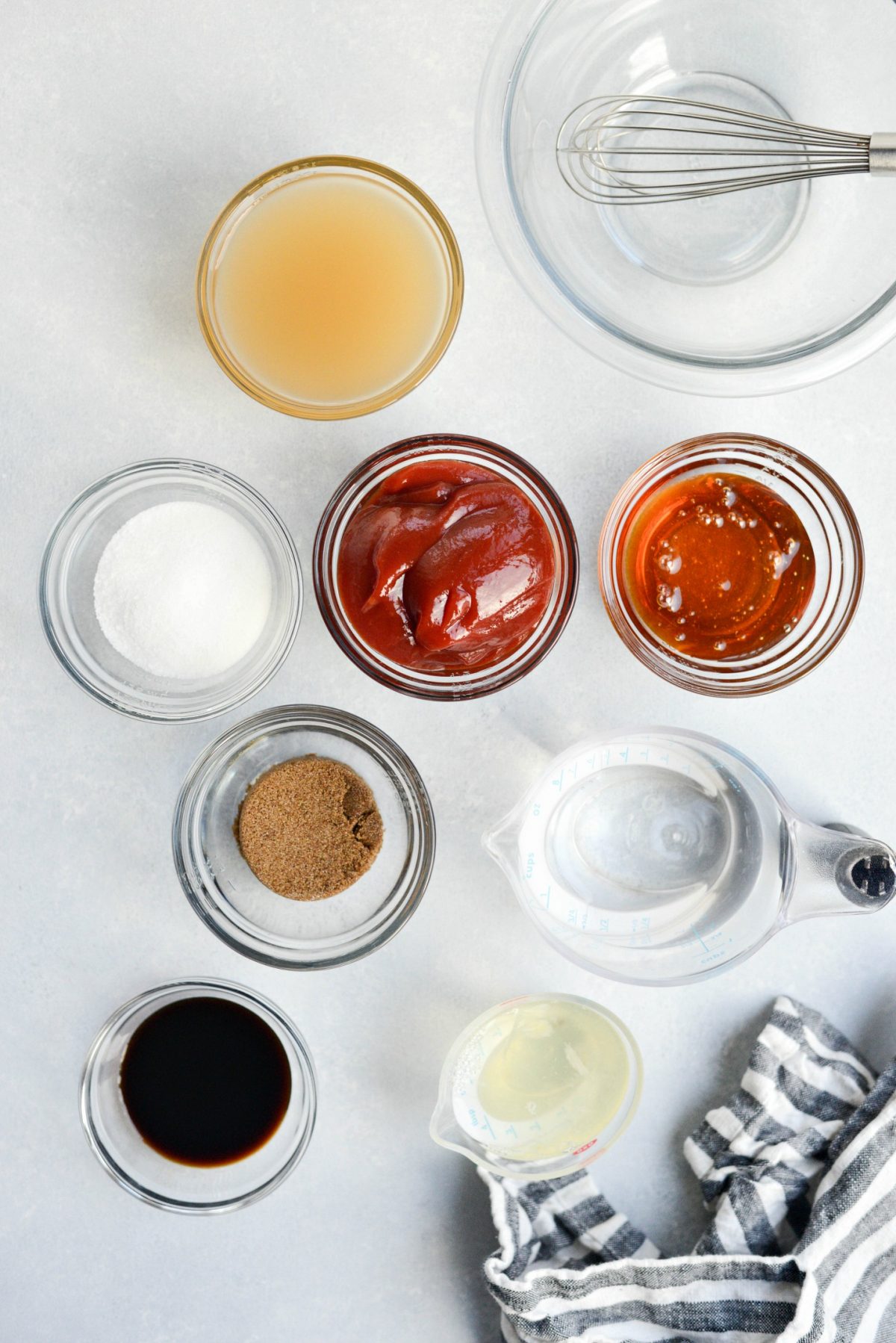 For making the Sweet and Sour Sauce You Will Need:
dark brown sugar
granulated sugar
honey
reserved fresh pineapple juice
ketchup
tamari (or soy sauce)
white vinegar
low-sodium chicken broth
Really try to find fresh pineapple [usually in the refrigerated produce section at most grocery stores] that has at least 1/4 cup or so in the bottom. Fresh is best, but canned pineapple can be used in a pinch. Just be sure to get the one packed in its own natural juices.
In a medium bowl, measure and add 1/4 cup of each dark brown sugar, granulated sugar and honey.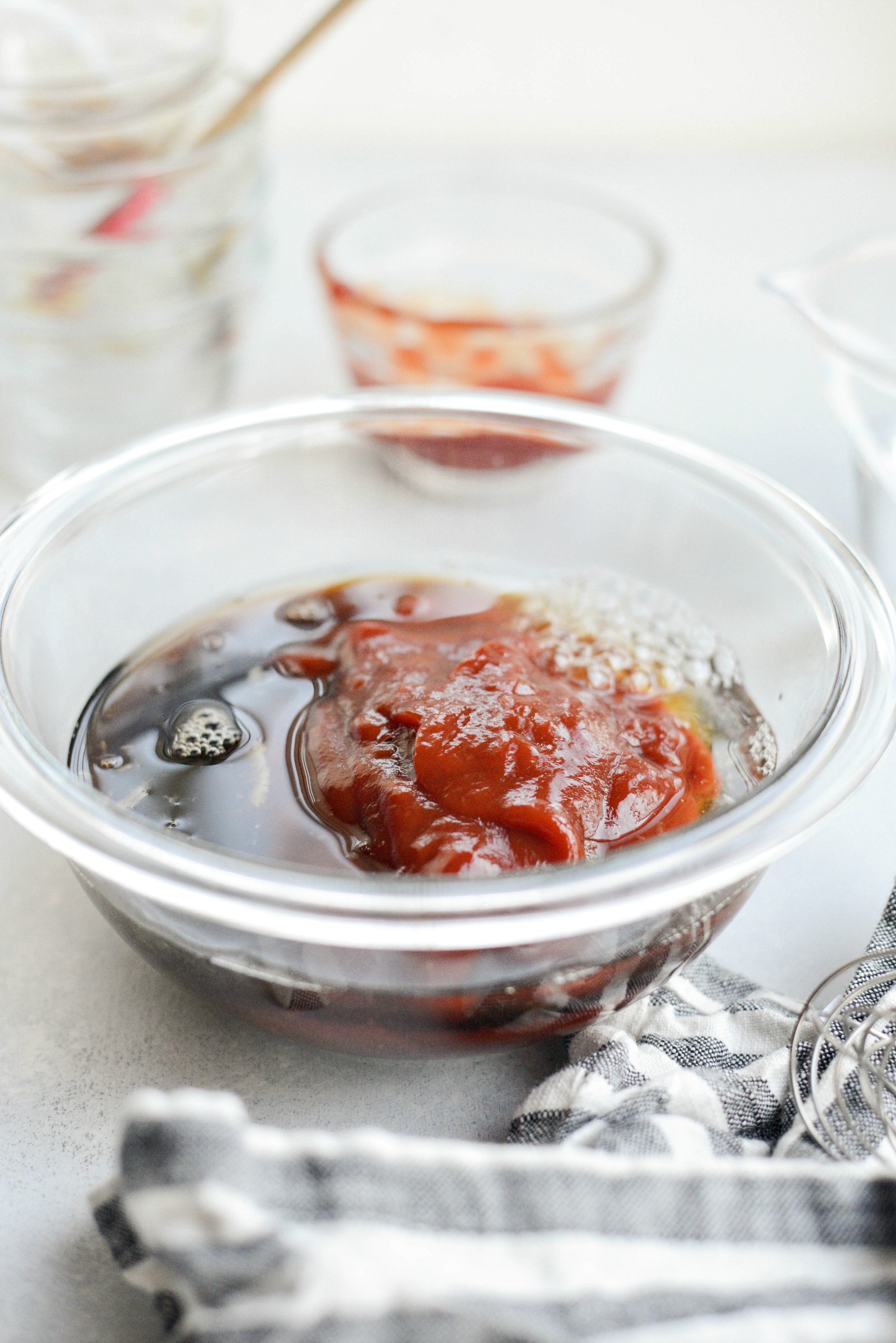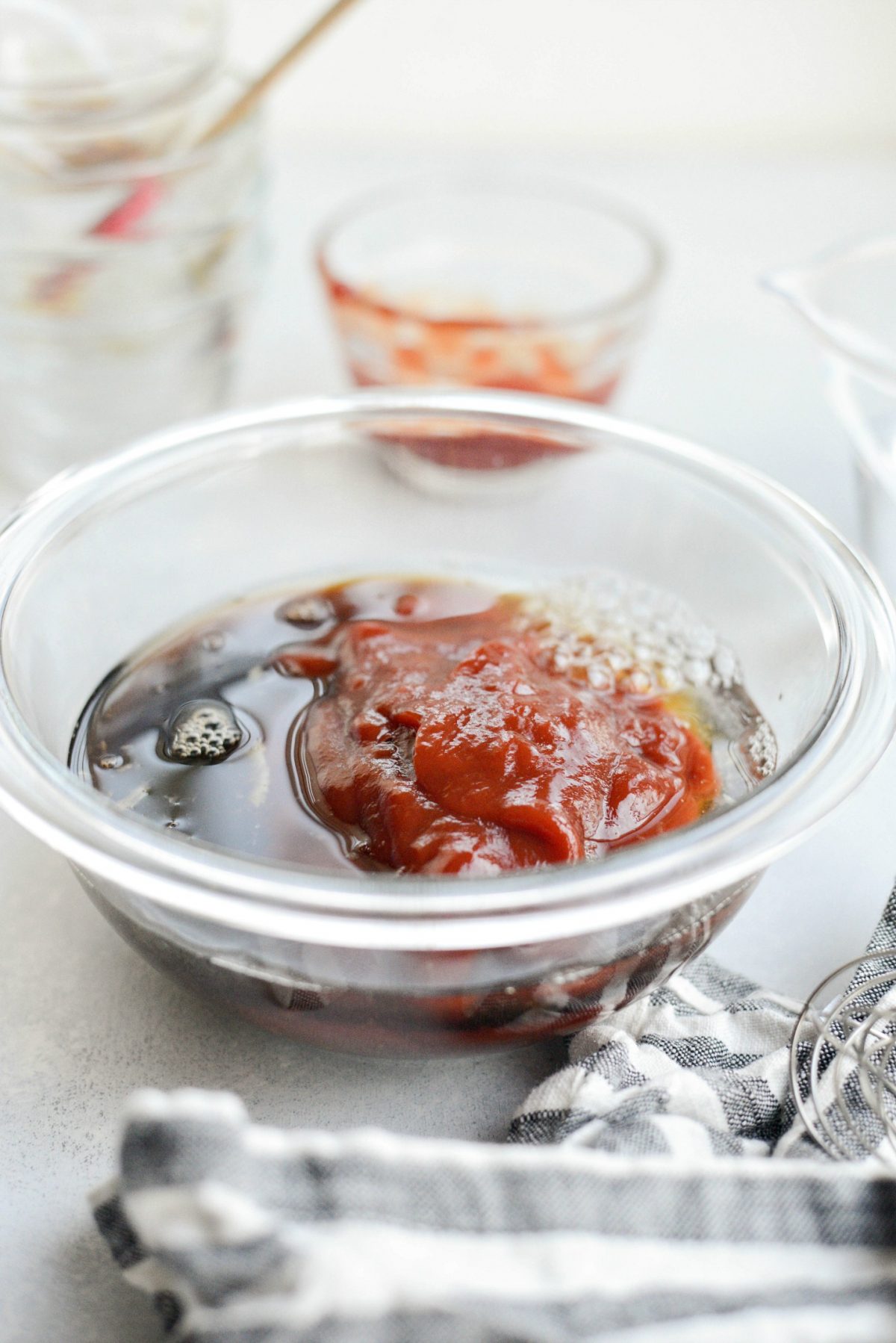 Then pour in the 1/2 cup of ketchup, 1/4 cup of pineapple juice and 2 tablespoons low-sodium tamari (or lo-so soy sauce). In my last recipe, it was a 1/2 cup of each of these sugars! So we are literally cutting the sugar in this recipe in half.
Lastly, pour in 2/3 cup of white vinegar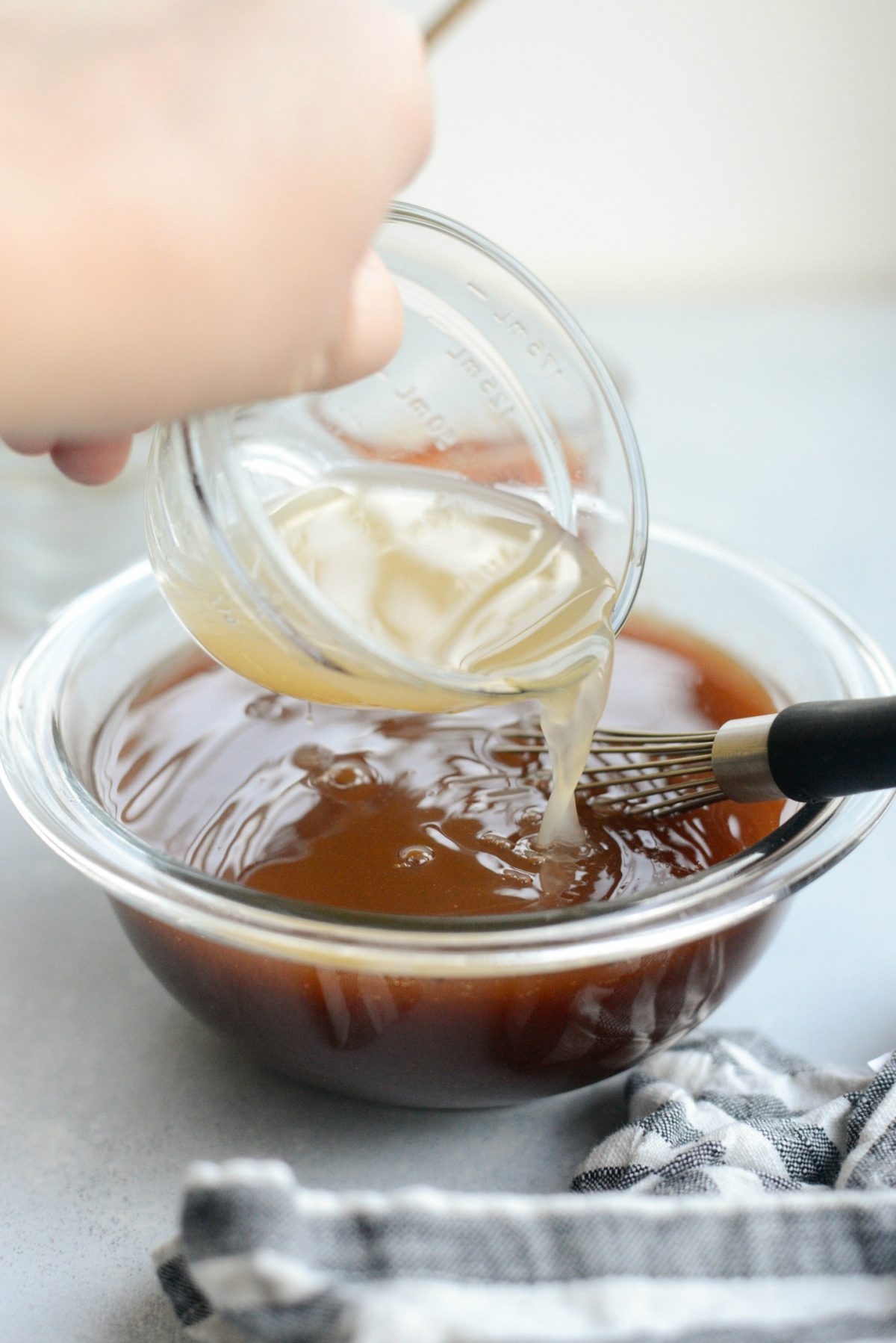 And 3/4 cup low-sodium chicken broth.
Whisk until combined and the sugars have dissolved.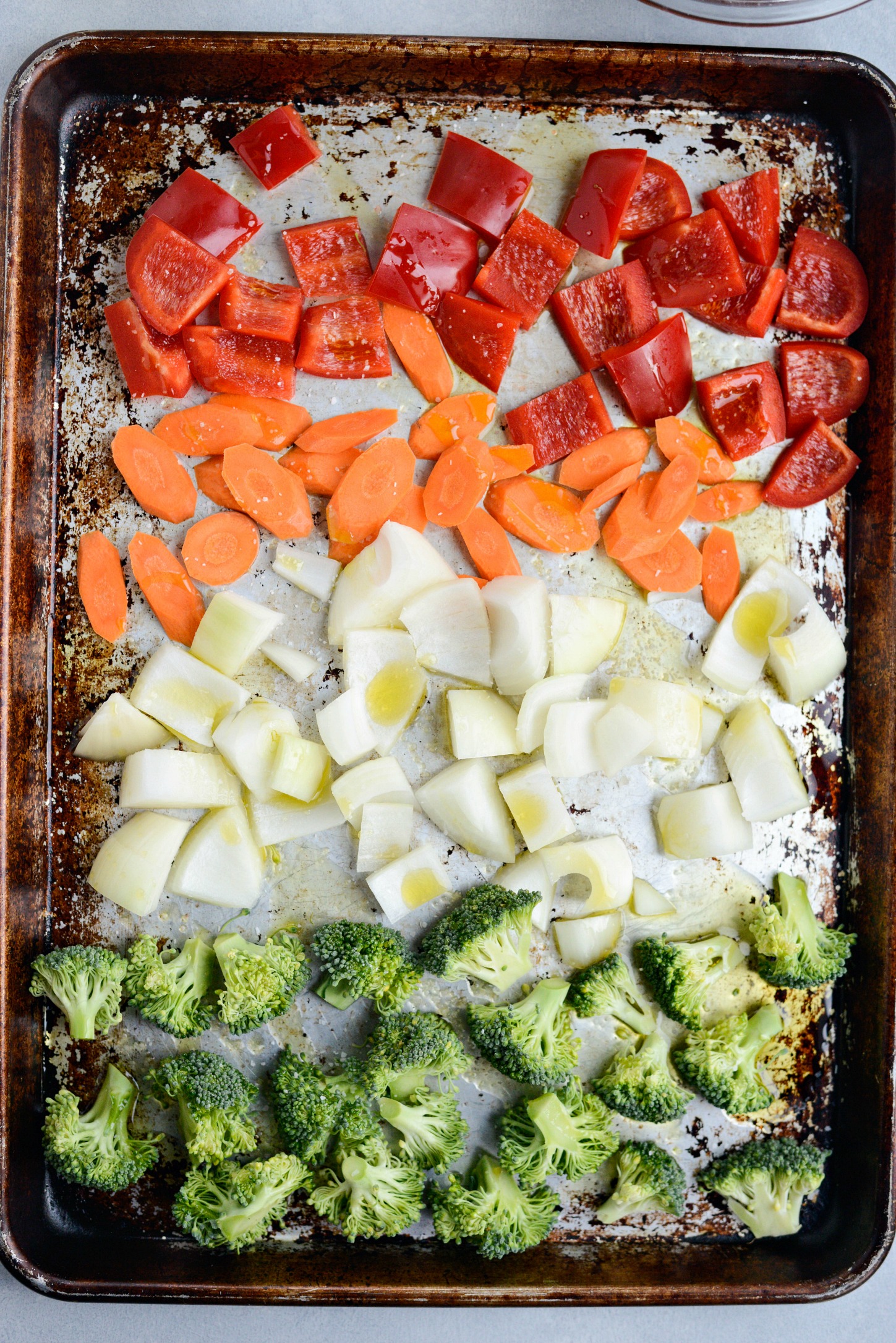 In my original recipe, I stir-fry the veggies, which is totally fine if you want to go that route. Nowadays I'm all about roasting them separately from the chicken. To me it seems easier and the caramelized edges add a whole new level of flavor.
To do this, preheat your oven to 500°.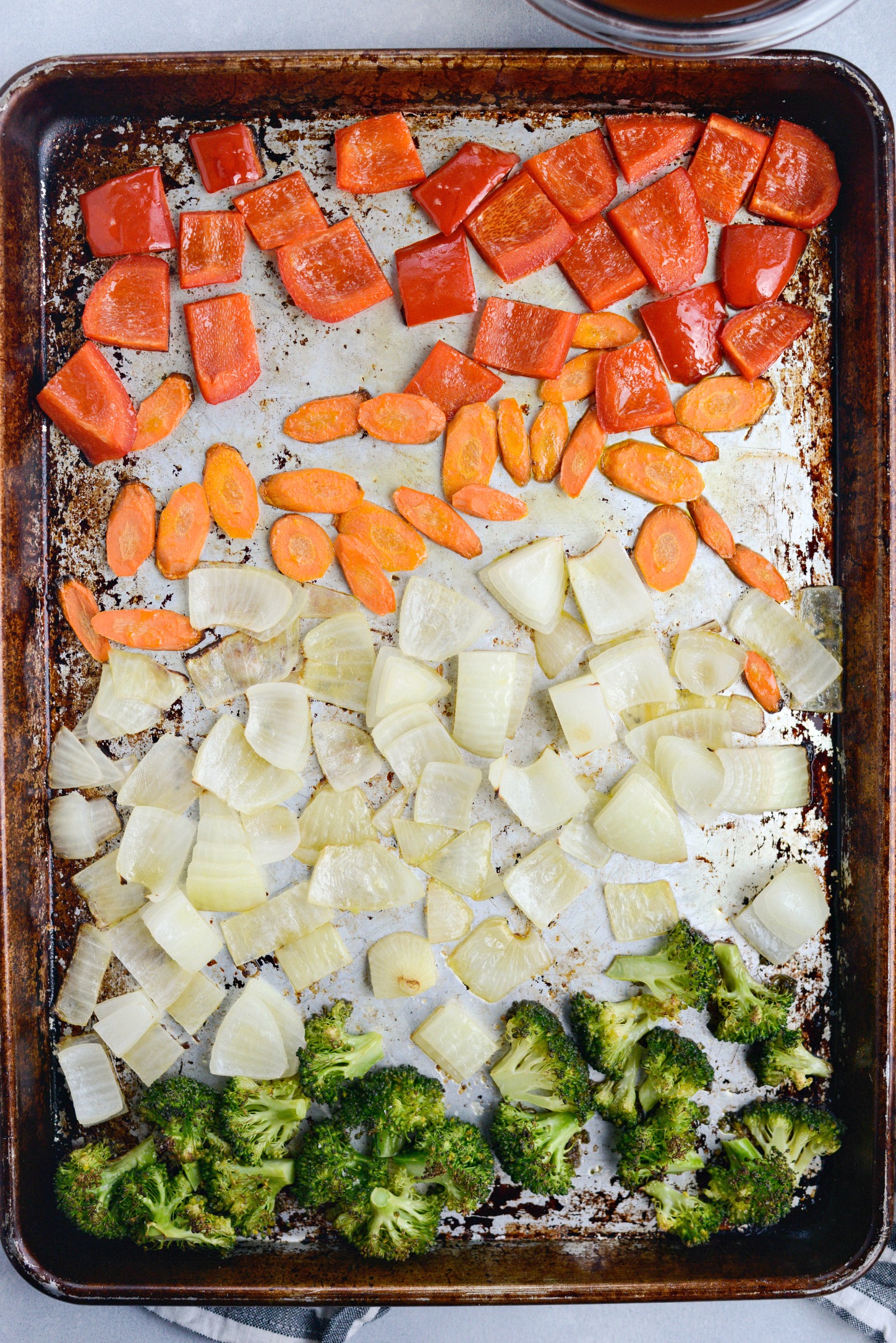 Dice the red bell pepper into large bite-sized chunks, peel and slice 1 to 2 carrots on a diagonal, chop a medium onion and cut 1 broccoli crown into florets. Place the veggies on to a rimmed metal baking sheet, drizzle with olive oil and sprinkle with a few pinches of kosher salt. Roast for 8 to 10 minutes or until the veggies are tender, yet firm with caramelized edges.
Rotate the pan halfway through.
In a medium bowl, whisk 1 egg white until frothy.
Toss the cut chicken breasts with 2 tablespoons cornstarch and 1/2 teaspoon white pepper.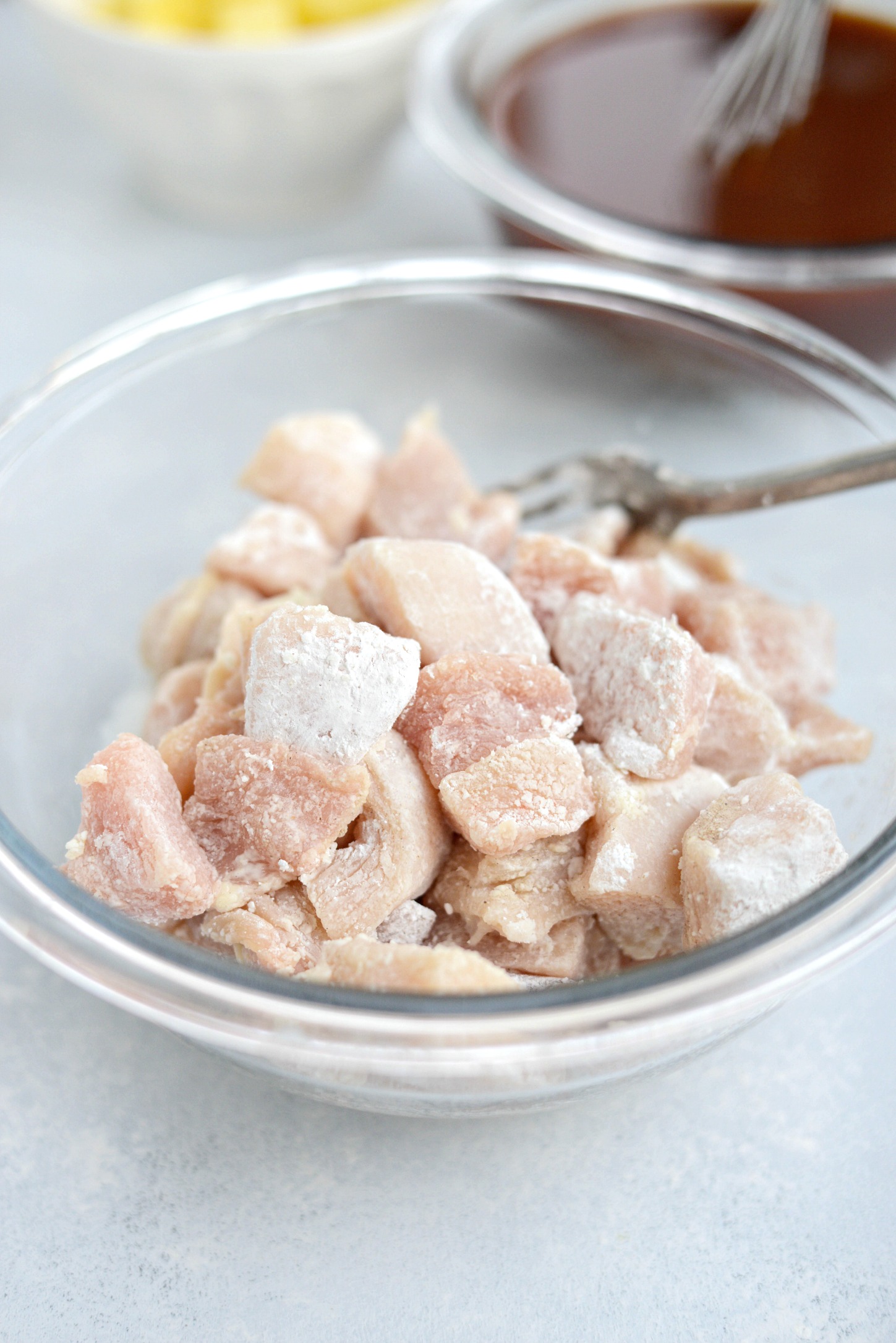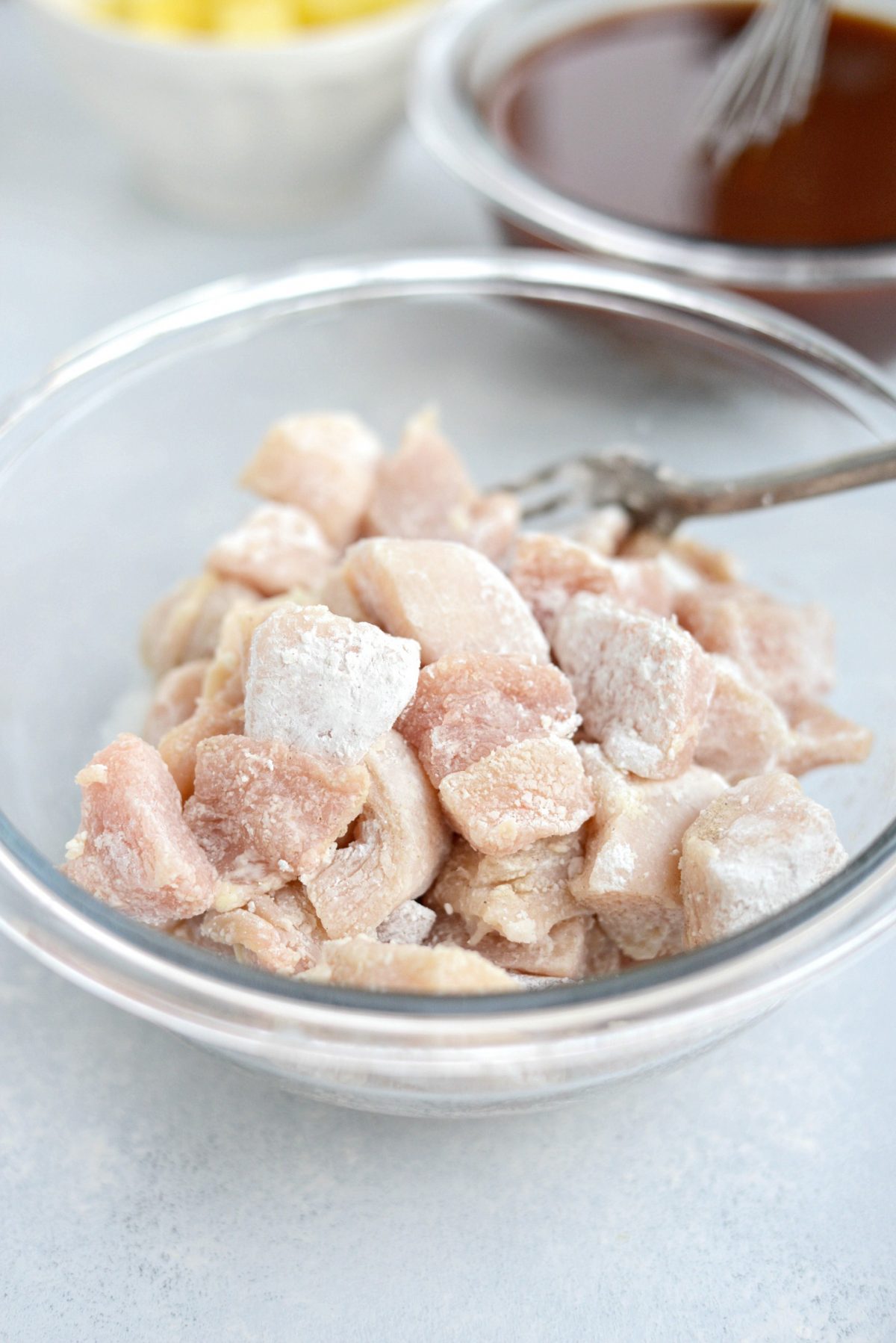 Transfer the coated chicken pieces into the egg whites and toss to coat.
Heat 2 tablespoons of coconut or olive oil on medium-high in a large wok or 12-inch chefs pan. Working in batches, cook the chicken for 4 to 5 minutes (or until deeply golden brown) before using tongs to turn the chicken and continue cooking.
Transfer the golden nuggets to a plate and repeat with the remaining chicken.
Once the chicken is fully cooked, reduce the heat to medium and add it all back to the pan along with 2 cloves of minced fresh garlic. Toss and cook for 1 to 2 minutes.
Next add in the vegetables and pineapple into the pan.
And pour in the sweet and sour sauce.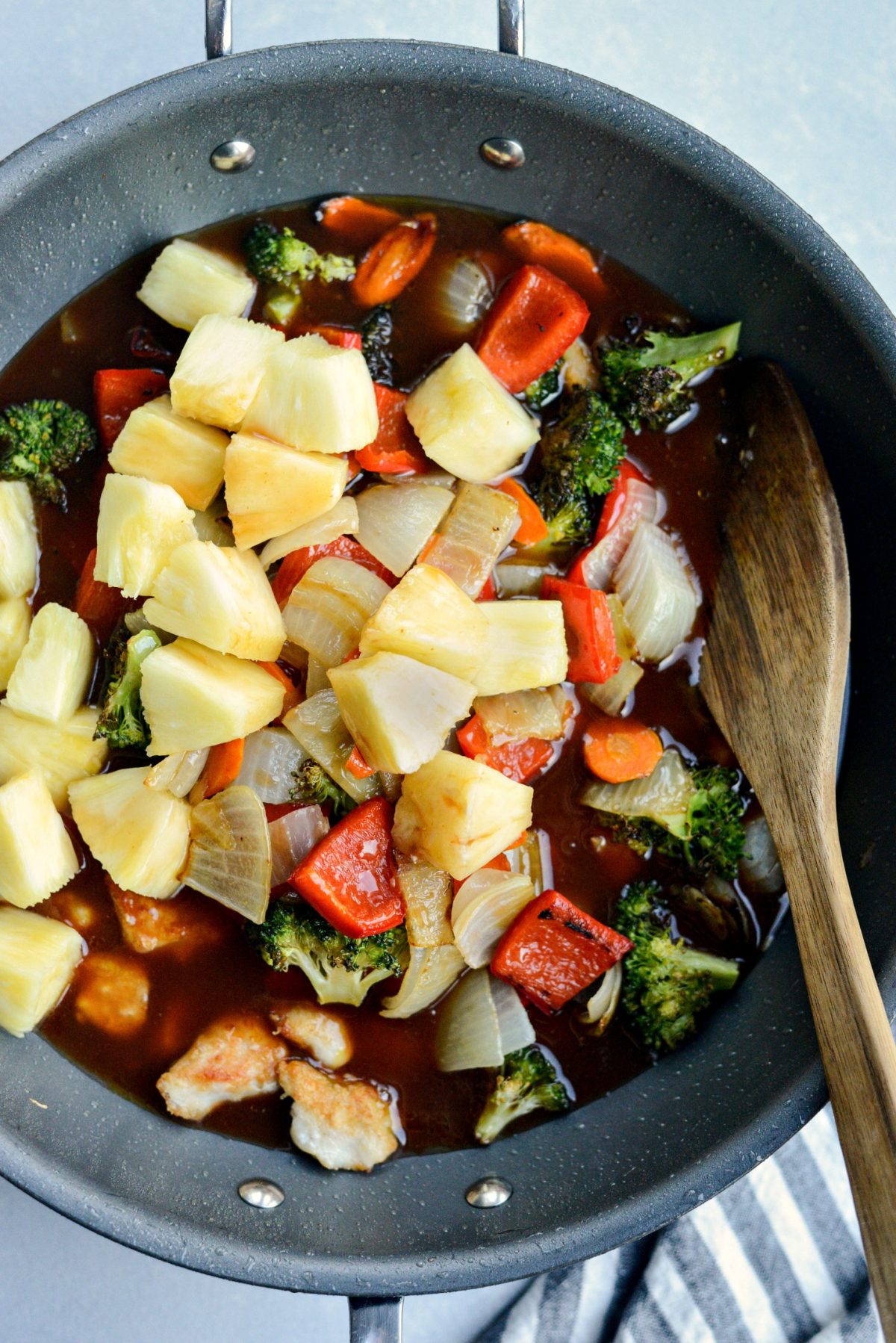 Increase the heat to high, bring to a boil before pouring in the cornstarch slurry [1 tablespoon cornstarch + 1 tablespoon cold water]. Simmer until the sauce thickens. Taste and season with kosher salt to your personal taste and if you want some heat, add in a teaspoon of chili garlic paste (samba oelek) or sriracha.
Smells heavenly!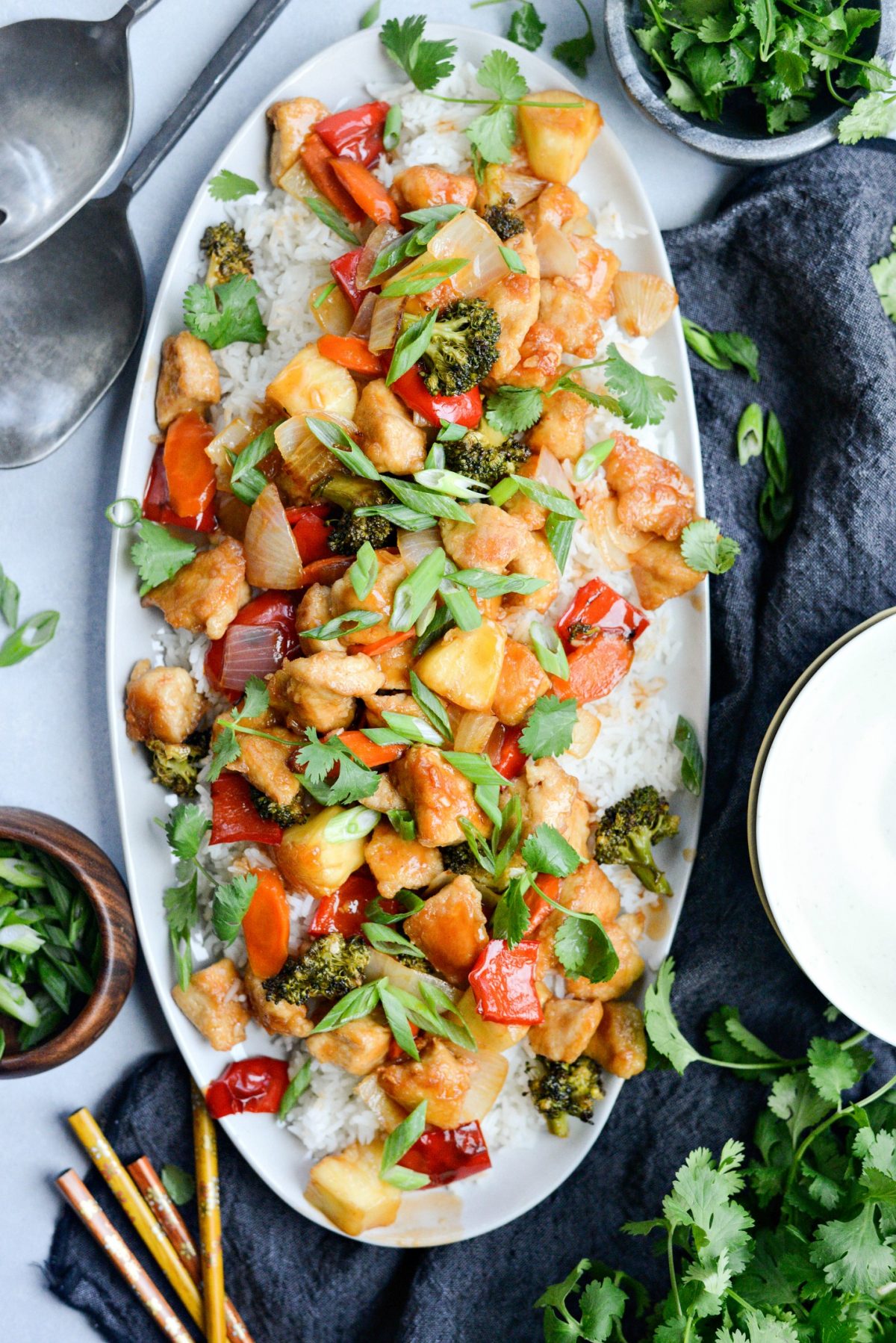 Serve in bowls or family style, with jasmine rice, sliced green onions and cilantro leaves if that's your jam.
The perfect balance of sweet and sour and crisp and tender.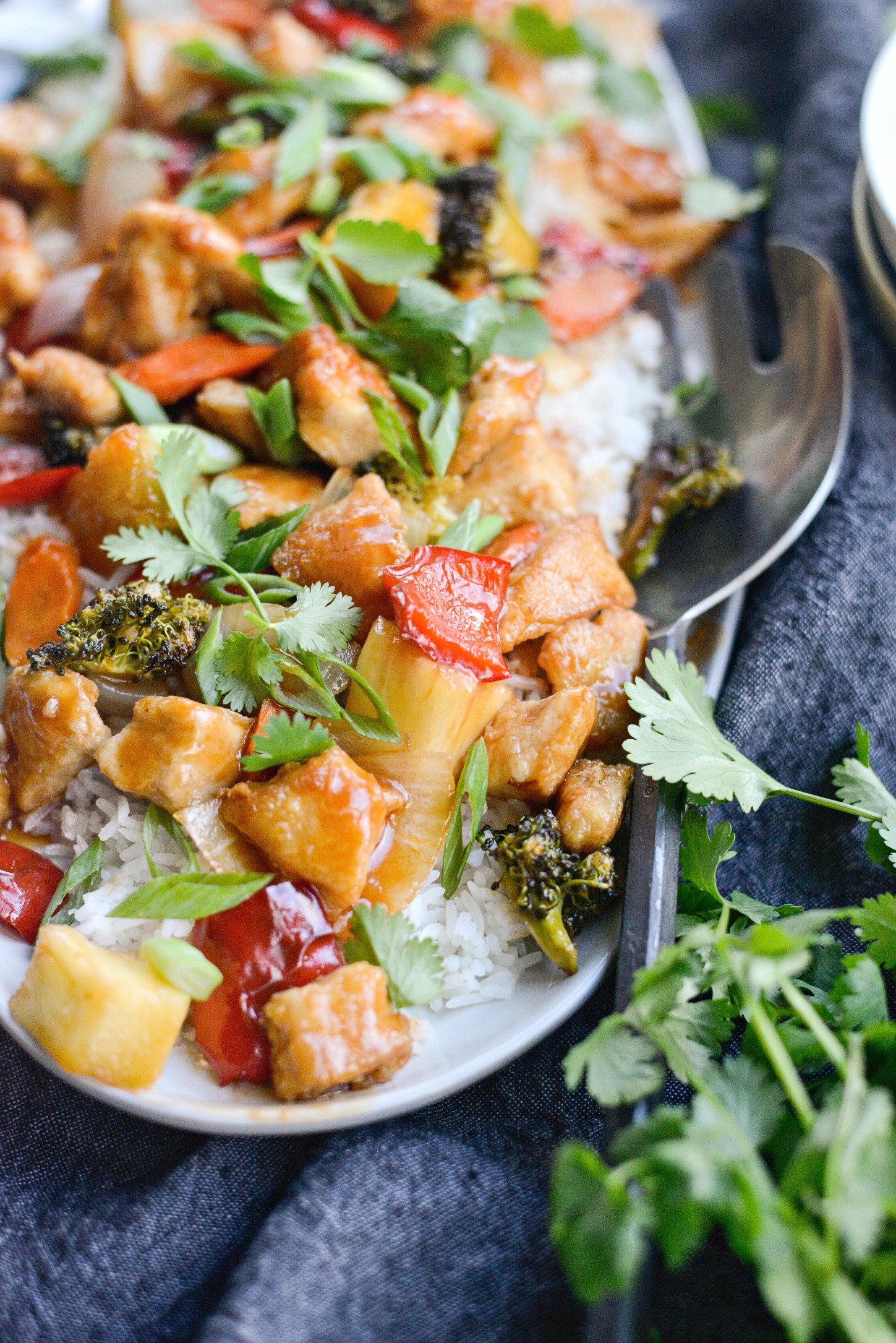 Because really who needs take out and all that sodium and MSG when you can make sweet and sour chicken that rivals any restaurant?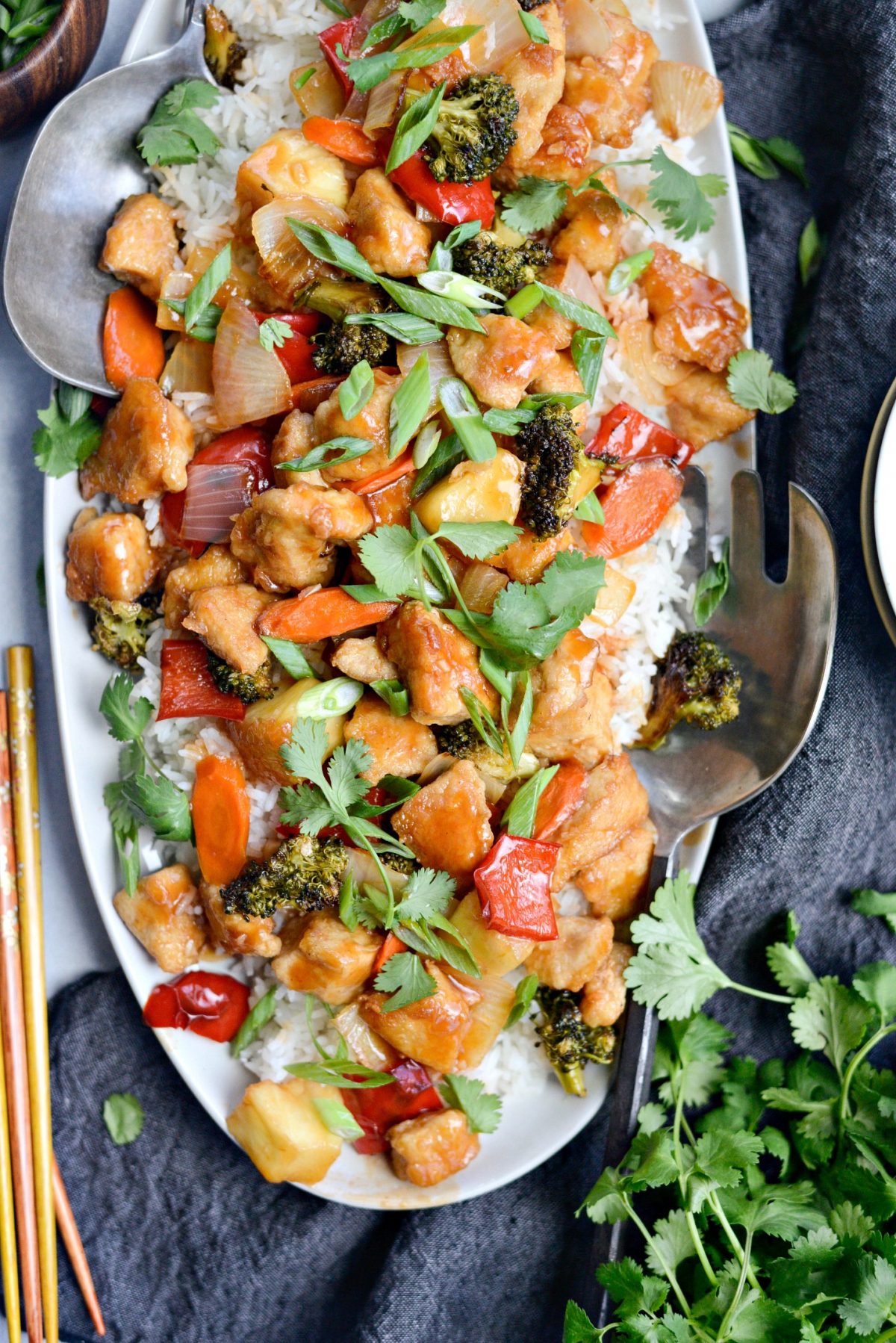 Enjoy! And if you give this Sweet and Sour Chicken recipe a try, let me know! Snap a photo and tag me on twitter or instagram!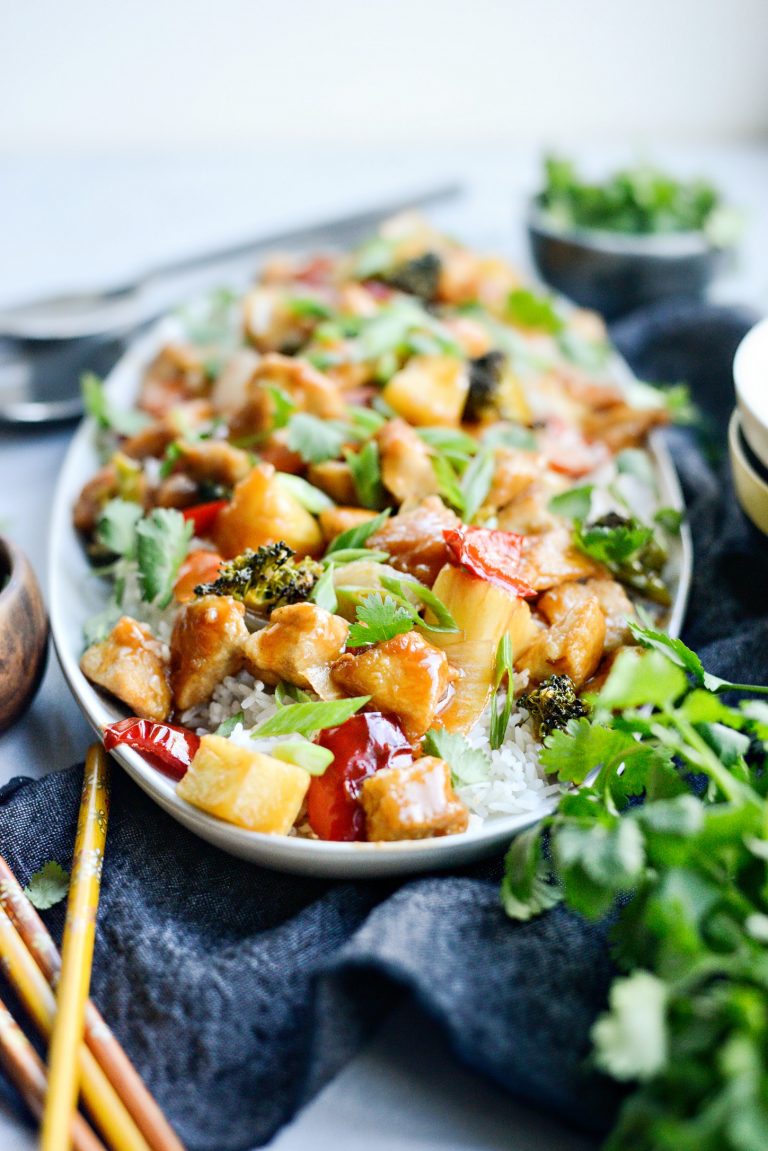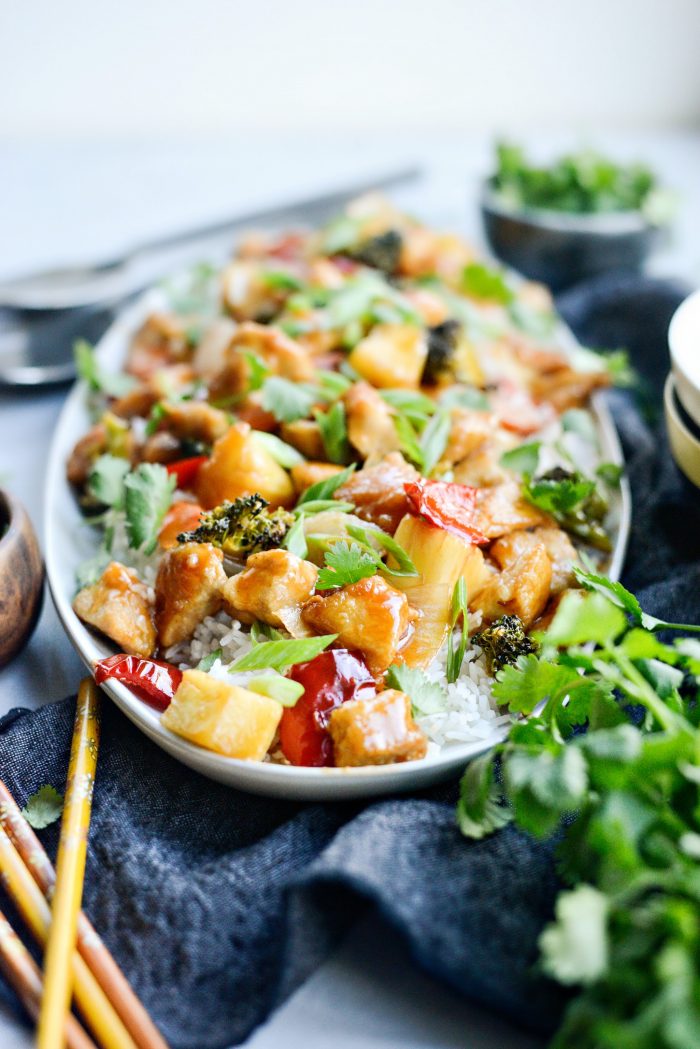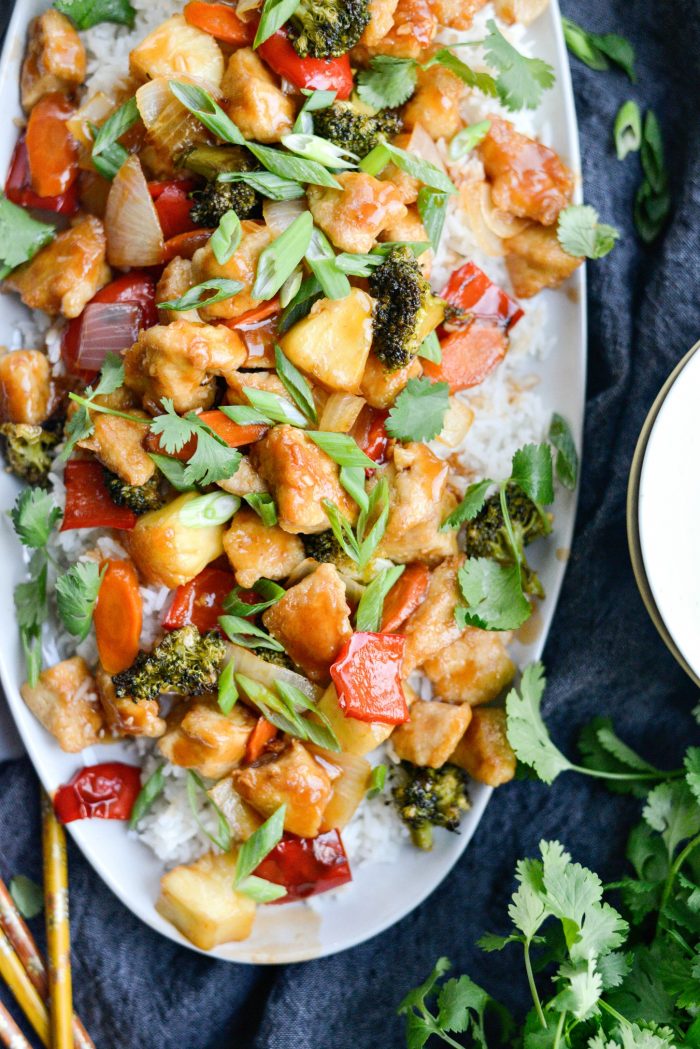 This post may contain affiliate links.
Buy the Cookbook: Simply Scratch : 120 Wholesome Homemade Recipes Made Easy Now available on Amazon »
THANK YOU in advance for your support!