This hearty Chicken Sausage White Bean Stew is a one pot stew that's so quick and easy. Sun-dried tomato chicken sausages, cannellini beans and spinach in a flavorful garlic and wine broth. Serve 6 in about 45 minutes.
It's Valentines Day Eve. Wait, do people even call it that? In our house Valentine's Day is all about getting out the class list and attaching suckers to selectively chosen cards for each boy and girl, shoe boxes are being converted into Valentine "mailboxes" and outfits are being set out in shades of red, pink and white.
Now Valentine's Day for you should be all about this white bean stew. I mean doesn't it scream romance?
Okay so maybe not, but this soul warming sausage and bean stew tastes absolutely delicious (is it me or do I say that a lot on here?). Anyhoo, this sausage stew is hearty, healthy and all of it is whipped up one pan and you know how that makes me feel. I loved this stew SO much that I'm already planning a night next week to make it again, but this time I may double it so there's leftovers.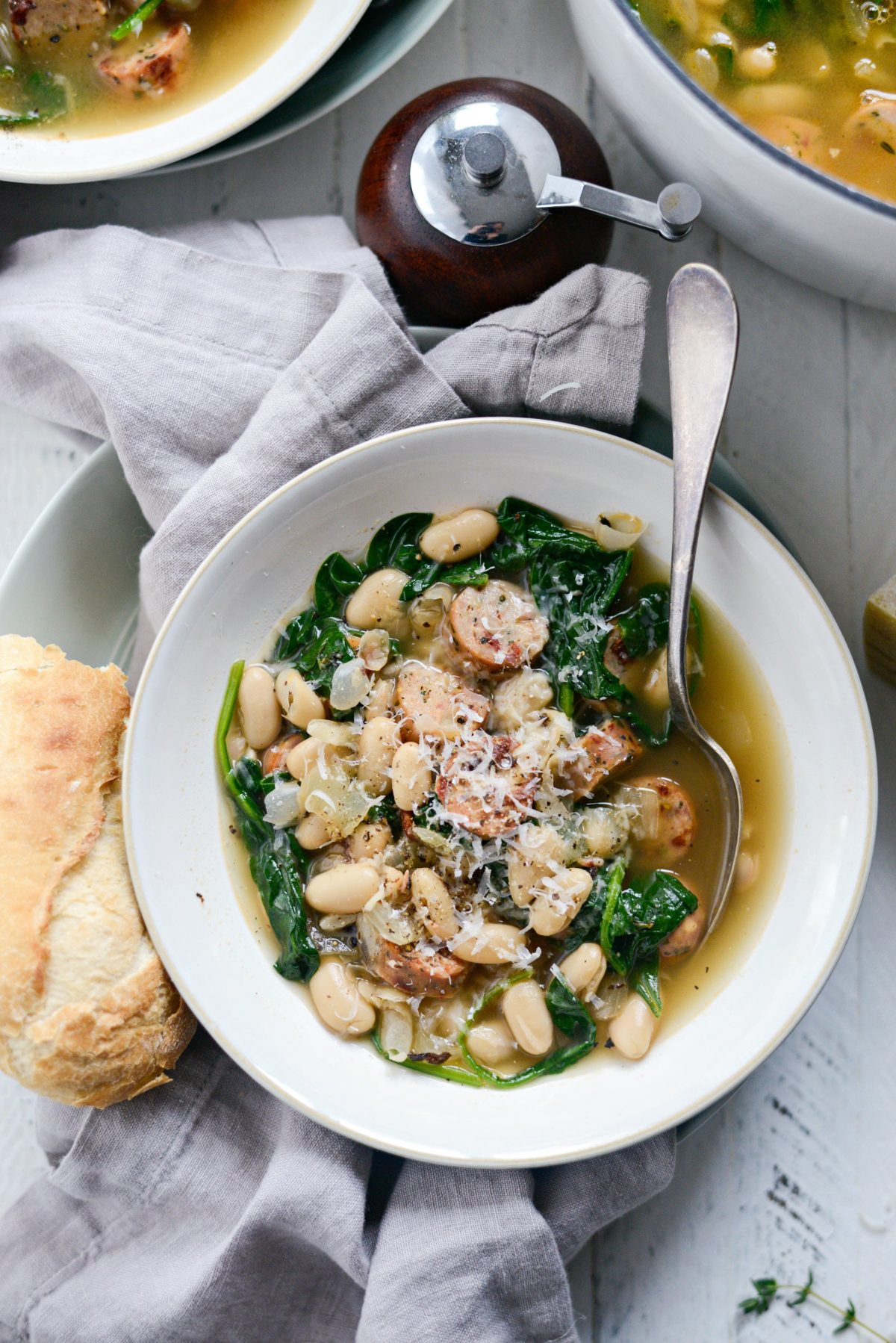 Truth: I was extremely excited to make and eat dinner that night. However at first, my family was less than thrilled about what I was serving. Here's why: beans, spinach and onions. Mal gave me some serious stank eye for all the nutritious ingredients in one bowl. Only if 3 musketeer bars could be made into a stew, would she be satisfied.
This dinnertime story ended with me swimming the last piece of bread to wipe my bowl clean. Pat liked it too, however our girls just picked and ate the beans and sausage. (sighs)
To Make This Chicken Sausage White Bean Stew You Will Need:
olive oil
2 (10 ounces each) sun-dried tomato chicken sausages
1 medium yellow onion
a couple large cloves of fresh garlic
1 teaspoon fresh thyme leaves
1/4 cup dry white wine
4 cups chicken stock
3 (15 ounces each) cannellini beans – drained and rinsed
5 ounces baby spinach
kosher salt and freshly ground black pepper
For serving, I like freshly grated parmesan cheese and a hunk of crusty bread.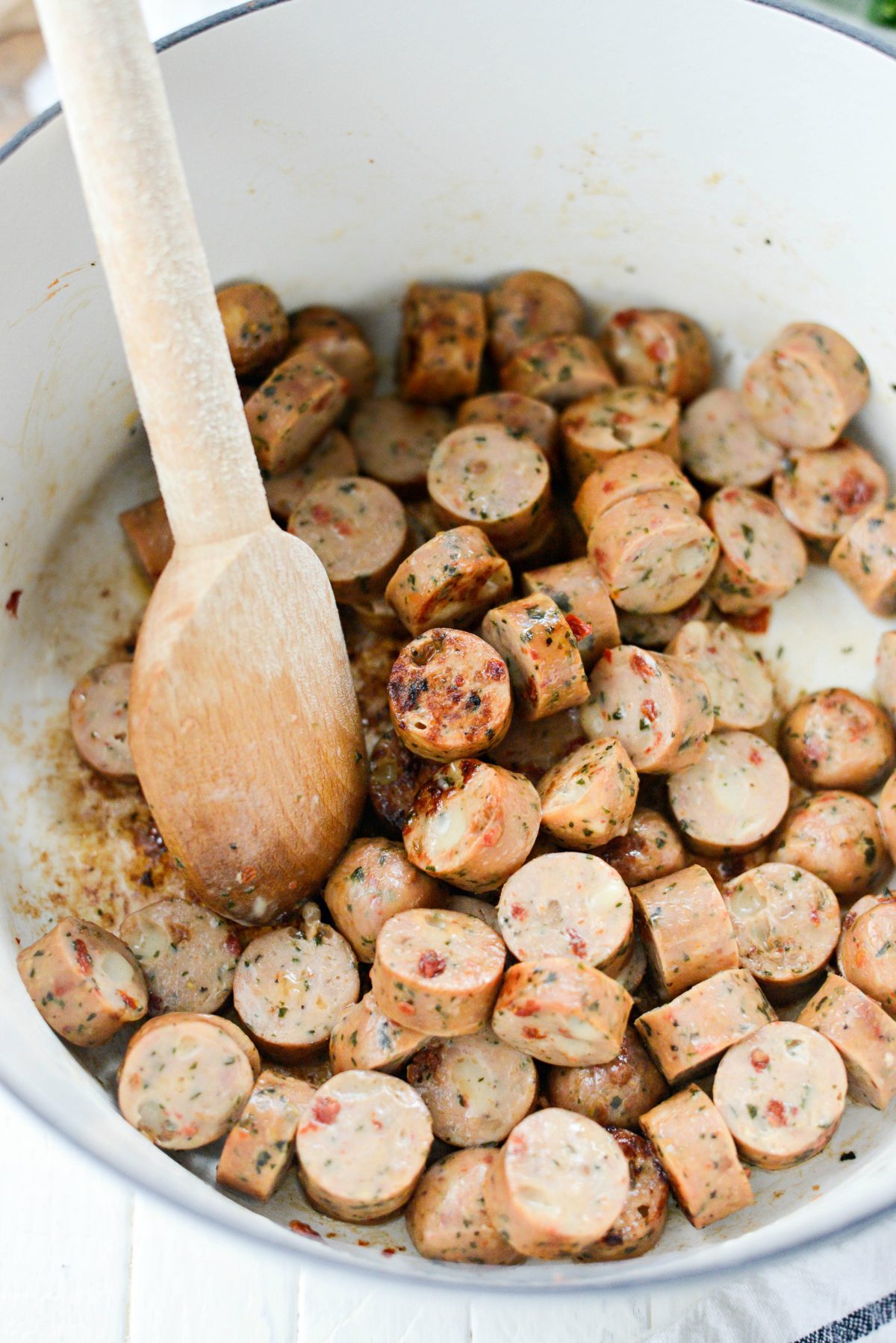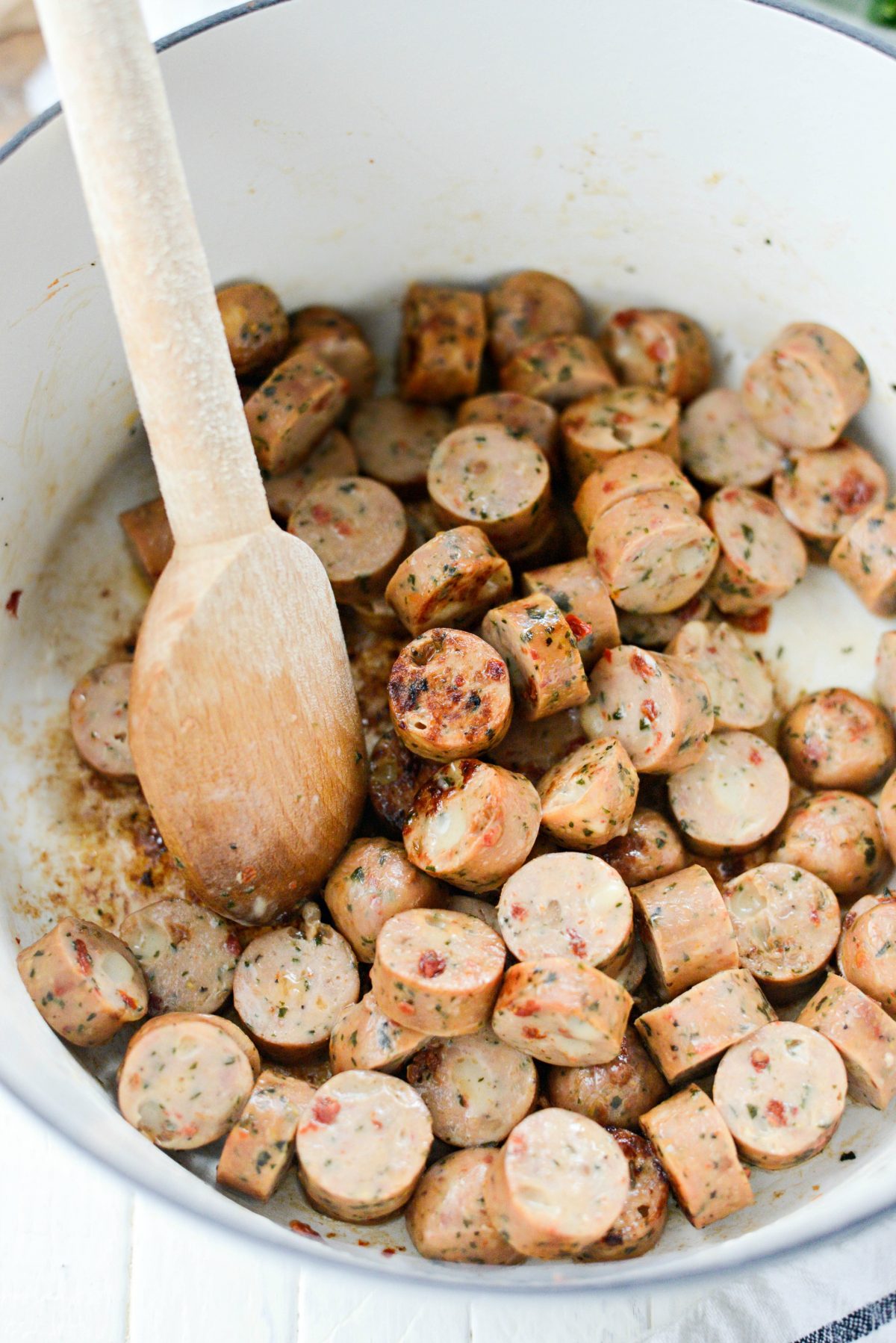 To start, heat 1 tablespoon of olive oil in a dutch oven or heavy bottom pot over medium-high heat. Once hot, add in the sliced chicken sausages. Stir occasionally until the edges start to caramelize. Then transfer them to a clean plate or bowl.
Reduce the heat to medium and add in a teaspoon of olive oil. Then add in the diced onions and a pinch of kosher salt. Stir and cook for 5 to 8 minutes or until soft and translucent.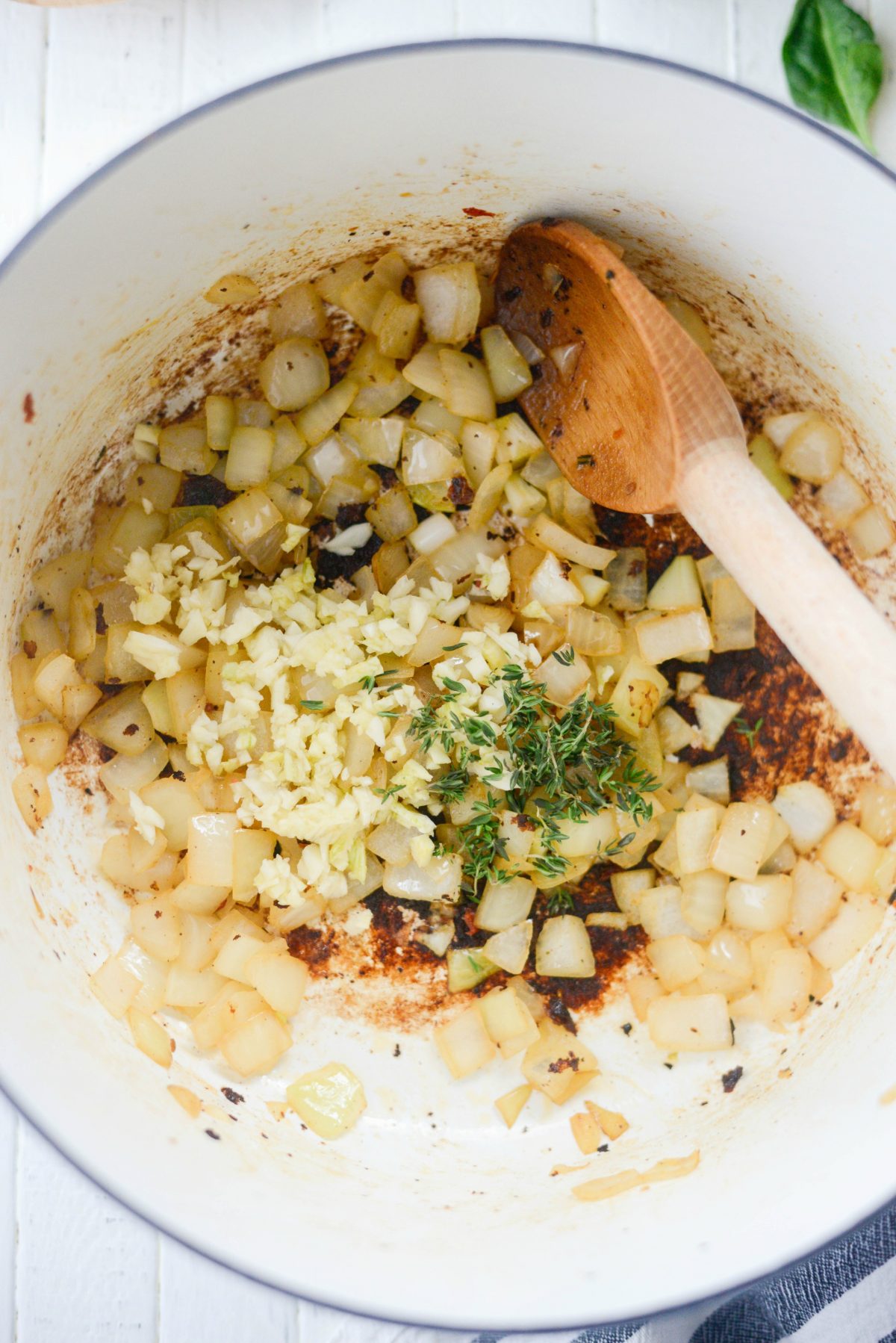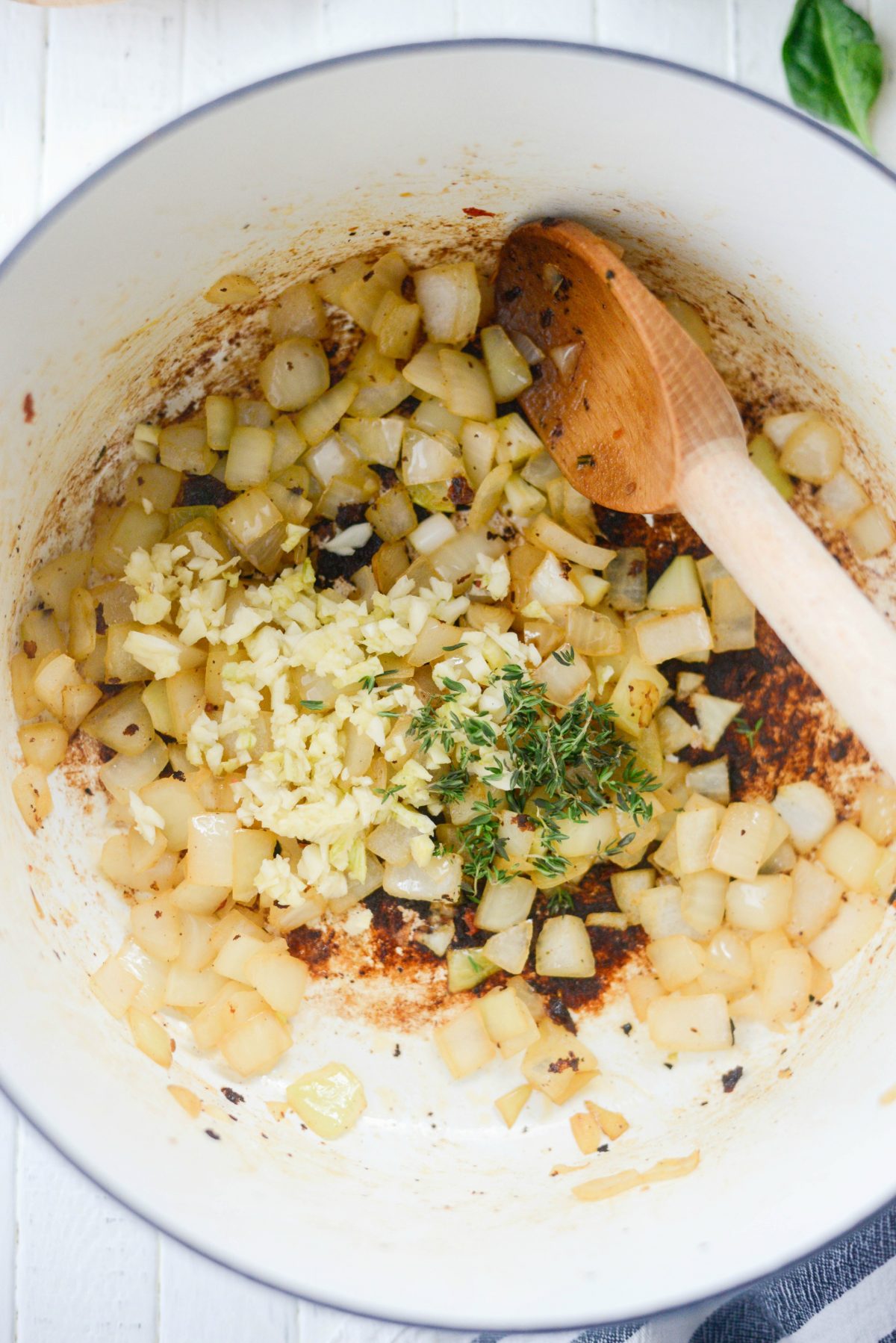 The moment the onions are soft, add in the minced 2 cloves of garlic and 1 teaspoon fresh thyme leaves. I don't even chop them, I just strip the leaves off the stem and throw them in, discarding the stems of course. 😉
Cook the garlic and thyme for 1 to 2 minutes.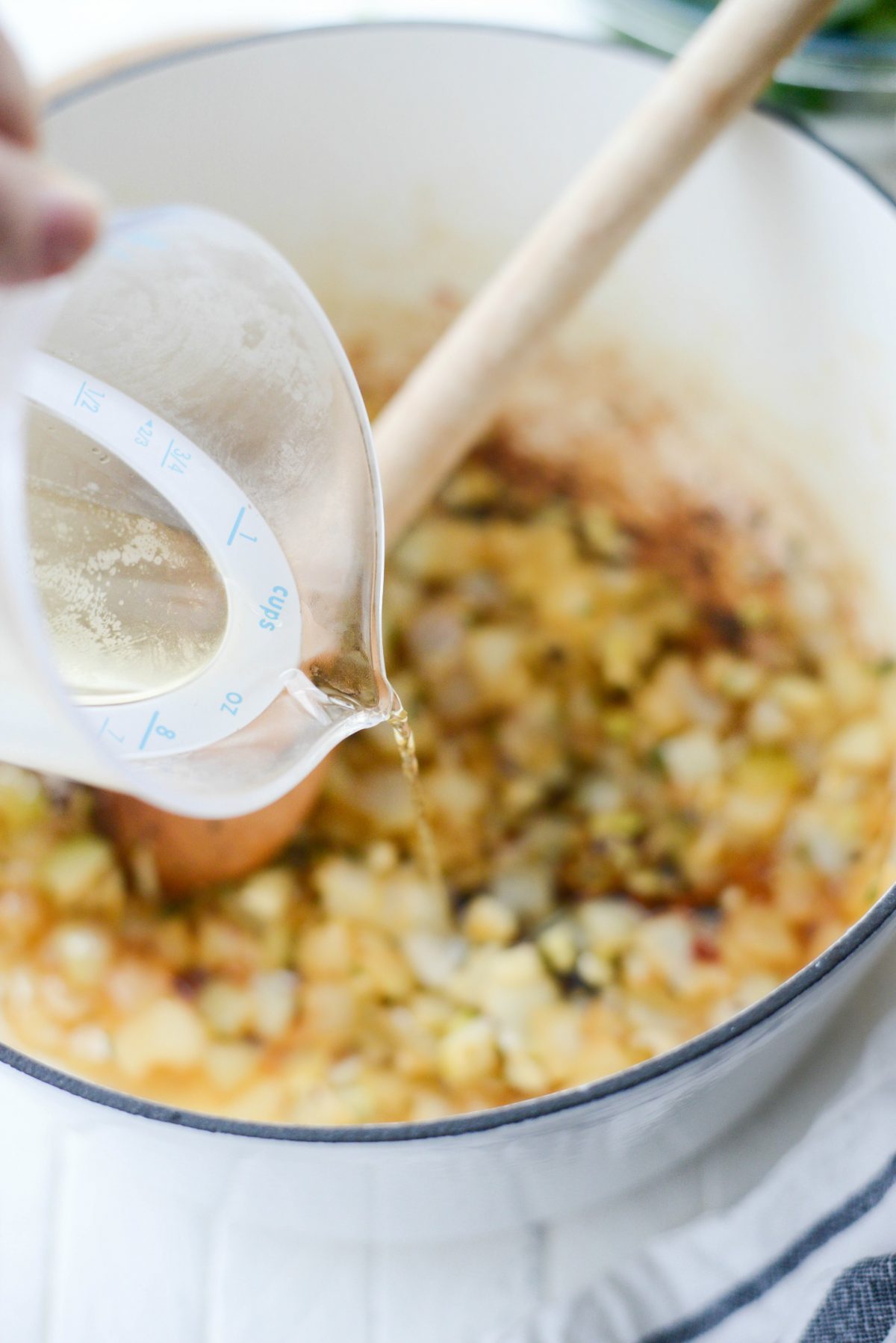 Now comes my favorite part, pour in 1/4 cup of dry white wine, scraping all those glorious brown bits off the bottom of the pan.
And then about 16 more tablespoons into a wine glass for yourself. What is it about cooking with wine that makes me so thirsty? Hazard of the job, I suppose.
For this recipe, I'm using chardonnay but sauvignon blanc would work. If you want to avoid cooking with wine, just swap in chicken stock instead.
Next pour in the 4 cups of chicken stock plus 2 cups water. Why stock instead of broth? Personally, I wanted this to have a richer taste. But if you only have broth on hand, that would work too.
After you add in the broth and water, dump in the rinsed and drained cannellini beans.
Increase the heat under the pot to high and bring to a boil. Meanwhile use your spoon or a mashing tool to mash some of the beans. Doing this will thicken the stew a bit. Cover and once boiling, reduce and simmer for 20 minutes.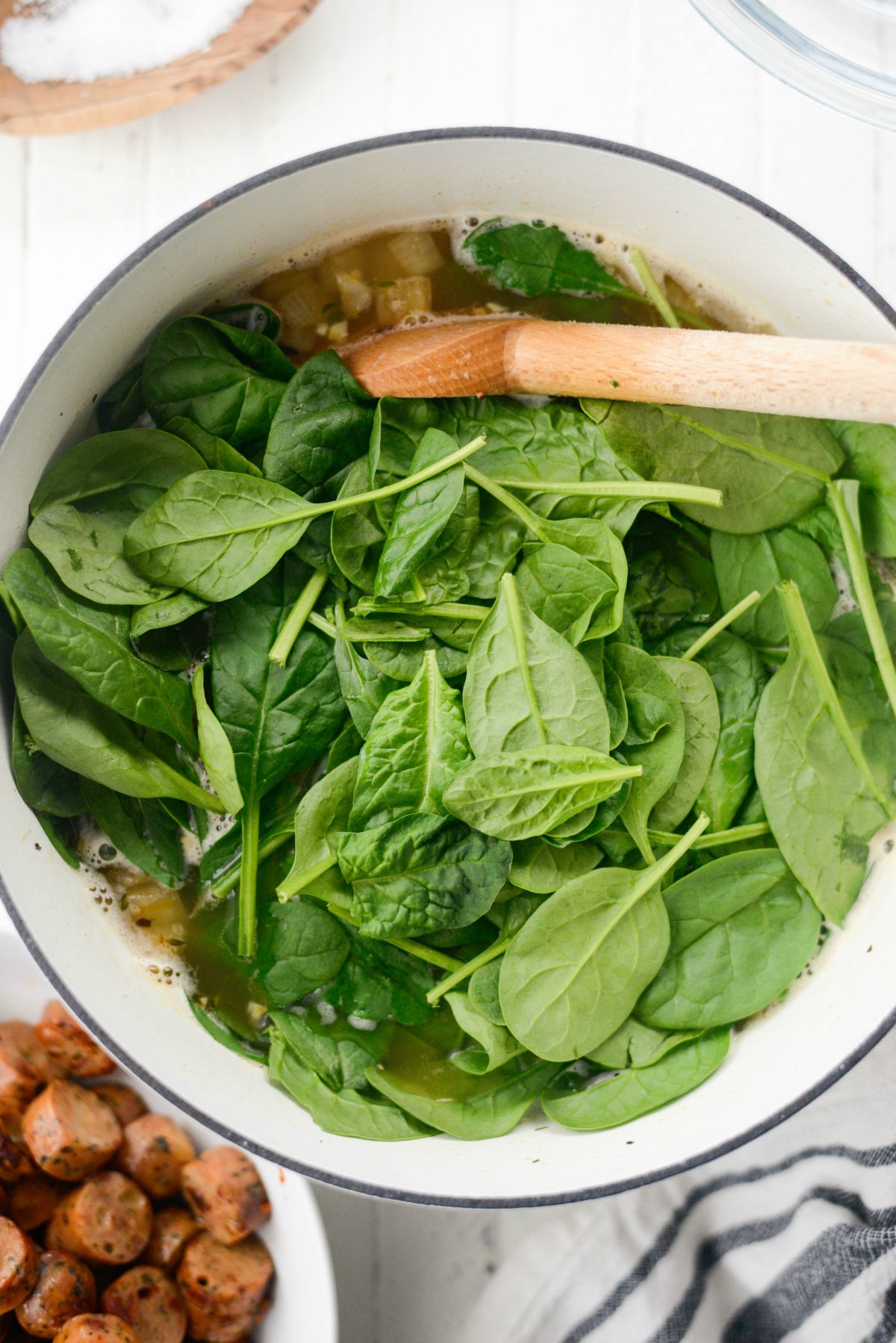 Lastly add 5 ounces of baby spinach leaves.
Stir until the spinach has wilted.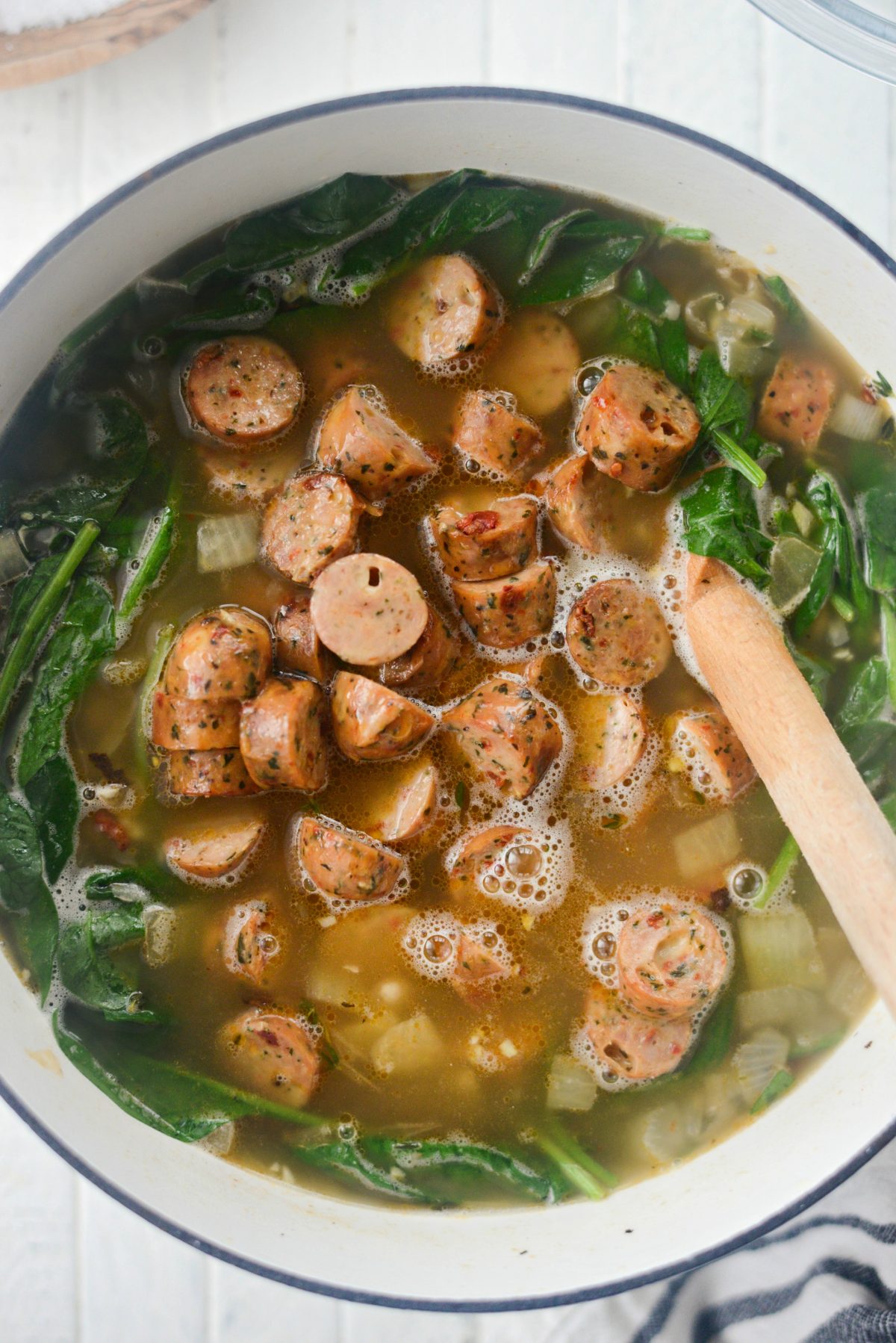 Lastly, add in the sausages.
Season the chickens sausage and white bean stew with 1-1/2 to 2 teaspoons kosher salt and about 1/2 teaspoon freshly ground black pepper, or to taste.
Once this stew is piping hot, ladle it into bowls and top with freshly grated parmesan cheese and serve with a hunk from a crusty baguette. I love the take and bakes, warm bread is my spirit food. It's the perfect vessel to soak up all the delicious flavors. Really, who needs spoons when there's bread? Just dunk and eat and repeat, because that's my motto for most meals.
For more soups and stew recipes click here.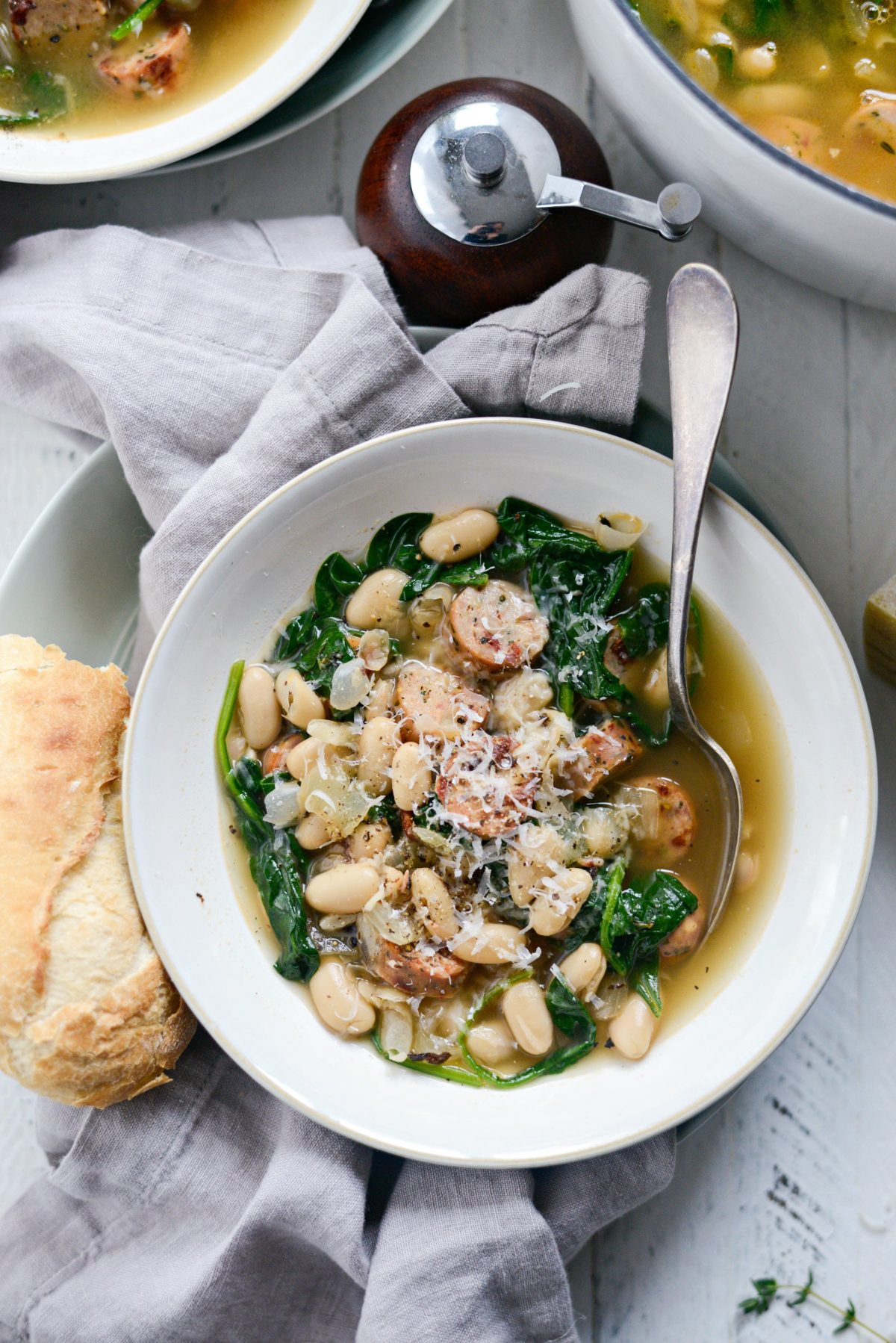 Enjoy! And if you give this Chicken Sausage White Bean Stew recipe a try, let me know! Snap a photo and tag me on twitter or instagram!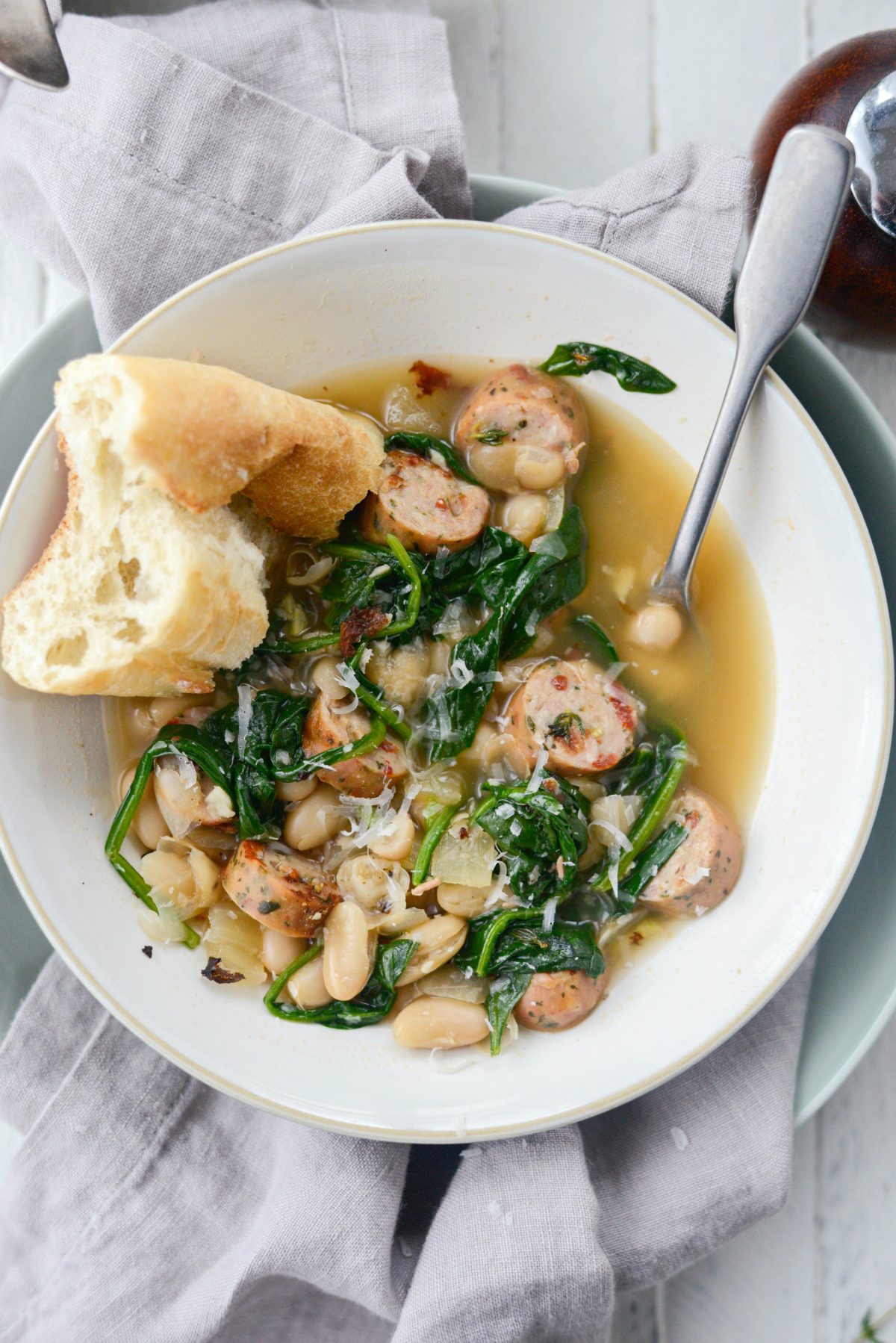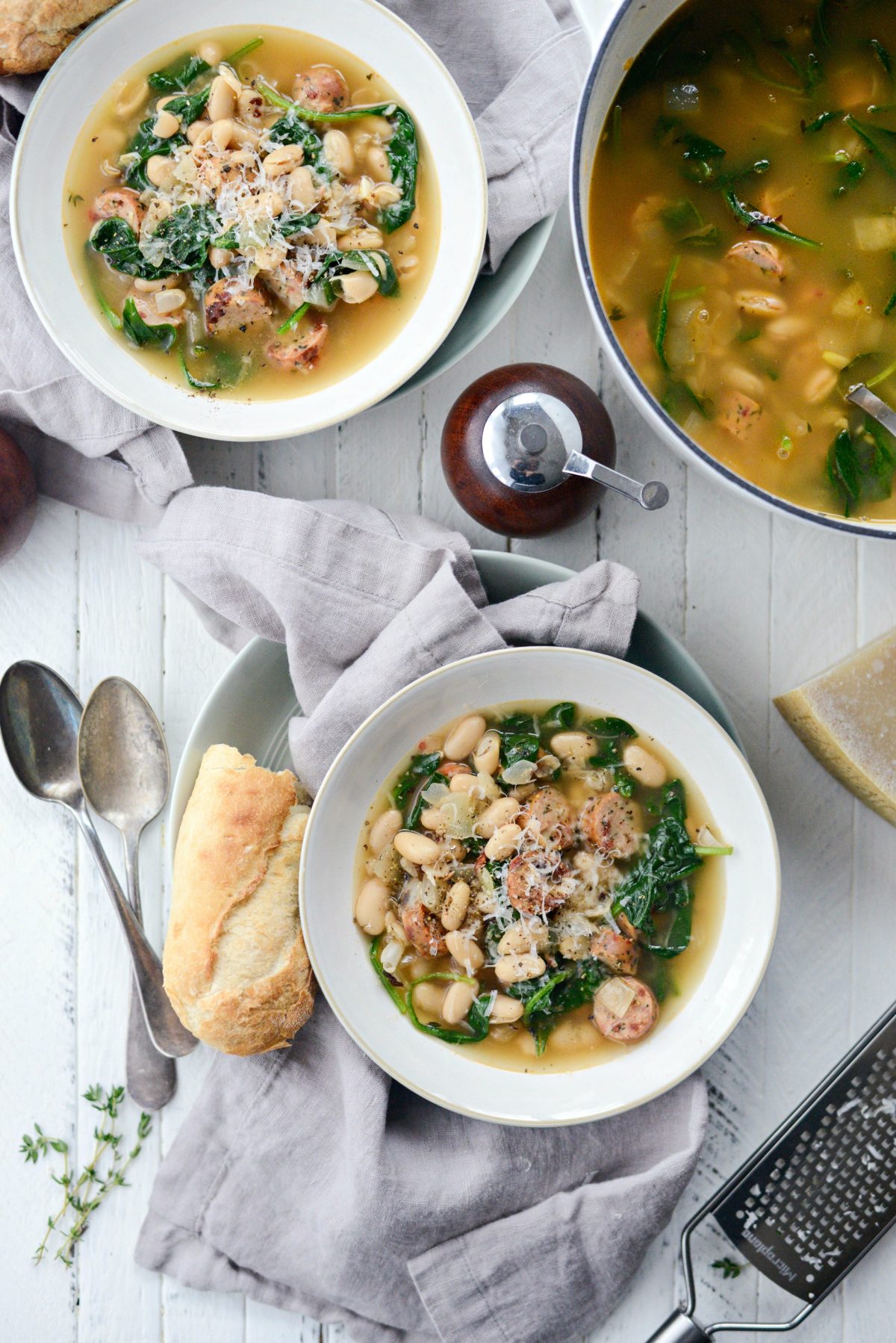 This post may contain affiliate links.
Buy the Cookbook: Simply Scratch : 120 Wholesome Homemade Recipes Made Easy Now available on Amazon »
THANK YOU in advance for your support!