Steak Kow is thin slices of steak or beef chunks with lots of fresh vegetables swimming in a flavorful broth-like gravy. This is my version of a classic favorite!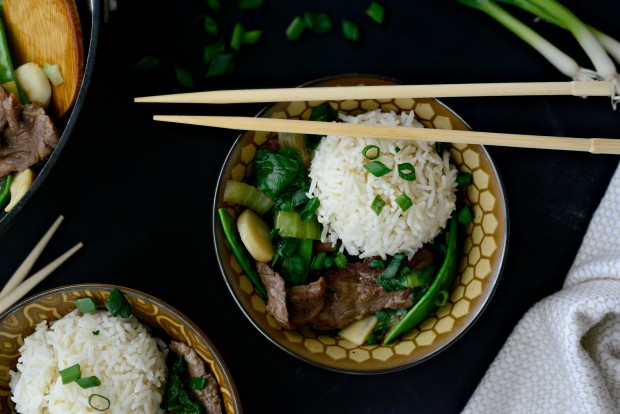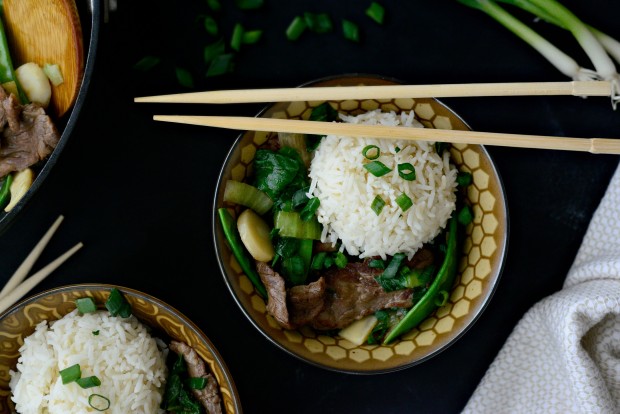 I go in cuisine spurts from time to time.
I'll crave Mexican for a week (most likely two) switch over to classic American one-pot-wonders and then stir-fry recipes for the sheer ease and lack of effort. Most days after I've been cooking alllllll dang day, I'm rarely in the mood to cook an extravagant dinner.
Rewind 20-some years. Growing up the nearest Chinese restaurant was a good thirty plus minutes away. So it was always a treat when my dad would walk in from his long day at work, surprising us girls with bags filled with paper cartons of sweet and sour chicken, fried rice, almond chicken and sometimes there was even steak kow. For being such an extremely picky kid and not really feeling the love with cooked vegetables, it always amazes me to look back and examine how I love the vegetables in steak kow. Probably because they're stir-fried and still crisp and not sogged out until they're that hideous shade of green. I know you know what I'm talking about.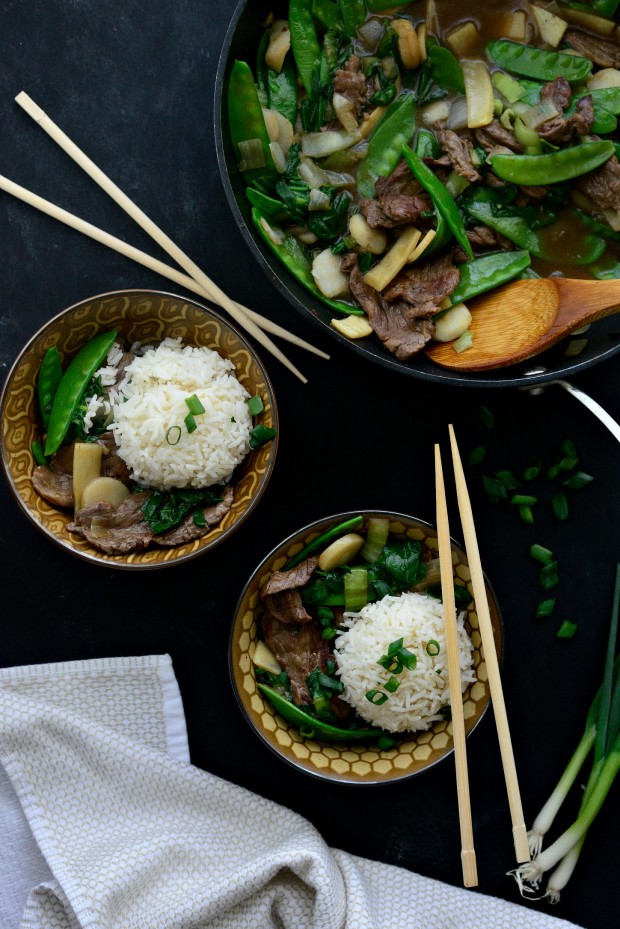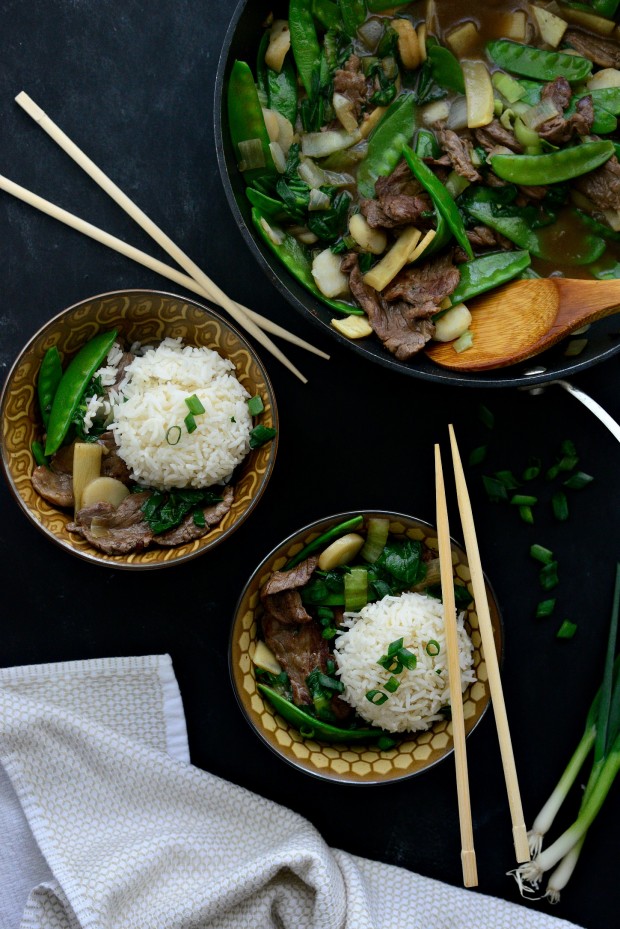 Steak kow has always been a favorite of mine. Thin slices of beef, a truckload of fresh vegetables… swimming in a both like gravy. I'm not sure what traditional and magical ingredients go into an authentic kow but this is my attempt at it. It's light and flavorful and with a squeeze of sriracha, it can be a little spicy if you wish it to be.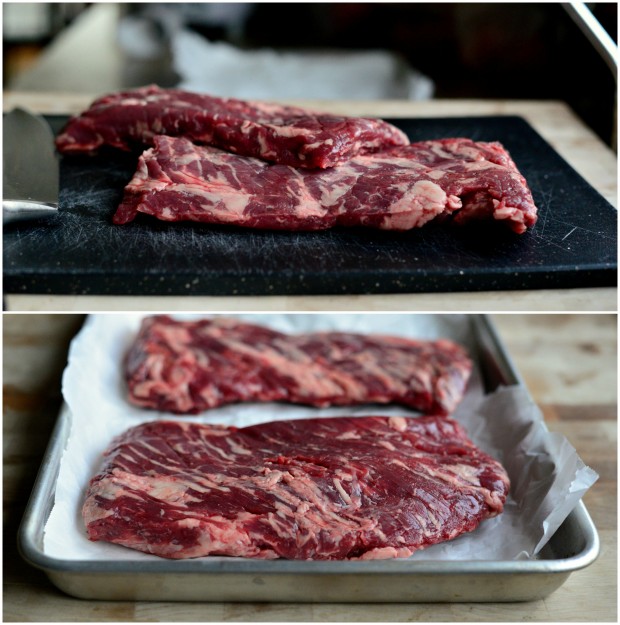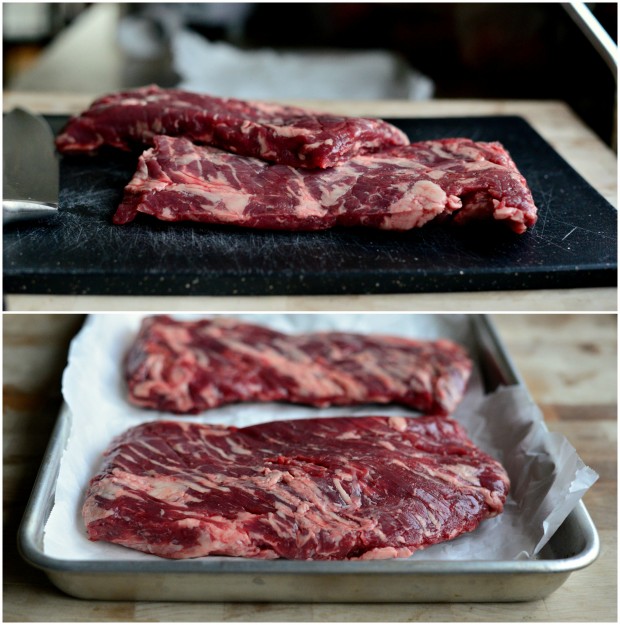 Prep the steak.
I had skirt steak on hand, but a good size ribeye would also work here as well. Truthfully my husband prefers the ribeye, I on the other hand am less picky (if you can even believe it) and like both. If using flank steak I'll cut the long slab of beef in half width-wise and place it onto a small parchment paper lined sheet pan before popping it into the freezer for 20-25 minutes.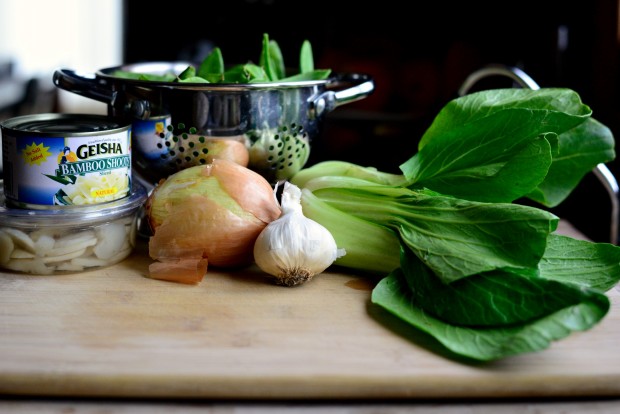 Prep the vegetables:
Start by trimming and peeling that long sting-like vein from about 1/2 pound of pea pods, give them a rinse and set off to the side.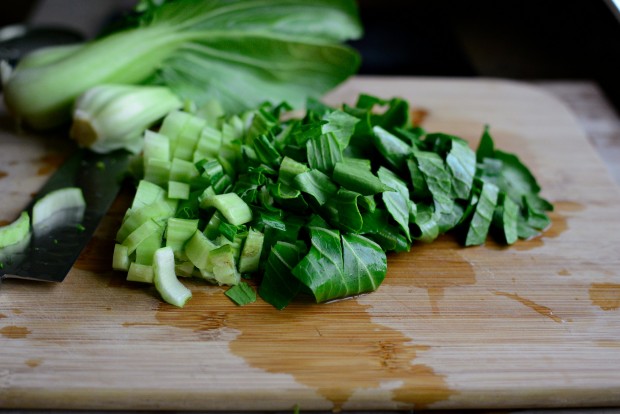 Then rinse the baby bok choy, shaking off as much water as possible, before slicing the leafy tops and white stalks. Alternatively, slice then rinse and add to a salad spinner to spin the excess moisture out.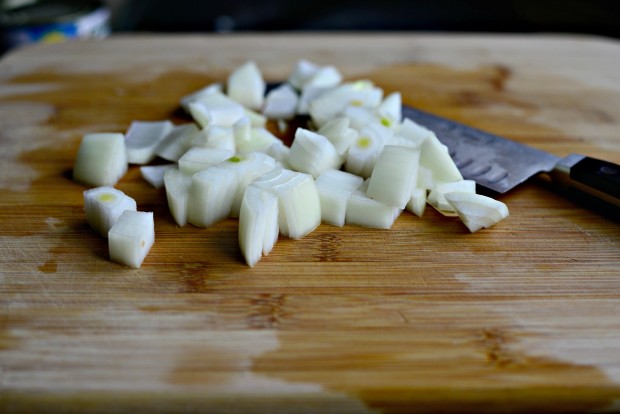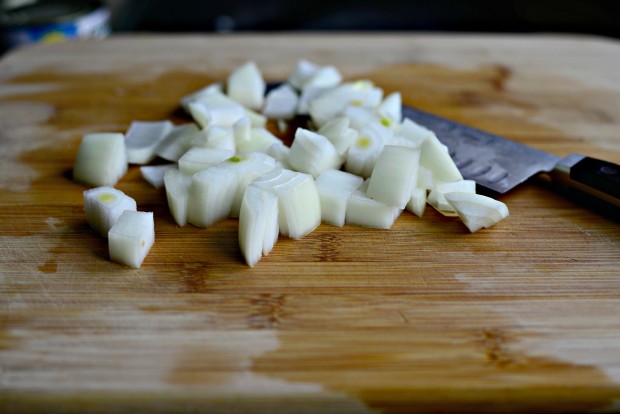 Next, dice up 1 medium yellow onion…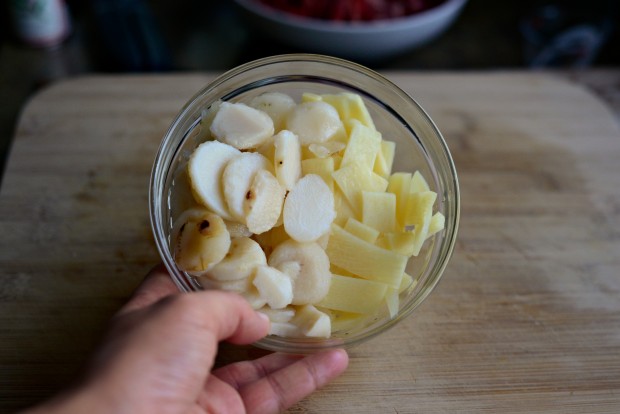 And then drain off the liquids from 4 ounces water chestnuts and 8 ounces bamboo shoots.
Make The Sauce:
Mince up two fresh cloves of garlic.


Next, add it into a bowl along with 1 cup beef broth, 3 tablespoons low-sodium tamari (or soy sauce if that's what you primarily use) and 1/2 teaspoon toasted sesame oil.

Then measure in 1/2 teaspoon kosher salt, 1/2 teaspoon sugar and 1/4 teaspoon white pepper. Black pepper can be substituted but white pepper has a different flavor that just adds a little somethin-somethin to this recipe.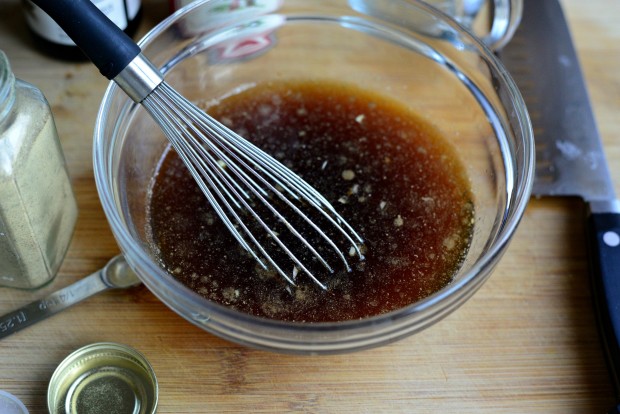 Whisk to combine and set off to the side.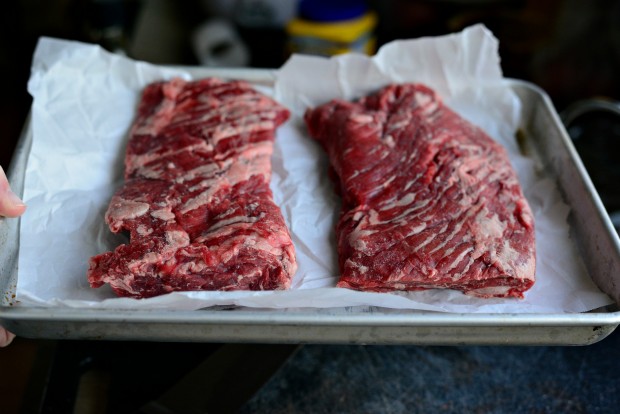 Thinly Slice the Steak:
Remove the steak from the freezer.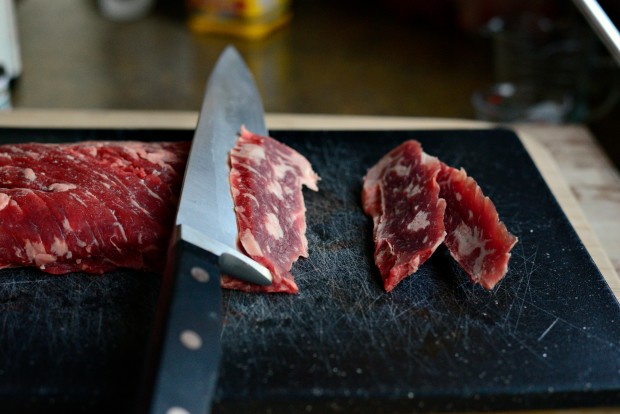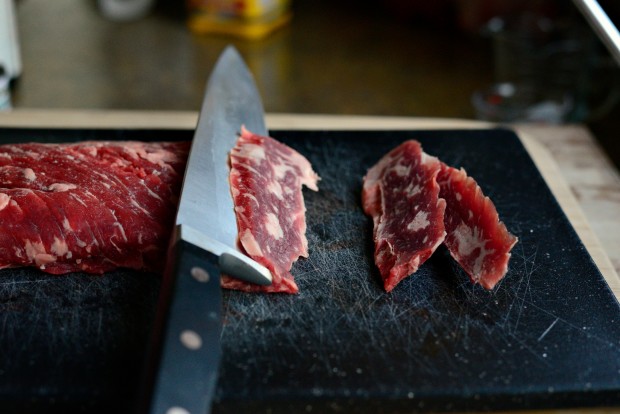 Angle your kitchen knife and immediately start slicing into 1/4-inch slices.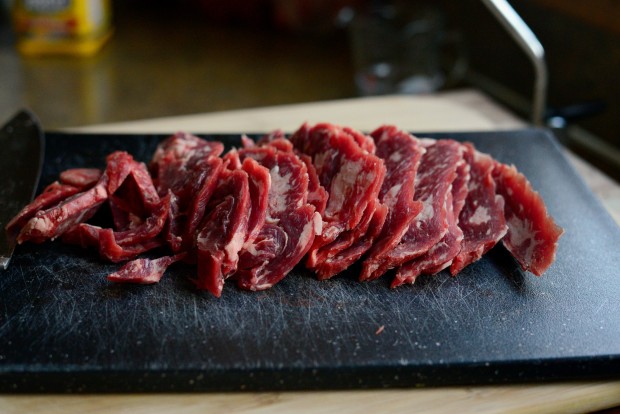 Freezing the steak (or any protein for that matter) prior makes it extremely easy to do this.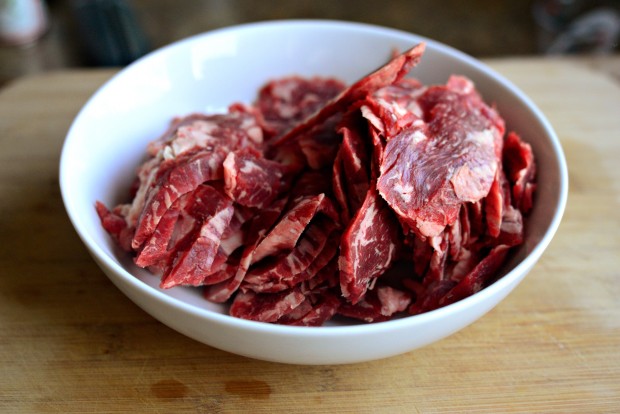 Place in a bowl and now you're ready to wok-it-out. (har har)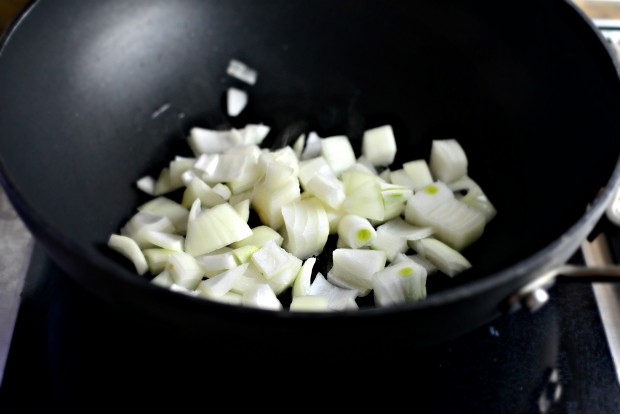 Make The Stir-fry:
Heat a teaspoon of safflower or avocado oil in a large wok over medium-high to high heat. Add in the onions…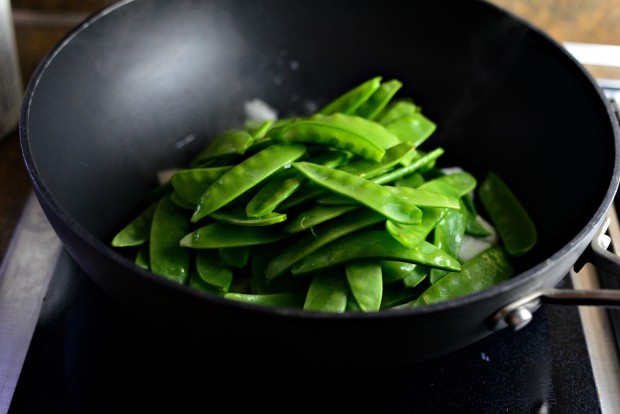 The prepped pea pods…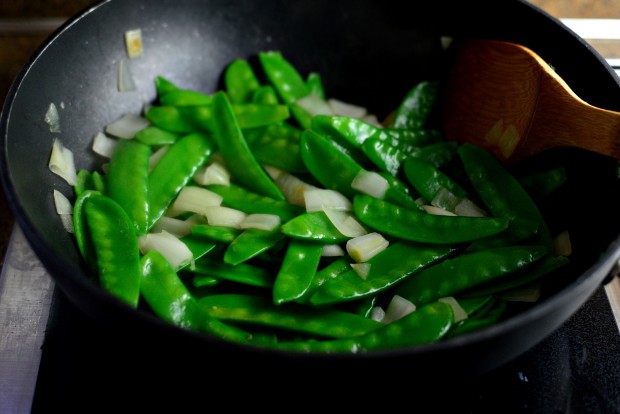 Cook, tossing the vegetables around often until the pea pods turn a bright green and the onions have softened. About 4 minutes.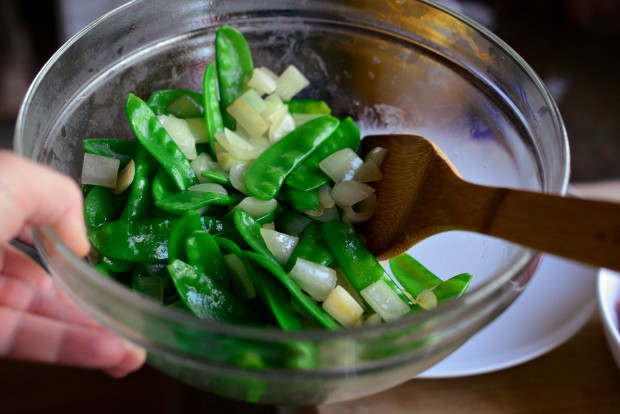 Remove to a bowl and set off to the side.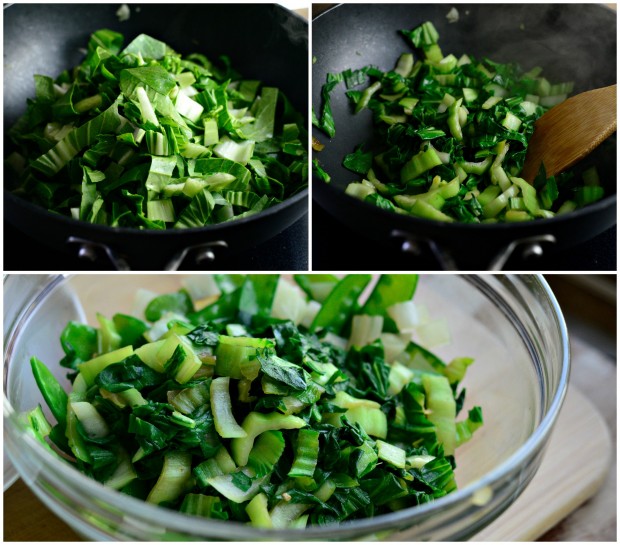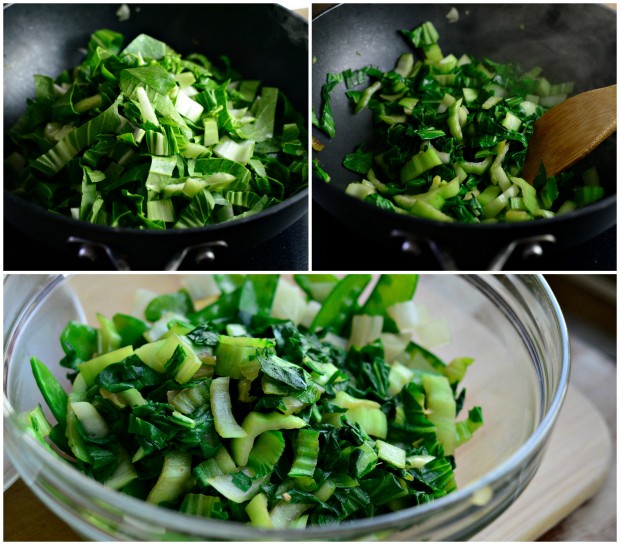 Add another teaspoon of oil to the wok and add in the sliced baby bok choy. Push the bok choy around as it cooks, transfer to the same bowl with the onions and pea pods once the greens have wilted but the white parts still have some bite to them.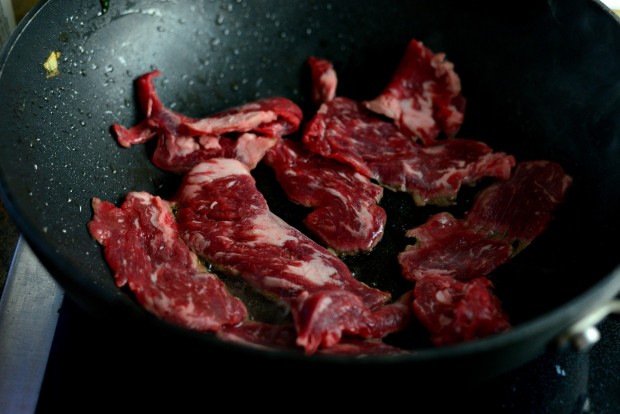 Add a tablespoon of oil into the wok. Working in batches of 3… cook the steak for a minute or two (until the edges are browned before flipping to cook the other side.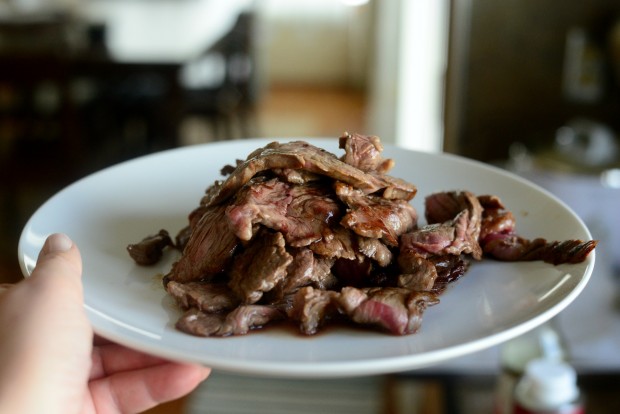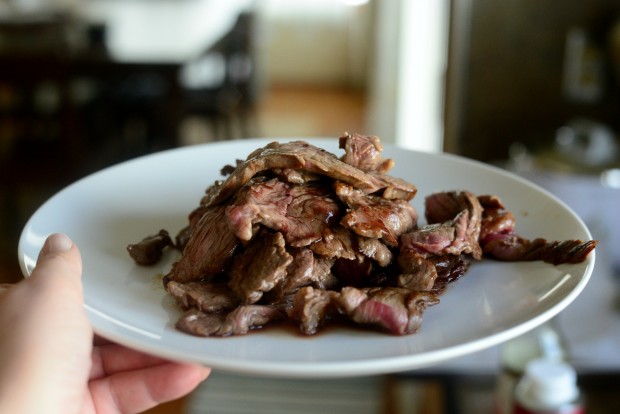 It's important to not overcook the steak, as it will get tough and chewy, so use tongs to remove the not-fully cooked steak and transfer to a clean plate.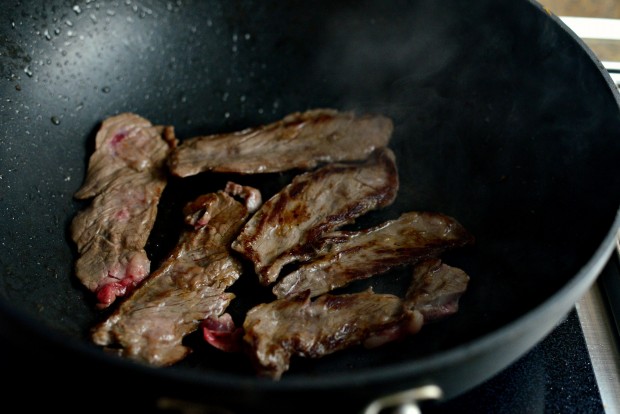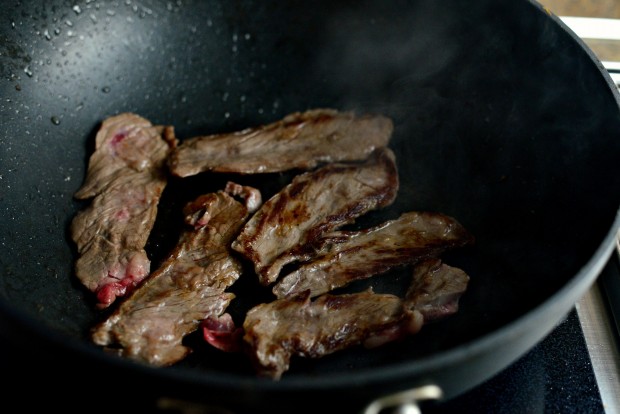 Once you're on the final batch of steak…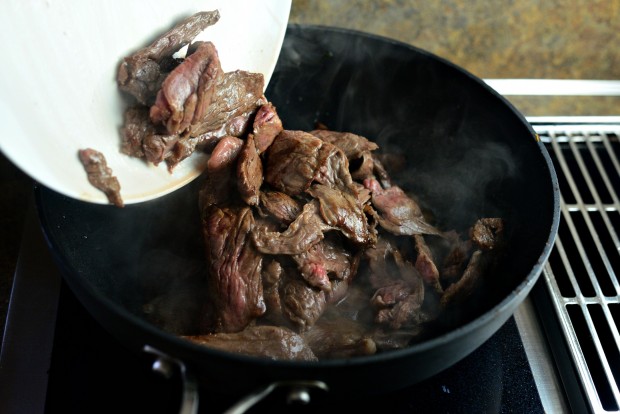 Add in the partially cooked steak…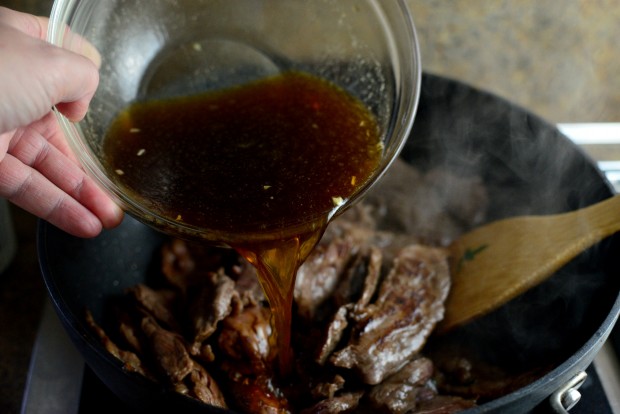 The broth liquids…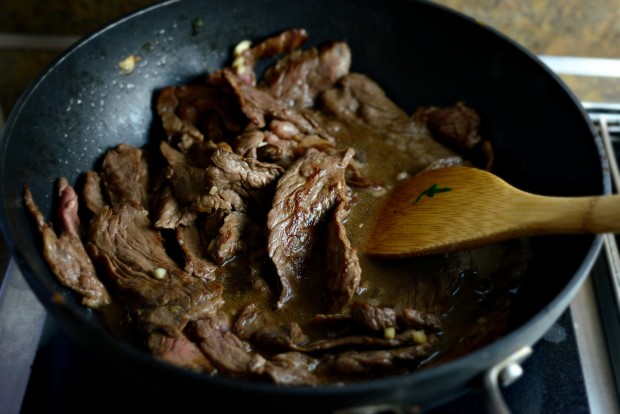 Once the liquids are at a boil…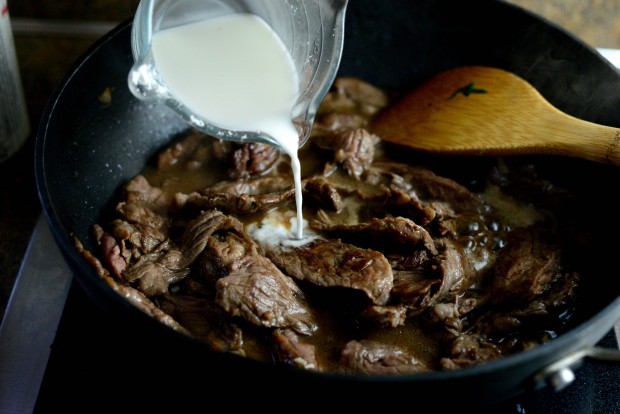 Add in the cornstarch slurry.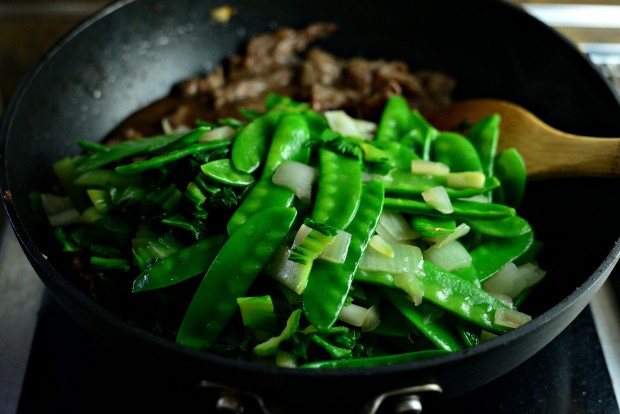 Immediately add the vegetables…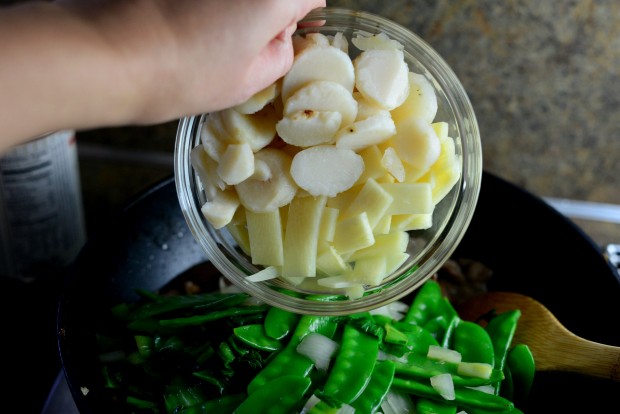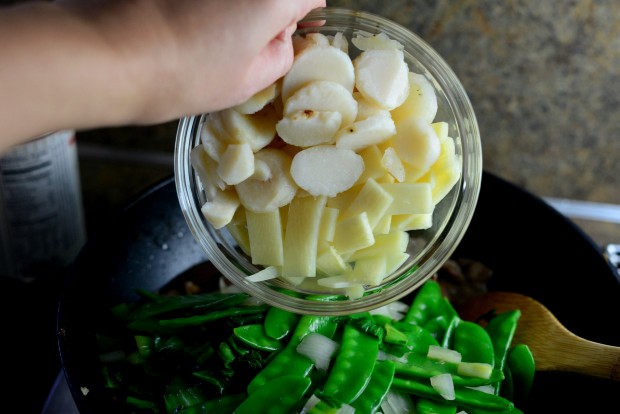 Water chestnuts and bamboo shoots…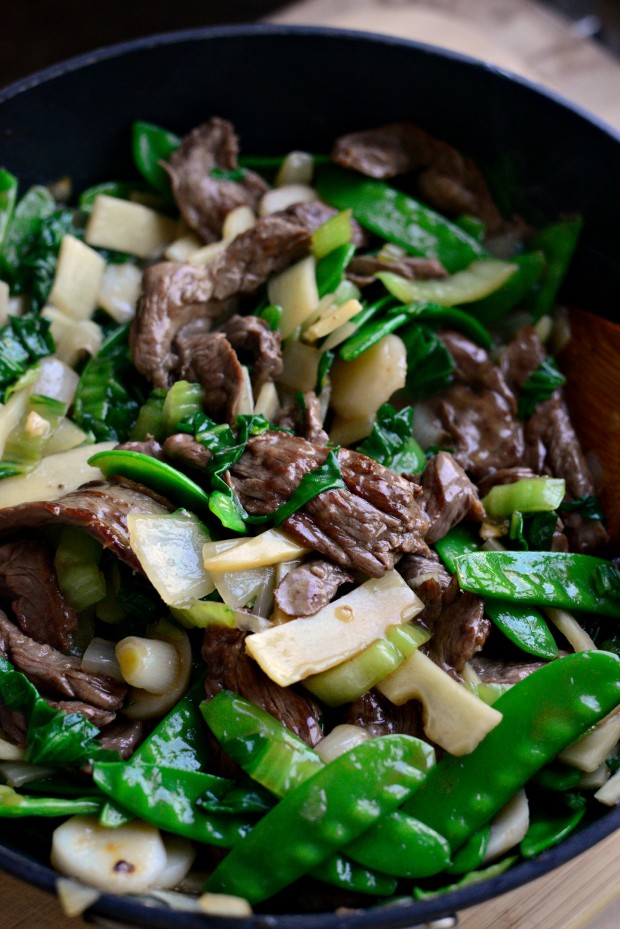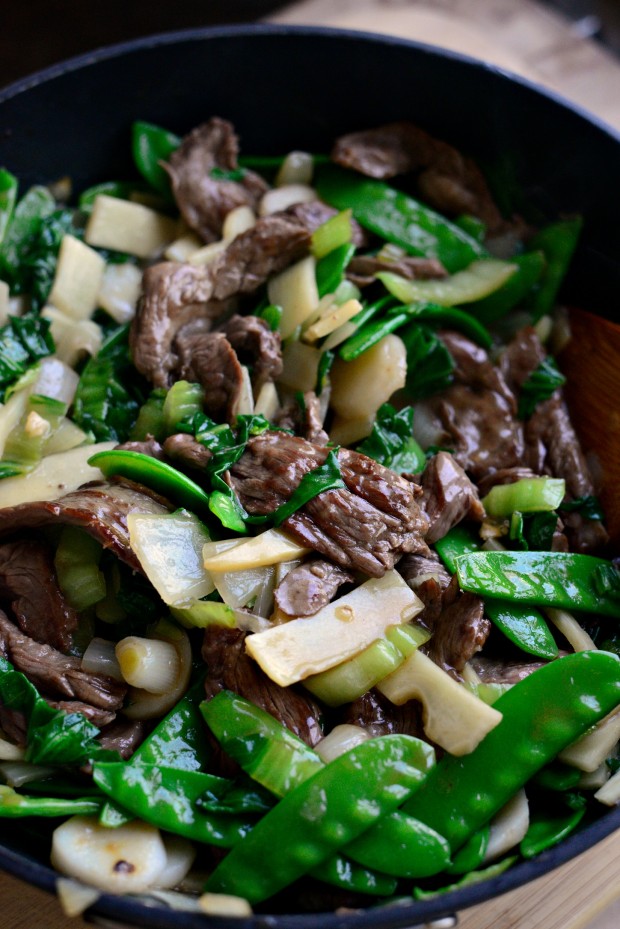 …and heat through. Taste and add more salt if needed.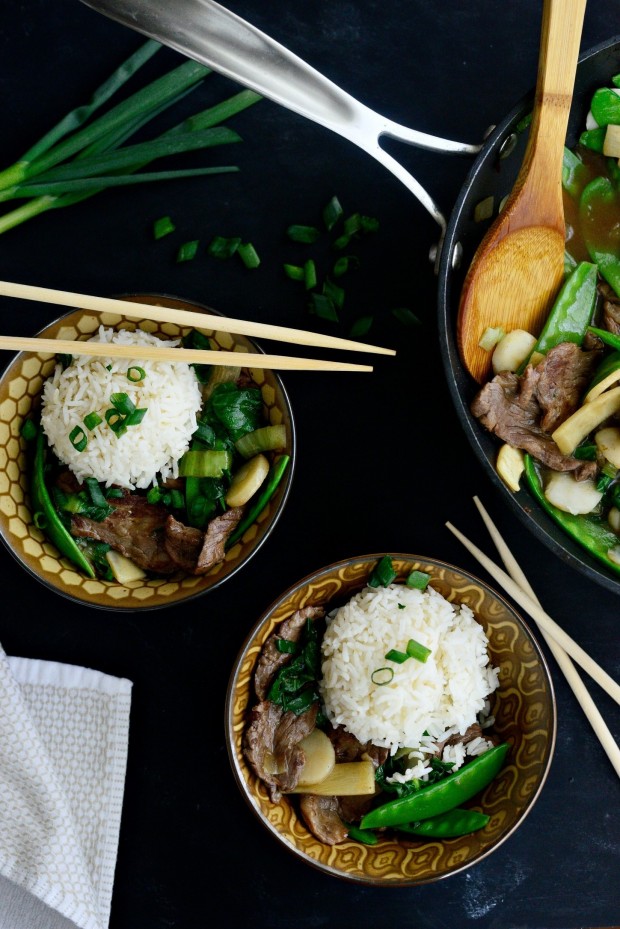 Serve with white rice, sliced green onions, more white pepper, sriracha if you're inclined… and chopsticks.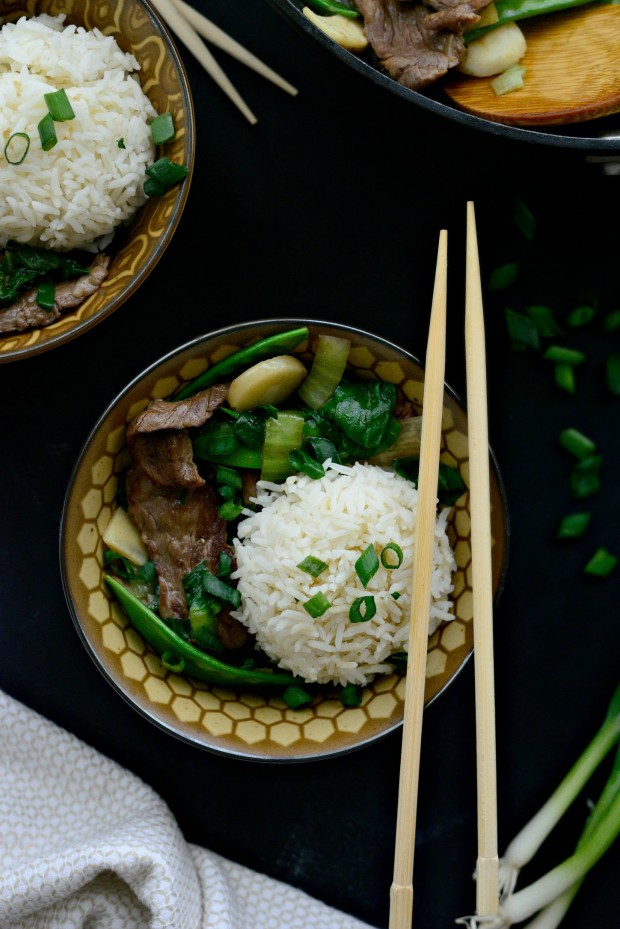 Not that I have a clue how to eat and look classing at the same time using these things… so a fork can be substituted.
Enjoy! And if you give this Steak Kow recipe a try, let me know! Snap a photo and tag me on twitter or instagram!
Yield: 4 servings
Steak Kow
My version of a favorite! Thin slices of steak, lots of fresh vegetables swimming in a flavorful broth-like gravy.
Ingredients
FOR THE STIR_FRY:
1¼ pounds steak, ribeye or skirt steak
extra light olive oil, or other light flavorless oil
1 medium onion, diced (about 1 cup)
1/2 pound pea pods, trimmed
4 baby bok choy, sliced (root ends discarded)
8 ounces canned bamboo shoots, drained
4 ounces water chestnuts, drained
FOR THE SAUCE:
2 cloves minced fresh garlic
1 cup beef broth
3 tablespoons low-sodium tamari
1/2 teaspoon toasted sesame oil
1/2 teaspoon sugar
1/2 teaspoon kosher salt
1/4 teaspoon white pepper
2 tablespoons cornstarch
2 tablespoons cold water
Instructions
Slice steak in half (if using skirt steak) and place on a parchment paper lined sheet pan and freeze for 20-25 minutes.

Prep vegetables, drain bamboo shoots and water chestnuts.

In a medium bowl combine, garlic, broth, tamari, sesame oil, sugar, salt and white pepper, whisk to combine.

Remove steak to a cutting board. Angle knife and slice 1/4 inch thick slices of steak.

Preheat wok to medium-high to high heat. Add in 1 teaspoon of oil and add onions and pea pods. Cook until onions have softened and the pea pods turn a bright green. About 4 minutes. Transfer to a clean bowl.

Add another teaspoon of oil to the wok. Once hot add in the sliced bok choy. Cook, stirring often until the leafy greens wilt but the white parts still have a bit of crunch to them. About 3 minutes. Transfer to the bowl with the other vegetables.

Heat 1 tablespoon of oil in wok and work in batches searing the steak on both sides. The steak should still be a little pink before transferring to a platter. Once you are on the second side of the last batch of steak, add the rest of the partially cook steak into the wok.

Pour in the broth liquids, toss to combine and immediately bring to a boil. Whisk cornstarch with water and pour in the slurry. Stir and add in the vegetables, bamboo shoots and water chestnuts. Cook until heated through and the sauce has slightly thickened.

Serve with white rice or rice noodles and top with sliced green onions, more white pepper and sriracha or any favorite hot sauce.
Serving: 1g, Calories: 406kcal, Carbohydrates: 20g, Protein: 35g, Fat: 21g, Saturated Fat: 9g, Polyunsaturated Fat: 1g, Monounsaturated Fat: 10g, Cholesterol: 86mg, Sodium: 1426mg, Potassium: 680mg, Fiber: 5g, Sugar: 7g, Vitamin A: 5674IU, Vitamin C: 88mg, Calcium: 180mg, Iron: 5mg
[this post contains affiliate links.]
This post may contain affiliate links.
Buy the Cookbook: Simply Scratch : 120 Wholesome Homemade Recipes Made Easy Now available on Amazon »
THANK YOU in advance for your support!