I love this light and healthy Szechuan Chicken Stir-Fry! Chicken is quickly stir-fried with garlic, ginger, vegetables in a delicious sauce. Who needs take-out when you can have healthy Szechuan chicken in the comfort of your own home… in a snap?!
I have been craving all things stir fry.
I just love them– Mondays, Saturdays… basically any day that ends in y. Stir fry recipes are my go-to on weeknights, because they're super quick to cook and are typically loaded with veggies and served with noodles or rice and chopsticks.
Not that I claim to be an expert when it comes to using chopsticks. I do like to pretend for a hot second that I'm a pro, until I accidentally fling something at someone. This usually ends with me giving up and just spearing the pieces of chicken until those are gone and then I reach for a fork and go for the rest.
This spicy stir-fry is soooo incredibly easy. Did I mention that? I like to prepped my sauce, meat, all my veggies and garnishes while everyone was at work and school. Doing this allows me to make dinner fast. You could easily do this the night before, so you can easily pull dinner together while you make the rice.
Easy-peasy.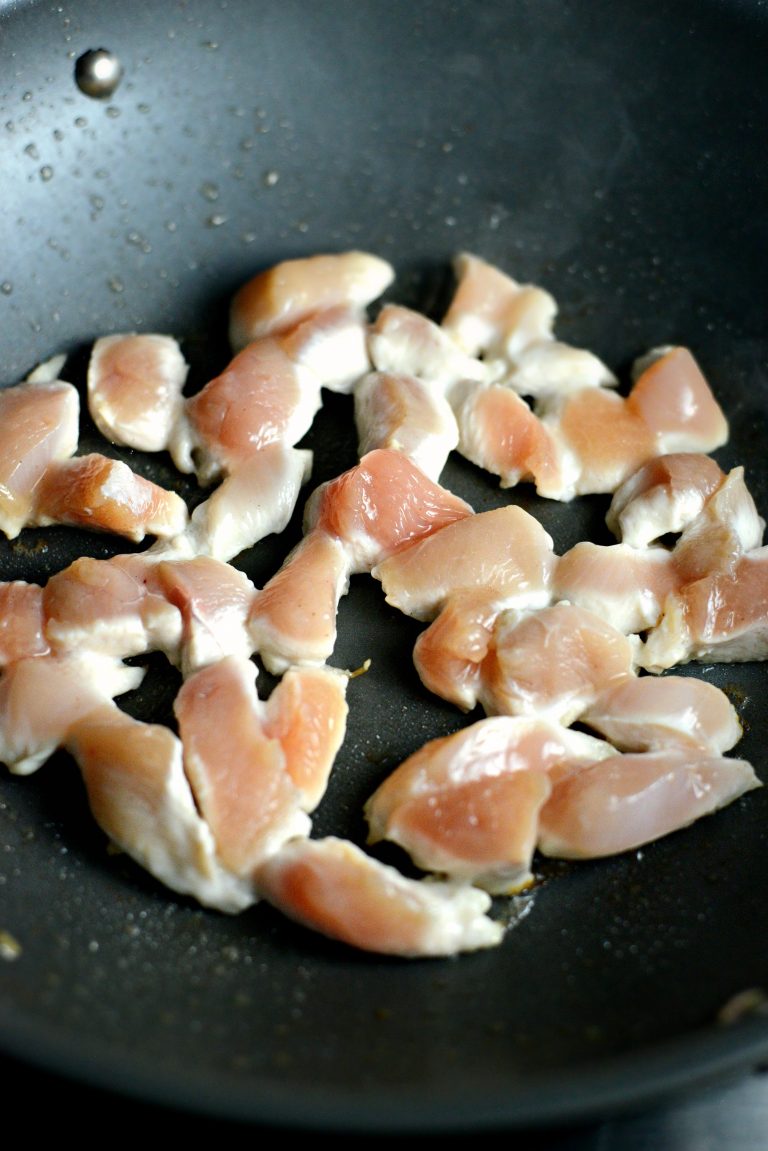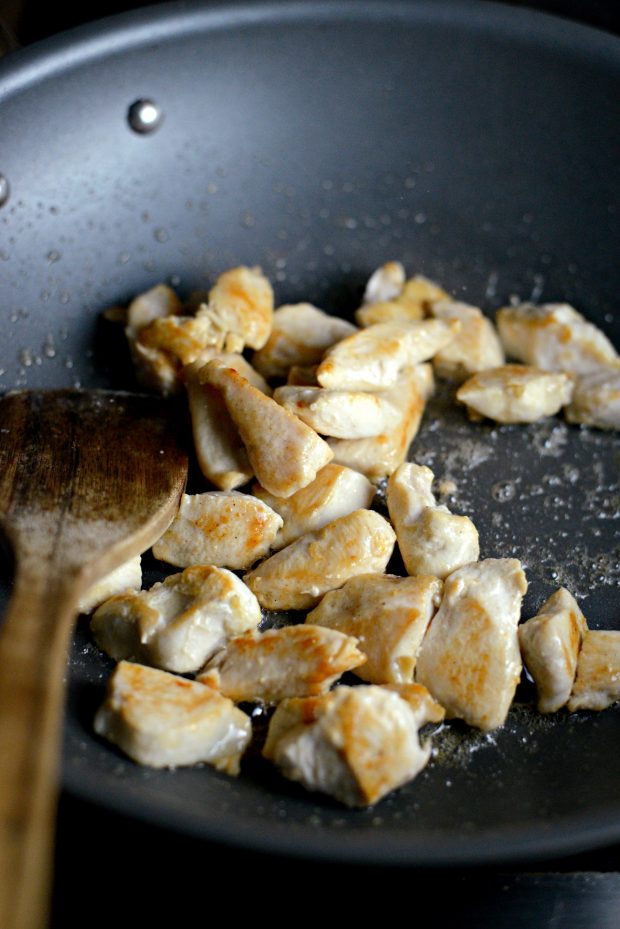 To start, preheat your wok or a 12-inch chef's pan on high heat. Once hot, add in a tablespoon of the toasted sesame oil. Meanwhile, season the chicken pieces with a pinch or two of white pepper and kosher salt, toss to combine.
Working in batches of two, add half of the chicken in an even layer and stir-fry for about 2-4 minutes or until golden brown and cooked through. Transfer to a plate and repeat with the remaining chicken.
Once the chicken is cooked, add in the minced ginger and garlic to the remaining oil in the pan. Cook for 1 minute, stirring constantly.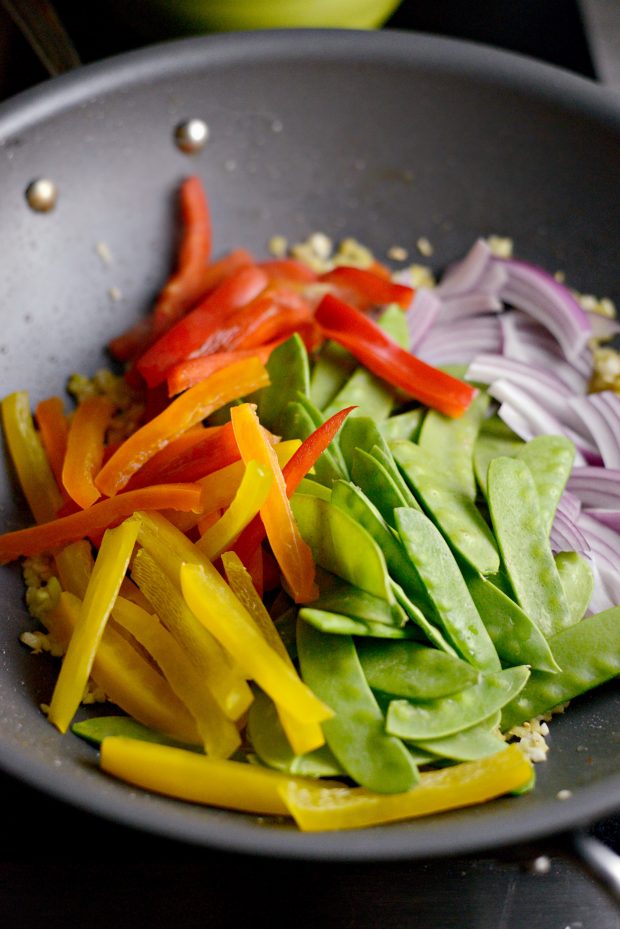 Next, drop in all of the vegetables at once.
Toss them in the ginger and garlic and cook for 3 to 4 minutes or until the vegetables start to glisten.
Add the chicken back in and cook for a couple of minutes more. The veggies should still be colorful, firm yet tender.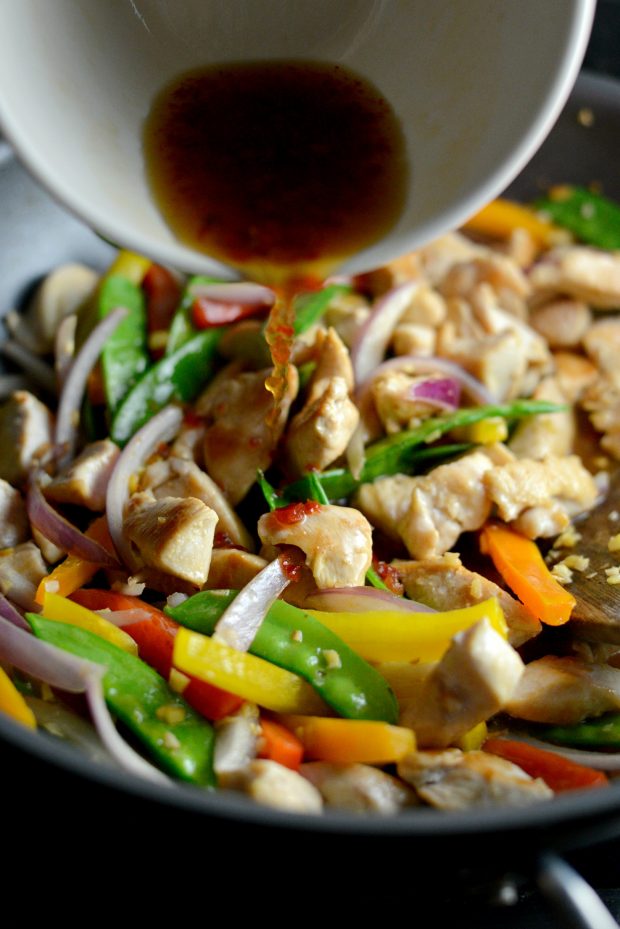 Pour in the Szechuan sauce and bring it to a boil. Meanwhile, quickly combine 1 tablespoon of corn starch with 1 tablespoon cool water. Pour in the slurry and stir until the sauce has thickened (about 1 to 2 minutes).
I think this Szechuan chicken stir fry has the perfect level of spice. My husband likes to add sriracha to his bowl because he's a glutton for punishment, and to him, there's no such thing as too spicy.
Whichever way you choose, don't forget to sprinkle each bowl with fresh sliced green onions and chopped peanuts. This is absolutely one of my favorite weeknight meals, and it's healthy too!
Winner-winner Szechuan Chicken Stir-fry for dinner!
Enjoy!
My cookbook Simply Scratch : 120 Wholesome Homemade Recipes Made Easy is now available! CLICK HERE for details and THANK YOU in advance!
[this post contains affiliate links.]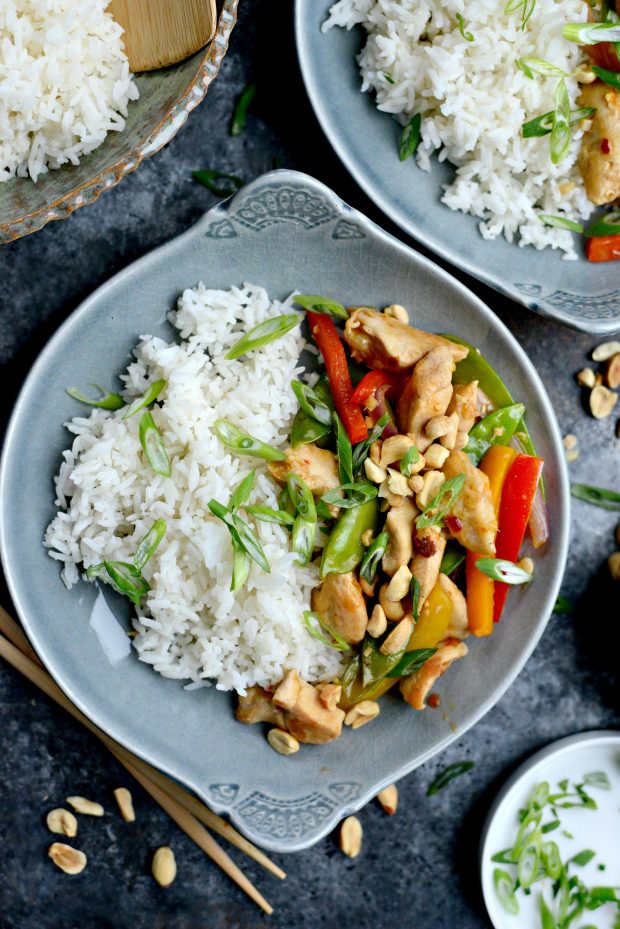 This post may contain affiliate links.
Buy the Cookbook: Simply Scratch : 120 Wholesome Homemade Recipes Made Easy Now available on Amazon »
THANK YOU in advance for your support!