Having a jar of Spicy Pickled Vegetables in the fridge is never a bad idea! Radish, carrot and jalapeños are quickly pickled with garlic and cilantro to be crisp, delicious and with some heat. These crunchy gems are perfect on a sandwich, tacos or by themselves as a snack!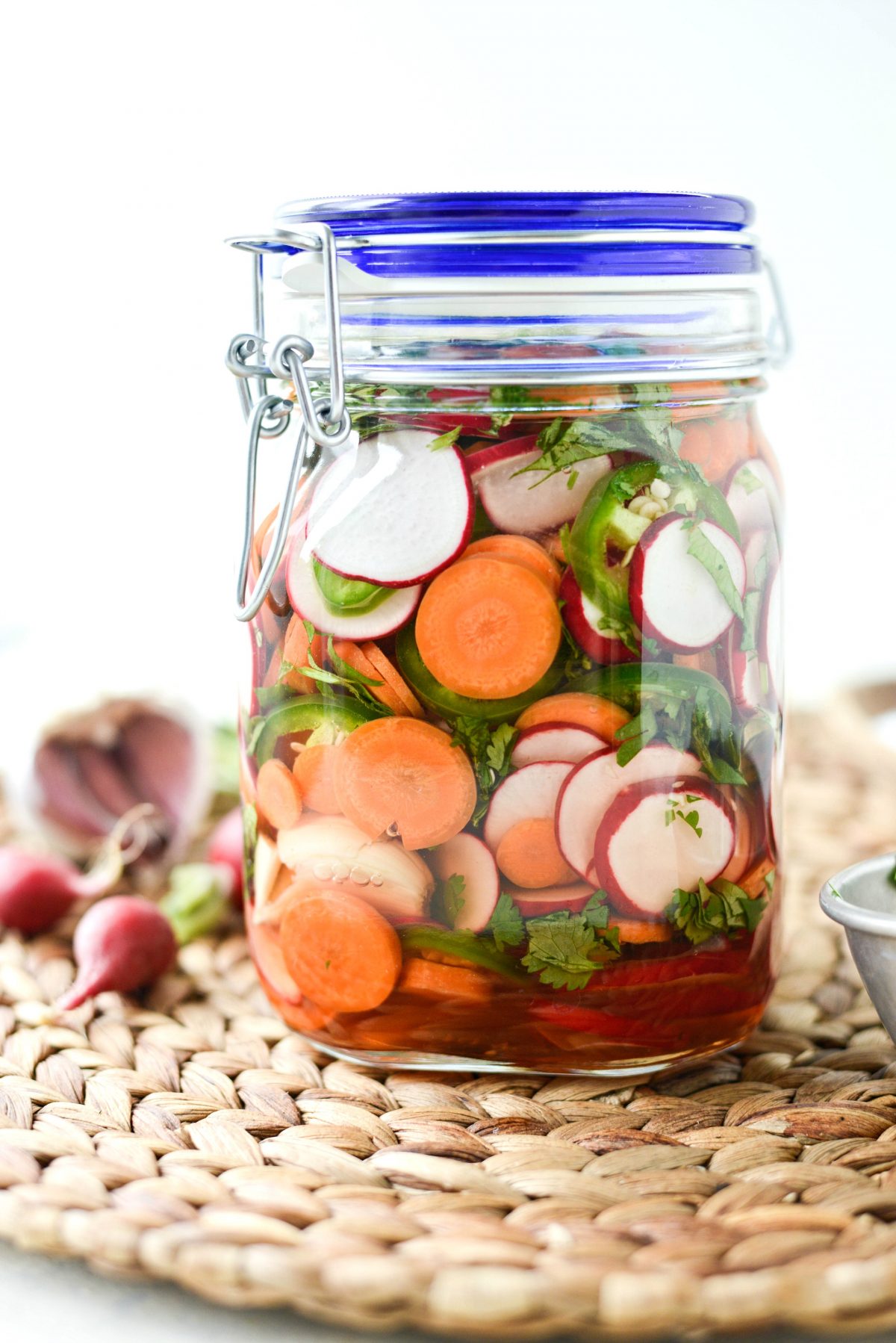 I have another delicious quick pickle recipe for you!
My love for quick pickles knows no bounds. It all began with pickled jalapeños and since has blossomed to a whole new level. Have you tried the pickled strawberries?? This jar of spicy pickled vegetables makes the 8th recipe on this blog and I have no intentions on stopping any time soon.
I literally eat these spicy gems out of the jar. I've also use them as garnish on tacos and on nachos. SO good!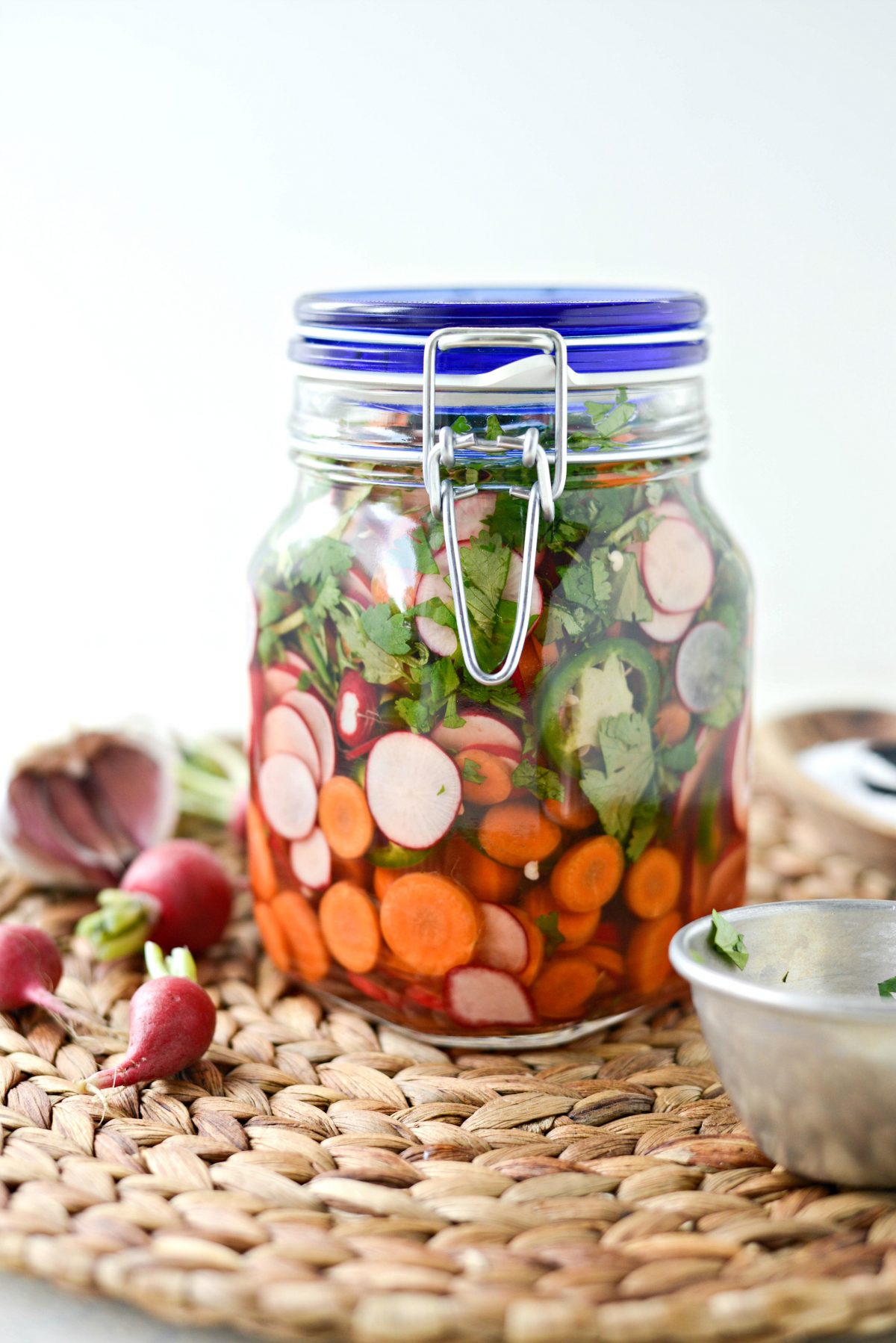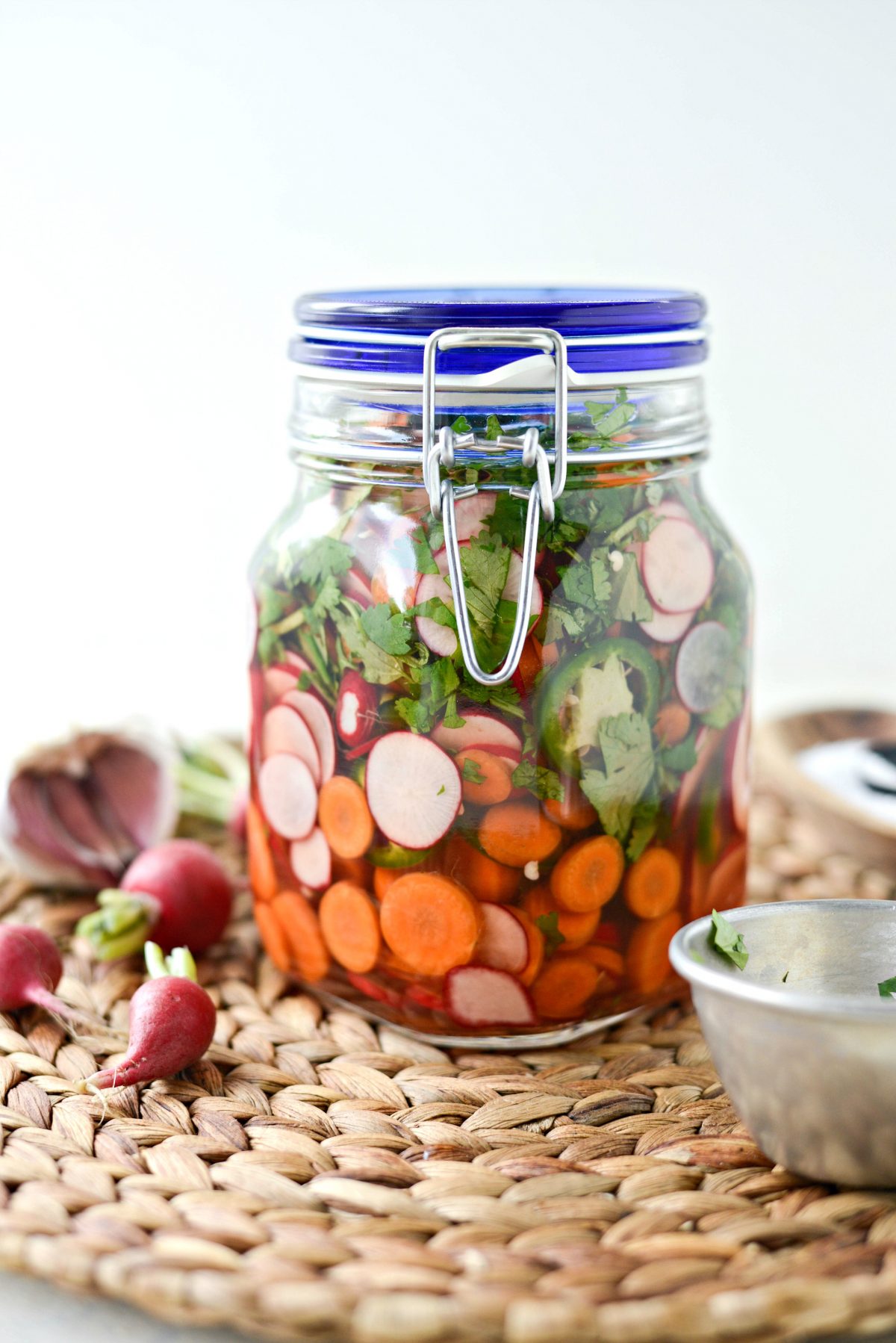 And this recipe couldn't be any easier.
Here's What You Need to make quick pickled vegetables:
2 tablespoons sugar
1 tablespoon kosher salt
1/4 cup apple cider vinegar
1/4 cup red wine vinegar
1/2 cup white wine vinegar or distilled vinegar
1 bunch carrots (smallish with the leafy tops – usually organic)
2 bunches of radishes
2 jalapeño peppers
3 cloves of fresh garlic
1/3 cup chopped cilantro.
Start by adding the sugar and salt into a medium saucepan. In any recipe, sugar and salt are mainly added for flavor and tame the heat.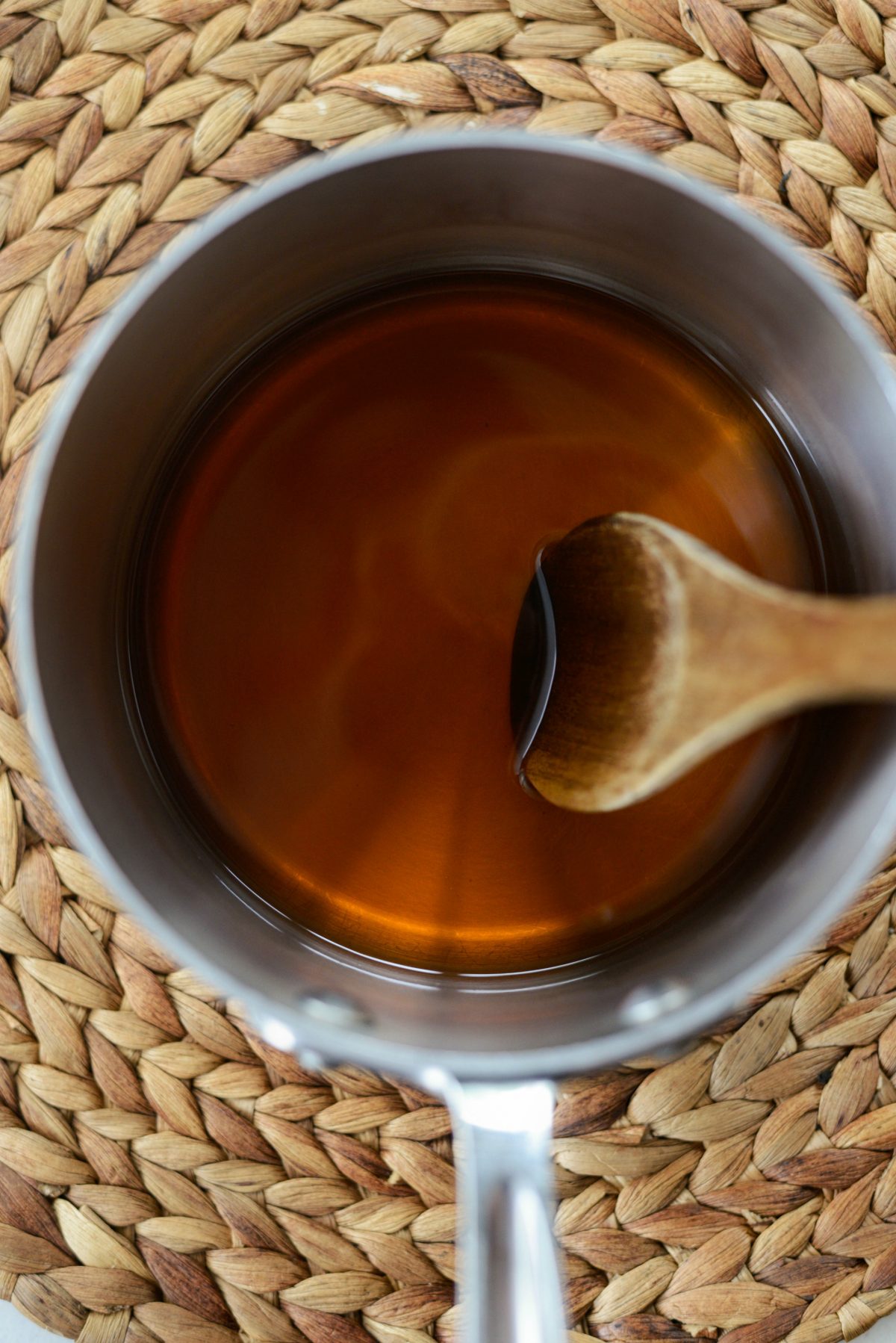 Next, pour in all the vinegars and heat on medium, stirring occasionally until the sugar and salt have dissolved. Then remove the pan off of the heat and cool completely.
Meanwhile, wash, pat dry and slice the carrots, radish and jalapeños. Also, smash and peel 3 large cloves of garlic and chop up 1/3 to 1/2 cup fresh cilantro.
In a large 32 ounce jar, combine all of the vegetables with the cilantro and garlic.
Pour the cooled pickling solution over the vegetables and fill the jar with cold water until the vegetables are just covered. Try using a spoon to press the vegetables down to submerge.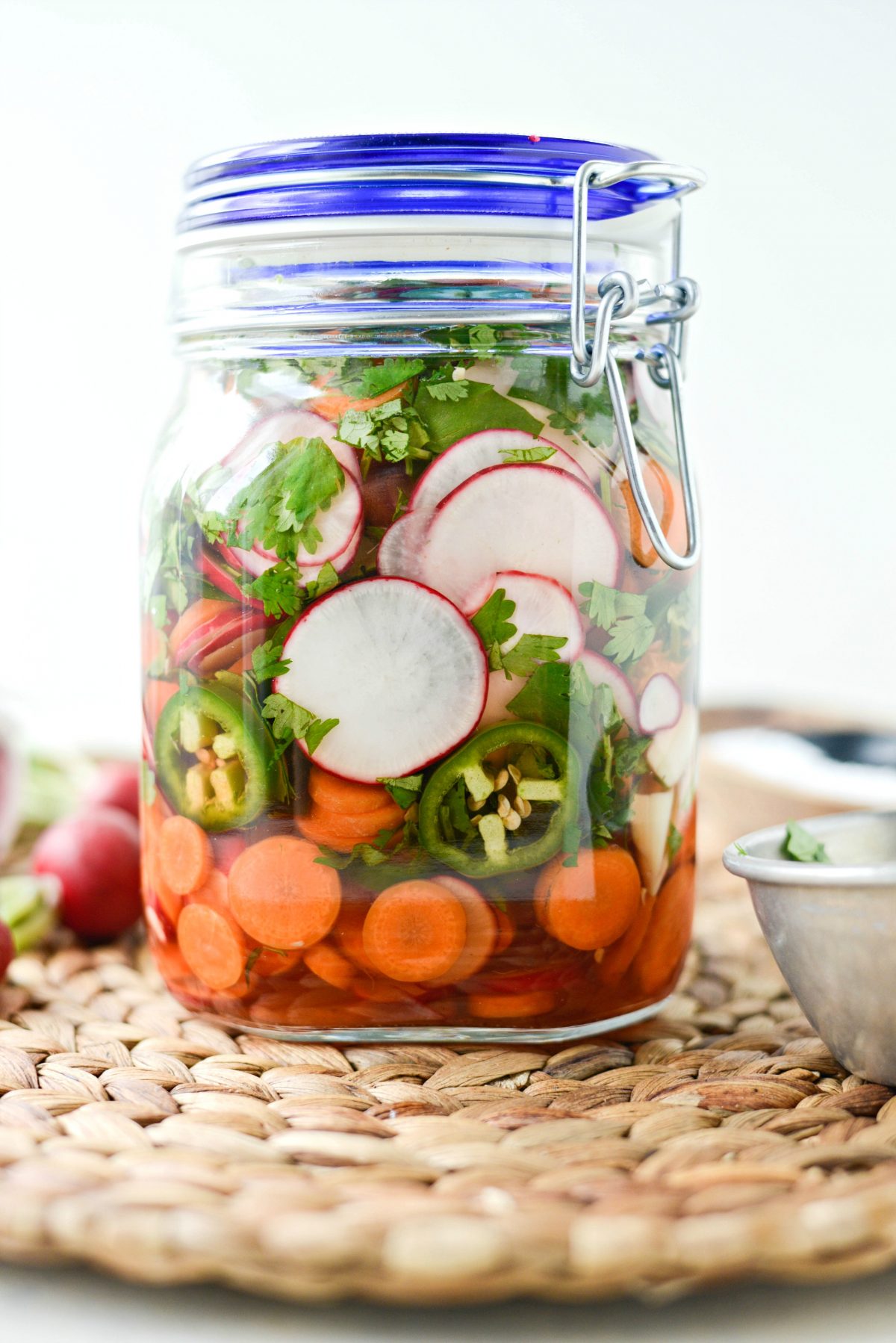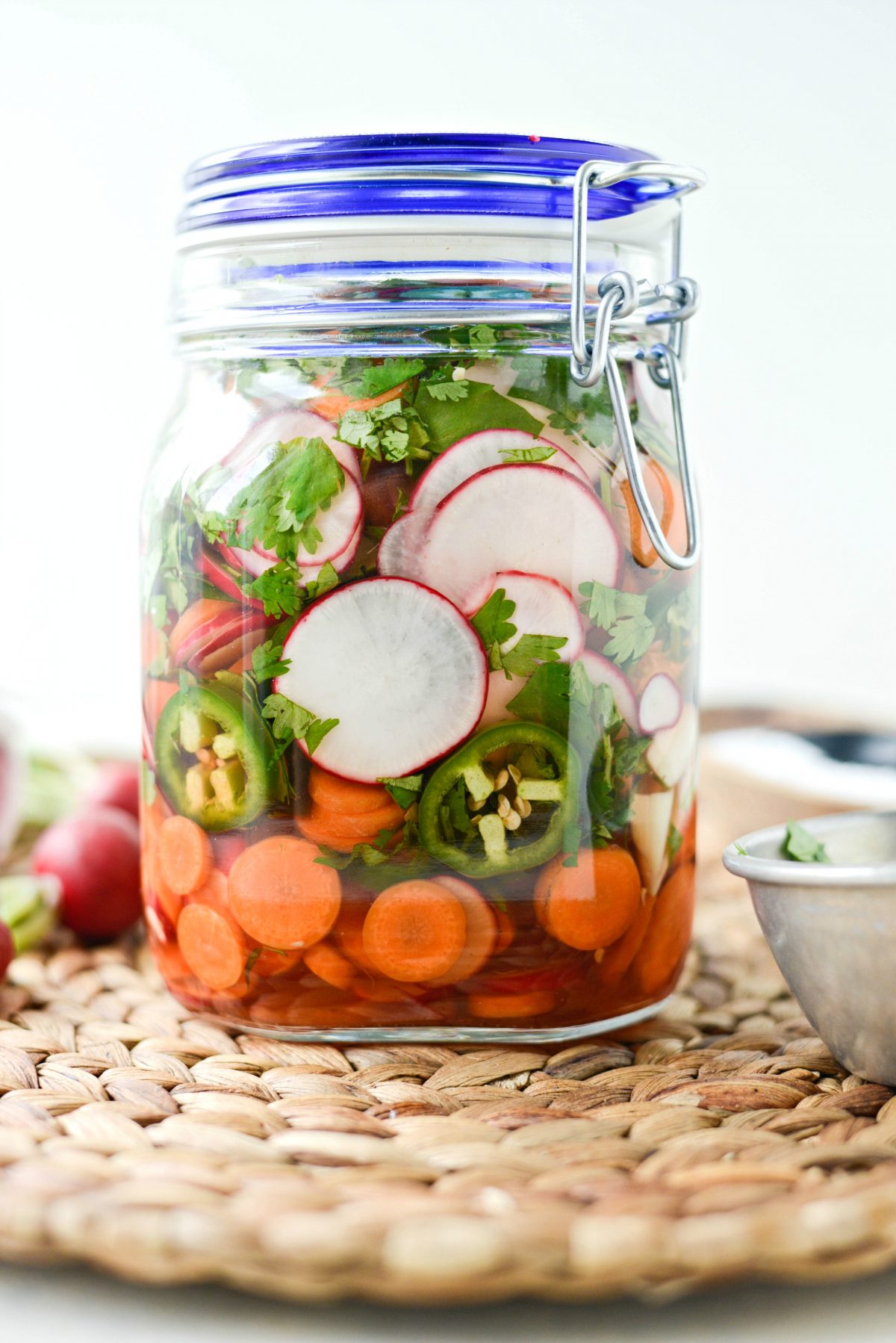 Now, seal the jar tightly with the lid and tip it back and forth a few times just to insure that the water and vinegar mix.
Lastly, pop the jar of quick pickled vegetables into your fridge for 18 to 24 hours and in no time you will have crunchy, delicious and a smidgen spicy pickled vegetables.
looking For more quick pickle recipes?
I have a small, growing collection of quick pickle recipes. You can find them all here!
Enjoy! And if you give these Spicy Pickled Vegetables a try, let me know! Snap a photo and tag me on twitter or instagram!
This post may contain affiliate links.
Buy the Cookbook: Simply Scratch : 120 Wholesome Homemade Recipes Made Easy Now available on Amazon »
THANK YOU in advance for your support!