These Spicy Chocolate Cayenne Truffle Brownies are thick, rich and fudgy with a little kick from cayenne pepper. So delicious!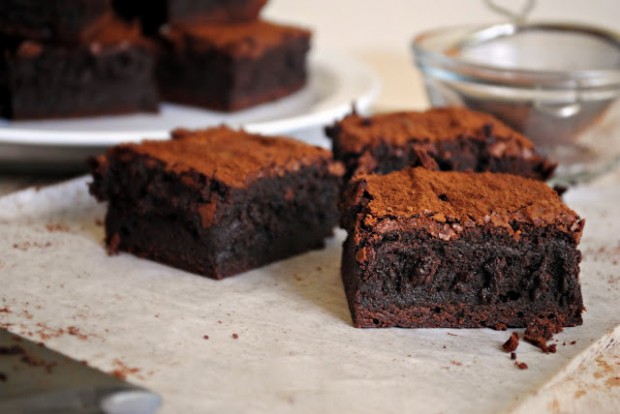 Yeah I totally know what you're thinking.
Chocolate. Cayenne. Now way! What in the world could it possibly taste like? Could those flavors even work? Well I'm here to tell you that yes it sure does and I LOVE them!
The inspiration for these spicy brownies came from a bar of chocolate. When shopping the aisles of Target for items to send in a care package to send my sister in North Carolina, I swiped a bar of chili-infused chocolate. When I got home I was totally wishing I bought myself a bar and contemplated if I should "forget" to send hers and keep it all to my greedy-little-chocolate-hoarding self. In the end, I did what's right… and shipped it.
Moral of the story. Always ALWAYS buy two, maybe three.
TO Make These Spicy Chocolate Cayenne Truffle Brownies You Will Need:
bittersweet chocolate, broken into pieces
unsalted butter, cut into pieces (plus more for greasing the pan)
eggs, at room temp
granulated sugar
dark brown sugar
unbleached all-purpose flour
unsweetened cocoa powder, plus more for dusting
cayenne pepper, or more to taste
baking powder
kosher salt
Start with 8 ounces of bittersweet chocolate and a stick of unsalted butter. Everything heavenly either starts or ends with "a stick of butter".
Break up the chocolate into a sauce pan.
Cut up the butter.
And add it to the sauce pan with the chocolate.
Heat on low, slowly melting and stirring occasionally.
While the chocolate and butter are doing their thing; I threw the flour, cocoa, kosher salt, baking powder, and chili powder into mesh sifter.
I sifted the dry ingredients into a large bowl and tried not get it all over the place and succeeded! Then just set aside.
Now the chocolate is all melted and shiny, so I pulled it off the heat.
Then add in the white sugar and dark brown sugar.
Then mix until all that glorious sugar is incorporated.
Next add in one egg at a time, whisk and repeat until all four eggs are in.
*I wait until the chocolate has cooled a bit and my eggs up to around room temp so they don't curdle and cook.
Wait. Maybe I'd stop here, grab a spoon and go hide somewhere.
Then add in the flour/cocoa mixture in spoonfuls at a time and mixed after every addition.
Next I prepped my 8×8 pan with butter and parchment paper.
Parchment = easy removal. Easy removal = my pan doesn't get scratched. Me Not having to spend more money on expensive Calphalon pans = priceless.
Next, once the flour mixture was all mixed in pour the batter into the pan.
Then I spread the batter out with my finger a spatula and baked it in a preheated 350° oven for about 35-40 minutes. If you are using a 9×13 you may need to just bake it for 25-30 minutes. But as I always say: every ones oven is different. Check your brownies with a tooth pick or skewer, it's done when the skewer comes out clean.
But if you're like me… and I like mine fudgy, so I'm okay with a little chocolate attached to the tester.
Next, remove from pan once cooled and safe to handle.
Then sprinkle with reserved cocoa powder.
Finally, cut into 12 squares. Keep in mind that if you're making a spicier brownie, you may want to consider keeping them a little on the small side.
To describe these brownies is pretty dang simple. The brownie itself is fudgy (because I always under bake mine, and yes it's on purpose) and as your salivary glands are enjoying the chocolaty goodness, it's when you swallow… that you feel a little bit of warmth in the back of your throat. It's kind of remarkable. It's one of those things that you won't believe it could possibly taste good until you try it, kinda how I feel about avocado frosting… sounds kinda gross but I bet it's delicious!
Note the fudgy inside. to.die.for.
Lucky for my thighs, I took these spicy chocolate cayenne truffle brownies to a family get together… otherwise I'd weigh 1,346 pounds, because I would've eaten them ALL!
Enjoy! And if you give this Spicy Chocolate Cayenne Truffle Brownies recipe a try, let me know! Snap a photo and tag me on twitter or instagram!
This post may contain affiliate links.
Buy the Cookbook: Simply Scratch : 120 Wholesome Homemade Recipes Made Easy Now available on Amazon »
THANK YOU in advance for your support!