Looking for a healthy and filling salad? This Southwest Chicken Salsa Ranch Taco Salad is your answer! In it, chopped romaine is topped with southwest seasoned chicken, black beans, charred corn, peppers, red onion, tomatoes, olives and avocado. Perfect for meal prep too!
Can I just say that I'm so glad to have romaine back in my life?! The recall was a salad eaters nightmare. Of course the romaine warning went out the day after I went grocery shopping. I was in denial and did not want to throw away a brand new package of romaine. I held onto it for a week before finally giving in and pitching it in the trash.
In the meantime, I used kale, spinach and arugula to get by. But the moment I saw romaine was back, I made all the salads using all the romaine. I was in deep romaine withdrawal and needed a fix. Something that came without a long stem attached. You feel me, right? I still can't bring my self to eat another spinach or arugula salad. So over it. Unless it's a salad from Panera.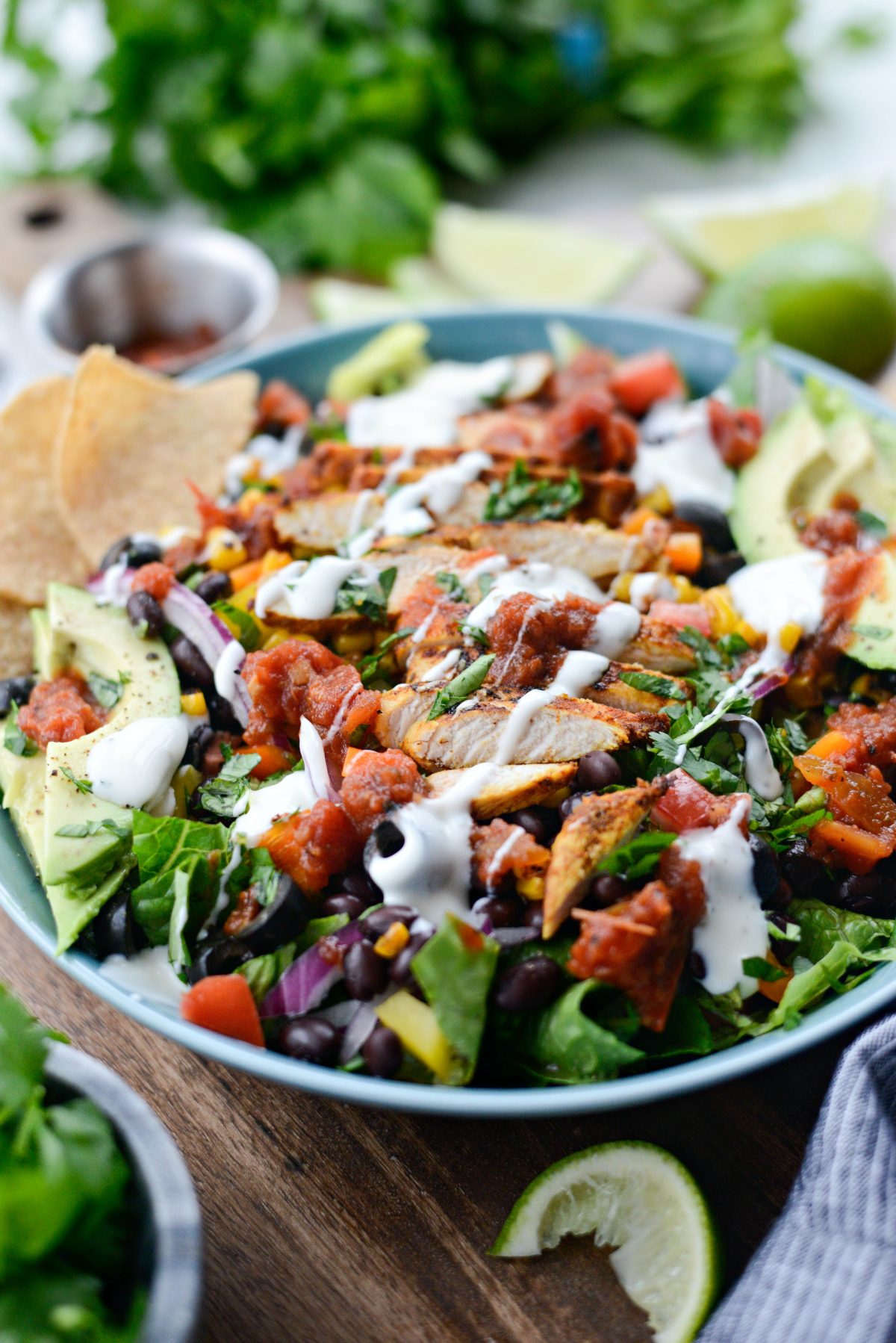 SO this southwest chicken salsa ranch taco salad is the first salad I made with romaine and I. love. it. It's a big salad with lots of toppings and I could seriously eat it all day every day. It's also great for meal prep too!
To Make this Southwest Chicken Salsa Ranch Taco Salad You will Need:
boneless skinless chicken breasts
extra light olive oil
black beans
sweet corn
romaine lettuce
yellow bell pepepr
orange bell pepper
roma tomato
red onion
black olives
ranch dressing
salsa
cilantro
lime wedges
tortilla chips
avocado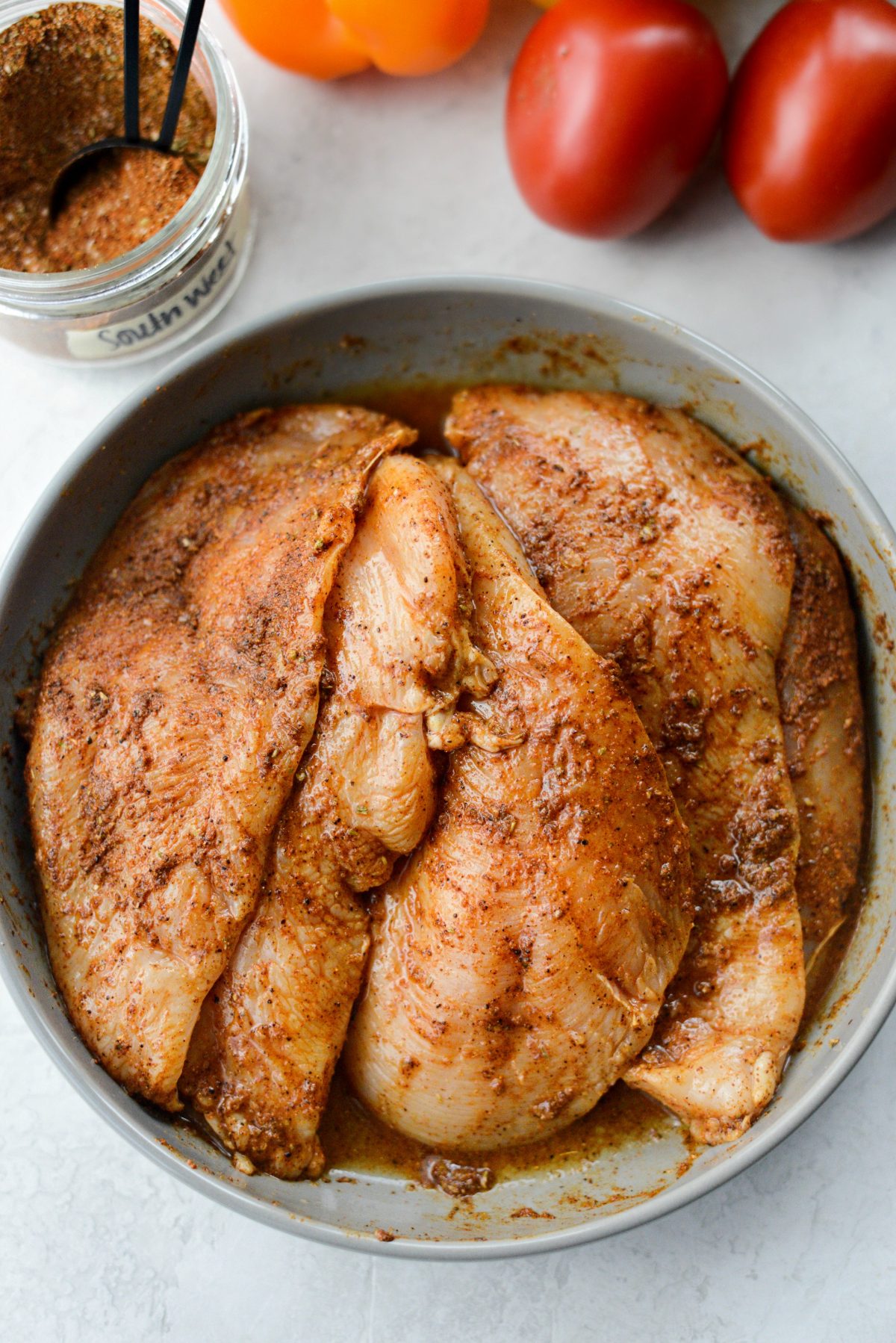 In a shallow dish, use tongs to toss the 1-1/4 pounds of chicken breast halves with the juice from 1 lime, 1 teaspoon olive oil and 2 tablespoons southwest seasoning.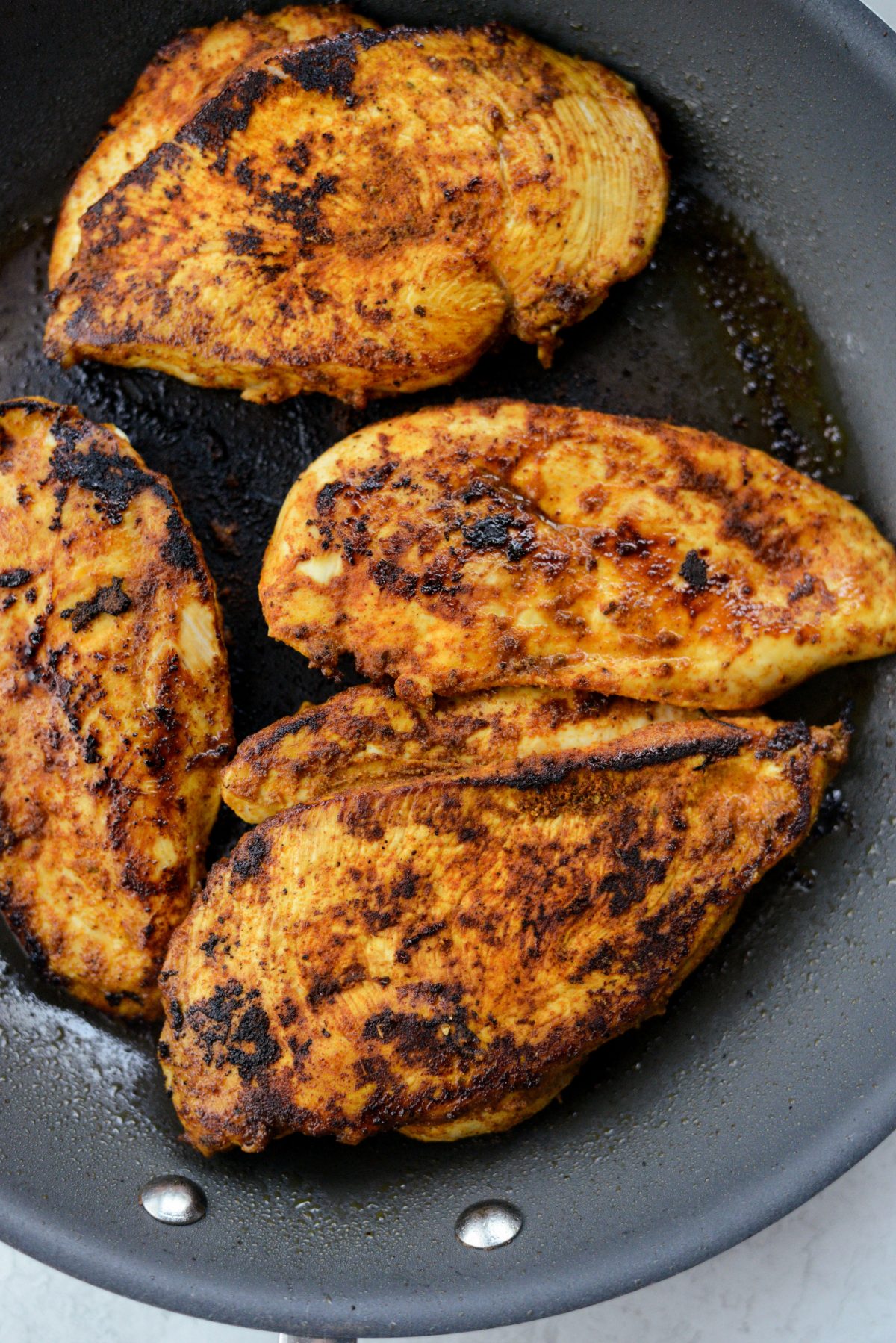 Then preheat a large, 12-inch skillet over medium-high heat. Add 1-1/2 teaspoons of light olive oil and once hot, sear the chicken for 6-8 minutes per side. Adding more oil as needed. Depending on the thickness of your chicken, you may want/need to transfer the chicken to a rimmed baking sheet and finish baking in a preheated 350° oven for about 10 to 12 minutes. Or until fully cooked and no longer pink. If the chicken breasts are on the thin side, you most likely won't need to do this. In the summer, you could use your grill.
Allow the chicken to rest, under foil before slicing.
While the chicken is cooking, prep all of the veggies for this salad.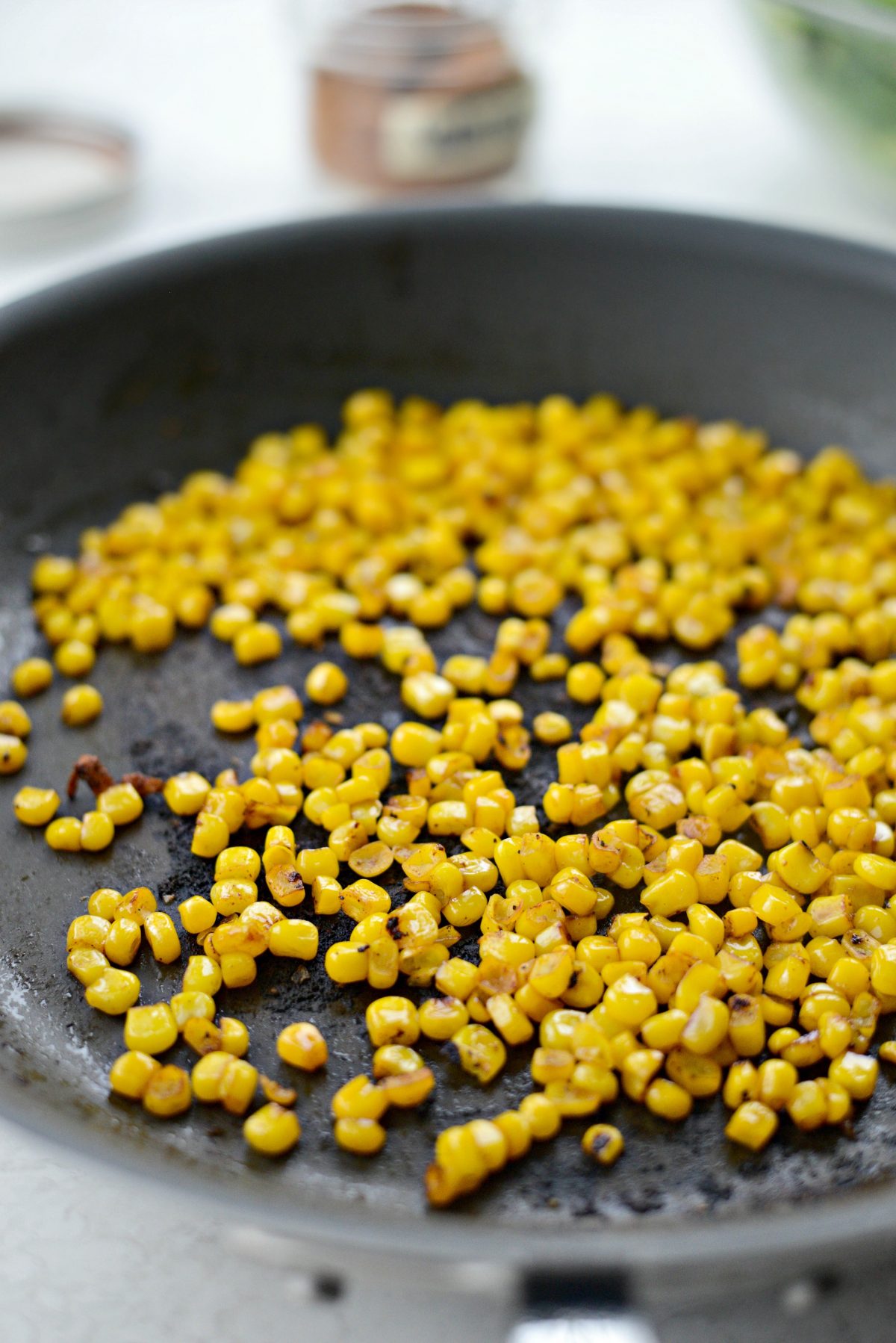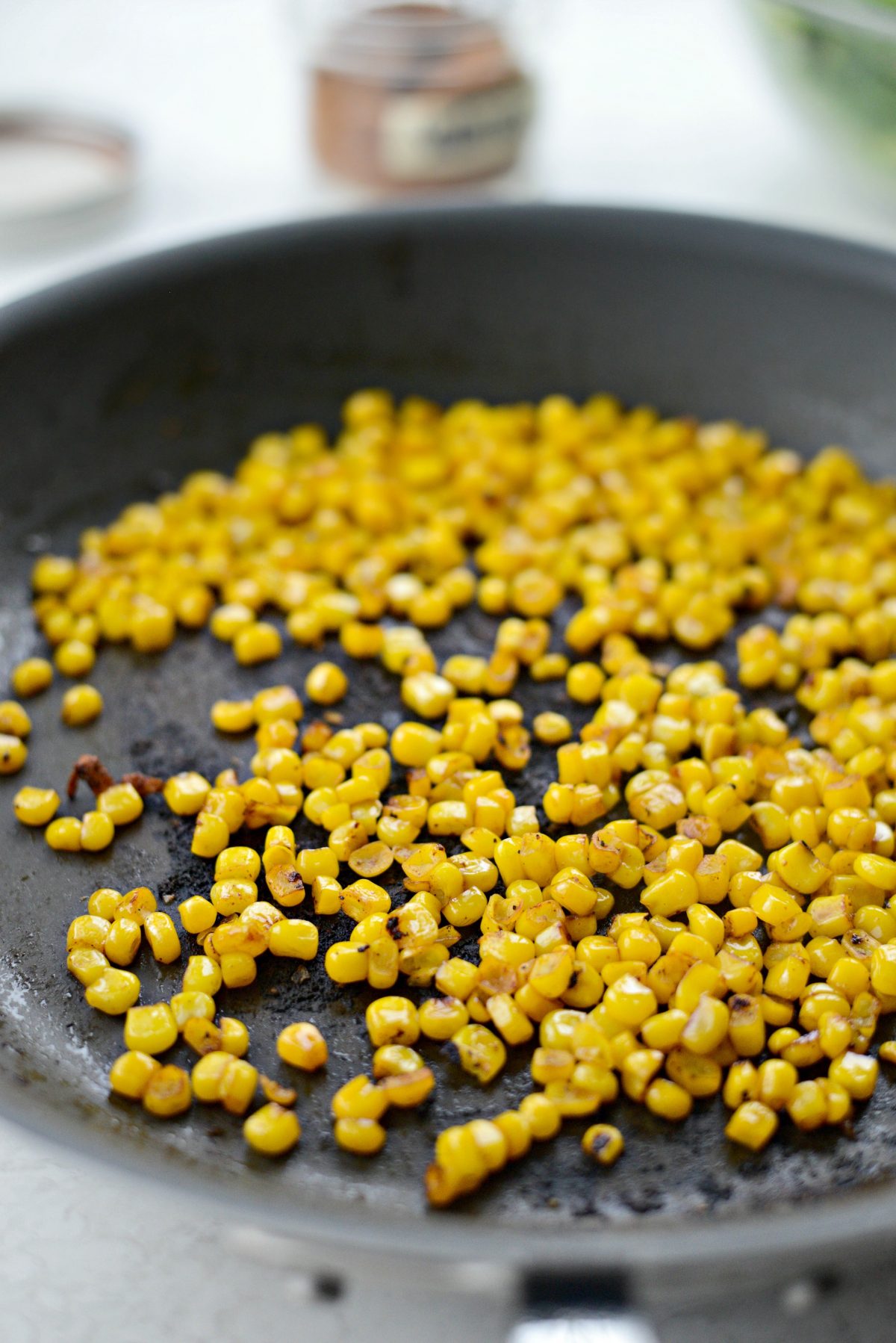 To the same skillet that the chicken was once in (and without wiping it out) add the corn. Spread the kernels out in an even layer, and cook 3 to 4 minutes or until the corn is charred in spots, stirring occasionally. Then transfer to a bowl.
Finally, place the chopped lettuce into shallow bowls. Then top with the black beans, corn, peppers, tomatoes, onions, olives and sliced chicken. Add sliced avocado, a squeeze of fresh lime juice and a sprinkle of chopped fresh cilantro. I also add a pinch of kosher salt and freshly ground black pepper to pretty much all my salads.
How To Get Ripe Avocados To LAST:
The trick to storing ripe avocados so they last is a no-brainer, it's easy and effective and has saved me SO much money. First buy hard to the touch, bright green avocados and allow them to ripen on the counter. Once they are black, soft to the touch (NOT squishy) pop them into the fridge. Because here is where they will last for quite a few days! You guys this has changed my life and I owe this trick to my sisters. No more wasted avocados!
One thing I have learned since starting this healthy diet plan, was shortcuts to salad dressings. For example; in any taco, Tex-Mex or southwest type salad, I like adding salsa (preferably one without added sugar). Meaning, that you will need less dressing than what you may typically use.
So for example, in this southwest chicken salad I only use 1 tablespoon of yogurt ranch (which I plan to share the next time I run out and need to make it. Promise!) and 2 tablespoons of salsa. Instead of free-pouring ranch and most likely over dressing.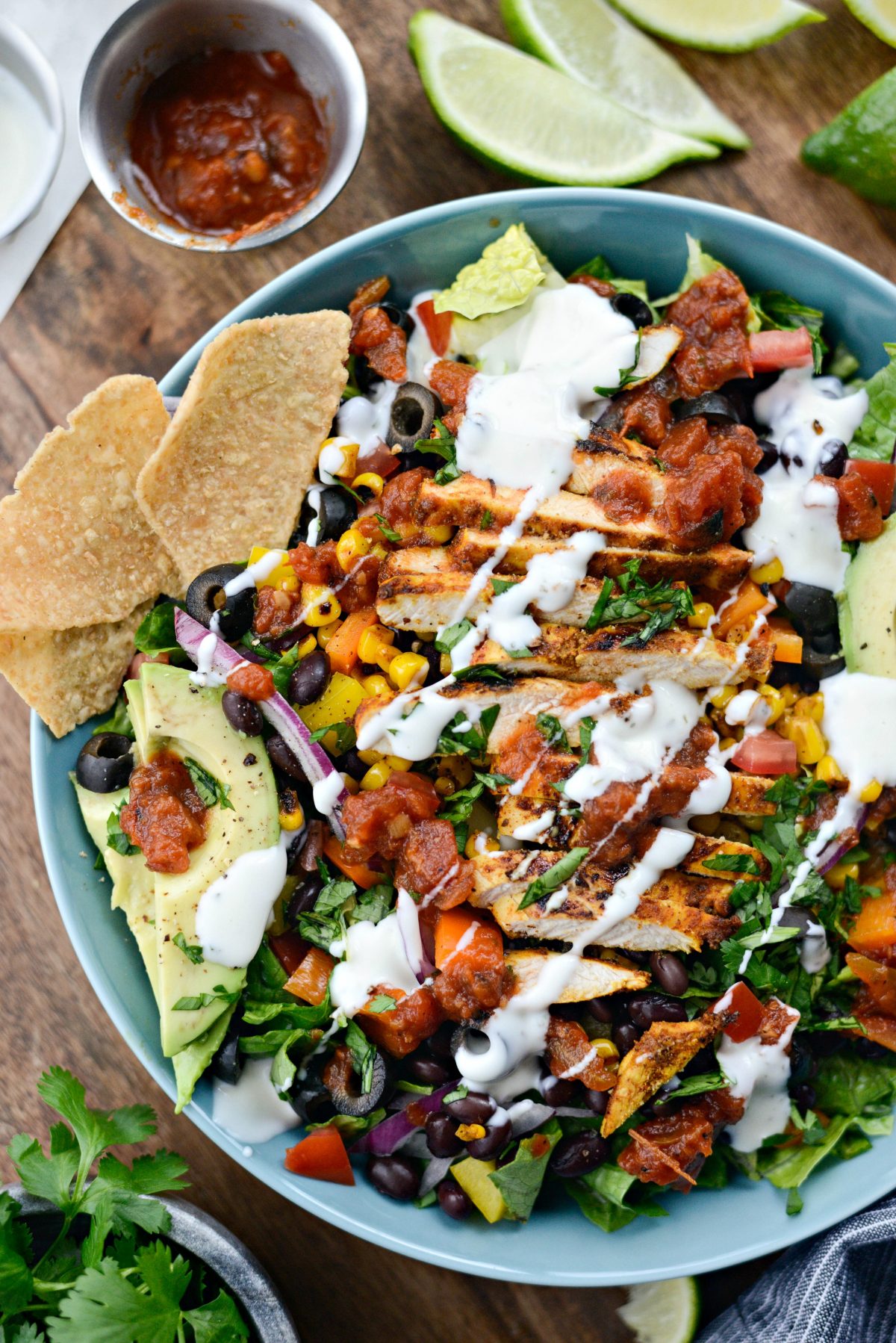 Then once you toss the dressing in with the salad, some of the southwest seasoning that's on the chicken will come off, flavoring the entire salad. And the southwest flavor blended with the ranch dressing and salsa is perfection.
Add a few baked tortilla chips (or chips of your choice – I love sweet potato tortilla chips!) and you've got yourself one heck of a delicious taco salad.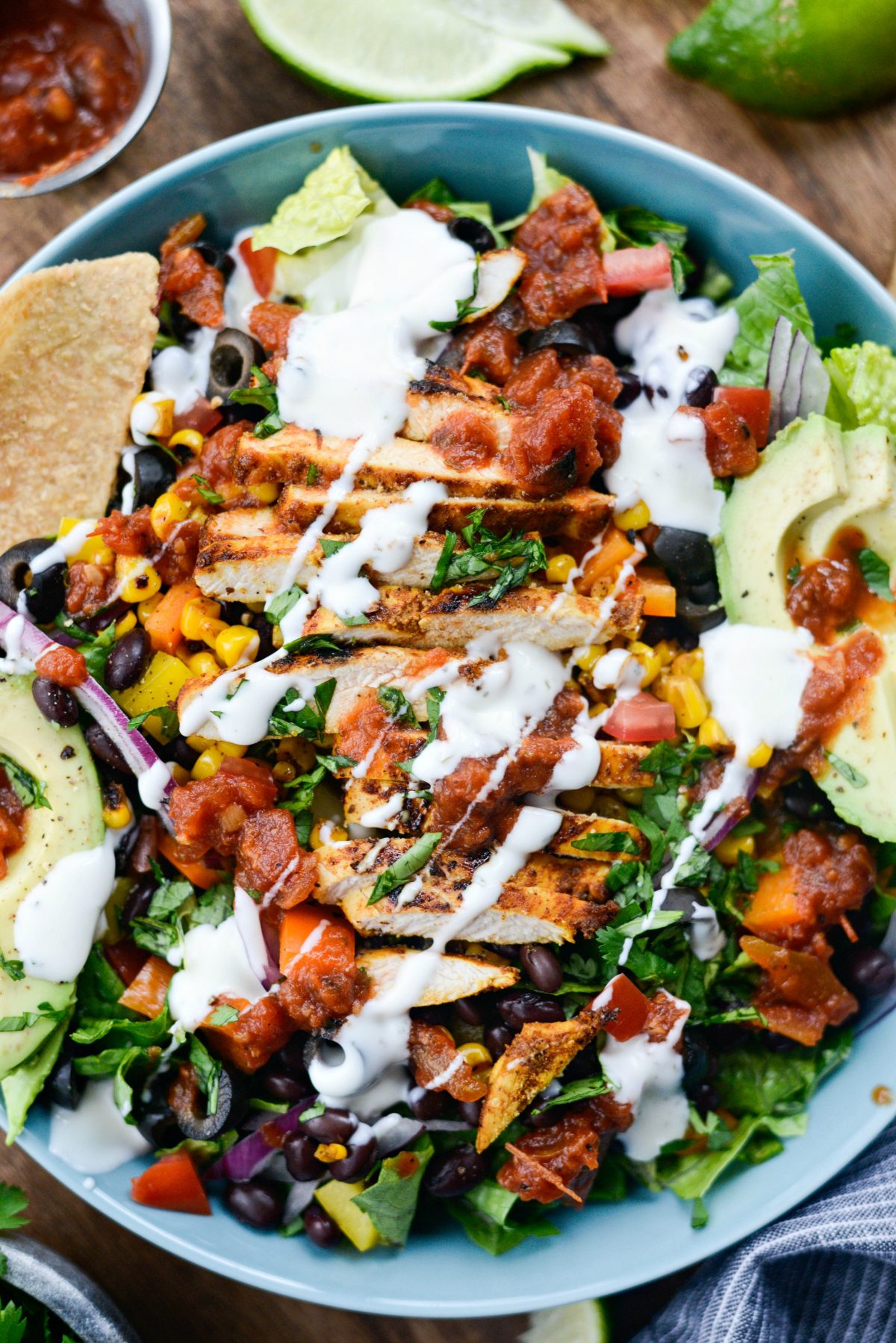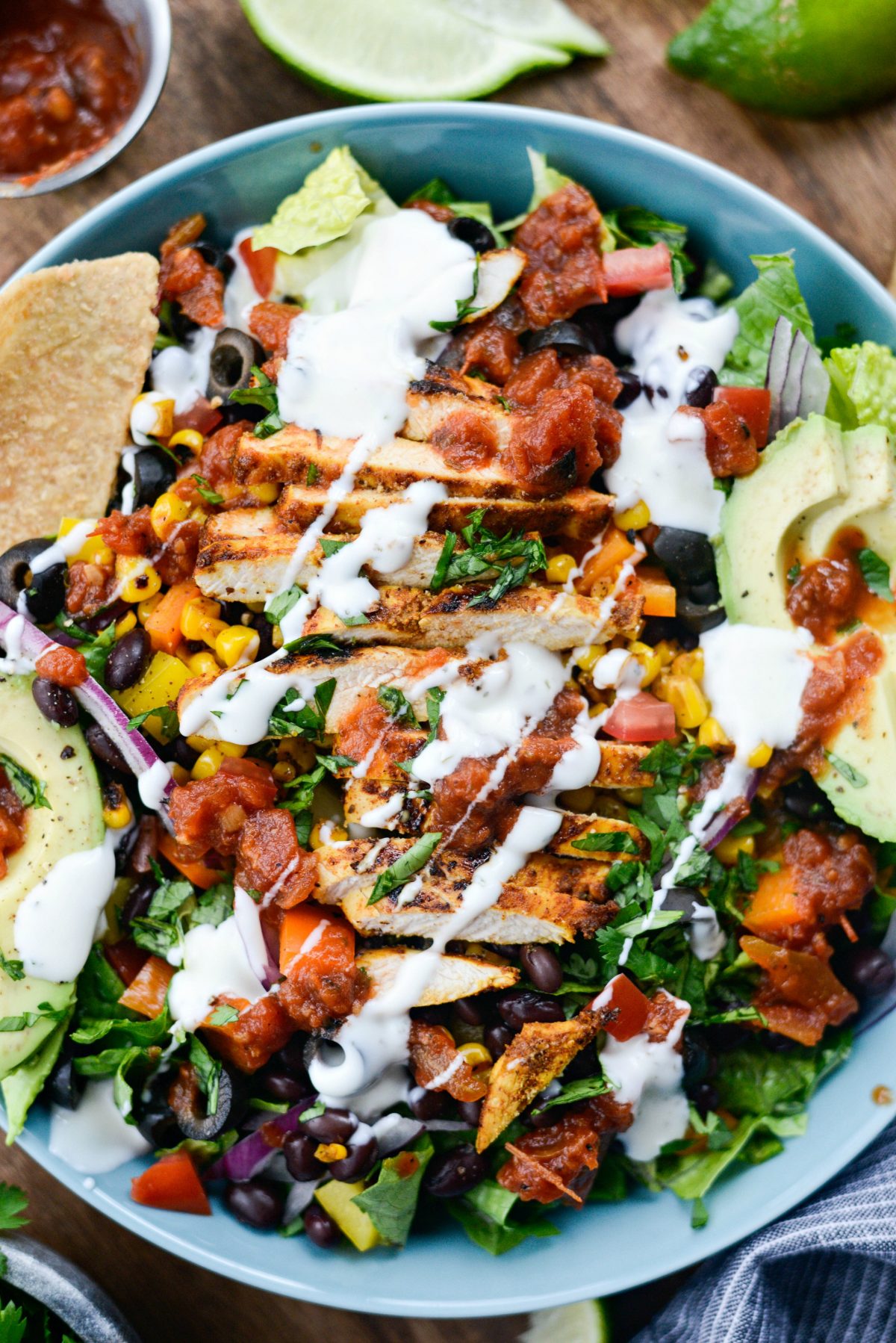 Enjoy! And if you give this Southwest Chicken Salsa Ranch Taco Salad recipe a try, let me know! Snap a photo and tag me on twitter or instagram!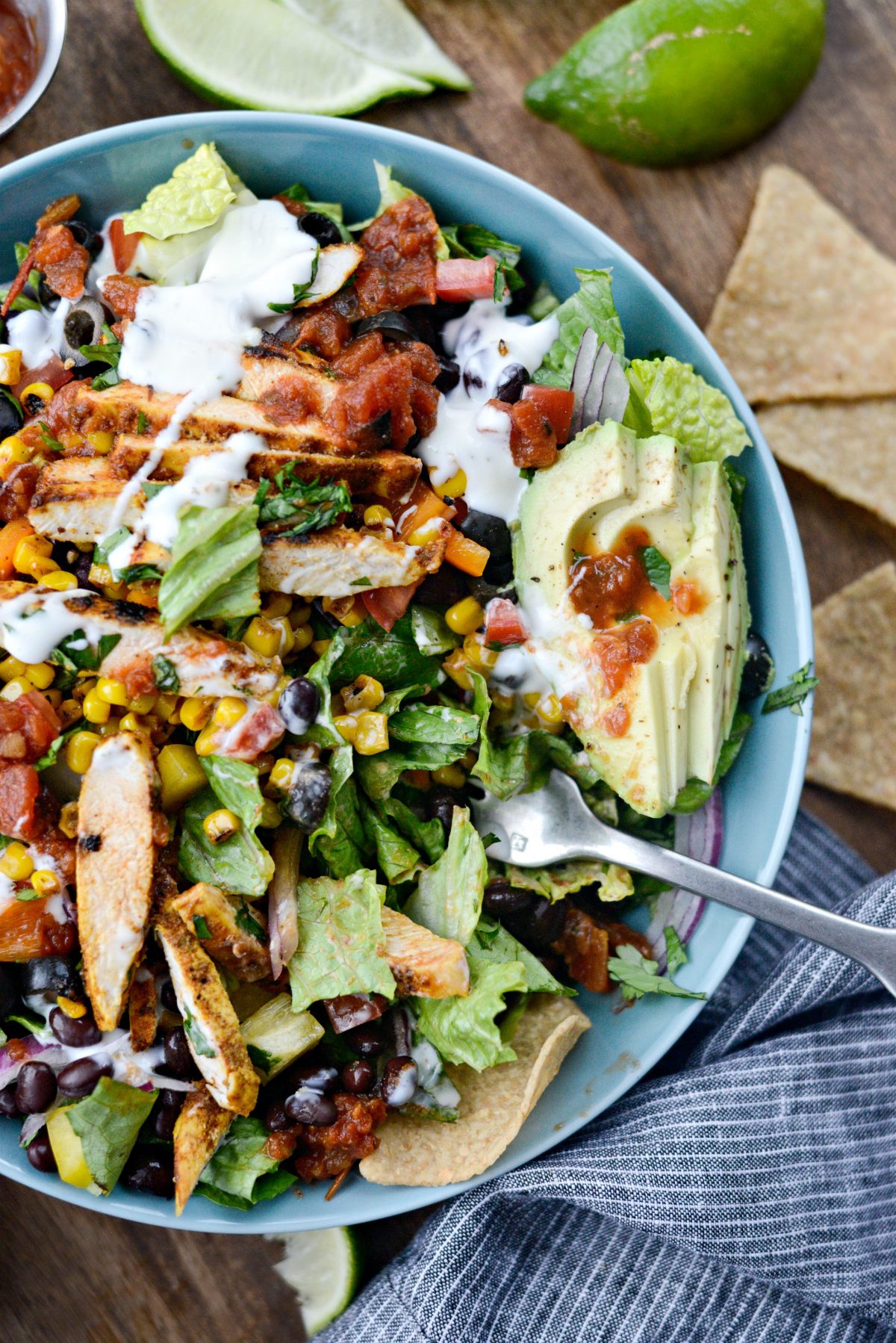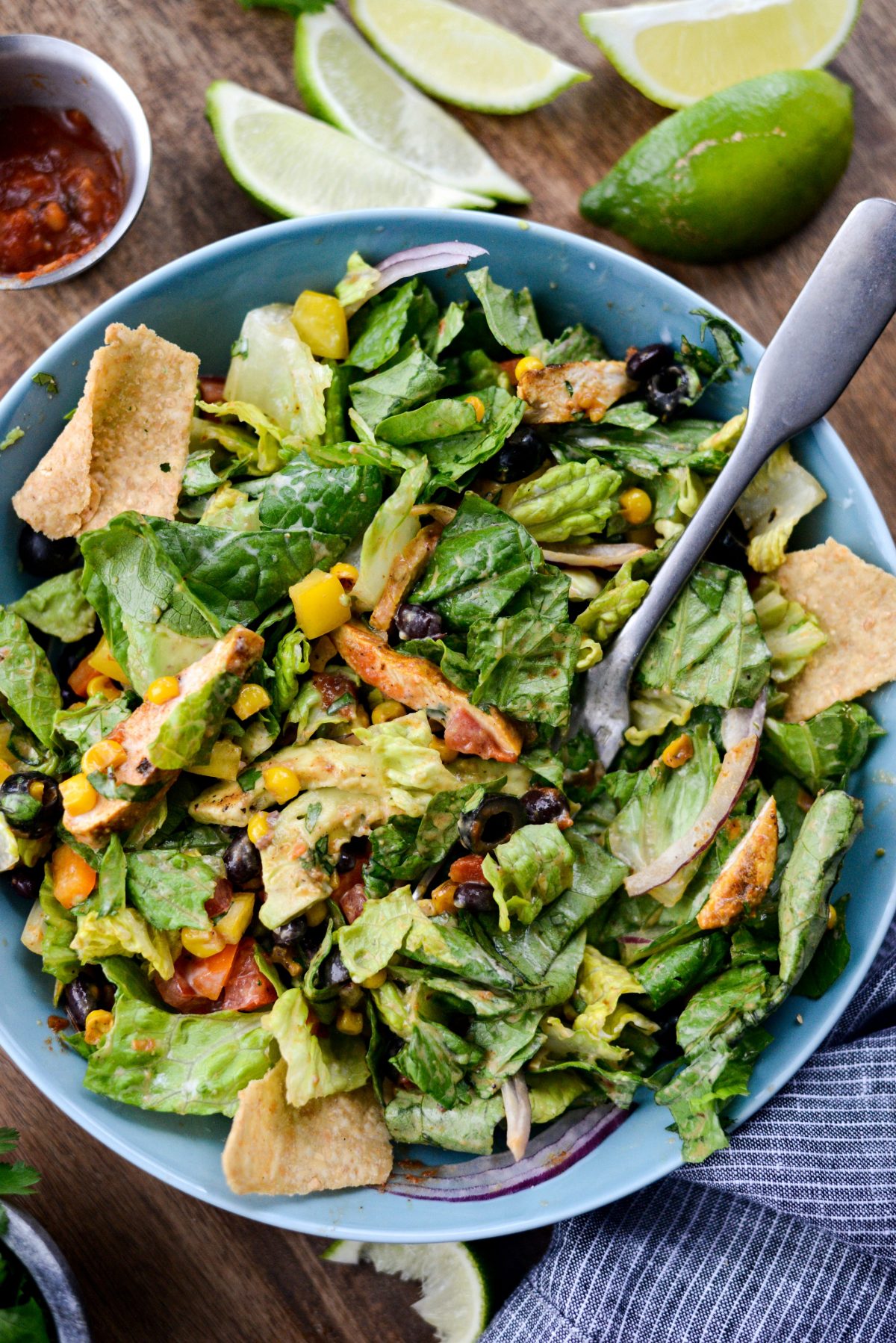 This post may contain affiliate links.
Buy the Cookbook: Simply Scratch : 120 Wholesome Homemade Recipes Made Easy Now available on Amazon »
THANK YOU in advance for your support!