Don't discard your turkey bones, instead make Homemade Turkey Stock! Add leftover turkey bones, vegetables, herbs and spices with water and cider vinegar into your slow cooker and let it do the work. Yields approximately 12 cups in 6 hours.
The worst thing you can do this Thanksgiving is throw away the leftover turkey carcass. There is so many vitamins and nutrients, not to mention flavor, in those turkey bones that would go to waste if you pitched it in the trash. So don't! This year, toss those turkey bones with some veggies, herbs and spices into your slow cooker for a nutritious and delicious homemade turkey stock.
I have a soup recipe to make with this stock. However, if you don't have any immediate plans, this stock also can be easily portioned off into freezer-safe containers and then frozen.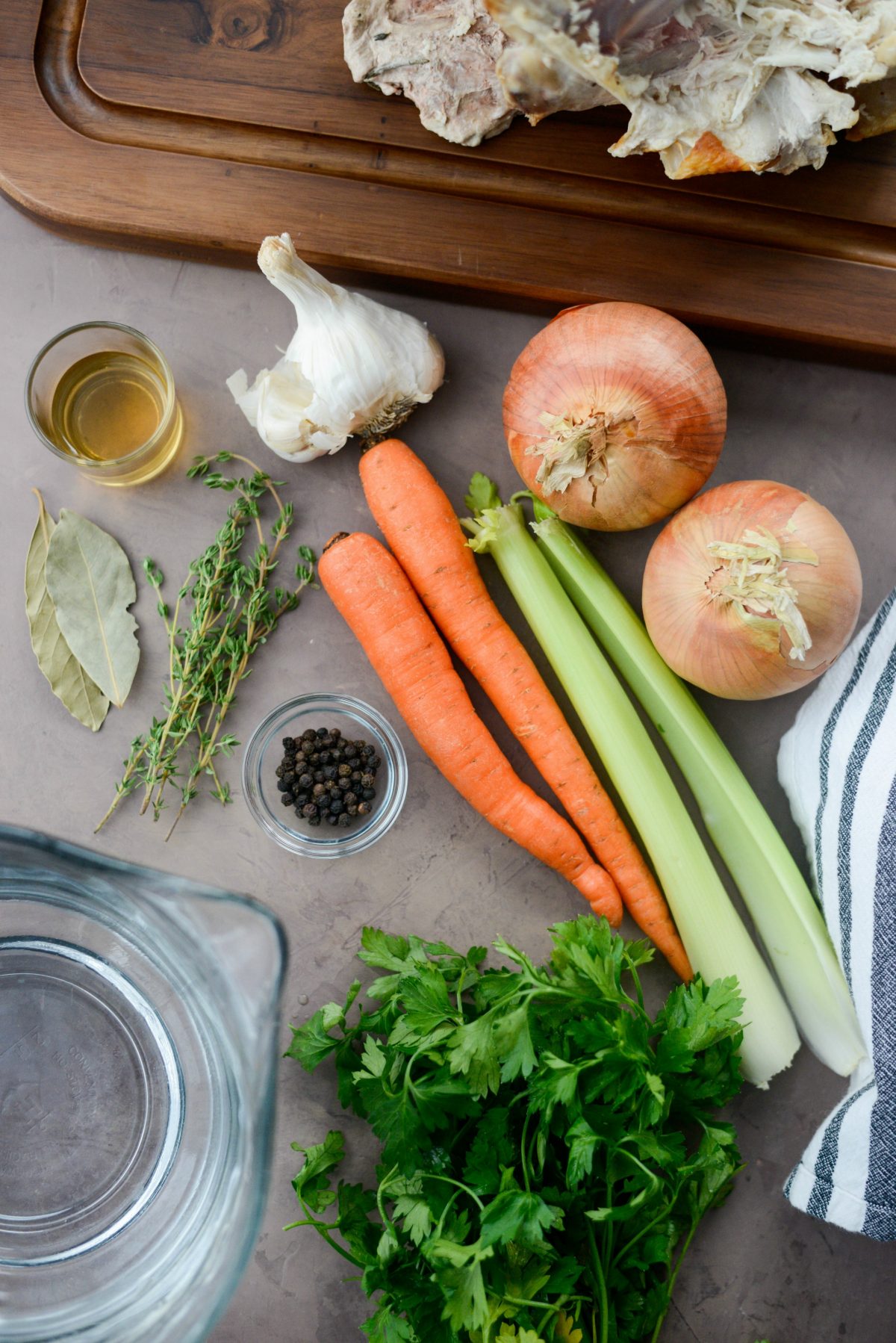 To Make Slow Cooker Homemade Turkey Stock You Will Need:
bones from 1 turkey carcass
carrots
onions
celery stalks
garlic
parsley
thyme
bay leave
black peppercorns
apple cider vinegar
12 cups of cool filtered water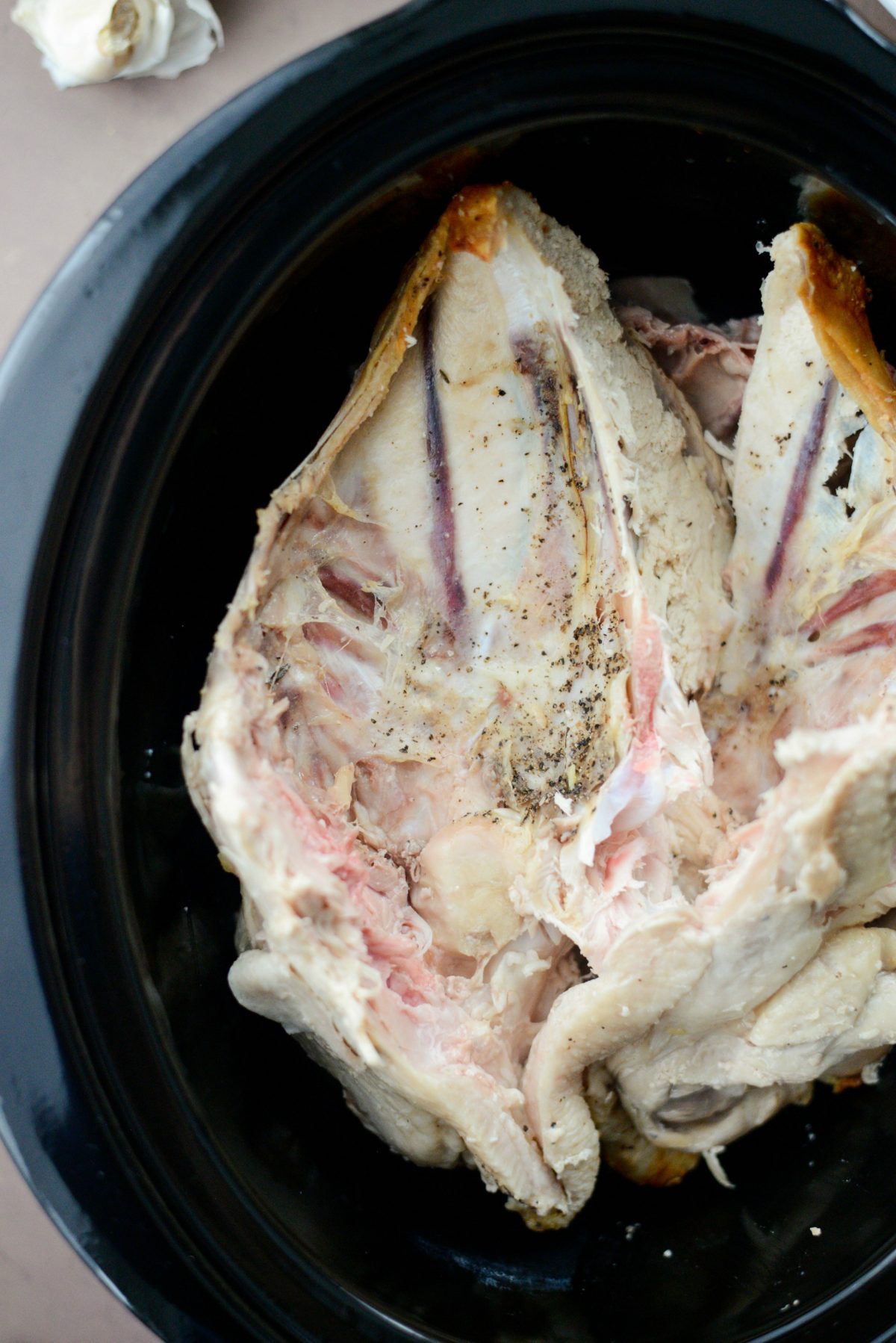 First things first, depending on how large your slow cooker is, you may need to break down the carcass to fit properly. I did it with both hefty kitchen sheers and also a cleaver.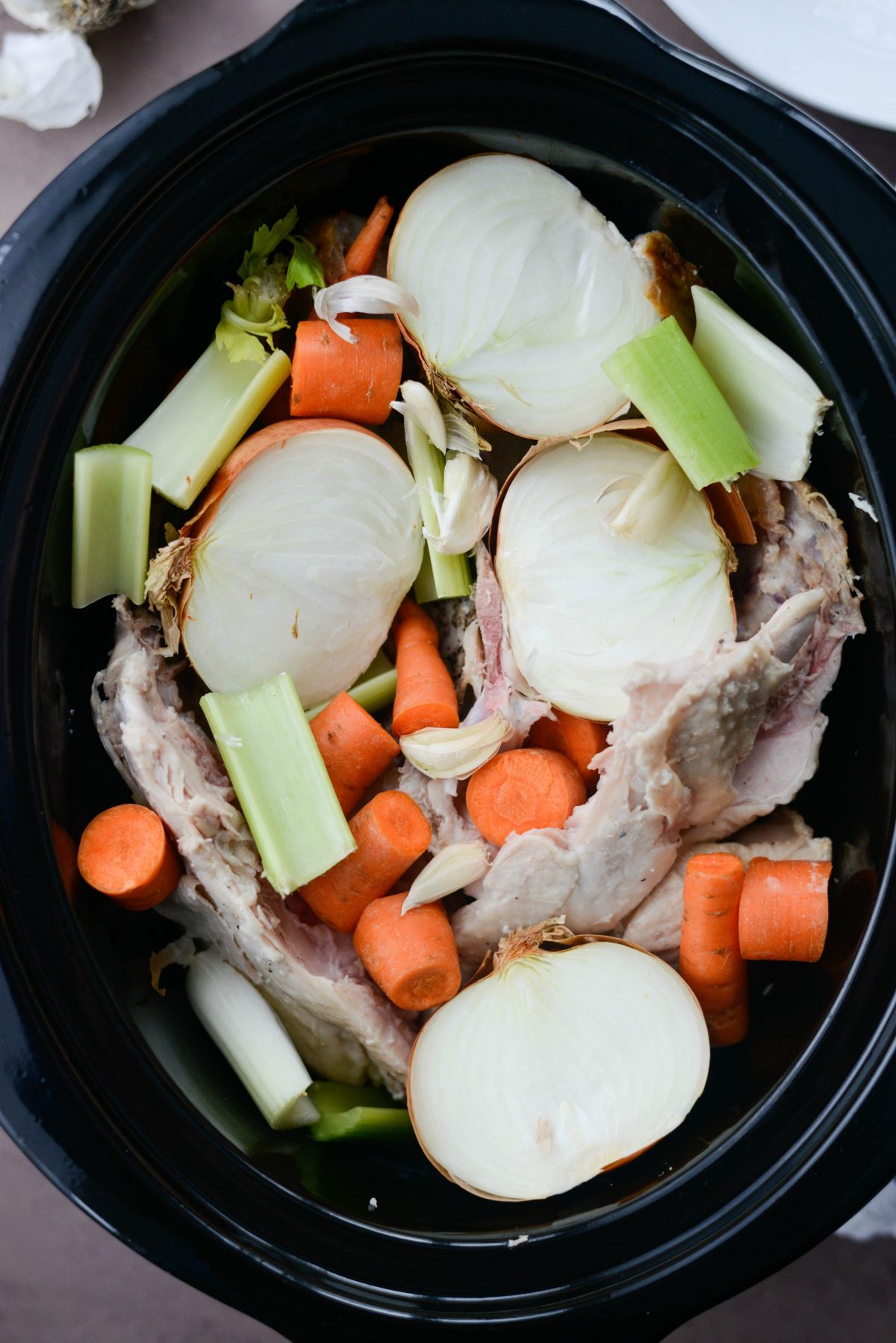 Next, add in the chopped (unpeeled) carrots, celery, smashed unpeeled garlic and onion halves. For the onions, I cut off the root end and sliced in half, leaving their skins on. I also left the garlic skins on as well. From what I've read, onion and garlic skins are rich in vitamins, antioxidants and flavonoids, particularly quercetin.
Add in 6 sprigs fresh parsley, 4 sprigs fresh thyme, 2 bay leaves and then 1 tablespoon of black peppercorns.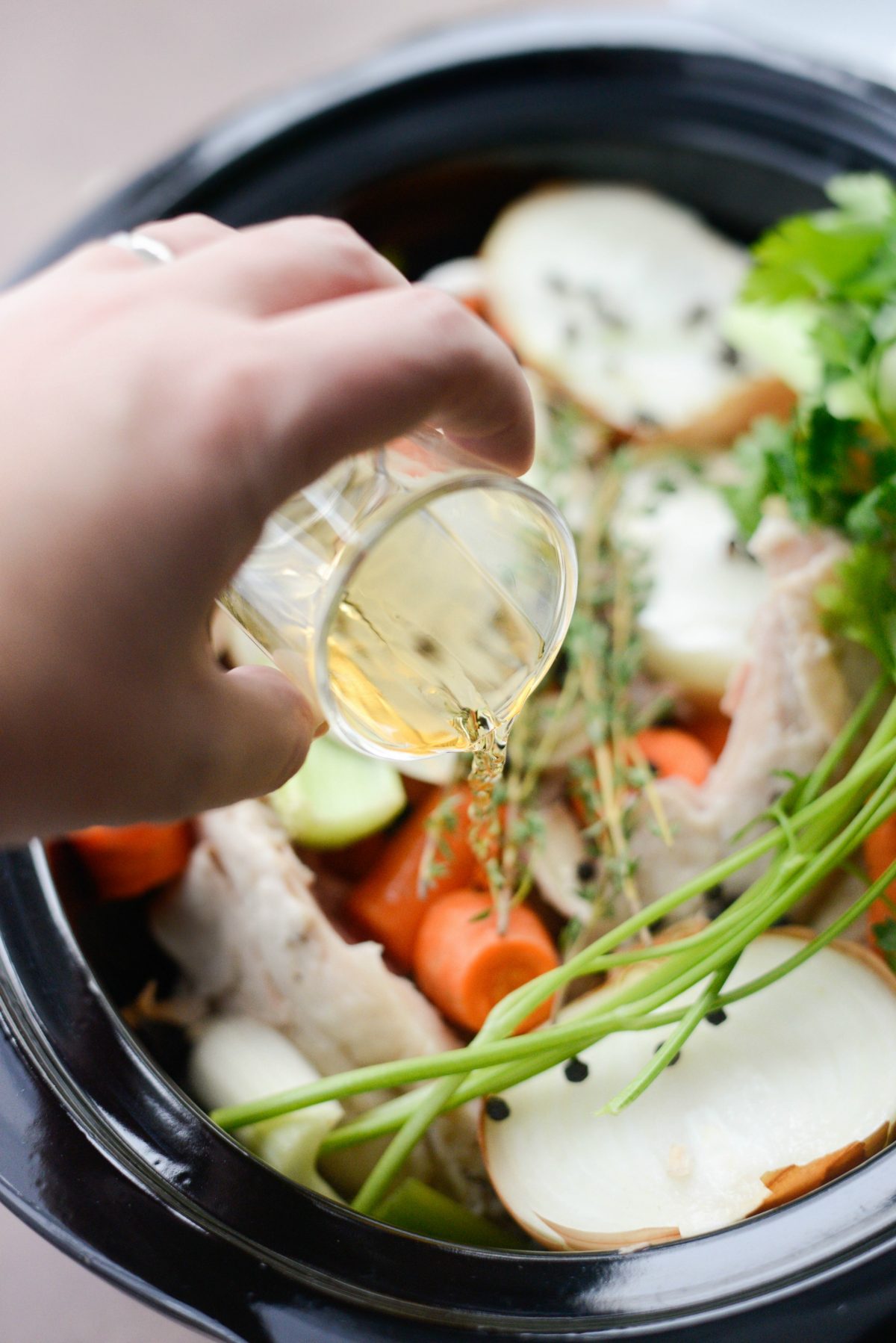 Lastly, pour in 2 tablespoons of apple cider vinegar and 12 cups filtered water. I've done some research and have read that adding vinegar will help draw out the nutrients in the bones.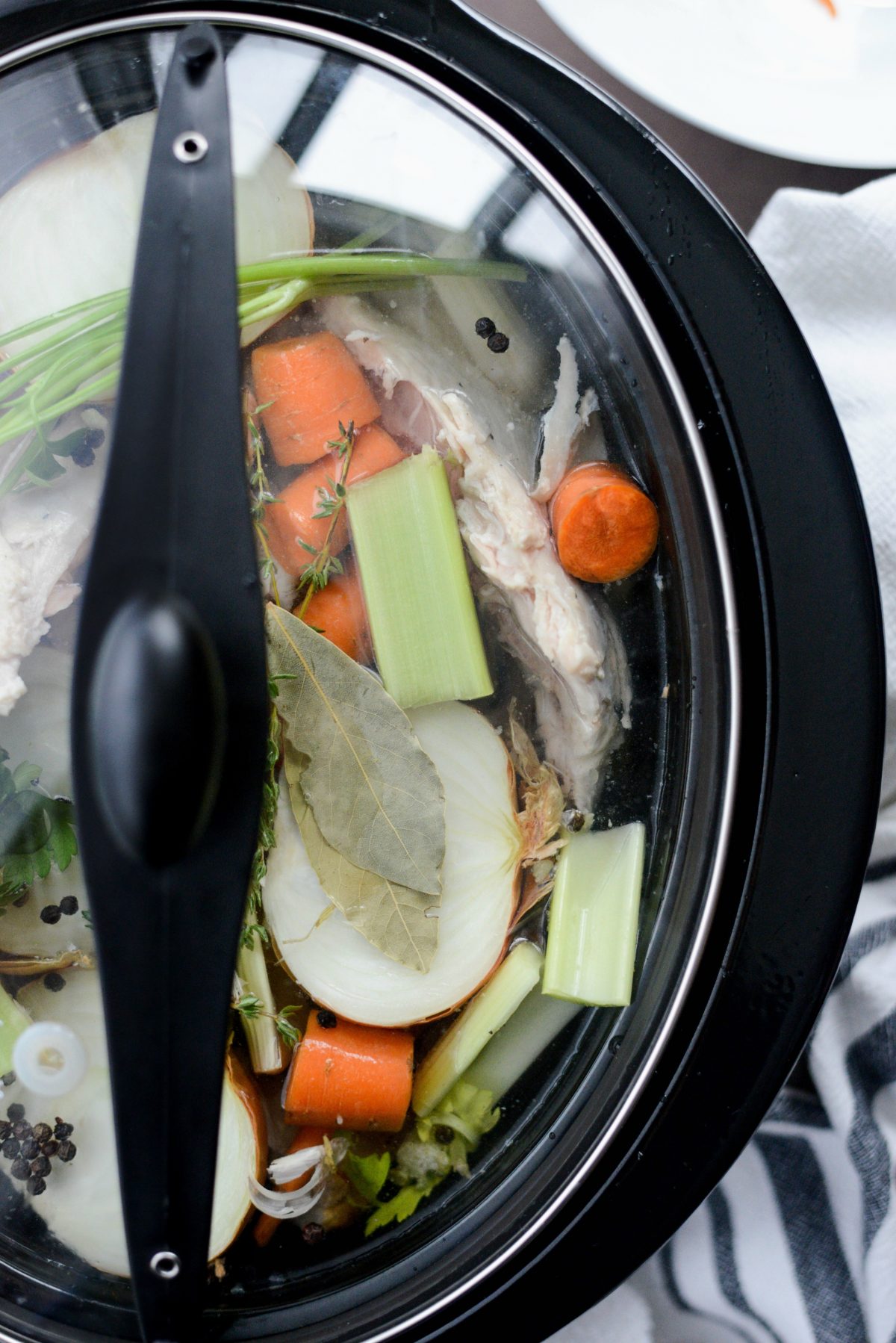 Secure the lid to your slow cooker and set to high for 6 to 8 hours.
I was losing sunlight, but this is what the broth looks like at the 4-1/2 hour mark. At the 6 hour mark the onions will be more translucent and the turkey stock will be a deep golden color.
Use a slotted spoon to remove the vegetables and discard the carcass using tongs. Set a mesh strainer into a large measuring cup (I needed two 8-cup measuring cups) and line with cheesecloth. Carefully pour the broth into the cheesecloth lined strainer. Once filled, move the strainer to the other measuring cup to pour the remaining homemade turkey stock through. Allow the stock to cool completely before storing.
For Freezing:
Pour the cooled stock into 2-cup freezer safe containers and store in the back of your freezer for up to 12 months. To thaw, run lukewarm water over the container until thawed or defrost in your microwave.
Otherwise you can store your stock in an air-tight container until ready to use in soup or gravy.
For more homemade broths and stocks, Click Here!
Enjoy! And if you give this Homemade Turkey Stock recipe a try, let me know! Snap a photo and tag me on twitter or instagram!

This post may contain affiliate links.
Buy the Cookbook: Simply Scratch : 120 Wholesome Homemade Recipes Made Easy Now available on Amazon »
THANK YOU in advance for your support!