This strawberry spinach salad is an easy and classic recipe! Top with grilled chicken to make it an entree and the poppy seed vinaigrette is amazing!
It is said somewhere that the closest thing to memory is smell, but for me, it's taste.
This salad reminds me of summer and my sisters, Kelly, Christine and Julie. When we get together to catch up, we eat good food, drink wine and laugh… a lot! These cherished nights we call our "Sister Nights".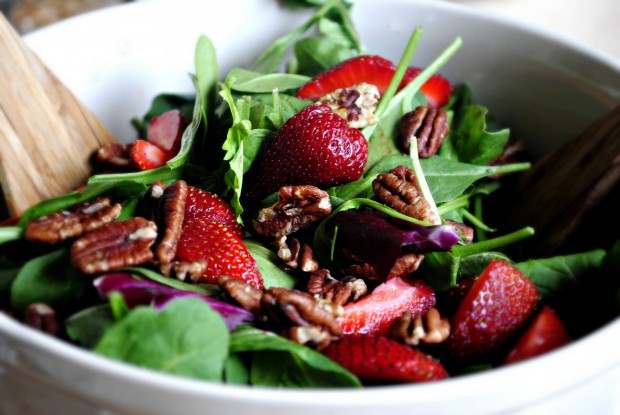 It was a warm summer evening back in 2005 and my 3 sisters and I were sitting around my dinner table sipping wine, laughing and trading recipes. My sister Christine brought this very same yummy salad. But first you have to know before this salad I was an anti-fruit-in-a-salad kind of girl. I thought fruit belonged with fruit and not on top of salad greens. I thought it was weird and my mind could and would not adjust to the thought that it just might just be something I would like. Then I ate this salad and from that moment on my life changed. I no longer judge fruit in salads, in fact I love the idea and I crave the idea!
I am so excited to share this recipe because it's almost summer and it's salad season! This recipe is so easy, yummy and good for us!
Serve up this salad with your sisters, your mom or your honey and create a moment… and a memory.
To Make The Poppyseed Vinaigrette You Will Need:
red wine vinegar
sugar
black pepper
kosher salt
onion powder
garlic powder dry mustard
cayenne pepper
olive oil
poppy seeds
Don't be freaked by the cayenne pepper, it just adds flavor as this isn't a spicy dressing.
In a small food processor or in a glass jar that has a tight lid, add 1/3 cup red wine vinegar, 1/4 cup sugar and 1/4 teaspoon each black pepper, onion powder, garlic powder and dry mustard.
Next add salt, pepper to taste and a pinch of cayenne pepper. Secure the lid and process (or shake) until combined.
While the processor is running drizzle in the 1/4 cup olive oil in a steady stream.
Stop once combined.
Toss in the poppy seeds and give it a quick pulse or stir until combined.
If you are making this in a jar:
Throw it all together and shake. Either way the dressing might separate, but you can always mix it back up easily! Now just season with salt and pepper to taste.
For this salad you will need 10 ounces of baby spinach or your favorite baby spinach mix placed into a large bowl.
You will also need some fresh dill…
Some fresh Strawberries…
…and pecans. I heart pecans!
Start by placing 2 ounces of pecans in a small dry pan and toast until fragrant over medium low heat. The pecans are done when you stick your nose close and they smell like pecan pie… but watch them carefully, because if they burn you'll have to start over!
After toasting the pecans, wash and mince about a handful of dill… or about a 1/4 cup. I eyeball it… you can add as much or as little as you like!
Then toss it in with the spinach.
Then quarter about half a pint to a pound of strawberries depending on their size. Again you could totally add as much or as little, or even serve the extra on the side for those who would like more.
Toss in the toasted pecans; I like to leave them whole, along with the quartered strawberries into the spinach and dill.
Drizzle with a little or a lot of the dressing!
You could totally stop here if you'd like…
Or you can grill up some chicken breasts… I sprinkled mine with this lemon pepper seasoning and grilled it indoors on my grill pan.
Then slice it thin and place it on top of the salad. Such a deliciously perfect summertime salad!
Enjoy! And if you give this Strawberry Spinach Salad Recipe a try, let me know! Snap a photo and tag me on twitter or instagram!
Yield: 6 servings
Sister Night Strawberry Spinach Salad & Poppy Seed Vinaigrette
A easy and classic recipe of fresh baby spinach, strawberries and toasted pecans with a poppy seed vinaigrette. Serve with grilled chicken to make it an entree!
Ingredients
FOR THE VINAIGRETTE:
1/3 cup red wine vinegar
1/4 cup olive oil
1/4 cup white sugar
1 teaspoon poppy seeds
1/4 teaspoon freshly ground black pepper
1/4 teaspoon onion powder
1/4 teaspoon garlic powder
1/4 teaspoon dry mustard
1 pinch cayenne pepper
kosher salt, to taste
FOR THE SALAD:
10 ounces baby spinach leaves
1 small handful fresh dill, chopped
1 pint strawberries, quartered (or more)
2 ounces pecan halves, toasted
6 grilled chicken breast halves, optional
Instructions
Combine the sugar and red wine vinegar in a mini food processor or a glass jar. Add all the seasonings and pulse (or shake), while the food processor is running drizzle in the olive oil in a steady stream.

Toss in the poppy seeds and give it a quick pulse. Season with salt to taste.

Refrigerate until ready to use.

Toast pecans over medium heat, tossing around until fragrant.

In a large bowl, toss the spinach with the chopped dill, add the toasted pecans halves and the quartered strawberries, toss some more.

Drizzle with vinaigrette.
Notes
*Optional* Serve with sliced grilled chicken breast halves and then top with the vinaigrette. I like to use thin cut chicken breast halves and drizzled them with olive oil and sprinkled them with lemon pepper and grilled them on my grill pan, about 6 minutes per side, or until done. One chicken breast halve per serving.
Serving: 1salad, Calories: 504kcal, Carbohydrates: 18g, Protein: 56g, Fat: 23g, Saturated Fat: 4g, Polyunsaturated Fat: 5g, Monounsaturated Fat: 13g, Cholesterol: 146mg, Sodium: 167mg, Potassium: 878mg, Fiber: 4g, Sugar: 13g, Vitamin A: 4502IU, Vitamin C: 60mg, Calcium: 101mg, Iron: 4mg
This post may contain affiliate links.
Buy the Cookbook: Simply Scratch : 120 Wholesome Homemade Recipes Made Easy Now available on Amazon »
THANK YOU in advance for your support!