We've all bought jars of roasted red peppers before. It's definitely not a crime.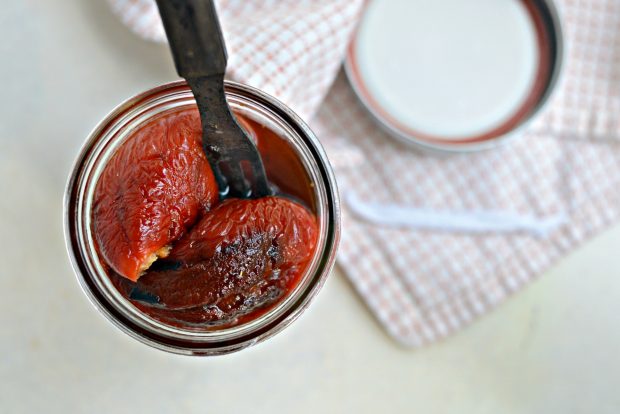 Jarred peppers are a time saver on those days when you just want to whip up a quick pasta sauce or are in a rush and need to make roasted red pepper hummus to take to a party. But I truly believe there's something to be said about roasting your own peppers.
Does it taste better? Definitely. To me the charred flavor is more prominent. Can you tell the difference once in a blended into recipe? Probably not. But heyyyy don't let that stop you! Jarred roasted red peppers are usually packed in oil, so DIY roasted peppers can definitely be a healthier option.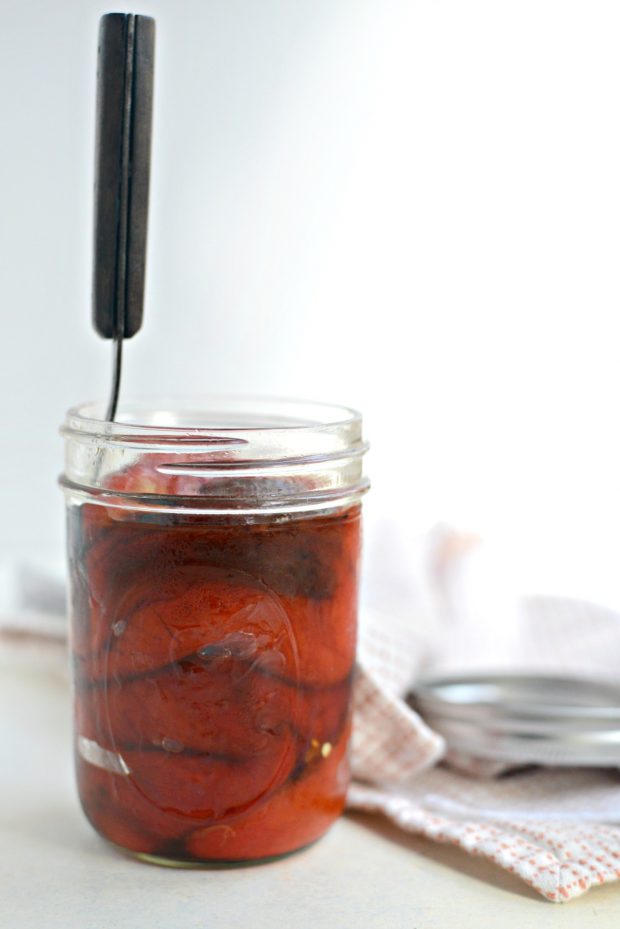 There's also the whole roasted pepper smell that permeates the house. See? So many positives to roasting your own peppers.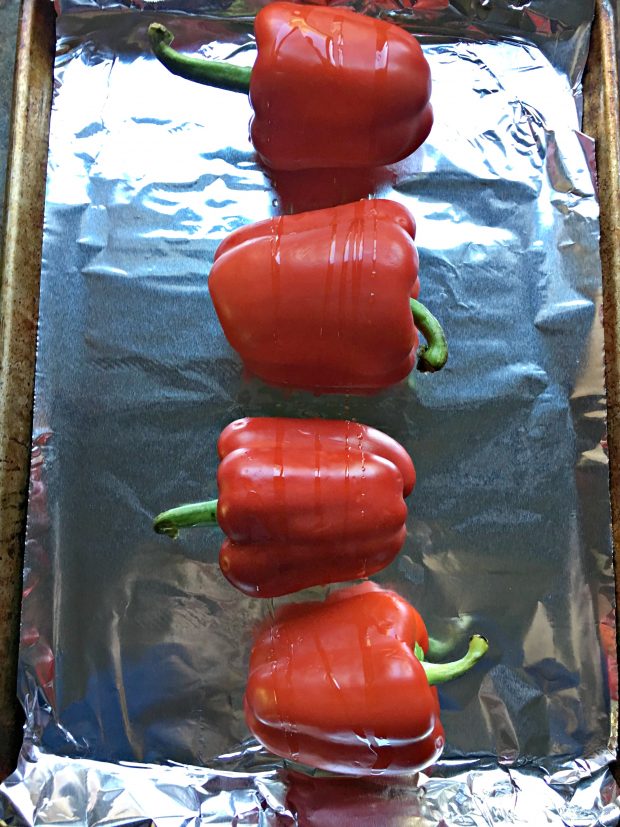 Preheat your oven to 500° and place the peppers onto a foil-lined, rimmed baking sheet. Drizzle with a little bit of olive oil and slide into your preheated oven.
Roast the peppers for about 25 to 35 minutes, depending on size, turning them every 10 to 15 minutes until charred and blistered. Using tongs makes turning the peppers effortless.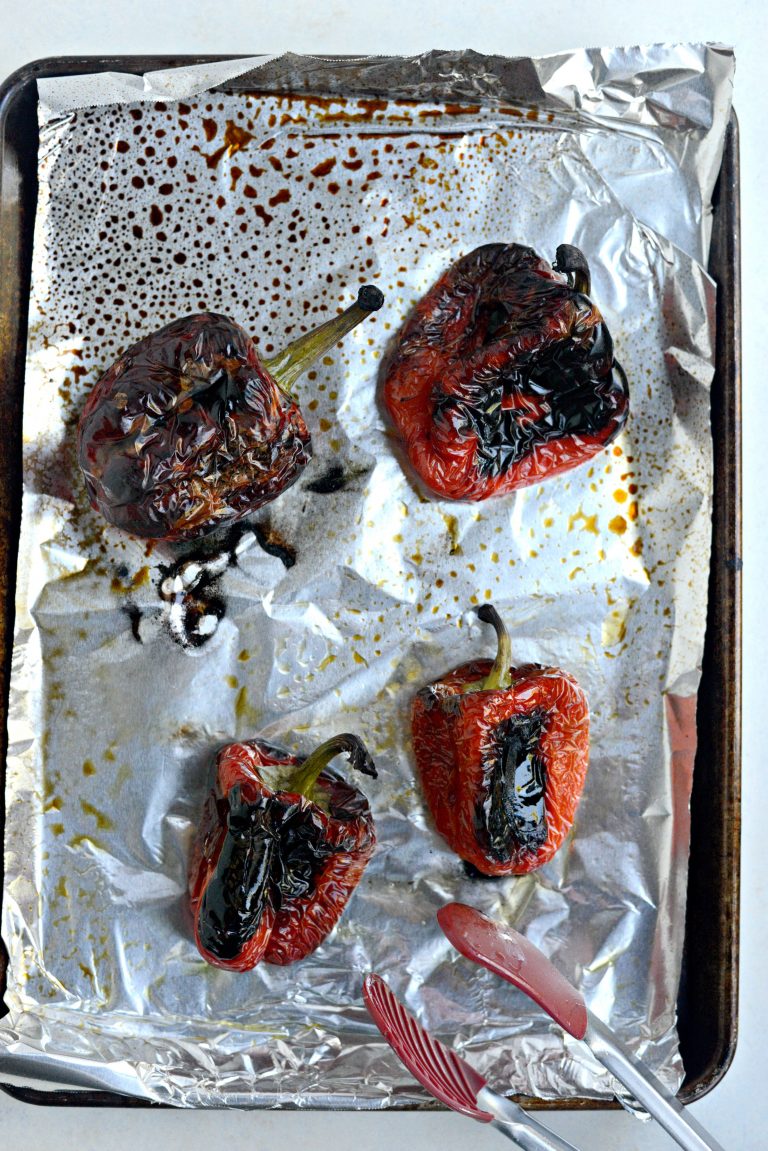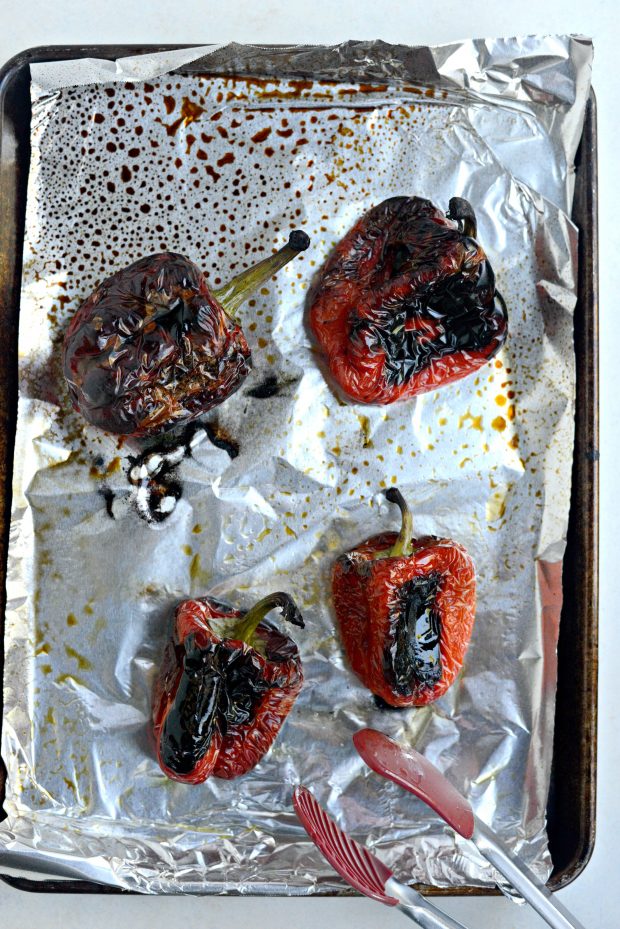 Once roasted, you can pop the hot peppers into a bowl and cover tightly with plastic wrap. OR if you're only roasting one or two peppers, you can just wrap them up using the foil the peppers roasted on.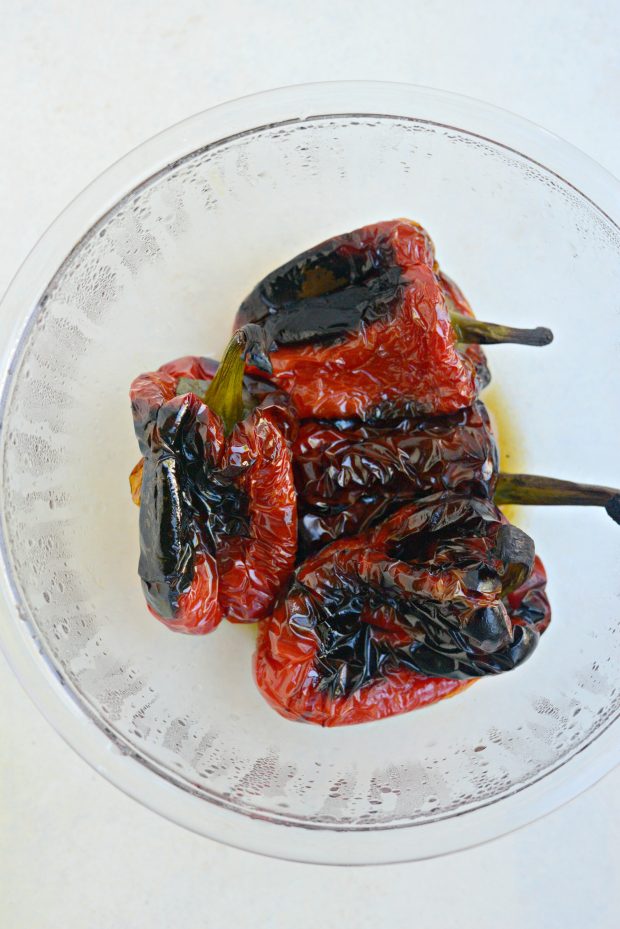 Allow the peppers to sit for 10 to 15 minutes, so the steam can work its way in between the charred skin and tender flesh.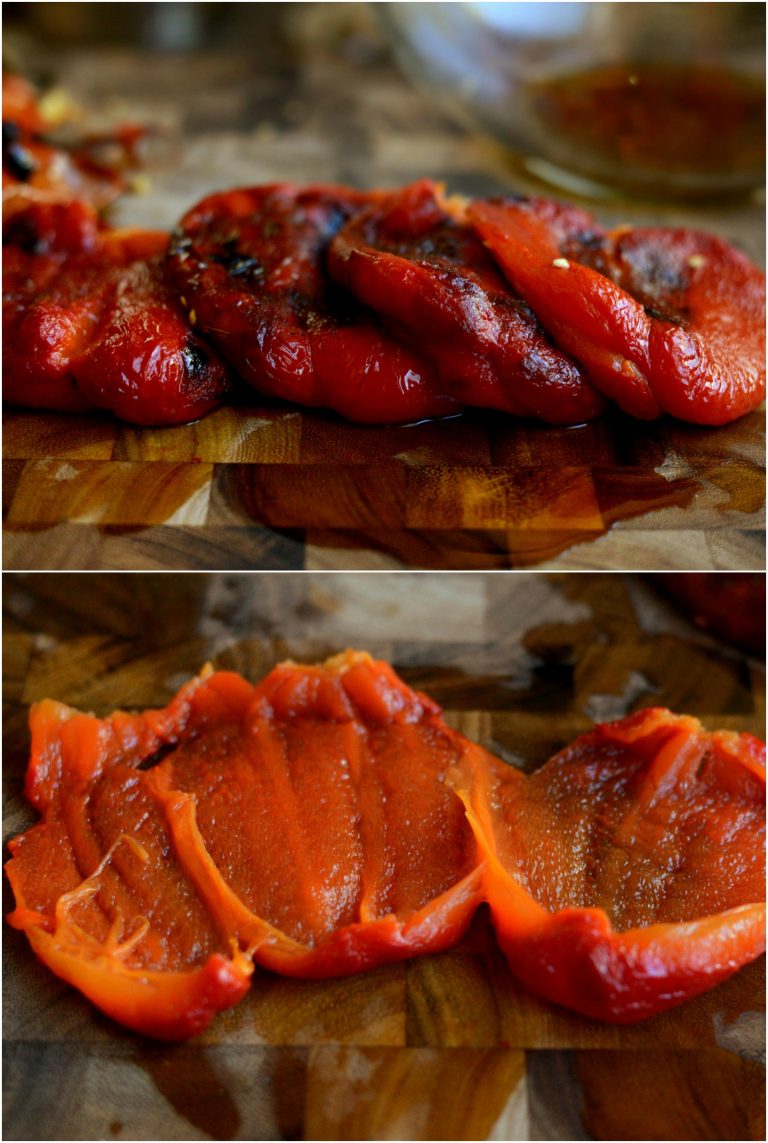 Once the peppers are safe enough to handle:
Working over a bowl, pull the stem out of the center of the pepper, try to get as many seeds out as possible. Tip the pepper upside down to drain out any trapped liquids.
Peel off all of the blistered and charred skin surrounding the pepper and discard.
Lay the peeled pepper onto a cutting board. With your knife, make a slit on one side of the pepper to open it up. Then use the blunt (non-sharp) side of your knife to scrape out any errant seeds.
Ps. Is it weird that I find the whole peeling and seeding of the peppers cathartic. I was also a kid that would put glue on my hand only to wait for it to dry and then peel it off in one large sheet— or try to.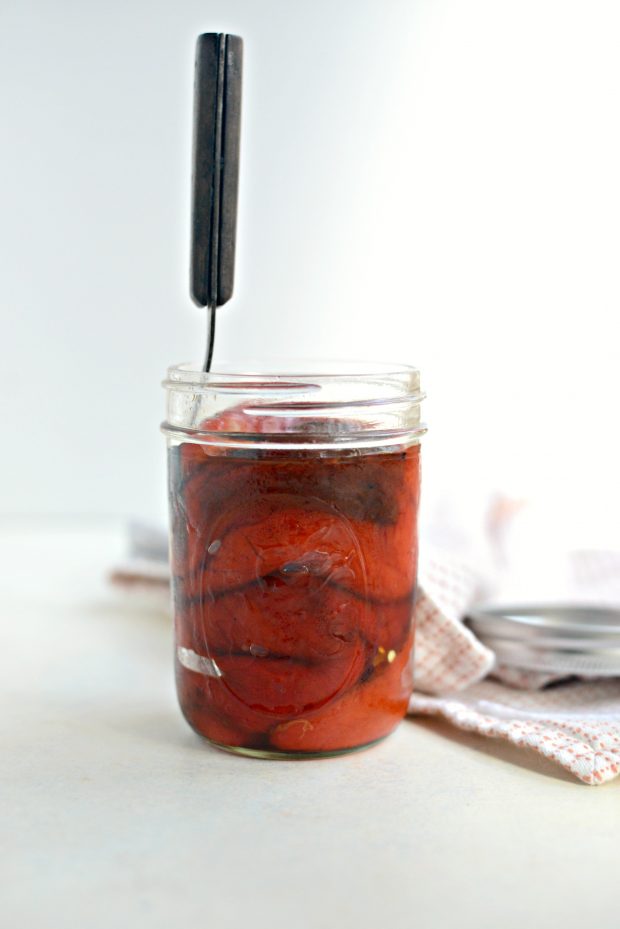 If I am roasting my own peppers, I try to do it a day or two in advance. So I once I've roasted, seeded and peeled the peppers, I will then stick them in a glass jar, pour any of the liquids that have collected in the bowl from the peppers over top, screw on the lid and refrigerate until I'm ready to use them— but to be on the safe side, use within the week.
Easy-peasy and roasted red peppers at your fingertips.
Recipes calling for Roasted (grilled, broiled or charred in anyway) Red Bell Peppers:
Roasted Red Pepper Pizza Sauce:
Spicy Roasted Red Pepper Hummus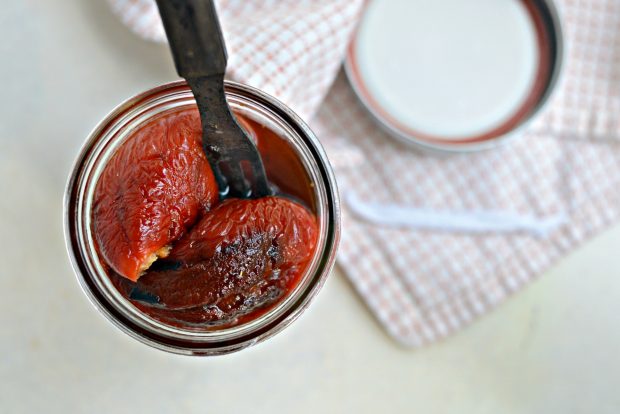 My cookbook Simply Scratch : 120 Wholesome Homemade Recipes Made Easy is now available! CLICK HERE for details and THANK YOU in advance!
Yield: 4 (but you can roast however many you like!)
DIY Oven-Roasted Peppers
Skip the store-bought jars and roast your very own peppers in the oven! This method is foolproof for delicious and flavorful roasted peppers.
Ingredients
4 large bell peppers, red, orange or yellow bell peppers**
olive oil
Instructions
Preheat your oven to 500° and line a rimmed, metal baking sheet with aluminum foil.

Place peppers onto the pan and slide onto the middle rack of your oven and roast for 25-35 minutes, depending on the size of your peppers. Use tongs to turn the peppers every 10 minutes.

Once roasted, transfer the charred peppers to a bowl and cover tightly with plastic wrap. If roasting only 1 our 2 peppers, fold up in the foil. Allow the peppers to sit for 10-15 minutes.

Once the peppers are safe to handle, pull the stems out and peel the outer skin off of the pepper. Cut one side to open the pepper up and use the blunt side of your knife to scrape any seeds out. Discard stem, skin and seeds.

Use immediately or store peppers in a glass jar (with a tight fitting lid), along with any liquid that has collected in the bowl.

Refrigerate for up to a week.

**this method can be done with jalapenos, poblano peppers etc. Just adjust the time depending on the size of your peppers.
Serving: 1pepper, Calories: 31kcal, Carbohydrates: 7g, Protein: 1g, Fat: 0.4g, Saturated Fat: 0.1g, Polyunsaturated Fat: 0.2g, Monounsaturated Fat: 0.01g, Sodium: 5mg, Potassium: 251mg, Fiber: 3g, Sugar: 5g, Vitamin A: 3726IU, Vitamin C: 152mg, Calcium: 8mg, Iron: 1mg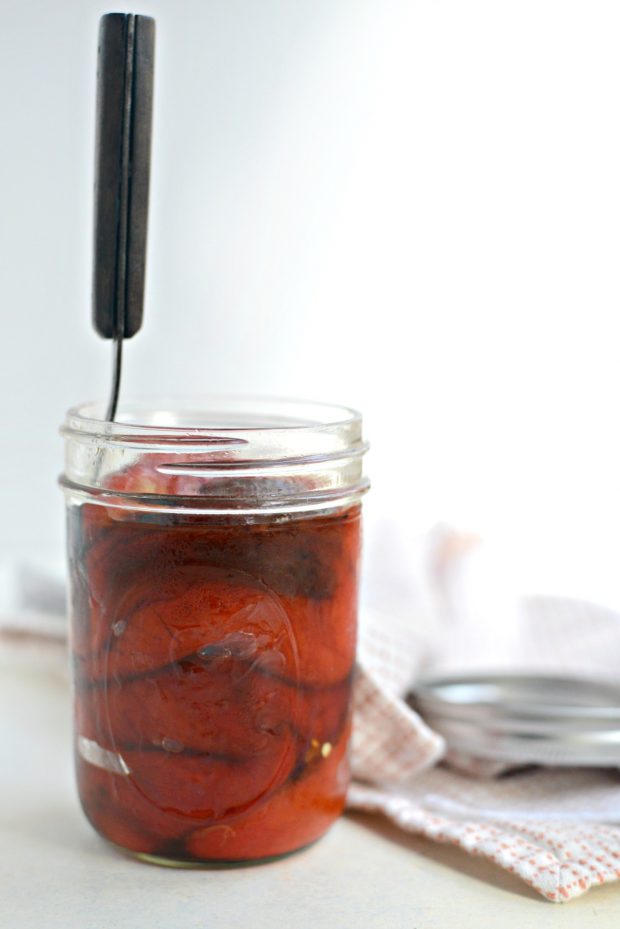 This post may contain affiliate links.
Buy the Cookbook: Simply Scratch : 120 Wholesome Homemade Recipes Made Easy Now available on Amazon »
THANK YOU in advance for your support!