Roasted Red Pepper Pasta is a delicious meatless meal! Oven-roasted red peppers pureed with sautéed vegetables, lots of garlic and sherry wine, is then swirled with mascarpone cheese and tossed with pasta. Serves 4.
Today is National Pasta Day and I made you roasted red pepper pasta!
Actually, I've read that October is pasta month, which is kind of surprising, because I would have expected it to be pumpkin spice month but I'm a little thrilled that it's not. I love pasta more. Way more. Now we have an entire month dedicated to pasta and the 17th is the national day to celebrate.
I love it. Move over September, October is officially my favorite month.
With that said, I made you this EXCELLENT roasted red pepper pasta dish. The sauce consists of sautéed carrots, celery, onion and garlic with homemade, oven-roasted red bell peppers blended until velvety smooth with broth and then swirled with mascarpone cheese. A creamy, luscious yet simple roasted red pepper pasta sauce is tossed with Italian egg noodles is the ultimate way to celebrate.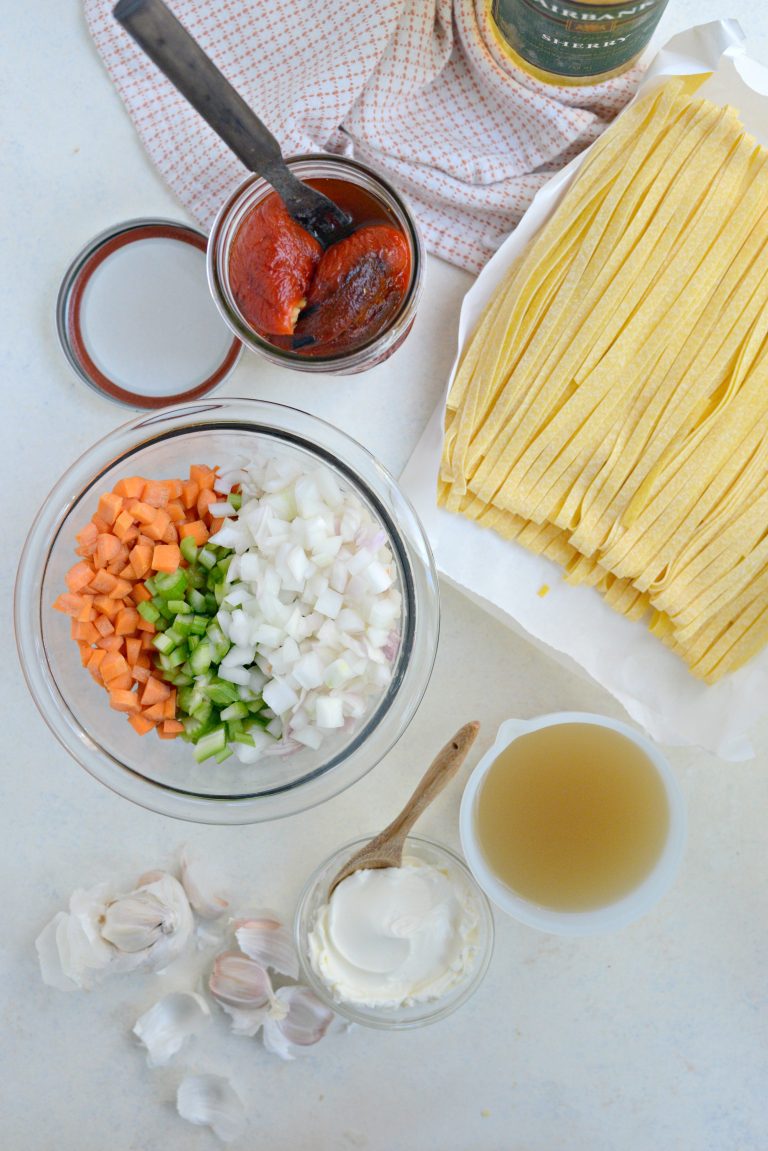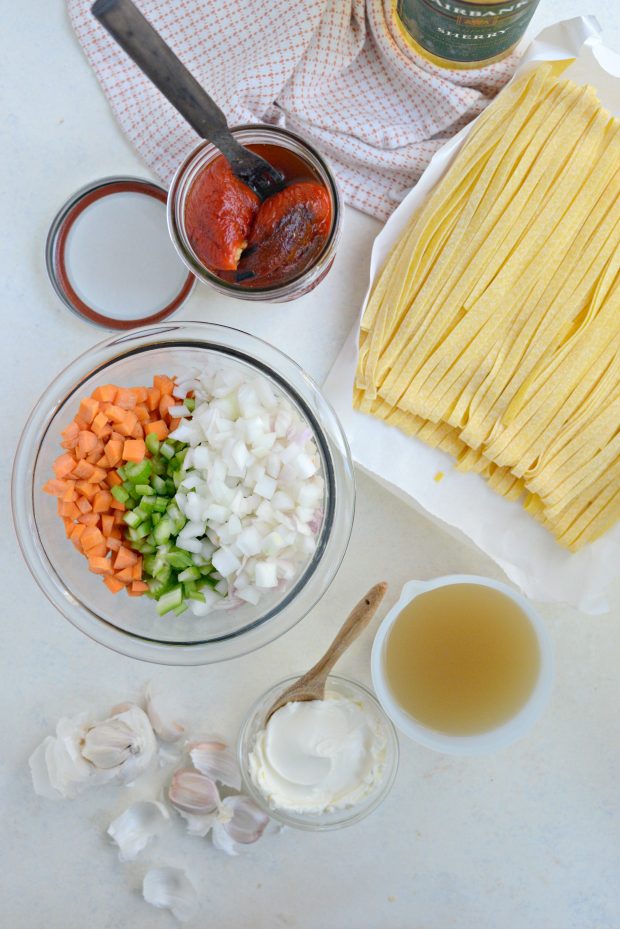 To Make this Roasted Red Pepper Pasta You Will Need:
olive oil
diced carrots
celery
onions
garlic
sherry wine
roasted red bell peppers
chicken or vegetable broth
mascarpone cheese
kosher salt
freshly ground black pepper
fettuccine pasta
The day before I planned to make this pasta, I oven-roasted my own red peppers just for this sauce. You need 4 large bell peppers, and since you never really know how many you're getting in a store bought jar of peppers, I like to roast my own.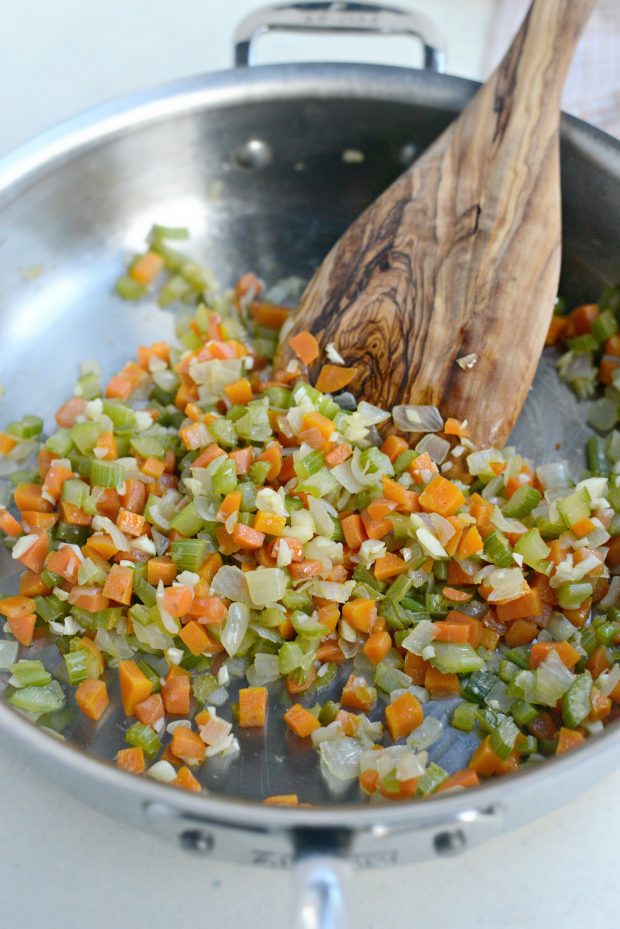 To start, add 2 teaspoons of olive oil to a 10-inch skillet and cook 3/4 cup each of carrots, celery and onions with a pinch of salt until tender. I cover mine, stirring occasionally until a fork can easily pierce a carrot. Then I add in 4 cloves minced fresh garlic, cook for a minute or two before adding 2 tablespoons of dry sherry wine and scraping up any bits on the bottom of the pan.
Meanwhile bring a pot of salted (I use fine sea salt for this) water to a boil.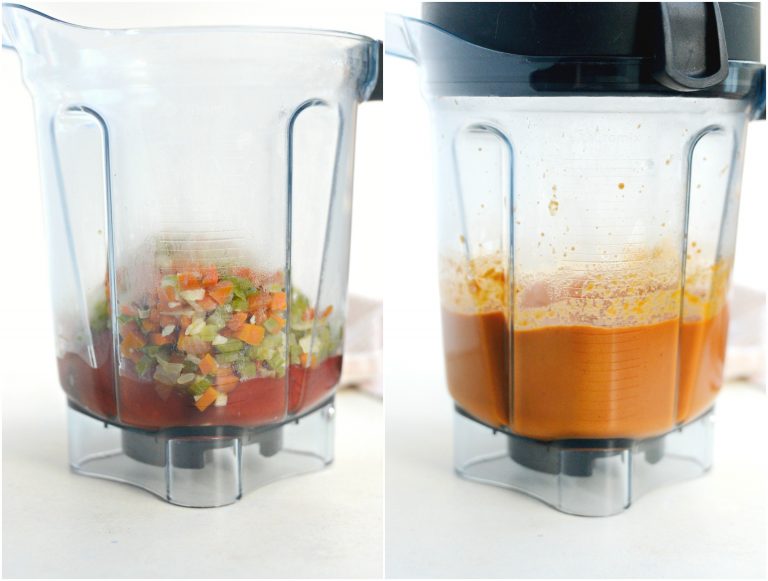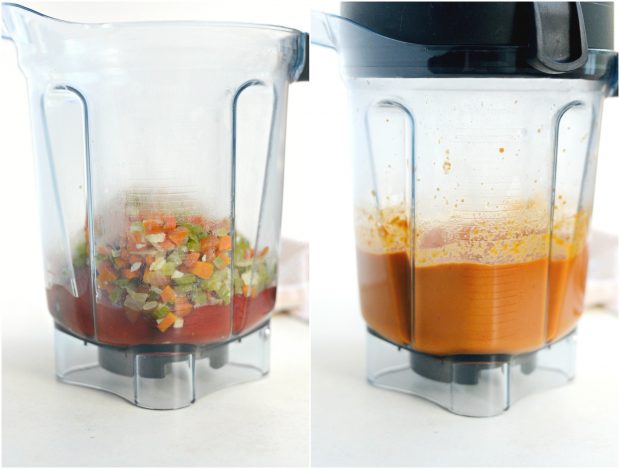 Then add 4 roasted red bell peppers (plus any liquids from roasting) into your blender along with the sautéed vegetables. Add a little of the chicken or vegetable broth at a time until pureed velvety smooth.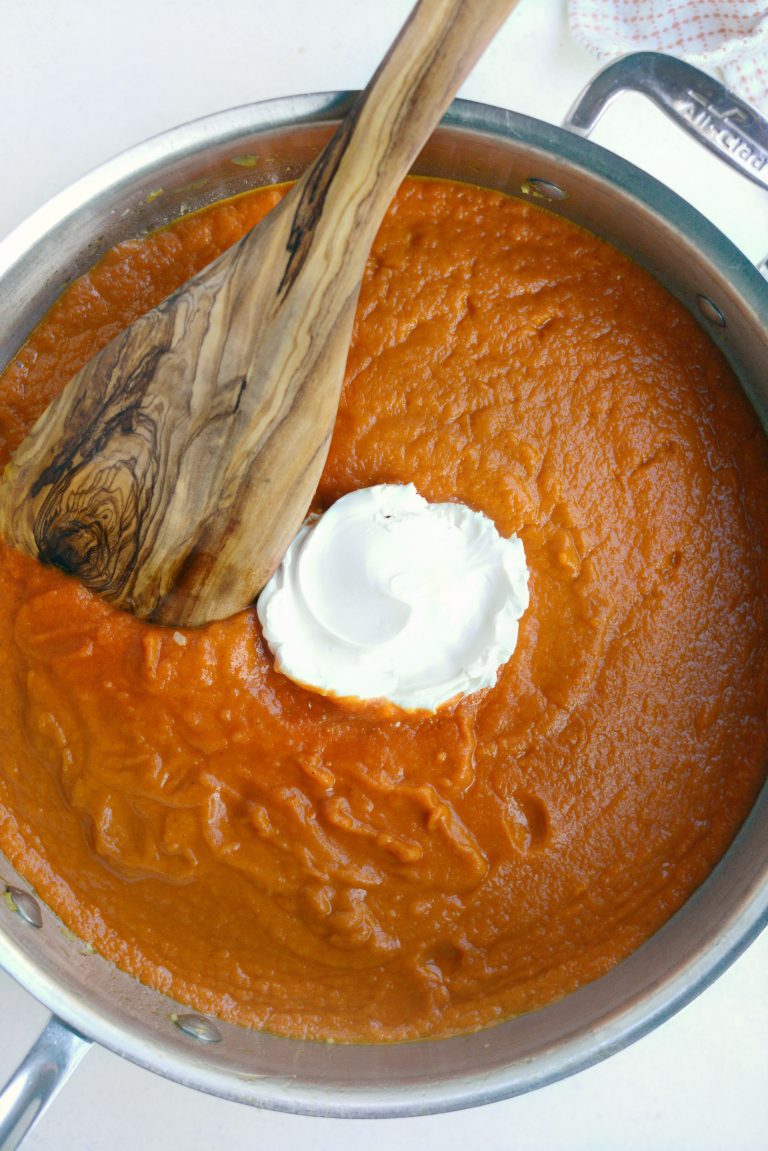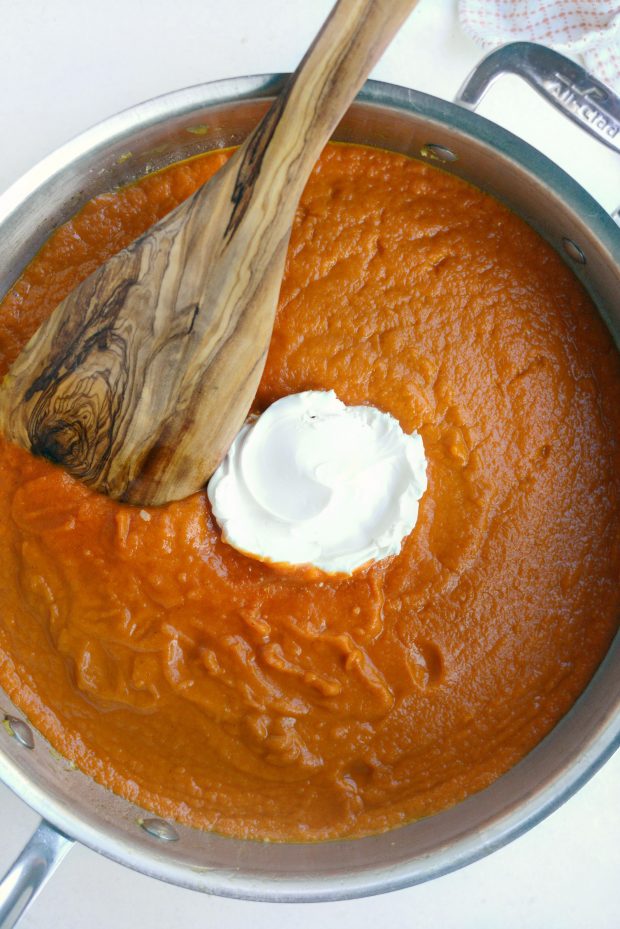 Add the pureed roasted red pepper sauce back into the skillet and heat over low. Then swirl in 1/4 cup of mascarpone cheese. This is my favorite ingredient to add to sauces to give them a luscious creamy factor. If you can't find mascarpone cheese, then you can use 3 to 4 tablespoons of heavy cream in replacement.
Season with kosher salt and black pepper.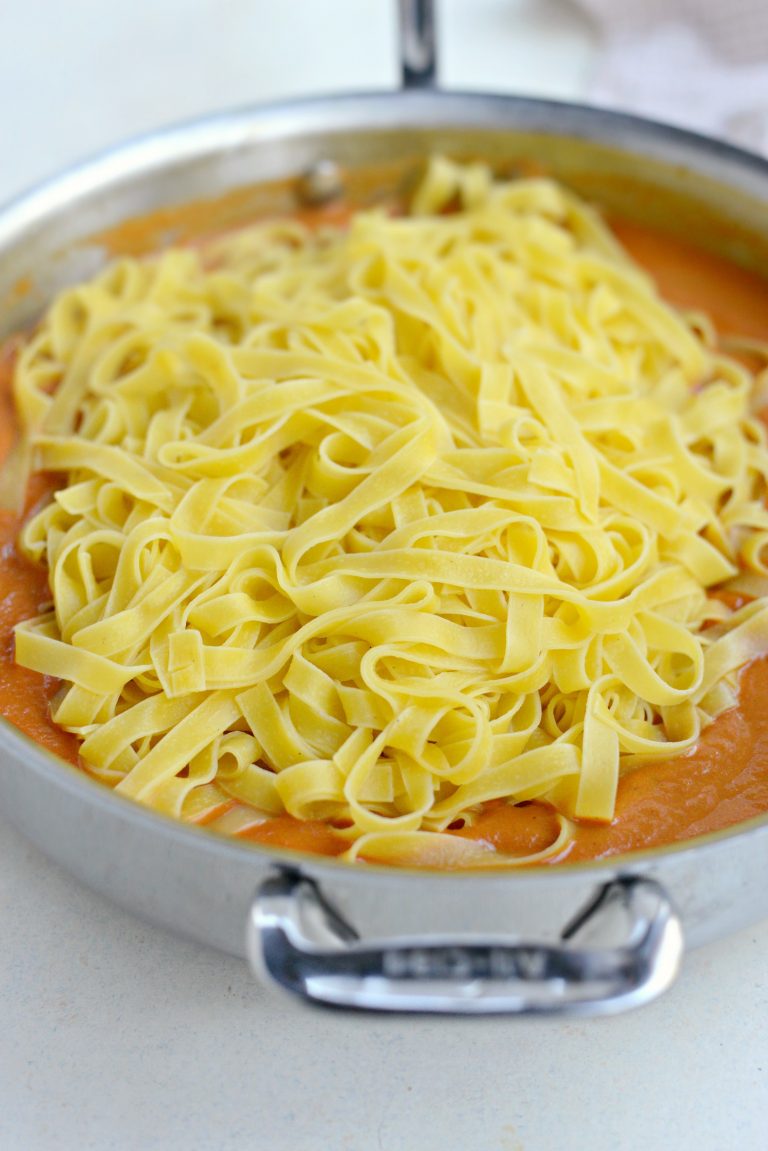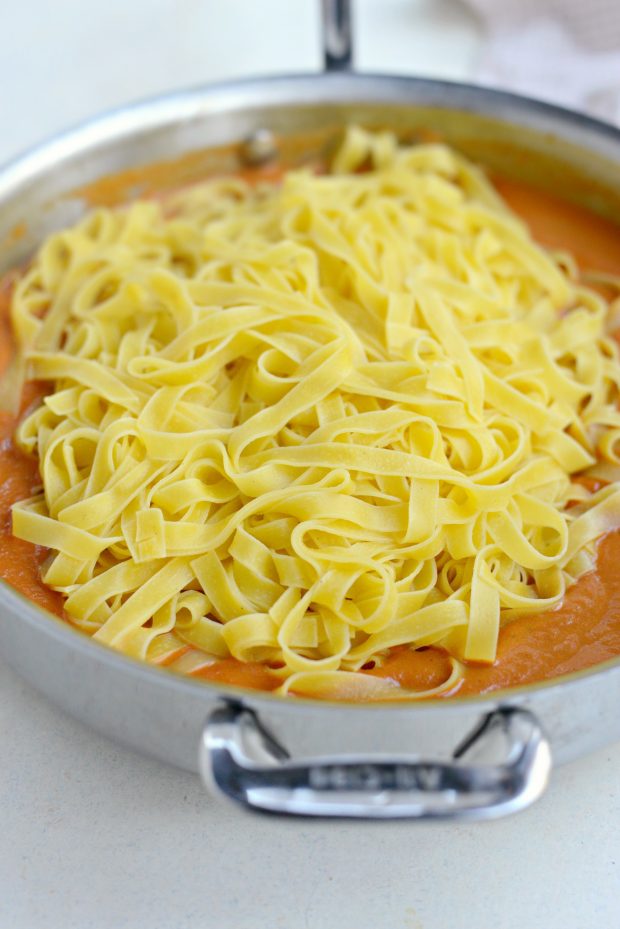 While the sauce is warming I drop in 9 ounces of fettuccine pasta into the pot to cook. I found the Italian egg pasta at Kroger and it only needed 3 to 4 minutes, so it was done in no time. Then, using tongs, I lifted my pasta from the boiling water and added it directly to the roasted red pepper pasta sauce.
Next, toss the pasta in with the sauce to coat.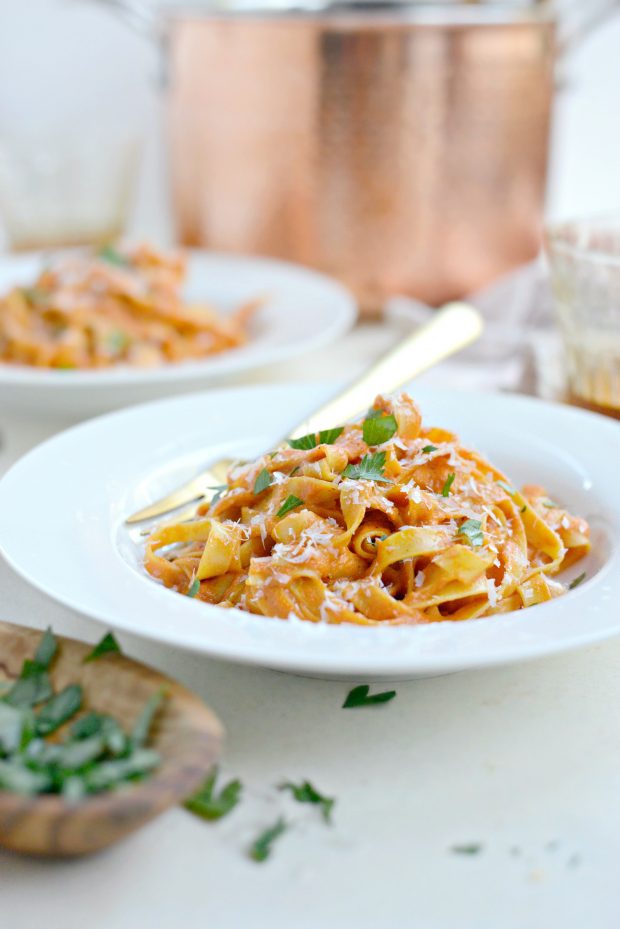 …then serve!
I piled the roasted red pepper pasta high into bowls and I topped it with chopped fresh parsley, basil because I love the combination of herbs. Then of course, and LOTS of freshly grated Parmesan cheese.
This roasted red pepper pasta is delicious, so creamy and flavorful! I served this with a Caesar salad and grilled garlic bread. Prepare to fall in love.
Enjoy! And if you give this Roasted Red Pepper Pasta recipe a try, let me know! Snap a photo and tag me on twitter or instagram!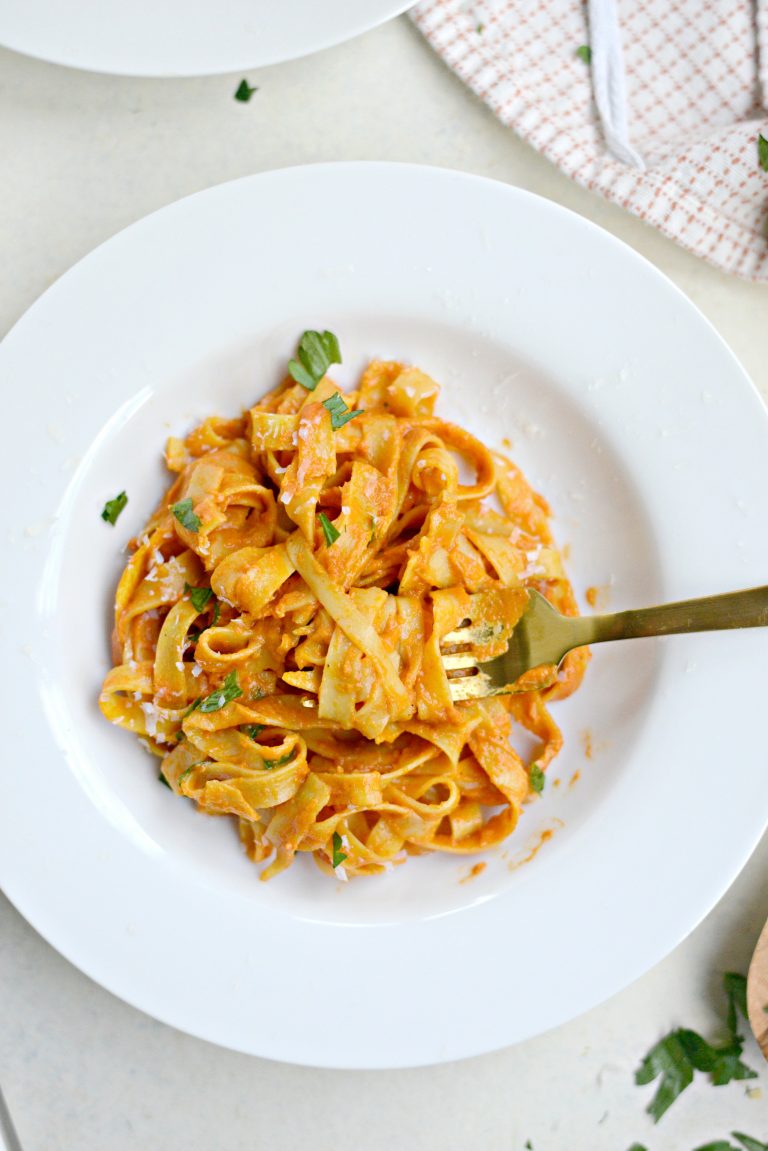 Yield: 2 (generous) servings
Creamy Roasted Red Pepper Pasta
Sautéed carrots, celery, onion and garlic are blended with homemade, oven-roasted red bell peppers until velvety smooth. The sauce is then swirled with mascarpone cheese and tossed with pastta. A creamy, luscious yet simple sauce tossed with Italian egg noodles is the ultimate pasta dish!
Ingredients
2 teaspoons olive oil
3/4 cup chopped carrot
3/4 cup chopped celery
3/4 cup chopped onion
Kosher salt
4 cloves garlic, minced
2 tablespoons dry sherry wine
4 large roasted red bell peppers, and any juices if made from homemade
3/4 to 1 cup low sodium chicken or vegetable broth
1/4 cup mascarpone cheese
1/4 teaspoon freshly ground black pepper, more or less to taste
9 ounces pasta
chopped fresh parsley, for serving
chopped fresh basil, for serving
grated Parmesan cheese, for serving
Instructions
Heat olive oil in a 10-inch skillet over medium heat. Once hot add in carrots, celery, onions and a pinch of salt. Stir to coat in the oil and cover and cook, stirring occasionally, until tender.

Once the vegetables are tender add in the garlic and cook 1 to 2 minutes. Add in the sherry wine and scrape up any bits on the bottom of the pan.

Meanwhile, bring a large pot of salted water to boil.

In your blender add the peppers, and cooked vegetables/garlic and half the broth. Secure the lid and process blend until smooth. Adding more broth as you go.

Pour the roasted red pepper broth back into the pan and stir in the mascarpone cheese. Season with salt and pepper. Keep the sauce warm on low heat.

Drop in the pasta and cook according to package directions. (The pasta I used only took 3 to 4 minutes.)

Drain and add the cooked pasta to the pan with the roasted red pepper sauce and toss to coat.

Serve pasta in bowls and garnish with chopped fresh parsley, basil and lots of grated fresh Parmesan cheese.
Serving: 1g, Calories: 292kcal, Carbohydrates: 25g, Protein: 8g, Fat: 18g, Saturated Fat: 9g, Polyunsaturated Fat: 1g, Monounsaturated Fat: 3g, Cholesterol: 28mg, Sodium: 1791mg, Potassium: 984mg, Fiber: 6g, Sugar: 11g, Vitamin A: 9523IU, Vitamin C: 54mg, Calcium: 148mg, Iron: 3mg
This blog post and giveaway is sponsored by Lagostina. I was given a Lagostina Martellata Hammered Copper Pastaiola Set for review and for my honest opinion. My thoughts, words and feelings are all my own and I'm completely smitten with this pasta set. THANK YOU Simply Scratch readers for supported the brands that support posts like this!
This post may contain affiliate links.
Buy the Cookbook: Simply Scratch : 120 Wholesome Homemade Recipes Made Easy Now available on Amazon »
THANK YOU in advance for your support!