This creamy roasted ginger carrot soup is dairy free! Carrots are tossed with ginger and tamari, roasted and blended with coconut milk and vegetable broth! [this post contains affiliate links.]
I'm absolutely smitten with this ginger carrot soup!
I love carrots, but as the base to a soup? I wasn't so sure I would. BUT I SO DO!!
Last week, I did a local news cooking segment and couldn't decide between two recipes from the book, condensed mushroom soup or honey glazed carrots… so I bought the ingredients for both. I ended up going with the soup thus leaving me with well over 3 pounds of carrots. Leafy greens peeking out from all corners of my fridge.
I was texting my girlfriend to ask her if she needed carrots for anything, and that if she did I had a small grocery store section of both organic bagged carrots and ones that sitll had their pretty leafy green tops. Nichole didn't need any carrots, but she did strongly encourage me to make carrot cake which sounded so good (really good) at the time, but I didn't have cream cheese for making the frosting and I wasn't about to head out to the store again if I didn't have to. After scouring my kitchen I ended up with the fixings to make a carrot soup.
A creamy, dairy and gluten free ROASTED carrot soup.
I was feeling quite lazy, so instead of dirtying a dutch oven I opted to roast the carrots and shallots, but first I tossed them in a ginger concoction before slipping the sheet pan into the oven. After 25 minutes I tossed them in fresh garlic and back into the oven for 5 more minutes. I pureed them with coconut milk, homemade vegetable broth (recipe is in the book!), salt and pepper. Done-zos.
Such a simple soup with an extraordinary earthy flavor.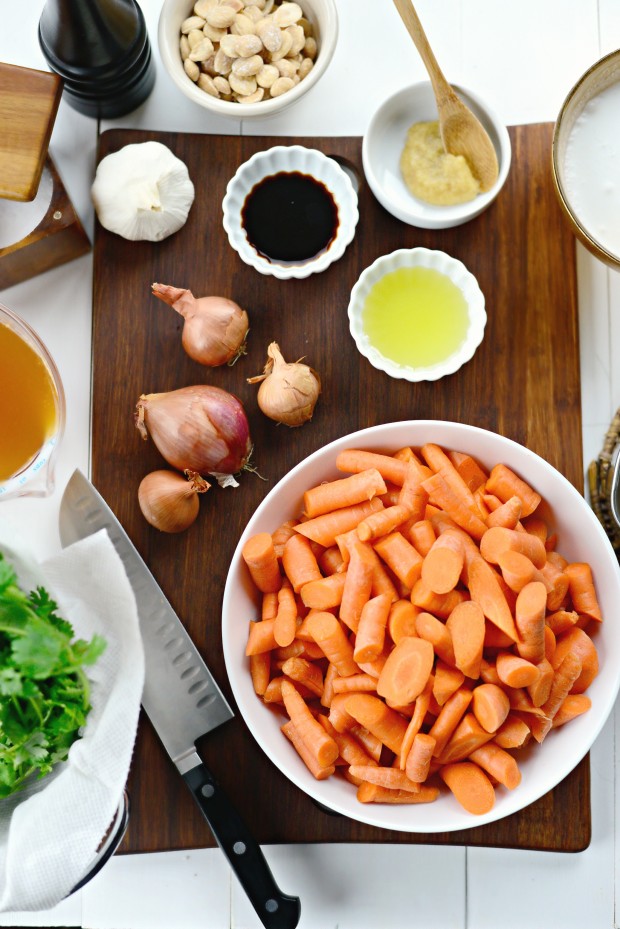 Keeping with the theme of the day: laziness– I scrubbed but did NOT peel my carrots. Now that I think about it, rarely do I ever peel them. Peeling removes more carrot than peel and it's a waste of my time.
I melted a enough coconut oil to get 2 tablespoons, melted. Then to that added 1 tablespoon tamari, 1 tablespoon grated ginger, a pinch of salt and pepper.
Whisk and set a side for a moment.
I should note that I'm trying to live without a microwave (by choice) and it's been a week and so far it's going okay! But that is why you see that I'm using a pan, feel free to melt your coconut oil however you see fit!
On a metal baking pan, add the carrots and peeled and halved shallots.
Pour the ginger oil onto the carrots…
Toss to coat and spread the vegetables out in an even layer.
Slide them into the oven to roast for 25 minutes. Rotate the pan half way through roasting to ensure even cooking.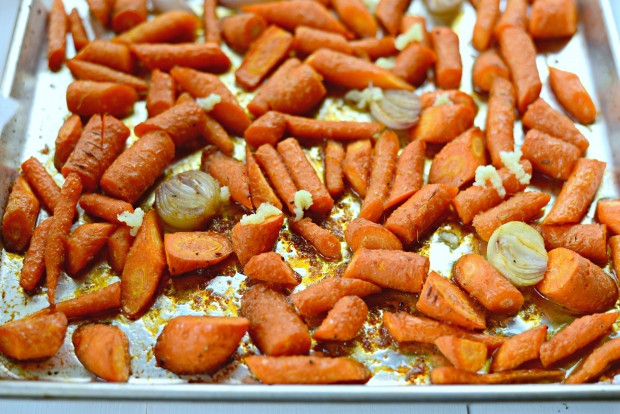 At the 25 minute mark, I squeezed two good size cloves of peeled garlic, through my garlic press and onto the cooked carrots.
I tossed everything around and then slid the pan back into the oven for 5 more minutes.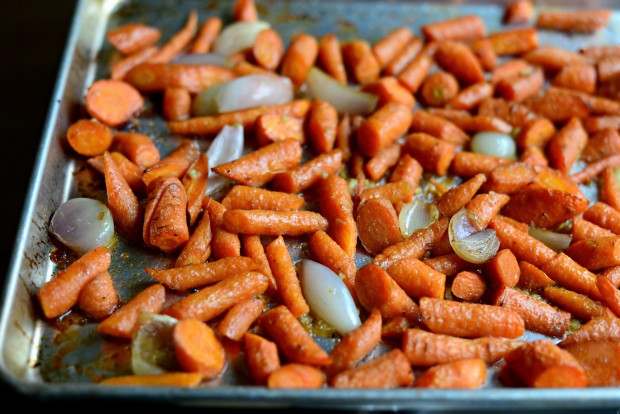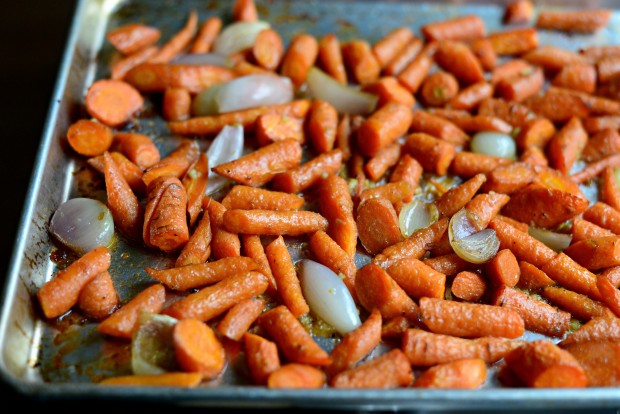 I would eat these carrots just like this, as a side dish to meatloaf or something. They taste SO good!!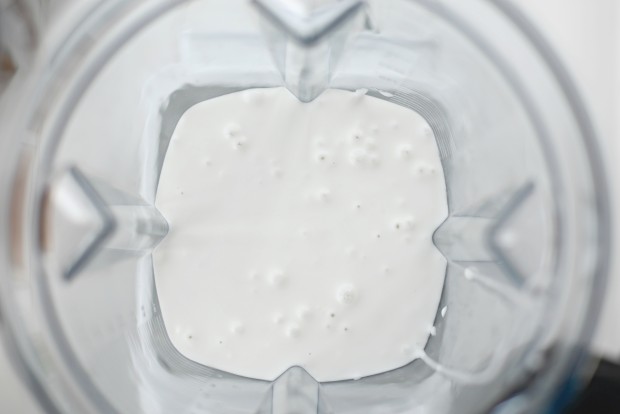 However since I was making soup, I had to stop snacking on them and continue or there would be no soup.
Add 1 can of full fat coconut milk into your blender. I use my Vitamix (love it!).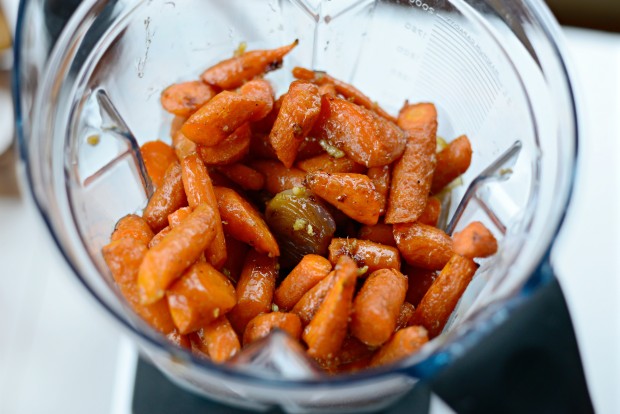 Add the carrots and shallots…
1-1/2 teaspoons kosher salt…
… and 1/2 teaspoon white pepper.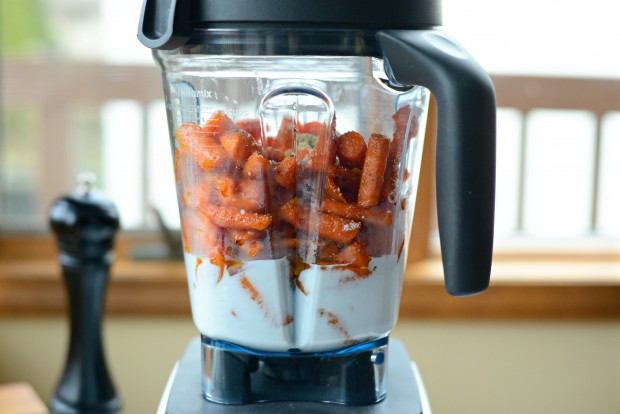 Secure the lid and start blending.
I pulse it a few times to get things moving…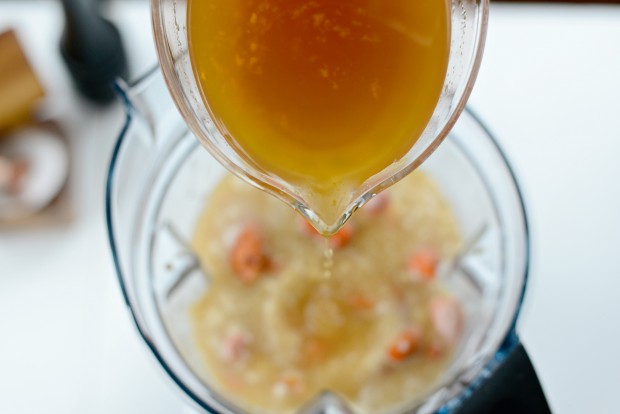 … then I stop to add in the 1 cup of broth and 1-1/2 cups water. Add more or less water depending on how thick or thin you prefer your soup.
Scraping down the sides and pureeing until velvety smooth.
PLEASE tell me you see the face?
If the ginger carrot soup cools, pour it back into a soup pot or Dutch oven and reheat on low until hot.
I'm a big fan of smooth soups but personally need the texture of either crispy bread cubes, toasted nuts or even fresh herbs, so I garnished my bowl with chopped fresh cilantro, smoky marcona almonds and a little drizzle of olive oil.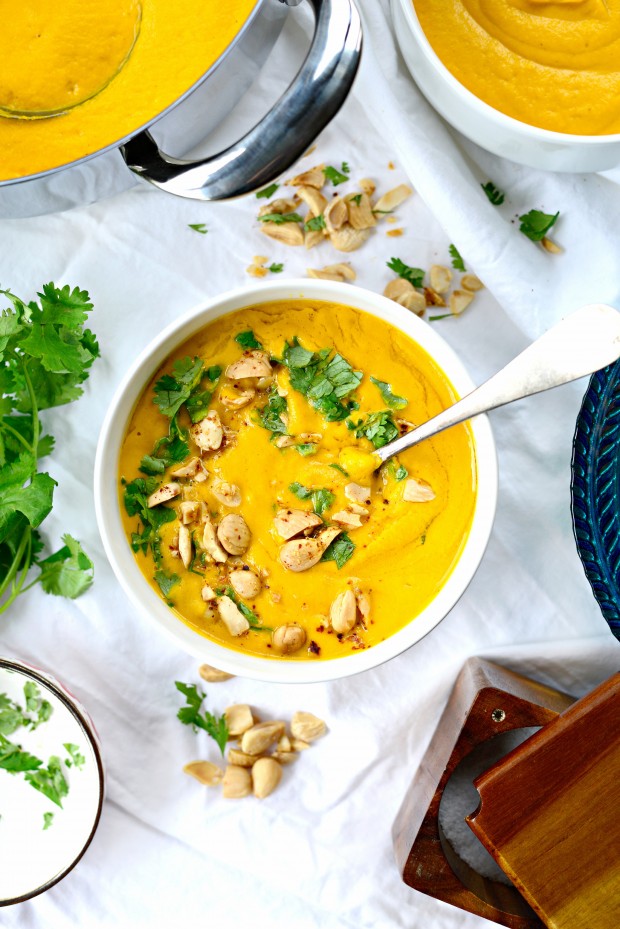 This soup completes me.
I didn't expect to love the flavor of the roasted carrots as much as I did, I was so pleasantly surprised! The ginger-tamari is a subtle but lovely savoriness to the naturally sweet roasted carrots.
I actually reheated leftovers and am enjoying a bowl of this ginger carrot soup on this cold day as I type, one handed.
My cookbook Simply Scratch : 120 Wholesome Homemade Recipes Made Easy is now available! CLICK HERE for details and THANK YOU in advance!
Yield: 6 servings
Roasted Ginger Carrot Soup
A deliciously creamy ginger carrot soup!
Ingredients
2 pounds carrots, roughly chopped into 1 to 2 inch pieces
2 shallots, peeled and halved
2 tablespoons coconut oil, unrefined
1 tablespoon olive oil
1 tablespoon low-sodium tamari
1 tablespoon grated fresh ginger
1½ teaspoons kosher salt, more or less to taste
fresh ground black pepper
2 cloves fresh garlic, peeled
1 15 ounce can coconut milk, full fat
1/2 teaspoon white pepper
1 cup vegetable broth
1½ cups water, more or less for desired consistency
FOR THE ALMONDS:
2/3 cup Marcona almonds, chopped and toasted in a dry pan (I got my almonds at Costco)
1/2 teaspoon olive oil
1/2 teaspoon aleppo pepper
1/3 cup chopped fresh cilantro leaves
Instructions
Preheat your oven to 400°.

Combine the coconut oil, olive oil, tamari, ginger, salt and pepper.

Toss the carrots, shallots and ginger sauce on a rimmed metal baking pan and roast for 25 minutes, rotating the pan halfway through.

Finely mince or squeeze the garlic through a garlic press and onto the roasted carrots. Toss to combine and slip the pan back into the oven for 5 more minutes.

Add the coconut and roasted carrots and shallots, 1½ teaspoons of salt and the white pepper to your blender. Pulse a few times to combine. Pour in the broth and water and puree until ultra smooth.

Adjust the amount of water to reach a desired consistency.

If soup has cooled a smidge, pour into a medium pot and heat over medium-low until hot.

Serve with chopped fresh cilantro and smoky toasted almonds.
FOR THE ALMONDS:
Roughly chop the almonds and place in a dry pan. Cook over medium low heat until fragrant and lightly golden. Toss with the olive oil and aleppo pepper. The aleppo pepper adds a nice smoky touch!
Serving: 1cup, Calories: 222kcal, Carbohydrates: 20g, Protein: 5g, Fat: 15g, Saturated Fat: 5g, Polyunsaturated Fat: 2g, Monounsaturated Fat: 7g, Trans Fat: 1g, Sodium: 1021mg, Potassium: 622mg, Fiber: 6g, Sugar: 9g, Vitamin A: 25453IU, Vitamin C: 10mg, Calcium: 92mg, Iron: 1mg
[this post contains affiliate links.]
This post may contain affiliate links.
Buy the Cookbook: Simply Scratch : 120 Wholesome Homemade Recipes Made Easy Now available on Amazon »
THANK YOU in advance for your support!