Nothing says Valentine's Day like Red Velvet Cupcakes topped with white chocolate cream cheese frosting! This recipe is easy and so much better than boxed cake mix. Yields 24 cupcakes.
Especially with teeny-tiny heart sprinkles.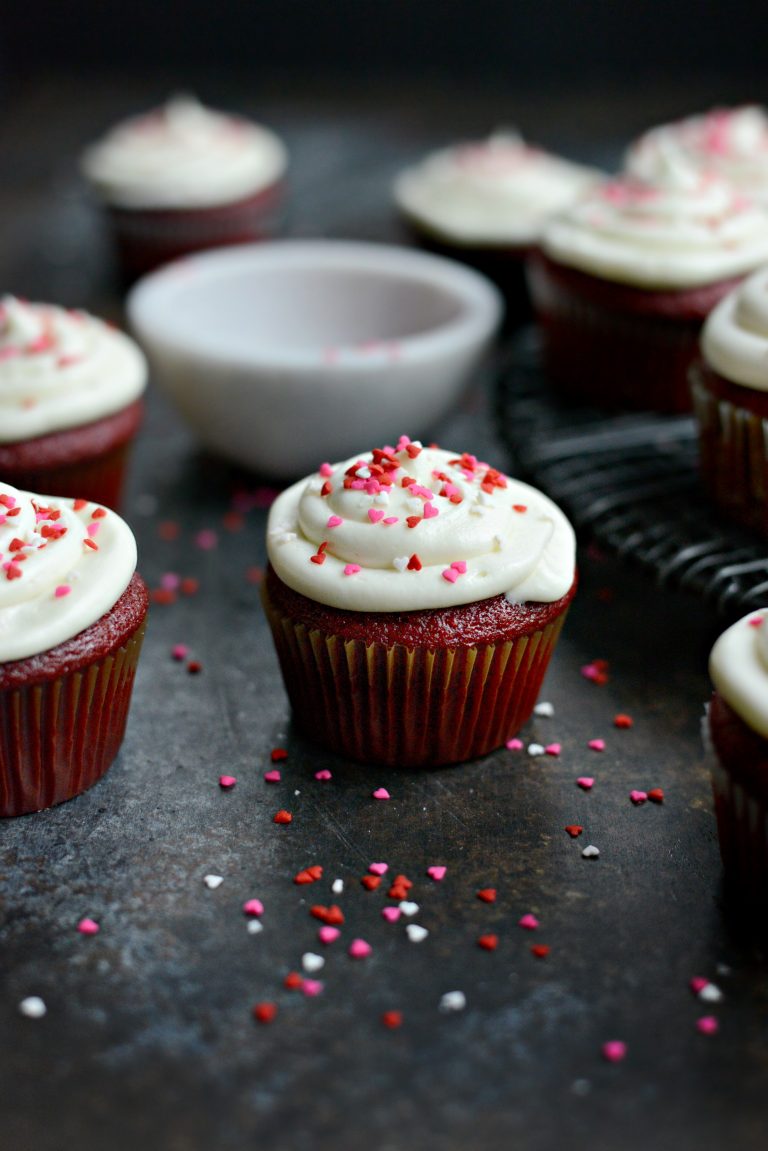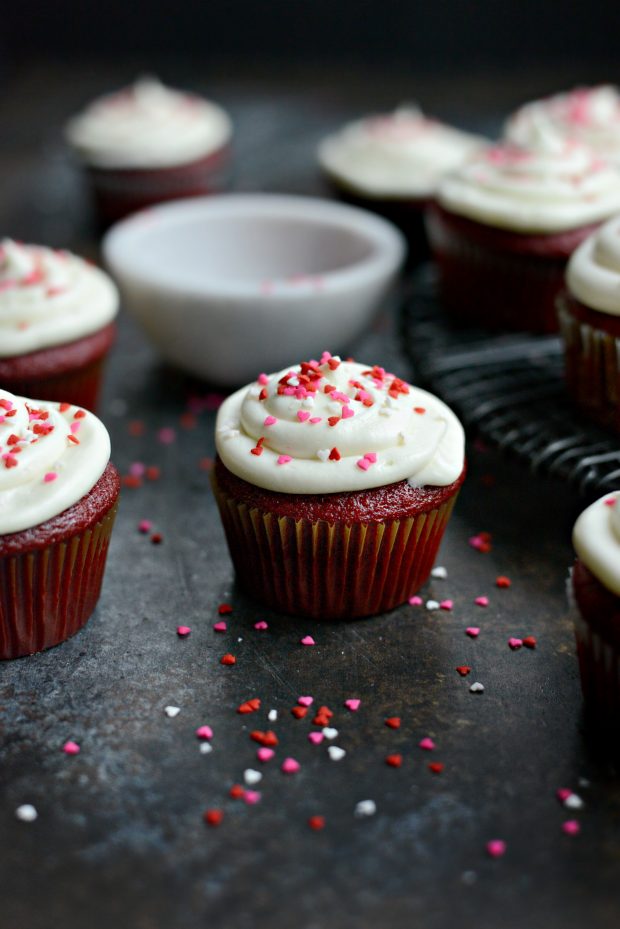 I'm kind of sort of using a version of this recipe from 2012 — back when Malloree asked me to make it for her 8th birthday. EIGHTH. She's now twelve. *cries*
Since I posted that recipe, I've been asked quite a few times if the cake recipe can be made into cupcakes. I've always been pretty positive that they could, but never tried it to find out for sure. Until now.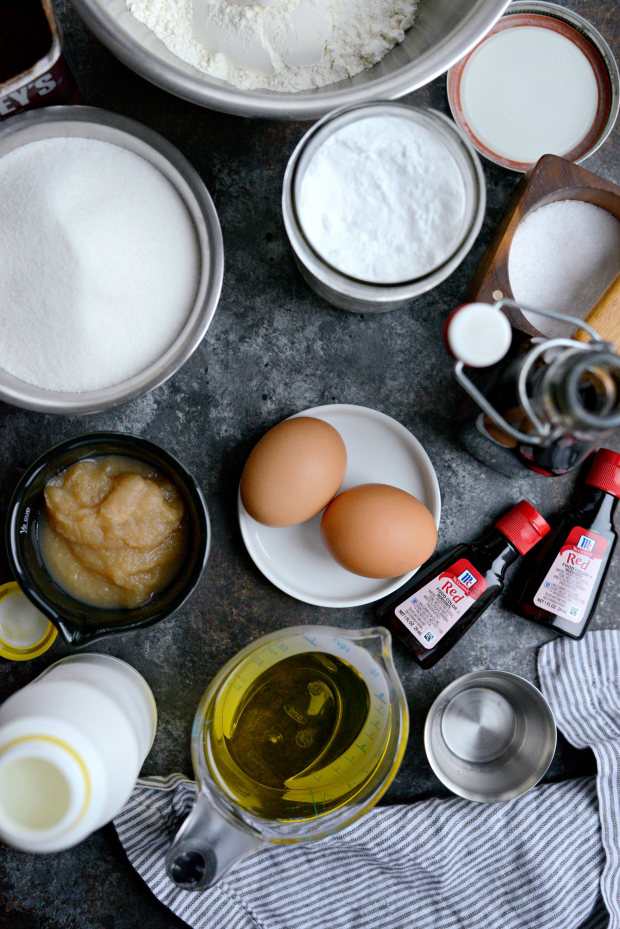 To Make These Red Velvet Cupcakes You Will Need:
large eggs, lightly beaten
low-fat buttermilk
grapeseed oil (or another light and flavorless oil)
unsweetened applesauce
distilled white vinegar
pure vanilla extract
red food coloring
unbleached all purpose flour
granulated sugar
unsweetened cocoa powder
baking soda
kosher salt
The only small changes I made, and believe me they are minor, is two swap a half cup of the oil for unsweetened applesauce. And increase the vanilla by 1/4 teaspoon. Like I said, minor.
To start, in a large liquid measuring cup lightly whisk 2 eggs and add in the 1 cup buttermilk and oil, 1/2 cup applesauce, 1 tablespoon vinegar and 1-1/2 teaspoon vanilla extract.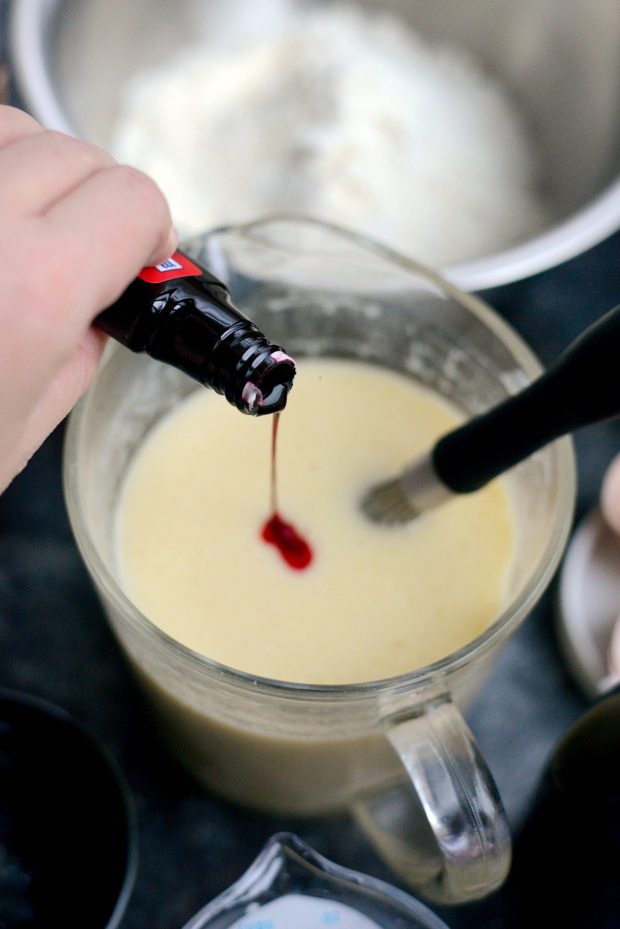 Whisk to combine before pouring in 2 ounces of red food coloring.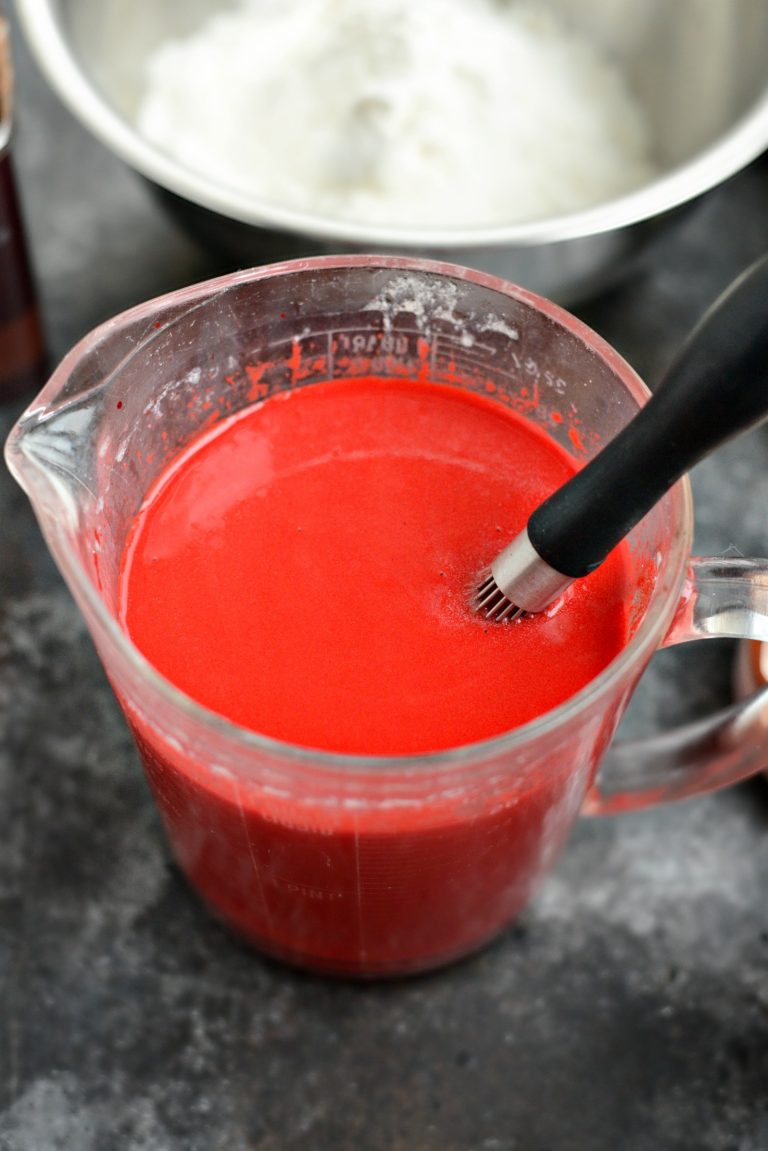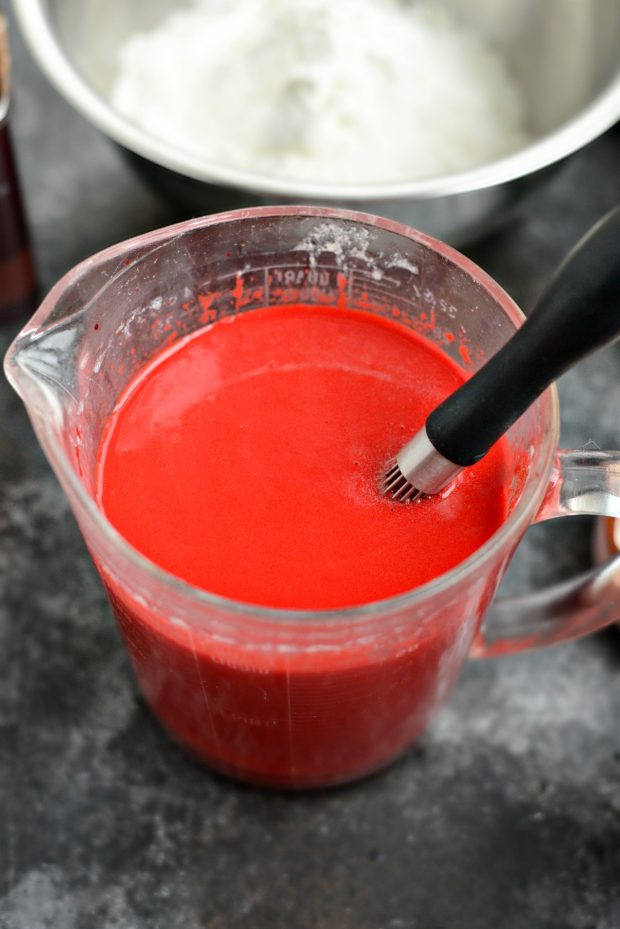 Slowly whisk to combine and set aside.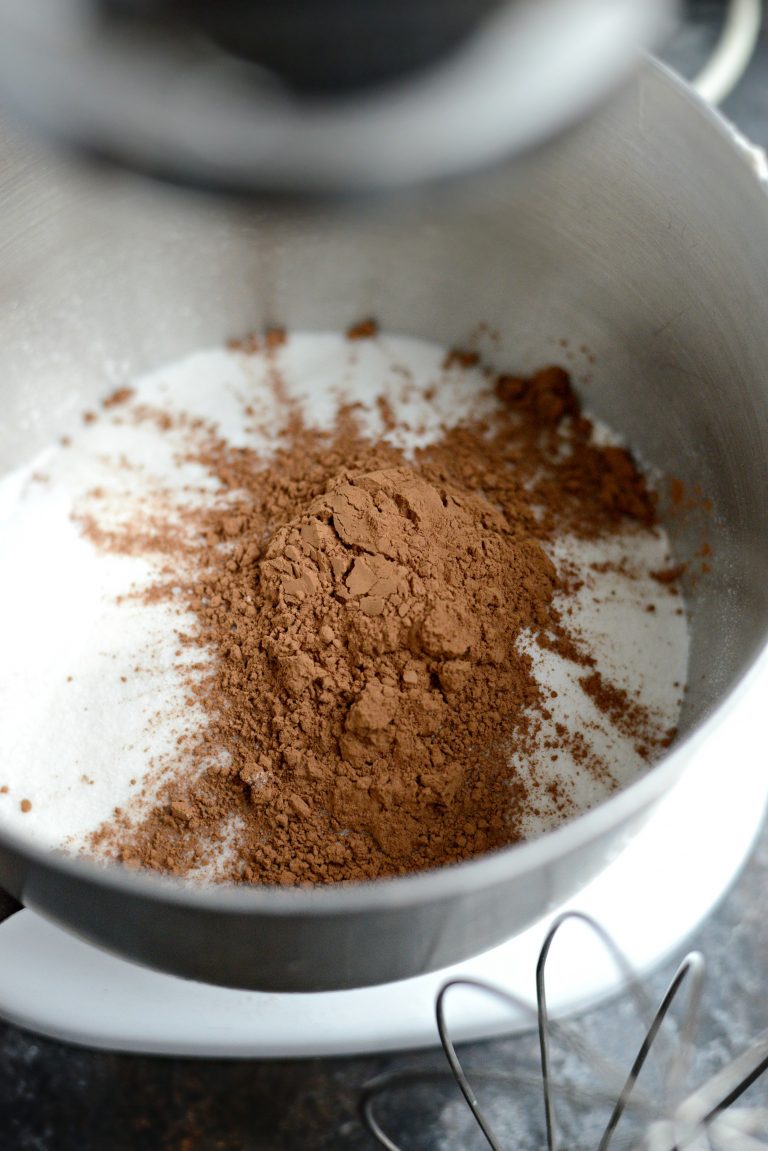 In the bowl of your stand mixer add in the 2-1/2 cups of all purpose flour, 2 cups of sugar, 1-1/2 rounded tablespoons unsweetened cocoa powder and 1 teaspoon of both baking soda and kosher salt. Using the whisk attachment, mix until blended.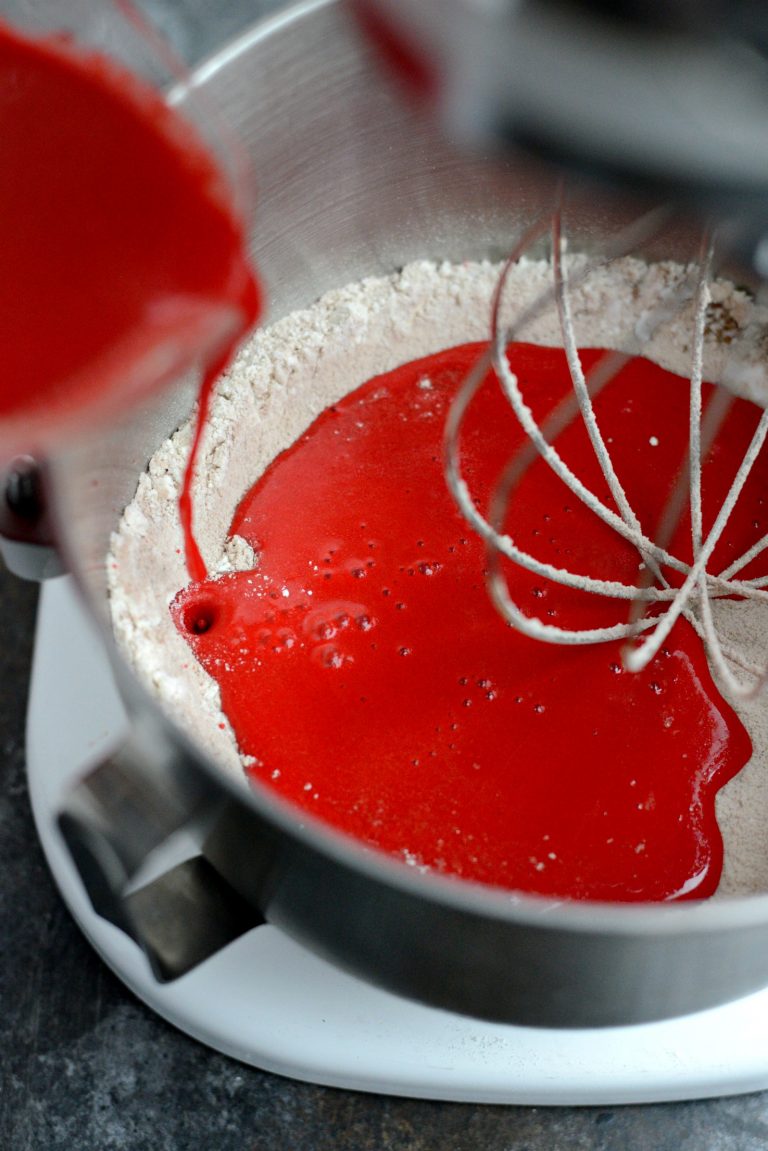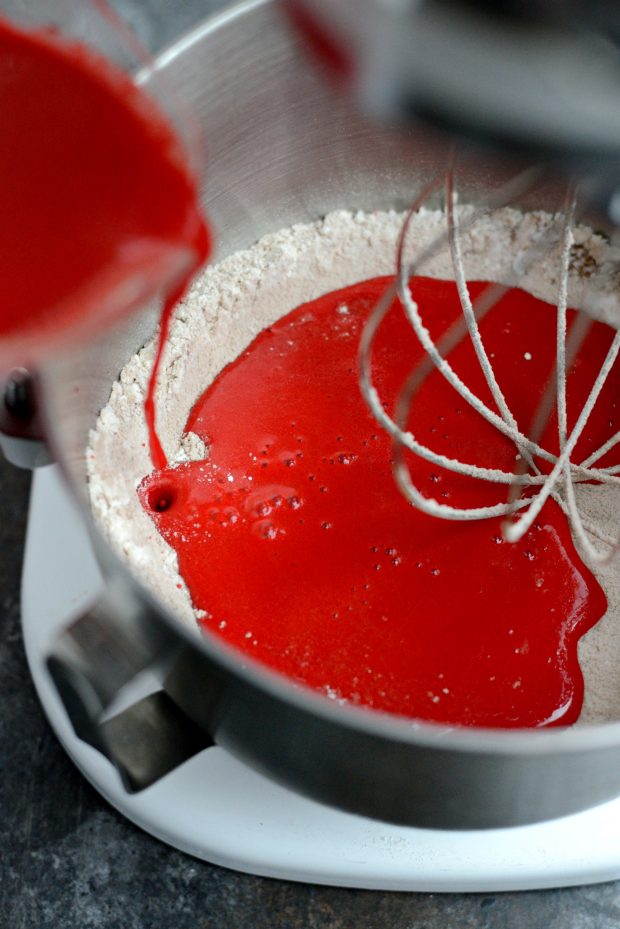 Pour in the very red wet ingredients…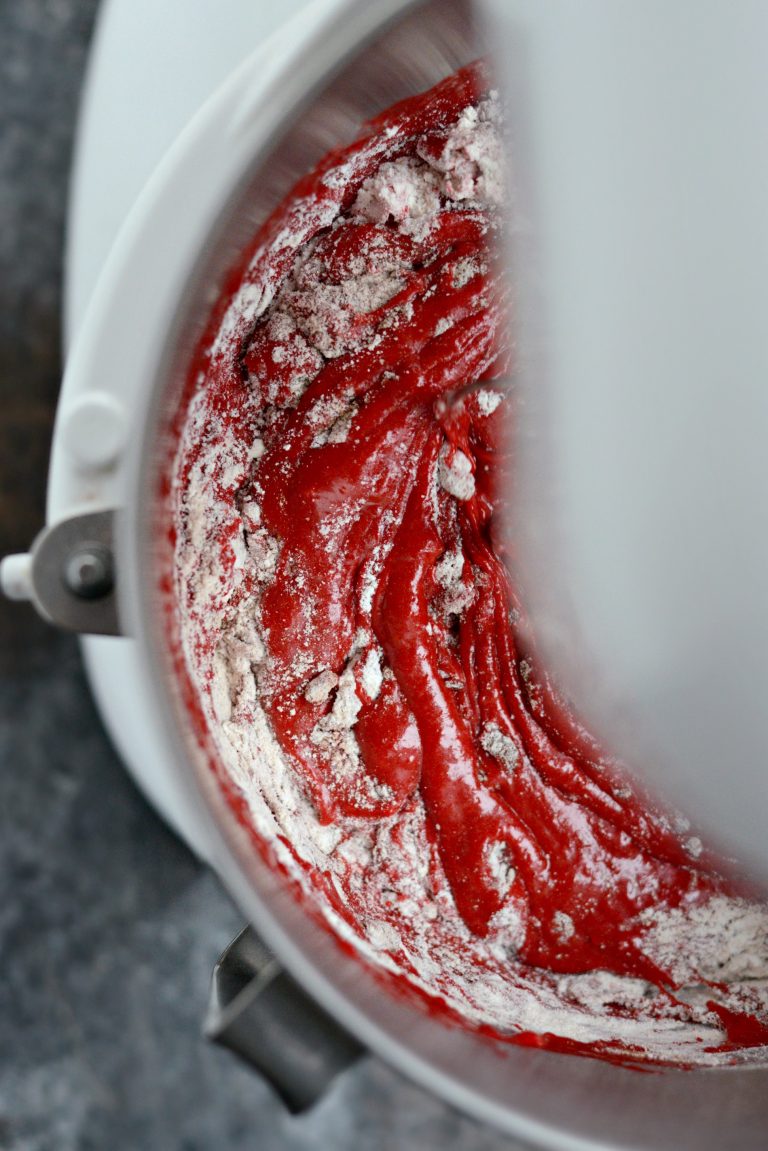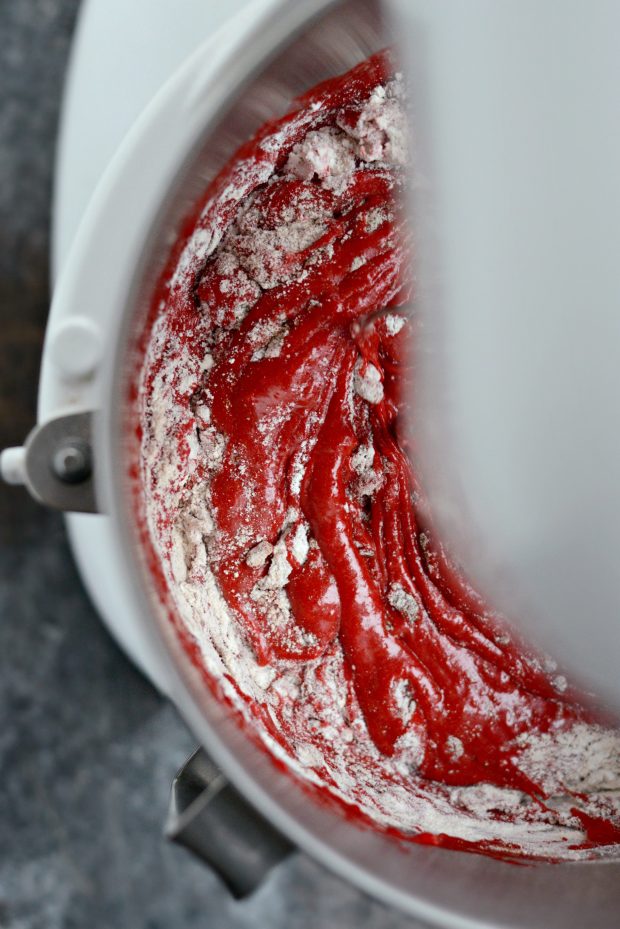 …and mix until just combined.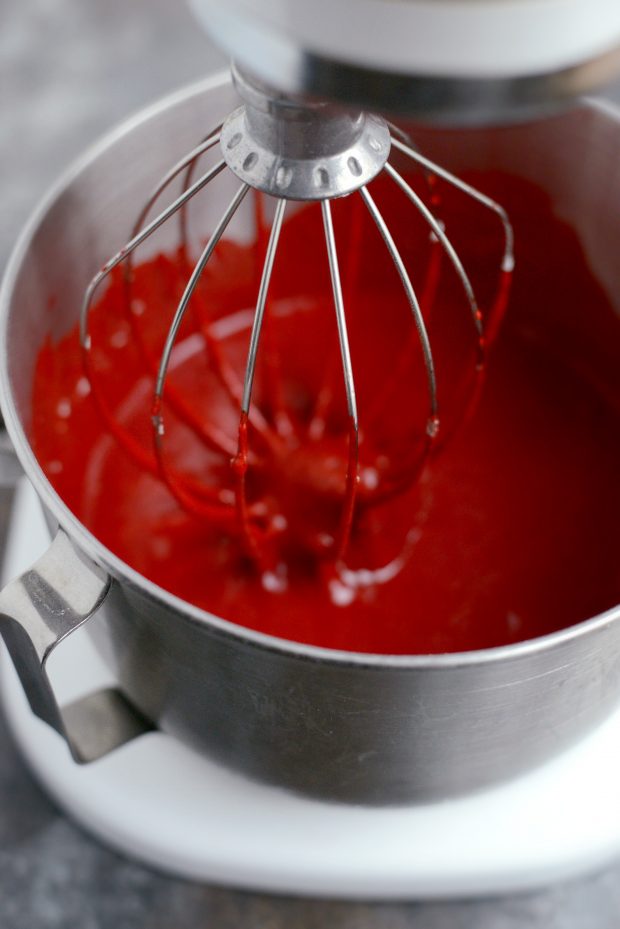 So RED.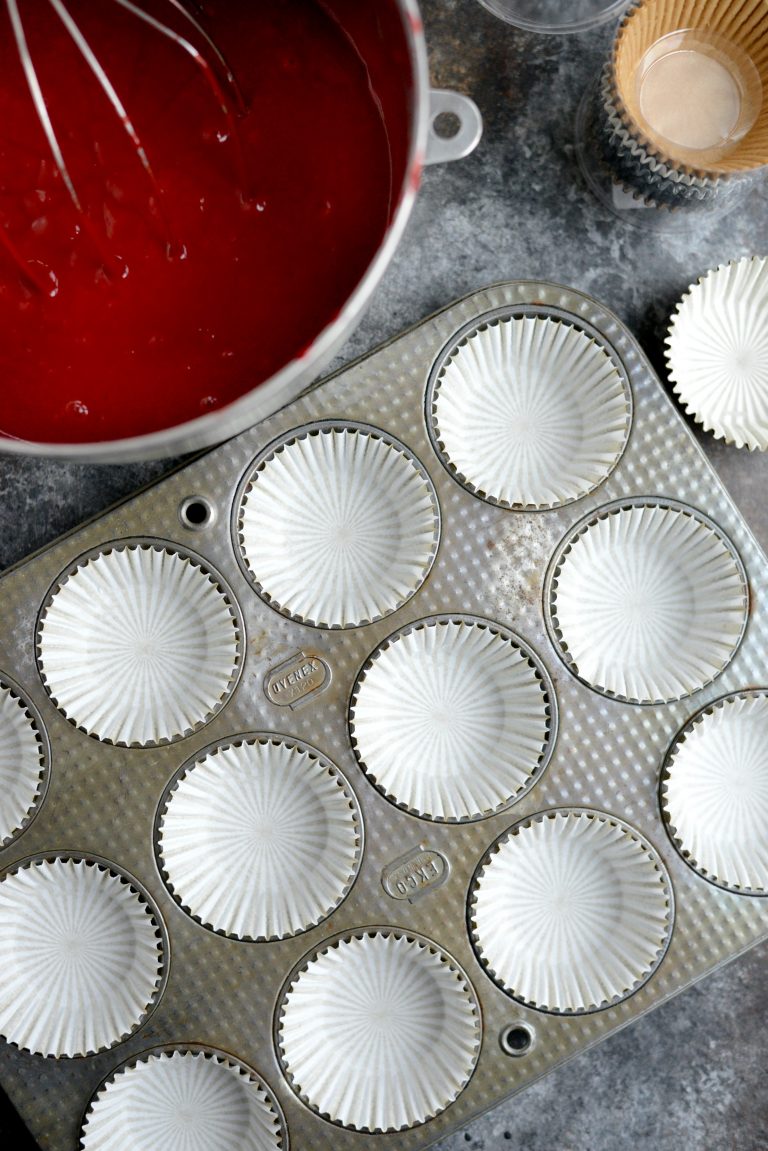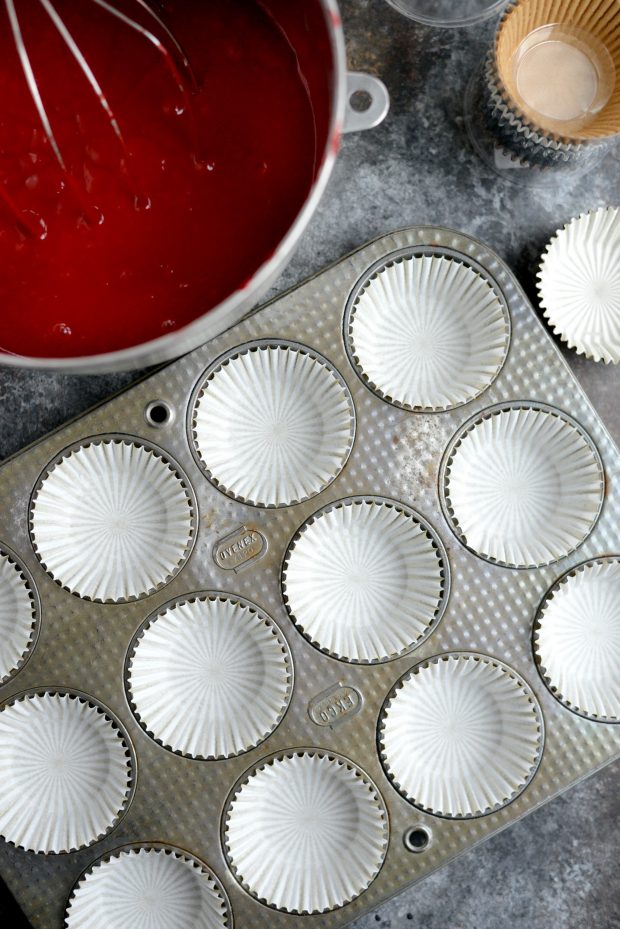 Then line two muffin pans with liners.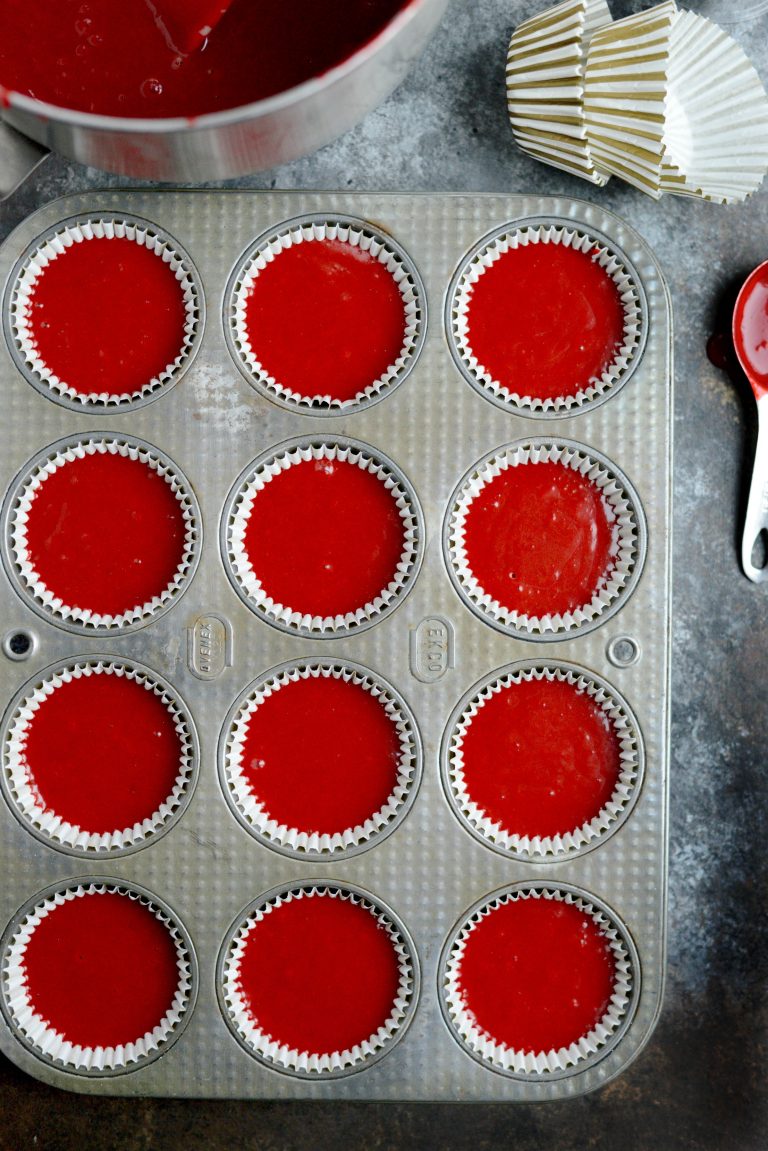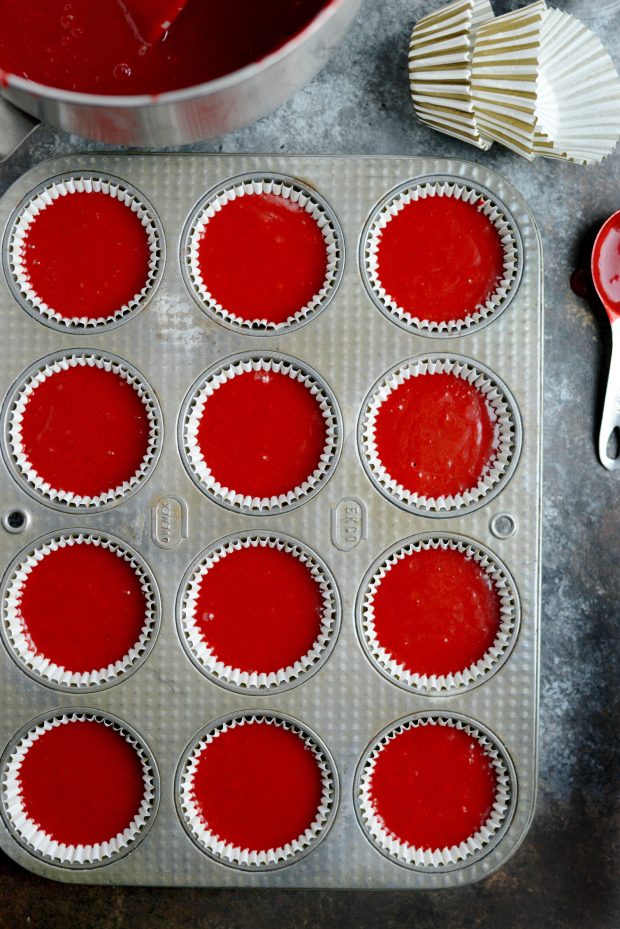 Next fill each liner 2/3 of the way full with 3 tablespoons of the batter per liner. Bake each batch in your preheated 350° oven for 15-17 minutes or until the tops bounce back when pressed gently. I bake them separately because my oven is small and extremely old and I worry about uneven baking.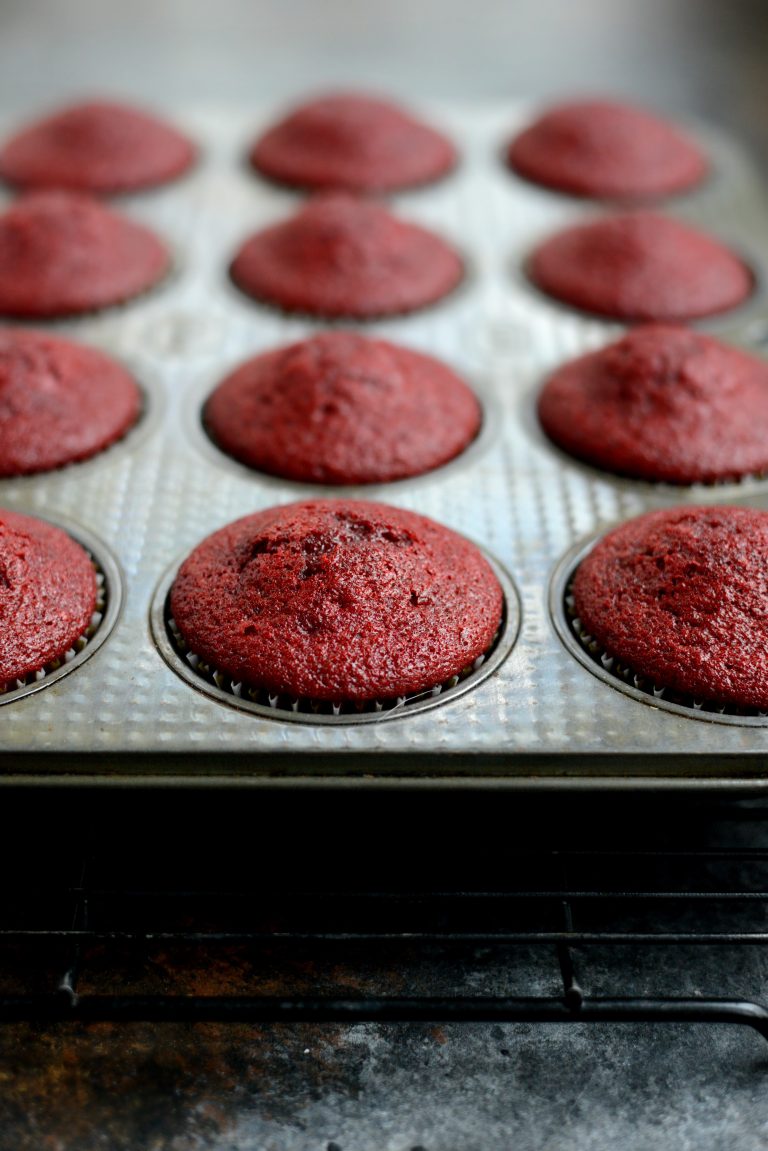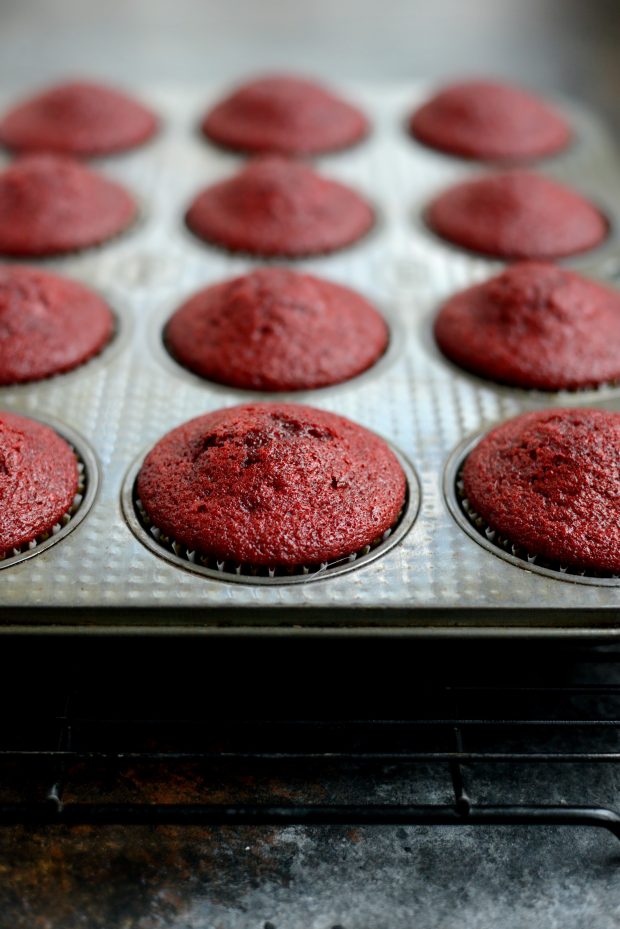 In. Love. Isn't the color ridiculously gorgeous?!
Allow the cupcakes to cool for a few minutes before transferring to a wire rack to cool.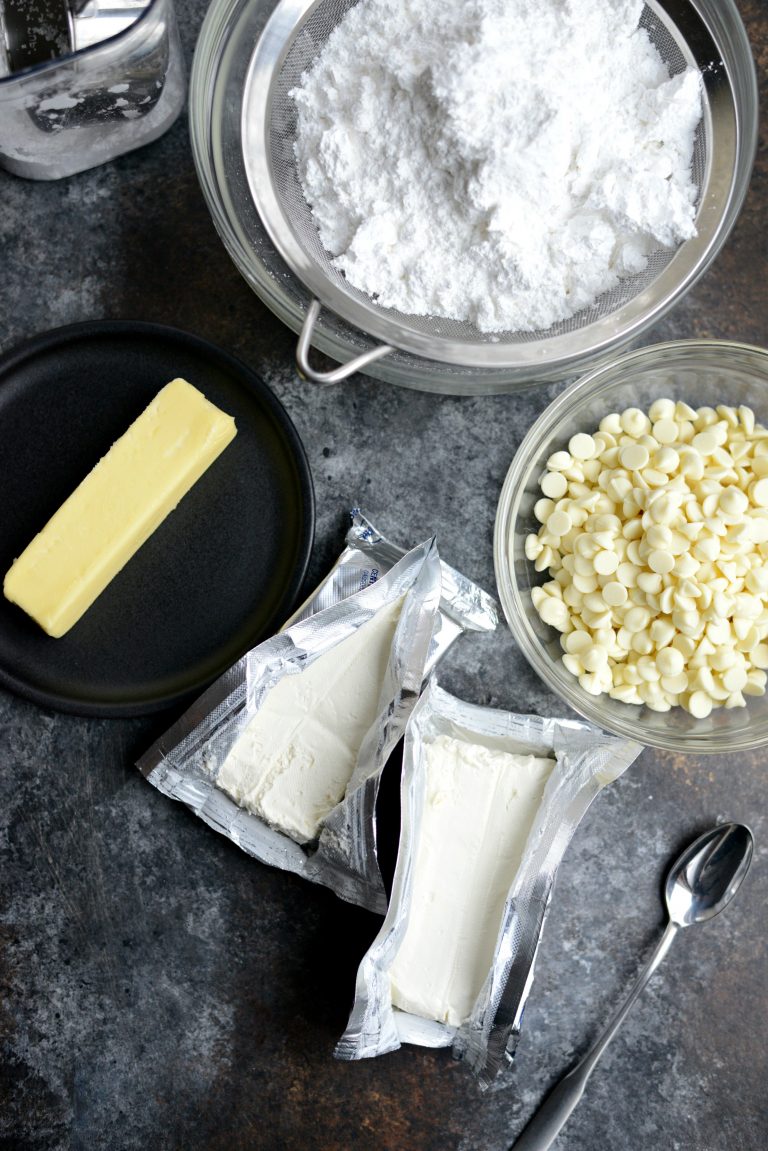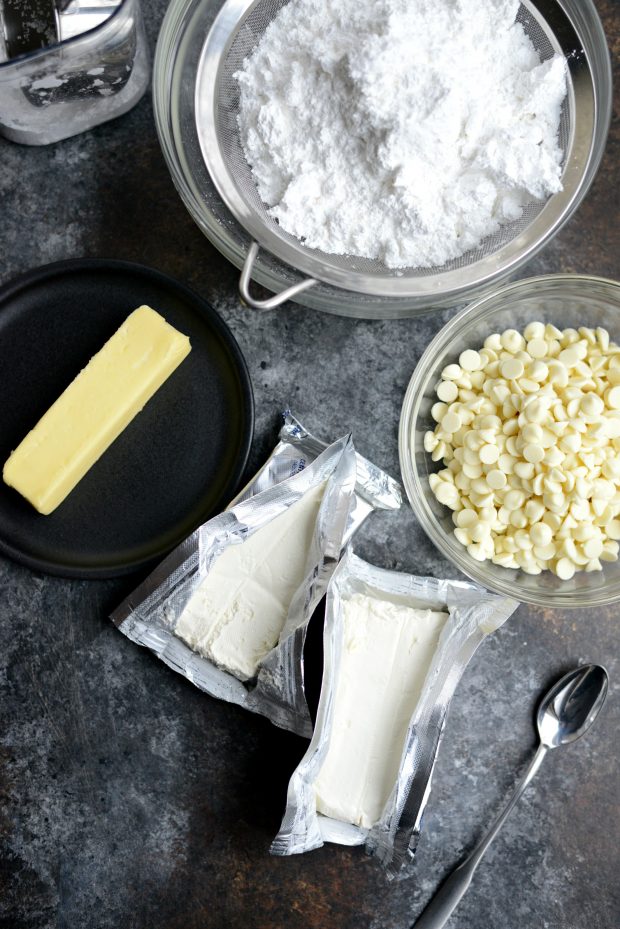 While the red velvet cupcakes cool, make the frosting.
FOR THE FROSTING:
white chocolate chips
cream cheese, softened at room temperature
1 stick unsalted butter, softened at room temperature
6 to 7 cups sifted powdered sugar
sprinkles, optional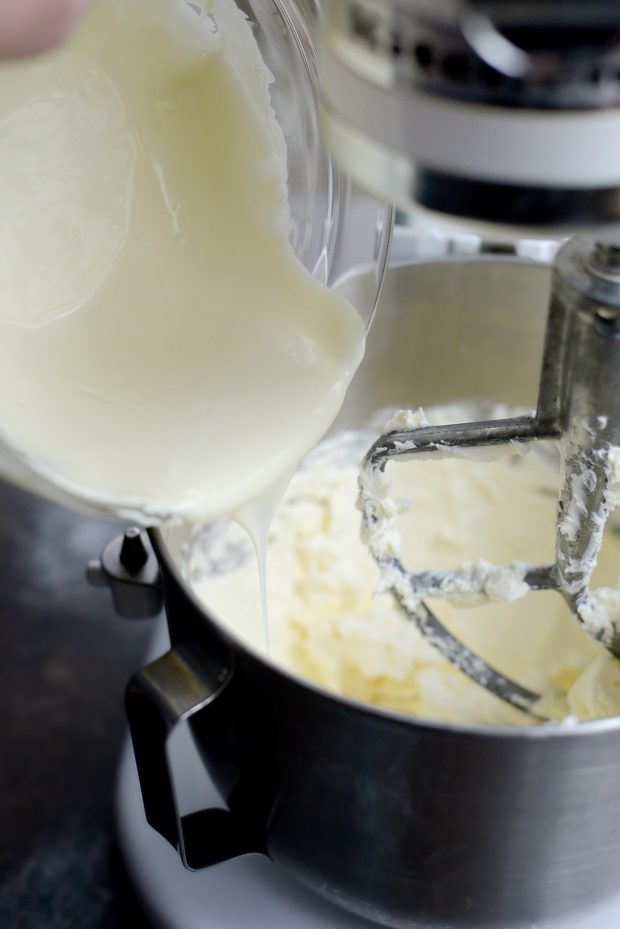 Add 2 cups white chocolate chips to a microwave save bowl and heat at 10 second intervals, stirring after each one until melted and smooth.
Then whip the 1 stick (or 1/2 cup) butter and 2 (8 ounce packages) cream cheese until smooth. Then slowly pour in the white chocolate.
If by chance the chocolate hardens and the frosting becomes lumpy, you can transfer the frosting to a microwave safe bowl and heat slowly, using the 10 second intervals– like before– whisking after each one until smooth.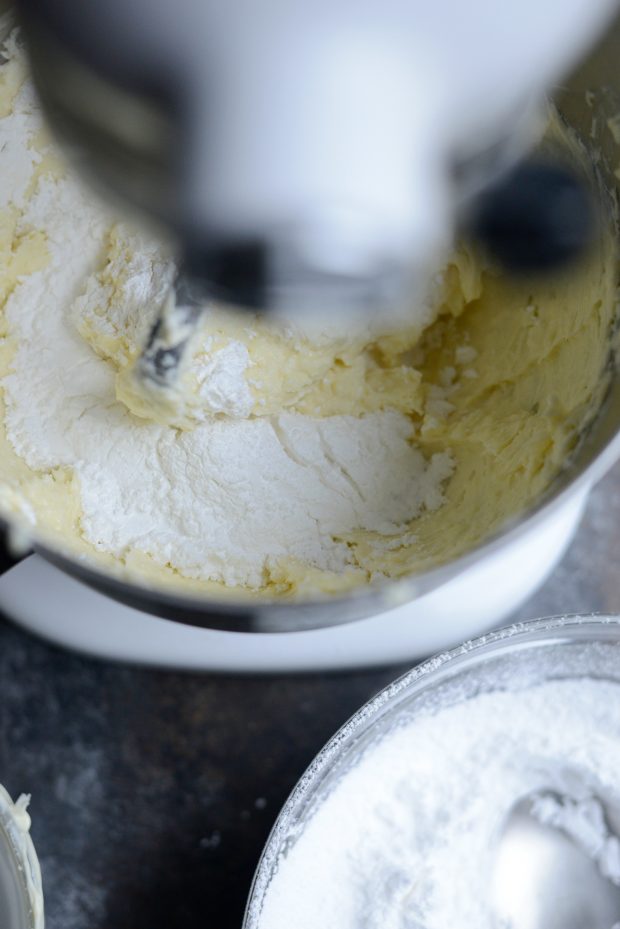 Gradually add in the 6 to 7 cups powdered sugar until the frosting is thick.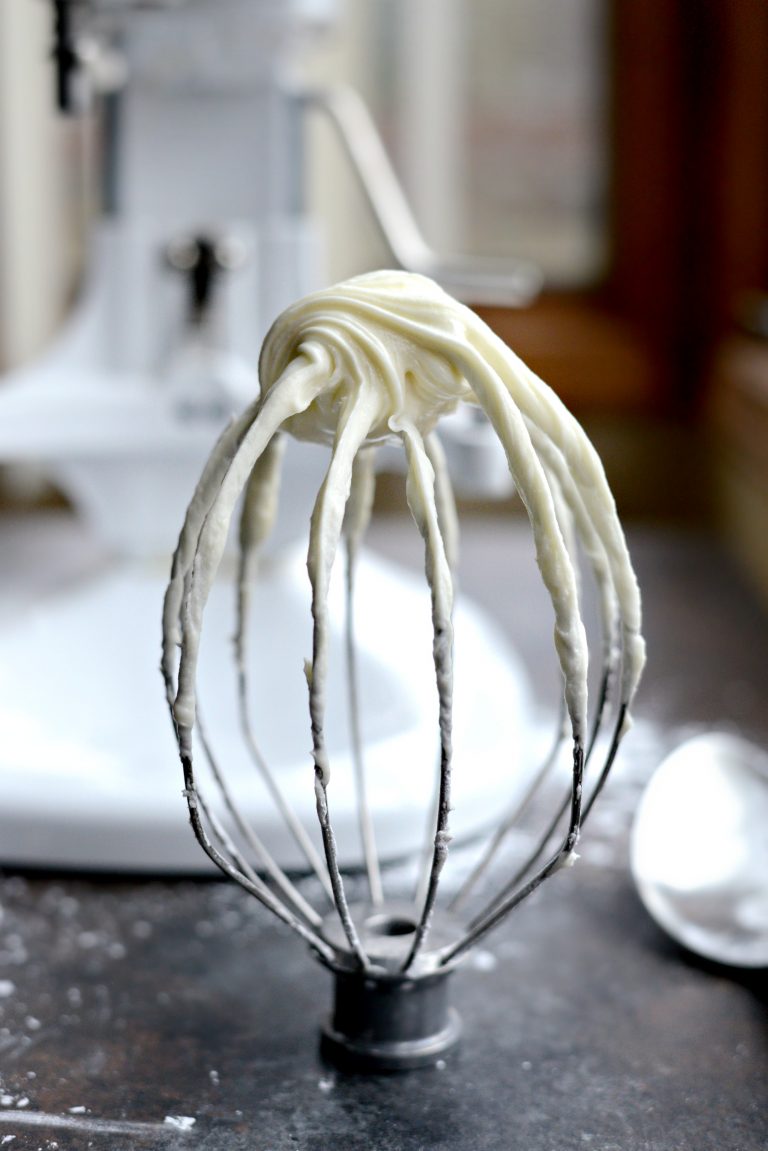 SO good.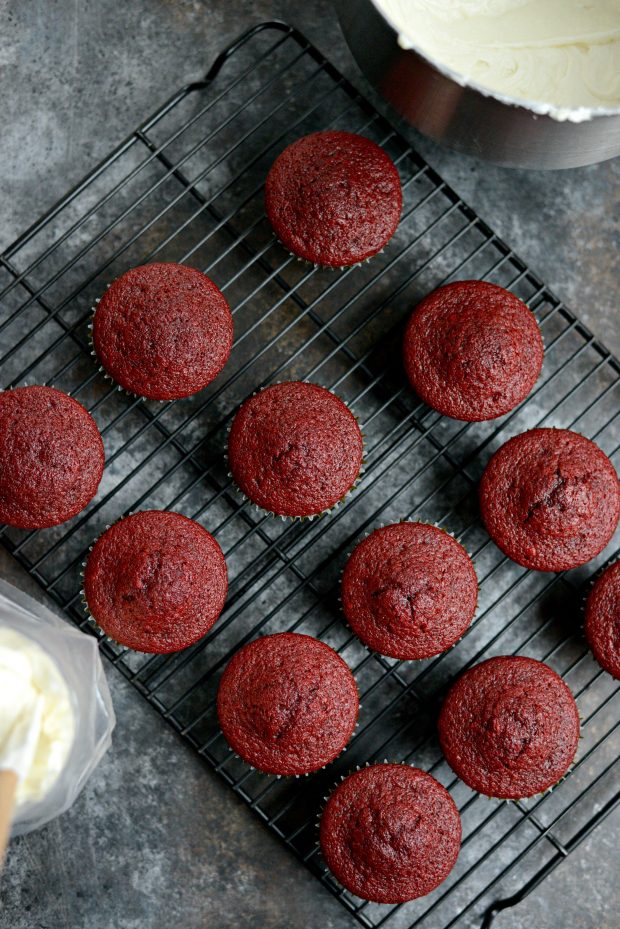 Once the cupcakes have cooled completely, it's time to frost.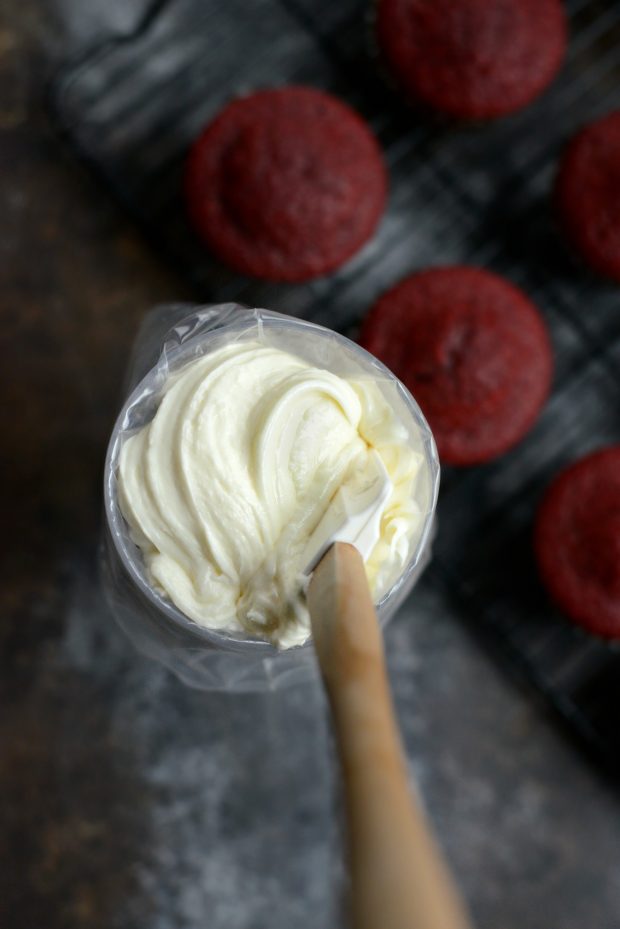 Fill a piping bag with some of the white chocolate cream cheese frosting.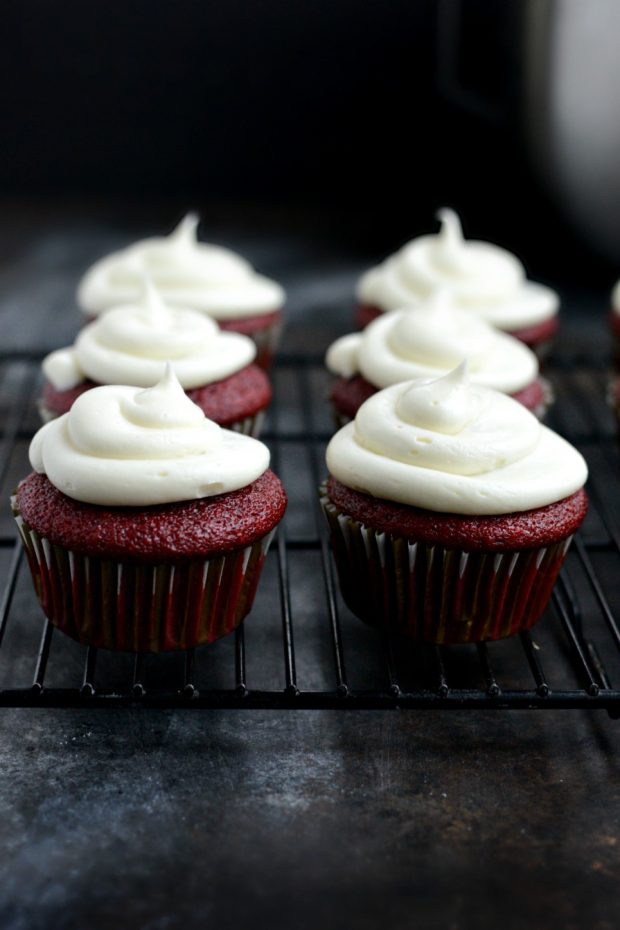 And pipe over the top of each red velvet cupcake.
The frosting is pretty fantastical! But if you're a purist and want to stick with a traditional cream cheese, then here is my original Cream Cheese Frosting recipe.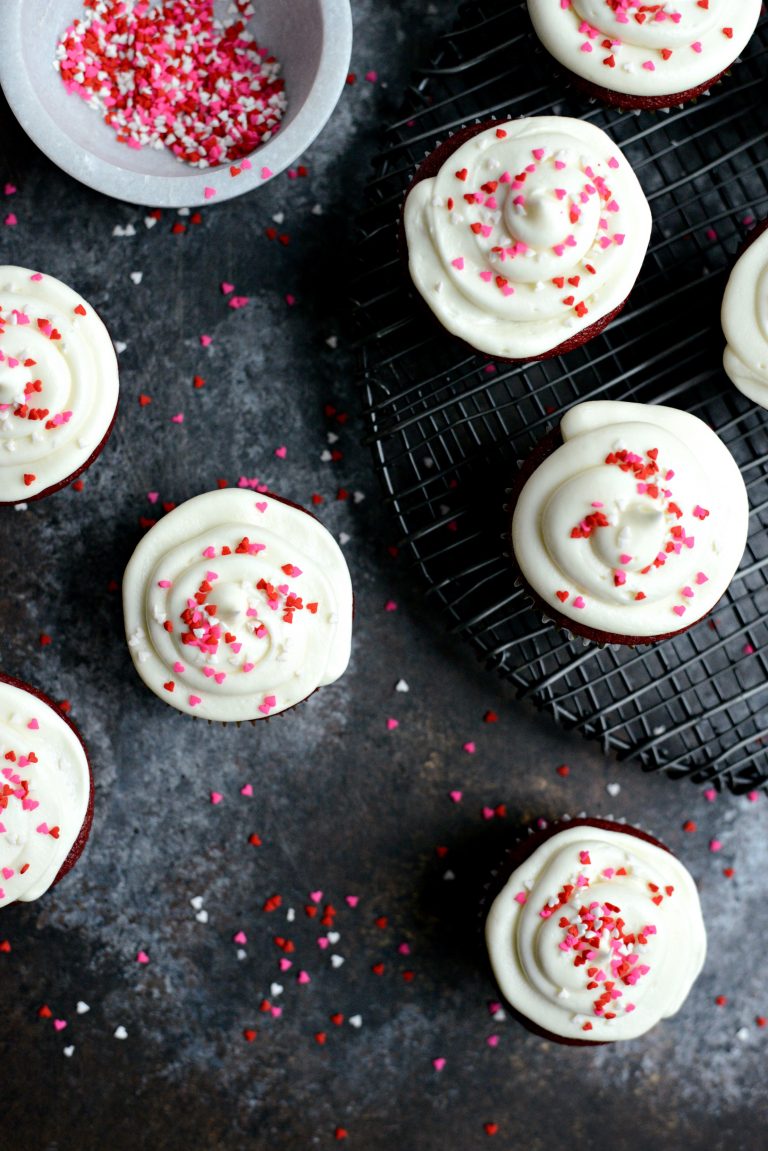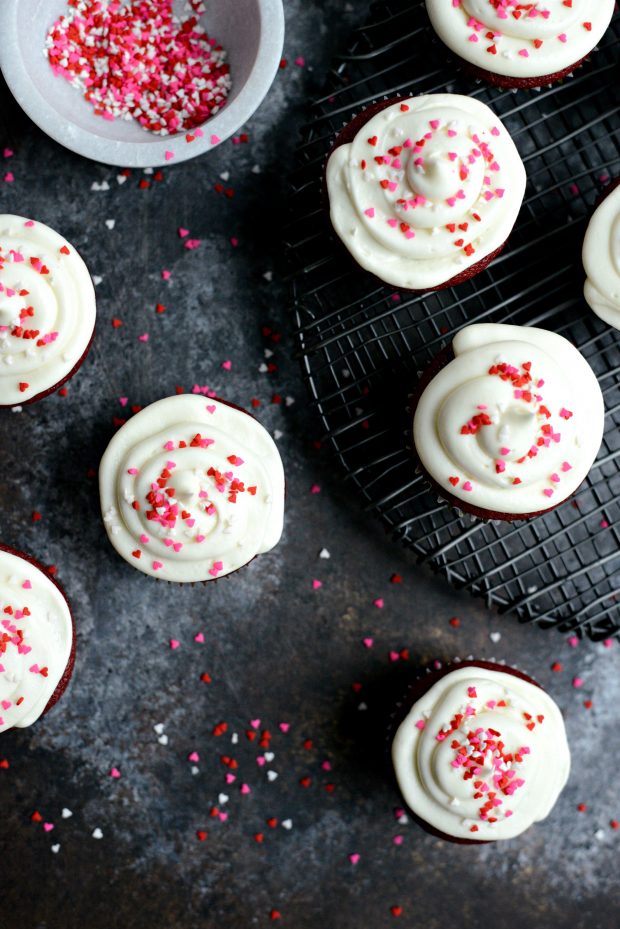 Then add the sprinkles!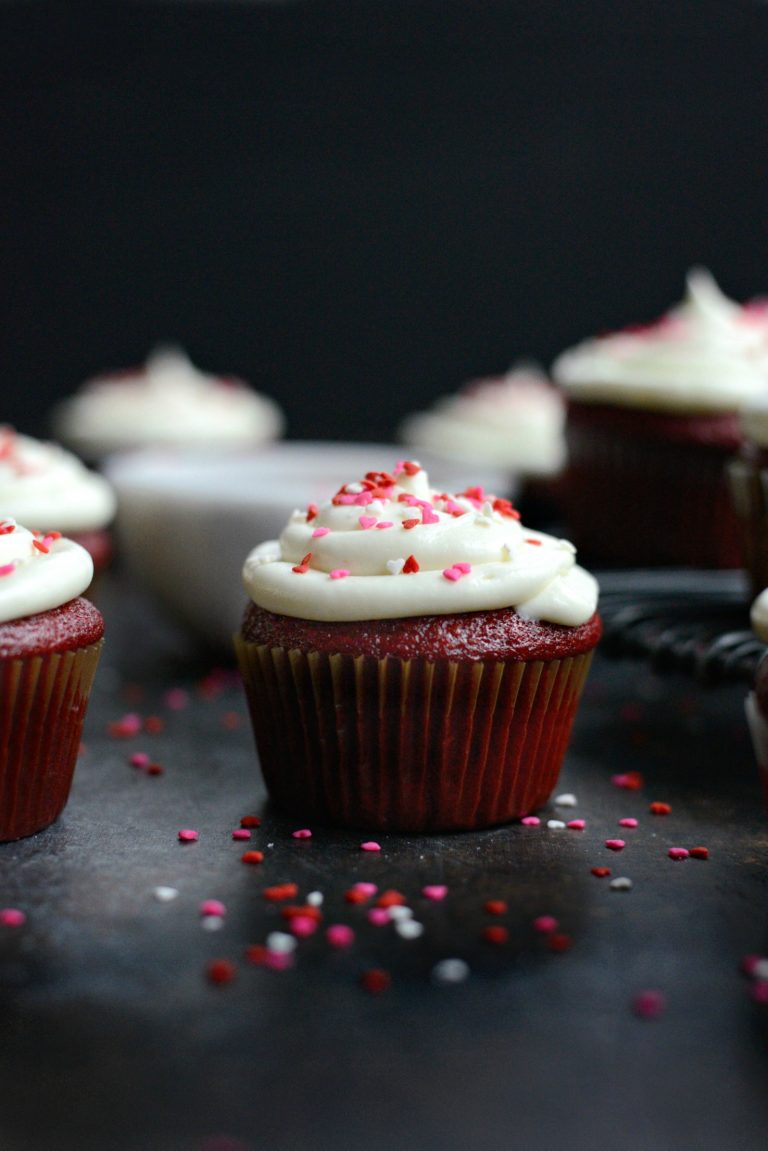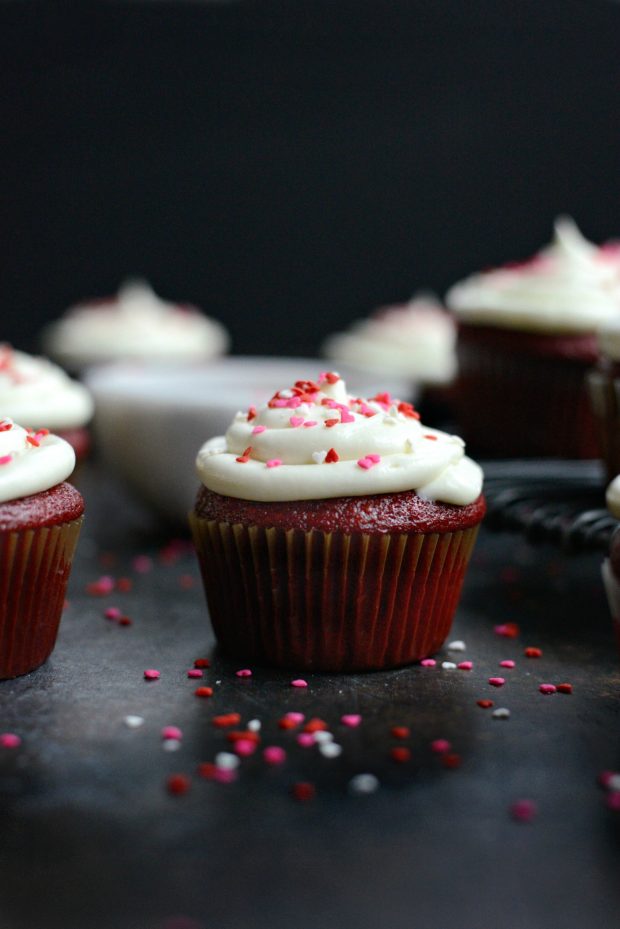 These red velvet cupcakes are my absolute FAVORITE! It was pure agony having them hanging around and not eat them one after another.
When it comes to red velvet anything, I have zero will power. Zero. So I packed up half and sent the girls to school with them to give to their friends. The end result with 12 and 16-year-olds? Thumbs up all around.
I had no doubt.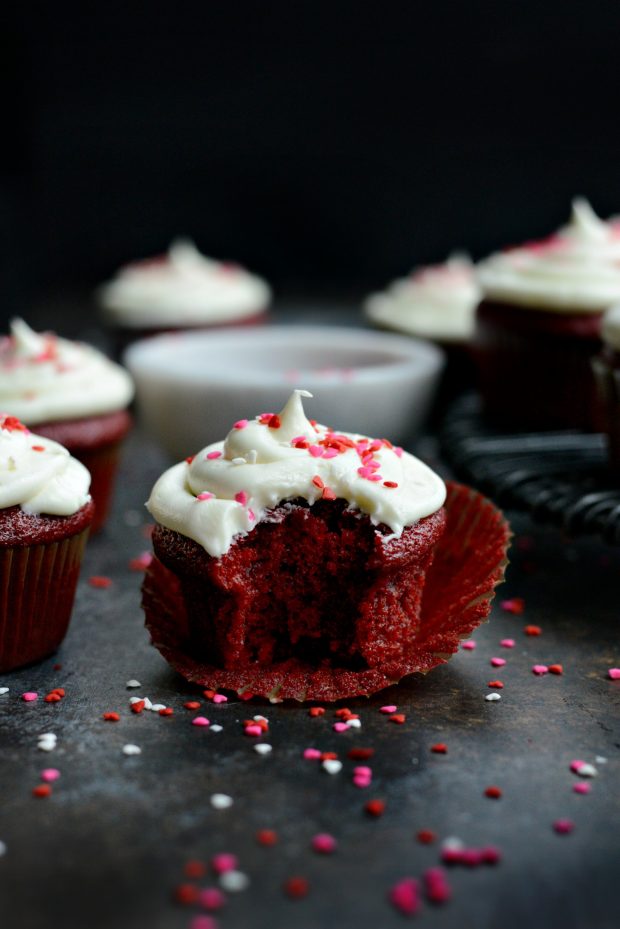 Enjoy! And if you give this Red Velvet Cupcakes recipe a try, let me know! Snap a photo and tag me on twitter or instagram!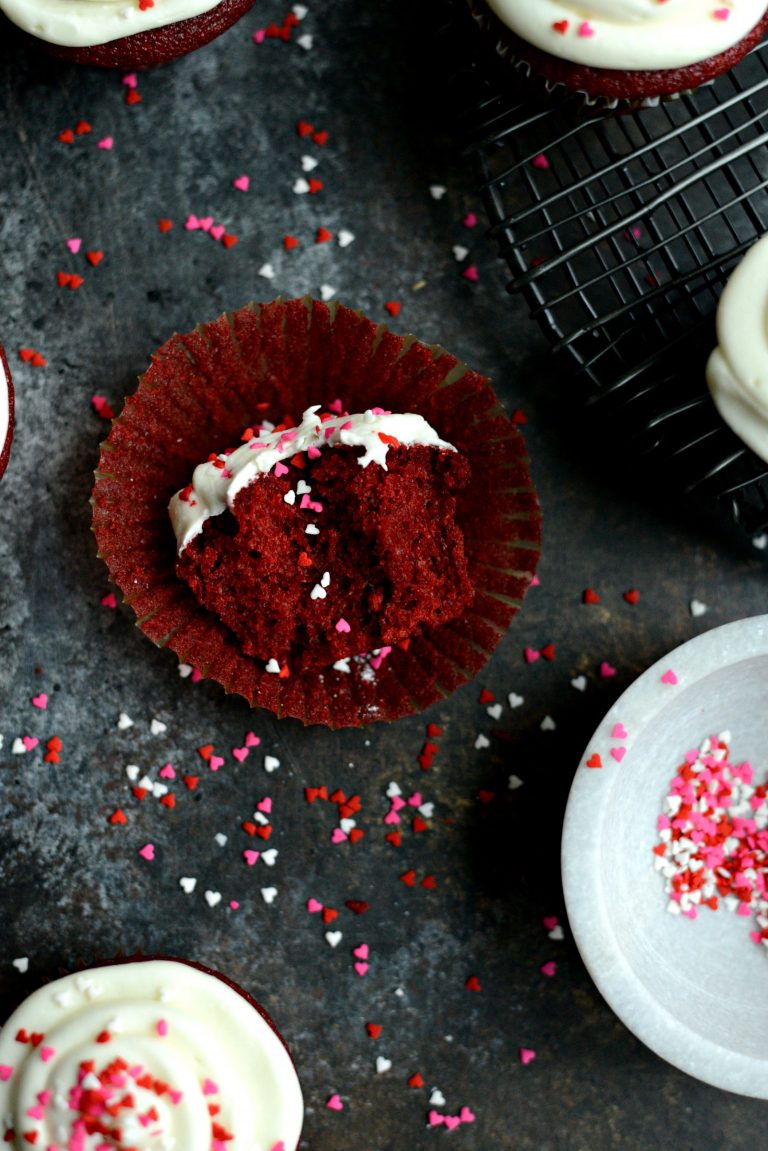 This post may contain affiliate links.
Buy the Cookbook: Simply Scratch : 120 Wholesome Homemade Recipes Made Easy Now available on Amazon »
THANK YOU in advance for your support!