Peanut Butter Chocolate Chip Oatmeal Cookies! Chewy oatmeal cookies get dressed up with peanut butter and chocolate chips. My newest favorite cookie.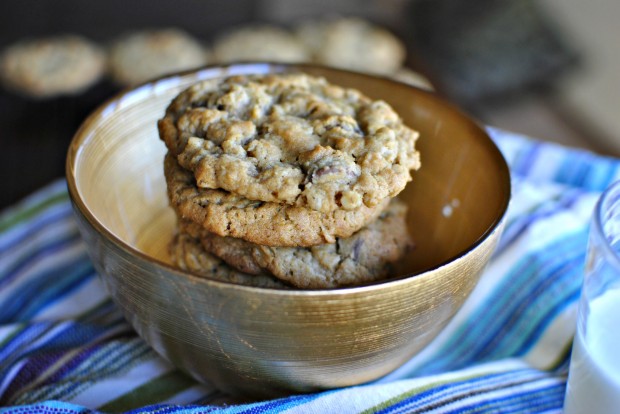 I hope you guys had a nice and relaxing holiday weekend.
Unfortunately, I worked the weekend (boo ), but before that I was off for something like ten WHOLE days which was aweSOME! I got a lot of important stuff done like getting caught up on my laundry, I started a new book and made cookies.
Now it's Monday, and like a lot of ya I still have some Thanksgiving leftovers hanging around, and I could've (maybe should've) come at you with a turkey leftover post, but I figured you're just about as turkey-d out as I am, sooo how about a cookie? A cookie packed with lots of delicious goodies?
What's that? You were so in the mood for a cookie recipe? Oh goodie! Because these Peanut Butter Chocolate Chip Oatmeal Cookies will knock your socks off.
To Make These Peanut Butter chocolate chip oatmeal cookies you will need:
old fashioned oats (not quick oats)
unbleached all-purpose flour
whole wheat flour
baking soda
kosher salt
unsalted butter, softened at room temperature
smooth peanut butter
dark brown sugar
white sugar
eggs
vanilla extract
chocolate chips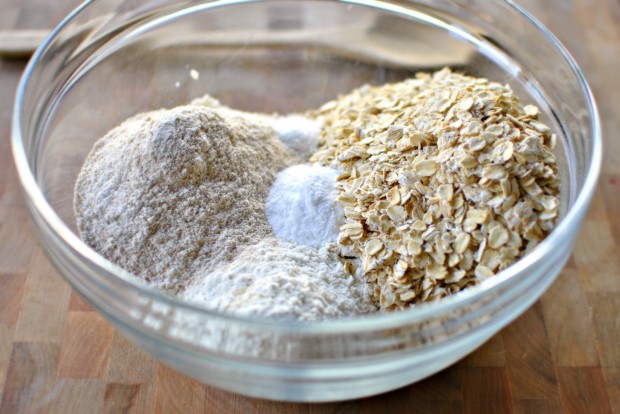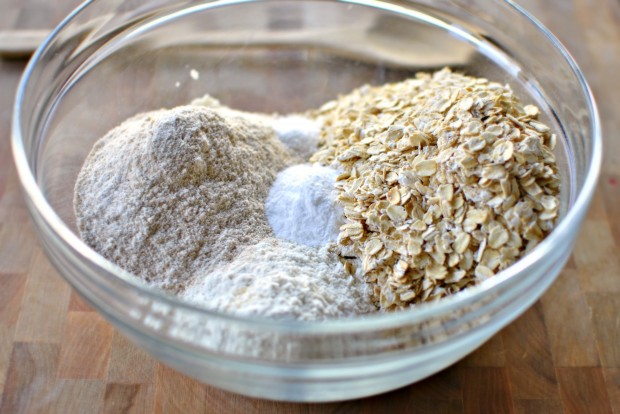 Start by measuring out the 2-1/2 cups of old fashioned oats (NOT quick oats), a cup of all purpose flour and 1/2 cup of whole wheat flour. Then add the two teaspoons of baking soda and the 1/2 teaspoon of kosher salt.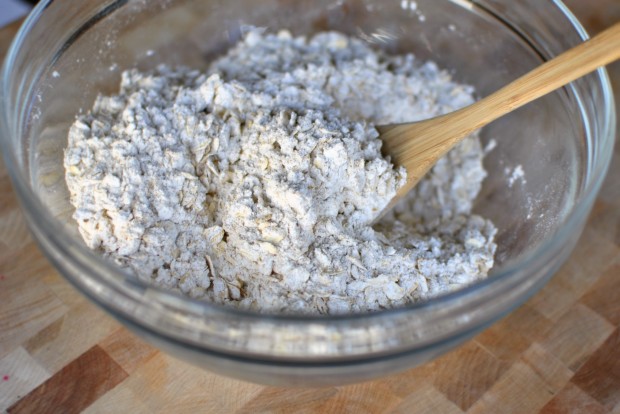 Next combine all the dry ingredients in a medium bowl.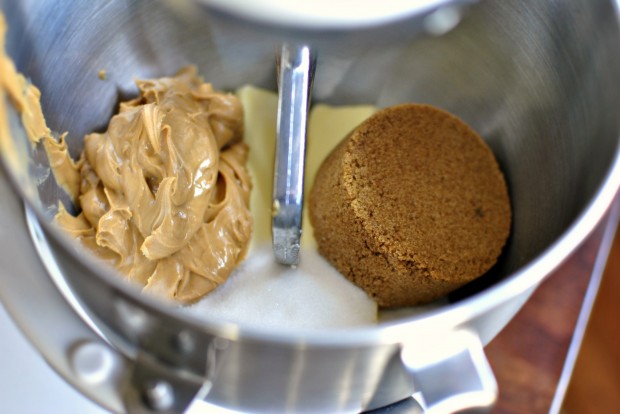 Then in the bowl of your mixer combine the butter, sugars and peanut butter.
Mix on medium speed until light and fluffy, which is about 3-5 minutes.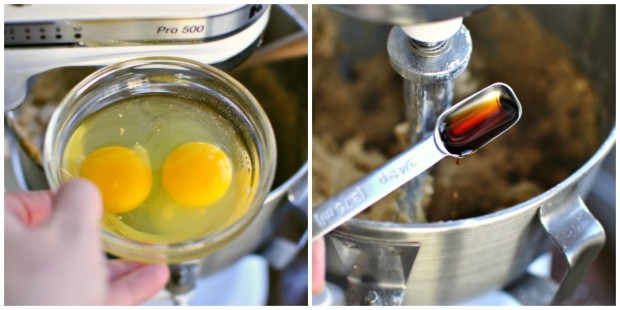 Then add in one egg at a time and the 3/4 teaspoon of vanilla extract.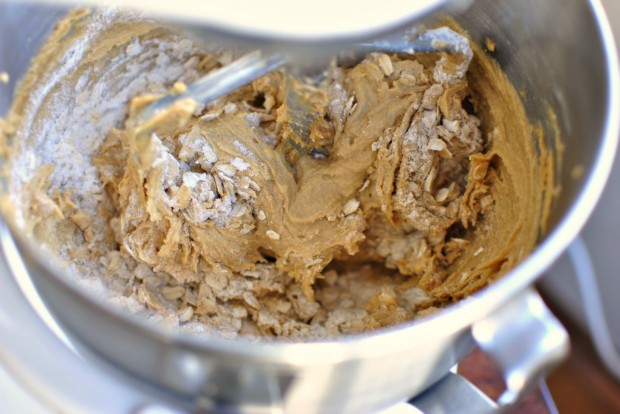 Once that's all combined, slowly add spoonfuls of the dry ingredients until all the dry ingredients are worked in.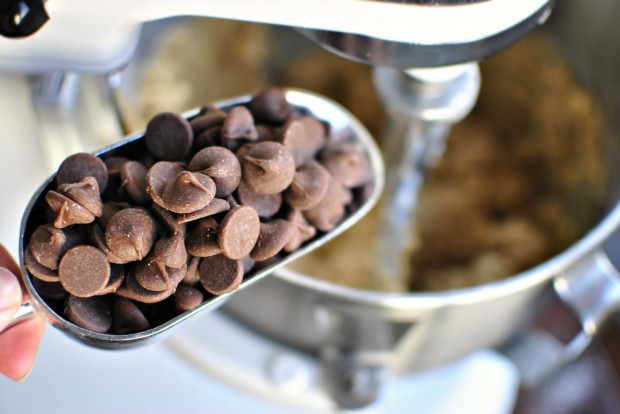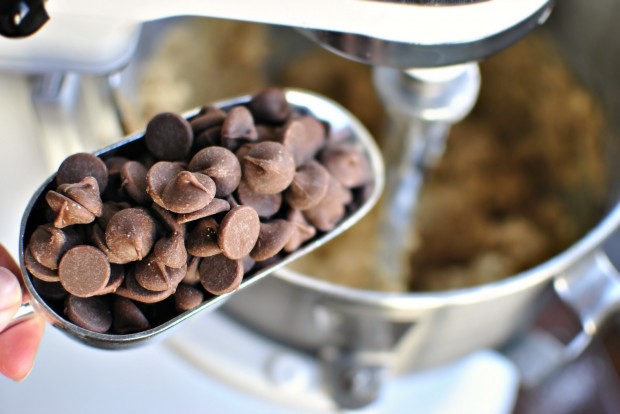 Lastly add the cup of chocolate chips.
I'm a big BIG fan of Ghirardelli, and no they don't pay me to say that. I honestly just love how they're so much bigger than regular ol' chips and I stock up on bags and BAGS of them when they are on sale.
Mix those slowly, on low speed, until combined.
I still don't have those fancy ice cream scoops to measure out perfect, equal amounts of cookie dough… so I use two tablespoons and round out a heaping tablespoon of dough into balls. Hey, it works. In fact I learned this little trick when I was on maternity leave after my first daughter was born. I would sit on the couch holding her in my arms all day long watching The Food Network. Gale Gand's show Sweet Dreams was my favorite.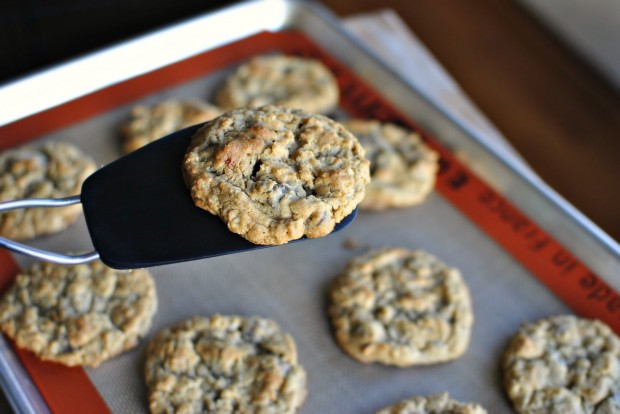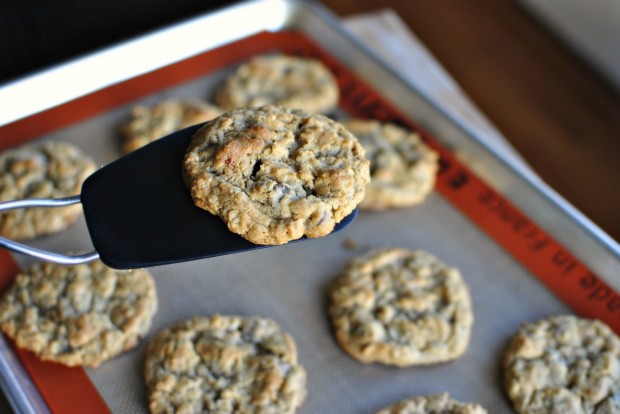 Bake them in a 350 degree oven for 13 to 15 minutes, rotating the pan halfway through for even baking. Let them cool in the pan for five minutes before removing them to a wire rack.
Then I dressed them up with a little leftover kitchen twine before cramming the entire stack into my mouth.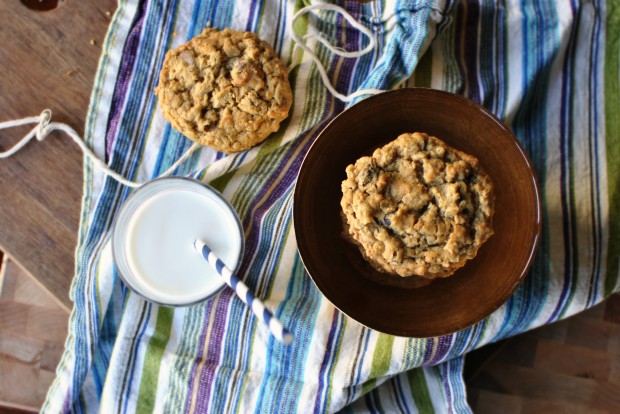 Just kidding… I removed the string first silly.
I love these Peanut Butter Chocolate Chip Oatmeal Cookies still warm from the oven, I love them the next day when the chocolate chips have had time to hardened and I especially love them as a midnight snack.
Enjoy! And if you give this recipe a try, let me know! Snap a photo and tag me on twitter or instagram!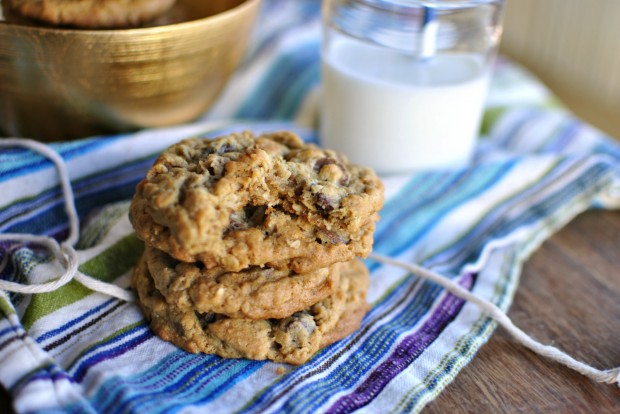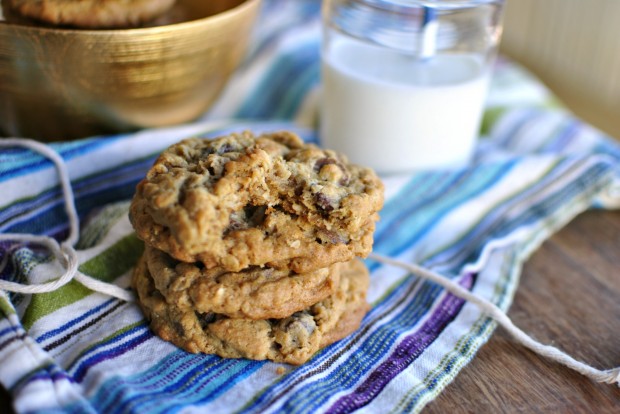 This post may contain affiliate links.
Buy the Cookbook: Simply Scratch : 120 Wholesome Homemade Recipes Made Easy Now available on Amazon »
THANK YOU in advance for your support!