This Parmesan roasted garlic bread is epic. Roasted garlic and herb butter smeared over homemade French bread making this the best garlic bread ever.
This bread is a tad involved. From making the italian bread, roasting the garlic and cheese grating. To the mixing, bread-slicing, parsley chopping, buttah-smothering and baking. I need a nap just typing those exhausting words, but it was so worth all of that intense labor the moment this parmesan roasted garlic bread touched my palate.
Now you don't have to make your own loaf of French bread, but did I mention it's worth it? Worth the time, worth the calories and worth the crumbs all over your face.
Roasting garlic is crazy simple. First preheat your oven to 400°. Then grab head or two of garlic and use a sharp knife to lob off the top third to expose the cloves.
Next, place the garlic in a baking dish and then drizzle with about a tablespoon of olive oil and season with a little kosher salt. However you could also wrap them yo in a foil pouch too.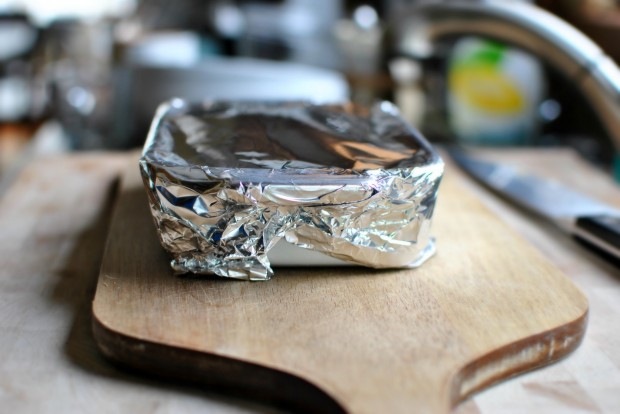 Finally, cover with aluminum foil and place the baking dish in your preheated oven for about 40 minutes.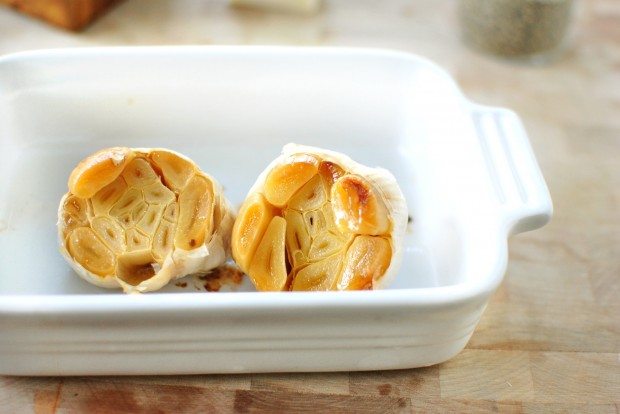 They should be golden and starting to pop out of their little garlic-clove compartments. *ahem* That's a technical term.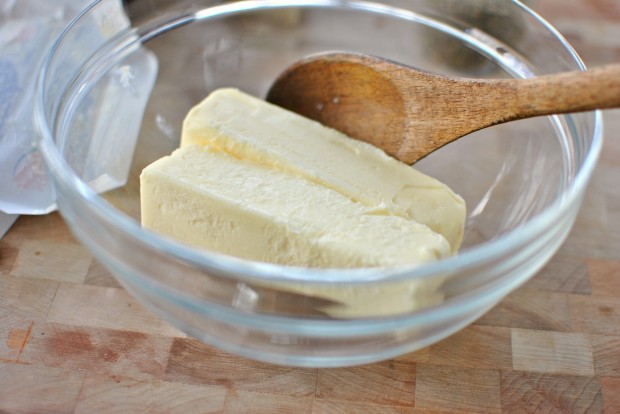 Throw two sticks of unsalted butter into a bowl.
Add in a good pinch salt and pepper.
Measure a heaping 1/2 cup of freshly grated Parmesan cheese.
Chop up a small handful of fresh parsley…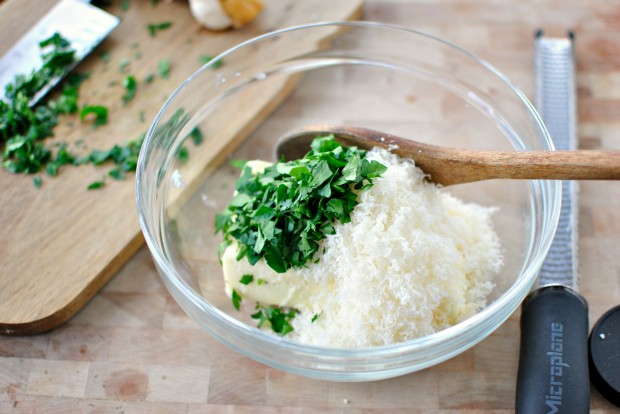 And add it into the bowl as well… should be about two tablespoons.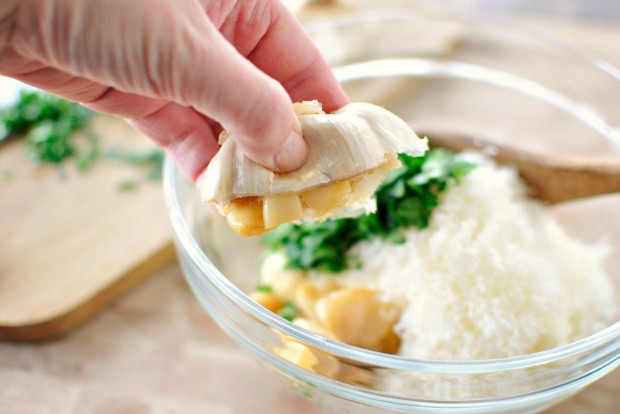 Once the garlic is cool enough to handle, squeeze the garlic cloves right on out of their garlic-clove compartments. 😉
Roasted garlic is mild and sweeter than raw garlic… so this looks like a killer amount of garlic and it is… but in a deliciously-good roasted garlic sort of way.
With a wooden spoon, smash up the garlic cloves.
And then mix it all together until smooth with chunks of roasted garlic.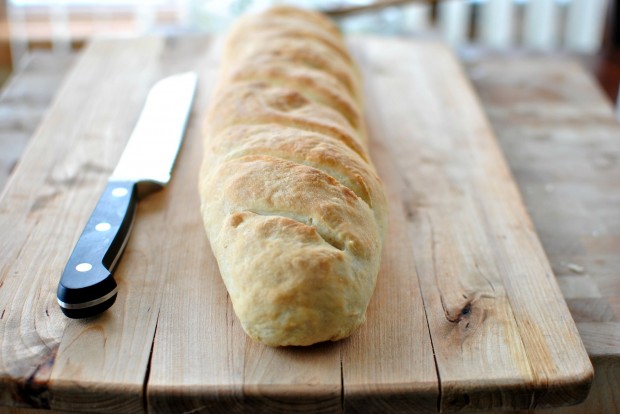 Earlier in the day I madehomemade French bread. It's so easy and perfect for sandwiches, French bread pizzas and garlic bread or eating whole like a cave person – to be politically correct.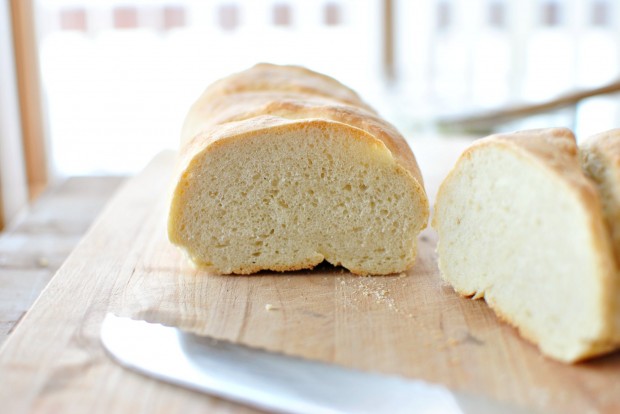 To make it easier I cut it in half.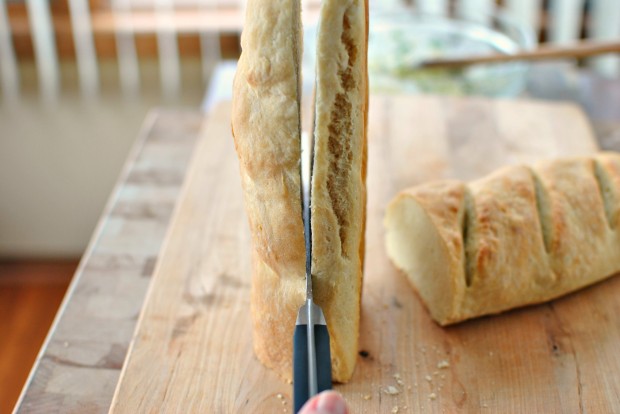 Then I sliced it in half lengthwise.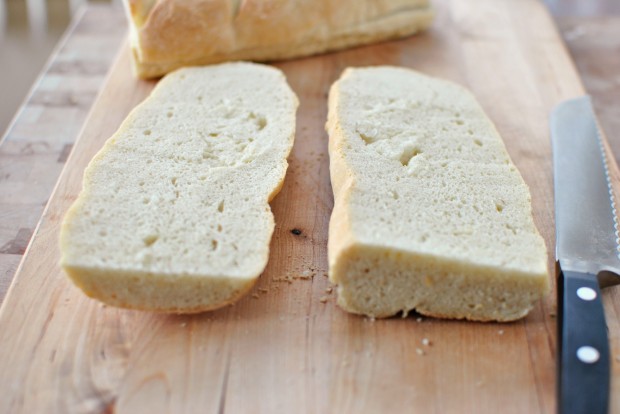 If I was to slice it lengthwise while still whole, I just know I would butcher the poor thing making it all lopsided. Well, more than it already is.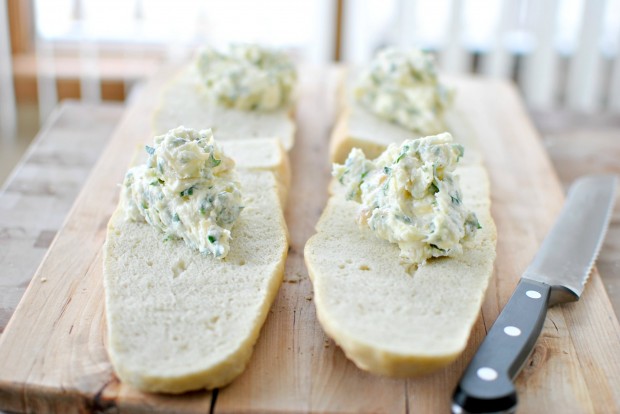 Next, divide the roasted garlic Parmesan-butter among the four halves.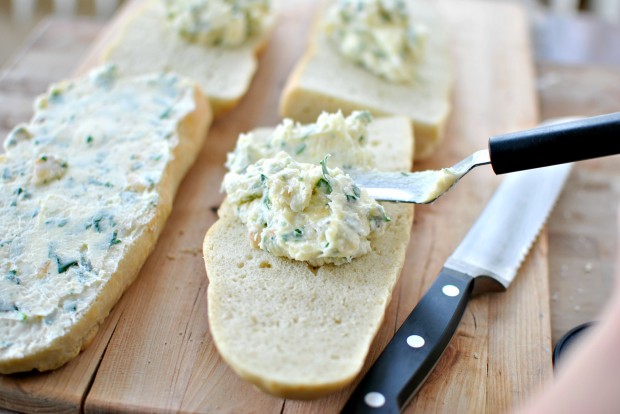 Then spread it evenly. You want a somewhere between thick and thin. Scrape any excess back into the bowl.
Then bake the bread at 350° for 10 minutes. Then raise your oven rack to the top most portion of your oven and flick on the broiler. Broil for 3 to 5 minutes or until golden and bubbly. Rotating the pan throughout broiling will ensure a good crusty-cheesy garlic bread. Watch it carefully!
Just look at it. Looking all golden and fabulous with its good-bad self.
Oh and Happy Valentine's Day! Leave it to me to post a garlic recipe on the national kiss-kiss holiday.
You are most welcome.
Enjoy! And if you give this parmesan roasted garlic bread recipe a try, let me know! Snap a photo and tag me on twitter or instagram!
Yield: 20 servings
Parmesan Roasted Garlic Bread
Garlic is roasted and mixed with butter, Parmesan and fresh parsley... then it gets slathered all over homemade French bread for the best garlic bread on the planet. (20 pieces)
Ingredients
2 heads garlic
1 tablespoon olive oil
1 cup unsalted butter, softened
1 pinch kosher salt
black pepper
2 tablespoons parsley, chopped
1/2 cup freshly grated parmesan cheese
16 ounce french bread
Instructions
Preheat your oven to 400°.

Slice top third off of the head of garlic. Place the garlic heads into a baking dish, cover the dish tightly with foil and roast for 40 minutes. Remove and let cool.

In a bowl, throw in the softened butter, a pinch of kosher salt and black pepper, the chopped parsley, grated Parmesan and squeeze in the cloves from the two heads of garlic.

With a wooden spoon, smash up the roasted garlic cloves and then mix it all together. Spread the butter onto the French bread in an even coating.

Bake in a preheated 350 degrees for 10 minutes before flipping on the broiler and broiling for 3-5 minutes, watch carefully and rotate the pan for even browning.

Let cool slightly before cutting and serving.
Serving: 1g, Calories: 168kcal, Carbohydrates: 14g, Protein: 4g, Fat: 11g, Saturated Fat: 6g, Polyunsaturated Fat: 1g, Monounsaturated Fat: 3g, Trans Fat: 1g, Cholesterol: 27mg, Sodium: 158mg, Potassium: 48mg, Fiber: 1g, Sugar: 1g, Vitamin A: 339IU, Vitamin C: 1mg, Calcium: 46mg, Iron: 1mg
[this post contains affiliate links.]
This post may contain affiliate links.
Buy the Cookbook: Simply Scratch : 120 Wholesome Homemade Recipes Made Easy Now available on Amazon »
THANK YOU in advance for your support!